Naturally sweetened, flourless Banana Blender Muffins include oats, Greek yogurt, and honey in a batter that effortlessly comes together in the blender!

I'm officially declaring 2018 the Year of the Blender Muffins. Sure, they've been around for a good while. But this is the year I find myself making them about every other week. So quick…so easy…so yummy…so wholesome! In other words, I'm completely and utterly SOLD.
Because who's going to argue with throwing some ingredients in your blender, turning it on for a few seconds, and then pouring the resulting batter straight into a muffin pan? It really is that simple. One receptacle to wash and oven-ready in less than five minutes.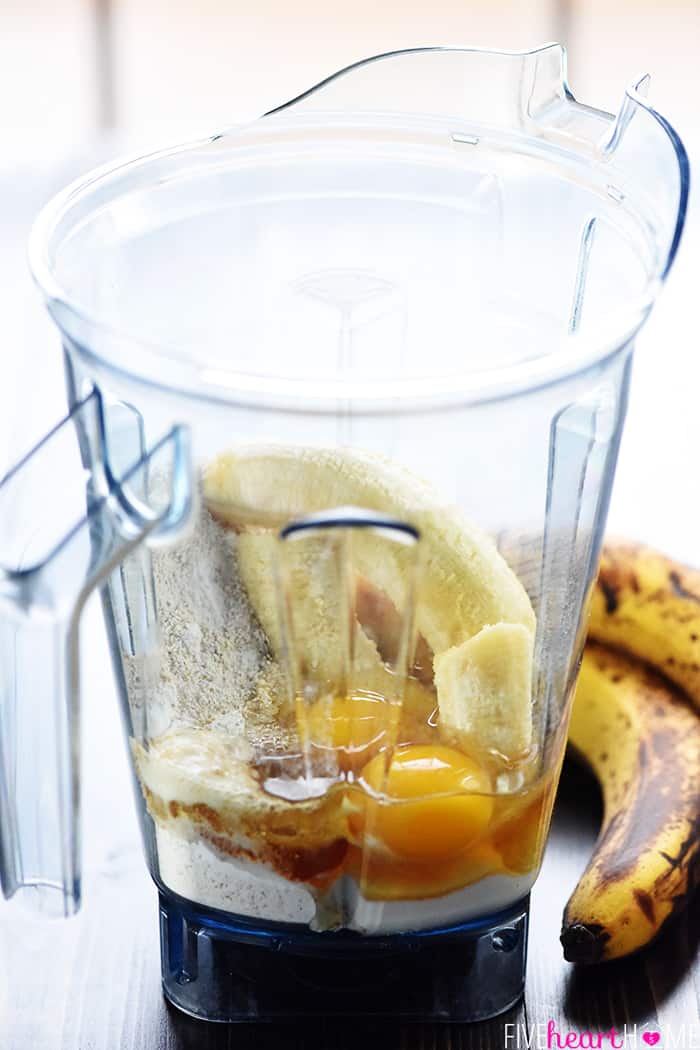 Back at the beginning of the year, I shared a recipe for Healthy Applesauce Blender Muffins. But if I'm being perfectly honest, I typically only make that variation of blender muffins when I don't have any overripe bananas on hand. Those applesauce muffins are great, but these Banana Blender Muffins are my favorite.
They're flourless, since they start with oatmeal (and if you use GF oatmeal, they're also gluten-free). They're free of refined sugar, since they're naturally sweetened with bananas and honey. And instead of using oil, they include a dollop of Greek yogurt to get even more good stuff in there.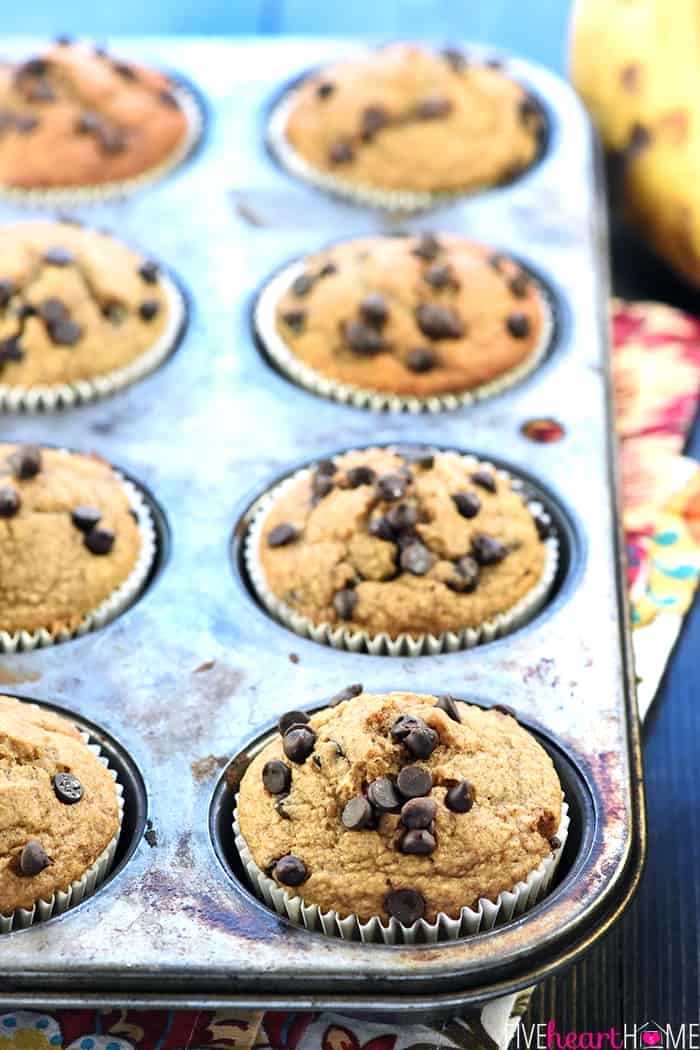 These Banana Blender Muffins are slightly denser and a little bit sweeter (thanks, bananas) than the applesauce version. But they're also perfectly complemented by chocolate, should you wish to add some.
I just blend up my batter, toss in a handful of mini chocolate chips, and give everything one last quick pulse. Then I sprinkle a few more chocolate chips on top of each muffin once the batter is in the liners. A teensy amount of chocolate chips is all I have to add to make my kids feel like their healthy, wholesome muffins are actually a decadent snack or breakfast treat.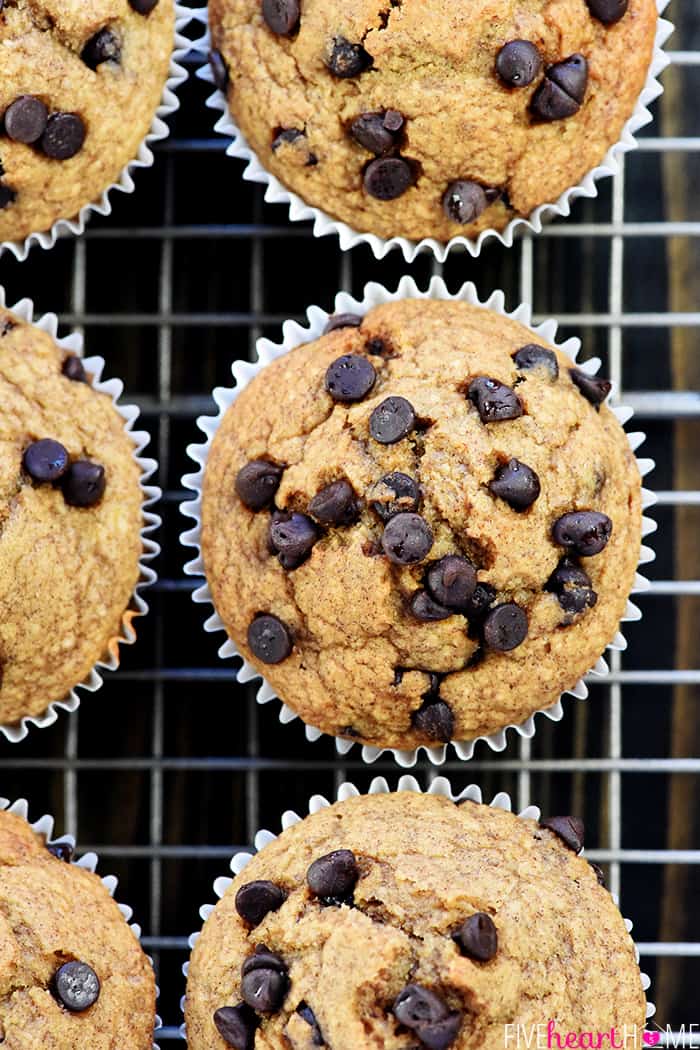 If you've been hanging around Five Heart Home for a while, you may recall that I have a thing for banana baked goods, from muffins to bread to breakfast bars to oatmeal. But I can honestly say that these Banana Blender Muffins just might rank up there as my easiest banana recipe to date!
And that's saying a lot. Because the hardest part of making these muffins is measuring the ingredients. Or maybe it's pouring the batter. Or perhaps it's waiting for them to come out of the oven? Yes, actually, the waiting is the hardest part.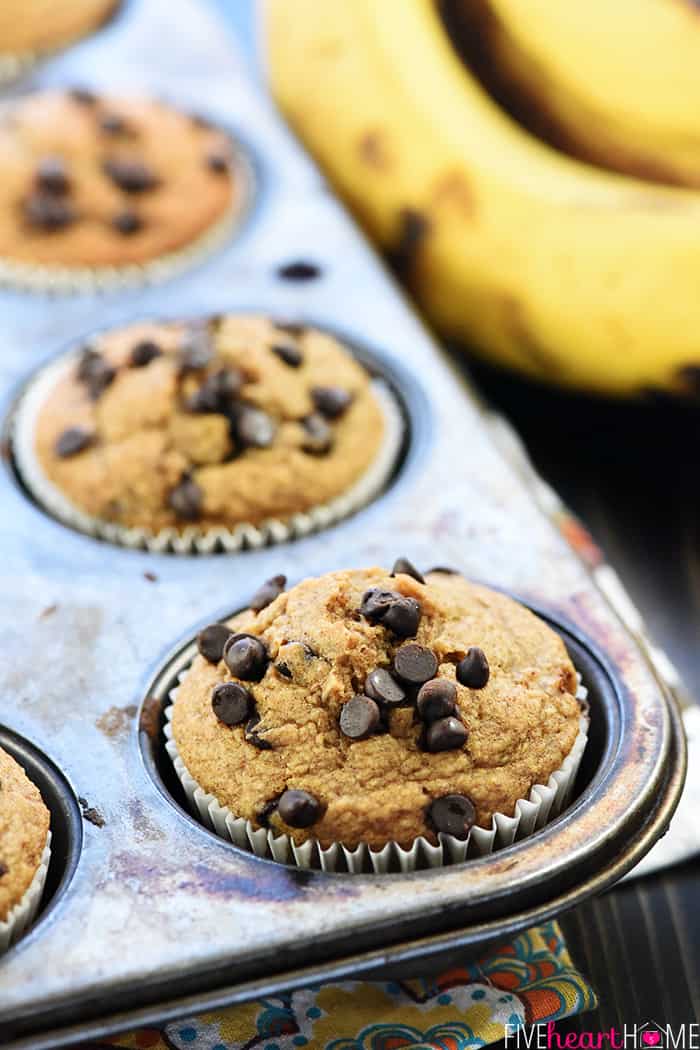 Every day you see one more card.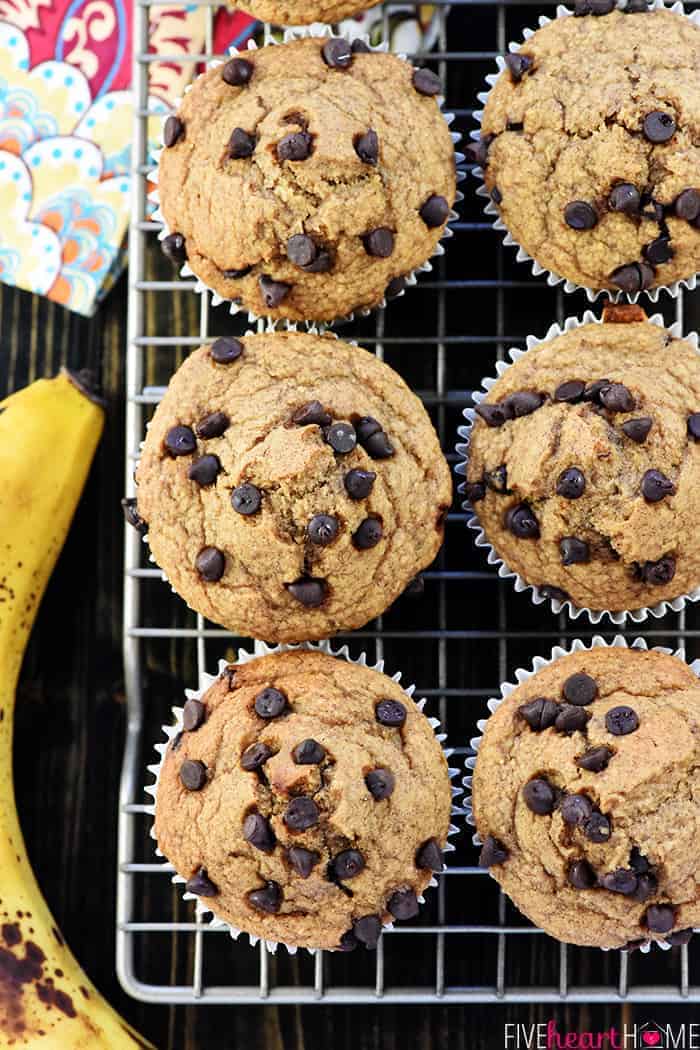 You take it on faith, you take it to the heart…
Ooops, my apologies! Sometimes my train of thought is derailed by the loop of music that incessantly runs through my head. RIP, Tom P.
Anyway, back to these dandy Banana Blender Muffins! You'll love them. Your family will love them. And your blender will love you for giving it a new, non-smoothie purpose in life. Enjoy!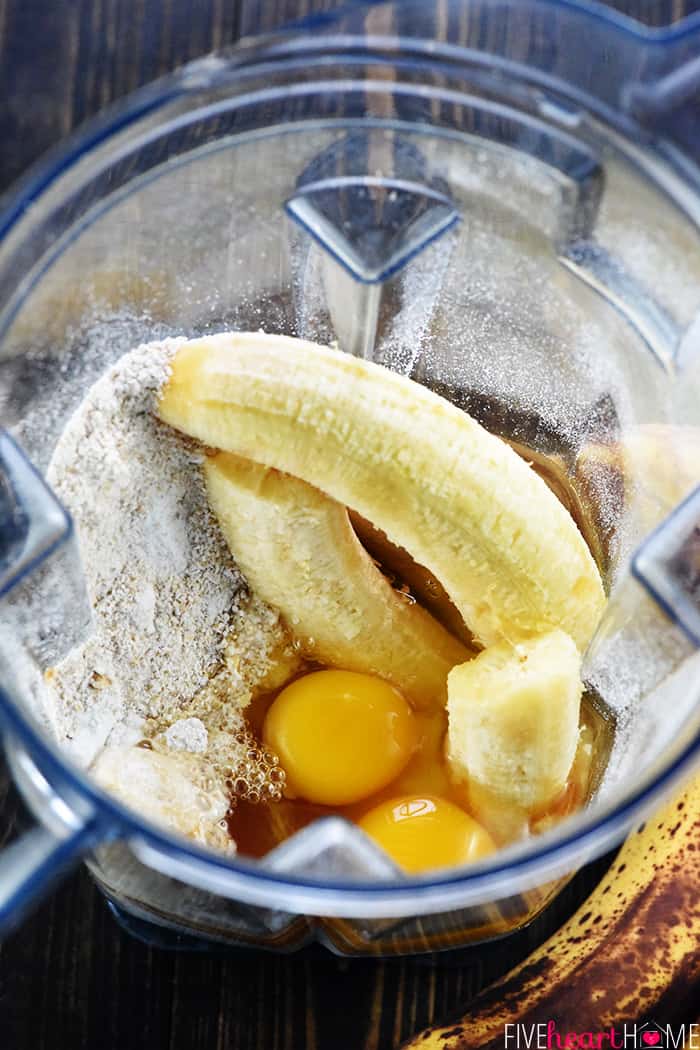 Helpful Tips, Tricks, & Equipment
You can make this recipe with any blender. Using a Vitamix or a Blendtec, your batter will be ready in a flash. But there are plenty of great blenders available for under $100, like this one or this one or this one.
To help get the batter going, I grind up the oats and then pick up the blender pitcher and tilt it so that the ground oats are along one side. This way when I add the wet ingredients, some of them make it all the way to the bottom of the pitcher (see the photo at the very top of this post, right below the title). This helps the batter to incorporate more quickly. That being said, if ingredients seem "stuck," you may need to use a spatula to give things a scrape and a stir at the beginning and then proceed with your blending.
I typically use a 3-tablespoon cookie scoop to fill my muffin cups. However, for blender muffins, I simply poured the batter straight from the pitcher into the paper liners. I did figure out that holding a spoon near the spout of the pitcher (while pouring) helped me to catch the batter and prevent dripping when moving from muffin cup to muffin cup.
You may substitute maple syrup for the honey. You may use regular yogurt (or even sour cream) instead of Greek yogurt.

More Banana Goodness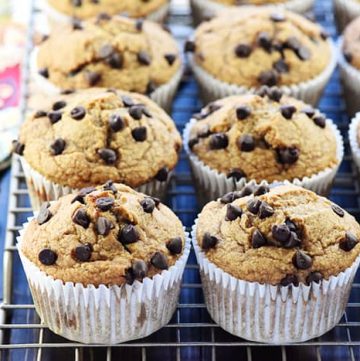 Banana Blender Muffins
Naturally sweetened, flourless Banana Blender Muffins include oats, Greek yogurt, and honey in a batter that effortlessly comes together in the blender!
Print
Pin
Rate
Ingredients
2

cups

rolled oats

1 1/2

teaspoons

baking powder

1/2

teaspoon

baking soda

1/4

teaspoon

salt

2

large OR 3 medium overripe bananas

1/4

cup

honey

1/4

cup

Greek yogurt

2

eggs

1

teaspoon

pure vanilla extract

1/2

cup

mini chocolate chips

,

DIVIDED (optional)
Instructions
Preheat oven to 400°F. Line 12 muffin cups with paper liners.

Measure oats into a blender. Blend until the oats are ground into a fine powder, like flour. Shake the ground oats to one side of the pitcher and add the baking powder, baking soda, salt, bananas, honey, Greek yogurt, eggs, and vanilla to the blender. Turn on the blender to low speed and then immediately increase to high speed. Blend until the ingredients are just combined, stopping and scraping down the sides of the blender as necessary. If using chocolate chips, add half of them at the very end; sprinkle them on top of the finished batter in the blender and quickly pulse one time to incorporate the chocolate chips without chopping them further.

Evenly divide the batter between the prepared muffin cups, pouring it directly from the blender pitcher. If using, sprinkle the top of each muffin with the remaining chocolate chips. Bake for 14 to 17 minutes or until the muffins test done with a toothpick. Allow the muffins to cool in the pan for 5 minutes, and then transfer them to a wire rack to finish cooling.
Calories:
104
kcal
|
Carbohydrates:
19
g
|
Protein:
3
g
|
Fat:
1
g
|
Cholesterol:
27
mg
|
Sodium:
107
mg
|
Potassium:
189
mg
|
Fiber:
1
g
|
Sugar:
8
g
|
Vitamin A:
50
IU
|
Vitamin C:
1.7
mg
|
Calcium:
38
mg
|
Iron:
0.8
mg
Adapted from Healthy Blender Applesauce Muffins