Healthy Applesauce Muffins are made in the blender and loaded with wholesome ingredients for a quick, yummy breakfast or snack that's as easy as blend, pour, and bake!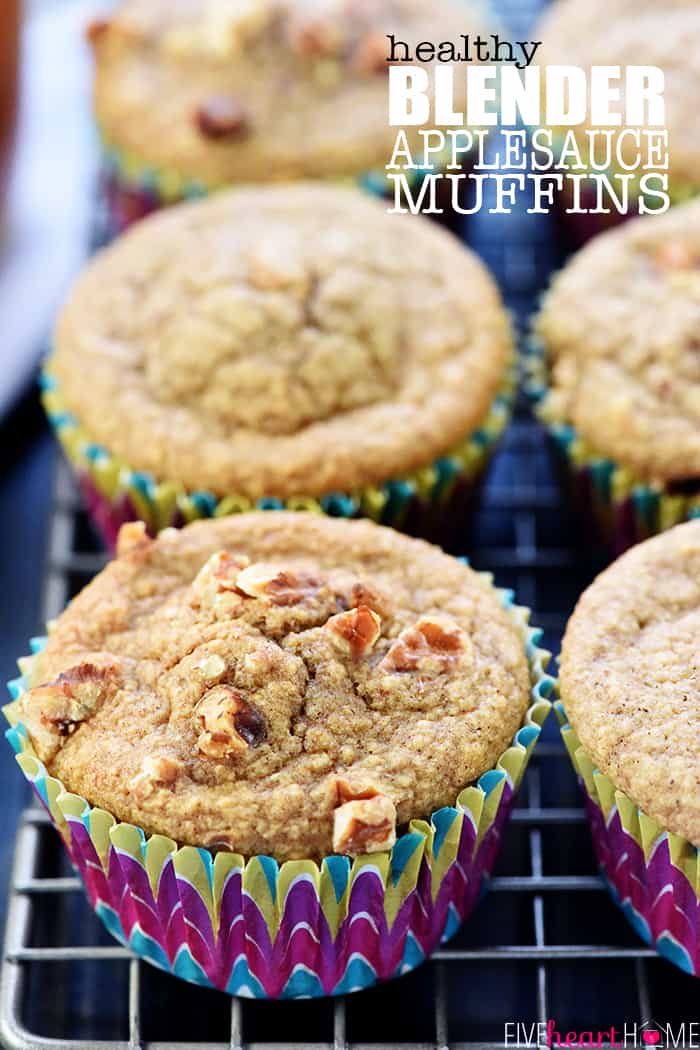 Happy New Year, friends! In an effort to get the new year kicked off with some easy yet wholesome recipes, these healthy and yummy Applesauce Muffins are made in the blender and a great way to start!
I actually made blender muffins for the first time last week using overripe bananas and whole wheat pastry flour by slightly adapting one of my favorite banana muffin recipes. They were scrumptious and my kids scarfed them right down, but because it was my first blender muffin attempt, I knew I could make them even better.
However, since I was all out of bananas and whole wheat pastry flour and I couldn't quite muster up the mental stamina for a post-holiday trip to the grocery store, I started experimenting with applesauce and oats. It took me a few more tries to get the proportions just right so that the muffins had the right texture. But I'm happy to report that after four dozen muffins (heh), the final version of these Applesauce Muffins turned out light, fluffy, and absolutely delicious!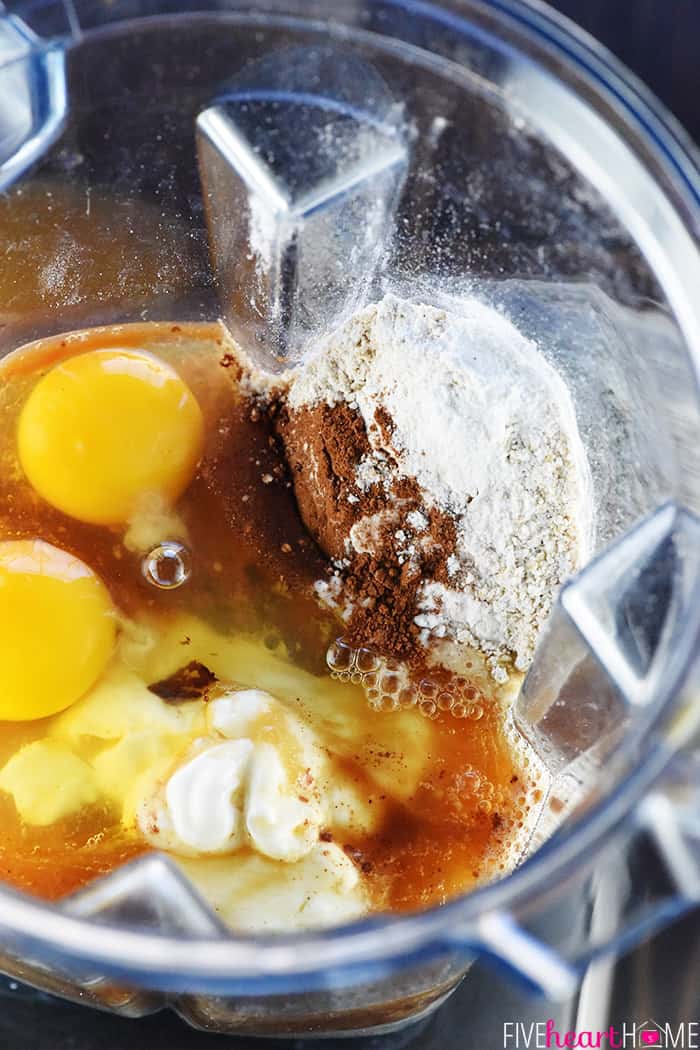 What Are Blender Muffins?
Now, these aren't sweet, decadent, bakery-style muffins. Rather, they're tasty, good-for-you, flourless muffins that are lightly and naturally sweetened.
Even better, they are ridiculously simple to make. As in, I'm wondering why in the world I never tried blender muffins before now!
How to Make 'em
These easy Applesauce Muffins start out by measuring rolled oats into a blender. Blend those babies until they're ground into flour. How long this takes is going to depend on how powerful your blender is, but rest assured that this recipe should work in any type of blender.
After that, it's simply a matter of adding the rest of the ingredients to the pitcher and blending until everything is just combined! You are most likely going to have to scrape the sides and corners of the blender at least once.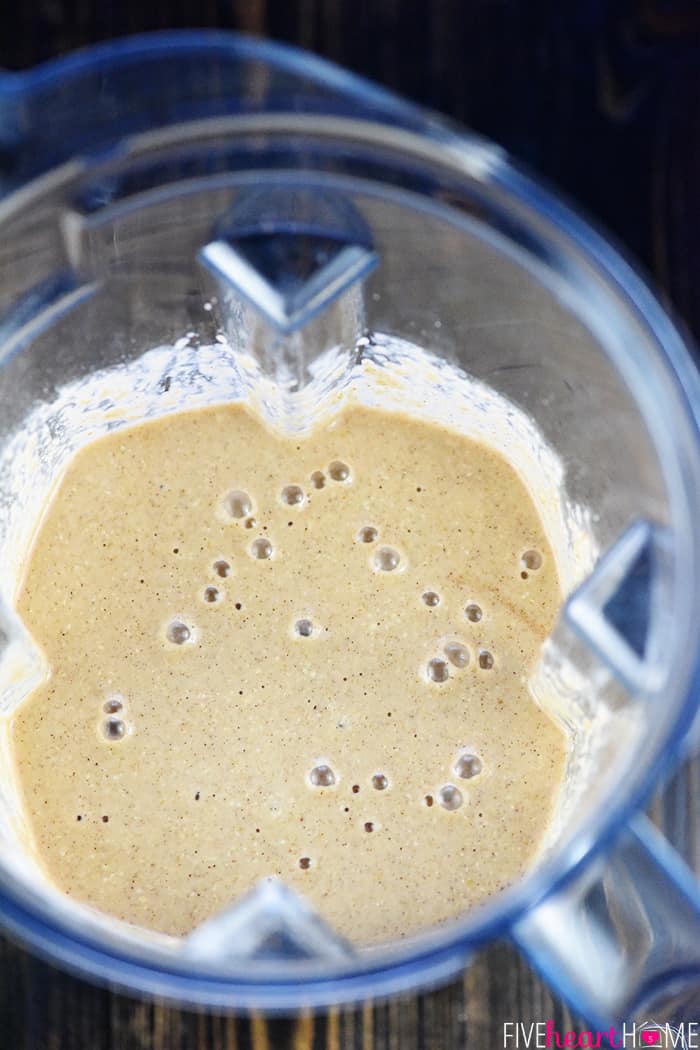 Blender Tips
If you have a high-powered blender, the time to make your Applesauce Muffin batter is probably only going to total a few seconds. A lower-power blender may take a bit longer and may require scraping the blender a couple of extra times to get all of the ingredients incorporated, but it should work just fine.
I recommend starting your blender on low to prevent everything from initially spewing everywhere but then immediately turning it up to high. As soon as the ingredients are incorporated (or as soon as it appears any ingredients are stuck to the side), STOP!
If scraping the pitcher is required, you'll probably only need to blend for a few more seconds after said scraping.
But no matter what, as soon as the batter looks smooth and combined, stop blending, as you don't want to overmix it!
As soon as the batter is done, pour it into muffin liners, pop in the oven, patiently wait as the muffins bake, and then (yippee!!!)...enjoy!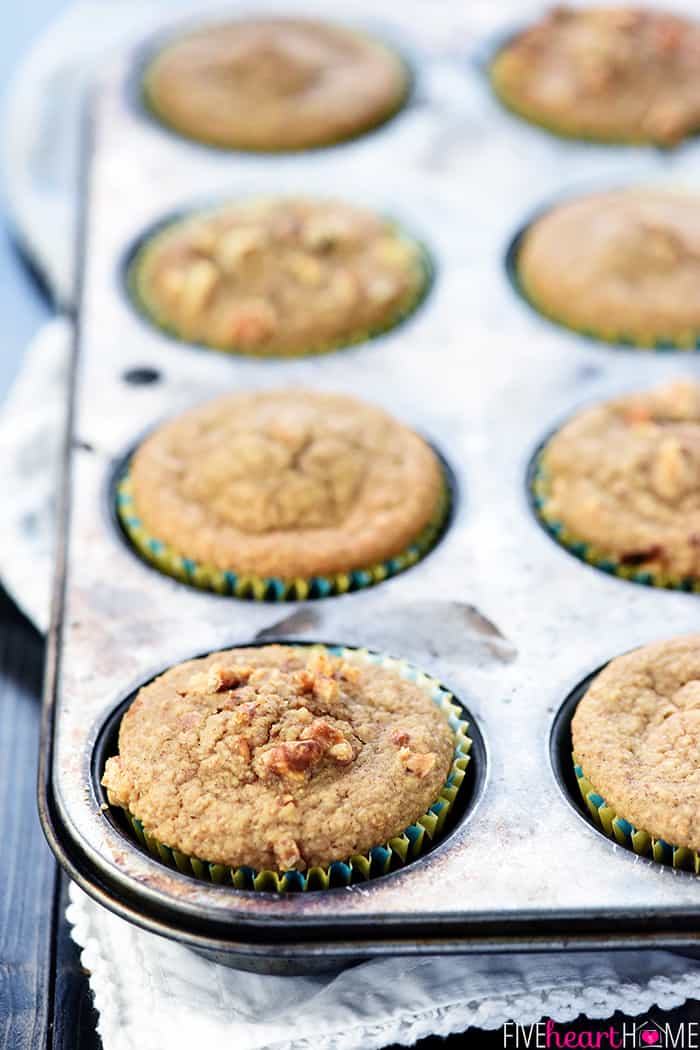 This recipe really is that easy. In fact, these Applesauce Muffins are my new go-to when I need to quickly whip up a make-ahead breakfast or snack using fridge and pantry staples.
Assembling them is quick, clean-up is a snap, they're wholesome, and my kids love 'em.
And I ask you, what more can you ask of a New Year's recipe than that? 🙂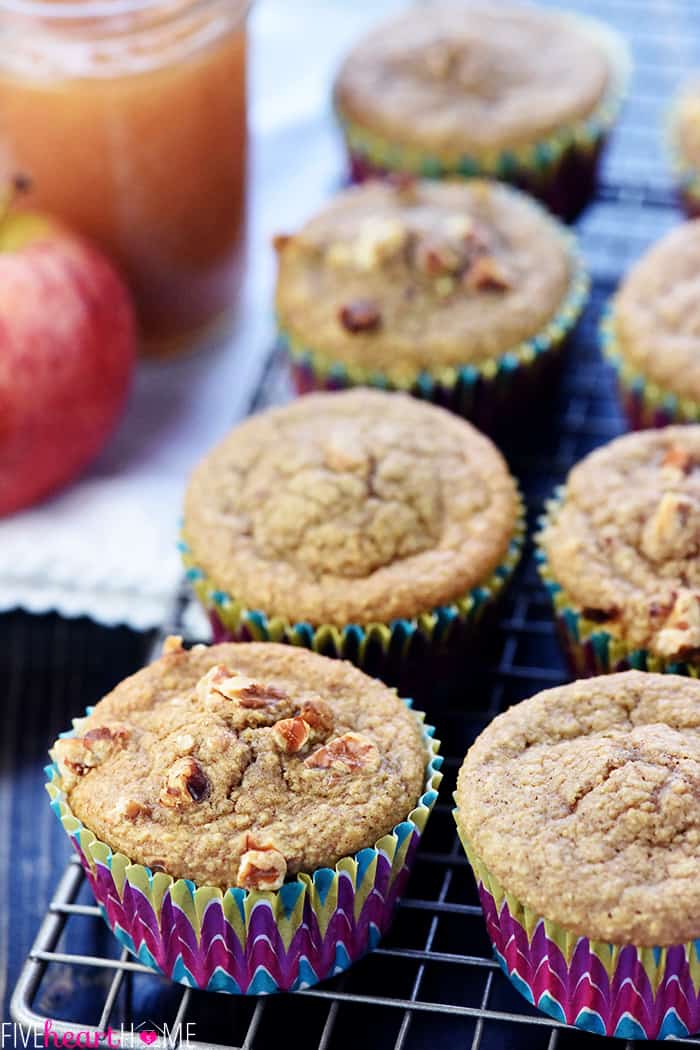 Helpful Tips, Tricks, & Equipment
You can make this recipe with any blender. Using a Vitamix or a Blendtec, your batter will be ready in a flash. But there are plenty of great blenders available for under $100, like this one or this one or this one.
To help get the batter going, I grind up the oats and then pick up the blender pitcher and tilt it so that the ground oats are along one side. This way when I add the wet ingredients, some of them make it all the way to the bottom of the pitcher. This helps the batter to incorporate more quickly. That being said, if ingredients seem "stuck," you may need to use a spatula to give things a scrape and a stir at the beginning and then proceed with your blending.
I typically use a 3-tablespoon cookie scoop to fill my muffin cups. However, for blender muffins, I simply poured the batter straight from the pitcher into the paper liners. I did figure out that holding a spoon near the spout of the pitcher (while pouring) helped me to catch the batter and prevent dripping when moving from muffin cup to muffin cup.
You may substitute maple syrup for the honey. You may use regular yogurt (or even sour cream) instead of Greek yogurt.
These Applesauce Muffins are not overly sweet. For sweeter muffins, you may slightly increase the honey, use sweetened applesauce instead of unsweetened, and/or use vanilla yogurt instead of plain.
If you'd like a bit of texture in your muffins, you can quickly blend half a cup of chopped nuts into the finished batter before dividing it between the muffin cups. Or, as pictured here, you can sprinkle the tops of the muffins with chopped nuts just before baking. I did half of my muffins with chopped walnuts on top and half of them plain, since a certain 5-year-old member of my family prefers her food as plain as possible.
If you underbake these muffins, they will likely sink as soon as you remove them from the oven. However, if you leave them in too long, the tops can get too brown. I actually laid a sheet of foil over the muffin pan for the last few minutes so that they could finish baking without turning too dark.
These muffins are prone to sticking to paper liners, particularly if you try to peel the liners off before they are completely cool. I recommend spraying the liners with nonstick cooking spray before filling the muffin cups with batter.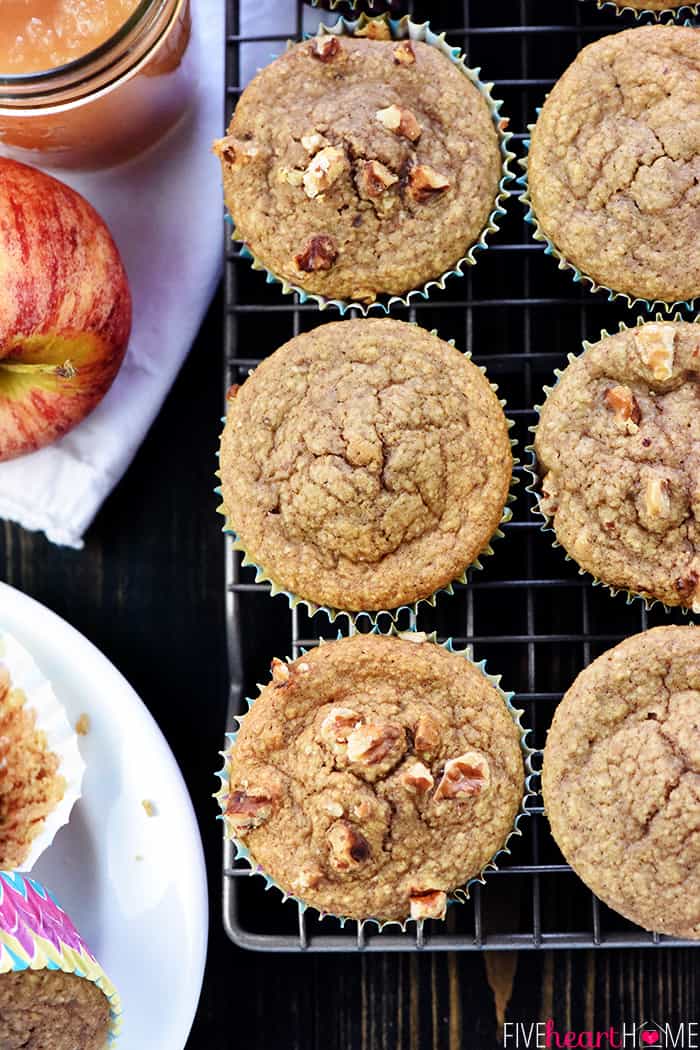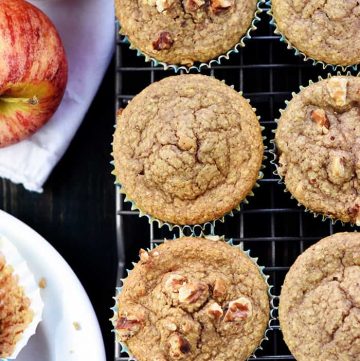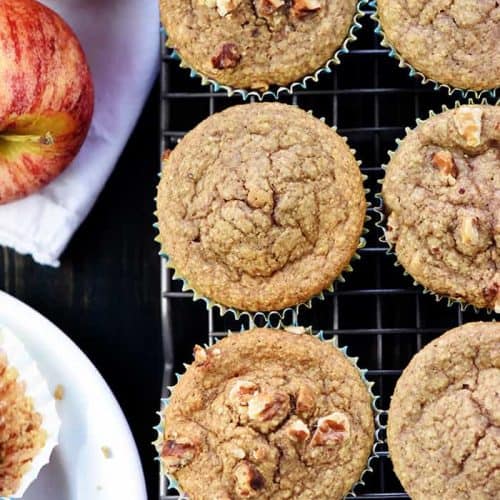 Blender Applesauce Muffins
Applesauce Muffins are made in the blender and loaded with wholesome ingredients for a quick, yummy breakfast or snack that's as easy as blend, pour, and bake!
Print
Pin
Rate
Ingredients
2

cups

rolled oats

1 ½

teaspoons

baking powder

1 ½

teaspoons

ground cinnamon

½

teaspoon

baking soda

¼

teaspoon

salt

1

cup

unsweetened applesauce

,

regular or cinnamon

⅓

cup

honey

¼

cup

Greek yogurt

2

eggs

1

teaspoon

pure vanilla extract

½

cup

chopped nuts

,

such as pecans or walnuts, and/or additional nuts for topping (optional)
Instructions
Preheat oven to 400°F. Line 12 muffin cups with paper liners and lightly spray liners with nonstick spray.

Measure oats into a blender. Blend until the oats are ground into a fine powder, like flour. Shake the ground oats to one side of the pitcher and add the baking powder, cinnamon, baking soda, salt, applesauce, honey, Greek yogurt, eggs, and vanilla to the blender. Turn on the blender to low speed and then immediately increase to high speed. Blend until the ingredients are just combined, stopping and scraping down the sides of the blender as necessary. If using nuts, add them at the very end; sprinkle them on top of the finished batter and quickly pulse one time to incorporate the nuts without chopping them further.

Evenly divide the batter between the prepared muffin cups, pouring it directly from the blender pitcher. If desired, sprinkle the top of each muffin with additional chopped nuts. Bake for 18 to 22 minutes or until the muffins test done with a toothpick. Allow the muffins to cool in the pan for 5 minutes, and then transfer them to a wire rack to finish cooling.
Calories:
135
kcal
|
Carbohydrates:
20
g
|
Protein:
3
g
|
Fat:
4
g
|
Cholesterol:
27
mg
|
Sodium:
108
mg
|
Potassium:
156
mg
|
Fiber:
2
g
|
Sugar:
10
g
|
Vitamin A:
45
IU
|
Vitamin C:
0.2
mg
|
Calcium:
45
mg
|
Iron:
1
mg