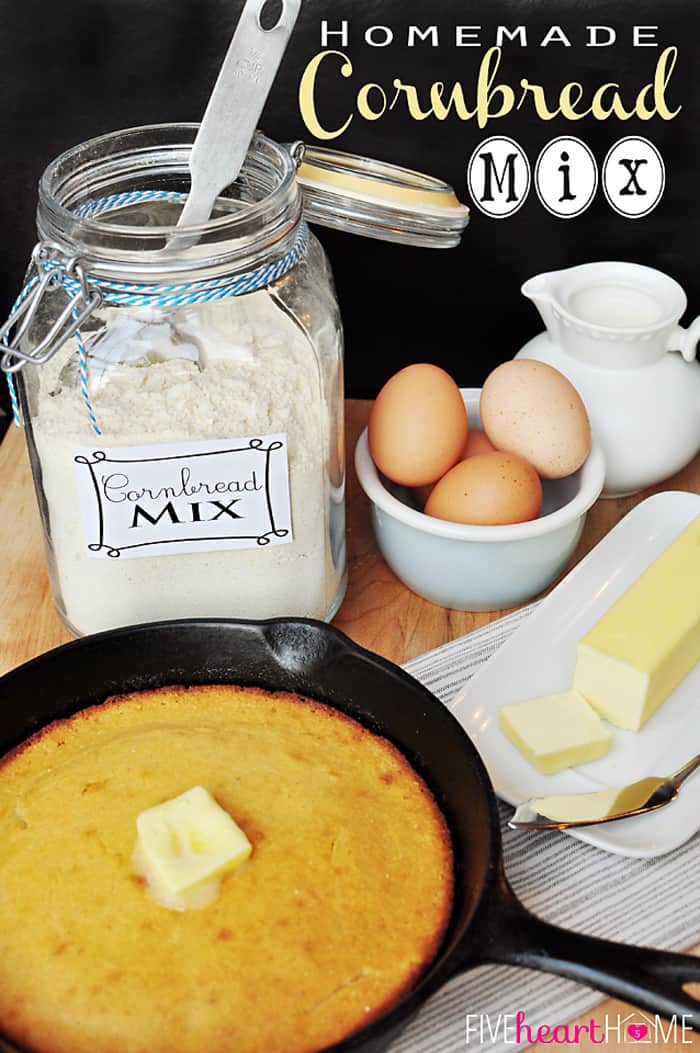 Homemade Cornbread Mix is not only a convenient time saver, but it's also versatile enough to be used in a variety of recipes and it avoids the artificial ingredients sometimes found in store bought mix.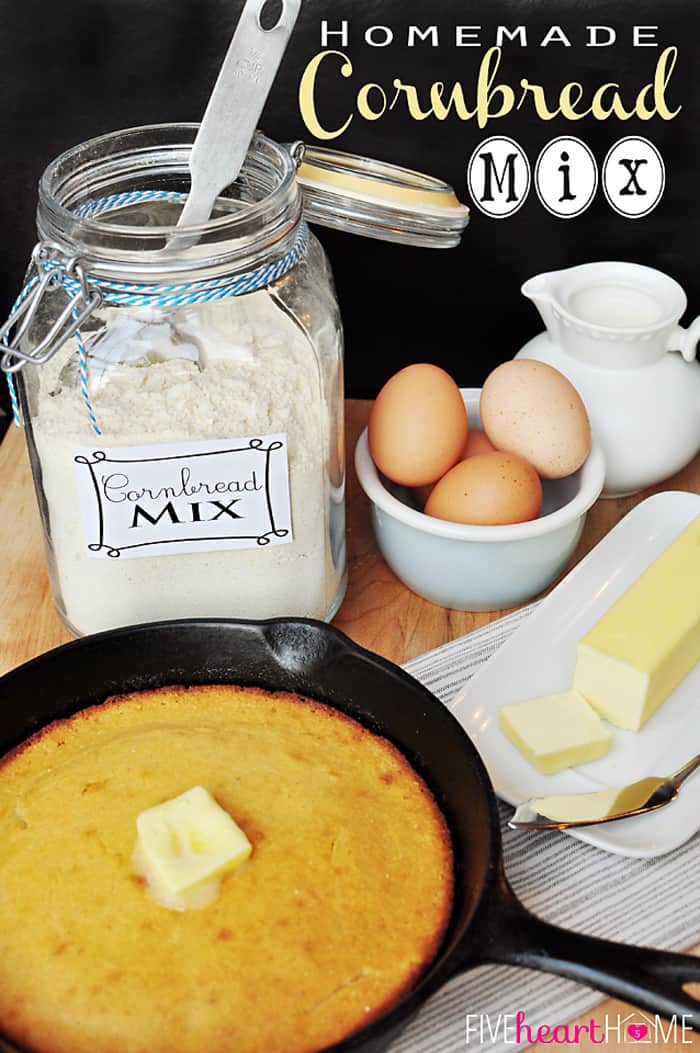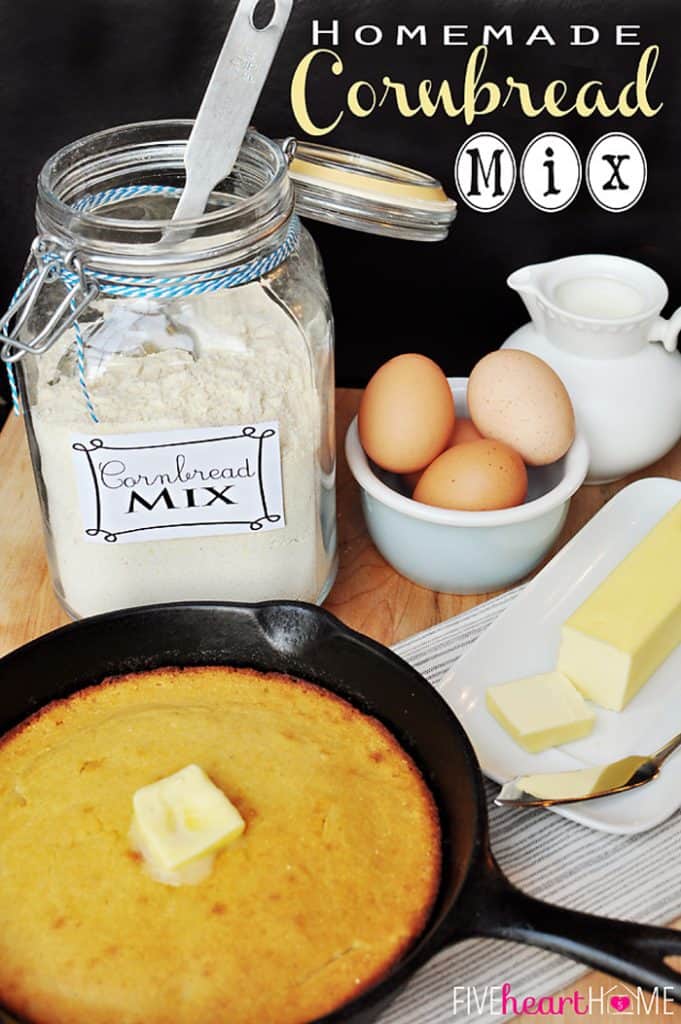 I know what you're thinking...last week I shared a recipe for my favorite Homemade Chili Seasoning Mix, and here I am today, back with a Homemade Cornbread Mix. Is this food blog going to turn into all mixes, all the time or what?
Of course not, silly!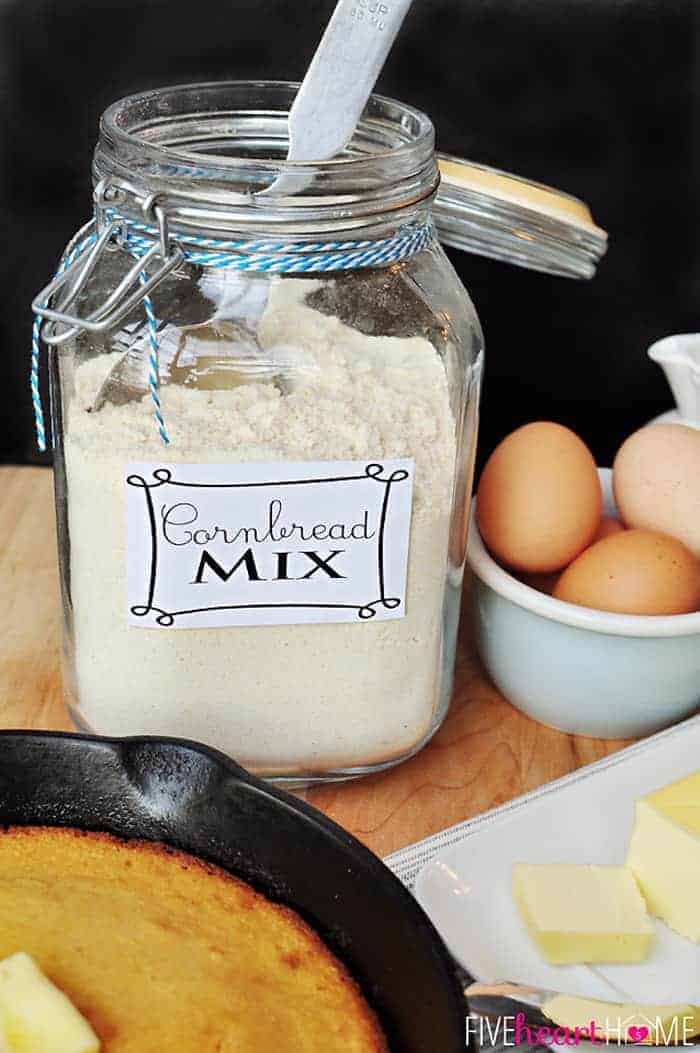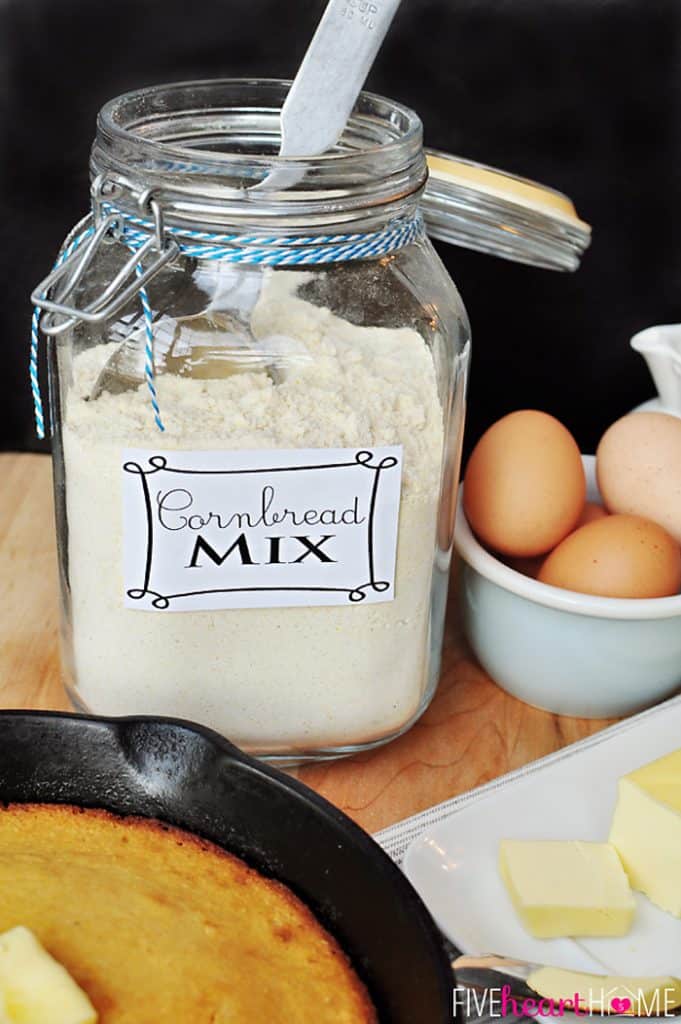 Why Homemade Mixes?
But homemade mixes are a great way to save time and money.
And who wouldn't prefer to control their own ingredients, thereby avoiding the artificial additives and preservatives that can be found in store-bought cornbread mix?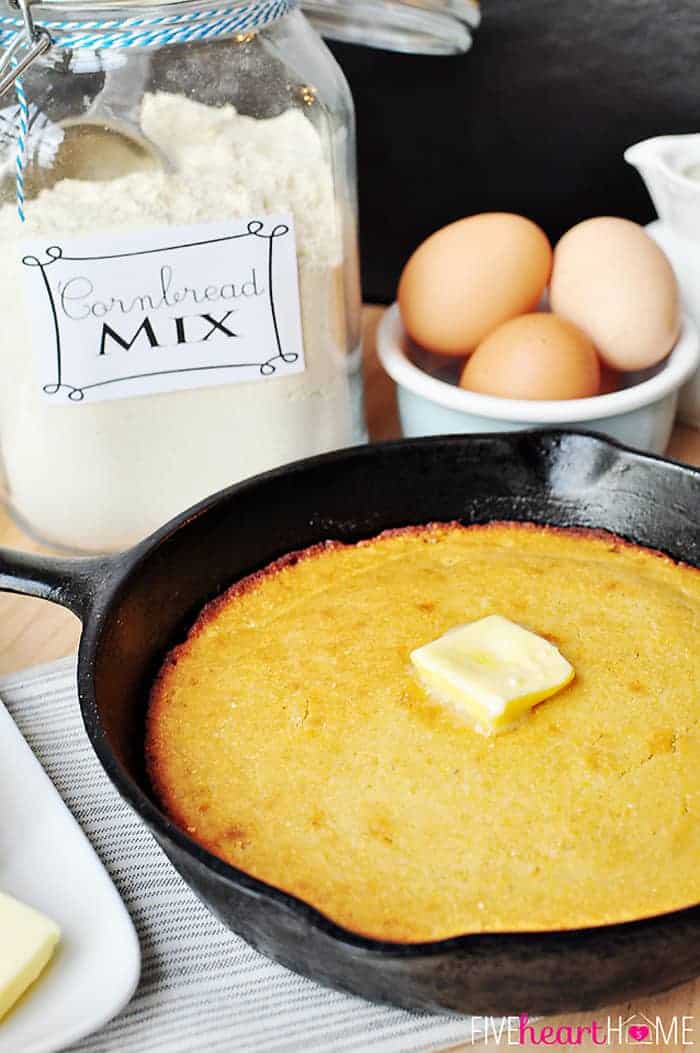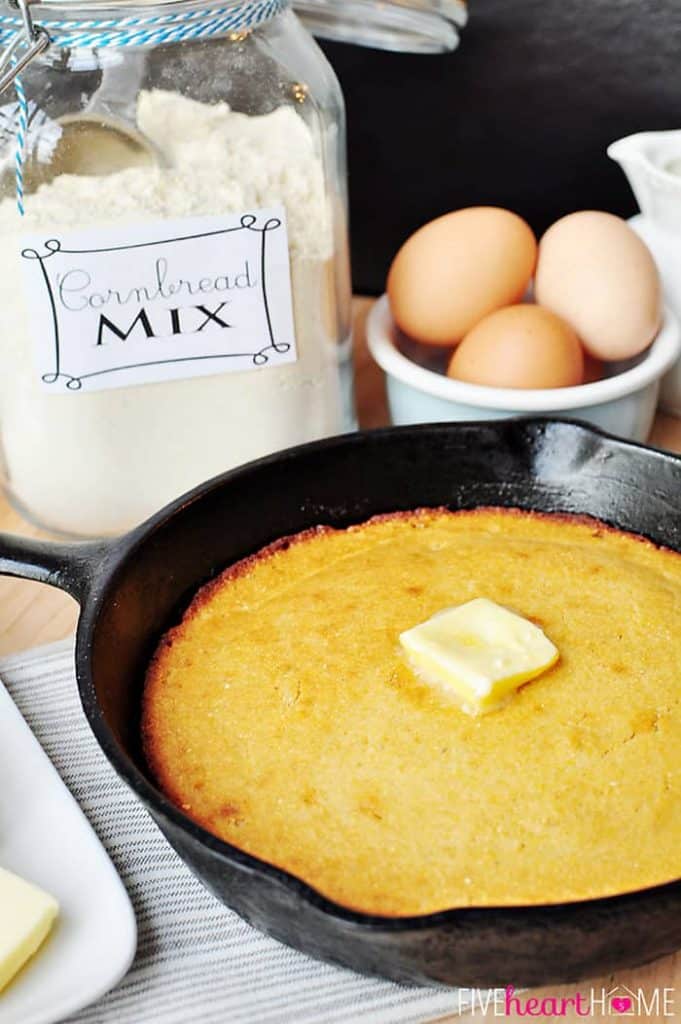 Cornbread Mix Uses
This Cornbread Mix is another pantry staple of mine that gets used all the time.
Sure, I use it to whip up a pan or skillet of cornbread for complementing soups and stews.
But I also bake it up as muffins, use it to top casseroles, and even allow it to rendezvous with my waffle iron every now and then.
How Sweet Do You Like It?
I didn't include sugar in this Cornbread Mix so that you have the ability to decide how sweet it ends up. Some people like really sweet, almost cake-like cornbread, while others enjoy their cornbread sans sweetener. Your preferred level of sweetness may also depend on how you're planning to use or enjoy a particular batch of cornbread.
So with this mix, you can dictate the degree of sweetness by adding a little more or a little less honey when you up mix your cornbread batter. I usually stick with ¼ cup honey and find that to produce lightly sweet cornbread, which is just the way my family likes it.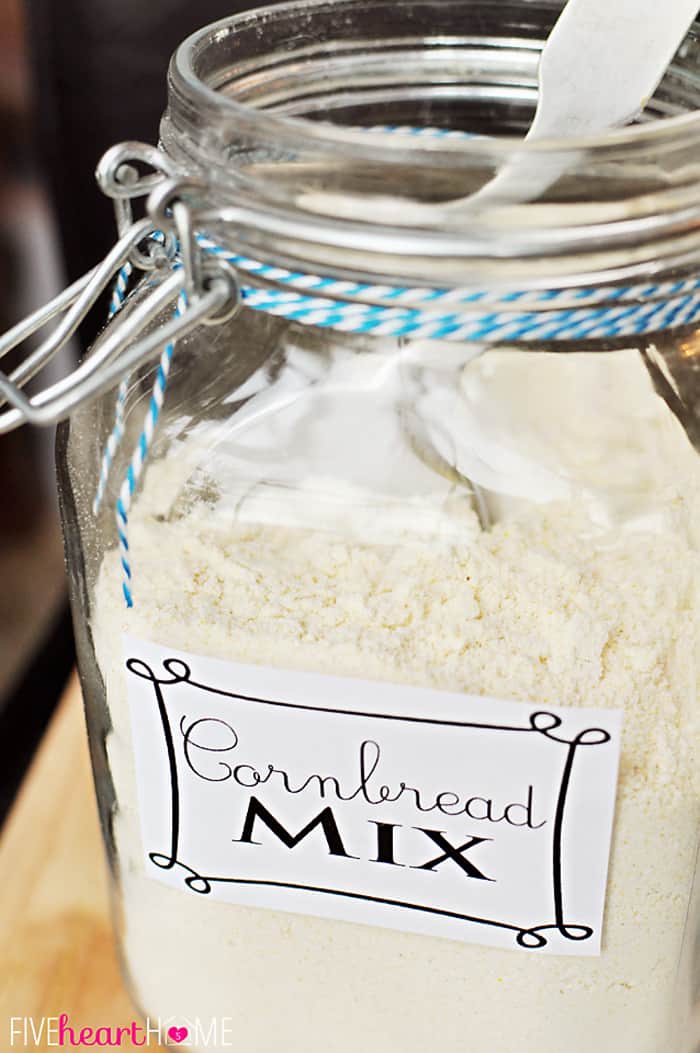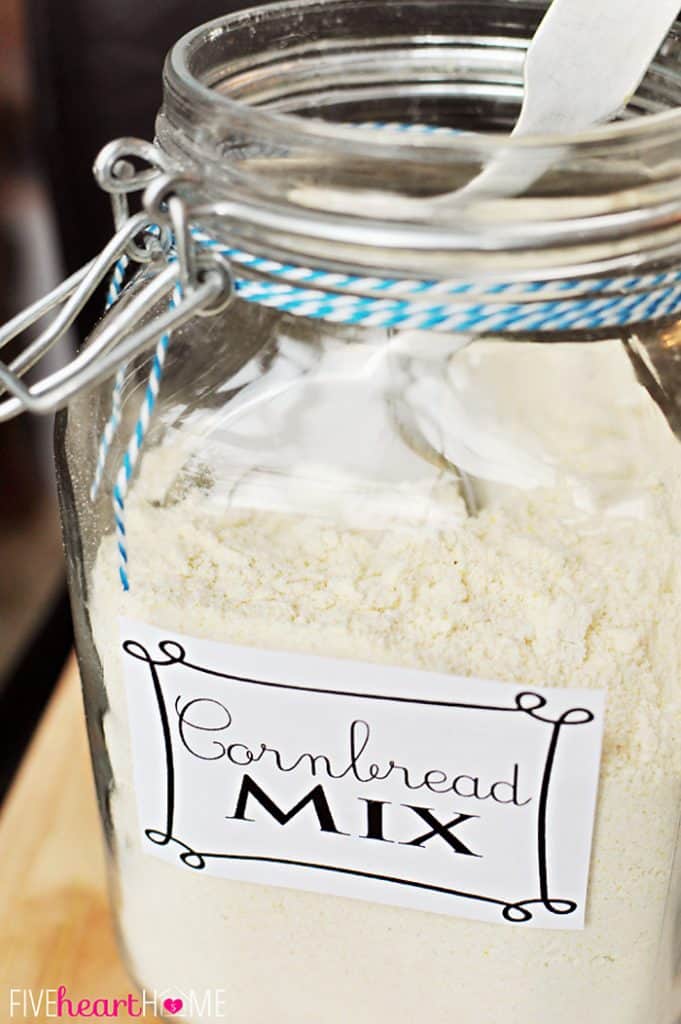 Seriously, folks, if you're not on the homemade mixes bandwagon yet, hop on! It only takes a matter of minutes to throw together enough cornbread mix to have handy for multiple future meals, which saves you time down the road on busy weeknights. And as an added bonus, the resulting cornbread tastes better than the kind that comes from packaged mix...plus the ingredients are better for you!
The next time you're in the mood to enjoy a warm, comforting pot of soup on a chilly day, I promise that it will taste even better with a batch of cornbread to go with it. Or throw together a really quick supper by relying on the aforementioned Homemade Chili Seasoning Mix and this Homemade Cornbread Mix. And for good measure, go ahead and bake some Homemade Chocolate Chip Cookie Mix cookies or a Homemade Chocolate Cake Mix cake for dessert...ha!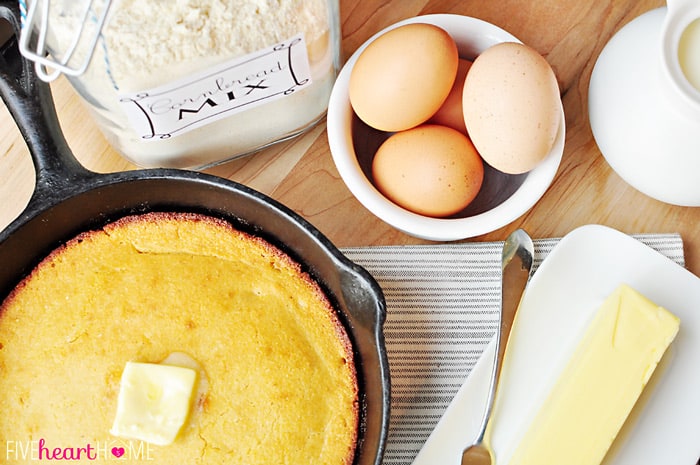 So what are you waiting for? Go forth and make cornbread mix! 🙂
Ideas for Using Cornbread Mix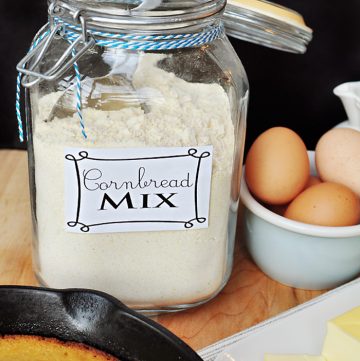 Homemade Cornbread Mix
Homemade Cornbread Mix is not only a convenient time saver, but it's also versatile enough to be used in a variety of recipes and it avoids the artificial ingredients sometimes found in store bought mix.
Print
Pin
Rate
Servings:
1
batch of Cornbread Mix will make 4 pans of cornbread
Ingredients
FOR CORNBREAD MIX:
4

cups

cornmeal

4

cups

flour

,

all-purpose white flour, whole wheat pastry flour, OR a combination of the two

¼

cup

baking powder

2

teaspoons

salt
TO MAKE A PAN OF CORNBREAD:
2

cups

Homemade Cornbread Mix

¼

cup

(½ stick) butter

,

melted and cooled

1

cup

buttermilk

,

at room temperature

1

egg

,

whisked

¼

cup

honey

,

or more or less, depending on desired sweetness

Additional tablespoon of butter

,

or bacon grease, if baking in skillet
Instructions
TO MAKE CORNBREAD MIX:
In a large bowl, whisk together all ingredients until well combined. Store in an airtight container.
TO USE CORNBREAD MIX:
Preheat oven to 400°F. Place a tablespoon of butter (or bacon grease) in the bottom of an 8-inch cast iron skillet* and place in the oven to melt.

Measure 2 cups of Cornbread Mix into a large bowl. Stir in the melted butter, buttermilk, egg, and desired amount of honey. Using a pot holder, remove hot skillet from the oven. Pour cornbread batter into center of skillet, allowing melted butter to spread to the edges. Smooth the top and bake for 20 minutes, or until surface is golden brown and a toothpick inserted in center comes out clean. Cool skillet for 5 minutes before slicing and serving cornbread warm.
Notes
Instead of a cast iron skillet, you may bake this cornbread in an 8-inch round pan or in 12 muffin cups (for muffins, reduce bake time to about 15 minutes). If doing so, generously grease the pan/muffin cups with butter or spray with nonstick cooking spray (in lieu of preheating in the oven with melted butter).
You may use regular all-purpose white flour in this recipe, or whole wheat pastry flour, or a combination of the two. I used half white flour and half whole wheat pastry flour for the cornbread in these photos.
If you don't have buttermilk on hand, make your own by putting a tablespoon of lemon juice or white vinegar into the bottom of a glass measuring cup. Fill the cup to the 1-cup line with milk, stir, and allow to sit at room temperature for 10 minutes, after which the milk will have thickened and curdled like buttermilk.
NUTRITION CALCULATIONS are for one serving from one pan of cornbread (made as directed, with one pan of cornbread yielding 12 servings).
***If you would like to test this recipe (to make sure you like the cornbread before making a quadruple-batch of Cornbread Mix!), a single batch of dry ingredients (for ONE pan of cornbread) would call for: 1 cup cornmeal, 1 cup flour, 1 tablespoon baking powder, and ½ teaspoon salt.***
Calories:
163
kcal
|
Carbohydrates:
25
g
|
Protein:
4
g
|
Fat:
6
g
|
Saturated Fat:
3
g
|
Cholesterol:
26
mg
|
Sodium:
62
mg
|
Potassium:
191
mg
|
Fiber:
2
g
|
Sugar:
7
g
|
Vitamin A:
171
IU
|
Calcium:
71
mg
|
Iron:
1
mg