Ultimate Cornbread Casserole takes the classic side dish to the next level, made from scratch with the flavorful additions of bacon, cheddar, and jalapeño!

If you're looking for more decadent holiday sides, you'll also love Bacon Green Bean Bundles with Brown Sugar Glaze, Scalloped Corn, and Brussels Sprouts Gratin!
I have always made the same, delicious, decadent Creamy Cheesy Corn Casserole every Thanksgiving and Christmas and Easter and birthday and special occasion for years and years and years. Why mess with a good thing, right? But the truth is, this holiday season, I've got a hankering to change things up a bit! And after developing and testing today's recipe, I do believe I'm going to be serving this Ultimate Cornbread Casserole for Christmas dinner from here on out!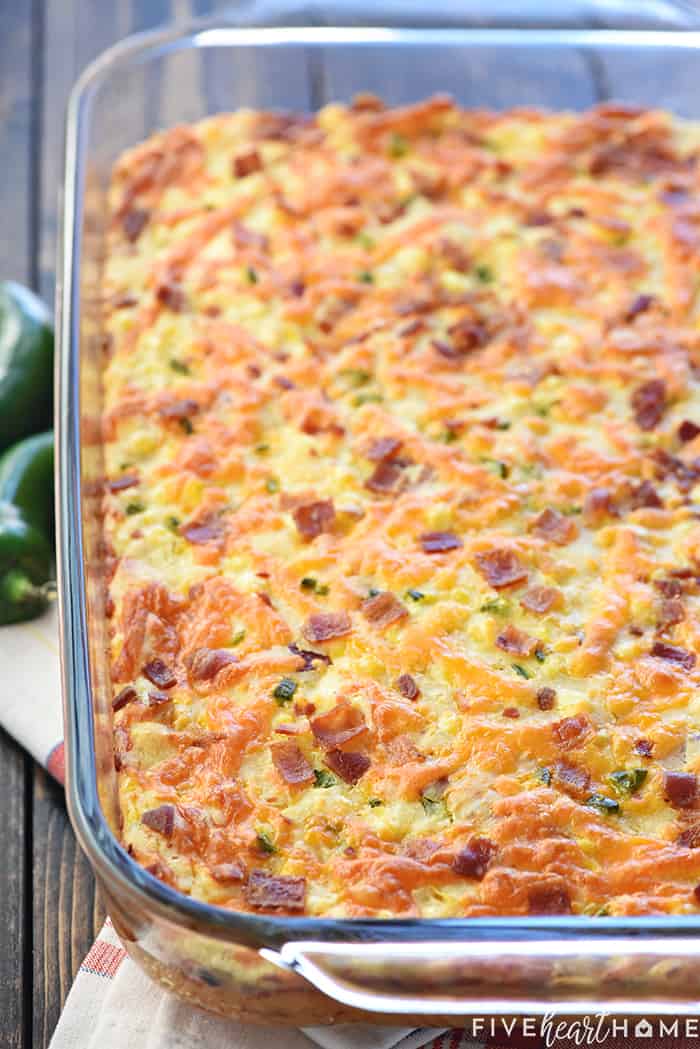 From-Scratch Cornbread Casserole
It seems that most folks have some type of corn dish on their table for big holidays. And while my other popular corn casserole gets its creaminess from cream cheese, this time I decided to take a stab at the traditional Jiffy cornbread mix-type corn casserole. Except I knew I didn't want to rely on a packaged cornbread mix with its not-so-natural ingredients.
Instead, I whisked together a few ingredients. This created my own simple homemade cornbread mix as the base for this Ultimate Cornbread Casserole.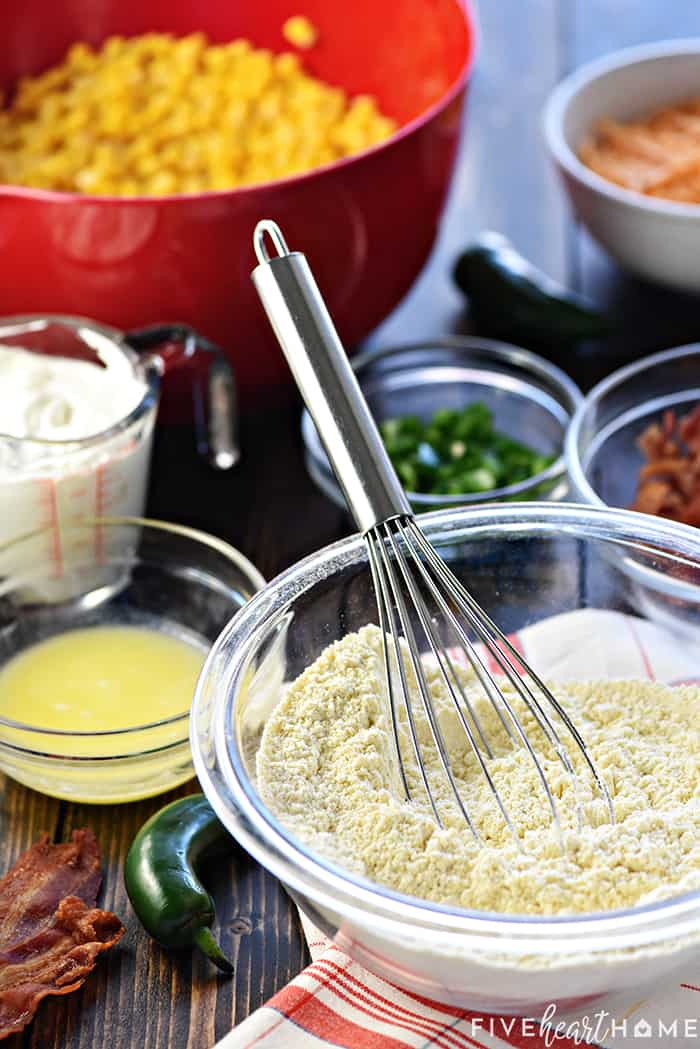 Ingredients
This recipe starts out with the basics: cornmeal, flour, baking powder, and salt.
To the dry cornbread ingredients I added thawed frozen corn (I much prefer its flavor over canned), sour cream, and melted butter...hellooooo, holidays!
But then, I wanted to take this cornbread casserole from good to great. You know, make it ULTIMATE. So I decided to mix in one of my favorite combos of ingredients: salty bacon, zippy jalapeño, and glorious cheddar!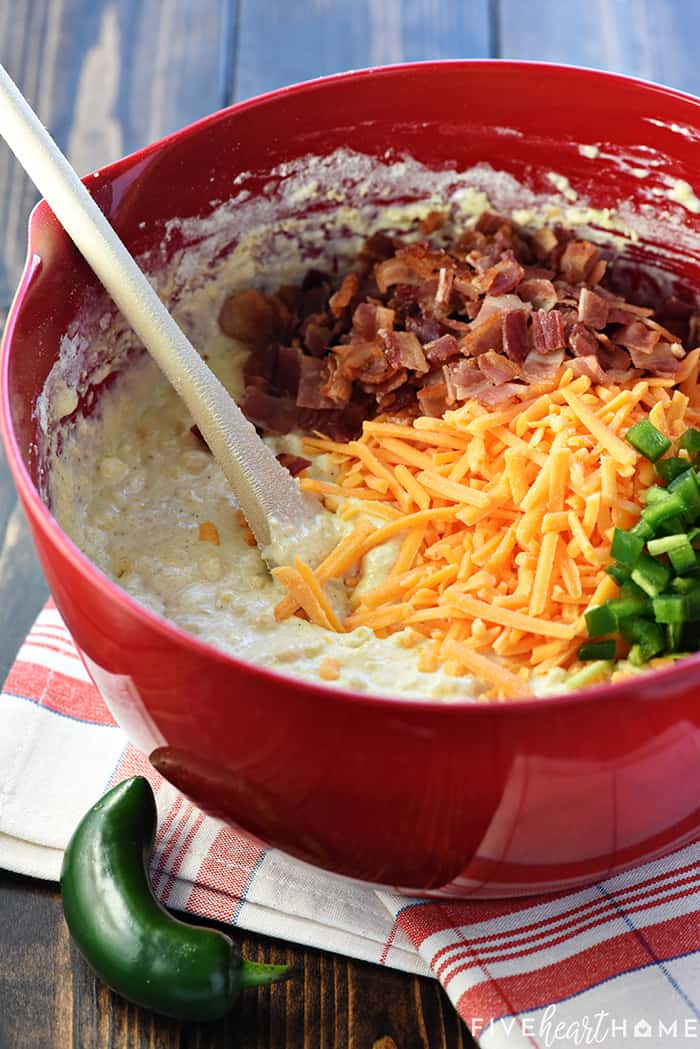 And the results were mahhh-velous. On the day I initially tested it, I served this recipe to my family as a side dish with dinner. And my eldest son-- who could happily eat nothing but stuffing on Thanksgiving...with a small side of creamy corn casserole for good measure -- declared Ultimate Cornbread Casserole THE BEST SIDE DISH OF ALL TIME. Because in his mind, it was basically like combining stuffing and corn casserole and howcanasidedishgetbetterthanthat?!?!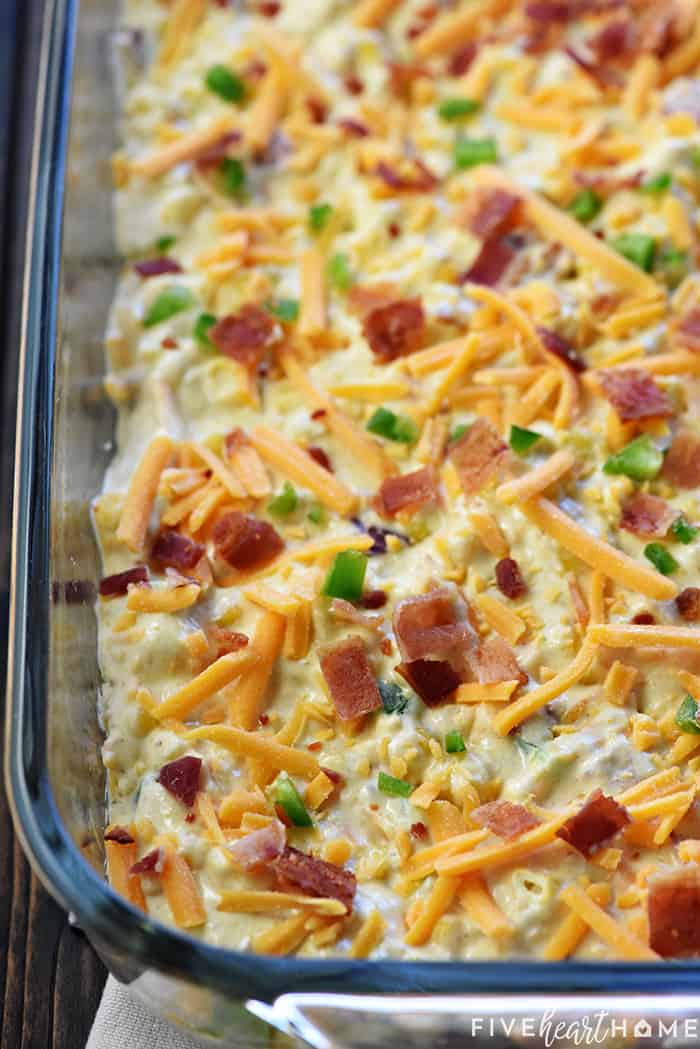 This recipe has the texture of moist, spoonable cornbread packed with plenty of sweet corn kernels. And then for a scrumptious flavor boost, there's that aforementioned crispy diced bacon, minced fresh jalapeño, and grated sharp cheddar throughout. I've been known to add those ingredients to regular cornbread to rave reviews, so I wasn't surprised that they worked swimmingly in this recipe as well.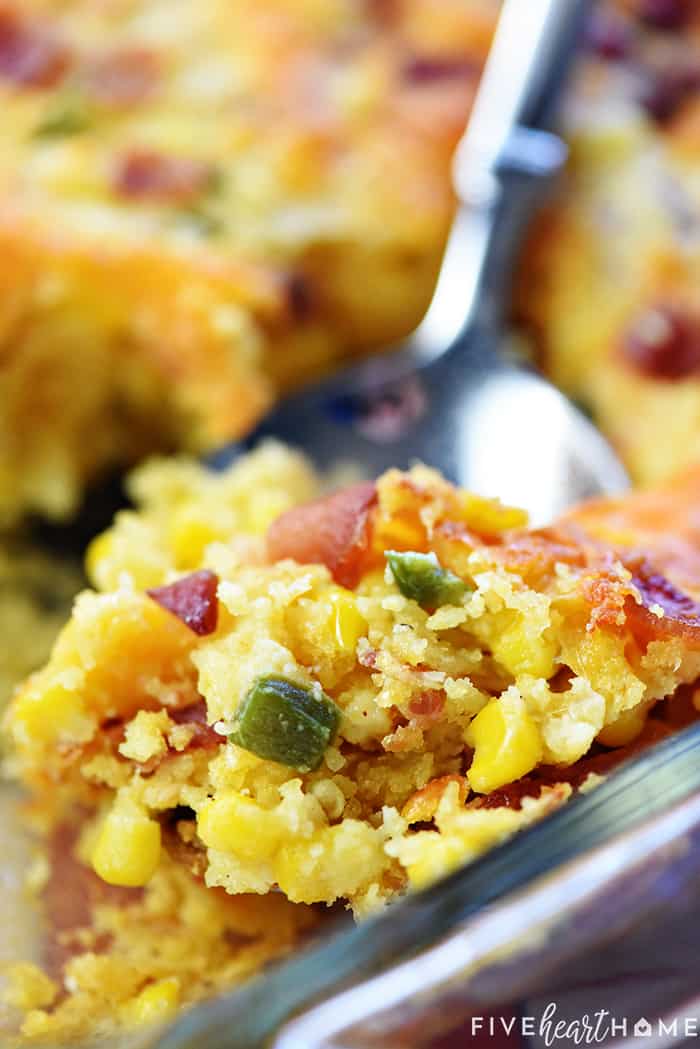 So do you have your Christmas menu set yet? If you've got space on your table to try something new -- or perhaps just a new twist on a beloved classic that you already happen to serve -- I think this Ultimate Cornbread Casserole will be a big hit!
Everything's better with bacon...and this winner of a dish is no exception. 😉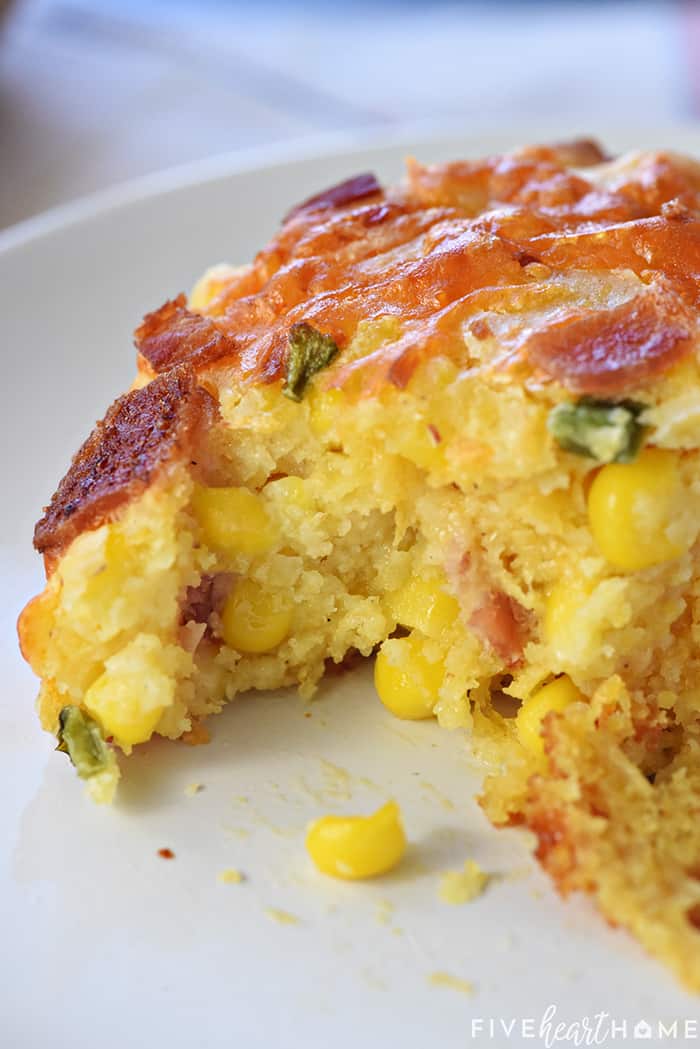 Helpful Tips, Tricks, & Equipment
If you have a tub of my Homemade Cornbread Mix in the pantry, that'll give you a head-start on this recipe (substitution instructions included in the recipe card directions).
1 tablespoon sugar will give a slightly sweet undertone to the cornbread in this recipe. 2 tablespoons will make the cornbread noticeably sweet. But you may leave out the sugar altogether if you prefer completely unsweetened cornbread.
You can keep the jalapeño flavor in this dish very mild by removing all of the seeds and membranes from the peppers, which are where the heat is found. For a bit of heat, leave the seeds and membranes intact. And for extra heat, double up on the jalapeños!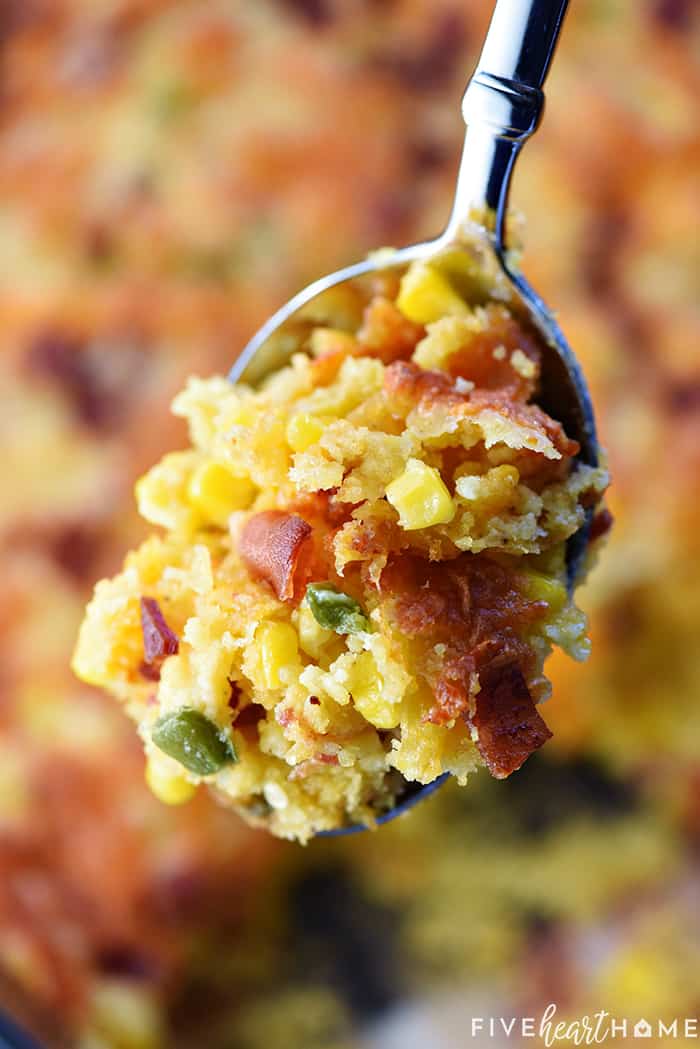 Speaking of which, feel free to add more bacon to this recipe if you so wish. And who wouldn't wish for more bacon?
Don't forget to reserve some bacon, jalapeño, & cheese to sprinkle on top of the casserole before baking. Not only does this garnish add a little color, but it also lets everyone know what they can expect to find inside the casserole once they dig in.
Be careful not to overbake so as not to end up with dry cornbread.

More Tasty Holiday Side Dishes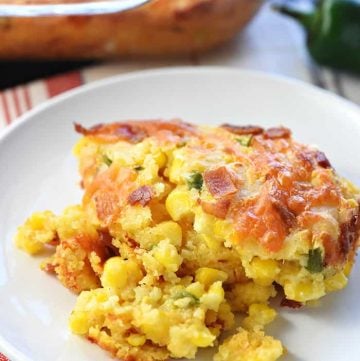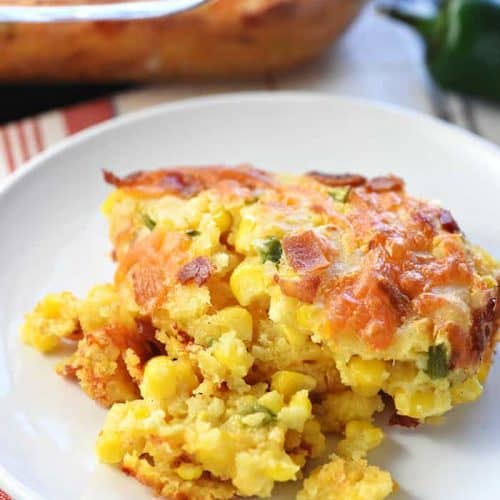 Ultimate Cornbread Casserole
Ultimate Cornbread Casserole takes the classic side dish to the next level, made from scratch with the flavorful additions of bacon, cheddar, and jalapeño!
Print
Pin
Rate
Ingredients
1

cup

cornmeal*

1

cup

all-purpose flour*

1

tablespoon

baking powder*

¾

teaspoon

salt*

1 to 2

tablespoons

sugar

1

(16-ounce) bag frozen corn

,

thawed & drained

1

cup

milk

1

cup

sour cream

6

tablespoons

butter

,

melted

Freshly ground black pepper

,

to taste

8

ounces

bacon

,

cooked until crispy and diced

1 to 2

jalapeños

,

minced (see Tips & Tricks above for a note about controlling the heat level)

1 ½

cups

grated cheddar cheese

,

DIVIDED
Instructions
With oven rack in the center position, preheat oven to 350°F. Generously grease a 9- by 13-inch baking dish and set aside.

In a large bowl, whisk together the cornmeal, flour, baking powder, salt, and sugar. Add the corn, sour cream, and milk and stir to combine. Blend in the butter, black pepper, most of the bacon, most of the jalapeños, and 1 cup of the cheese until just combined.

Pour the mixture into the prepared baking dish. Smooth the top and sprinkle with the remaining bacon, jalapeños, and ½ cup cheese. Bake for 40 to 45 minutes or until the center is set and the top is golden brown.
Notes
*If you wish to use my Homemade Cornbread Mix as a base for this recipe, you may substitute 2 cups Cornbread Mix for the asterisked ingredients above. Add an additional ¼ teaspoon salt to the mix, however. Then proceed with the recipe as directed, starting with the sugar.
Calories:
427
kcal
|
Carbohydrates:
37
g
|
Protein:
13
g
|
Fat:
26
g
|
Saturated Fat:
13
g
|
Cholesterol:
61
mg
|
Sodium:
521
mg
|
Potassium:
462
mg
|
Fiber:
3
g
|
Sugar:
3
g
|
Vitamin A:
518
IU
|
Vitamin C:
5
mg
|
Calcium:
241
mg
|
Iron:
2
mg
Post originally published on December 6, 2018.