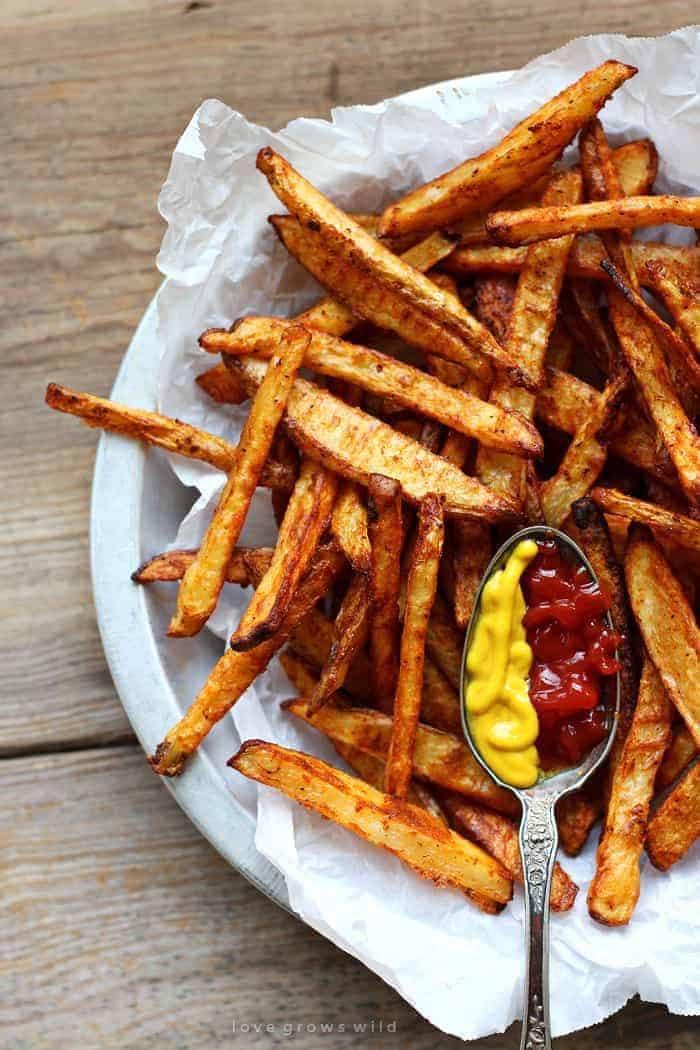 Seasoned Fries are coated with a delicious, spicy seasoning mix and baked --not fried! -- for a crispy, lightened-up, homemade side dish or snack!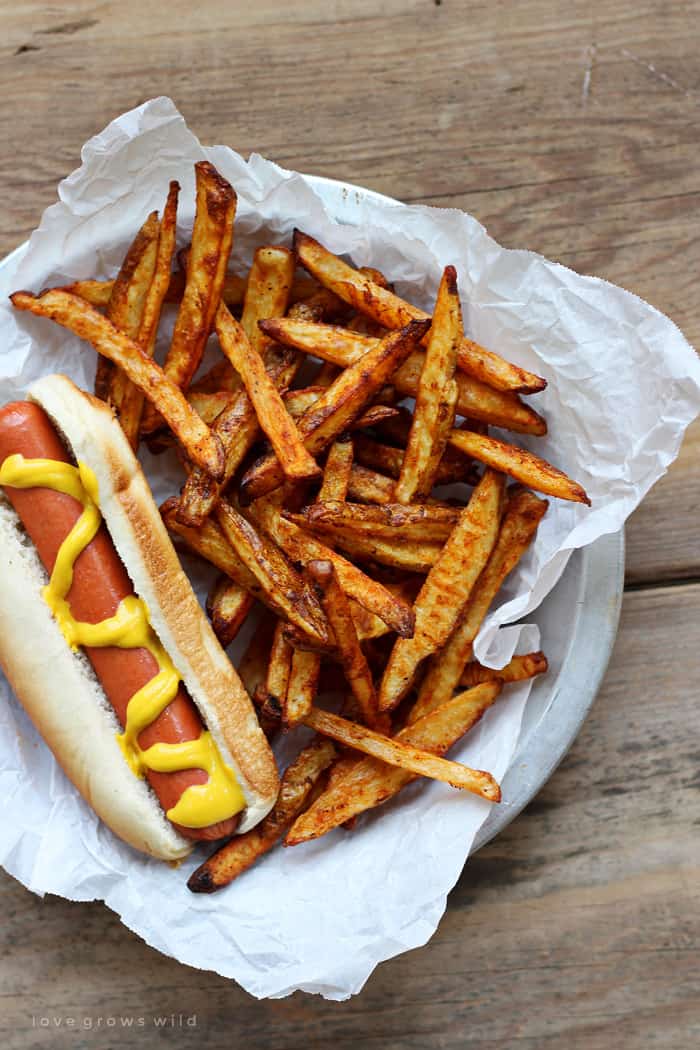 * * * * * * * * * *
Welcome back to our Summer Guest Post Series, where every Friday this summer, a different talented food blogger will be stopping by to share a mouthwatering recipe!

Happy Friday, everyone! I've been buried in packing boxes all week, but that doesn't mean that y'all have to miss out on a tasty new recipe today. 😉 This morning, I am elated to introduce you to Liz from Love Grows Wild! Liz was one of the first bloggers I got to know and work with when I first started Five Heart Home, and she remains a dear friend to this day. And her talent? Well, it never ceases to amaze me, from her incredible furniture and home makeover projects to her scrumptious recipes. Please extend Liz a warm welcome, and be sure to hop over Love Grows Wild sometime soon to soak in her fabulousness!
* * * * * * * * * *
Hello, friends. Today I bring you Seasoned Fries!
These aren't the gross, fatty ones you get from the drive-thru. These fries are crispy and homemade with a delicious, spicy seasoning mix. But the best part is that they're BAKED, not fried!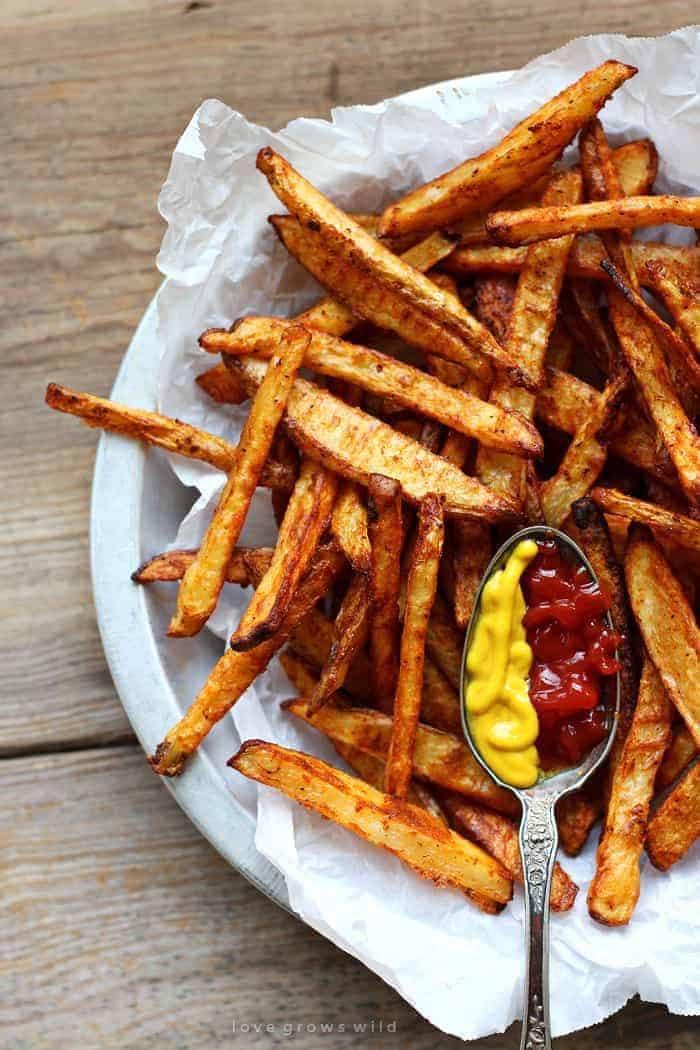 The Secret to Crispy Baked Fries
Before I dive into how to make these perfect Seasoned Fries, I want to share a little french fry tip with you that I've learned over the years:
Once you get your potatoes cut into nice, thin fries, soak those taters in some cold water for about an hour before cooking them.
Soaking your potatoes with help remove some of the starch, which allows them to get nice and crispy on the outside while remaining soft and tender on the inside.
Just be sure to drain and pat them dry really well before moving on to the next step!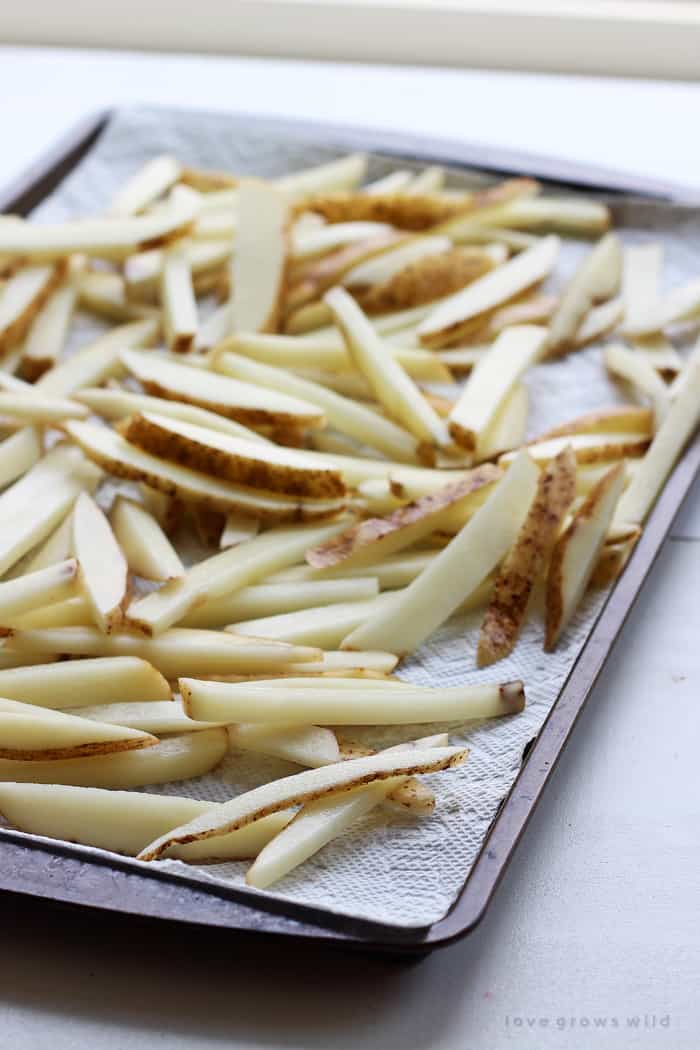 Seasoned Fries Ingredients
Now let's season them!
First, a little oil. I like canola.
Then a mixture of smoked paprika, cumin, garlic powder, cornstarch, salt, and pepper.
The smoked paprika is key to giving the fries a smoky heat and lots of gorgeous color.
Baking Them
Then onto a baking sheet and into the oven they go!
Depending on how thick you cut your fries and how crowded your baking sheet is, it should take about 40-45 minutes for them to cook and get nice and crispy.
After the 40 minute mark, watch them closely...they can go from "almost there" to "oh no!" very quickly!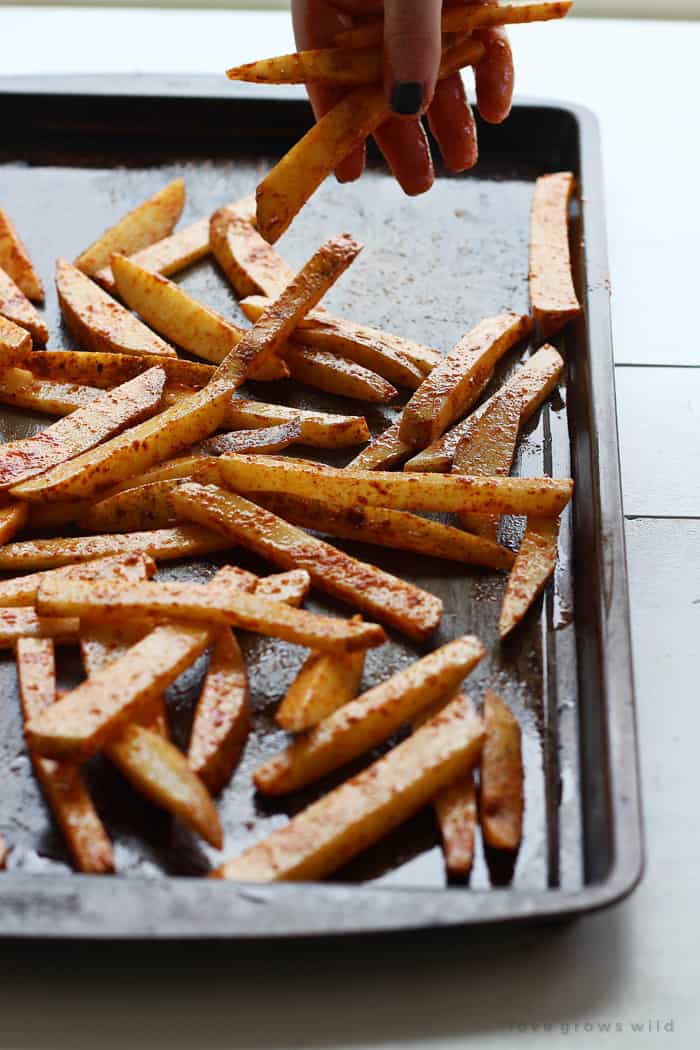 Serve these Seasoned Fries with hamburgers, hot dogs, or just a side of ketchup. They're perfect for summer meals and, as an added bonus, much healthier than fried fast food!
Enjoy, friends!
More Summer Sides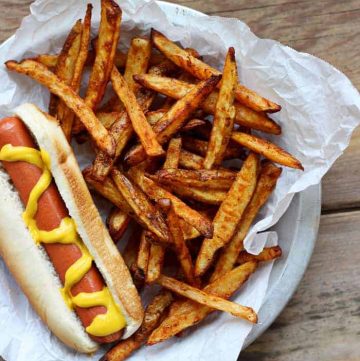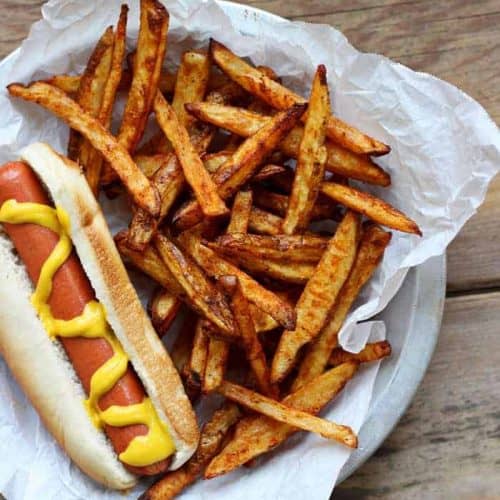 Baked Seasoned Fries
Seasoned Fries are coated with a delicious, spicy seasoning mix and baked --not fried! -- for a crispy, lightened-up, homemade side dish or snack!
Print
Pin
Rate
Ingredients
3

large (OR 4 medium) russet potatoes

2

tablespoons

canola oil

1

tablespoon

cornstarch

2

teaspoons

smoked paprika

1

teaspoon

salt

½

teaspoon

black pepper

½

teaspoon

cumin

½

teaspoon

garlic powder
Instructions
Wash the potatoes, then cut them lengthwise into ½" thick slices. Then cut each slice lengthwise into ¼" sticks. Fill a large bowl with cold water and soak the potato slices for about 1 hour. Drain the potatoes and pat them dry with paper towels.

Preheat oven to 425ºF. In a large bowl, toss the potatoes with canola oil to coat. Mix the cornstarch, smoked paprika, salt, black pepper, cumin, and garlic powder in a small bowl, and add to the potatoes. Toss until potatoes are evenly coated in the seasoning mixture.

Place potatoes in a single layer on 2 parchment-lined baking sheets and bake for 40 minutes, flipping the potatoes halfway through. Check the potatoes and continue baking another 5-10 minutes until desired crispness is reached. Serve with your favorite dipping sauce.
Notes
Bake time will depend on your oven, how thick you slice the potatoes, and how much you crowd the baking sheets. Keep a close eye on the potatoes after 40 minutes, as they can burn quickly!
Calories:
168
kcal
|
Carbohydrates:
23
g
|
Protein:
4
g
|
Fat:
7
g
|
Saturated Fat:
1
g
|
Sodium:
599
mg
|
Potassium:
683
mg
|
Fiber:
4
g
|
Sugar:
1
g
|
Vitamin A:
493
IU
|
Vitamin C:
18
mg
|
Calcium:
48
mg
|
Iron:
6
mg
Wow, Liz...I can almost smell those spicy, seasoned fries. In fact, I can practically TASTE them! Can't wait to make 'em...my belly (and my kids) thank you in advance. 😉