Cheesy Garlic Roasted Potatoes & Asparagus is an easy, one-pan side dish recipe that makes a gorgeous, delicious addition to a special holiday meal or a regular weeknight dinner!

Spring Break is upon us, Easter is around the corner, and I say it's high time we bid adieu to winter recipes and ring in the new season with some fresh, spring fare!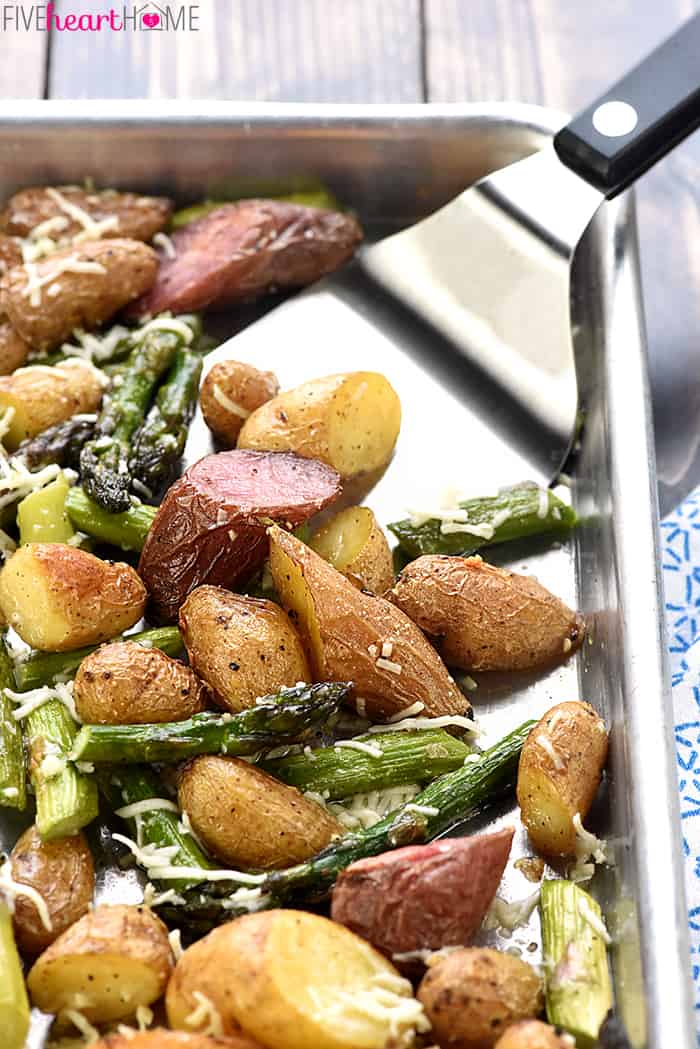 I don't think an Easter menu would be complete without asparagus, so this year I've paired this quintessential spring veggie with tender fingerling potatoes in Cheesy Garlic Roasted Potatoes and Asparagus. The medley gets tossed with olive oil, salt, and pepper, then roasted with fresh minced garlic and finished off with a shower of sharp Romano cheese.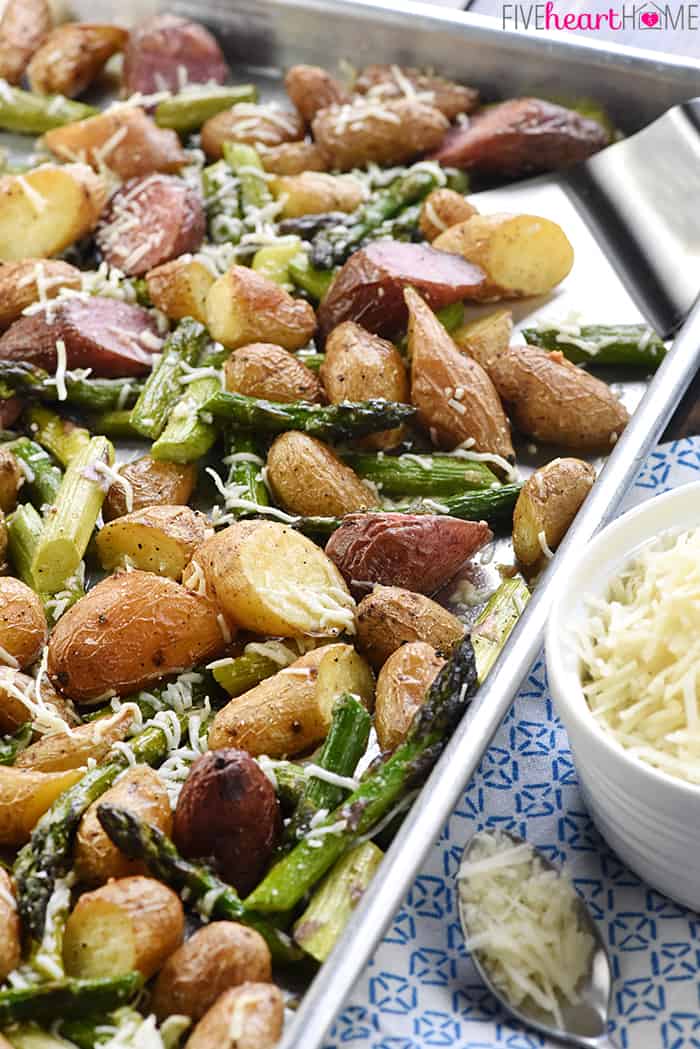 The resulting side dish is so delectable that it borders on addictive, with amazing texture and flavor from roasting. Veggies + high heat = pure magic, y'all.
The tricky part of this recipe is that asparagus takes nowhere near as long to cook as potatoes. But the solution is easy…simply give the potatoes a head-start on roasting, and then add the asparagus and minced garlic to the sheet pan for the last 10 minutes or so. Then don't forget the CHEESE!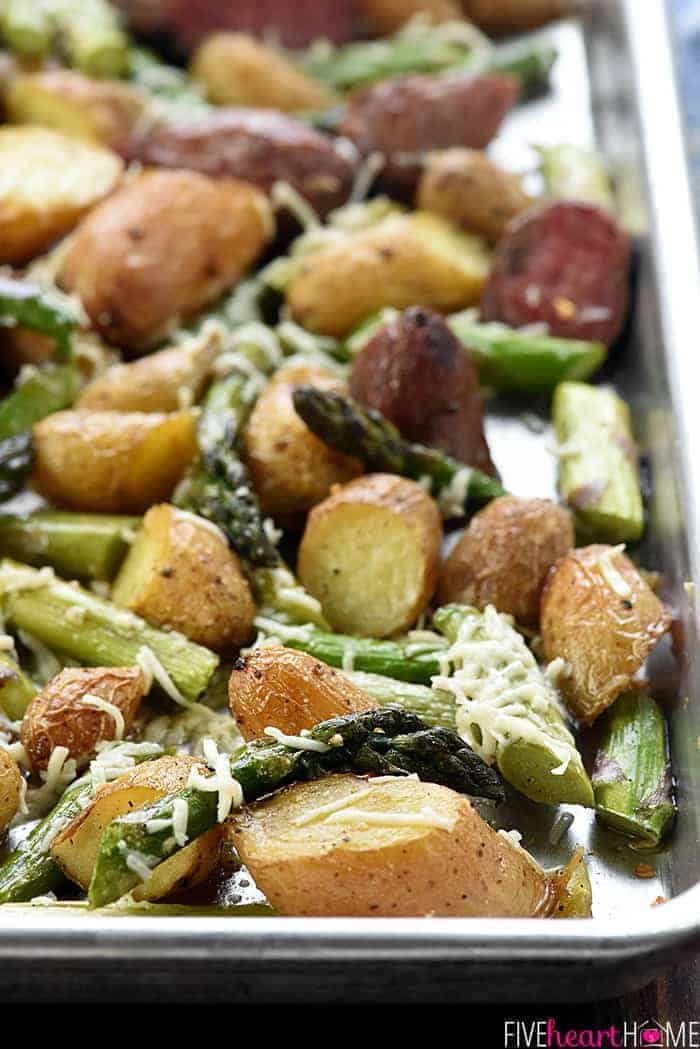 When I initially piled some Cheesy Garlic Roasted Potatoes & Asparagus onto my kids' plates, they eyed the side with a bit of apprehension. But one bite in and they were sold!
Eldest son: "This is SO GOOD, Mama!"
Middle son: "I LOVE this asparagus!"
Youngest daughter: *Tried tiny bite. Did not whine or throw fit. SUCCESS!*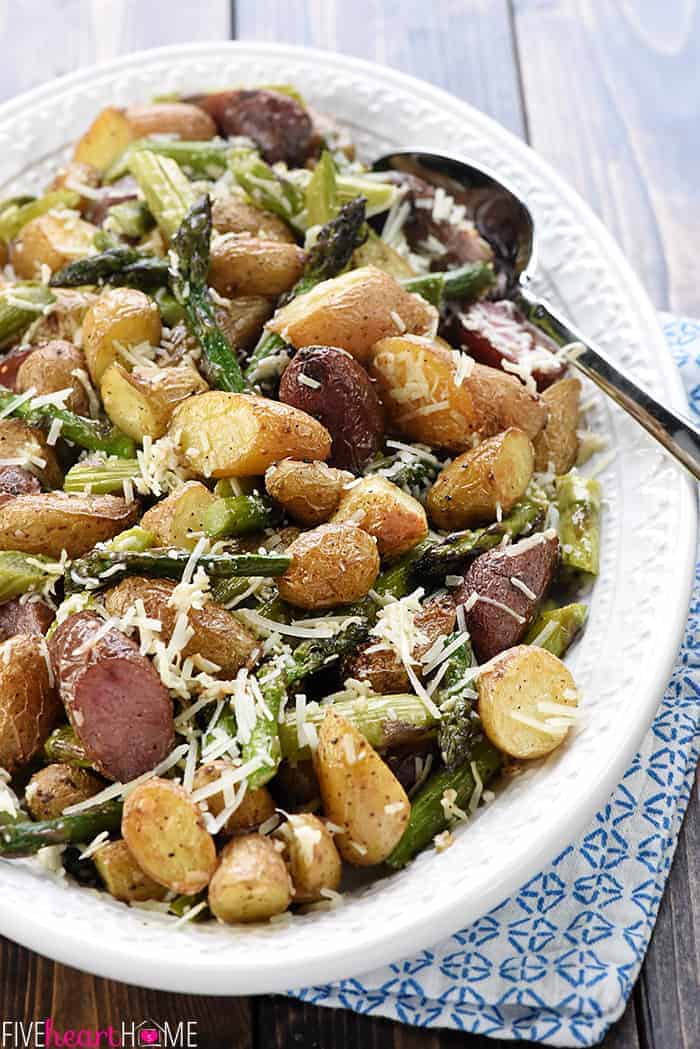 I found a little bag of colorful fingerling potatoes at the grocery store, so that's what I used in this recipe. The funny thing was that, once sliced, the red fingerling potatoes looked remarkably like sausage. It made all of us do multiple double-takes as we were eating. But actually, now that I'm thinking about it, sliced sausage would actually make a pretty tasty addition to this recipe… 😉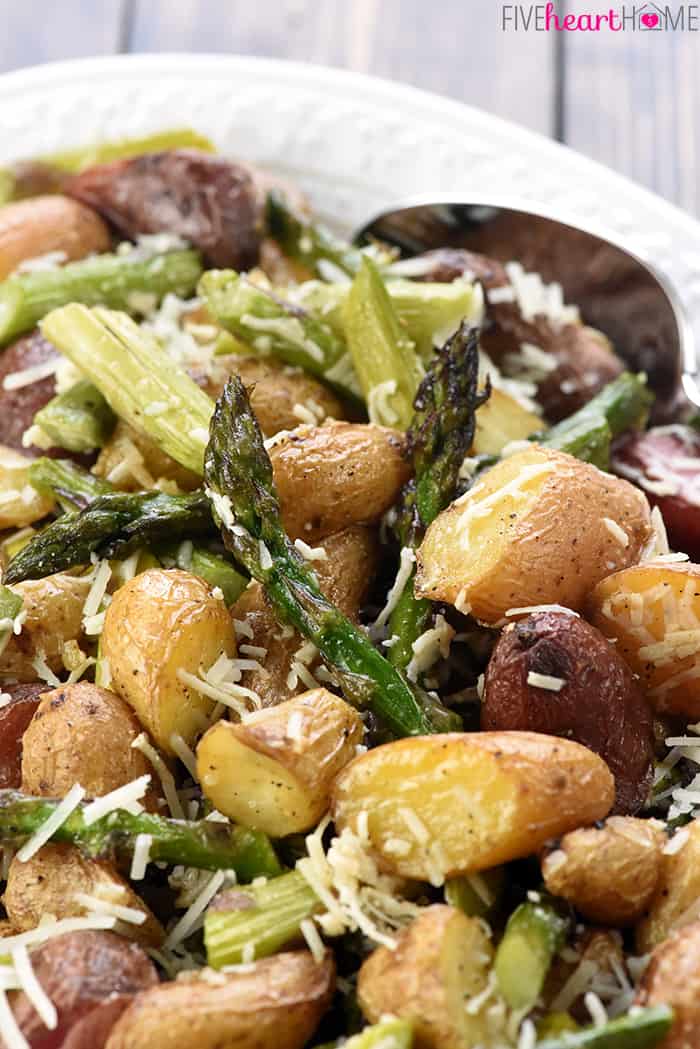 If you can't find fingerling potatoes — or if they're too pricey, which they sometimes are — you may certainly use another variety of potatoes…red or yellow new potatoes or full-sized red or Yukon gold potatoes would all work great. But whichever type potatoes you end up using, you'll want to be sure to cut 'em into 1 1/2-inch or so chunks for quick, even roasting. I cut my larger fingerling potatoes into halves or thirds and left the tiny ones whole. As a bonus, I think a variety of sizes makes for a prettier platter, too.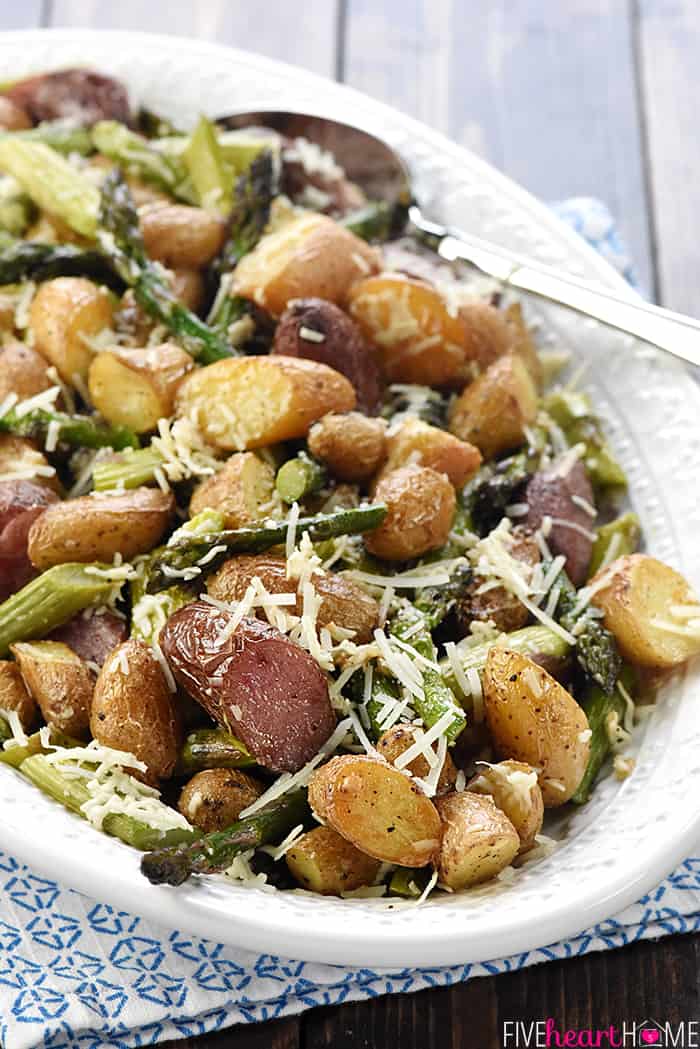 Cheesy Garlic Roasted Potatoes & Asparagus is a yummy, vibrant side dish that's gorgeous enough for your holiday table but simple enough to whip up any ol' night of the week! Welcoming spring never tasted so good… 😉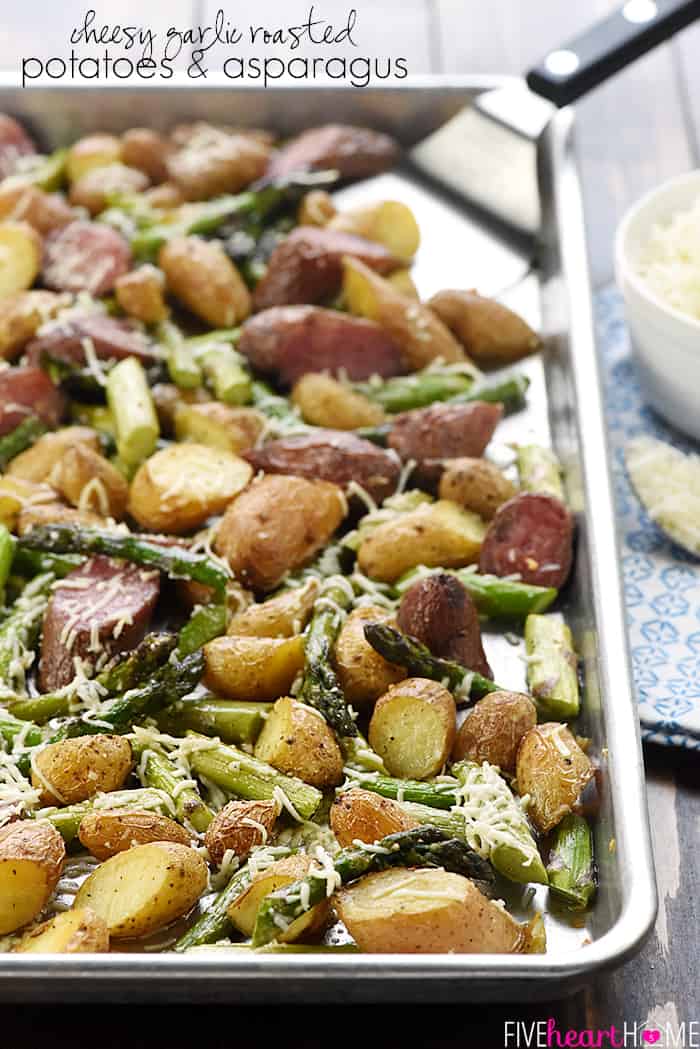 Cheesy Garlic Roasted Potatoes & Asparagus
Cheesy Garlic Roasted Potatoes & Asparagus is an easy, one-pan side dish recipe that makes a gorgeous, delicious addition to a special holiday meal or a regular weeknight dinner!
Ingredients
2 pounds fingerling potatoes, tiny ones left whole and larger ones cut into 1 1/2-inch chunks
4 tablespoons extra-virgin olive oil, DIVIDED
3/4 teaspoon salt, DIVIDED
Freshly ground black pepper
1 pound thick asparagus, trimmed & diagonally sliced into 2-inch pieces
2 cloves garlic, minced
1/2 cup freshly shredded Romano cheese
Instructions
Place rack in center position of oven and preheat oven to 425°F.
Place potatoes in a gallon-sized plastic baggie. Drizzle with 3 tablespoons olive oil and sprinkle with 1/2 teaspoon salt and freshly ground black pepper, to taste. Seal the bag and shake it until potatoes are evenly coated. Dump the potatoes out onto a large, rimmed sheet pan and spread them into a single layer. Cook for 15 minutes, use a metal spatula to stir (and scrape up any potatoes sticking to the pan), and cook for 10 more minutes or until the potatoes are tender.
Add the asparagus to the same bag that was used for the potatoes. Drizzle with remaining 1 tablespoon olive oil, sprinkle with remaining 1/4 teaspoon salt, and add additional pepper. Seal the bag and shake to coat the asparagus.
Once the potatoes are tender, remove the pan from the oven, add the asparagus, sprinkle with the minced garlic, toss everything together, and spread into a single layer. Cook for 8 to 12 minutes until the asparagus is tender (depending on the thickness of the asparagus). Sprinkle the veggies with the Romano cheese and cook for 1 to 2 more minutes to melt the cheese. Serve immediately.
Notes
You may use new potatoes or large red or yellow (such as Yukon Gold) potatoes instead of fingerlings. Just be sure to cut them into 1 1/2-inch chunks for even roasting.
Thick spears of asparagus hold up to roasting better than thin spears. If you can only find thin spears, however, be prepared to reduce their cooking time.
If desired, you may use freshly grated or shredded Parmesan in place of the Romano.
https://www.fivehearthome.com/roasted-potatoes-asparagus-with-garlic-cheese-side-dish-recipe/
https://www.fivehearthome.com ~ All recipes and images on Five Heart Home are copyright protected. Please do not use without my permission. If you would like to feature this recipe, please rewrite the directions in your own words and give proper attribution by linking back to this blog.
More spring side dishes…
Slow Cooker Honey Cinnamon Carrots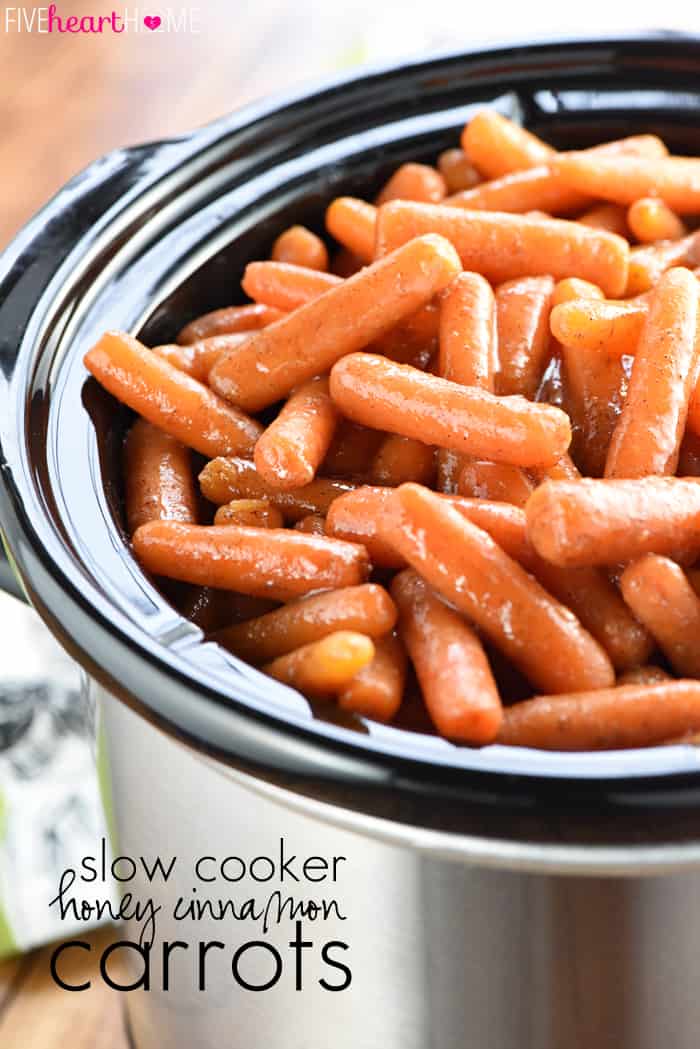 Creamy Spring Peas with Bacon & Mint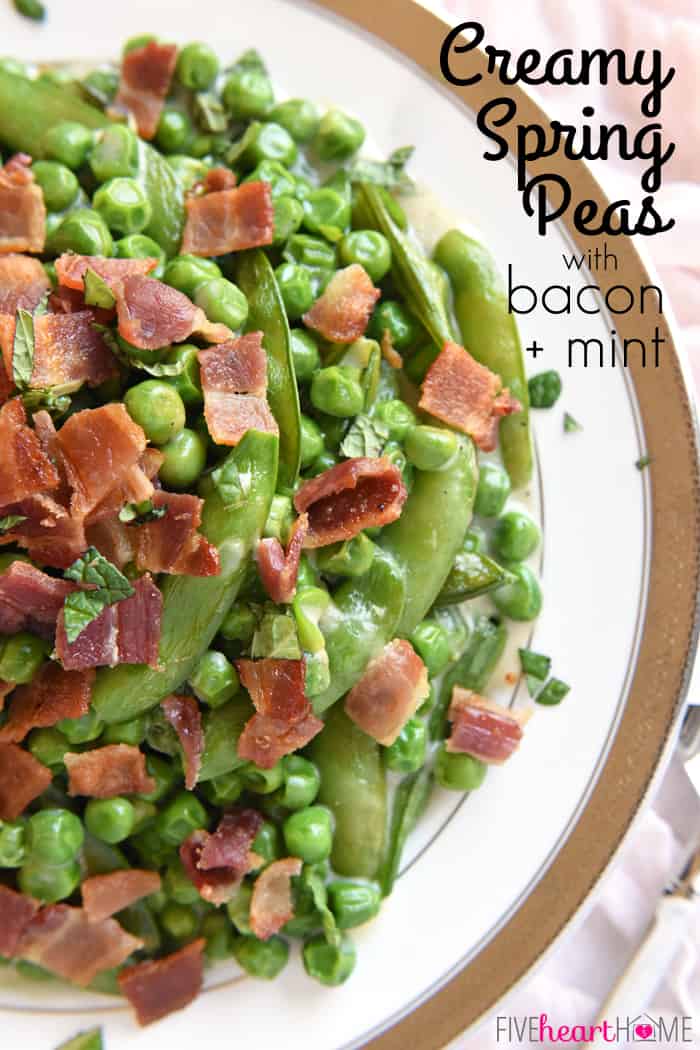 Parmesan Panko Asparagus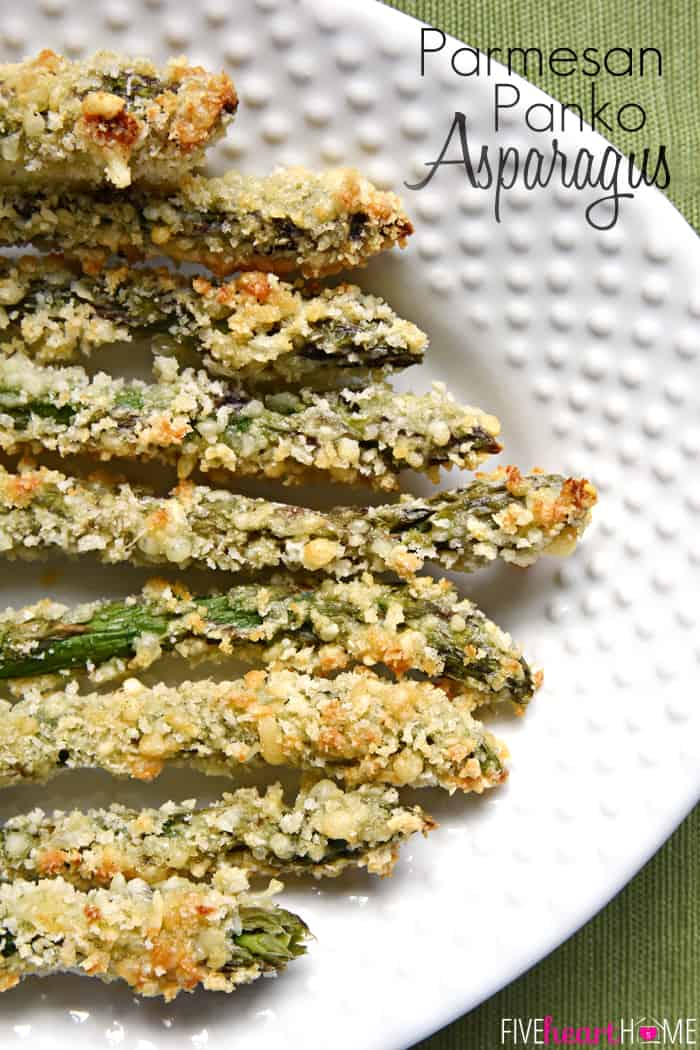 Quick & Easy Garlic Rosemary Cloverleaf Rolls