Tropical Banana Ice Cream is a healthy, natural, all-fruit, dairy-free dessert made with no added sugar, featuring frozen bananas, pineapple, and mango whipped to an ice cream-like consistency. It's decadent enough for dessert yet healthy enough for breakfast!

Tell me that you've tried frozen banana "ice cream" before? It's a dairy-free dessert that's been all the rage on Pinterest for a few years now, and I have to say...it really does live up to the hype.
What is Banana Ice Cream?
To make it, you basically take frozen bananas and purée them in a food processor (or high-powered blender) until they transform from banana chunks into a smooth, silky, frozen treat boasting the consistency of soft serve ice cream.
In summary?
It tastes like dessert but it's nothing more than frozen fruit.
Even my kiddo who doesn't care for bananas loves this stuff. If that's not some serious kitchen magic, I'm not sure what is.
Apparently, the reason that frozen Banana Ice Cream works is because bananas have a higher fat content than other fruit. This allows it to whip to that luxurious, creamy consistency synonymous with ice cream. But what's really fun about it is that, by adding other ingredients, you can make this healthy frozen treat in a variety of flavors!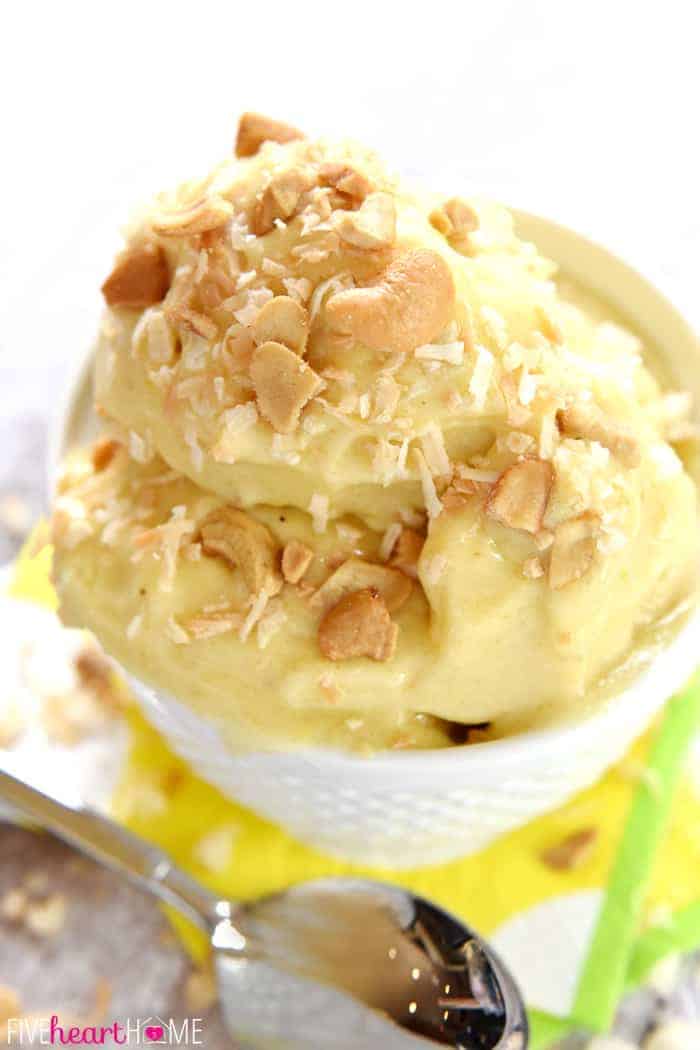 Flavor Ideas
There's quite a bit of room for creativity when it comes to Banana Ice Cream flavors. Some versions I've made before have included:
Peanut butter
Nutella
Strawberries
Cherries
Chocolate Chips
Feel free to get creative! That being said, with the official approach of summer, lately I've been in a tropical mood.
Ingredients
I decided to try this variation whereby I added some frozen pineapple and mango chunks to frozen bananas, a bit of coconut milk to get things going, and a splash of vanilla for that extra sumpin' sumpin'.
The resulting dairy-free frozen delight will transport you straight to the land of palm trees and ocean breezes!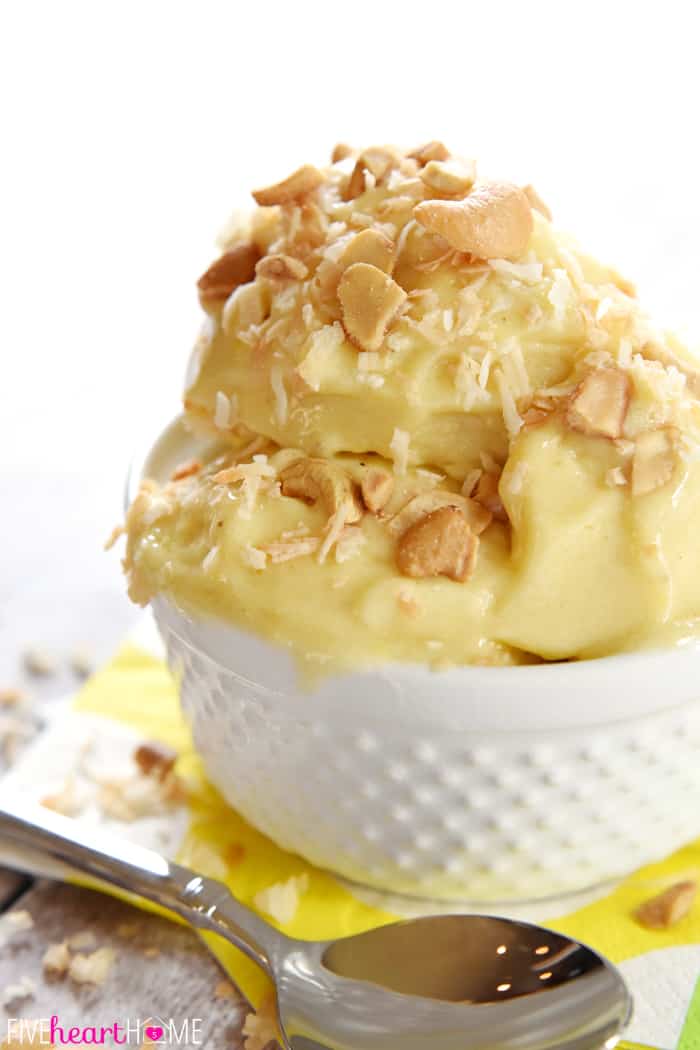 Okay, maybe that's a stretch.
Maybe Banana Ice Cream will just momentarily cool you down when the temps outside peak at over 100 degrees.
Maybe it will delight your kids as a summer vacation breakfast treat, because HOW COOL ARE YOU for making ICE CREAM for BREAKFAST?! (And all the while you can inwardly cackle that they're eating nothing more than fruit.)
Maybe it will become that summertime (or year-round) go-to dessert that you don't have to feel guilty about enjoying -- every single night, should you so desire. (Score!)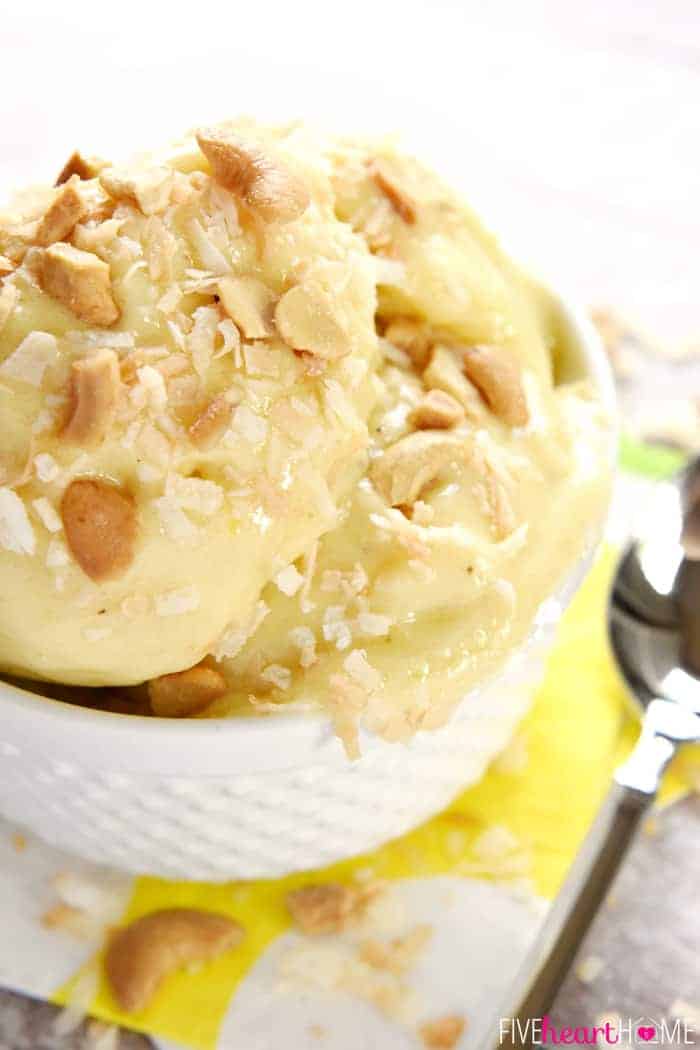 Toppings
At any rate, don't neglect the garnishes when you prepare to scarf down your delectable Banana Ice Cream.
A shower of toasted coconut adds to the tropical vibe while contributing some chewy texture.
A generous sprinkle of chopped cashews or macadamia nuts lends crunch while countering the sweet with a little salty.
And as any good margarita will tell you, that sweet + salty combo is most certainly a good thing. 😉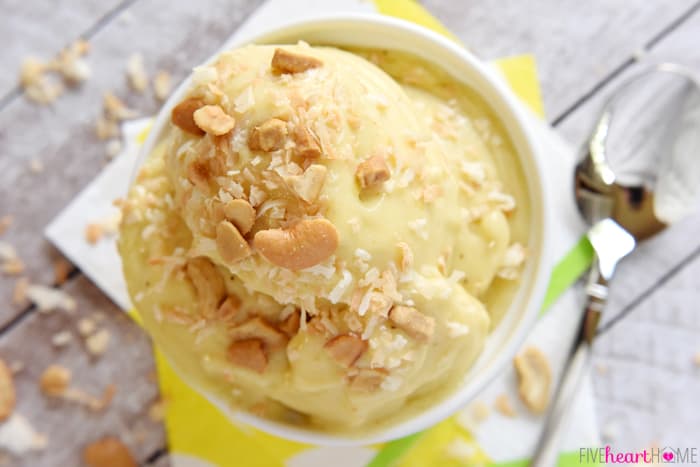 So break out the food processor (or blender -- but keep in mind that this recipe will only work if it's a powerful one) and get ready to enjoy the greatest invention since ice cream...fake banana "ice cream" made with a blend of frozen fruit!
Tropical Banana Ice Cream is a guilt-free summer treat that will keep you coming back for more! And with no added sugar, I say you can have as much as you darn well please. 🙂
More Frozen Treats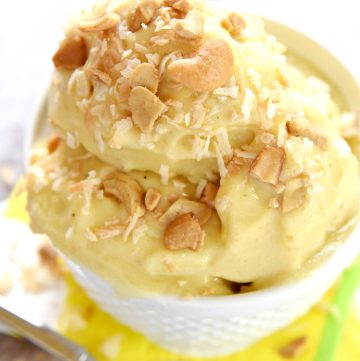 Tropical Banana Ice Cream
Tropical Banana Ice Cream is a healthy, natural, dairy-free, all-fruit dessert made with no added sugar, featuring frozen bananas, pineapple, and mango whipped to an ice cream-like consistency. It's decadent enough for dessert yet healthy enough for breakfast!
Print
Pin
Rate
Servings:
3
to 4 servings
Ingredients
3

large bananas

,

cut into 1-inch slices & frozen

½

cup

frozen pineapple chunks

½

cup

frozen mango chunks

1

tablespoon

coconut milk

½

teaspoon

pure vanilla extract

Toasted shredded coconut

,

for garnish

Chopped salted cashews OR macadamia nuts

,

for garnish
Instructions
Place frozen banana slices, frozen pineapple chunks, frozen mango chunks, coconut milk, and vanilla in the bowl of a large food processor. Process for several minutes, pulsing and/or scraping down the sides of the bowl as necessary to keep things moving. At first the fruit will look chunky, but it will eventually begin to smooth out. Process until the "ice cream" looks silky and creamy, which will probably take between 3 to 5 minutes. Scoop into bowls, top with toasted coconut and chopped nuts, and serve immediately.
Notes
If you don't have a food processor, this recipe will also work in a high-powered, heavy-duty blender.
I usually keep a carton of coconut milk in the fridge. But if you don't have any on hand, you can use just about any liquid: regular milk or cream, almond milk, canned coconut milk, orange juice, etc. The purpose of the liquid is just to get the food processor or blender moving. You can add a splash more liquid if necessary, but use as little as possible to prevent the ice cream from having a runny consistency.
To toast coconut, preheat oven to 350°F and spread shredded coconut in an even layer on a baking sheet. Bake for 5 to 10 minutes, watching closely and stirring occasionally, until flakes are lightly browned.
Banana ice cream is best enjoyed right after it's made. You may freeze leftovers, but it will lose its soft, creamy consistency. If you must freeze it, breaking it into chunks and pureeing it in the food processor once again before serving may help to restore its original consistency.
Calories:
147
kcal
|
Carbohydrates:
35
g
|
Protein:
2
g
|
Fat:
2
g
|
Saturated Fat:
1
g
|
Sodium:
2
mg
|
Potassium:
499
mg
|
Fiber:
4
g
|
Sugar:
21
g
|
Vitamin A:
375
IU
|
Vitamin C:
33.4
mg
|
Calcium:
9
mg
|
Iron:
0.6
mg
Originally published June 2, 2015.