Fruity Yogurt Popsicles are a frosty summer treat made with just three simple ingredients...and while they're healthy enough for breakfast, they taste decadent enough for dessert!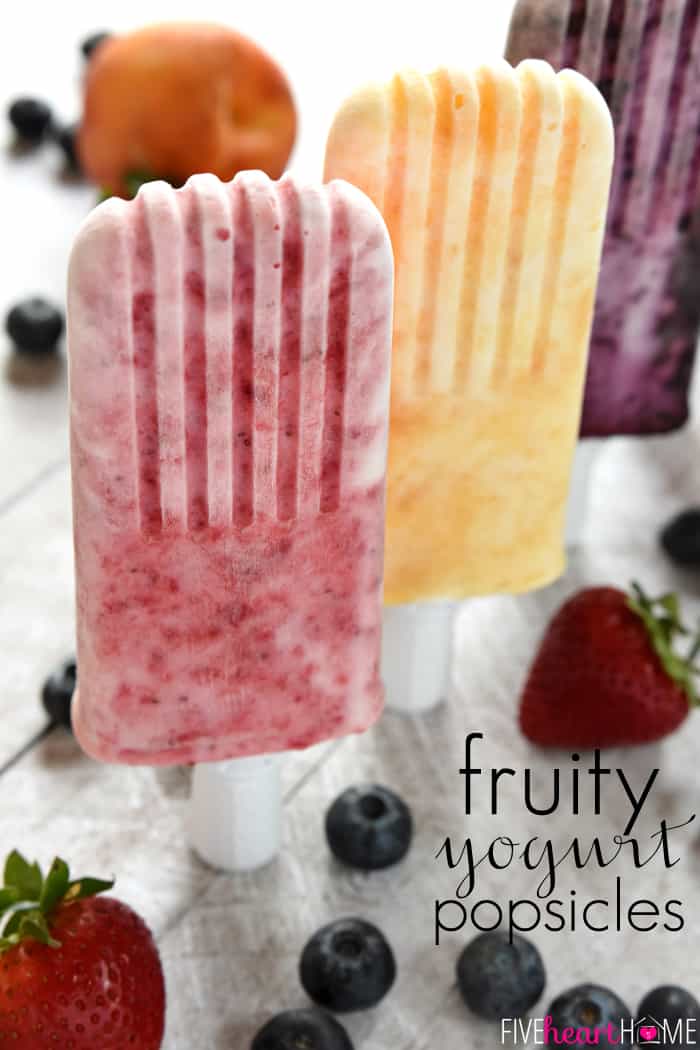 'Tis the season to indulge in popsicles! And I have to admit, y'all...I actually adore making these summertime sweets. I'm not one to argue when my offspring eagerly gobble up a "dessert" consisting of wholesome ingredients like fresh fruit, yogurt, and a touch of honey...and that's exactly what happens when I make these Fruity Yogurt Popsicles!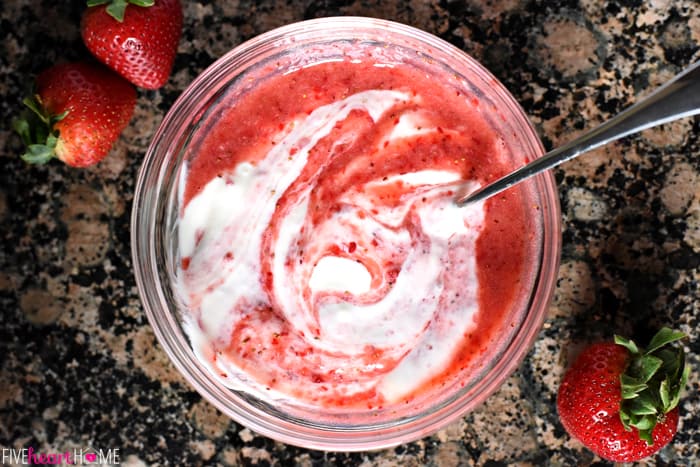 A few weeks ago, I was cleaning out the fridge in preparation for heading out of town, and I encountered some overripe fruit that needed to be used before it spoiled completely. Typically, I would have just washed it and tossed it into the freezer for future smoothies. But my kids had been pestering me to make popsicles this summer, so I decided to go ahead and indulge them while simultaneously making use of the past-its-prime fruit.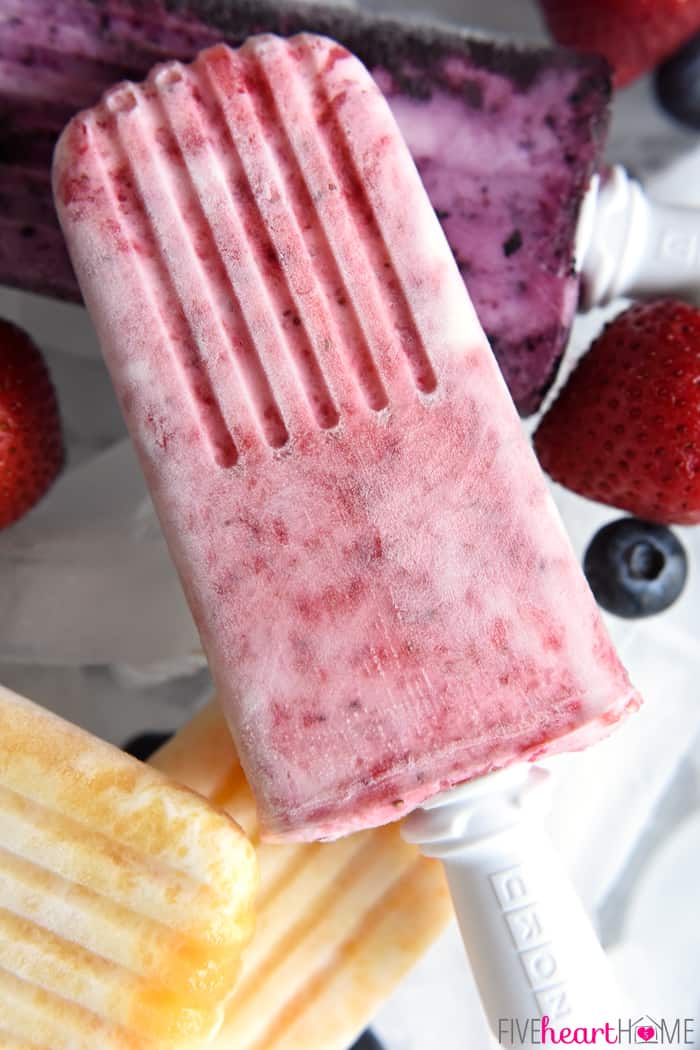 How to Make 'Em
My kiddos aren't particularly fans of chunks of fruit in their popsicles, so in my never-ending benevolence, I pulled out my mini food processor and made three separate purées using a couple of over-ripe peaches, some squishy strawberries, and some shriveled blueberries (sounds appetizing, no?).
The peaches and strawberries were already pretty sweet but the blueberries were a tad tart, so I added a squeeze of honey to that purée.
Then I located a carton of my daughter's beloved vanilla yogurt and swirled some into each fruit purée.
Into the popsicle molds my concoctions went, which I then popped into the freezer...and I left for our trip satisfied that I had saved the fruit! 😉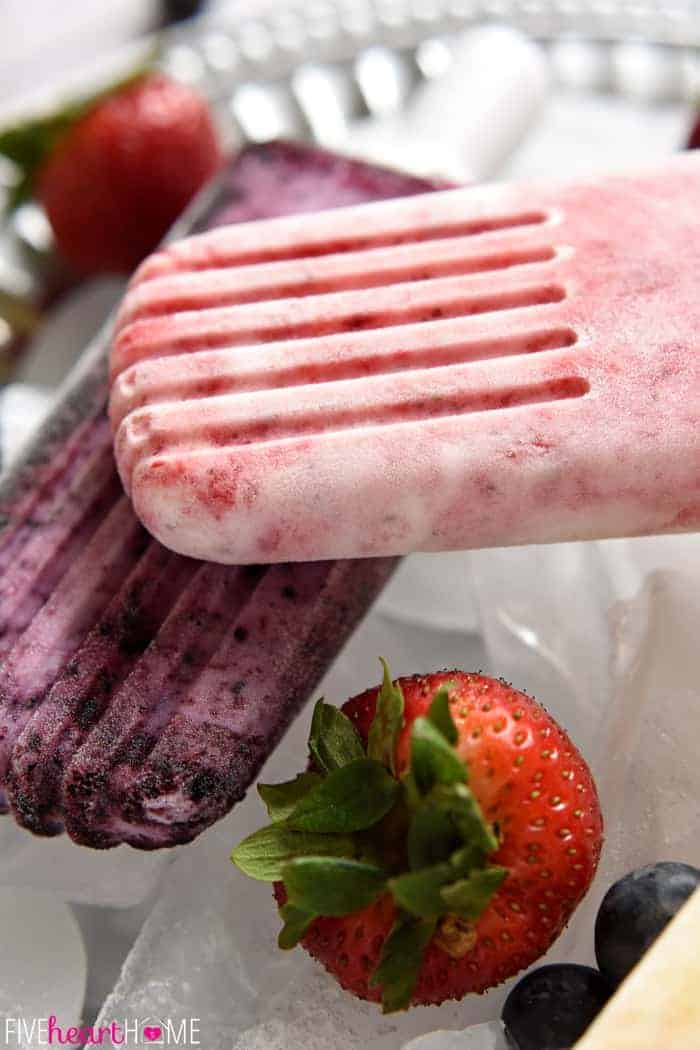 Upon our return, of course, the children ever-so-sweetly reminded me of the yogurt popsicles patiently waiting in the freezer
Mama, can we taste a popsicle?
When can we try those popsicles?
Is it time to have a popsicle...?
And I had to crush their dreams by informing them that I first needed to take blog photos of said popsicles -- ha.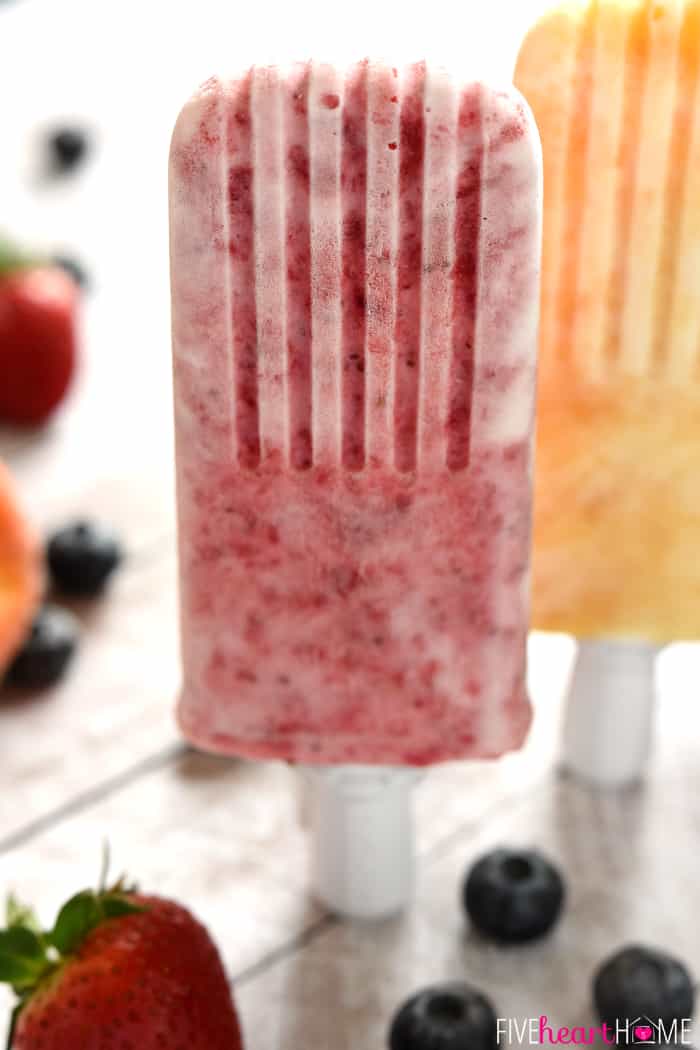 Allow me to interject here that photography of freezer-dwelling recipes -- think ice cream, popsicles, and the like -- is not my favorite.
Because (you may be able to surmise the problem here) THEY MELT.
Popsicles don't behave nicely by staying the way I so perfectly arrange them. Instead, they get soft and drippy and make a big ol' mess in general.
So I assured the kids that I would do my best to hurry up with my pics so that I could fix dinner and they could then enjoy their promised yogurt popsicles.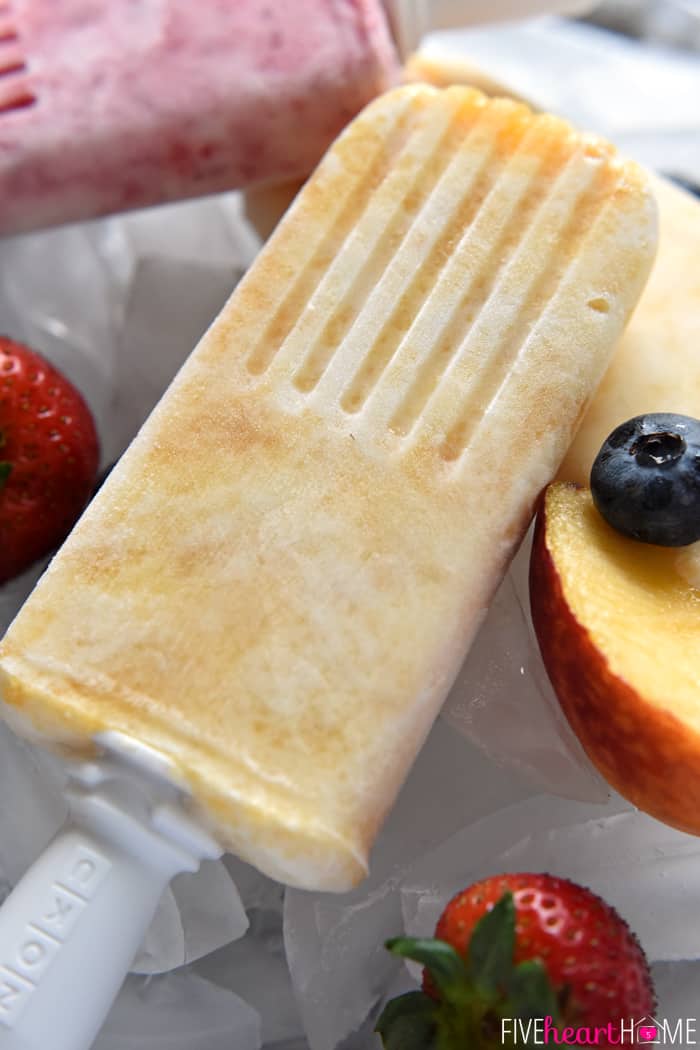 Alas, by the time I finished my photo shoot, the poor children were dyyyying of hungerrrr!
And truth be told, my popsicles were a sloppy, gloppy disaster, requiring immediate consumption.
So I decided to earn enough Cool Mom Points to get me through the remainder of the summer by giving them their Fruity Yogurt Popsicles right before dinner.
Now you better believe I made a big deal out of letting them have their dessert first. But you should also know that I didn't feel one bit guilty about it -- in fact, I felt rather smug and self-righteous -- because...hellooo??? FRUIT AND YOGURT.
And, as if that wasn't enough, I continued my Coolest Mom of the Summer ruse the next morning by giving each child a yogurt popsicle upon awakening -- dipped in granola this time -- because...hellooo???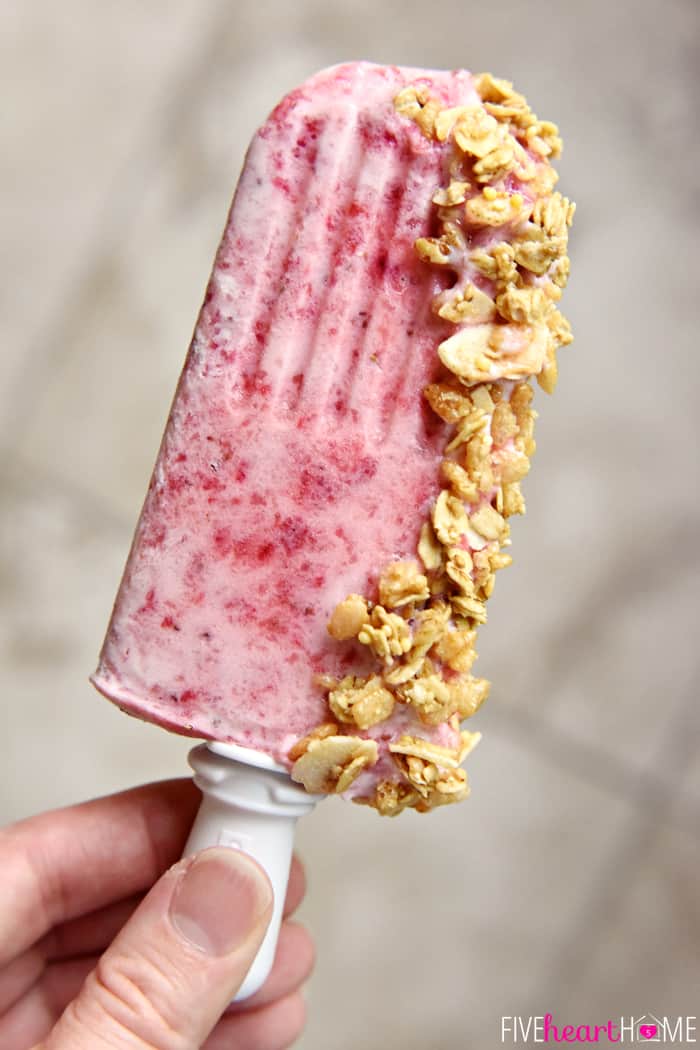 BREAKFAST. 😉
More Frozen Treats
Blueberry Buttermilk Sherbet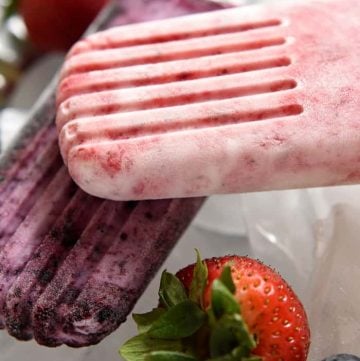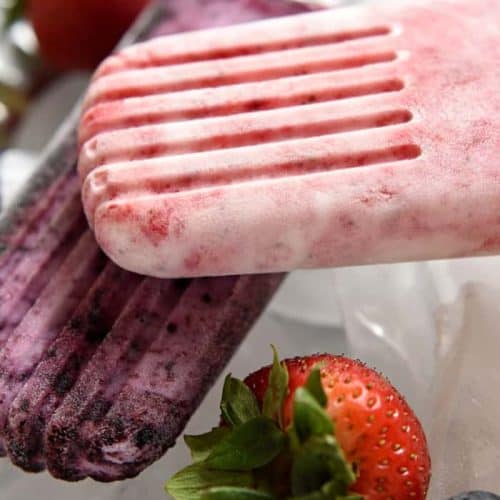 Fruity Yogurt Popsicles
Fruity Yogurt Popsicles are a frosty summer treat made with just three simple ingredients...and while they're healthy enough for breakfast, they taste decadent enough for dessert!
Print
Pin
Rate
Servings:
6
(4-ounce) popsicles
Ingredients
⅔

cup

diced strawberries

⅔

cup

diced peaches

⅔

cup

blueberries

2

cups

vanilla yogurt

,

divided

1 to 2

tablespoons

honey

,

divided (optional)

Granola

,

optional
Instructions
In a blender or small food processor, purée strawberries. Taste the purée and, if too tart, blend in 1 to 2 teaspoons of honey. Scrape purée into a bowl. Gently swirl in ⅔ cup yogurt, taking care not to overblend (in order to retain the pretty swirls). Pour mixture into two popsicle molds (4 ounces each) and insert stick/popsicle holders.

Rinse blender/food processor/bowl and repeat steps with peaches, and then blueberries. Once finished, you should have two strawberry popsicles, two peach popsicles, and two blueberry popsicles.

Place popsicles in the freezer and freeze until solid, 6 to 8 hours. Run each popsicle mold under hot running water for a few seconds to loosen popsicle, and then carefully remove from mold. If desired, drizzle edge of popsicle with honey and dip in granola. Enjoy immediately.
Notes
You may use your favorite type of fresh fruit in these yogurt popsicles. If you only have frozen fruit on hand, thaw fruit before puréeing.
If you wish to make a batch of six popsicles using all the same fruit, purée 2 cups fruit before swirling with 2 cups yogurt. Add honey to taste, if desired.
These popsicles will work with your favorite kind of yogurt...regular or Greek yogurt, plain or vanilla flavored.
Calories:
123
kcal
|
Carbohydrates:
25
g
|
Protein:
4
g
|
Fat:
1
g
|
Saturated Fat:
1
g
|
Cholesterol:
4
mg
|
Sodium:
55
mg
|
Potassium:
249
mg
|
Fiber:
1
g
|
Sugar:
24
g
|
Vitamin A:
100
IU
|
Vitamin C:
12.8
mg
|
Calcium:
142
mg
|
Iron:
0.3
mg