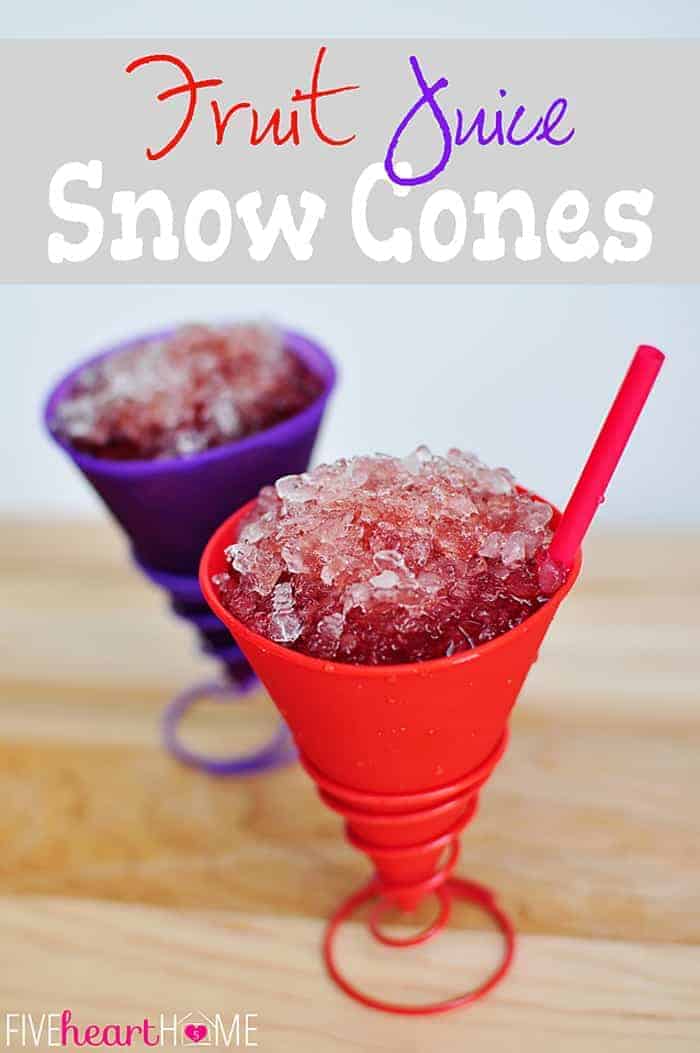 If you've ever wondered how to make snow cone syrup at home, these homemade snow cones are natural and dye-free...made with real fruit juice and without Kool-Aid!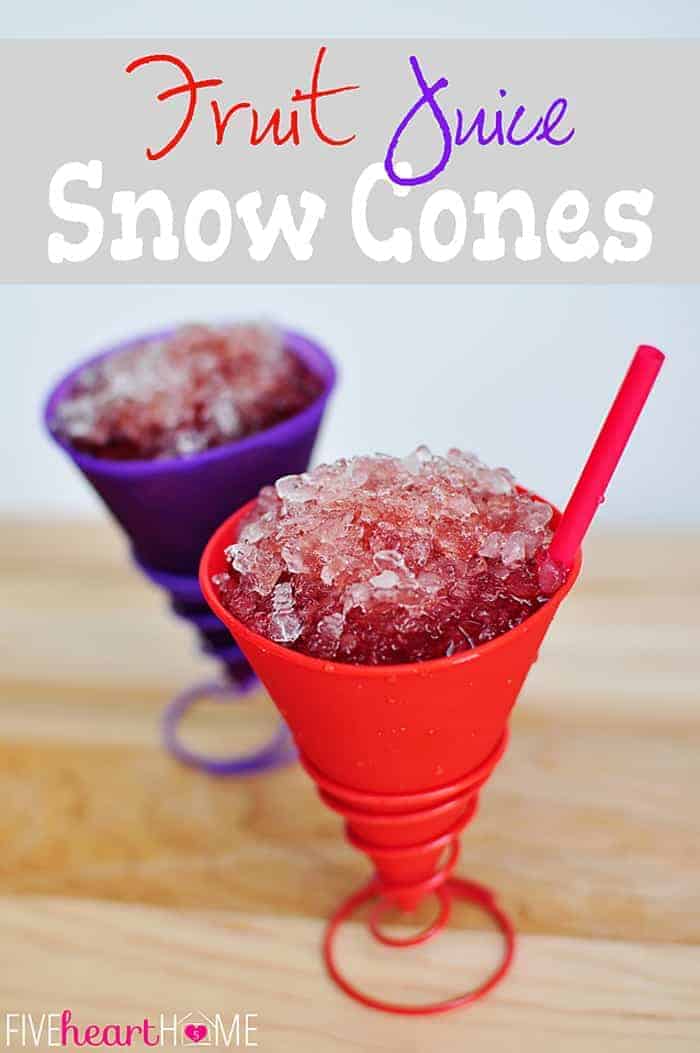 Parked near our neighborhood in the summertime is a mobile snow cone truck. Of course, driving by it every day means that my boys are always asking if we can stop and get a snow cone.
But I have a confession to make. Watching my kids ingest massive amounts of food coloring makes me inwardly cringe. Maybe it's because I've read too many disturbing articles about red dye #40 or maybe it's because I just generally like to parent from a place of paranoia, but I attempt to limit food coloring for my kids whenever possible.
But a dye-free snow cone? We all know that a snow cone is fundamentally sugar and food coloring over ice (cue internal cringing). Now y'all, despite what it sounds like, I actually don't totally deprive my kids. I believe that just about anything is okay every once in awhile. I let them eat that neon frosting-covered cupcake at the birthday party, and at Halloween, they're downing a veritable rainbow of Skittles and suckers with the best of them.
But now that they want to celebrate summer with a regularly scheduled snow cone, I decided that, rather than grit my teeth and become extremely uncomfortable every time their lips and tongues and intestinal tracts turn Smurf blue, I could just take matters into my own hands and whip up some yummy, sugary, dye-free snow cones at home.
The Dye-Free Snowcone Search
It couldn't be that hard to make our own, right? But when I asked Google for homemade snow cone recipes, almost every single one of them involved Kool-Aid powder. Now while I loved me some Kool-Aid back in the day, it's not exactly dye-free.
But if people are flavoring snow cones with Kool-Aid, why not just pour some straight fruit juice over shaved ice and be done with it? Juice is already sweet, yes?
And the verdict was...not sweet enough, Mama.
I suppose a homemade snow cone is pointless if they won't eat it. Back to the drawing board...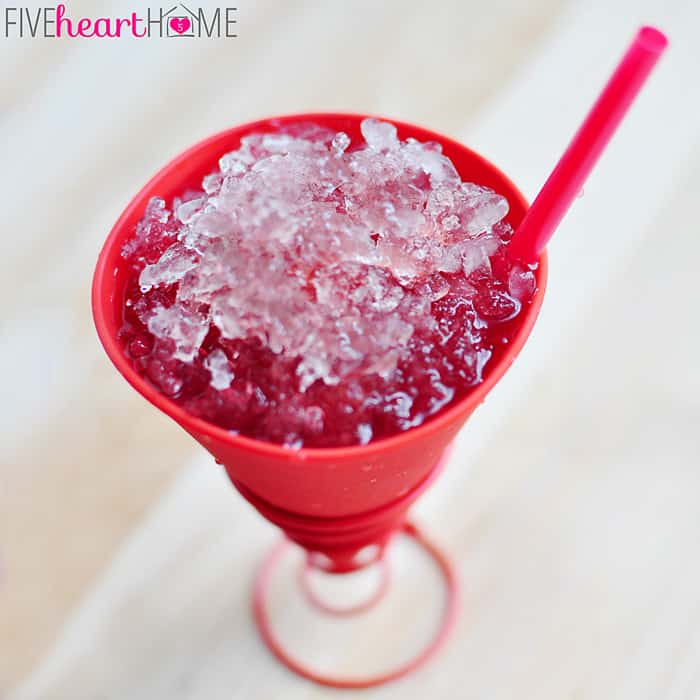 Then I remembered the mint simple syrup in my fridge. Why couldn't I utilize the concept of simple syrup for little kids and big kids alike? So that's pretty much what I did.
Simple Syrup with Fruit Juice
This snow cone syrup is nothing more than simple syrup made with 100% fruit juice. Seriously, people, I'm kind of embarrassed to even call this a recipe, but I at least wanted to share my method.
Now I'm not exactly saying that this syrup is healthy, because it's loaded with sugar, but it is dye-free. And depending on what type of fruit juice you choose, it can be very bright and colorful as well.
Flavor Options
We used an all-natural fruit punch and grape juice, but there were lots of fun potential options in the juice aisle.
Tweak the Sugar
For my first batch of snow cone syrup, I used a 1:1 ratio of grape juice to sugar and BOY was it sweet! My boys weren't complaining but I thought we could tone down the sugar and it would still be plenty saccharine.
So for my fruit punch version, I used a 2:1 ratio of juice to sugar and it was still very sweet but not sickeningly so.
My advice would be this: taste your juice first and adjust your sugar amount accordingly. If you have really tart juice to begin with, go for that full cup of sugar. But most fruit juice is already fairly sweet, so in most instances, a half cup of sugar should more than suffice.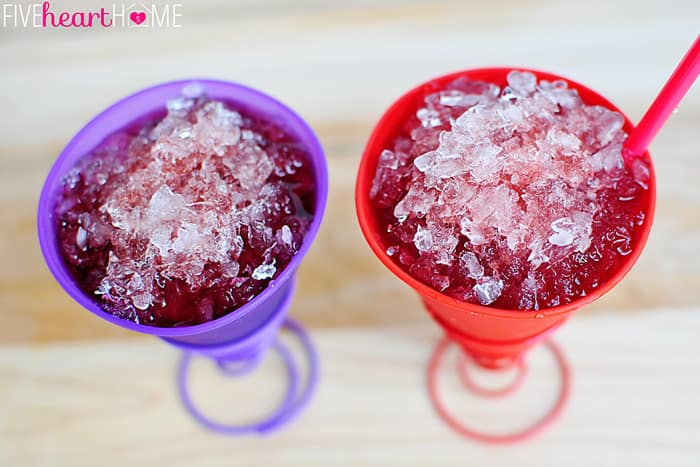 And there you have it...a snow cone concoction that satisfies all of our criteria: sweet and colorful for the kids, and dye-free for Mama's sanity.
The flavors and colors are only limited by your imagination, and one batch of syrup will get you quite a few snow cones through the summer.
Happy July!
More Summer Treats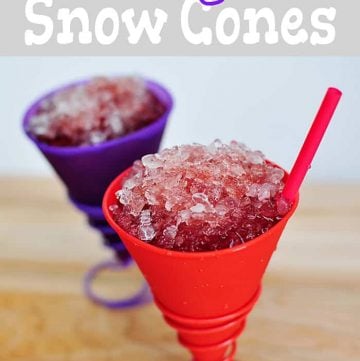 Dye-Free Fruit Juice Snow Cones
If you've ever wondered how to make snow cone syrup at home, these homemade snow cones are natural and dye-free...made with real fruit juice and without Kool-Aid!
Print
Pin
Rate
Ingredients
1

cup

100% fruit juice

½ to 1

cup

sugar

,

depending on tartness of juice

Ice

,

shaved in a blender, food processor, or snow cone maker
Instructions
In a small pot, combine fruit juice and sugar.

Set pot over medium-high heat and bring to a boil.

Turn to low and simmer for 5 minutes, stirring until sugar completely dissolves.

Pour syrup into a jar and cool completely, refrigerating for several hours before making snow cones.

To make snow cone, mound shaved ice in a snow cone cup or bowl. Pour syrup over ice, to taste.
Calories:
31
kcal
|
Carbohydrates:
8
g
|
Protein:
1
g
|
Fat:
1
g
|
Saturated Fat:
1
g
|
Sodium:
1
mg
|
Potassium:
16
mg
|
Fiber:
1
g
|
Sugar:
8
g
|
Vitamin C:
1
mg
|
Calcium:
1
mg
|
Iron:
1
mg