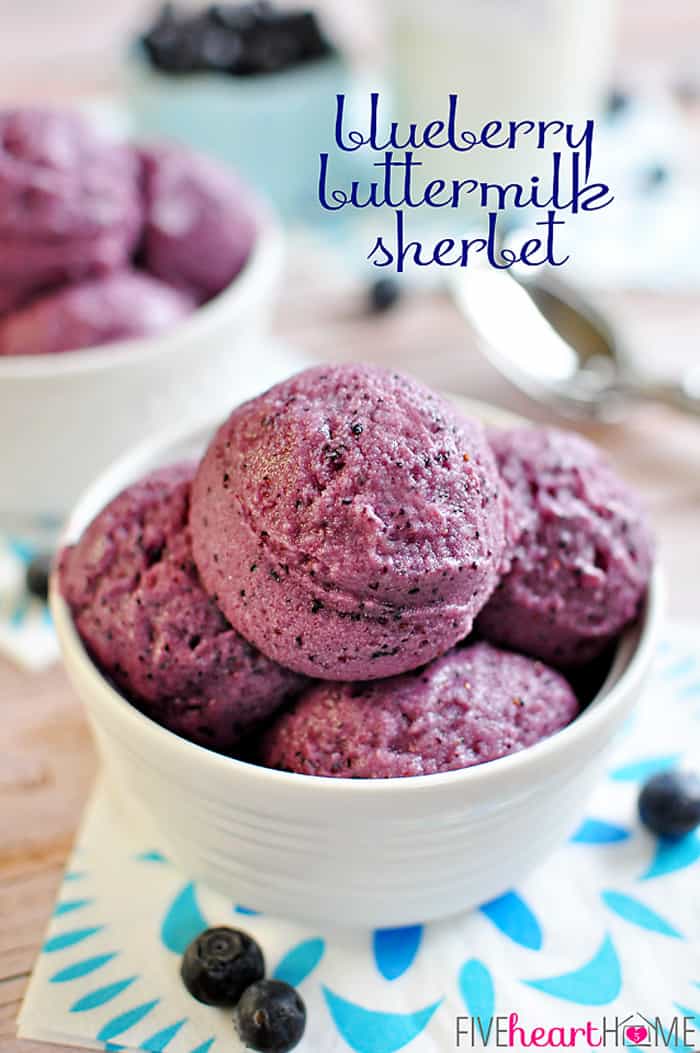 A purée of fresh or frozen blueberries is blended with buttermilk, sugar, and vanilla for a sweet and creamy sherbet that makes a refreshing summer treat!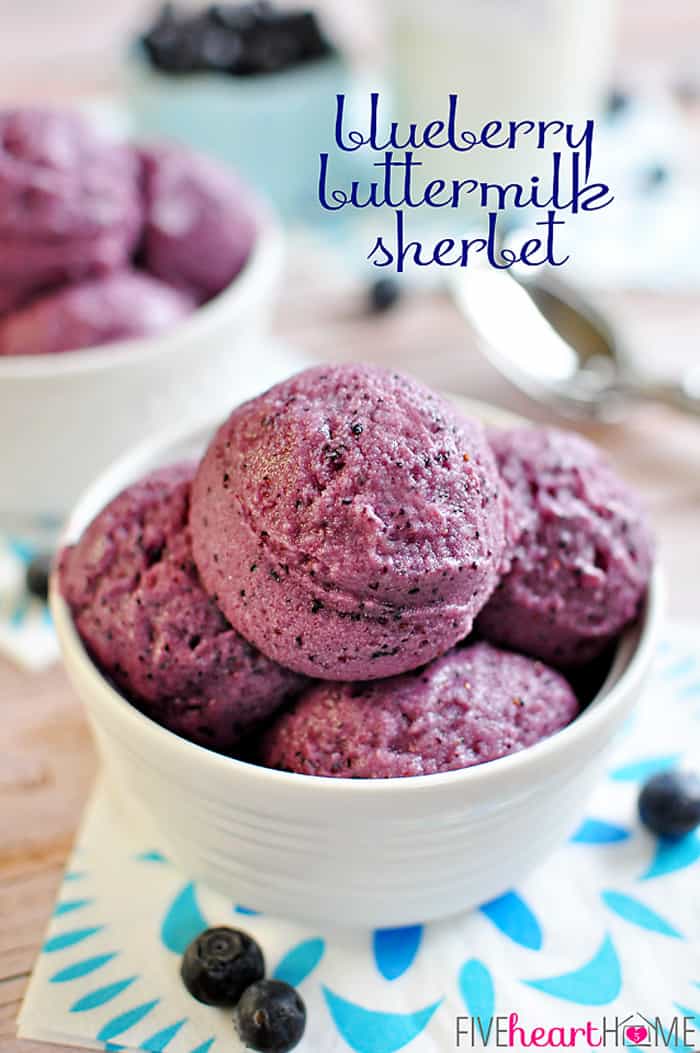 Well, I'm probably going to jinx us by even talking about it, but so far, Texas has been experiencing a relatively mild summer. As in, the projected temps this week are in the high 80s/low 90s! Yes, it's humid, and yes, we had a fun little summer thunderstorm last week that wreaked a bit of havoc. But y'all. It usually hits 100°+ by May, and we're typically hanging out around 105° by now. So to still be in the 80s here is unheard of. And I am totally not complaining.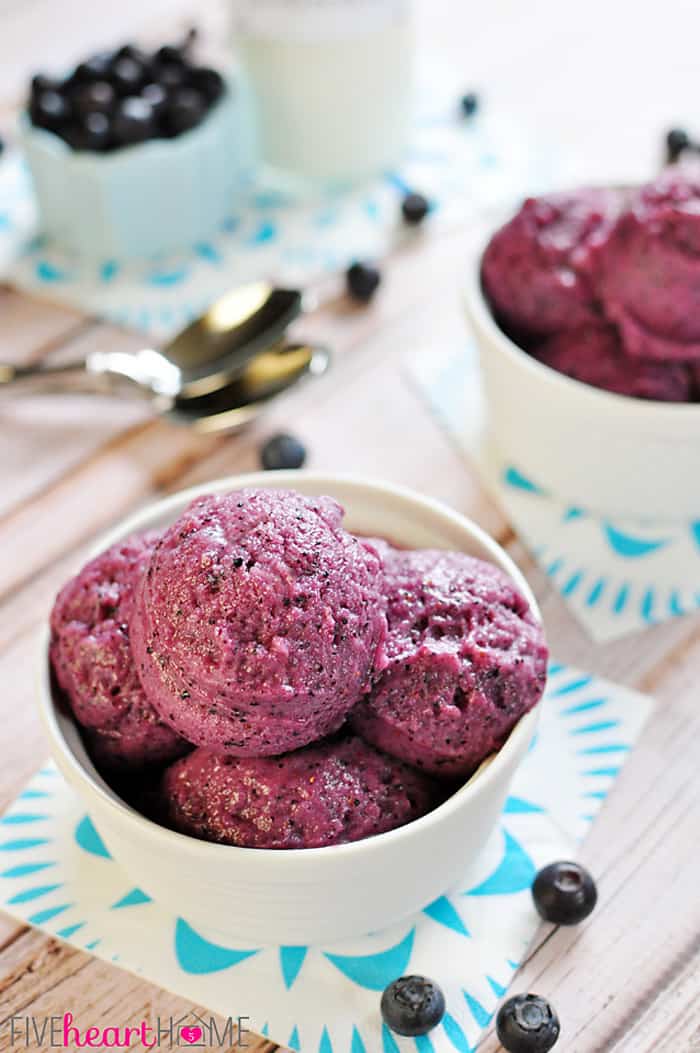 So that being said, weather-wise, I feel like it's still spring! Surely it can't be ice cream season yet? But yes, yes it is, and that is just fine by me. Because that means (as I do every summer) it's time to whip up a batch (or three) of this cool, creamy Blueberry Buttermilk Sherbet!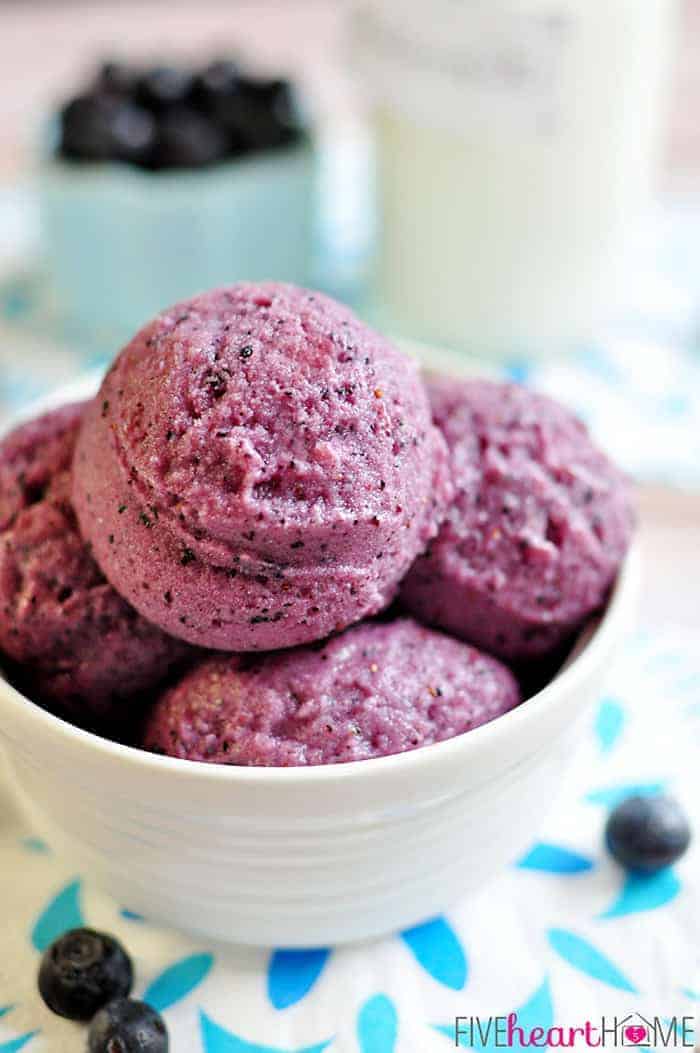 Ingredients
What's that you say? You've never heard of homemade buttermilk sherbet? Well, let me just tell you that it is divine. Not only is this frozen treat easy to make, seeing as how it only requires four basic ingredients and a minimal number of steps, but the combination of berries and buttermilk is just so darn tasty.
A sweetened blueberry puree (you can use fresh or frozen berries) is kissed with pure vanilla extract and blended with buttermilk.
The final result is coined sherbet since it's fruity and milk-based at the same time. But because that creaminess comes from buttermilk instead of cream, the sherbet has an underlying tang, almost like that which you taste in frozen yogurt. It's a little bit different and a whole lot addictive!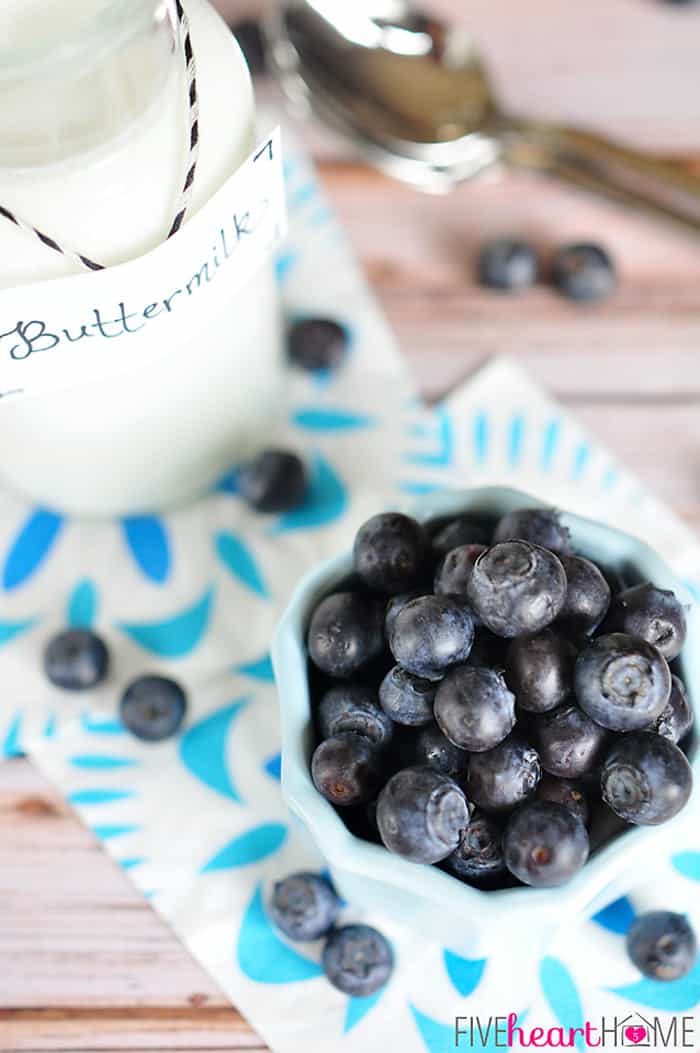 One of my sweet teacher friends (hi, Carolyn!) shared this recipe with me many moons ago when we taught first grade together. She's an excellent cook, so if she raved about a recipe, you knew to pay attention. Sure enough, this recipe (which she originally found in a Southern Living magazine) is a winner, and I've made it religiously every summer since first receiving it.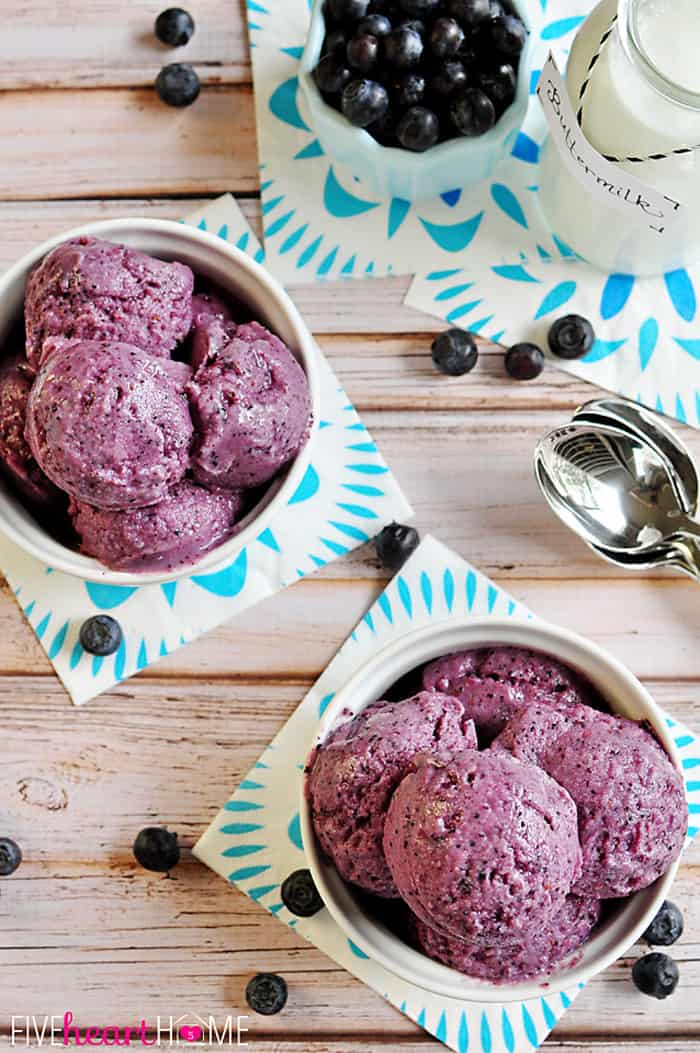 You know how, oftentimes, homemade ice cream gets rock hard after a stint in the freezer? Well, this buttermilk sherbet firms up but stays nicely scoop-able. Also, it's fun to deviate from the original recipe by substituting other fruits for the blueberries. I've made raspberry and strawberry variations as well, and it's hard to pick a favorite!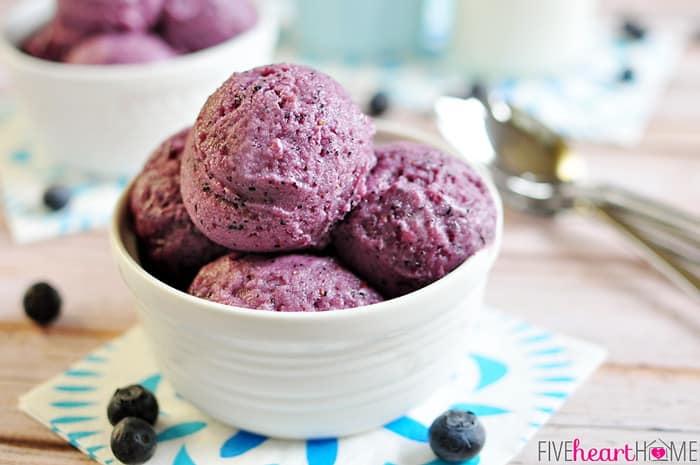 So whether your summer temperatures are mild or soaring, any day in June (or heck, any day of the year) is a good day for ice cream! And the next time you're in the mood to make your own ice cream, churn up this Blueberry Buttermilk Sherbet instead. It's quick and easy to prep, it will *dazzle* you with its gorgeous color (that's a Carolyn word), and its sweet-tangy flavor and silky texture are guaranteed to keep you coming back for more!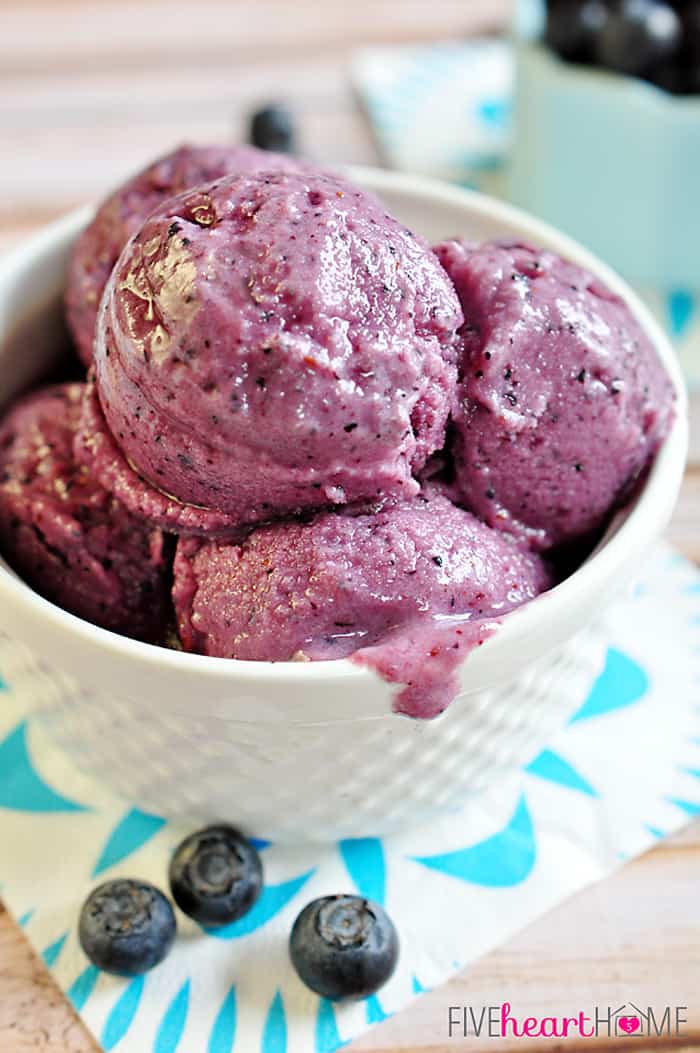 More Refreshing Summer Treats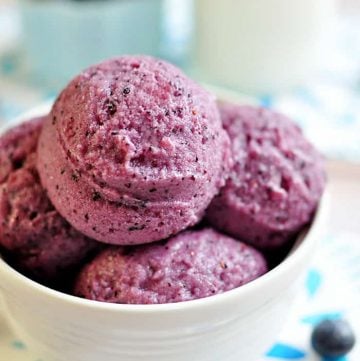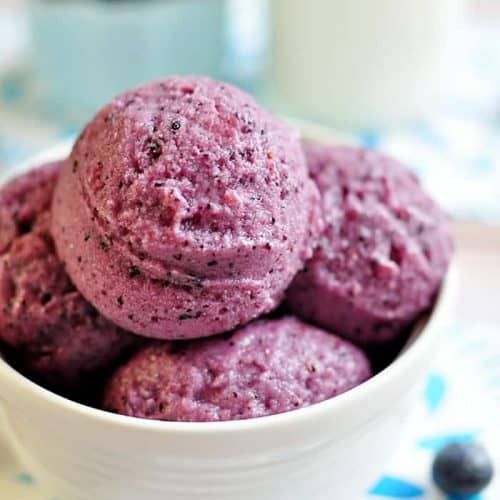 Blueberry Buttermilk Sherbet
Blueberry Buttermilk Sherbet ~ a purée of fresh or frozen blueberries is blended with buttermilk, sugar, and vanilla for a sweet and creamy sherbet that makes a refreshing summer treat!
Print
Pin
Rate
Servings:
6
servings (Approximately 1 quart)
Ingredients
3

cups

fresh blueberries

,

or frozen, thawed

1

cup

sugar

2

cups

buttermilk

,

regular or low-fat

1

teaspoon

pure vanilla extract
Instructions
In a blender or food processor, purée blueberries until smooth. Set a fine mesh stainer over a large bowl and pour in purée, pressing down with the back of a spoon until only solids remain. Discard solids. Blend sugar, buttermilk, and vanilla into strained blueberry purée.

Pour mixture into an ice cream maker (at least 1 ½ quart capacity) and freeze according to manufacturer's directions. Transfer ice cream to a pan, cover with plastic wrap, and freeze for at least two hours before serving.
Calories:
223
kcal
|
Carbohydrates:
48
g
|
Protein:
3
g
|
Fat:
3
g
|
Saturated Fat:
2
g
|
Cholesterol:
9
mg
|
Sodium:
85
mg
|
Potassium:
165
mg
|
Fiber:
2
g
|
Sugar:
45
g
|
Vitamin A:
170
IU
|
Vitamin C:
7.2
mg
|
Calcium:
96
mg
|
Iron:
0.2
mg
Adapted from Southern Living.