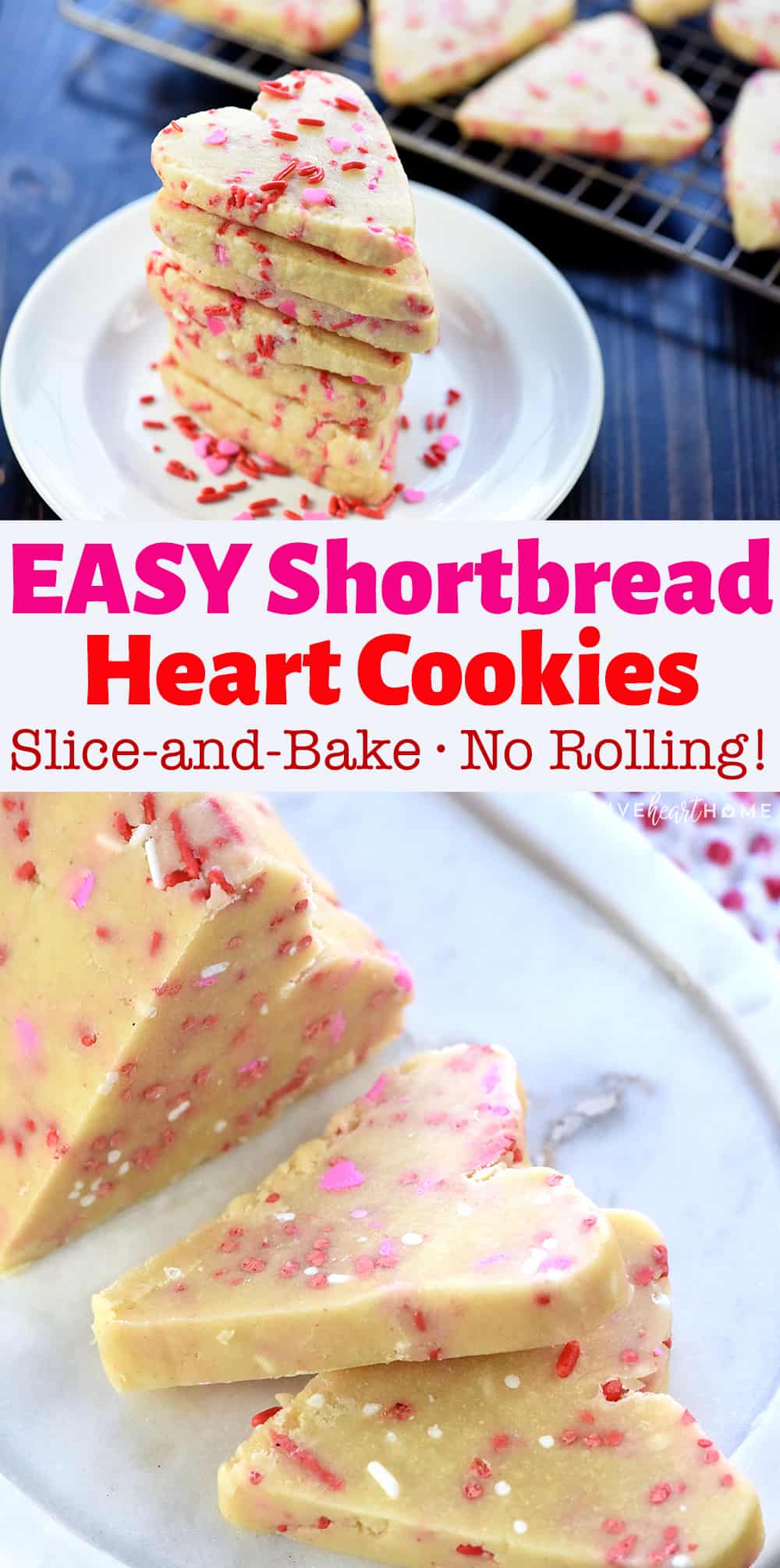 Easy Shortbread Heart-Shaped Cookies are slice-and-bake treats that are loaded with sprinkles, perfect for Valentine's Day...and they don't even require a cookie cutter!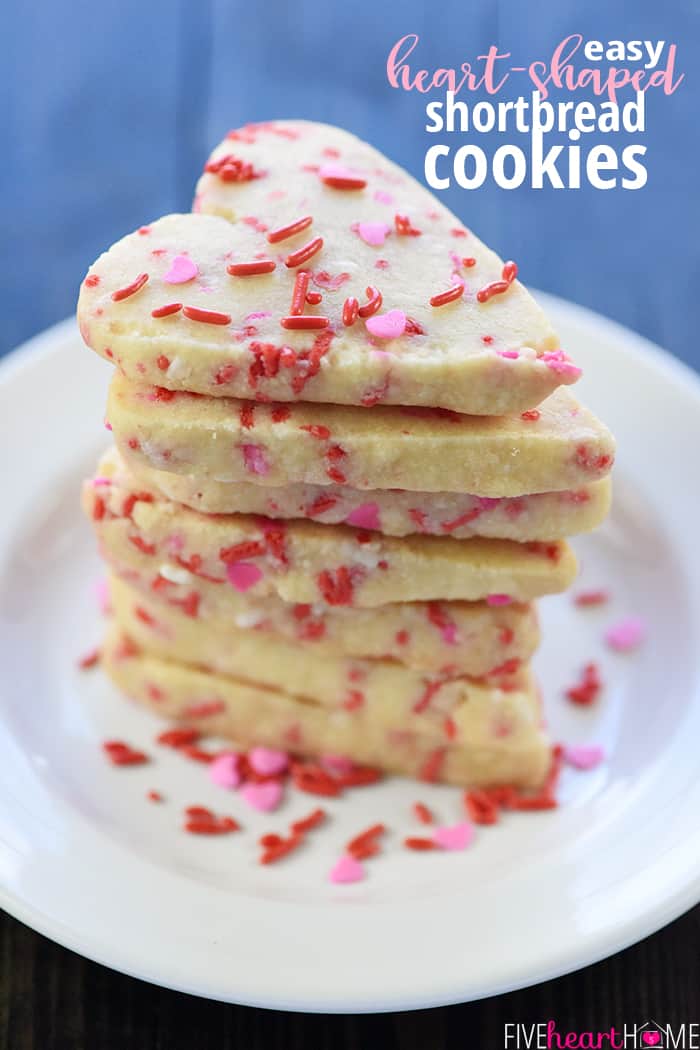 It's often the case that the simplest recipes I post end up being the most popular, and this is certainly true when I share any variation of shortbread cookies. I personally adore shortbread because it's both buttery and sugary which, let's face it, is what any good cookie should be. It's also extremely quick and easy to throw together. And while plain, classic shortbread cookies are delicious, shortbread is also fun to jazz up with nuts or coconut or sprinkles, or by turning it into sandwich cookies or even heart-shaped cookies!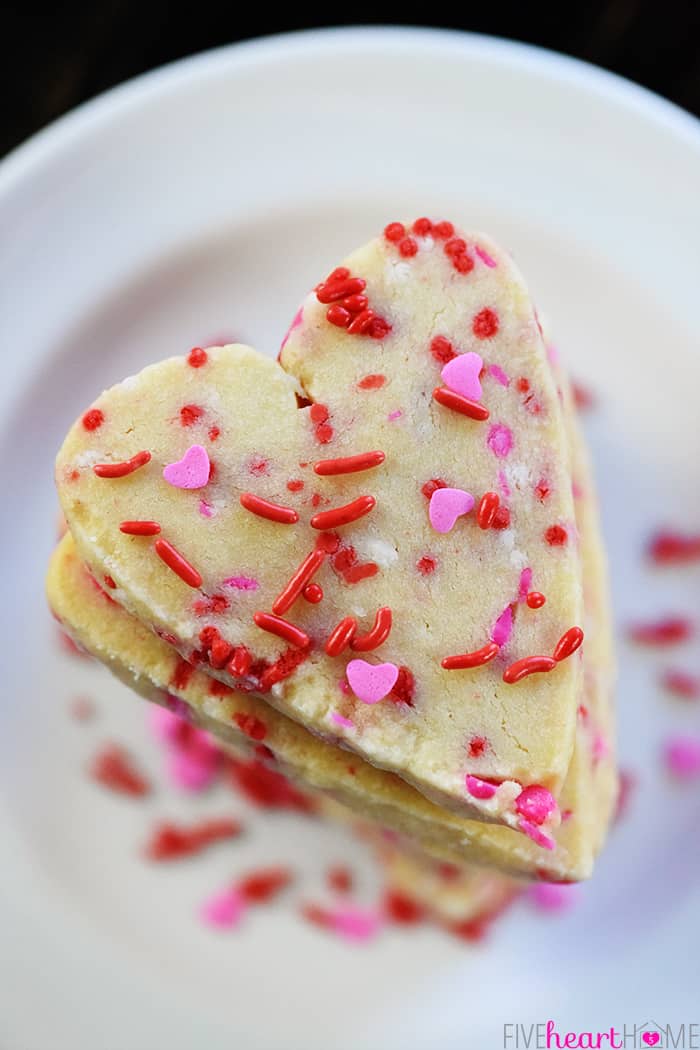 Easy Heart Cookies
Today's Easy Shortbread Heart Shaped Cookies are everything their title implies.
Making them requires the most basic fridge and pantry staples.
Between their fun shape and their festive red, pink, and white sprinkles, they're perfect for Valentine's Day.
They're super simple to make thanks to the use of a trusty food processor.
And best of all, that cute heart shape is achieved without any dough rolling and no cookie cutter!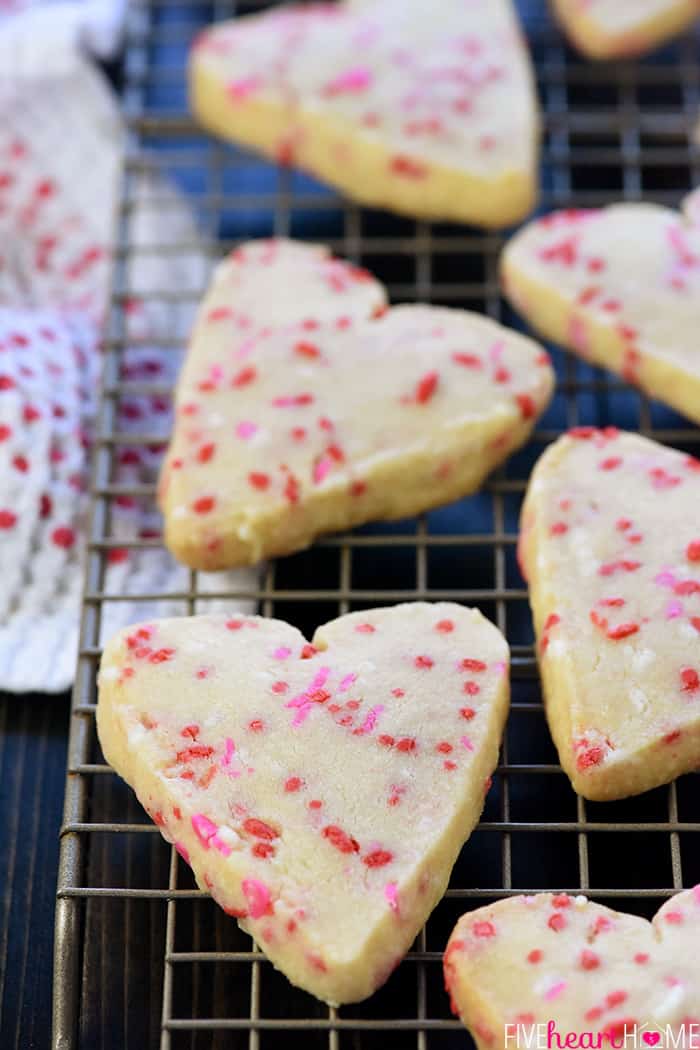 The Inspiration
This recipe was inspired by the Easy Christmas Shortbread Cookies that I shared just last month.
Remember how I previously mentioned that simple recipes typically do really well? Well, those cookies spread like wildfire immediately! And I have to confess that I made them myself multiple times over the span of December.
In fact, I whipped them up pretty much every time I found myself needing a plate of holiday cookies! They were just too quick and easy to make, and everyone who tried them invariably loved them.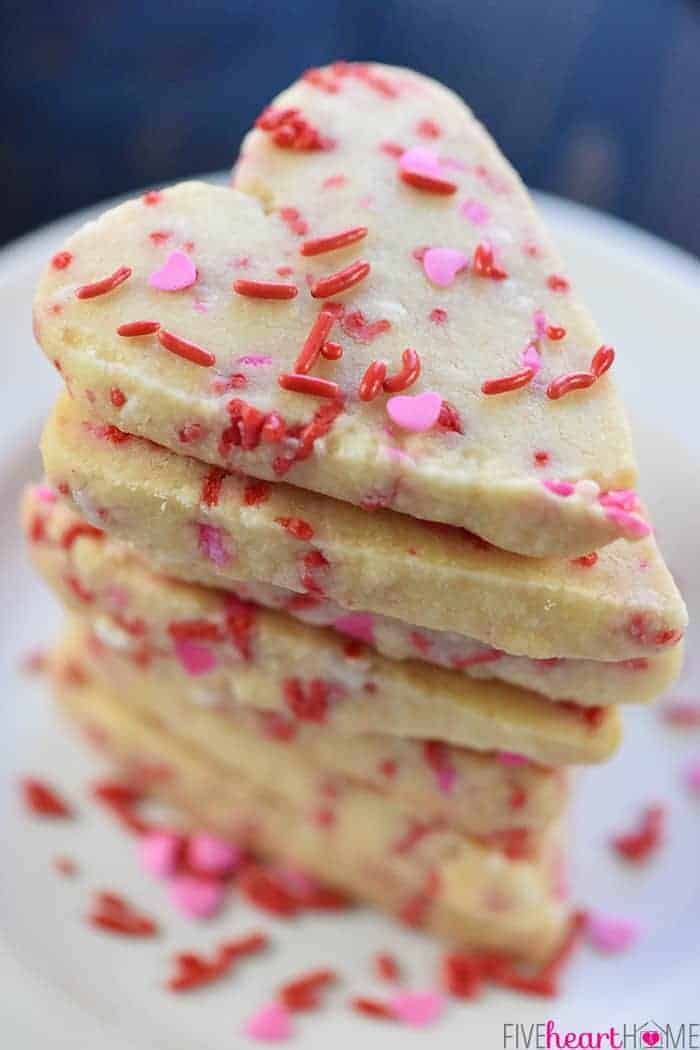 So I decided that if sprinkle-loaded shortbread made great Christmas cookies, it would also make great Valentine's Day cookies!
But instead of just swapping out the red and green sprinkles for Valentine's Day colors and teensy little hearts, I decided to also try forming my log of shortbread dough into the semblance of a heart. That way when I sliced the dough, I would automatically get heart shaped cookies!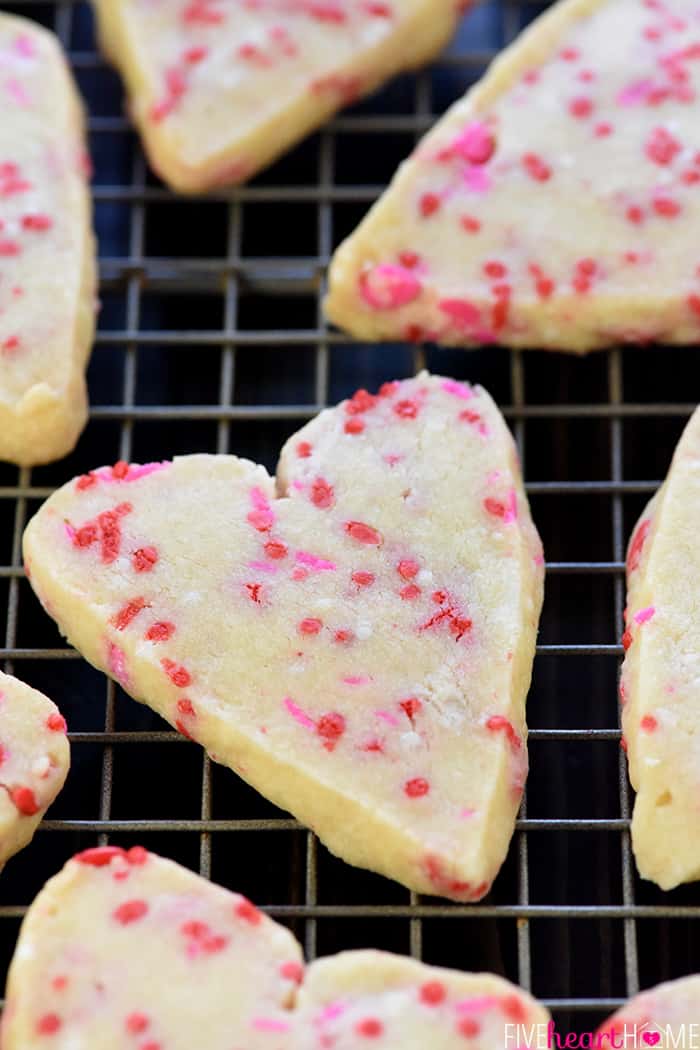 I don't know about y'all, but I typically avoid cookie recipes that require me to roll out dough and pull out the ol' cookie cutters. I mean, cut-out cookies are beautiful and I love them and I do make them on occasion, but they're a lot of work and they take a lot of time. So I'm much more of a drop cookie or homemade slice-and-bake cookie kind of gal. Meaning these Easy Shortbread Heart-Shaped Cookies are right up my alley!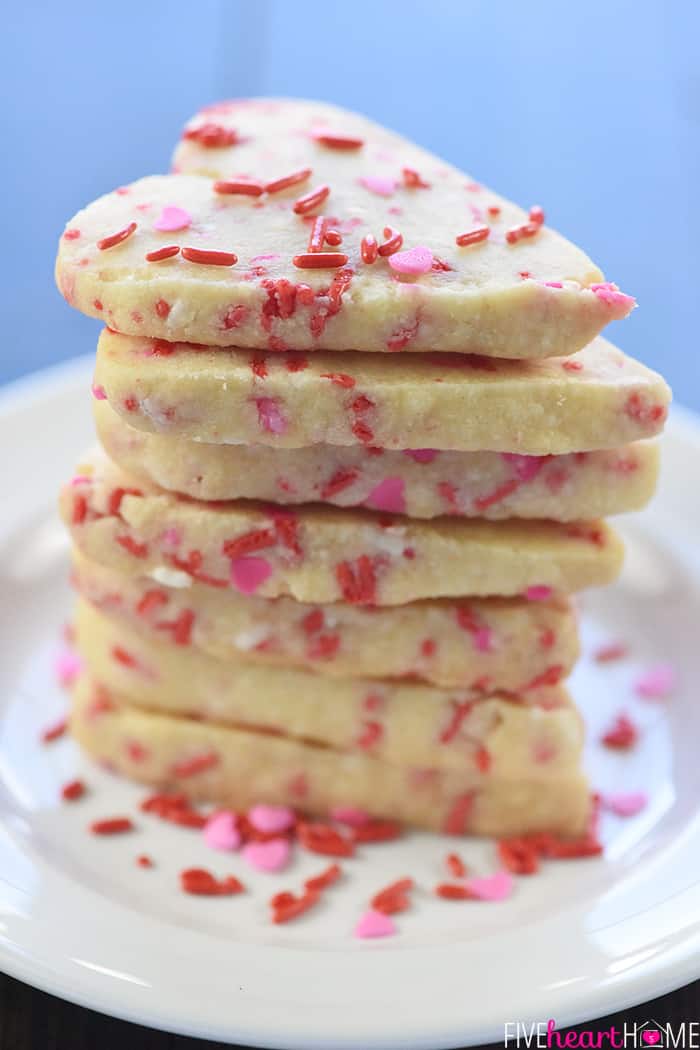 How to Make Them
Now, I'm going to attempt to show you how I formed the log of dough into a heart through a series of photos below. But I also filmed a few InstaStories when I was making these heart cookies, and if you're on your phone and you click over to my Instagram account, you can watch the short instructional "Easy❤️Cookie" clips in my InstaStory Highlights row, which is found between my bio and my photo feed.
Okay, so first I assembled my cookie dough in the food processor. I creamed together the butter and sugar and flavorings...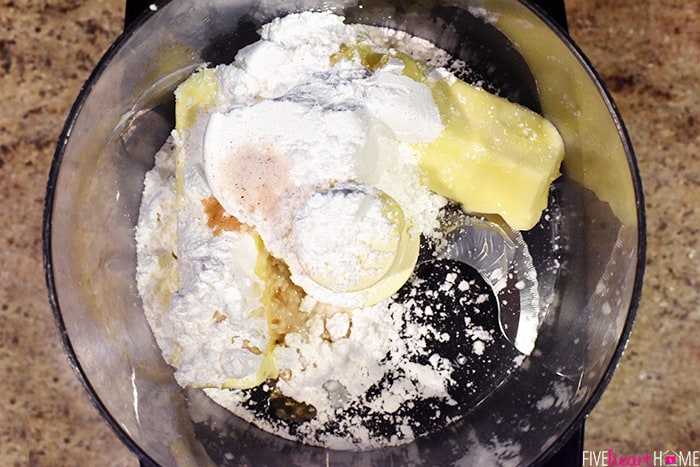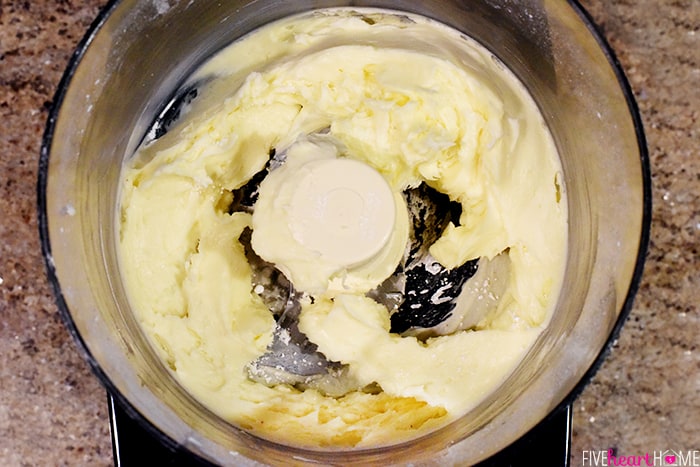 ...pulsed in the flour, and then quickly blended in the sprinkles.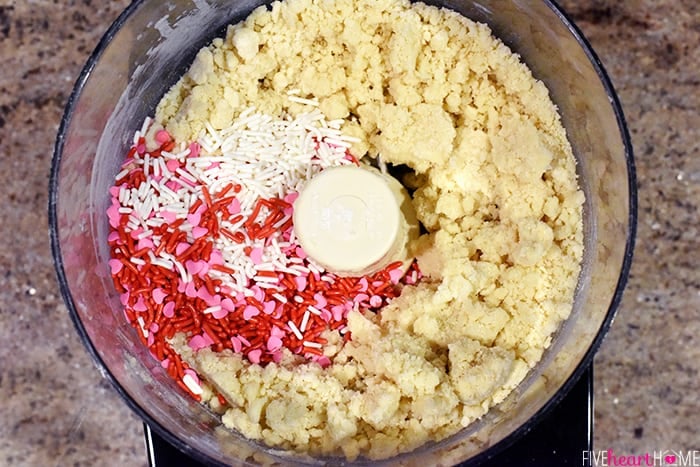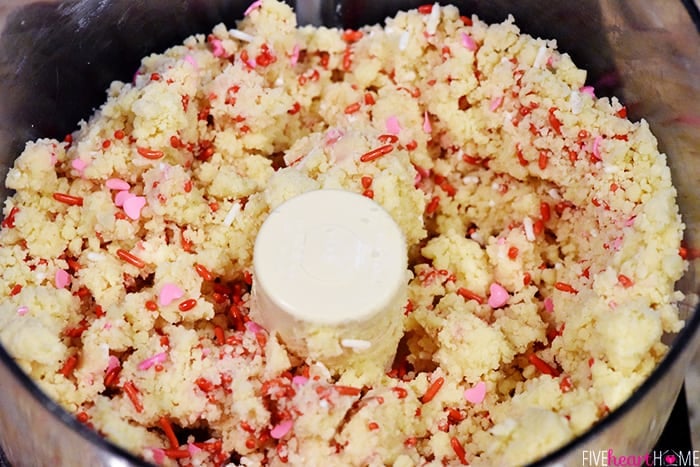 Then I dumped the shortbread crumbles onto a sheet of wax paper.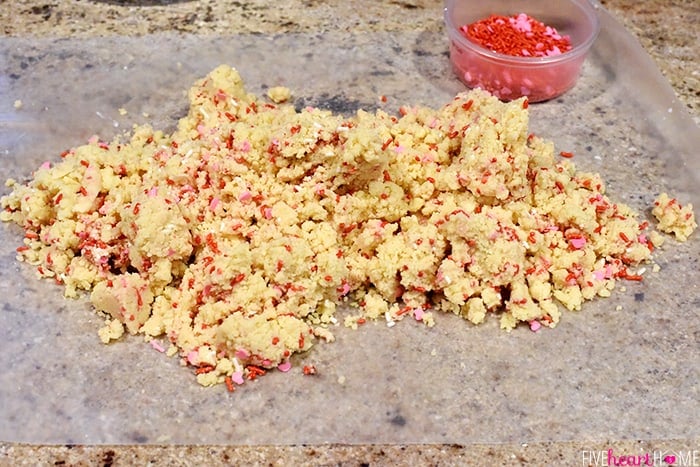 Usually, I form and wrap logs of shortbread cookie dough in plastic wrap. But since I knew I would be firmly pressing into the dough to make an indentation for my heart shape, I thought plastic wrap might tear. So I used wax paper instead, though parchment paper would also work.
I first formed my log into a triangle...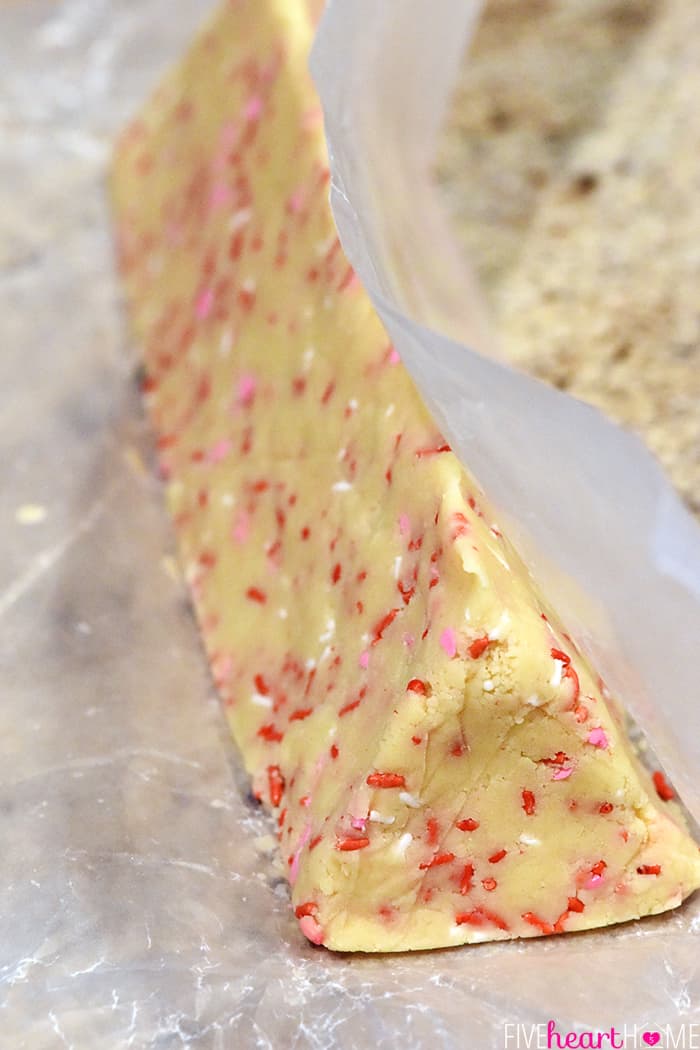 ...and then I used a wooden ruler to press an indentation down the center of one flat side to make the top cleft of the heart.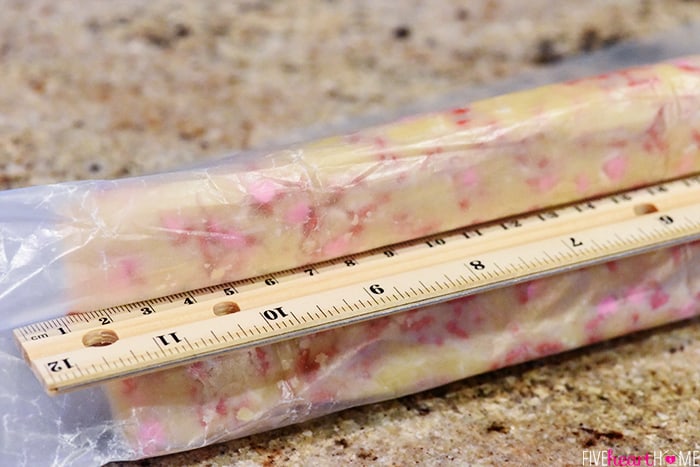 I did my best to round either side of the indentation for the curved parts at the top of the heart.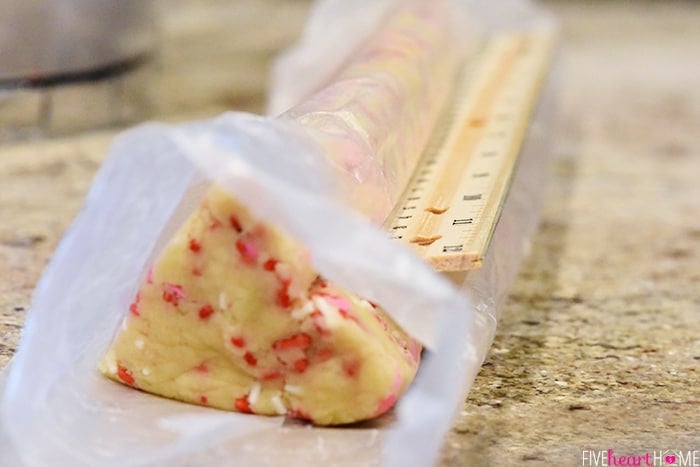 Then I carefully transferred the log to a cookie sheet, tucked the wax paper ends underneath, and popped it into the freezer.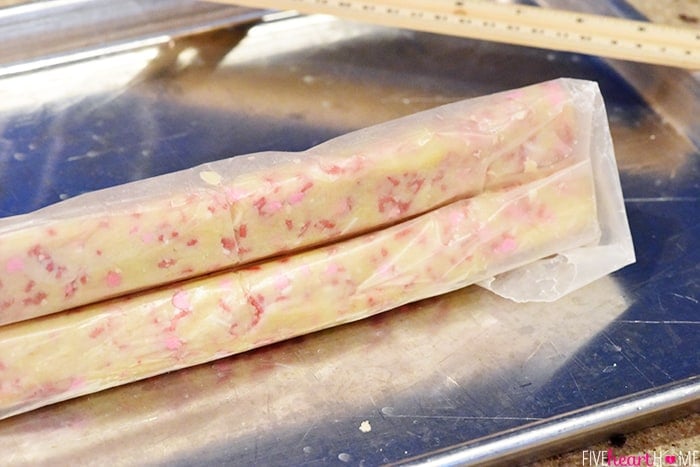 After about 15 minutes, I pulled the log out of the freezer to mold the heart a bit more (which was easier once it was a little firmer). Then I put it back into the freezer for a few more hours until it was frozen solid.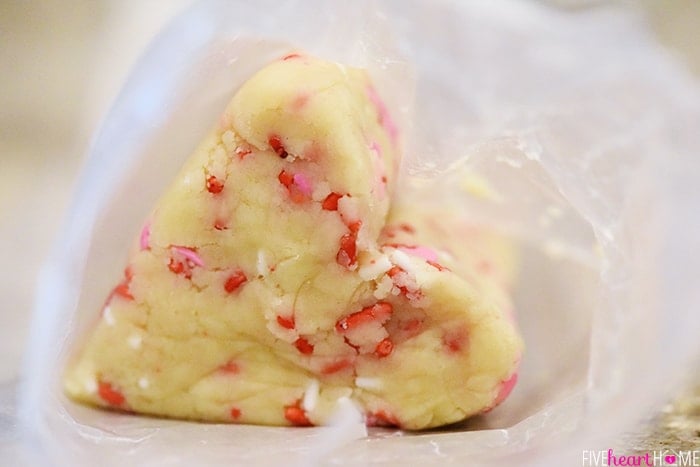 Once the log of shortbread dough was frozen, I let it come to room temperature for about five minutes before slicing it with a sharp knife. I aimed to make my cookies between 1/4-inch and 1/2-inch thick...3/8-inch to be exact, but who's counting? 😉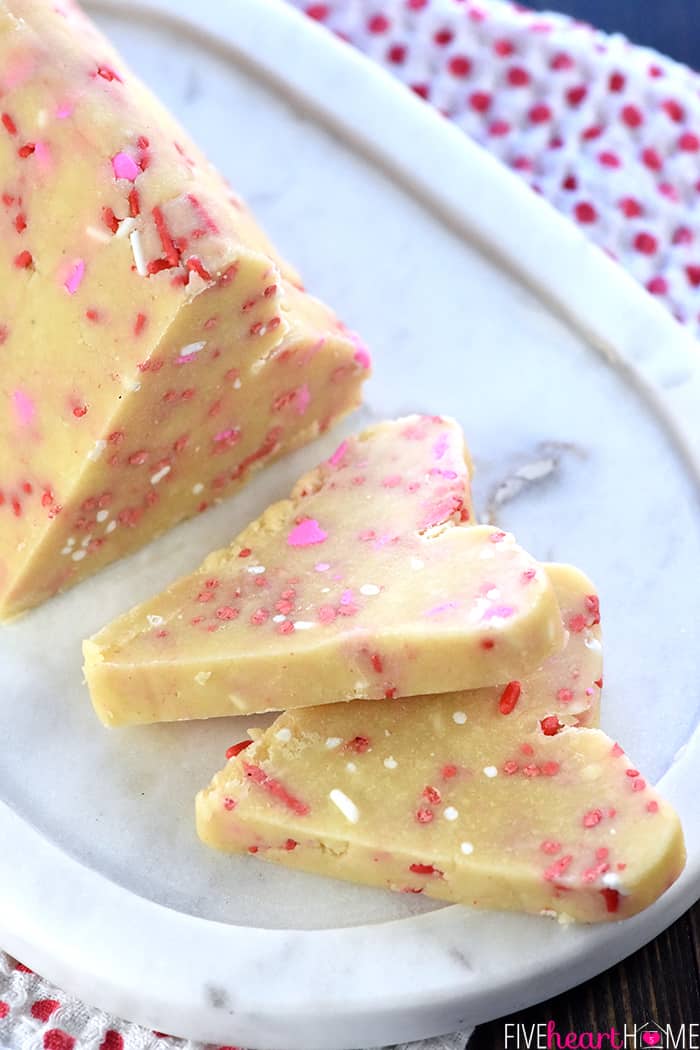 If any of the heart cookies were a little wonky, I shaped the edges a bit with my fingers, and I also pressed an errant sprinkle back into the dough here and there. Overall, though, these heart shaped cookies were super simple to achieve!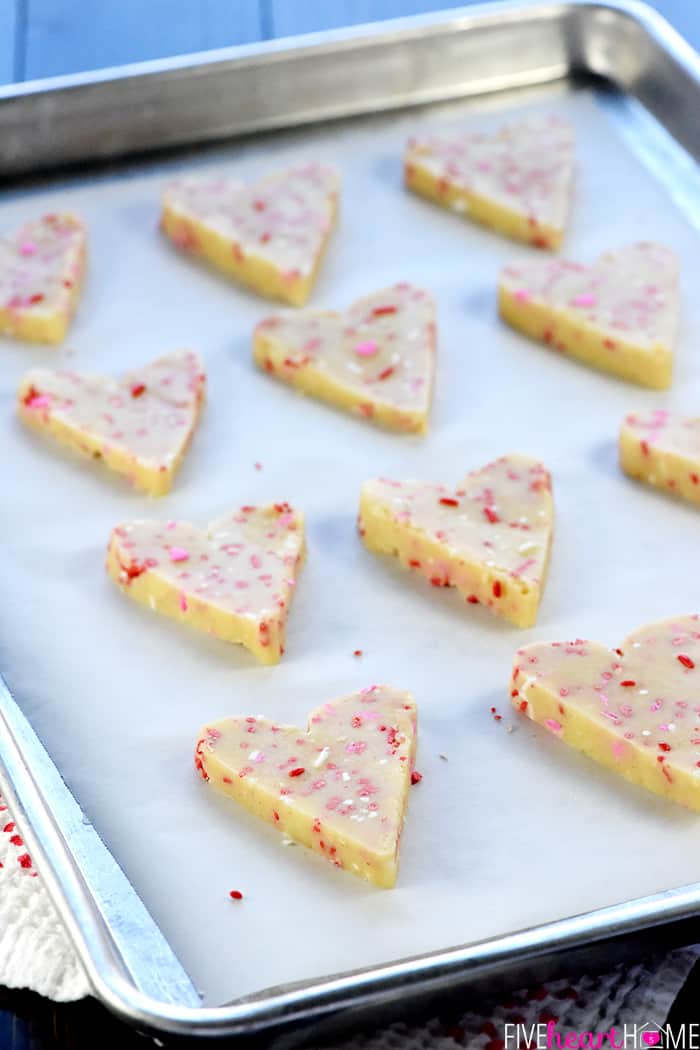 And aren't they cute?! My daughter came home from school and she was totally enamored. I told her we could make them again before Valentine's Day and that next time, she could help me.

Ideas for Sharing
I actually think these sweet, sturdy little cookies would be perfect for stacking up, wrapping in cellophane bags, and gifting to neighbors, friends, and teachers...for V-Day or simply as a thoughtful, loving gesture!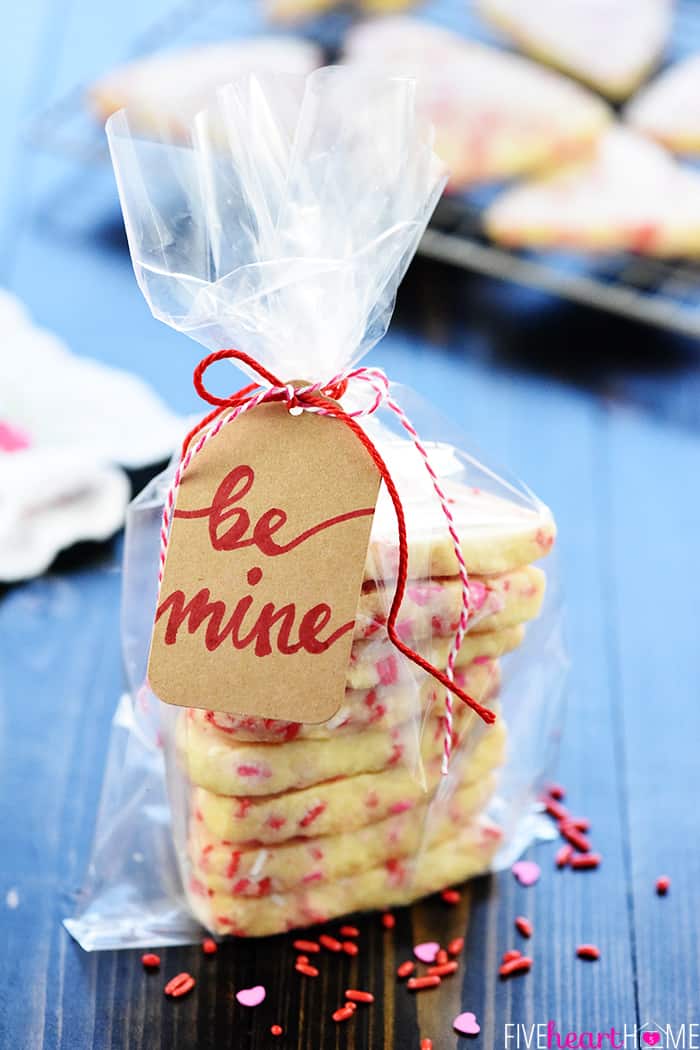 Also, I'm totally going to try this log-shaping trick with other types of cookie dough, and perhaps I'll even attempt other shapes. Heart slice-and-bake sugar cookies or chocolate chip cookie parallelograms, anyone?
Let me know if you give these Easy Shortbread Heart-Shaped Cookies a whirl, y'all! They're fun and yummy and I hope you love 'em.
From my heart to yours...
Helpful Tips, Tricks, & Equipment
This is my favorite large rimmed baking sheet.
And this is my beloved food processor, which was a wedding gift almost 14 years ago(!) and is still going strong.
If your dough is too frozen, the cookies will crumble when you slice them. So allow it to sit at room temperature for 5 to 10 minutes before cutting, or until the dough slices cleanly without crumbling but still maintains its heart shape.
You could use any long, thin, hard object to make your indentation, but I had a ruler handy and it worked great.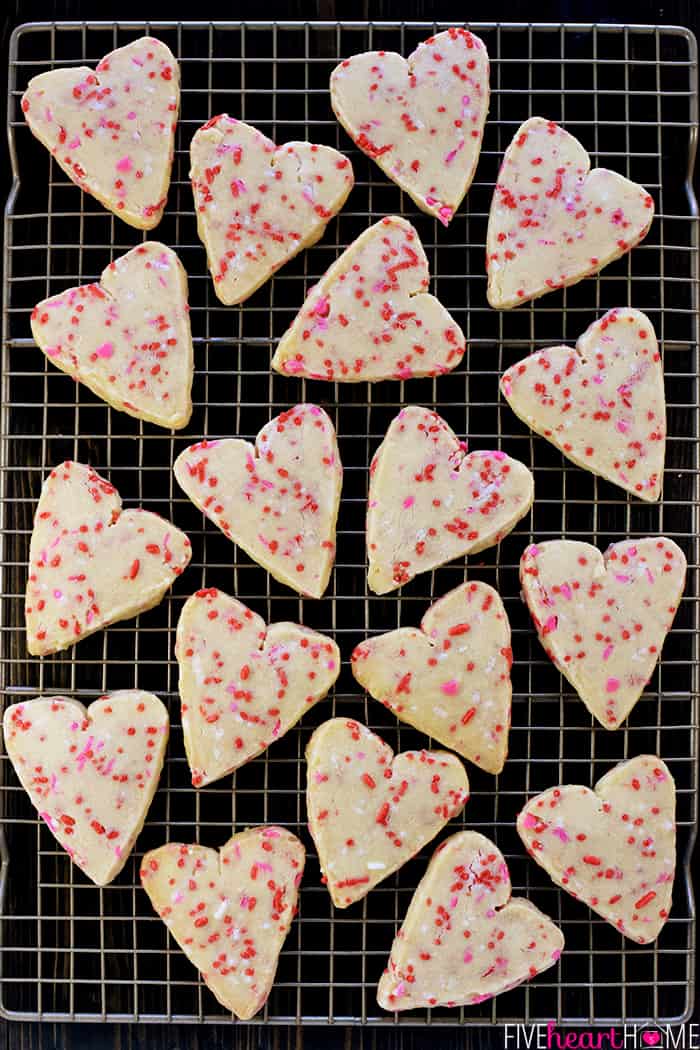 More Valentine's Day Treats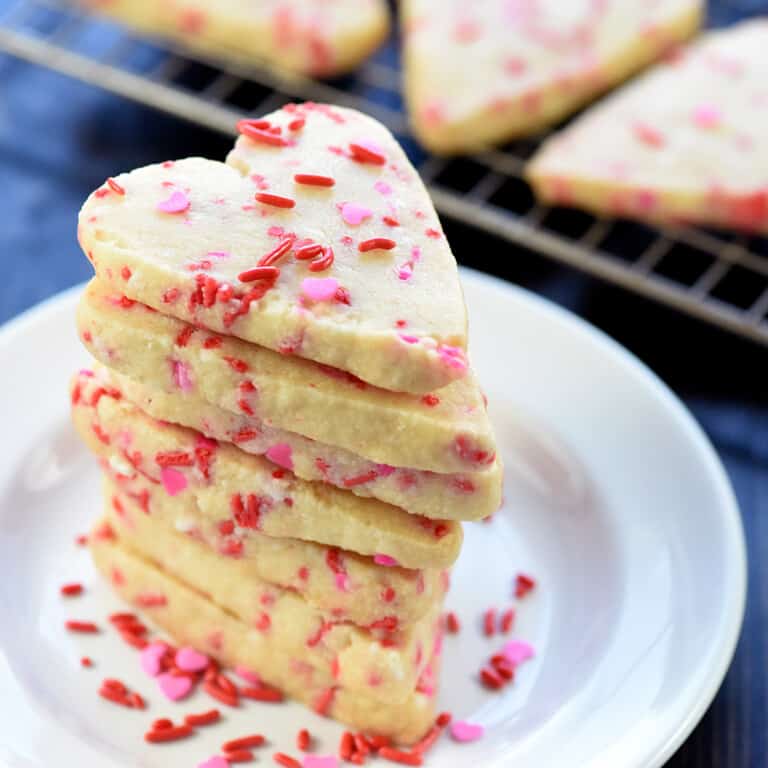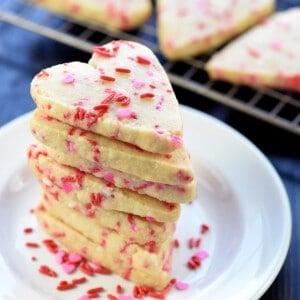 Easy Shortbread Heart-Shaped Cookies
Easy Shortbread Heart-Shaped Cookies are slice-and-bake treats that are loaded with sprinkles, perfect for Valentine's Day...and they don't even require a cookie cutter!
Print
Pin
Rate
Servings:
24
to 36 cookies
Ingredients
1

cup

(2 sticks) unsalted butter

,

at room temperature

3/4

cup

powdered sugar

1/2

teaspoon

salt

1/4

teaspoon

pure vanilla extract

1/4

teaspoon

pure almond extract

2 1/3

cups

all-purpose flour

1/2

cup

sprinkles
Instructions
Add butter, powdered sugar, salt, vanilla extract, and almond extract to the bowl of a large food processor. Process until smooth (about eight 1-second pulses). Add flour and pulse until mixture looks crumbly and chunky (about six 1-second pulses). Add sprinkles and quickly pulse several more times, until the sprinkles are just evenly incorporated.

Turn the dough out onto a large piece of wax paper and form the crumbles into a log that's about 14 inches long. Shape the log so that it has three flat sides, giving the ends a triangular shape (the log should look like a long triangular prism).

Wrap the triangular log with the wax paper. Take a wooden ruler (or another long, thin object) and press an indentation into one flat side of the log. Round the edges of that side to form a heart-shaped log. Place the wrapped cookie dough on a baking sheet and freeze for 15 minutes. Fine-tune the shape of the heart (if necessary) and freeze for 2 to 3 more hours or until solid.

Place rack in center position of oven. Preheat oven to 350°F. Line two baking sheets with parchment paper. Remove log of dough from the freezer. Allow the cookie dough to come to room temperature for 5 minutes or until just soft enough that it doesn't crack or crumble when sliced. Using a sharp knife, cut the log into slices that are approximately 3/8-inch thick. Arrange cookies an inch apart on the prepared baking sheets. Bake until cookies just barely turn a light golden color around the edges, between 12 and 15 minutes. Allow to cool on the baking sheets.
Notes
If your dough is too frozen, the cookies will crumble when you slice them. So allow your dough to sit at room temperature for 5 to 10 minutes before cutting. It should slice cleanly without crumbling but still maintain its heart cookie shape.
You may use any long, thin, hard object to make your indentation, but a ruler works great.
Calories:
140
kcal
|
Carbohydrates:
16
g
|
Protein:
1
g
|
Fat:
7
g
|
Saturated Fat:
5
g
|
Cholesterol:
20
mg
|
Sodium:
49
mg
|
Potassium:
15
mg
|
Sugar:
6
g
|
Vitamin A:
235
IU
|
Calcium:
4
mg
|
Iron:
0.6
mg
Post originally published on January 25, 2018.