Easy-to-make Pistachio Shortbread Cookies are delicately sweet and studded with bits of salty pistachios. And for an extra-special touch, fill them with lemon curd, fruity jam, or Nutella to turn them into sandwich cookies!

If each month had a designated a color, March would undoubtedly be green. There's St. Patrick's Day, of course, but there's also (finally, at long last) the ushering in of spring (hallelujah and glory be)!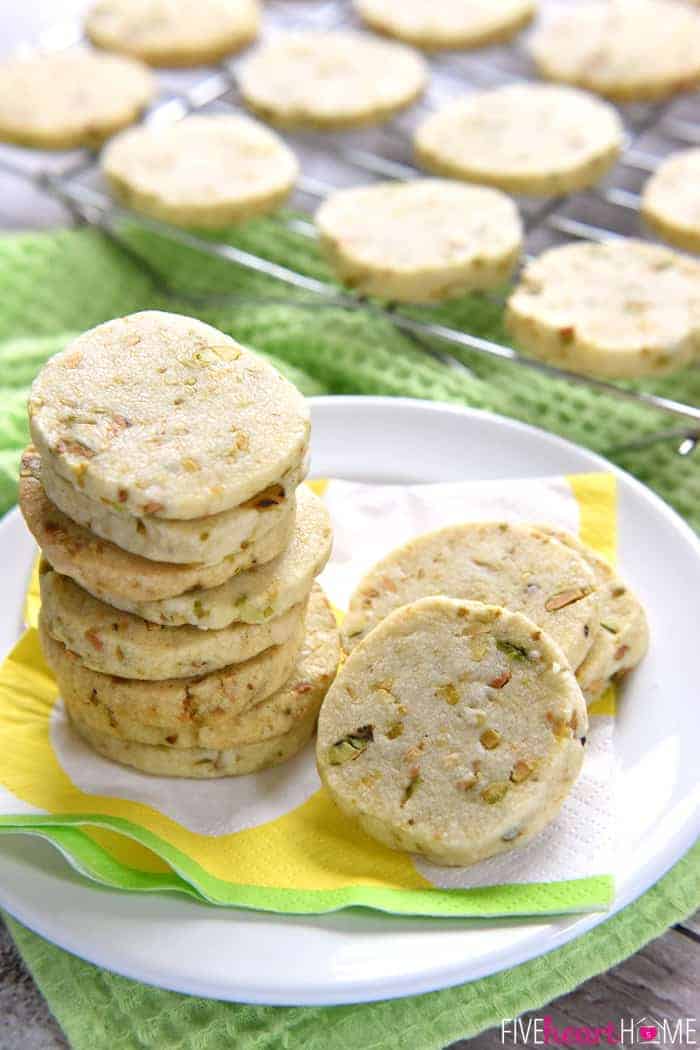 When I initially decided to share these cute little Pistachio Shortbread Cookies today, I did so with St. Paddy's Day in mind. But when the nutty green accents ended up more subtle/natural and less neon/in-your-face, I decided that these cookies probably wouldn't be able to compete with leprechaun hats and food coloring-laden beer come March 17th. So let's just pretend I originally conceived these with spring in mind instead, m'kay?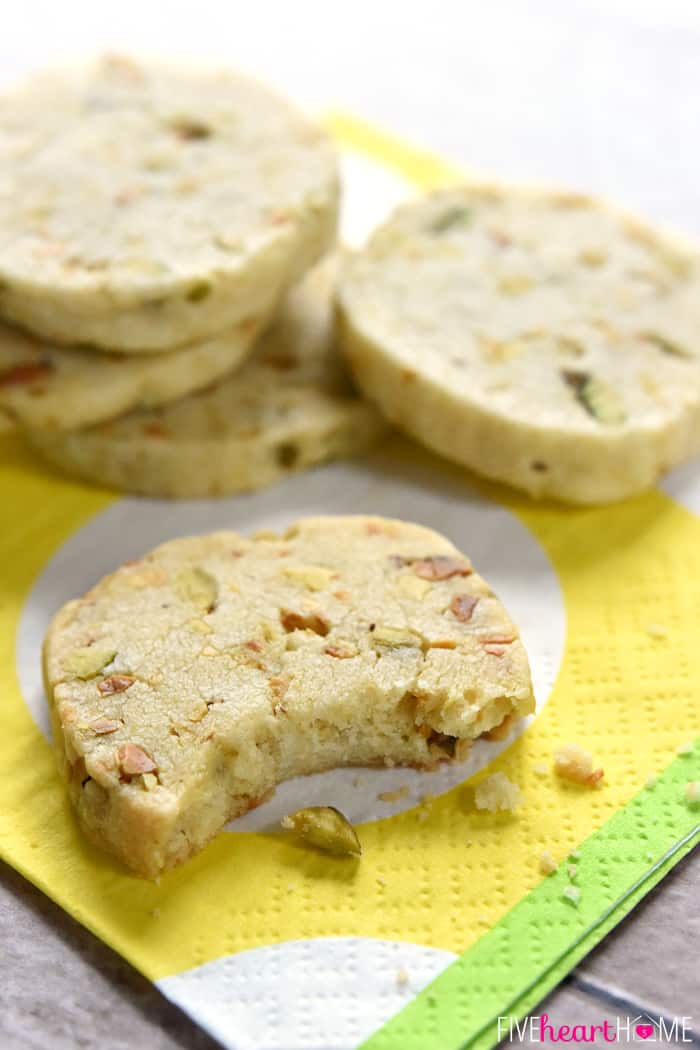 I've always been a cashew-lovin' gal, but pistachios were my Daddy's favorite. I enjoy pistachios now more than ever because, not only do they make me think of him, but these days, they can be purchased sans shells, saving you all of that finger-shredding labor. 😉
So the other day, when I came across a leftover bag of shelled pistachios in the pantry, I knew I wanted to do something fun with it...and lucky for you, I decided on these tender, buttery Pistachio Shortbread Cookies!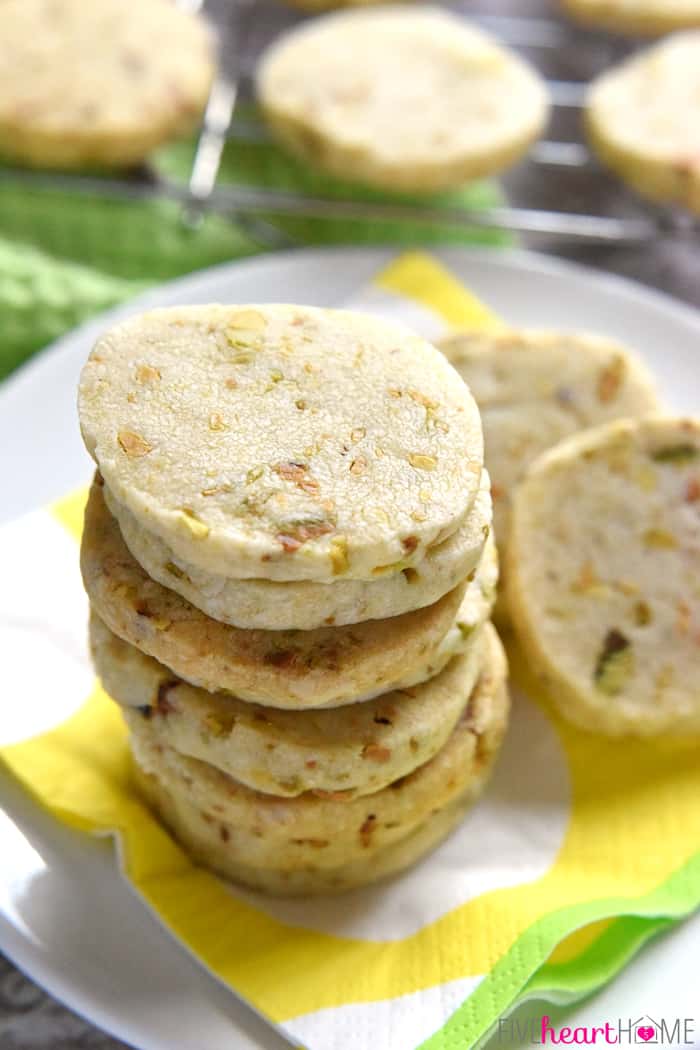 Slice-n-Bake Shortbread with Nuts
I'm a big fan of shortbread, but never before had I made it with any type of nuts incorporated. Well, what was I waiting for?!
These delectable shortbread cookies are lightly sweet, with the crunchy, salty pistachios adding a surprisingly tasty twist. And as a bonus, the hands-on time for making these is mere minutes.
In a nutshell? (Sorry/not sorry...) They're as simple to make as they are scrumptious.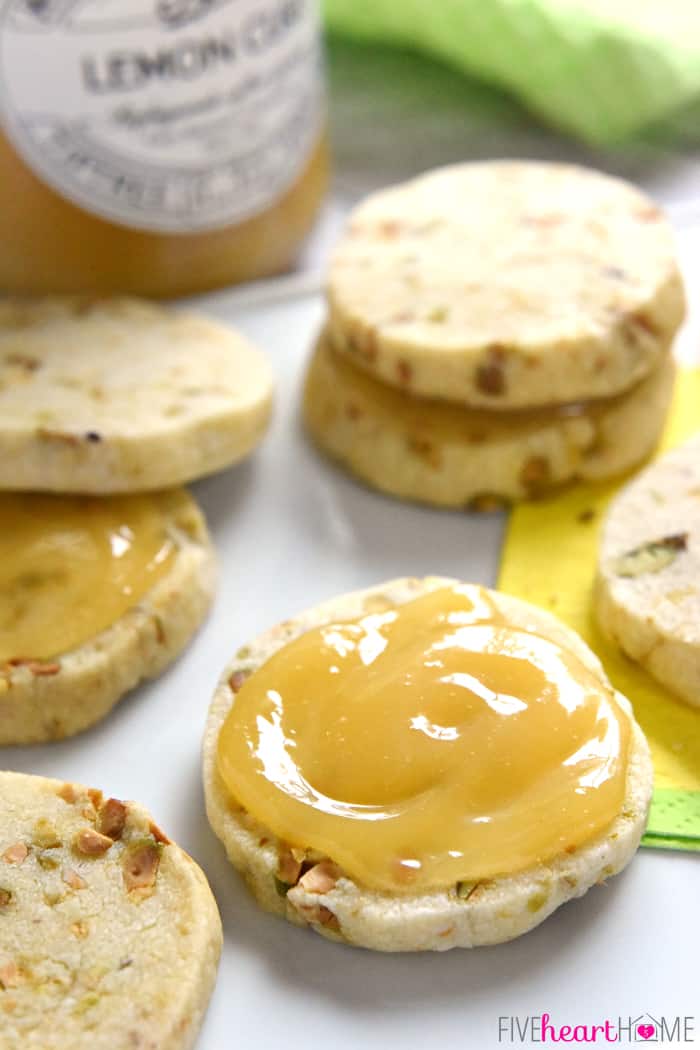 Sandwich Cookie Option
But you wanna know how you can really put these guys over the top? Turn 'em into cute little sandwich cookies!
I had a half-empty jar of lemon curd in the fridge just longing for a purpose in life, and it ended up being the perfect, spring-like complement to these cookies.
I think you could make equally delightful sandwich cookies using your favorite jam, or even -- wait for it! -- Nutella!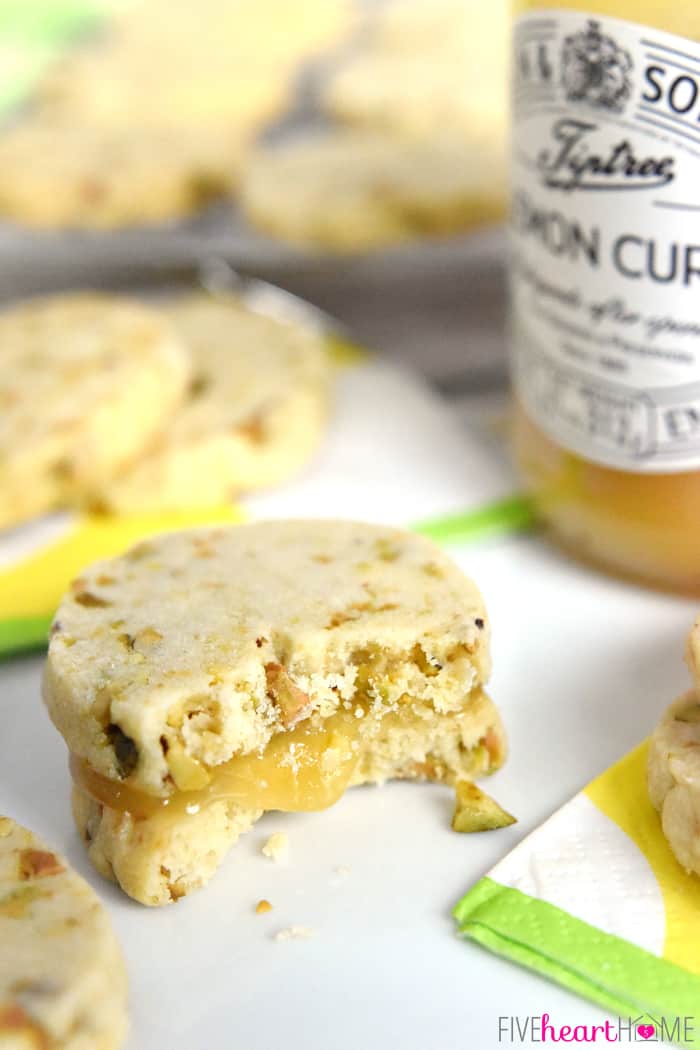 Occasions to Make 'em
So make these Pistachio Shortbread cookies because you're pining for spring!
Serve them at a sophisticated (ha) St. Paddy's Day soiree.
Bake up a batch to leave for the Easter Bunny.
Whatever you do, you must try them.
And if you decide to pay homage to pistachios by making them during the Official Month of the Color Green (you heard it here first), well then, all the better... 😉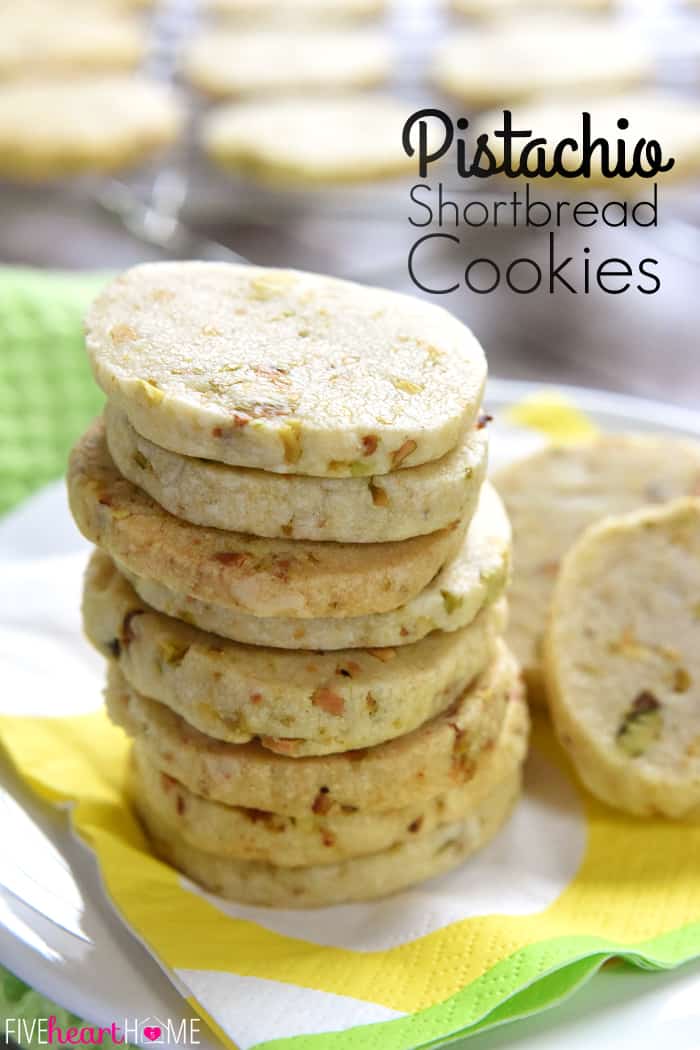 More Yummy Cookies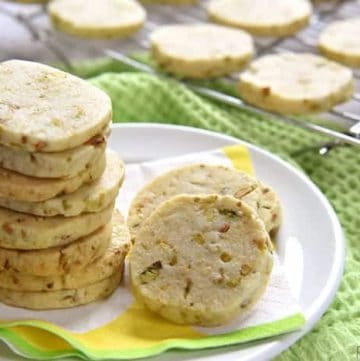 Pistachio Shortbread Cookies
Easy-to-make Pistachio Shortbread Cookies are delicately sweet and studded with bits of salty pistachios. And for an extra-special touch, fill them with lemon curd, fruity jam, or Nutella to turn them into sandwich cookies!
Print
Pin
Rate
Ingredients
1

cup

(2 sticks) unsalted butter

,

at room temperature

¾

cup

powdered sugar

½

teaspoon

salt

2 ⅓

cups

all-purpose flour

1

cup

chopped pistachios

,

roasted and lightly salted
Optional Fillings for Sandwich Cookies:
lemon curd, fruit jam, Nutella, etc.
Instructions
Add butter, powdered sugar, and salt to the bowl of a large food processor. Process until smooth (about eight 1-second pulses). Add flour and pulse until mixture looks crumbly and chunky (about six 1-second pulses). Add pistachios and quickly pulse about 4 more times so that the pistachios are incorporated but not further chopped.

Turn the dough out onto a work surface and shape into a rough ball. Cut ball in half and form each piece of dough into an 8-inch long log. Tightly wrap each log in plastic wrap and freeze for 30 minutes.

Preheat oven to 350°F. Line two baking sheets with parchment paper. Remove one log of dough from the freezer. Cut dough into ¼-inch thick slices, rolling log every few slices to maintain the round shape of the cookies. Arrange cookies on lined baking sheet. Bake until cookies just barely turn a light golden color around the edges, between 10 and 15 minutes. Allow to cool on baking sheets.

Repeat steps with the second log of cookie dough. Once cookies are completely cool, store in an airtight container.
Notes
You may use unsalted pistachios, if you prefer (or if that's all you can find).
To achieve round logs of dough, I shape them the best I can and then lightly roll them on the counter like a rolling pin after they're wrapped in plastic wrap.
While the first sheet of cookies is baking, take the second log of cookie dough out of the freezer, slice it, and arrange cookies on second cookie sheet so that it's ready to pop in the oven as soon as the first sheet comes out.
If desired, once cookies are completely cool, you may make sandwich cookies by spreading ½ teaspoon of lemon curd, jam, or Nutella on one cookie and topping with another cookie.
Calories:
104
kcal
|
Carbohydrates:
10
g
|
Protein:
2
g
|
Fat:
7
g
|
Saturated Fat:
3
g
|
Cholesterol:
14
mg
|
Sodium:
33
mg
|
Potassium:
45
mg
|
Fiber:
1
g
|
Sugar:
3
g
|
Vitamin A:
170
IU
|
Vitamin C:
0.2
mg
|
Calcium:
6
mg
|
Iron:
0.5
mg
Adapted from Martha Stewart