Tender, buttery shortbread is loaded with toasted coconut in these delicious, addictive, easy-to-make Coconut Shortbread Cookies!

Sometimes the simplest recipes are the tastiest, and that's certainly the case with shortbread, where just a handful of basic ingredients magically transform into a melt-in-your-mouth treat. I've already got recipes on the blog for basic Scottish Shortbread and jazzed-up Pistachio Shortbread Cookies, so today I'm adding Coconut Shortbread Cookies to the line-up!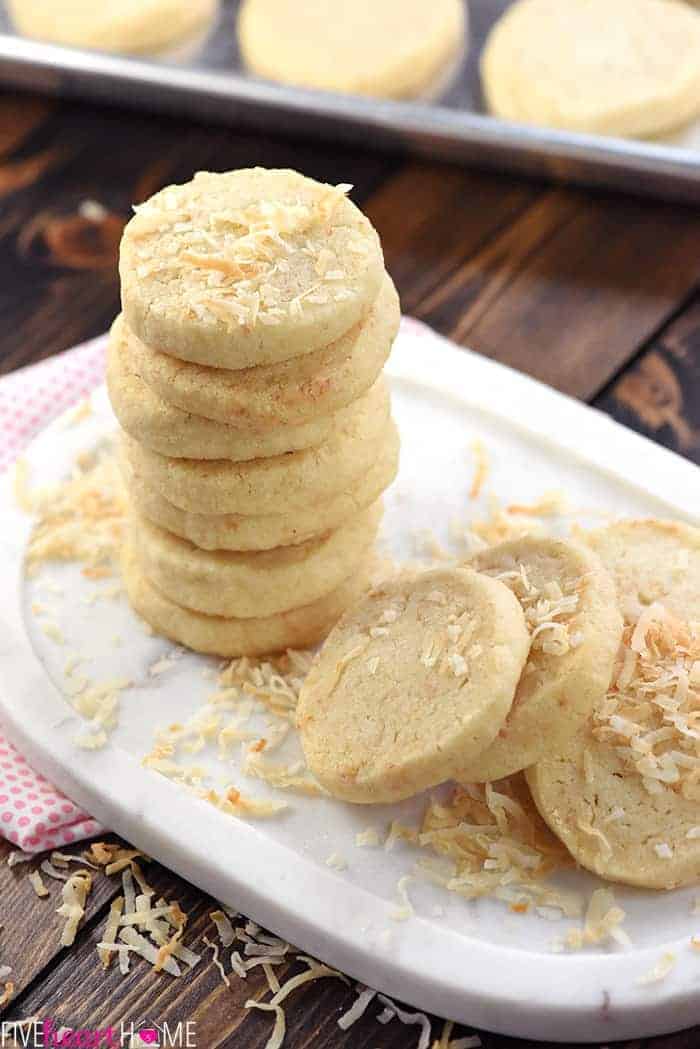 It's hard to pick a favorite when it comes to shortbread, but these beauties are certainly contenders. After all, they're downright delectable, with a crisp-tender, buttery texture and a toasty coconut undertone.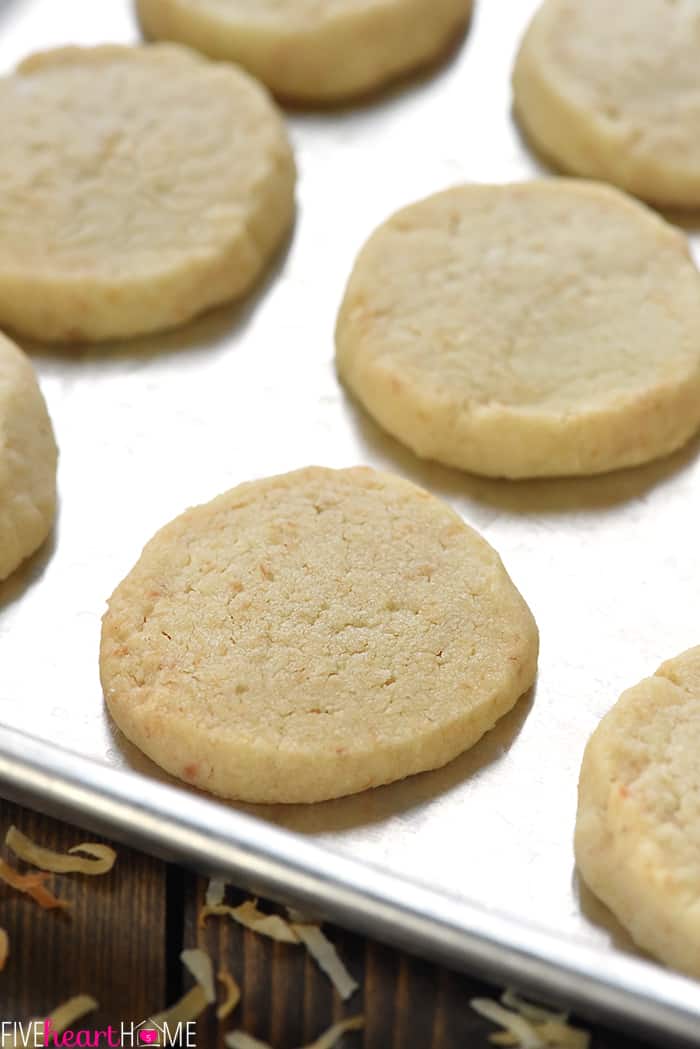 I actually ended up tweaking and re-making this recipe four times to get them just right…which can either be classified as ultimate food blogger dedication or shame-worthy shortbread addiction.

But as for the results of all those trials? I ultimately settled on powdered sugar over granulated sugar for a smoother texture, and I determined that baking the cookies until they turned light golden brown around the edges was key. They just weren't quite as good when slightly underbaked.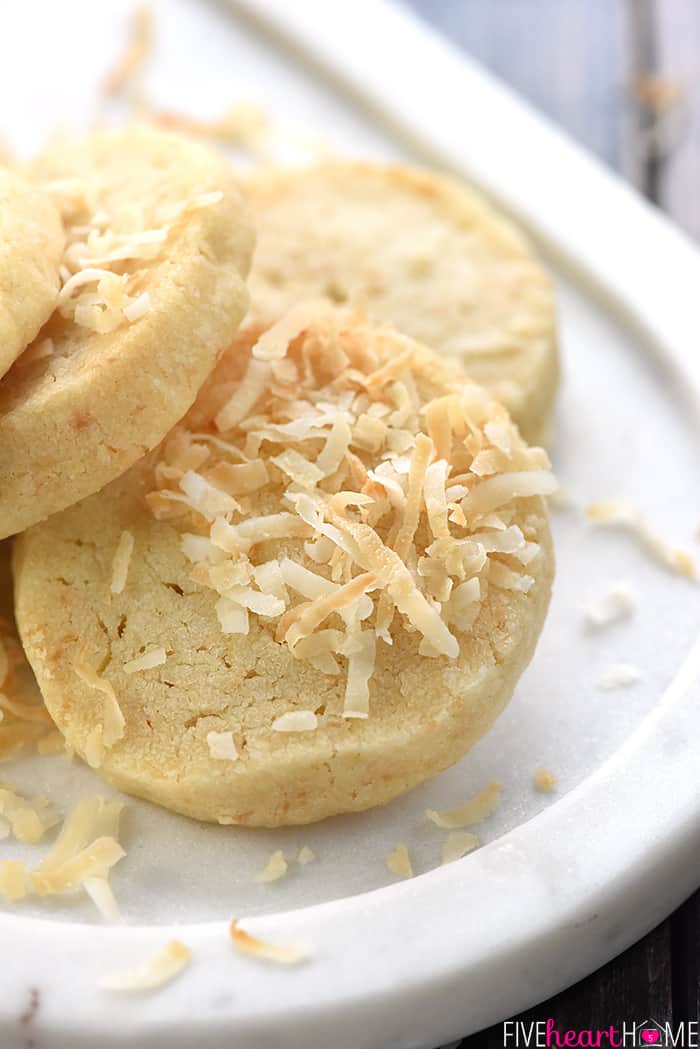 I typically buy a brand of organic flaked coconut from my grocery store that happens to be unsweetened, so the amount of sugar in this recipe takes that into account. If you can only find sweetened flaked coconut, though, that's okay…just know that your cookies will turn out slightly sweeter, which is not a huge deal since these Coconut Shortbread Cookies aren't overly sweet to begin with. Or you can always reduce the sugar a tad to compensate.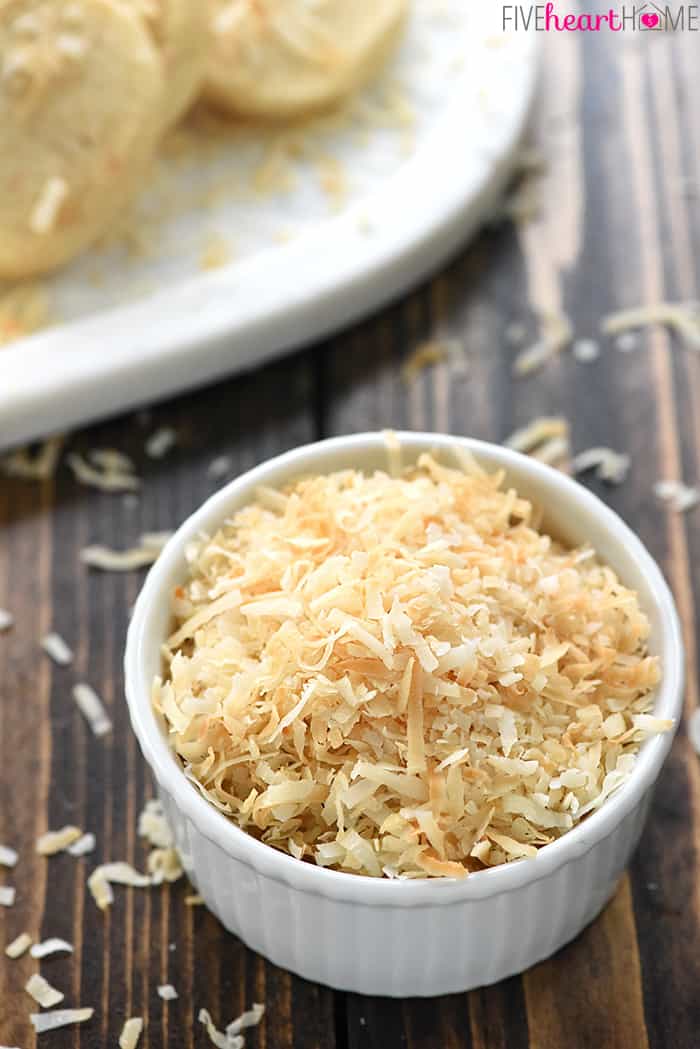 I tried making this recipe in the food processor (similar to my other shortbread recipes), but it was a bit tricky pulsing in all of the toasted coconut at the end. So I actually found that whipping up this dough in a stand mixer was the easiest method. You could also totally make these cookies using a hand mixer, or just stir together the dough with a spoon instead. The beauty of this recipe is that it's zippity-quick regardless!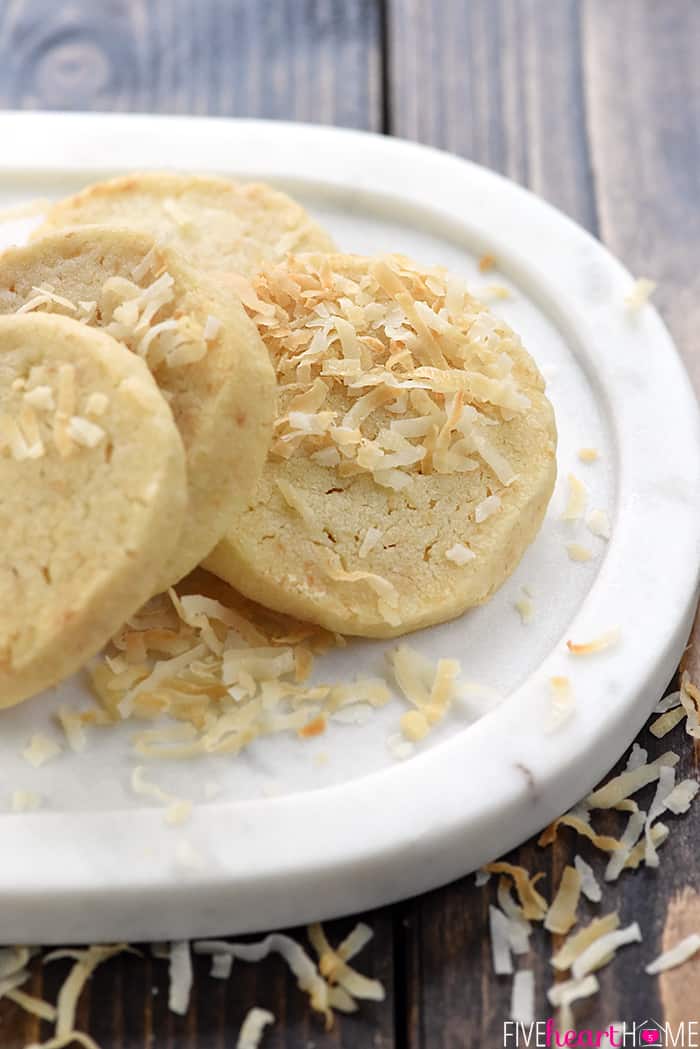 Finally, since chocolate and peanut butter red wine coconut were made for one another, I experimented with drizzling some of my (dozens and dozens of) Coconut Shortbread Cookies with melted chocolate. YUM.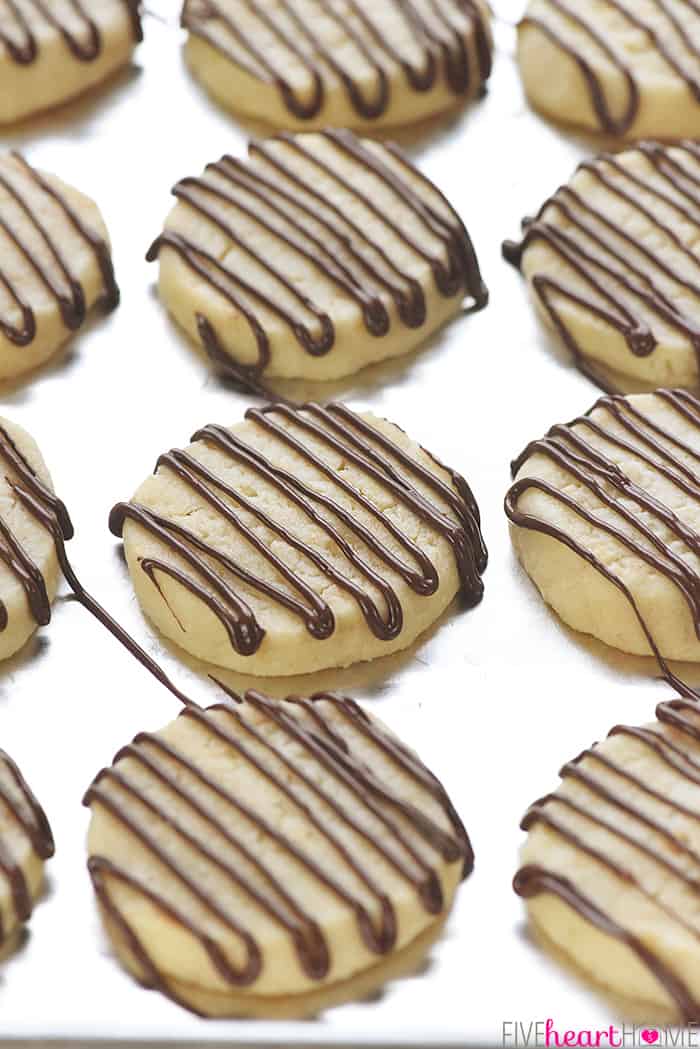 Others I dipped. DOUBLE YUM.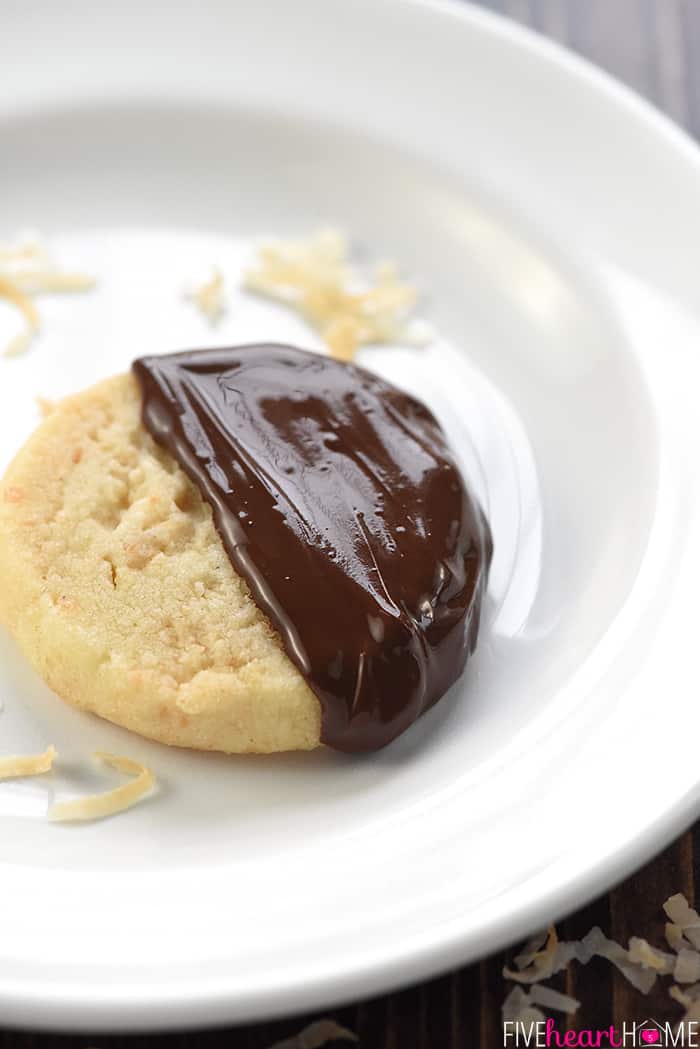 You could even sandwich some Nutella between two cookies (similar to those aforementioned pistachio cookies with lemon curd) for coconut shortbread sandwiches! Raspberry jam would also be lovely. Or perhaps even lime curd, for a little lime in da coconut action?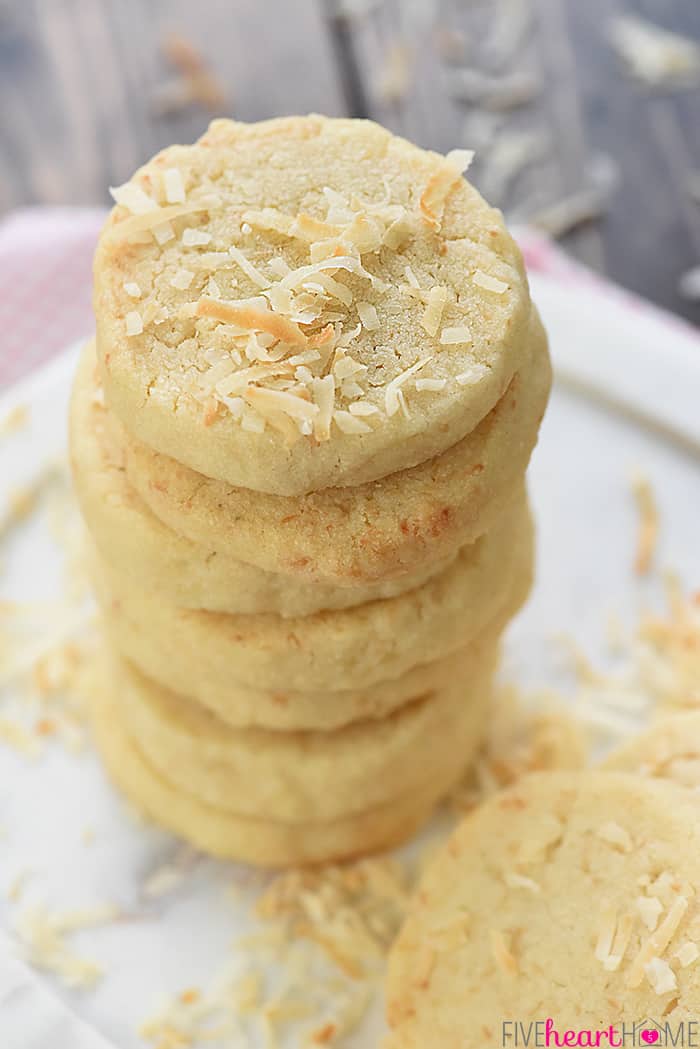 Whether fancied up or perfectly plain, these Coconut Shortbread Cookies are quick to make and scrumptious in their simplicity. They'd be a sweet treat this Easter…and I'll likely still have some left by then. 😉 But actually, they'd be perfect any time of year! I hope y'all have a chance to try them soon.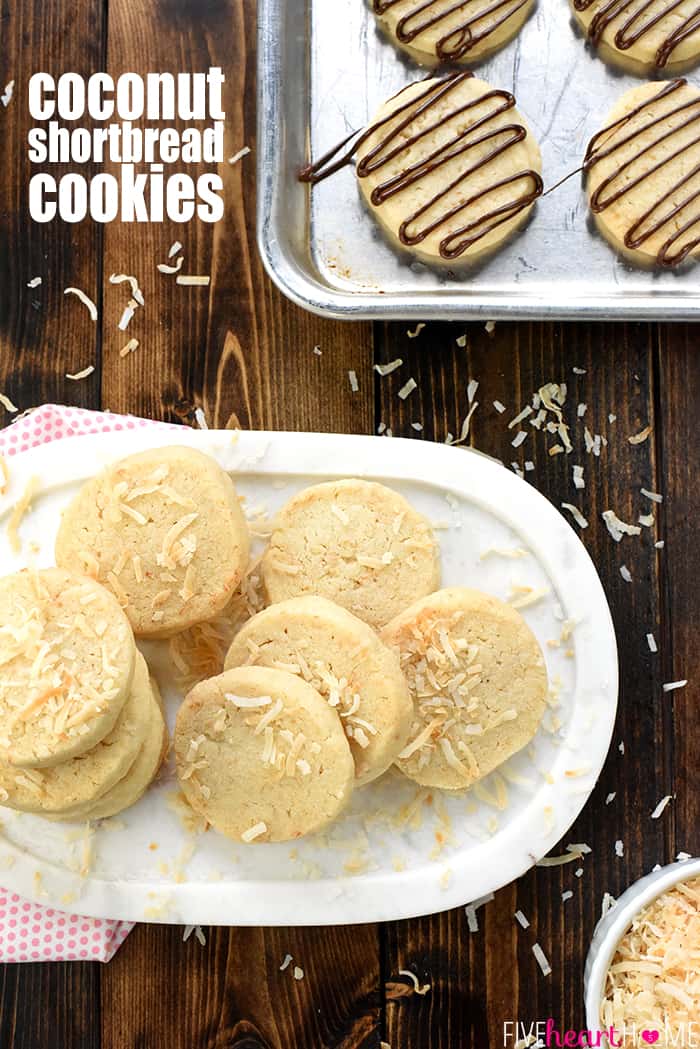 Coconut Shortbread Cookie Recipe


Coconut Shortbread Cookies

Tender, buttery shortbread is loaded with toasted coconut in these delicious, addictive, easy-to-make Coconut Shortbread Cookies!

Print Pin Rate

Chilling Time:

30

minutes

Ingredients

2

cups

unsweetened coconut flakes

1

cup

(2 sticks) unsalted butter

,

at room temperature

3/4

cup

powdered sugar

1/2

teaspoon

salt

1

teaspoon

pure vanilla extract

1/8

teaspoon

pure almond extract

2

cups

all-purpose flour

1/2

cup

semisweet chocolate chips

,

optional, for dipping or drizzling

Instructions

To toast the coconut, preheat oven to 325°F. Spread flaked coconut into a thin layer on a large, rimmed baking sheet. Bake for 5 minutes, stir, and then bake for 1 to 3 more minutes or until light golden brown. Set aside to cool completely.

In a large bowl, use an electric mixer to beat the butter until creamy. Mix in the powdered sugar, salt, vanilla extract, and almond extract and beat for 1 minute until light and smooth. With mixer on low speed, slowly add the flour, blending until just incorporated. Add the toasted (cooled) coconut and quickly mix it in until thoroughly combined.

Turn the dough out onto a work surface and shape it into a rough ball. Cut the ball in half and form each piece of dough into an 8-inch log. Tightly wrap each log in plastic wrap and freeze for 30 to 40 minutes.

Preheat the oven to 325°F. Line two baking sheets with parchment paper. Remove one log of dough from the freezer. Cut the dough into 1/4-inch thick slices, rolling the log every few slices to maintain the round shape of the cookies. Arrange the cookies on the prepared baking sheet. Bake until the cookies start to turn a light golden color around the edges, between 14 and 16 minutes. Allow to cool on baking sheets.

Repeat the steps with the second log of cookie dough. Once the cookies are completely cool, store them in an airtight container.

Notes

You may use sweetened flaked coconut if that's what you have on hand, which will result in slightly sweeter cookies, but these cookies are not overly sweet to begin with. If you wish, you may reduce the powdered sugar to 1/2 cup if using sweetened coconut.
To achieve round logs of dough, I shape them the best I can and then lightly roll them on the counter like a rolling pin after they're wrapped in plastic wrap.
While the first sheet of cookies is baking, take the second log of cookie dough out of the freezer, slice it, and arrange cookies on second cookie sheet so that it's ready to pop in the oven as soon as the first sheet comes out.
If desired, once the cookies are completely cool, you may drizzle them with melted chocolate. Melt about 1/2 cup semisweet chocolate chips in the microwave (in 30-second increments, stirring in between, until smooth & melted). Scrape the melted chocolate into a sandwich baggie, snip a tiny hole in one corner, and drizzle a thin stream of chocolate across the cookies (or just drizzle with a spoon). Set the chocolate by popping the cookies in the refrigerator for 20 minutes or letting them sit at room temperature for about 3 hours. (If you want the chocolate to set firmer and more quickly, you can stir 1/2 teaspoon shortening into the melted chocolate before drizzling.)
Alternatively, you may make sandwich cookies by spreading 1/2 teaspoon of Nutella (or jam, or lime curd) on one cookie and topping with another cookie.

Calories:

126

kcal

|

Carbohydrates:

10

g

|

Protein:

1

g

|

Fat:

9

g

|

Saturated Fat:

6

g

|

Cholesterol:

13

mg

|

Sodium:

35

mg

|

Potassium:

48

mg

|

Fiber:

1

g

|

Sugar:

3

g

|

Vitamin A:

3.2

%

|

Vitamin C:

0.1

%

|

Calcium:

0.5

%

|

Iron:

3.5

%
Adapted from Pistachio Shortbread Cookies
More Coconut Treats
Save
Save
21