A blend of cream cheese, chocolate, and real whipped cream, 5-ingredient Fluffy Chocolate Fruit Dip is like dunking fresh fruit in creamy chocolate cheesecake!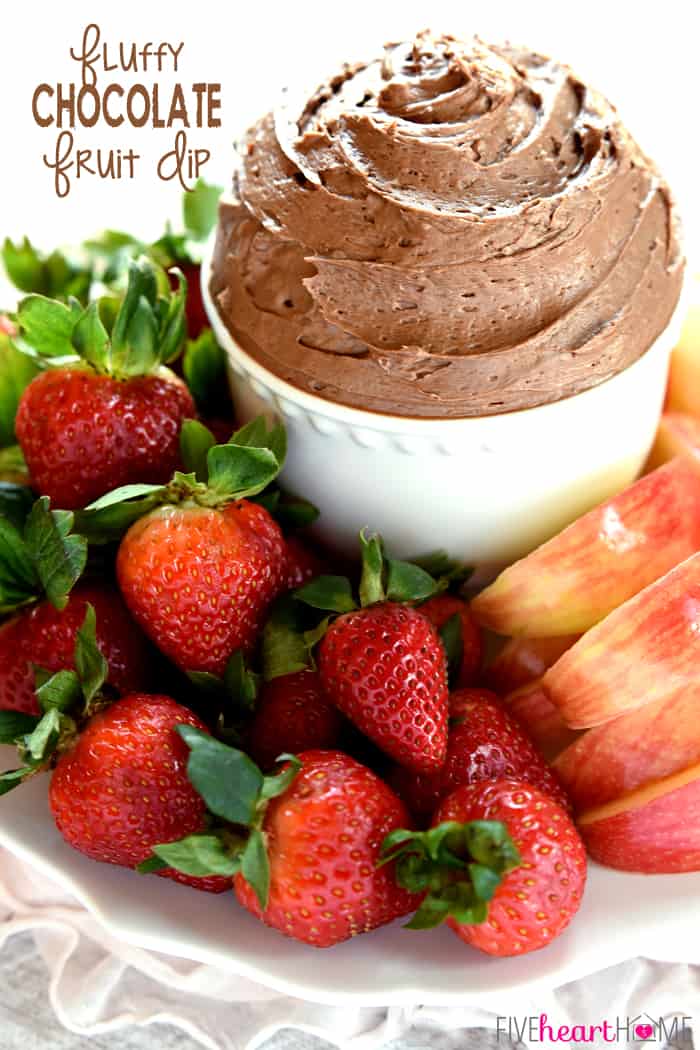 Well, folks...one week down, only 51 to go! So what say we celebrate achieving a full week of healthy eating resolutions with some Fluffy Chocolate Fruit Dip??? 😉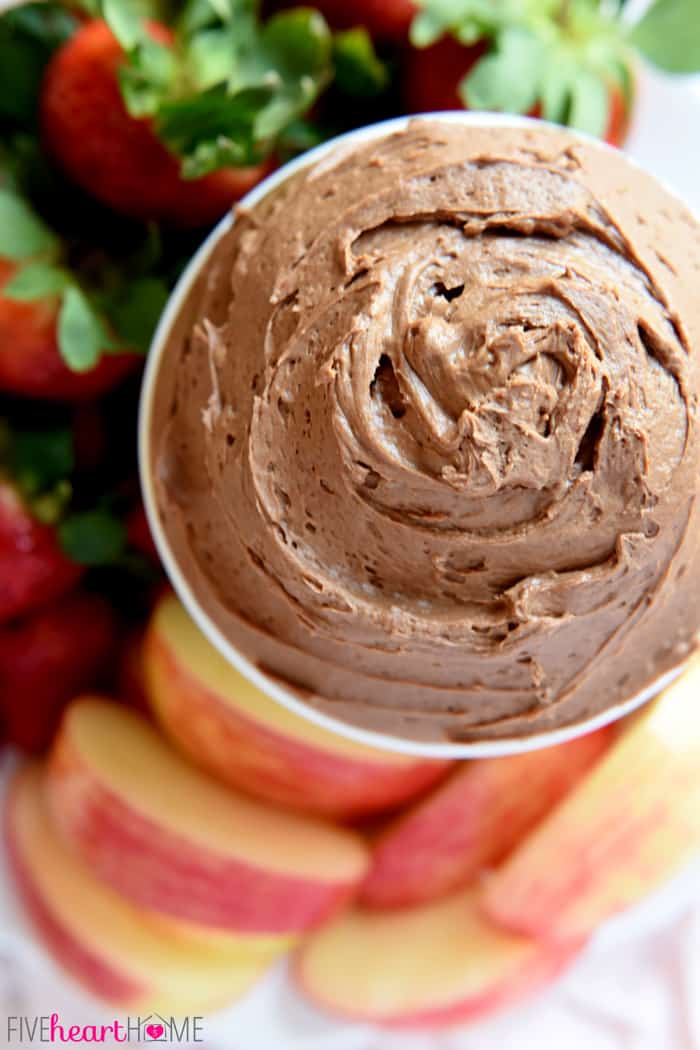 Ohhh, I jest. Keep drinking your smoothies and eating your kale and quinoa for a bit longer...you're doing awesome!
You can always save this amazing, decadent fruit dip recipe for your Superbowl party about a month from now. Or better yet, for dippingsome long-stemmed strawberries on Valentine's Day!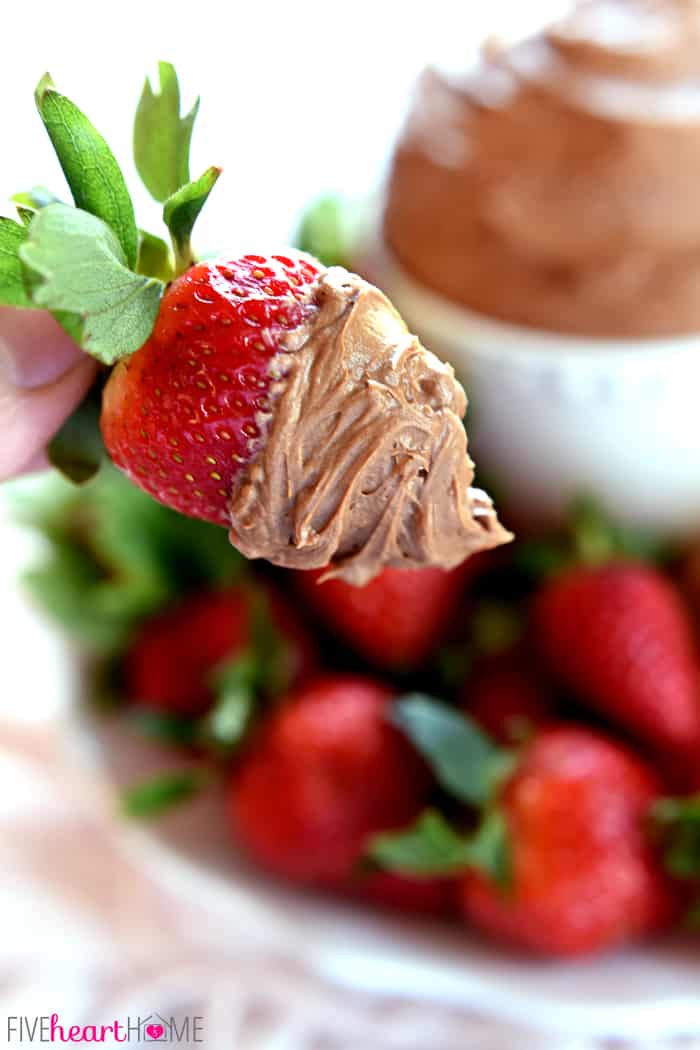 Ingredients
Or, if you're like me and you've been alternating your healthy resolutions with the reality of daily life, you can whip up a bowl of Fluffy Chocolate Fruit Dip STAT! After all, you scoop it up with fruit, so it can't be all bad, right? 😉
And, as a bonus, it contains real ingredients...no Cool Whip or marshmallow fluff here, tasty though they may be. In fact, all you need are five simple ingredients:
chocolate chips
heavy cream
cream cheese
powdered sugar
vanilla extract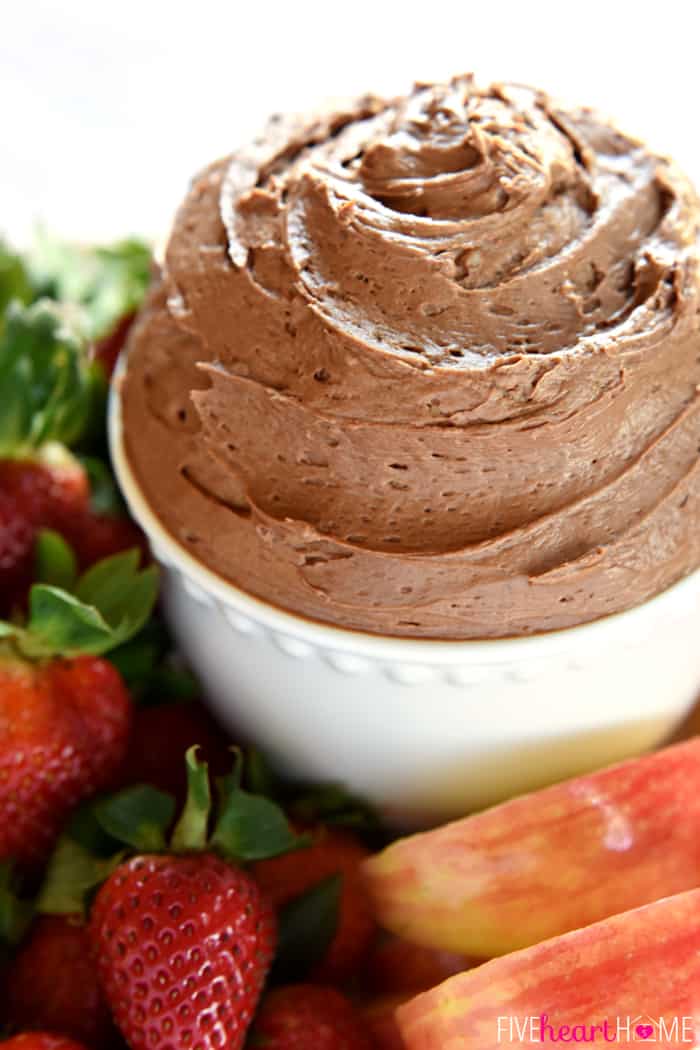 How Good Is It?
I'll attempt to keep this brief today...so suffice it to say that this effortless fruit dip received a stamp of approval and two enthusiastic thumbs up from Five Heart Home's Director of Chocolate Taste Testing.
Let me also disclose that, when I gave each of my kids two apple slices and a little dollop of Fluffy Chocolate Fruit Dip after dinner last night, they decided to eat their apple slices plain and then eat the fruit dip with a spoon...so as to fully savor it.
Well, at least my boys used spoons...my daughter used her fingers to wipe every last trace of dip from her bowl, which somehow resulted in a happy trail of chocolate up her arms, on her shirt, in her hair, and alllll over her face.
Allow me to further admit that, while my kids were finishing their desserts, I started washing the dishes but found myself repeatedly visiting the container of fruit dip with a spoon of my own.
Well, multiple spoons actually because, you know...germophobes don't double-dip. In fact, I believe I counted seven (of my own) spoons in the sink before the 5-year-old busted me. Oooops...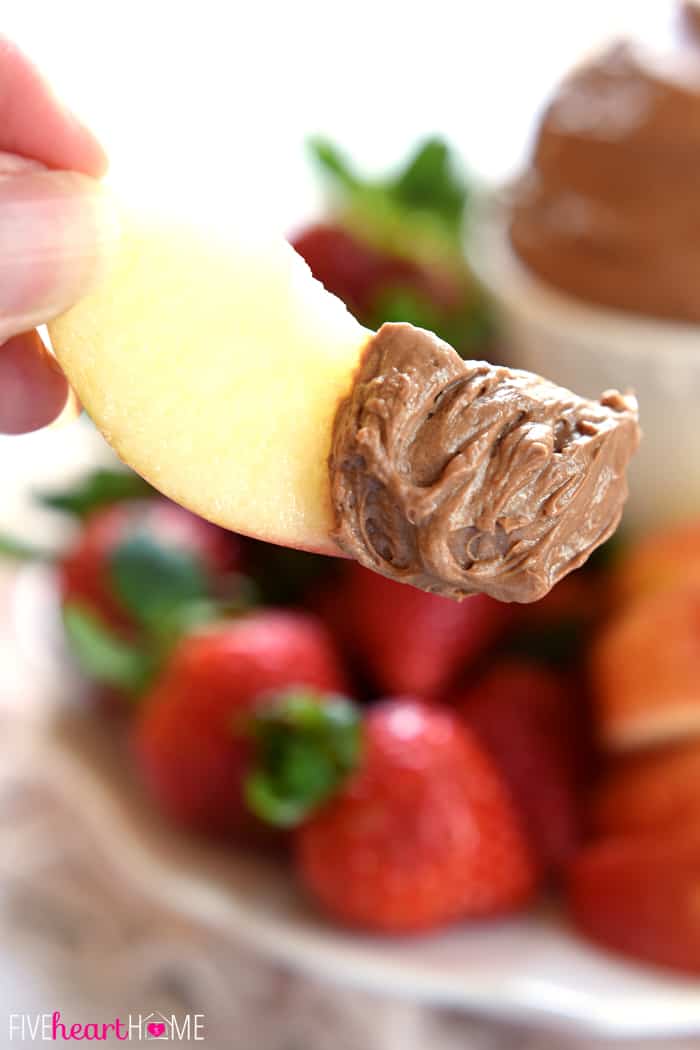 The Inspiration
Yup, it's just that good, y'all...awesome on fruit but equally delicious scooped straight out of the bowl! With that cream cheese undertone, it really does taste like chocolate cheesecake. In fact, it was originally inspired by my beloved White Chocolate Cheesecake Fruit Dip.
I decided to give that recipe a semisweet chocolate twist, but after making a few tweaks, the texture of the two dips turned out totally different. The white chocolate dip is creamy and silky, while this semisweet chocolate dip is (as you can see from the pics and most likely deduct from the title) fluffy!
Both are scrumptious and both will disappear in a flash when you serve them at a party or get-together. Or, let's be honest here...if you have a chocolate-aficionado toddler or an endless supply of clean spoons for yourself, you don't even need a party for this dip to disappear!
Now if you'll excuse me, I'm experiencing a sudden hankering for a midnight snack. But don't worry...I'll save myself the spoon-washing labor and use a bowl this time. Heck, maybe I'll even get out an actual strawberry (or twelve)... 😉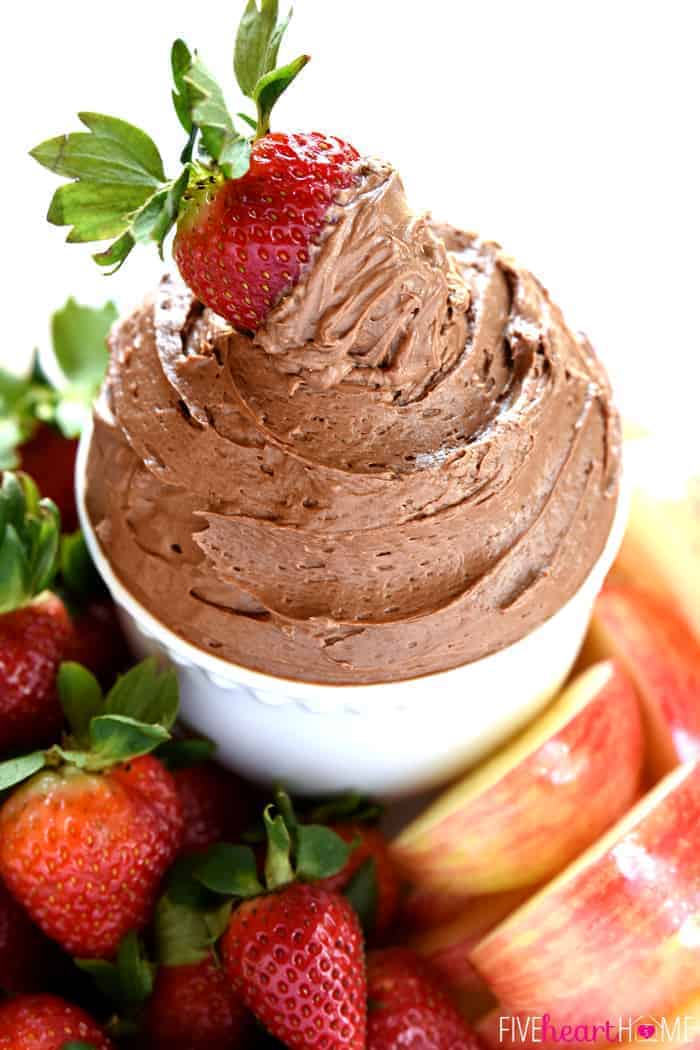 More Tasty Fruit Dips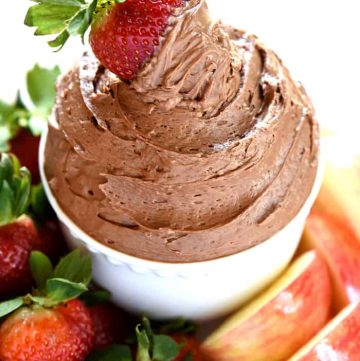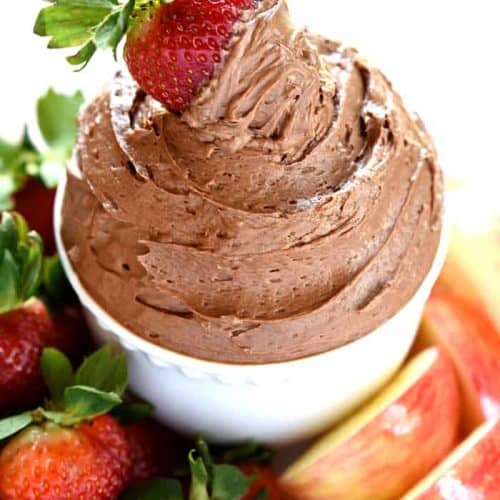 Fluffy Chocolate Fruit Dip
A blend of cream cheese, melted chocolate, and real whipped cream, 5-ingredient Fluffy Chocolate Fruit Dip is like dunking fresh fruit in creamy chocolate cheesecake!
Print
Pin
Rate
Ingredients
1

cup

semi-sweet chocolate chips

¾

cup

heavy whipping cream

8

ounces

cream cheese

,

at room temperature

1

cup

powdered sugar

,

more or less, to taste

2

teaspoons

pure vanilla extract
Instructions
Measure chocolate chips into a microwave-safe bowl. Microwave for 1 minute; stir chocolate well. Microwave for another 30 seconds; stir until chocolate is smooth. (If necessary, microwave in additional 15-second increments, stirring between each one, until chocolate is completely melted and smooth.) Set aside and allow to cool.

Pour heavy cream into a large bowl. Use an electric mixer to whip the cream until soft peaks form. Set aside.

In another large bowl, use an electric mixer to beat cream cheese and powdered sugar until smooth. Blend in vanilla and melted chocolate. Beat at high speed until light and fluffy.

Gently but thoroughly fold in whipped cream until no streaks remain. Cover and chill until ready to serve with fresh fruit, such as strawberries, apple slices, pineapple chunks, melon spears, etc.
Calories:
183
kcal
|
Carbohydrates:
14
g
|
Protein:
2
g
|
Fat:
13
g
|
Saturated Fat:
8
g
|
Cholesterol:
32
mg
|
Sodium:
51
mg
|
Potassium:
92
mg
|
Fiber:
1
g
|
Sugar:
12
g
|
Vitamin A:
360
IU
|
Vitamin C:
0.1
mg
|
Calcium:
28
mg
|
Iron:
0.8
mg