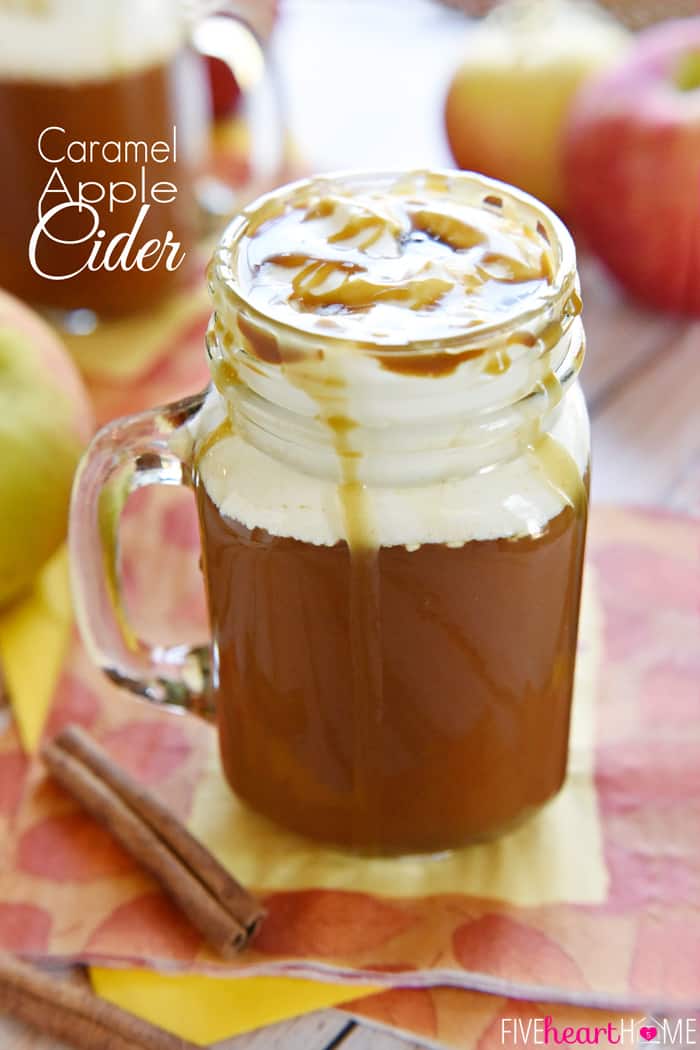 This all-natural copycat of a Starbucks Caramel Apple Spice Cider tastes like warm apple pie topped with vanilla ice cream...in a mug!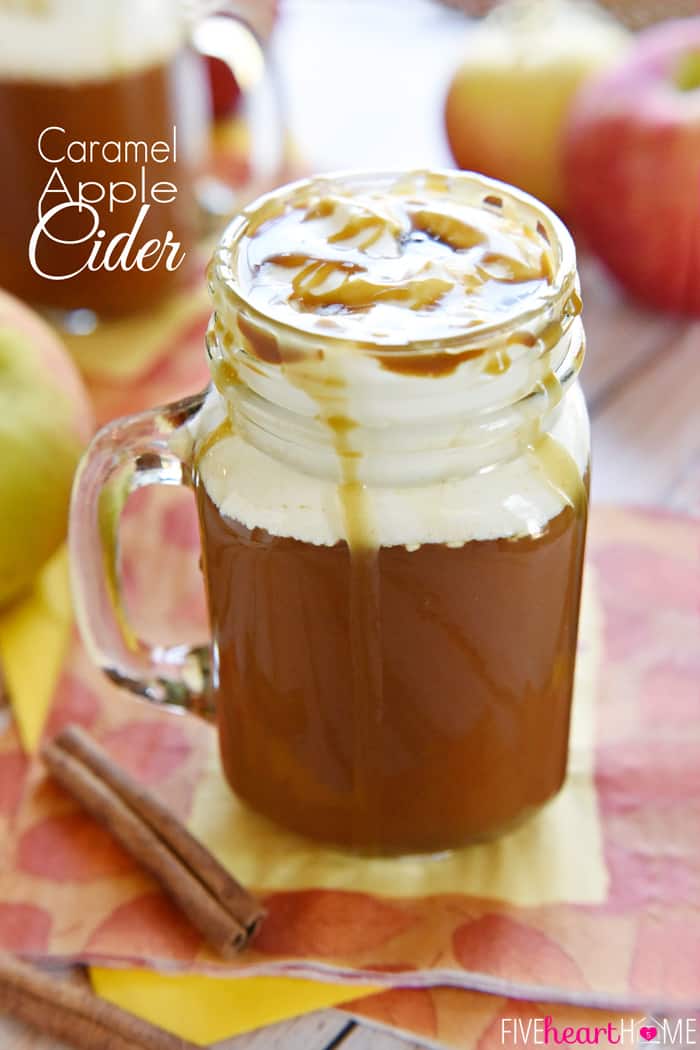 Oh my word, y'all. Move over hot chocolate...I have a new favorite warm drink for chilly days! This Caramel Apple Cider is, simply put, amazing.
In fact, I can't really think of a better description than what I wrote in the flowery line at the top of this post. It tastes just like warm, spiced apple pie topped with rich, creamy vanilla ice cream...except in beverage form!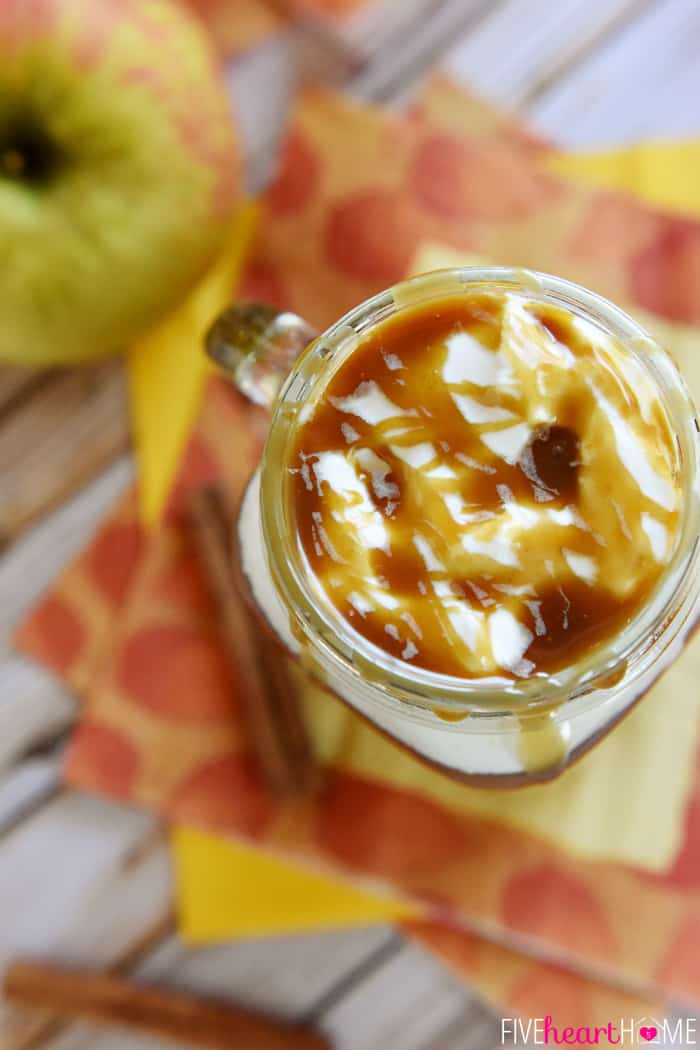 If you've ever had a Starbucks Caramel Apple Spice, you're already familiar with the phenomenon that is apple cider on steroids. Because as delicious as a plain and simple warm apple cider is on a blustery day, sometimes it can't really compete with luscious, decadent hot chocolate. But this drink...this drink will give regular ol' hot cocoa a run for its money!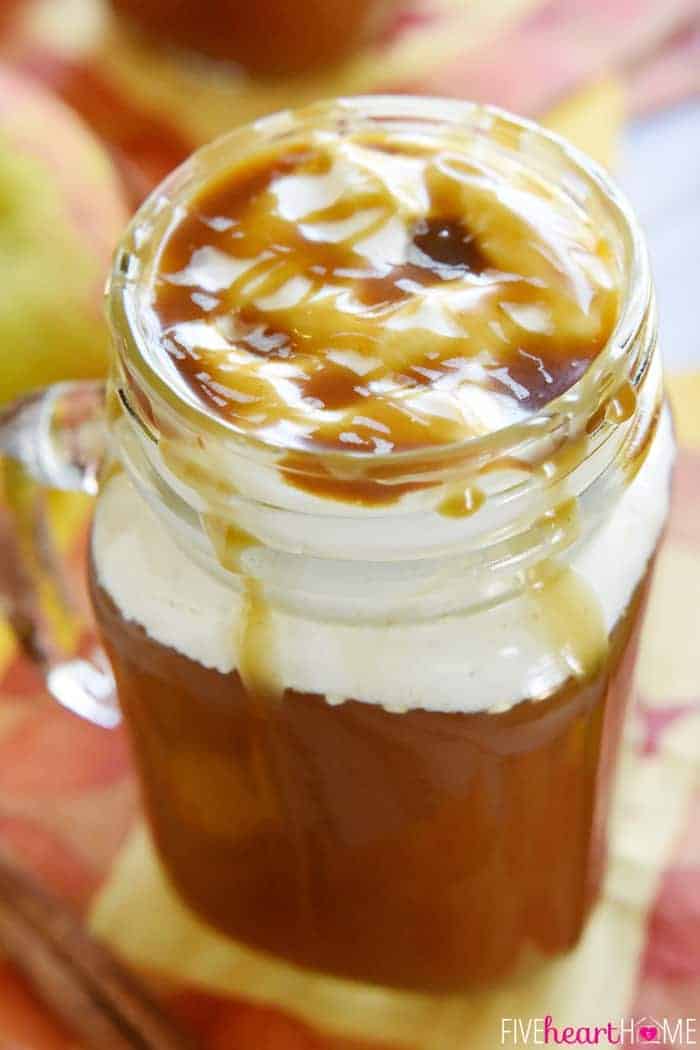 Ingredients
Like the Starbucks drink that it mimics, this apple "cider" begins with a base of apple juice, although you can certainly use actual cider if you happen to have some on hand.
It's flavored with my quick and easy Homemade Cinnamon Syrup (which calls for ground cinnamon as opposed to cinnamon sticks, since most people already stock the former in their spice cabinets).
Then it's topped with light, fresh whipped cream and drizzled with a gooey caramel sauce.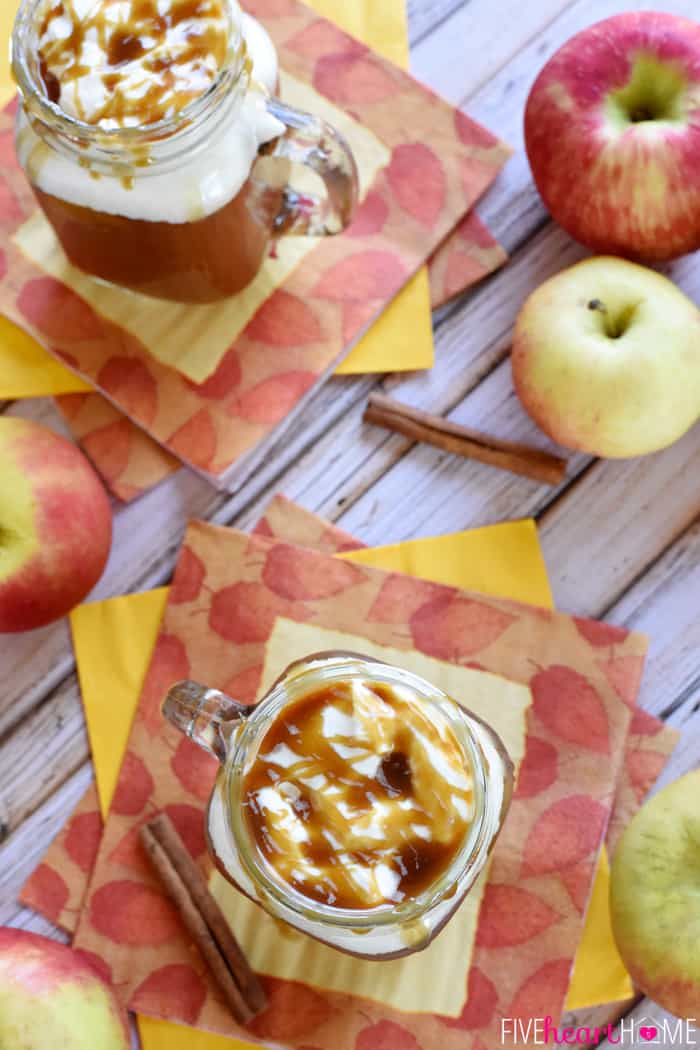 I use my 5-Minute, 5-Ingredient Homemade Caramel Sauce because it's, well, ready in five minutes...not to mention the fact that it's eat-with-a-spoon divine. If you decide to make your own caramel sauce as well, just do so a bit ahead of time so that it can cool and thicken a bit and doesn't melt your whipped cream on contact!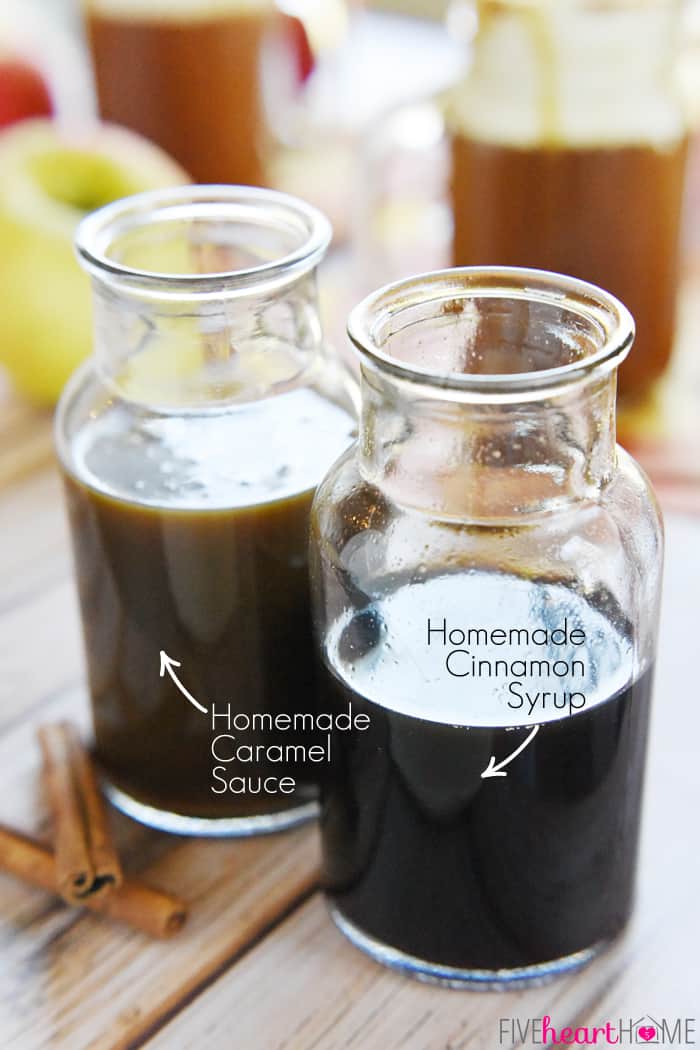 Set Up an "Apple Cider Bar"!
And you know what else? This recipe can easily be multiplied in order to whip up a whole big batch of apple cider!
Serve it out of a slow cooker at your next fall gathering, Halloween shin-dig, or holiday party as part of an "apple cider bar," complete with a bowl of whipped cream for dolloping and a jar of caramel syrup for drizzling.
That way your guests can dress up their drinks to their liking!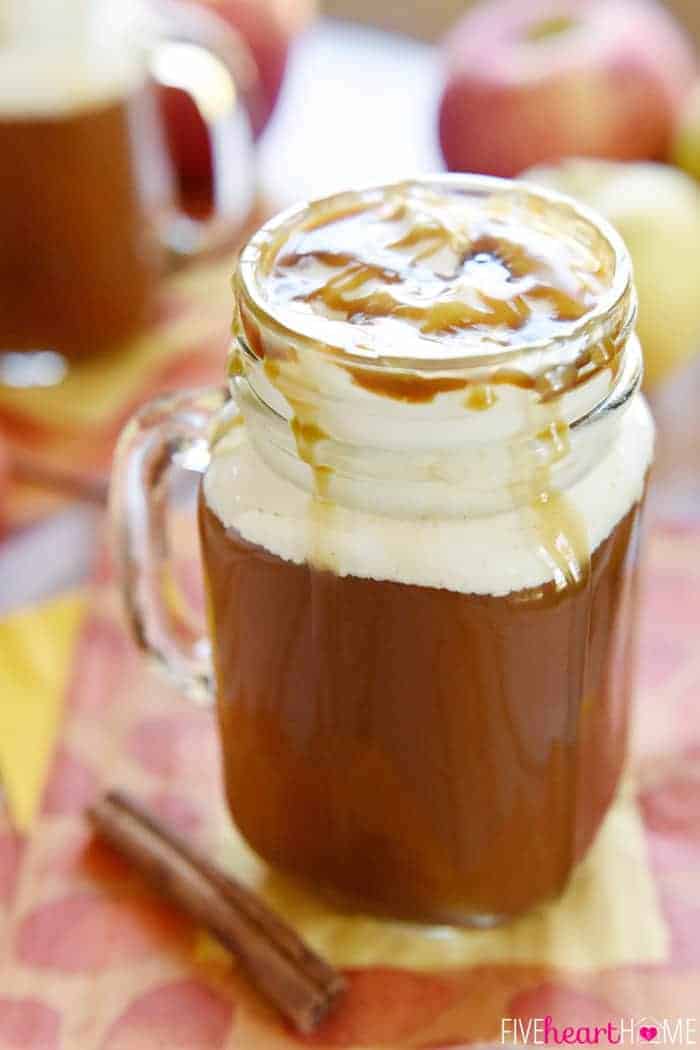 That's it...Caramel Apple Cider that's beyond simple and scrumptious! So bring on fall, y'all...I know exactly how I'm going to stay warm and cozy this year. 😉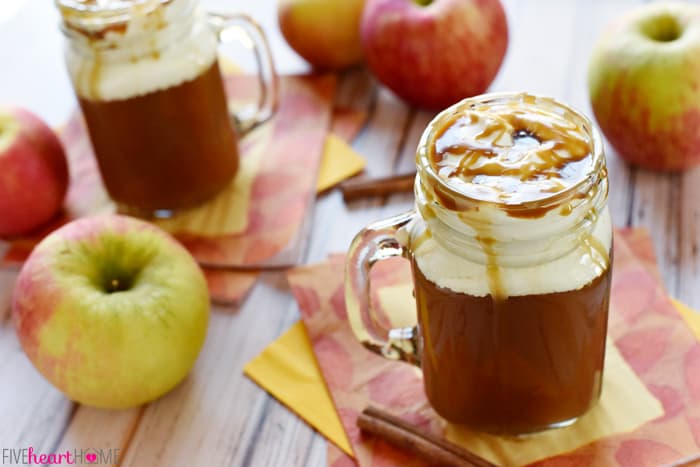 More Cozy Drinks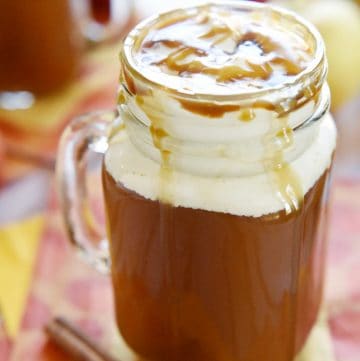 Caramel Apple Cider
This all-natural copycat of a Starbucks Caramel Apple Spice Cider tastes like warm apple pie topped with vanilla ice cream...in a mug!
Print
Pin
Rate
Servings:
1
serving (multiply as desired)
Instructions
Bring apple juice to a low simmer in a small pot set over medium heat (or warm it in the microwave). Transfer to a large mug and stir in 1 tablespoon Homemade Cinnamon Syrup (or more, to taste). Top with a generous dollop of fresh whipped cream and drizzle with 1 tablespoon Homemade Caramel Sauce. Serve warm.

To make a large batch of apple cider in the crock pot, multiply this single recipe by your number of desired servings, keeping in mind the maximum capacity of your slow cooker. Pour the apple juice in the slow cooker and flavor it with the cinnamon syrup. Set out a chilled bowl of whipped cream, a jar of caramel sauce, and a bunch of mugs for people to dress up their drinks.
Notes
To make approximately 2 cups of fresh WHIPPED CREAM, start with 1 cup chilled heavy cream. Use an electric mixer to beat at medium speed until soft peaks just begin to appear. Sprinkle ¼ cup (sifted) powdered sugar and 1 teaspoon pure vanilla extract over the whipped cream and beat at medium-high speed until soft peaks form. Do not overbeat! Whipped cream may be tightly covered and stored in the refrigerator for up to 24 hours. ***This amount of whipped cream is enough to top 4 to 6 servings of Caramel Apple Cider, so reduce or multiply it accordingly, depending on how many servings you wish to make.***
Calories:
284
kcal
|
Carbohydrates:
67
g
|
Protein:
1
g
|
Fat:
2
g
|
Saturated Fat:
1
g
|
Cholesterol:
7
mg
|
Sodium:
96
mg
|
Potassium:
344
mg
|
Fiber:
1
g
|
Sugar:
48
g
|
Vitamin A:
62
IU
|
Vitamin C:
3
mg
|
Calcium:
38
mg
|
Iron:
1
mg