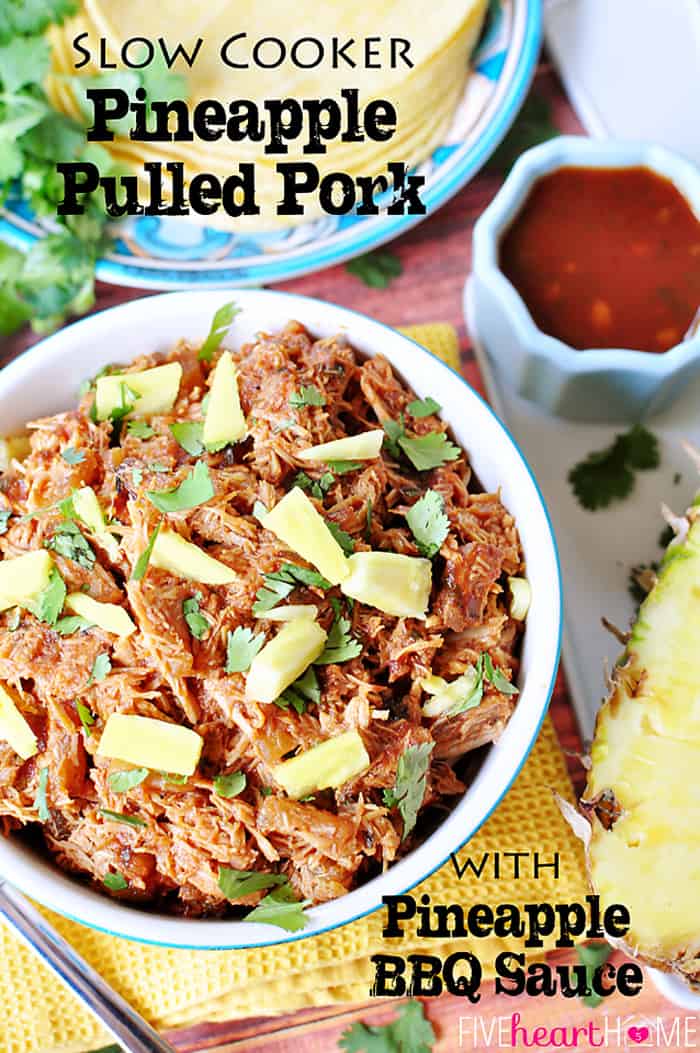 Succulent pork and juicy pineapple go in the crockpot with homemade Pineapple BBQ Sauce, resulting in sweet & savory Slow Cooker Pineapple Pulled Pork...perfect for sandwiches, tacos, quesadillas, nachos, pizza, and more!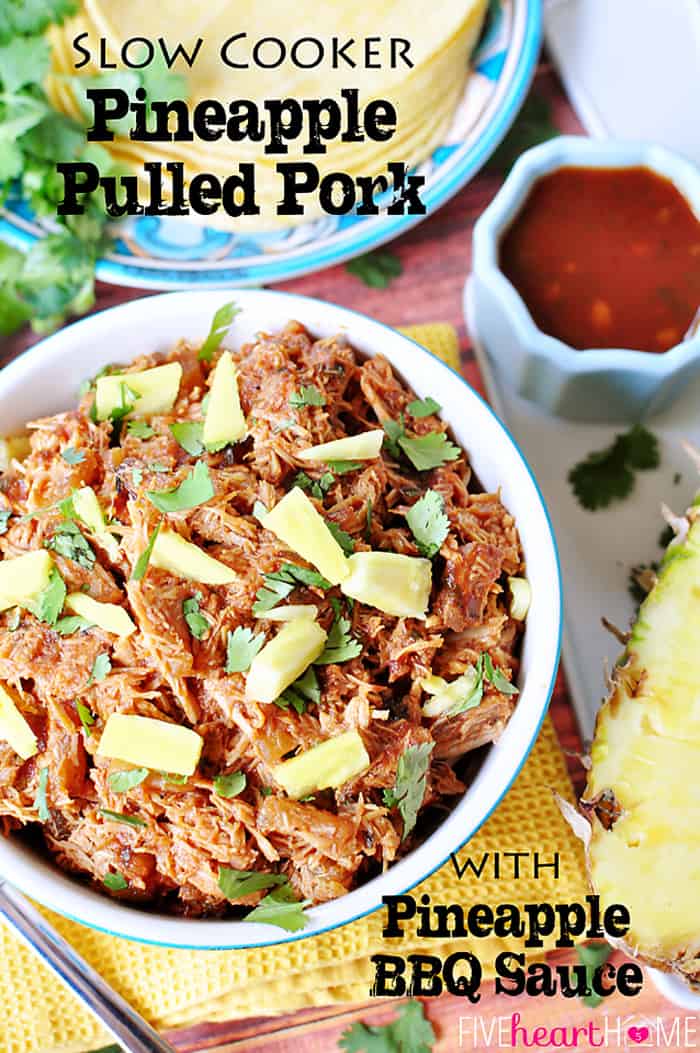 Have I mentioned before that I big puffy heart my crock pot? I think I may have...a time or twelve. But did you know that one of my favorite things to cook in the slow cooker is pork? And that I consider pork and pineapple to be a match made in heaven? I suppose that's what I get for being born in Hawaii... But if you happen to agree, you are going to love what I have in store for you today!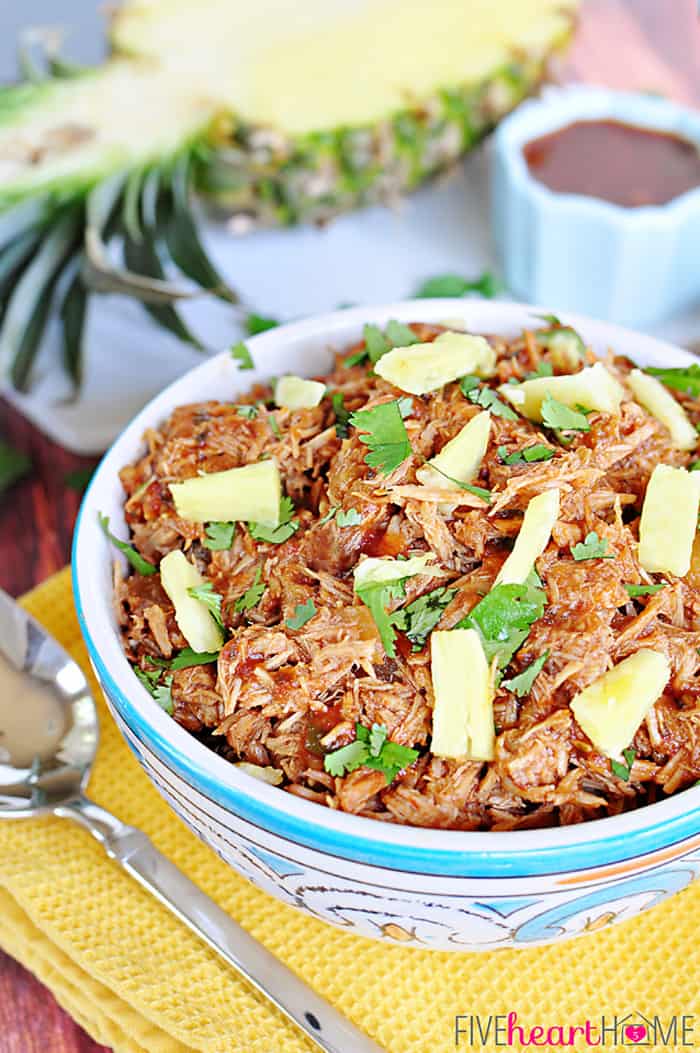 The crock pot is so great for cooking big hunks of meat and then shredding them, whether that involves beef, chicken, or pork. Of course, it's easy for such recipes to all end up tasting somewhat similar. I really try to get different flavors out of my trusty slow cooker, and that's probably why I enjoy this recipe so much. It's pulled pork...with a kick. I mean, who doesn't love traditional pulled pork? But when you cook your pork with chunks of pineapple and then mix in a flavorful, homemade, Pineapple Barbecue Sauce, you've just elevated pulled pork to the next level!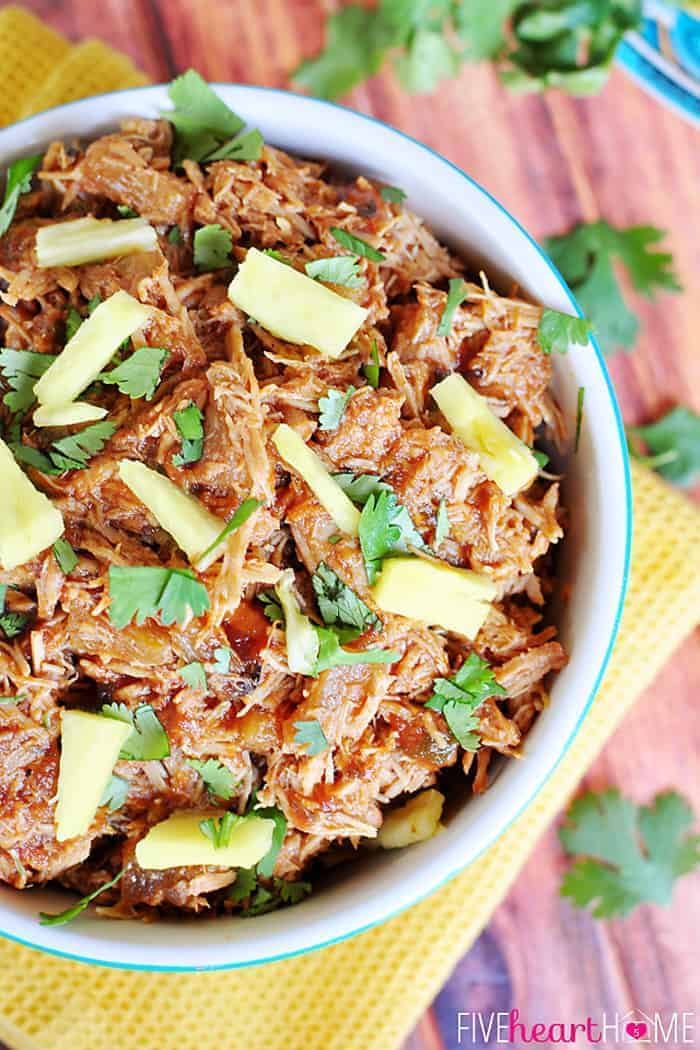 In my humble opinion, the barbecue sauce is the unquestionable star of this recipe. Most variations of Pineapple Pulled Pork that I've seen incorporate pineapple chunks and bottled barbecue sauce. This sauce, however, has so much more pizzazz than regular BBQ sauce. True to its name, its most predominant undertone comes from pineapple juice. But it also boasts the sweetness of honey and molasses countered by the bite of apple cider vinegar and the acidity of ketchup. It's the fresh ingredients that really shine, however, including garlic, ginger, and cilantro. How could that combo not result in an explosion of flavor?!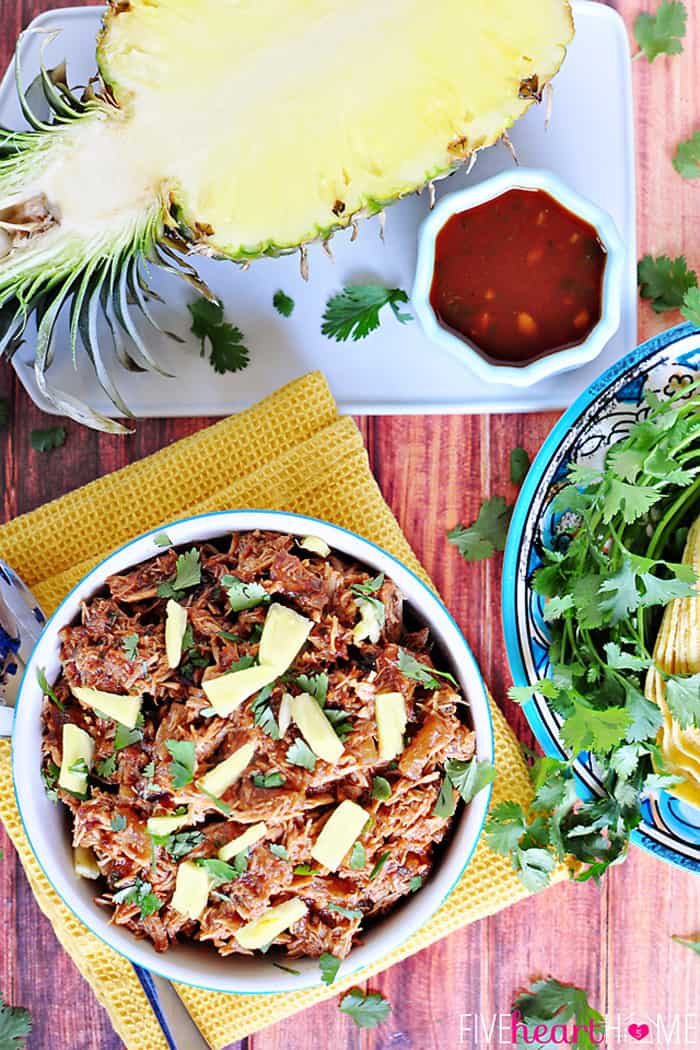 In fact, can I be honest here? I don't even need the pulled pork. I could just drink this Pineapple Barbecue Sauce on its own. Hand me a straw.
However, I suppose the pork is necessary if you want to turn this crock pot goodness into a legitimate meal. There are so many different directions that you can go with this recipe, so I decided to make a few suggestions but leave it open-ended so that you feel free to deal with your pulled pork as you see fit. 😉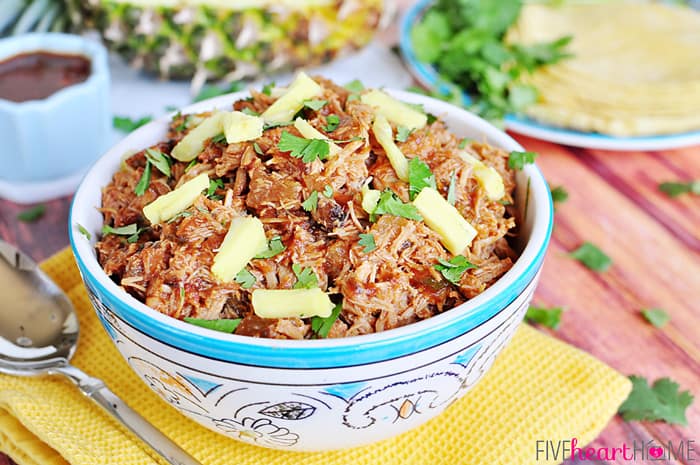 Perhaps the most obvious way to enjoy pulled pork is to pile it on top of a pillowy bun along with a creamy coleslaw of some sort, or -- if you just can't get enough -- topped with additional rings of grilled pineapple. Then there are tacos! I think this pork would be delicious on fresh corn tortillas, topped with guacamole, shredded PepperJack cheese, and chopped fresh cilantro. You could also turn that same combo of ingredients into some pretty kickin' quesadillas. Or even enchiladas? That's one I haven't tried, but it definitely sounds promising.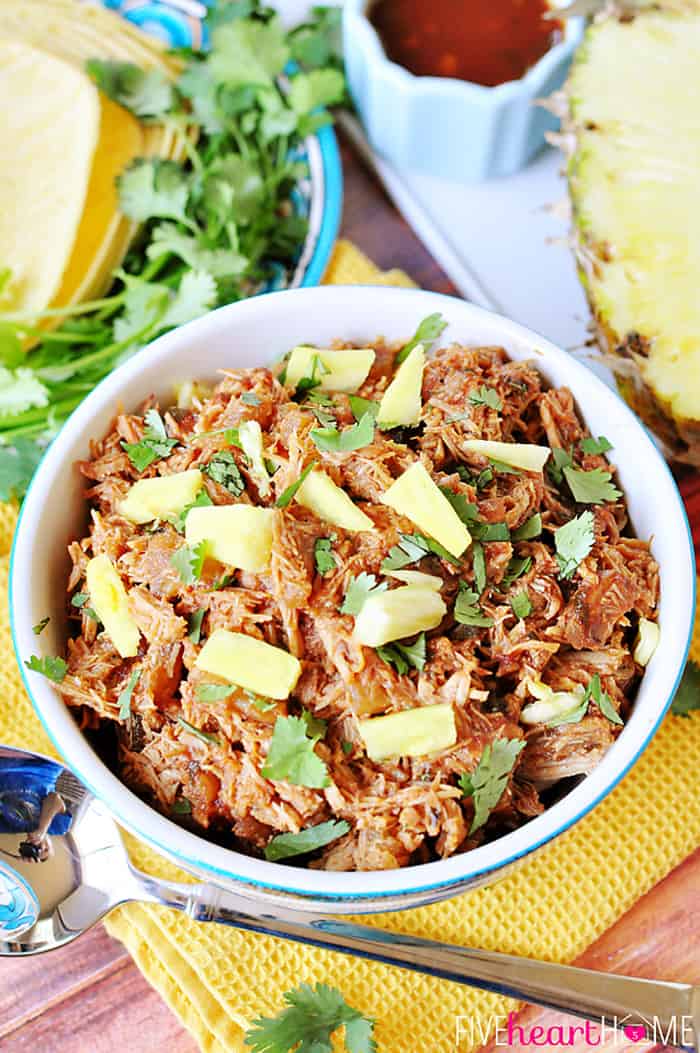 Orrrr, you could sprinkle this pineapple-studded pork on top of a platter of tasty nachos or across a Pineapple Pulled Pork Pizza with Bacon, Jalapeños, & Cilantro. I have some delicious ideas brewing for that latter suggestion, so stay tuned to see what I come up with! Check out the link above for that amazing recipe!
Help me think outside the box here. What else could you make with this Pineapple Pulled Pork? Or how would you use the scrumptious Pineapple Barbecue Sauce? Aside from drinking it, of course...but I believe I already covered that one. 😉
More Slow Cooker Recipes with Real Food Ingredients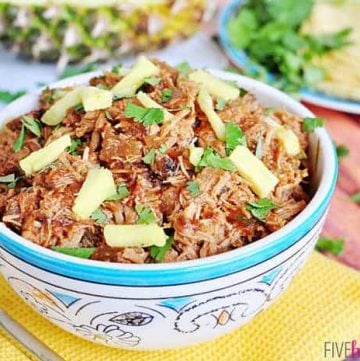 Slow Cooker Pineapple Pulled Pork with Pineapple BBQ Sauce
Succulent pork and juicy pineapple are slow cooked in the crock pot with a flavorful, homemade Pineapple BBQ Sauce, resulting in sweet and savory pulled pork for sandwiches, tacos, quesadillas, nachos, pizza, and more!
Print
Pin
Rate
Servings:
8
servings (depending on how you use pulled pork); 2 to 2 ½ cups BBQ sauce
Ingredients
FOR THE PORK:
3

pound

boneless pork butt (shoulder roast)

garlic salt

freshly ground black pepper

1

(15-ounce) can pineapple tidbits

,

undrained
FOR THE PINEAPPLE BARBECUE SAUCE:
2

cups

pineapple juice

2

tablespoons

minced garlic

2

tablespoons

grated OR minced fresh ginger

1

jalapeño

,

seeds & membranes removed, finely diced

¼

cup

fresh cilantro

,

chopped

1

cup

ketchup

3

tablespoons

apple cider vinegar

3

tablespoons

honey

1

tablespoon

molasses

1

tablespoon

Worcestershire sauce

2

teaspoons

soy sauce

Freshly ground black pepper
OPTIONAL GARNISHES:
Fresh pineapple chunks

Fresh chopped cilantro
Instructions
Trim fat from pork and pierce all over surface with a knife. Liberally season all sides with garlic salt and pepper and place in slow cooker. Pour can of pineapple tidbits and juice on top. Cover and cook on low for 8 to 10 hours.

An hour or so before pork is done, prepare Pineapple Barbecue Sauce. Combine pineapple juice, garlic, ginger, jalapeño, and cilantro in a medium pot. Bring to a boi, reduce heat, and simmer for 10 minutes, stirring every few minutes. Stir in ketchup, vinegar, honey, molasses, Worcestershire sauce, soy sauce, and pepper. Cook on low for 15 more minutes. Remove from heat.

Remove pork from slow cooker and place on cutting board. Discard fat, cut meat into chunks with a knife, and then shred chunks with two forks. Drain liquid from slow cooker (reserving about a cup) and add shredded meat back to crock pot. Stir in Pineapple Barbecue Sauce. You may add a splash of reserved cooking liquid if sauce seems too thick. Heat on low for 30 minutes to 1 hour or until warm.
Notes
Although it's leaner and more expensive, I sometimes use pork loin instead of pork shoulder if that's what I have on hand (but it doesn't turn out as moist).
If you have fresh pineapple, feel free to use it. But since it gets pretty cooked down after so many hours in the slow cooker, I typically use canned pineapple for this recipe. Then depending on how I use the finished pulled pork, I often use fresh pineapple chunks for garnish.
When I buy a big hunk of fresh ginger, I keep the unused portion in the freezer until the next time I need it. Then I peel a small section and use a microplane to grate the amount I require (while still frozen).
This barbecue sauce is not too spicy using only one jalapeño (as long as you remove all seeds and membranes). For more heat, feel free to leave the seeds and membranes intact and/or add an extra jalapeño!
Since the sweetness of pineapple juice may vary, you might want to add the honey gradually and to taste, rather than all at once.
Calories:
372
kcal
|
Carbohydrates:
36
g
|
Protein:
33
g
|
Fat:
10
g
|
Saturated Fat:
3
g
|
Cholesterol:
102
mg
|
Sodium:
492
mg
|
Potassium:
904
mg
|
Fiber:
1
g
|
Sugar:
31
g
|
Vitamin A:
240
IU
|
Vitamin C:
16.9
mg
|
Calcium:
59
mg
|
Iron:
2.9
mg
Barbecue Sauce adapted from Tasty Kitchen.