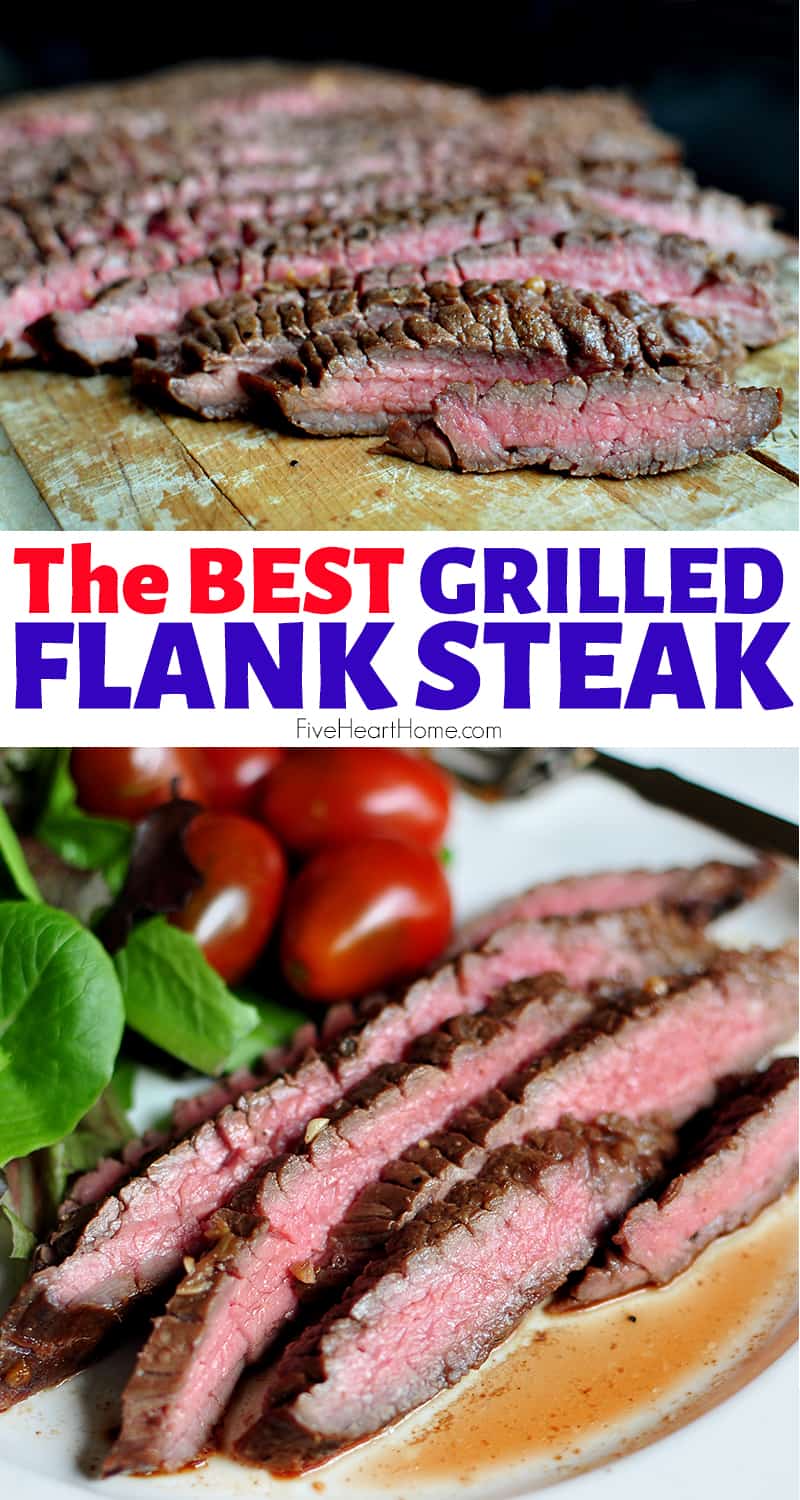 Grilled Flank Steak is juicy, flavorful, and the perfect summer dinner, thanks to a zippy marinade and a quick stint on the grill!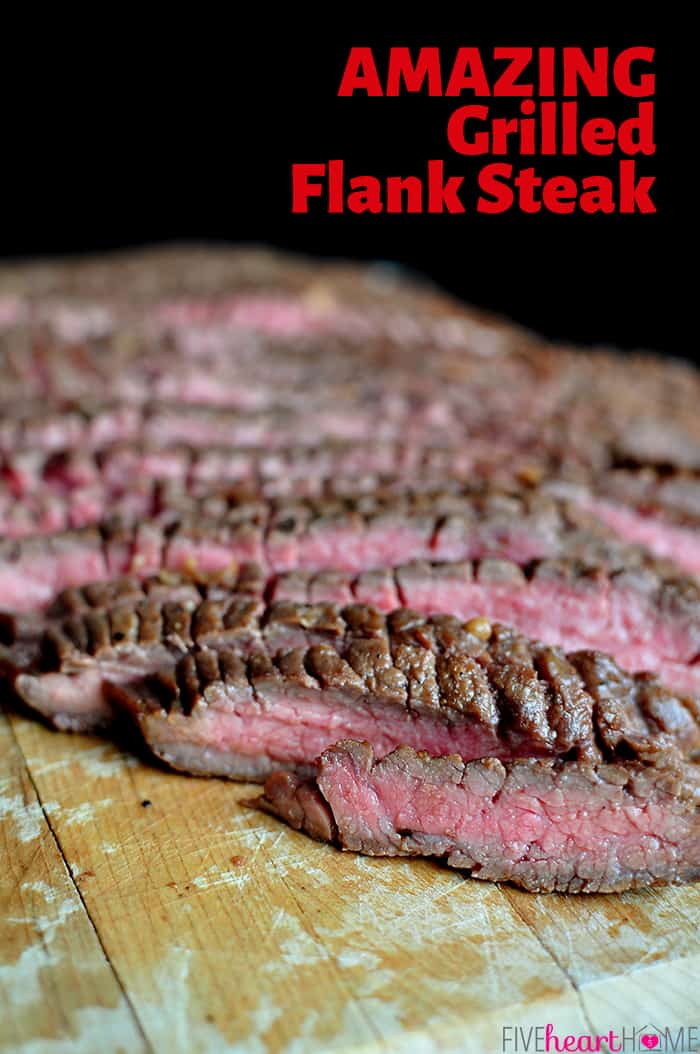 Reason #473 that I love summer:
On the weekends, my husband is an active participant in cooking dinner.
Before I go on, and before I throw myself under the proverbial spousal bus, let me add the disclaimer that my hubby would willingly help me fix dinner every night if he were home when said cooking occurred.
But on those summertime weekends when schedules aren't so tight and evenings aren't so rushed, my husband fires up the grill and I can relax my shoulders just a bit knowing that he's got the most important component of the meal covered...like this delectable Grilled Flank Steak! All I need to do is sit back and drink wine throw together a few quick side dishes and dinner is served!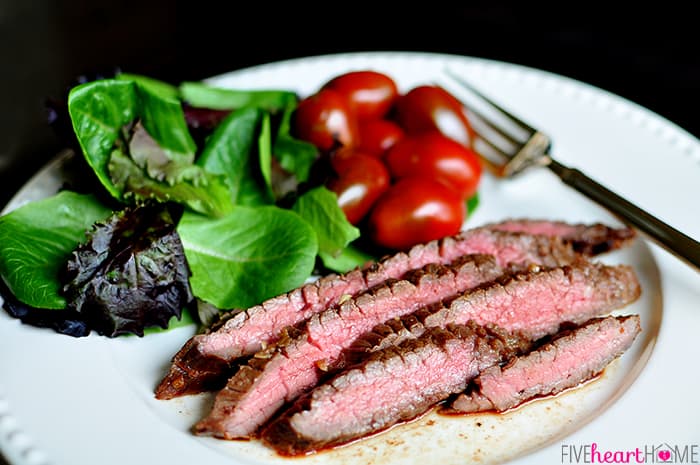 The Beauty of Flank Steak
The nice thing about this marinated and then grilled flank steak -- aside from the fact that it's pretty darn tasty -- is that a little bit goes a long way.
This one piece of beef feeds my growing family dinner, sometimes with leftovers to spare.
Yet another bonus? This preparation of Grilled Flank Steak is totally versatile. This results in a hunk of meat that goes with just about anything.
Ingredients
This marinade is universally pleasing: savory and flavor-packed with a touch of sweet.
Soy sauce. Permeates the beef so that it's seasoned all the way through.
Olive oil. You could also use vegetable oil, if you prefer.
Lime juice. A good marinade requires an acidic ingredient to help break down the meat enough to tenderize it and allow the other flavors to be absorbed.
Honey. Substitute brown sugar, if you wish.
Toasted sesame oil. A little bit of this ingredient goes a long way, but it contributes great flavor to this marinade (as well as other Asian-influenced recipes). Just be sure to store your sesame oil in the refrigerator when you're not using it. I've learned the hard way that it goes rancid and spoils at room temperature pretty quickly.
Garlic. I almost always include this flavorful aromatic in my marinades.
Crushed red pepper flakes. For a touch of heat. Or you can omit it. Or you can choose to use a hot sauce (like Tabasco) instead.
Freshly ground black pepper. The more, the merrier!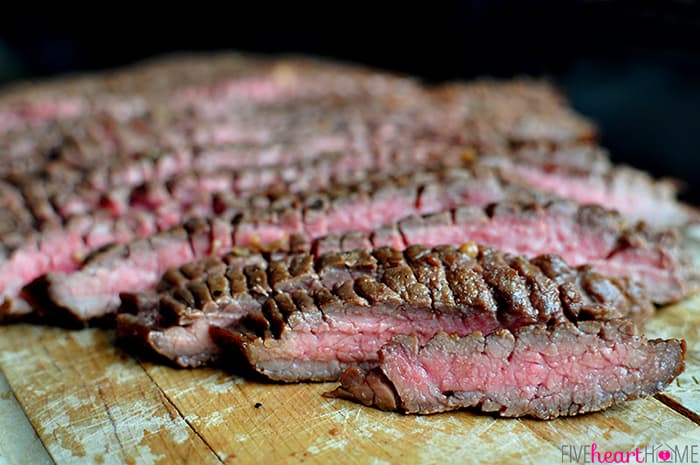 How to Grill Flank Steak
Grilling flank steak is quick and easy, but for ultimate (and delicious) success, it helps to follow a few tips:
Allow the excess marinade to drip off the meat before grilling it. Or, if you're feeling extra industrious, pat it off with paper towels.
Keep in mind that, because flank steak is lean, it should be cooked quickly and over high heat.
On the other hand, take care not to overcook your beef or it will become tough. Reaching an internal temperature of 130°F will achieve a nice, medium-rare center (as pictured in this post). Cook meat to 135°F for medium. (These numbers do take into account the fact that the meat's temperature will continue to rise 5 more degrees after pulling it off the heat.)
Tent your cooked steak under foil and allow it to rest for about 10 minutes before slicing. This will give the internal juices time to redistribute throughout the meat so that they don't all seep out when you cut into the steak, which would diminish moisture and flavor.
When it's time to serve your flank steak, thinly slice it across the grain. How to do that? Look for the "lines" running down the slab o' beef, and then orient your knife perpendicular to them.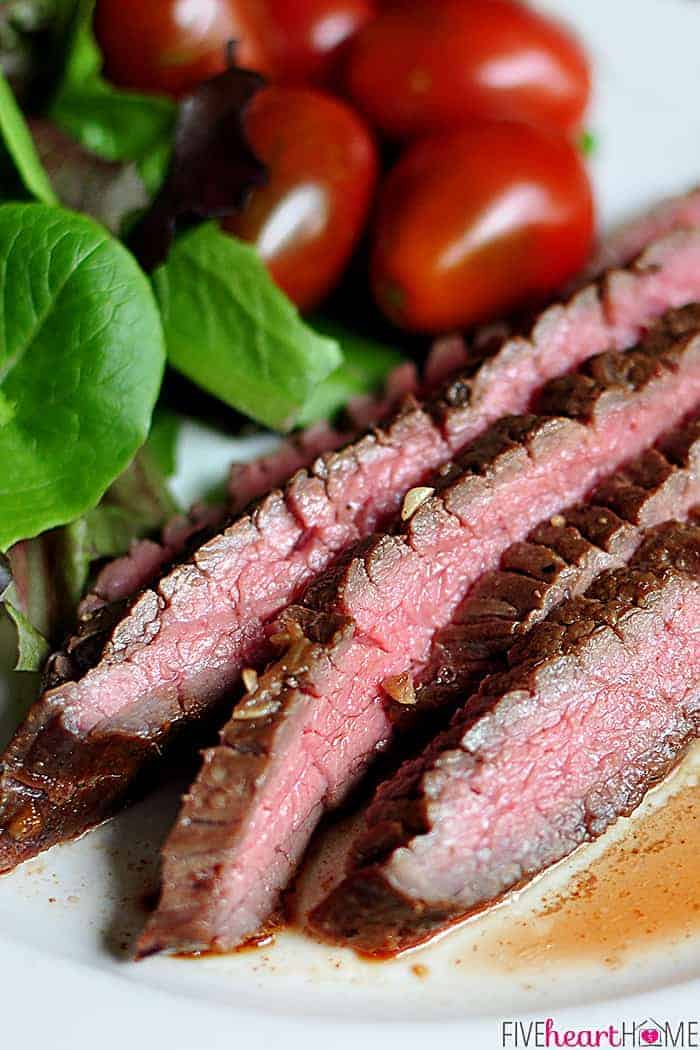 Ways to Enjoy Grilled Flank Steak
Sure, you can eat it straight-up with an assortment of sides, from Baked Zucchini to Marinated Tomatoes to Summer Couscous Salad.
(Pro Tip: OR grilled veggies mean your kitchen gets a complete break for the night!)
But it's also delightful -- warm or cold -- atop a salad, drizzled with classic Balsamic Vinaigrette or addictive Homemade Ranch.
Or want to know how we enjoyed the leftovers this time? Stuffed in whole wheat tortillas and piled high with this Black Bean & Corn Salad. Next time I might try the same with Mango Salsa instead...yum!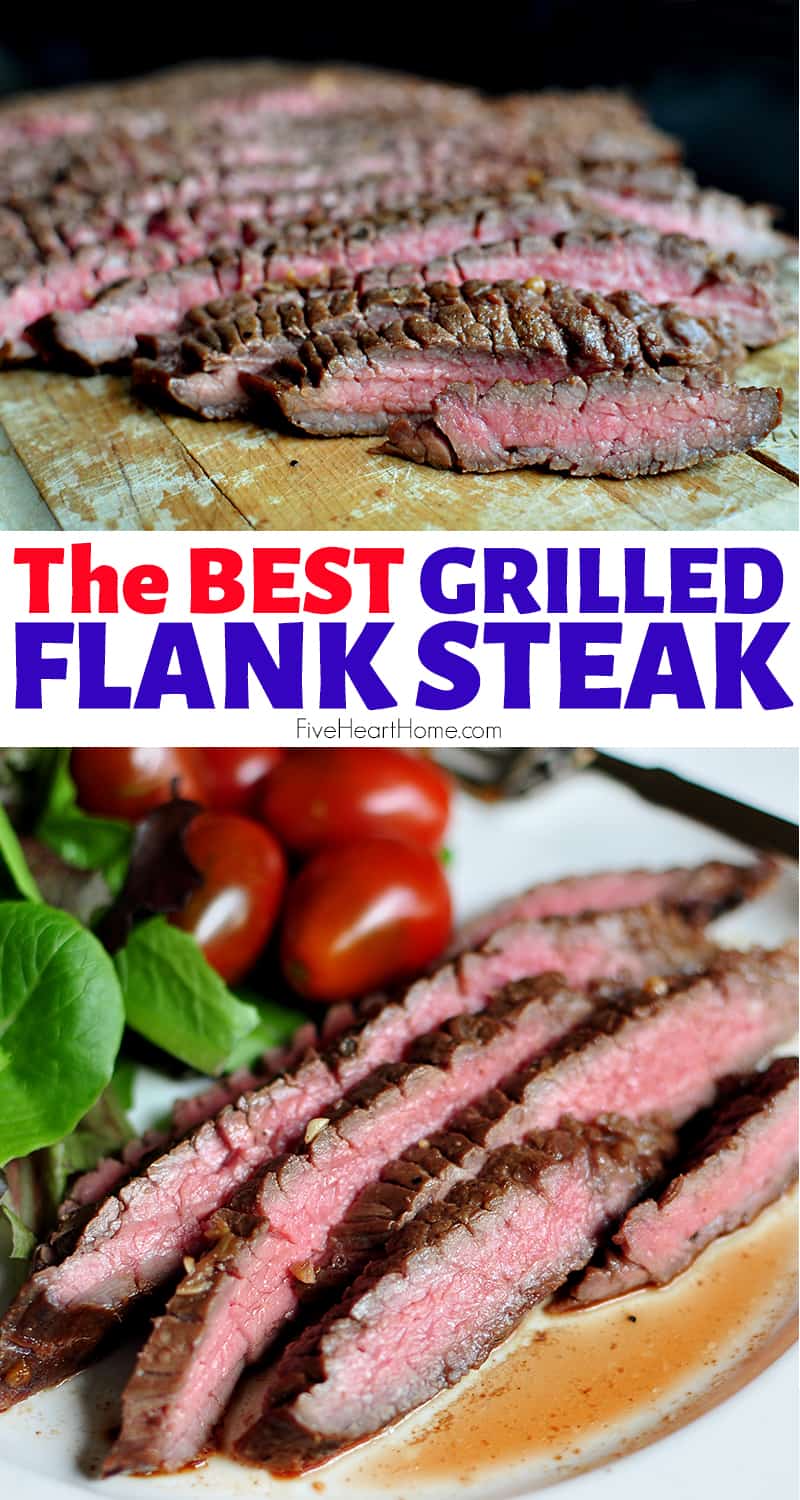 So this summer, don't forget to take advantage of warm nights and late light by taking your dinner prep to the patio, deck, or backyard.
Grilled Flank Steak is quick, it's easy, and it doesn't heat up your kitchen or result in excessive clean-up. And all of that saves you time and energy better spent on making memories with friends and family.
Isn't that the best part of summertime anyway? 🙂
More Summer Dinner Ideas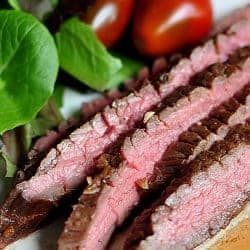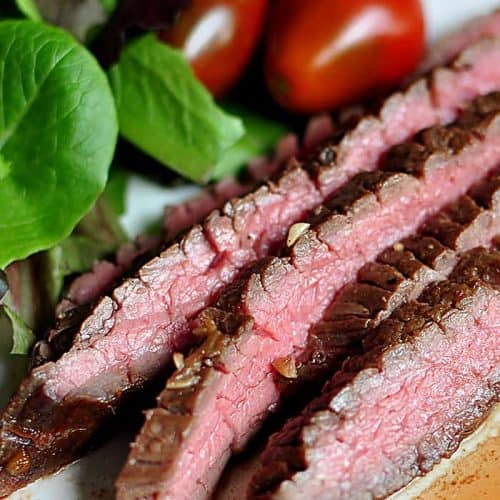 Grilled Flank Steak
Grilled Flank Steak is juicy, flavorful, and the perfect summer dinner, thanks to a zippy marinade and a quick stint on the grill!
Print
Pin
Rate
Servings:
4
to 6 servings
Ingredients
½

cup

soy sauce

¼

cup

olive oil

2

tablespoons

lime juice

1

tablespoon

honey

1

teaspoon

toasted sesame oil

3

cloves

garlic

,

minced

1

teaspoon

crushed red pepper flakes

Freshly ground black pepper

,

to taste

1 ½ to 2

pound

flank steak
Instructions
Combine soy sauce, olive oil, lime juice, honey, toasted sesame oil, garlic, crushed red pepper flakes, and black pepper in a gallon-sized plastic bag. Place flank steak inside, turn it over in the marinade to coat, squeeze out the air, and seal the bag. Place the bag in a dish (in case of any leaks) and refrigerate for 6 to 12 hours, flipping the bag over halfway through if possible. Remove the meat from refrigerator at least 30 minutes before cooking so that it can start to come to room temperature.

To cook, grill over high heat for about 4 minutes per side, taking care not to overcook since meat is thin. (The center of the steak should register 130°F on an instant-read thermometer for medium-rare, or 135° for medium.) Remove steak from the grill and loosely tent it with foil for 10 minutes to allow the juices to redistribute. Thinly slice against the grain and serve immediately.
Calories:
281
kcal
|
Carbohydrates:
3
g
|
Protein:
37
g
|
Fat:
13
g
|
Saturated Fat:
4
g
|
Cholesterol:
102
mg
|
Sodium:
416
mg
|
Potassium:
597
mg
|
Fiber:
1
g
|
Sugar:
2
g
|
Vitamin C:
1
mg
|
Calcium:
36
mg
|
Iron:
3
mg
Adapted from Dinner: A Love Story
Originally published July 16, 2013.