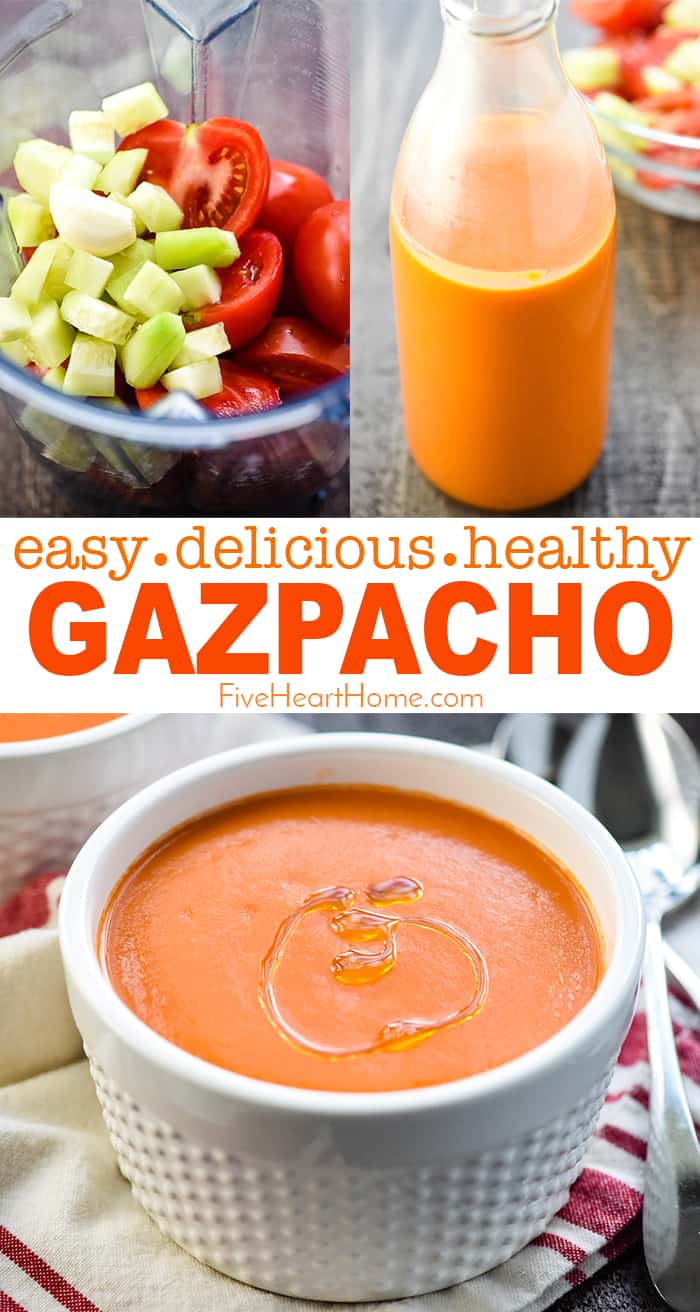 This delicious, refreshing, EASY Gazpacho recipe is quick to make with just a few ingredients, and it's gluten-free, too...you won't even miss the bread!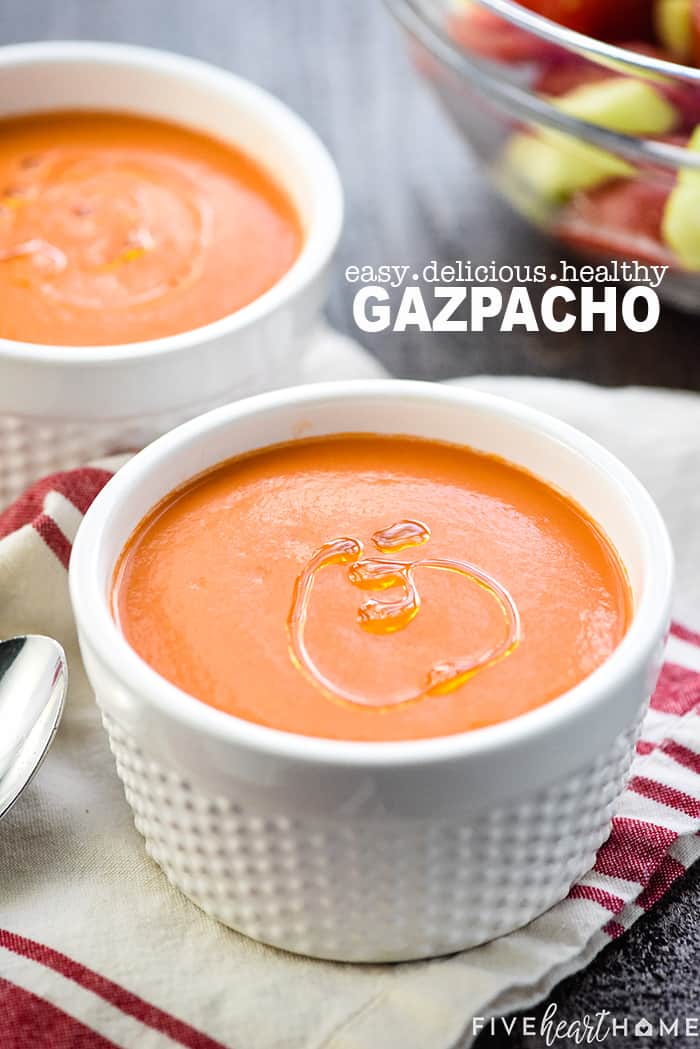 Fresh summer produce is coming in hot right about now, and I'm guessing that lots of y'all are probably drowning in enjoying an abundance of tomatoes and cucumbers. So today, I thought I'd share one of my favorite ways to use up some of those prolific garden goodies...this silky, delectable, easy Gazpacho recipe!
At its heart, Gazpacho is a chilled Spanish soup that starts with fresh veggies. There are as many variations as there are stars in the sky, and it took me quite a few tries to perfect my favorite. All of the different versions were delicious in their own ways, mind you. But I finally settled upon this recipe for a few reasons...
It boasts just a few ingredients.
It turns out creamy and silky and light and decadent, all at the same time.
It doesn't contain any bread!
A Gazpacho Recipe Without Bread
Don't lynch me on that last one. In doing my Gazpacho research for this post, I found quite a few recipes that actually didn't include bread. So since one of my kiddos is currently gluten-free while we work on healing some digestive issues, I decided to give the concept of bread-free, gluten-free Gazpacho a whirl and see if we would even miss the bread.
So if I left out the bread, what did I include in my simple, yummy Gazpacho recipe?
red, plump, perfectly ripe tomatoes
crisp cucumber
fresh garlic
sea salt
sherry vinegar
plenty of extra-virgin olive oil
That's it! And you know what? This easy chilled soup turned out absolutely amazing! Its smooth, silky texture and fresh, robust flavor were positively divine...no bread required.

Ingredient Notes
This recipe may forgo the bread, but it does require that you absolutely start with fresh, ripe tomatoes. Whether they come from your garden or a farmer's market or the local grocery store, just be sure that they're deep red and perfectly ripe. After all, the quality of your produce matters in a cold soup with so few ingredients.
Next on the list is a cucumber. If you're using an average-sized cucumber, you'll need about half of it. If you're using a long English cucumber, you'll need about a 4-inch section. Be sure to peel your cucumber to eliminate potential bitterness or texture.
I also toss a big ol' clove of garlic into my Gazpacho recipe. It adds flavor without overpowering the whole soup (which is my hesitation when it comes to adding onions).
For a punch of flavor, you'll need a drizzle of vinegar -- sherry vinegar or red wine vinegar both work -- and a generous amount of salt. Don't skimp on the salt, as it really does make all of the other flavors pop!
And finally, one of the most important ingredients in this chilled summer soup is extra-virgin olive oil. Again, since it's a star ingredient that you will be clearly tasting, be sure to use a good-quality EVOO. I think you'll be amazed at what the addition of olive oil does to the color and texture of this Gazpacho as it's blended in. In fact, being generous with the olive oil is the primary reason you won't miss the bread!
Additional Optional Ingredients
Of course, the beautiful thing about this easy Gazpacho recipe is that you can tweak it to your liking. Just be sure that any veggies you opt to include are nice and ripe. Here are a few potential add-ins:
half of a cored/seeded pepper...either a bell pepper (red or green) or an Anaheim pepper
half of a small red or yellow onion
a slice of white or sourdough bread, briefly soaked in cold water and squeezed out
That's right! I told you not to add bread and now I'm telling you that you can choose to add it.
See? At the end of the day, it's totally up to you. If you're a purist and you think bread needs to go in there, toss some in.
But I do encourage you to try this Gazpacho at least once without it. 😉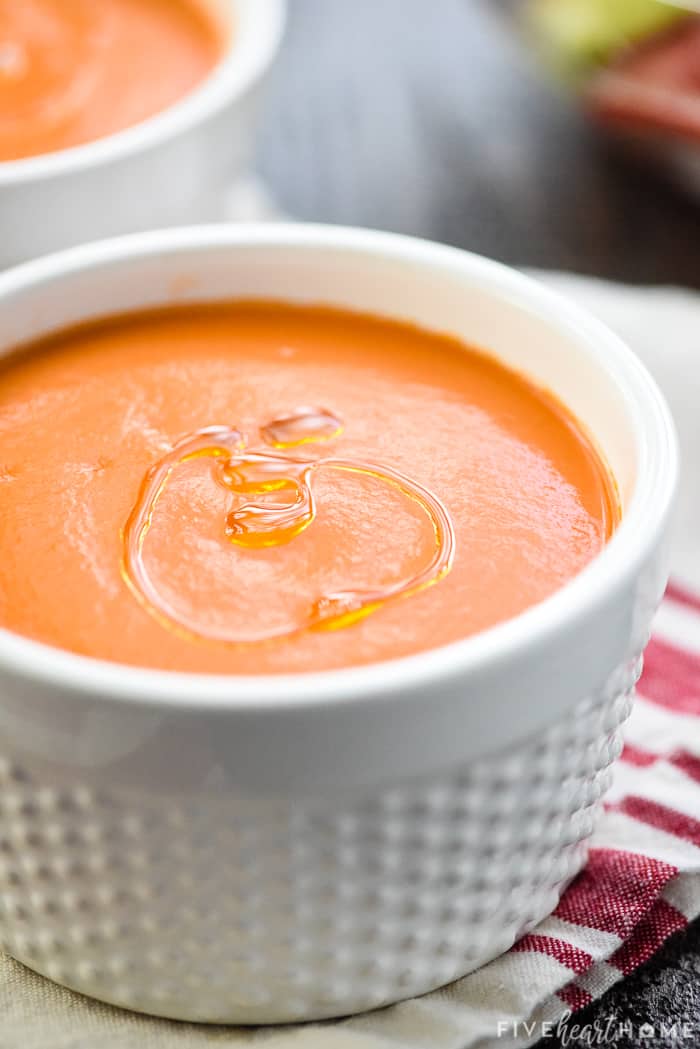 How to Make Easy Gazpacho
We've covered the ingredients, but how about the method? Well, on top of being delicious, making this Gazpacho recipe is ridiculously easy.
Cut any large tomatoes into halves or fourths. Peel and chop the cucumber. Peel the garlic. And throw it all in the blender.
Sprinkle the salt over the veggies and give them a little toss. I actually like to let everything sit for a bit at this point if I have the time. I feel like the soup ends up having even more depth of flavor if the salt is allowed to soak into the tomatoes and cucumbers for a while before pureeing everything together. But if you need to skip the wait time, that's okay, too.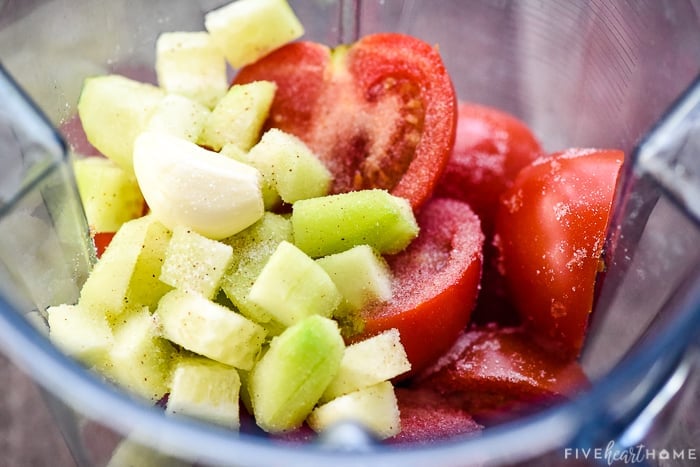 Blend everything together on high speed until perfectly smooth. This will probably take a couple of minutes if you're using a high-powered blender. I stop the blender as needed to scrape down the sides, ensuring that my final soup will be nice and smooth.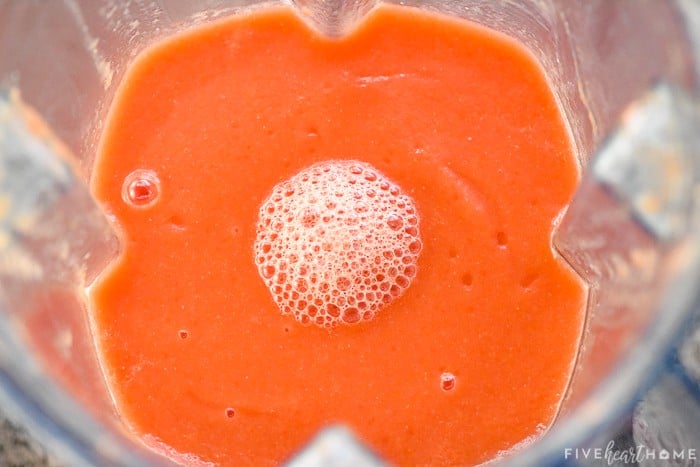 Once the veggies are pureed, turn down the blender just a tad. And then, while the blender runs, add the sherry vinegar and slowly stream in the extra-virgin olive oil. Watch with wonder as the color goes from deep red to bright orange!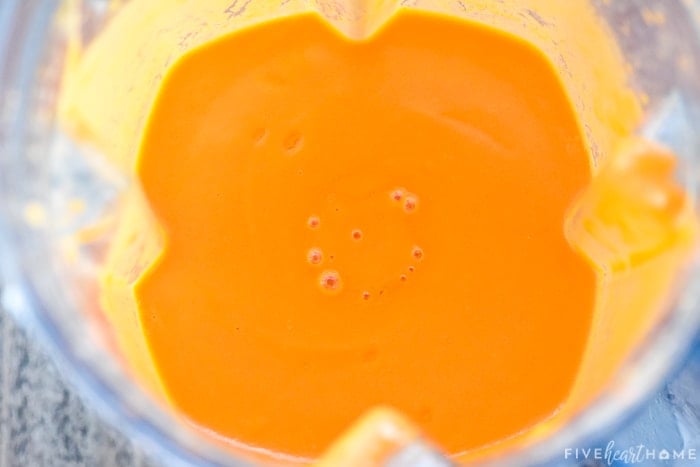 If using a high-powered blender, I don't find it necessary to strain the soup at this point. But if your soup is anything but smooth, I recommend you pour it through a fine-mesh sieve before chilling.
And chilling is indeed a very important final step! This easy Gazpacho recipe should be very cold before serving. Plan on popping it in the fridge for a full 8 hours, but ideally overnight.
How to Store and Serve Gazpacho
I like to store my Gazpacho in a big glass bottle. Then when we're ready to enjoy it, I simply shake and pour into a bowl or even a short drinking glass.
Garnishes
I tend to keep things simple when serving, drizzling our bowls with a bit more olive oil. But alternatively, you may garnish your soup with a few of your favorite things, traditional or not. Fresh herbs (parlsey, cilantro, mint), diced Kalamata olives, homemade croutons, or cubes of avocado are all yummy options to change things up...use your imagination!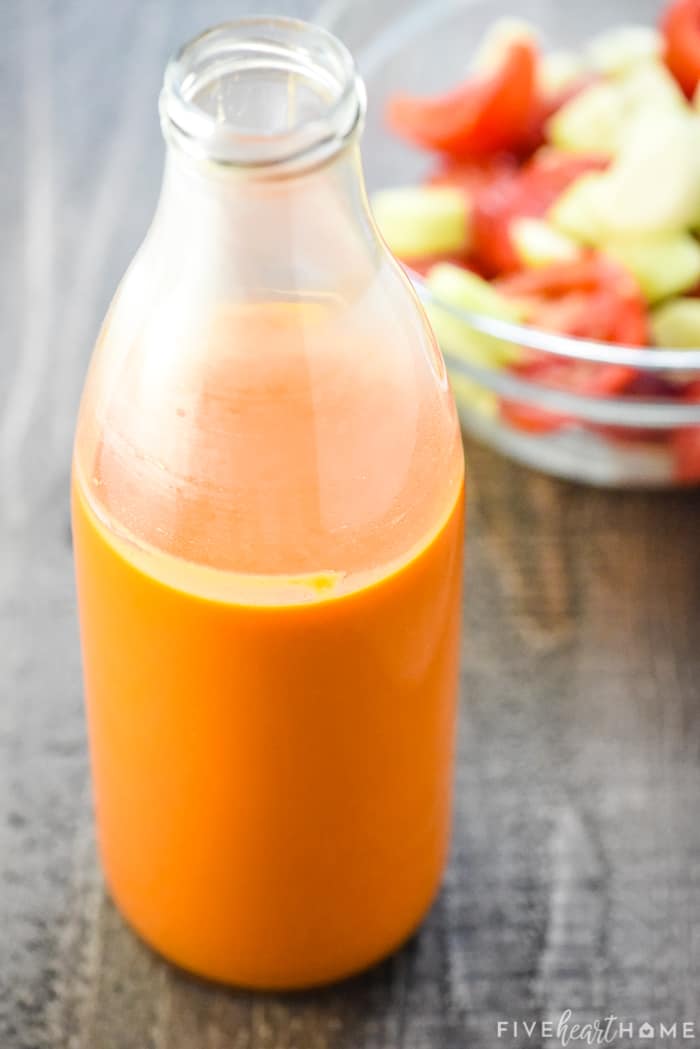 So who's ready to celebrate bountiful garden produce with a big batch of silky, refreshing, scrumptious Gazpacho? It's easy, it's healthy, and it's a true taste of summer. I hope y'all love it as much as we do!
More Tomato + Cucumber Recipes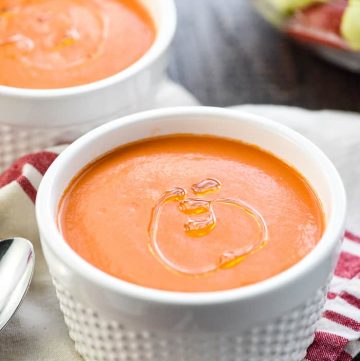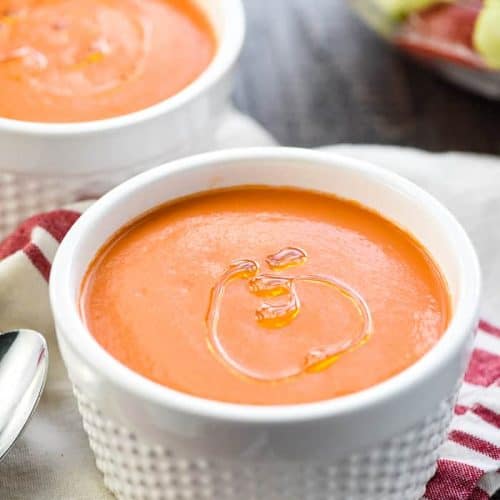 Easy Gazpacho Recipe
This delicious, refreshing, EASY Gazpacho recipe is quick to make with just a few ingredients, and it's gluten-free, too...you won't even miss the bread!
Print
Pin
Rate
Servings:
4
servings (total yield = about 3 cups)
Ingredients
1

pound

ripe tomatoes

½

medium cucumber (about a 4-inch length)

,

peeled & chopped

1

large clove garlic

1

teaspoon

salt

1

teaspoon

sherry vinegar (or red wine vinegar)

¼

cup

extra-virgin olive oil
Instructions
Halve or quarter any large tomatoes. Place in a blender along with the peeled chopped cucumber and clove of garlic. Sprinkle with salt and gently toss the veggies to coat. If you have time, allow to sit for 30 minutes to an hour.

Blend at high speed until extremely smooth (at least two minutes), stopping to scrape down the sides of the pitcher as necessary.

Reduce the speed to medium to medium-high. With the blender running, add the vinegar and then slowly and gradually stream in the olive oil until fully incorporated.

Transfer the soup to a covered container and refrigerate for at least 8 hours or overnight. Serve, chilled, with a drizzle of olive oil.
Notes
If your blender is not high-powered and your soup is not perfectly smooth, you may strain it through a fine mesh sieve before chilling.
Since I'm already dirtying my blender, I typically double this recipe. However, I still make it in two batches (1 pound of tomatoes at a time) so as not to overflow my blender.
Optional Add-Ins: half of a cored/seeded pepper (either a red or green bell pepper or an Anaheim pepper), half of a small red or yellow onion, or a slice of white or sourdough bread (briefly soaked in cold water and squeezed out)
Optional Garnishes: fresh herbs (parlsey, cilantro, or mint), diced Kalamata olives, croutons, or cubed avocado
Calories:
146
kcal
|
Carbohydrates:
5
g
|
Protein:
1
g
|
Fat:
14
g
|
Saturated Fat:
2
g
|
Sodium:
588
mg
|
Potassium:
320
mg
|
Fiber:
2
g
|
Sugar:
4
g
|
Vitamin A:
970
IU
|
Vitamin C:
17
mg
|
Calcium:
17
mg
|
Iron:
0.5
mg
Originally published June 28, 2019.