The Very BEST Homemade Whole Wheat Bread is the softest, moistest, fluffiest, freshest-staying, homemade, 100% whole wheat bread you've ever tried!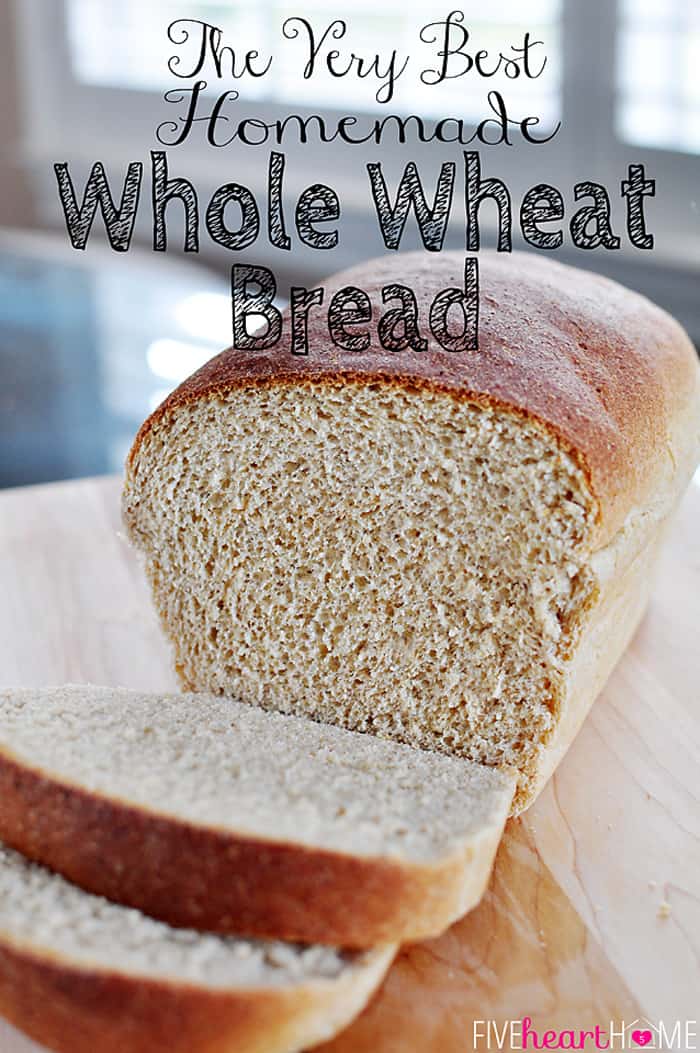 I titled this bread "the best" and I'm not even exaggerating here, y'all.  I've baked many a whole wheat bread recipe over the years, and this one is head-and-shoulders above the rest. (Besides, hundreds of raving comments — scroll down — can't be wrong!?)
What makes this bread so amazing is that it stays soft and fresh for days after it's been baked.  Just about all homemade bread tastes fabulous out of the oven, but then whatever isn't initially eaten tends to dry out a bit as the days stretch on, particularly in the case of wheat bread.  But this bread is just as good on the third day (if it lasts that long!) as it was on the first.  Seriously, I wouldn't believe it if I hadn't experienced it first hand.  It's like store-bought, stay-soft bread without the preservatives.  Forgive me for going all Scarlett O'Hara on you, but as God is my witness, I'll never make another recipe for whole wheat bread again!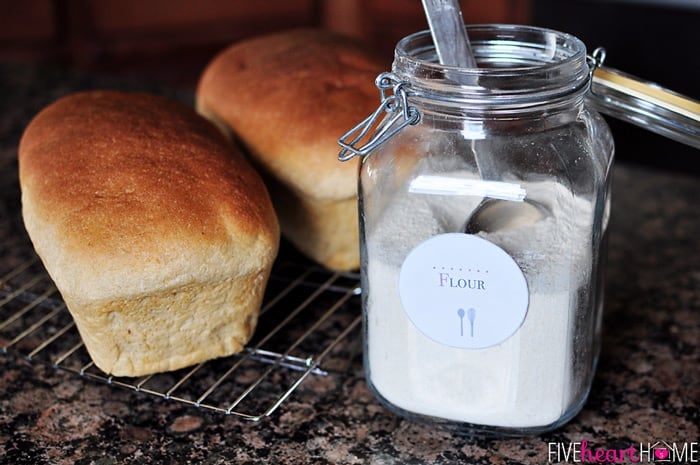 One of my bread making tricks is that I like to use "white whole wheat" flour when I make bread.  Even though it has the word "white" in its title, this flour is 100% whole wheat.  Traditional whole wheat flour is made with red wheat; white whole wheat flour is made with white wheat, and its lighter grain results in a milder flavor and lighter texture than the whole wheat flour to which most of us are accustomed.  Don't be fooled by the taste, though…white whole wheat flour is unrefined and 100% whole wheat, nutritionally the same as its red wheat cousin.  I buy King Arthur brand unbleached white whole wheat flour, but I'm sure there are other brands out there that would work just as well. And if you're already grinding your own flour…well, I don't need to tell you that you're going to end up with some nicely textured bread whether you use white whole wheat flour or not.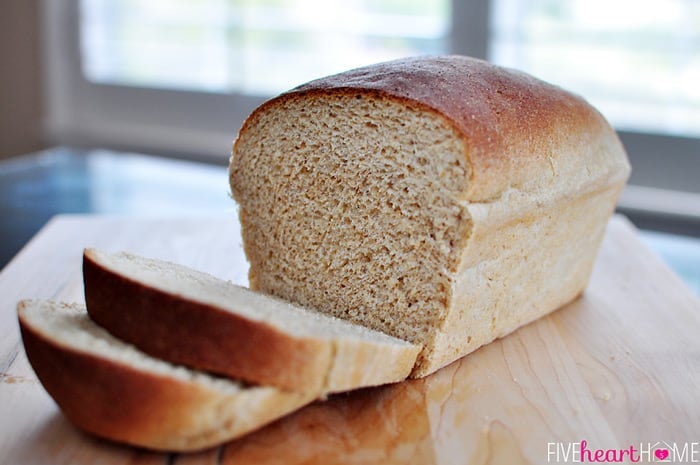 I believe that the biggest factor that makes this bread stay so soft and fresh is the step in the recipe calling for you to make a sponge.  Now I'm not talking about the kind of sponge you keep by your kitchen sink.  In bread making, a sponge is a very moist dough that just begins to rise as it gives the yeast a head start.  After it's had some time to do its magic, you add more flour and ingredients and proceed with the recipe.  The sponge in this recipe only needs to sit for about 10 minutes, but apparently that's all it takes to achieve this bread's wonderful texture.
The only difficulty that I ran into the first time I made this bread is that it stuck to my loaf pans, despite the fact that I had generously greased them.  Nonstick pans are recommended for this recipe, but since I prefer baking in my stoneware pans, I figured out a way around not using nonstick. I grease my pans with coconut oil and then line them with parchment paper, using the coconut oil to adhere the paper to the pan.  I find that if I cut a piece of parchment paper the length of each pan and allow it to somewhat stick out the sides, then I only need to cut two small pieces of paper per pan for the ends that remain uncovered.  The key is pressing the parchment paper down and smoothing it as much as possible so you don't end up with a bunch of creases in your bread.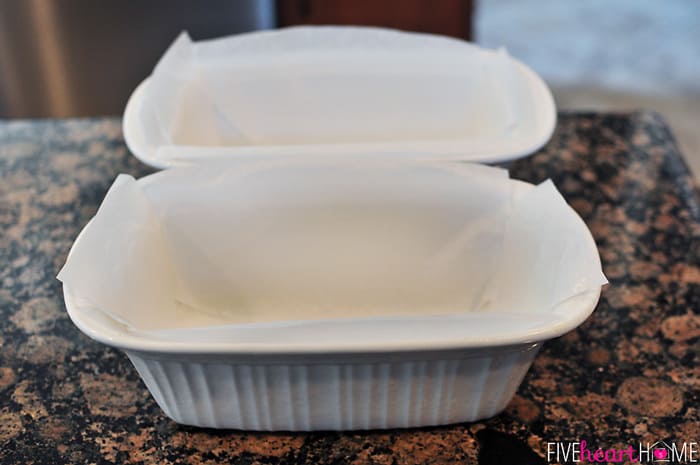 This recipe makes two loaves, so I like to keep one wrapped (I use Glad Press'n Seal) and stored in the pantry, and the other wrapped up in the refrigerator until we're ready to eat it.  I have a bread box, but I still prefer keeping my loaf wrapped inside of the bread box.  And when I cut off the first slice, I store that end piece pressed against the cut end of the loaf as a kind of "cap" to help prevent it from drying out.  When we're ready for the second loaf, I take it out of the fridge and store it at room temperature in the bread box.  Since this is fresh homemade bread with no preservatives, it will start to mold after several days, so keeping that second loaf in the fridge until we're ready for it buys us some extra time.  You could also successfully freeze the second loaf if you prefer, but we eat it soon enough that refrigerating it suffices.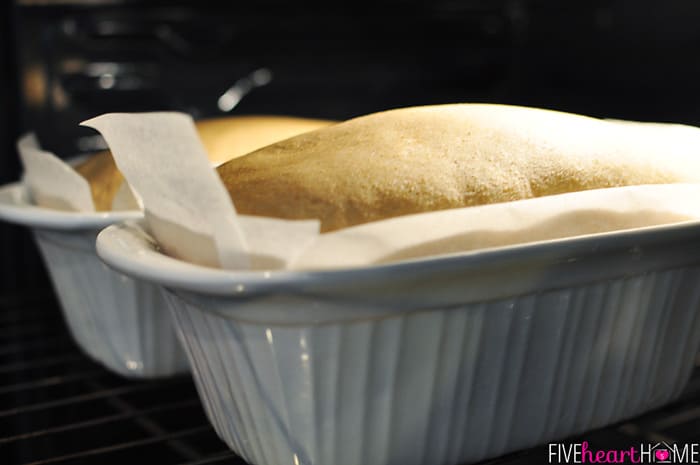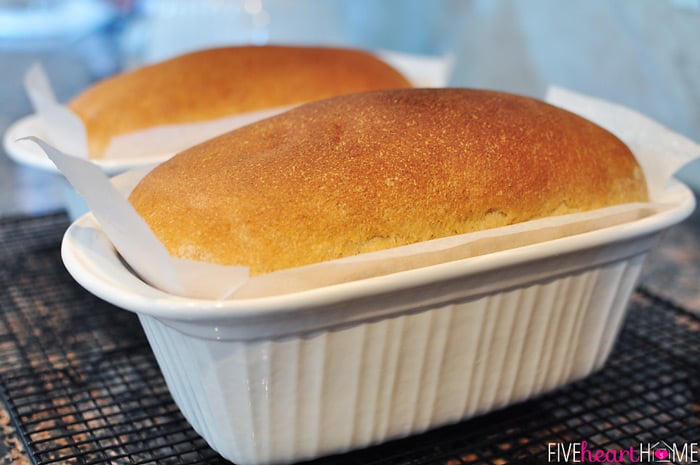 If it takes your family awhile to work through two loaves of bread, another winning alternative would be to give the second loaf away!  I mean, who wouldn't love the thoughtful gesture of freshly-baked homemade bread?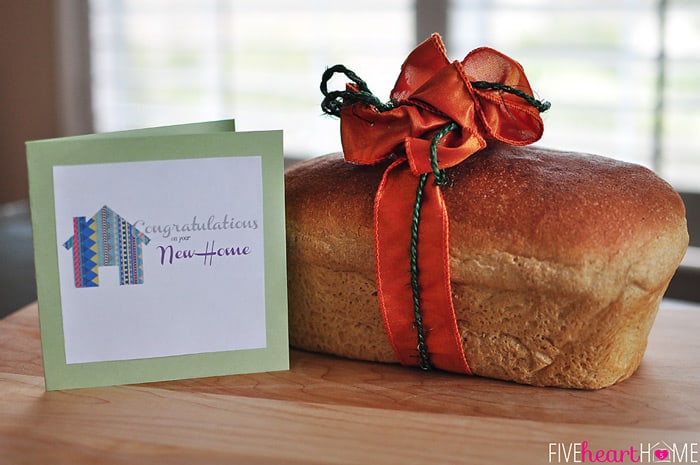 If you have never baked homemade bread before, I encourage you to try it.  It may seem intimidating at first and the various steps do take a bit of time, but overall, it truly is easy.  And if you are already an expert baker, then I encourage you to add this recipe to your repertoire!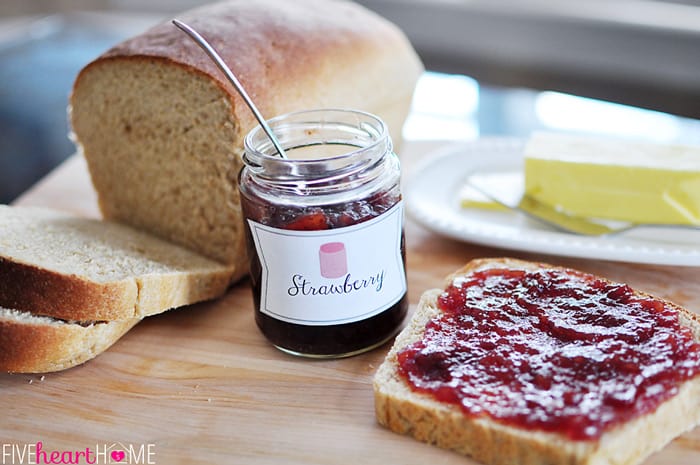 Now go forth and make bread!
The Very Best Homemade Whole Wheat Bread
This 100% whole wheat bread stays unbelievably soft and fresh for days!
Ingredients
3 1/2 cups white whole wheat flour
1/3 cup vital wheat gluten
4 teaspoons instant/quick-rise yeast
~
2 1/2 cups very warm water (120°F to 130°F)
~
1 tablespoon salt
1/3 cup coconut oil (melted and cooled) OR vegetable oil
1/3 cup honey
4 teaspoons lemon juice
~
2 1/2 cups white whole wheat flour
Instructions
In the bowl of a stand mixer fitted with a dough hook, mix together first three ingredients. Add water and mix for one minute, scraping down bowl halfway through if necessary. Cover bowl with a kitchen towel and allow to rest for 10 minutes.
Add salt, oil, honey, and lemon juice; beat for 1 minute. Add remaining 2 1/2 cups of flour, 1 cup at a time, beating between each cup. Knead dough in mixer using dough hook for 10 to 15 minutes or until dough pulls away from the side of the bowl and feels smooth rather than sticky.
Preheat oven to lukewarm by setting it to 350°F and then turning it back off after exactly 1 minute. Grease two nonstick bread pans (8 1/2" x 4 1/2" x 2 1/2" to 9" x 5" x 3") or grease two regular bread pans and line with parchment paper. Turn dough onto greased surface. Evenly divide into two loaves and place into prepared bread pans, gently pressing dough into corners.
Place pans in warm oven and allow to rise for 20 to 40 minutes, or until dough is nicely domed above the tops of the pans. Without removing pans from the oven, turn on oven to 350°F and set timer for 30 minutes. Once baked, immediately remove hot bread from pans and cool on rack.
Notes
I use coconut oil in this recipe. It works wonderfully and doesn't make the bread taste like coconut at all. However, you may use regular canola/safflower/vegetable oil, if you prefer.
Kneading and rising times are approximate and depend on many different variables. The dough must be kneaded until it pulls away from the bowl and is no longer sticky, even if that takes longer than 10 to 15 minutes. And the dough should be allowed to rise in the pans until it is as high as you want your final bread to be.
https://www.fivehearthome.com/the-very-best-homemade-whole-wheat-bread-plus-free-printable-kitchen-labels/
https://www.fivehearthome.com ~ All recipes and images on Five Heart Home are copyright protected. Please do not use without my permission. If you would like to feature this recipe, please rewrite the directions in your own words and give proper attribution by linking back to this blog.
Recipe adapted fro
m Deals to Meals
♥More most popular recipes…
25 Amazing Real Food Slow Cooker Recipes


Skillet S'mores Dip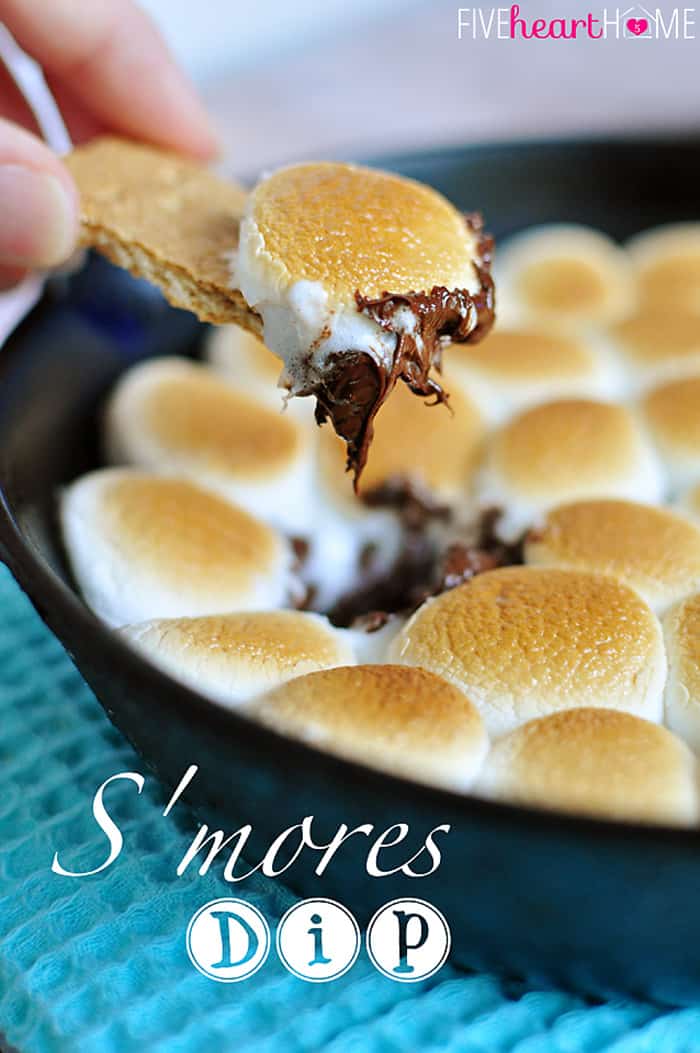 Slow Cooker Brown Sugar Ham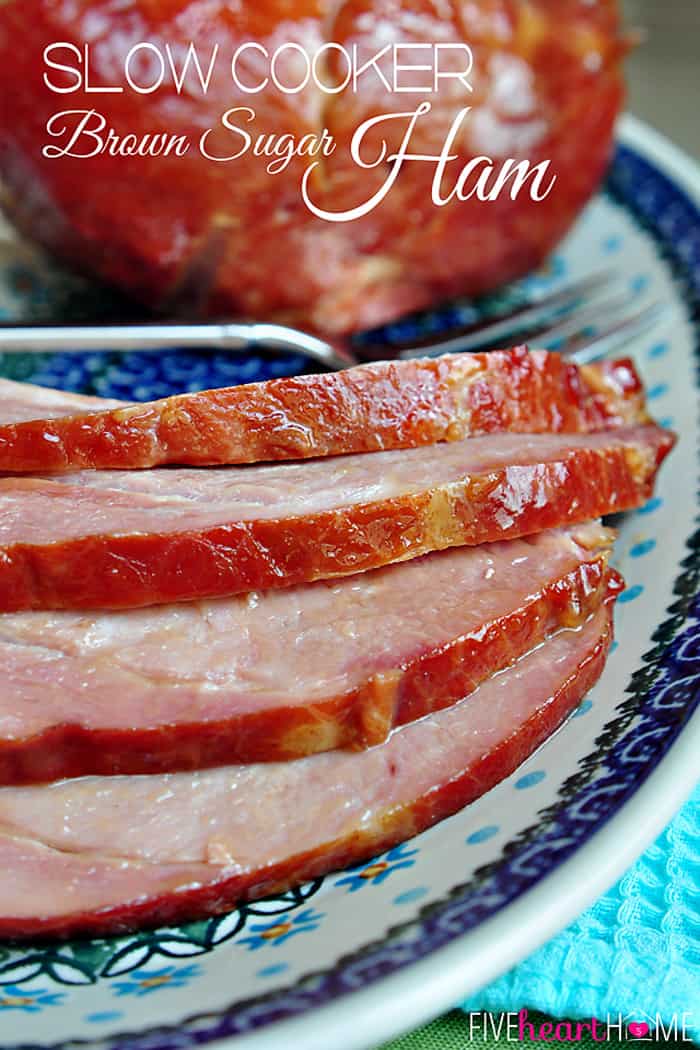 Baked Parmesan Zucchini Rounds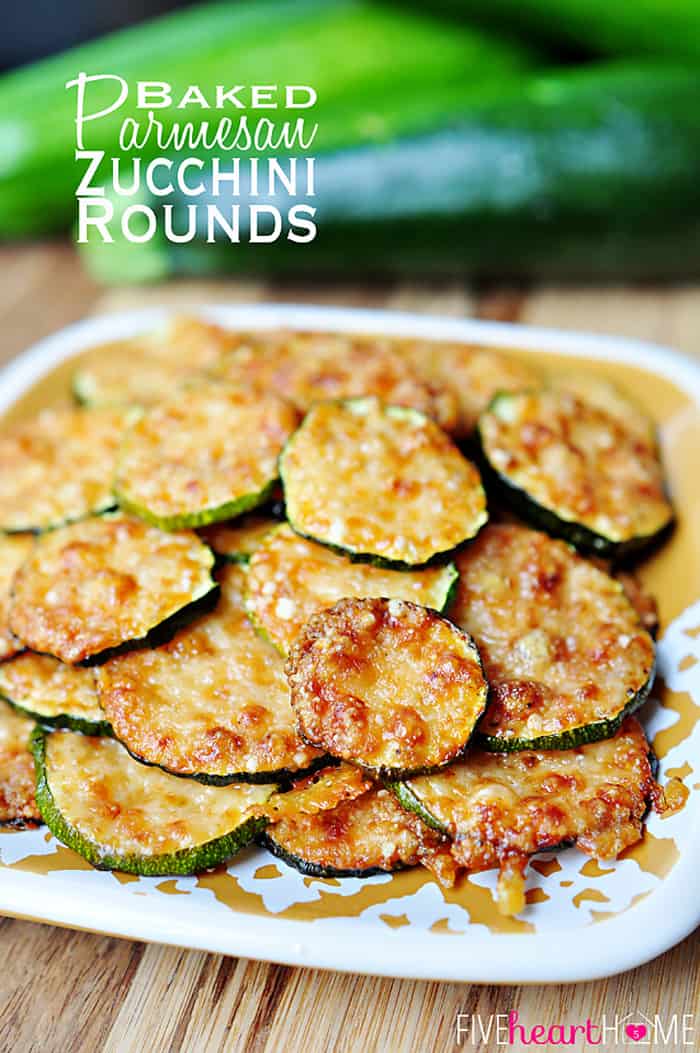 One-Minute Chocolate Peanut Butter Mug Cake