Easy Pasta Salad features tri-color pasta studded with diced olives and pimentos in a zesty homemade Italian dressing for a versatile summer side dish recipe!

Pasta salad season is upon us, and today I'm sharing a simple, tasty, new recipe to enjoy at all of your upcoming picnics, potlucks, and barbecues. Because what says summer like cold pasta salad?
This Easy Pasta Salad is just that…easy to make with just a few simple ingredients. I like making it with tri-color garden rotini for an extra pop of color, but feel free to use your favorite type or shape of pasta. The dressing used is actually my delicious and highly popular Homemade Italian Dressing. For flavor and texture, there are a couple handfuls of finely diced green olives and olives and a small jar of diced pimentos stirred in. A shower of fresh Parmesan cheese and this pasta salad is ready to party!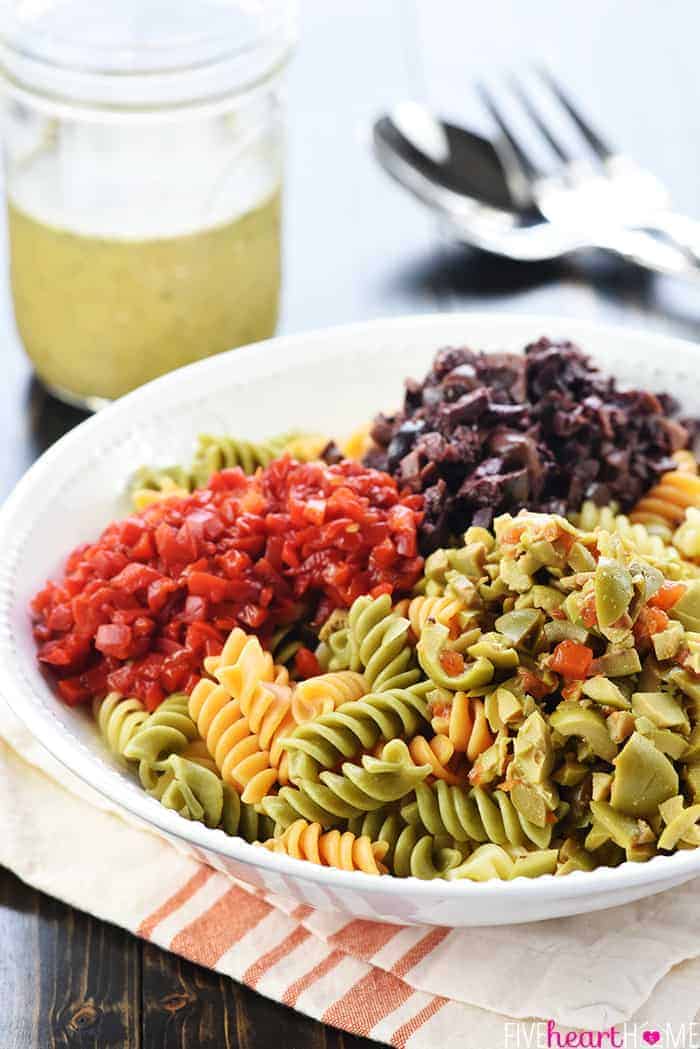 I happen to think that pasta salad is the quintessential side dish for any spring or summer meal or get-together. Whether a warm-weather cookout, a lively pool party, a Memorial Day or Independence Day bash, or family dining al fresco, Easy Pasta Salad is the perfect side dish for barbecue, burgers, sandwiches, wraps, and so much more!
I actually developed this recipe to pay homage to one of my favorite things to eat from waaaay back in my college days. During my years at Texas A&M, there was a little sandwich shop in town called Honey Bee Ham. It basically served the best sandwiches ever, and my roommates and I craved them often. Every time I ordered one of those scrumptious, piled-high ham sandwiches, I chose pasta salad as my side. It was a really plain, basic pasta salad…but because of its simplicity, it was a great accompaniment to my sandwich.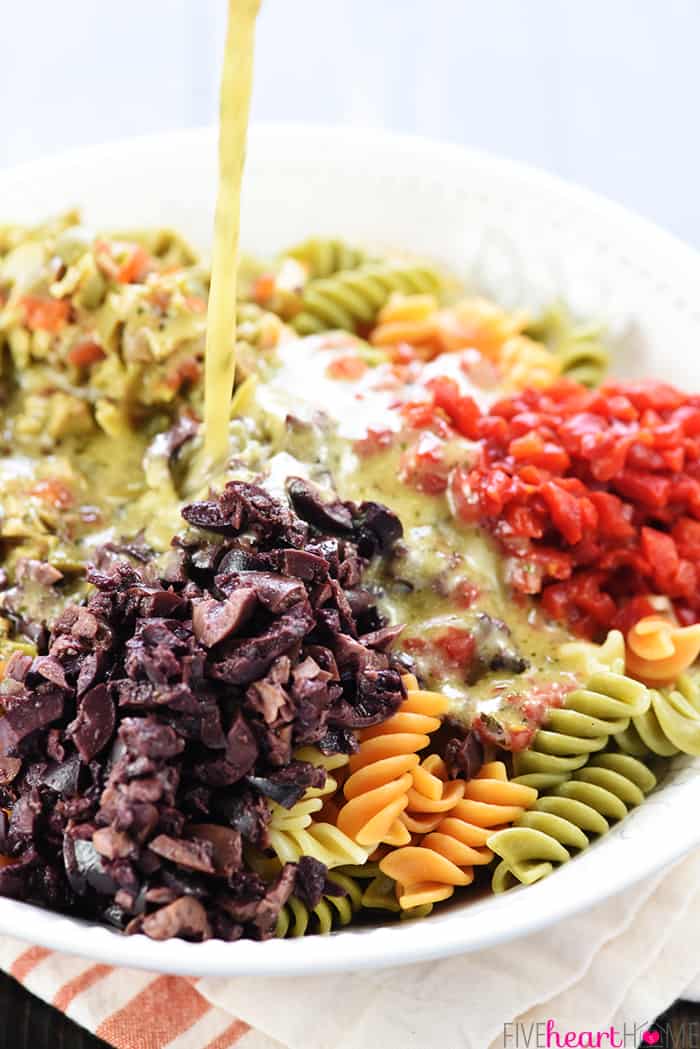 And guess what that pasta salad contained? Tri-color rotini, an Italian-ish dressing, and small pieces of diced olives! The Easy Pasta Salad I'm sharing here today is actually much more flavorful than the pasta salad from my college years, with extra olives, the addition of pimentos, and a bit of Parmesan. But it's still simple enough to complement a wide variety of main dishes…and it's so darn good!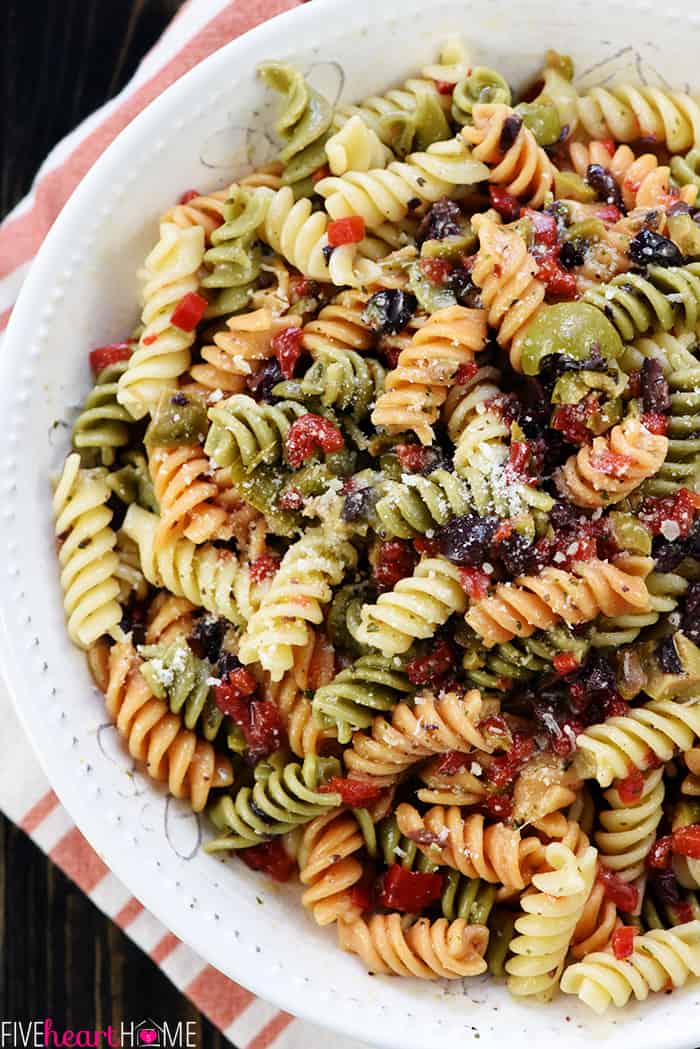 Since I was going for zesty flavor in my copycat rendition, I used both stuffed green olives and black Kalamata olives. Finely dicing the olives allows them to become more evenly distributed throughout the pasta so that they don't overwhelm the other ingredients. And of course, you may always adjust the amount of olives to your liking, adding more or less to taste.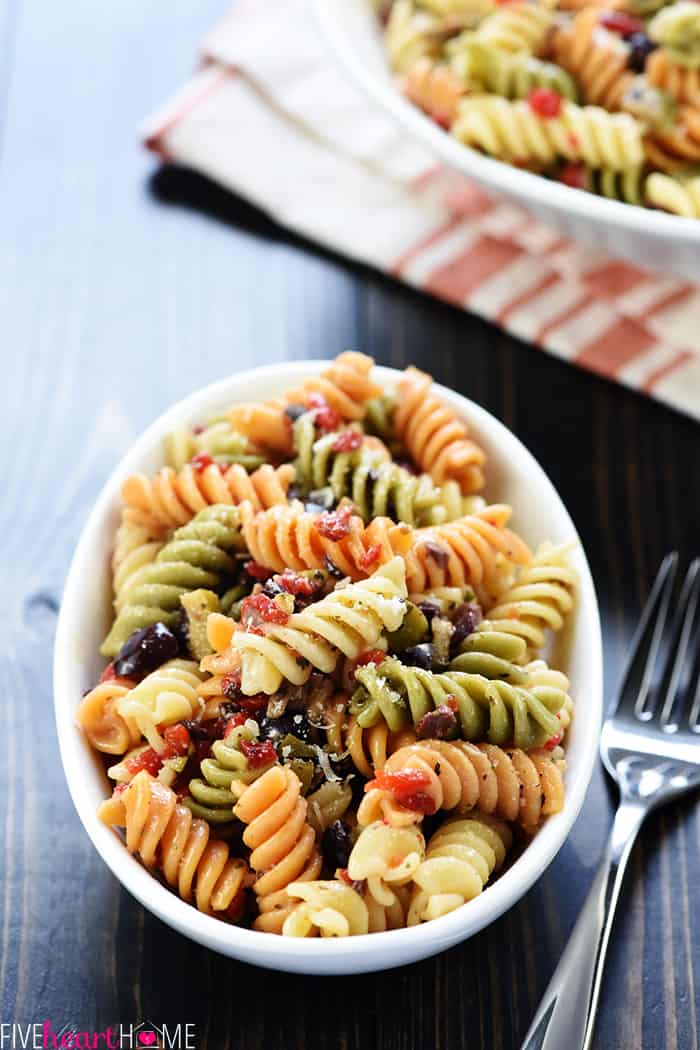 That can be said for all of the ingredients in this pasta salad, actually. It's such a basic recipe that you can omit any ingredients you don't care for and/or add any additional ingredients that you like. Sometimes I throw in a jar of drained, marinated artichoke hearts for substance. Sometimes I toss in a pint of halved cherry tomatoes for freshness. I've also been known to top this pasta salad with sliced, grilled chicken breasts to turn a side dish into a main course!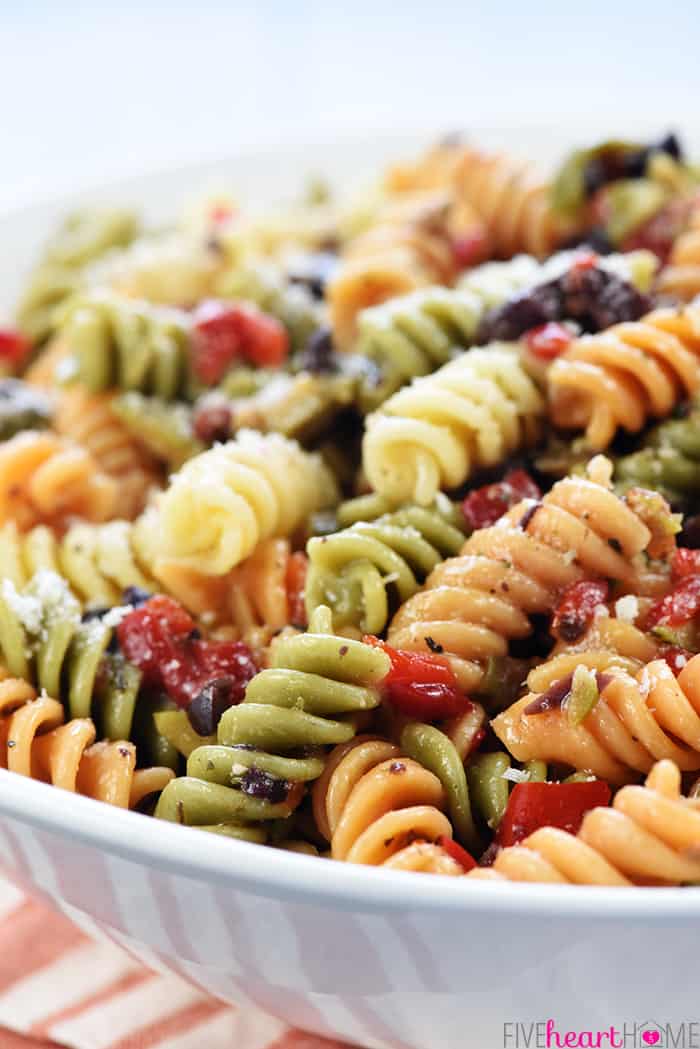 Any time I make pasta salad, I initially stir in about two-thirds of the dressing, pop the bowl in the fridge, and then add the rest of the dressing just before serving. I prefer my pasta salad chilled, but much of the dressing gets absorbed into the pasta while it hangs out in the refrigerator. So I have found that if I reserve a bit of the dressing and stir it in just before mealtime, the resulting pasta salad isn't overly dry and ends up with better flavor.
So if you're looking for a basic, versatile, summer side dish recipe, this Easy Pasta Salad is for you! It's full of zippy flavor and it's quick to throw together. But if you're looking for a fancier pasta salad loaded with plenty o' goodies, I've got quite a few of those, too.? Whichever way you decide to go, Happy Pasta Salad Season!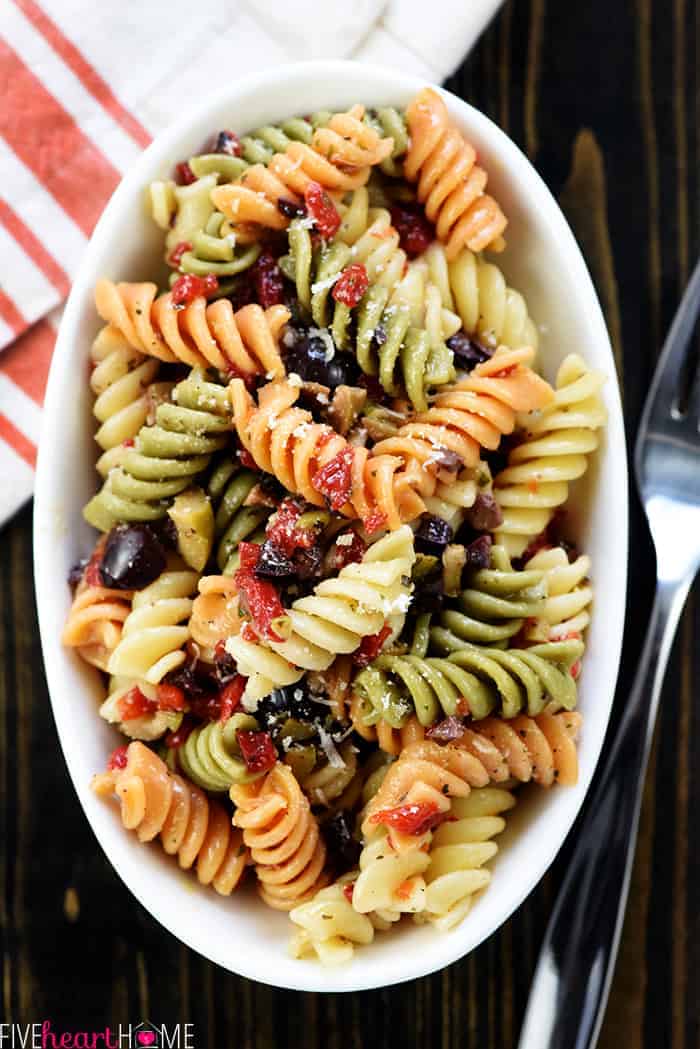 Helpful Tips, Tricks, & Equipment
(some affiliate links below)
The honey mellows out the acidity of the dressing, but you may add more or less, to taste.
Instead of shaking in a jar, you may whisk the dressing ingredients in a bowl, process them in a mini food processor, or blend them in a blender. I find that using a blender or food processor actually results in a dressing that better stays emulsified (doesn't separate as quickly).
For extra olive-y pasta salad, you can increase the diced olives to 1/2 cup each. And for zippier flavor, I prefer using Kalamata olives as opposed to canned black olives.
Feel free to add more substance to this pasta salad by adding your favorite diced fresh veggies, Italian meats or cheeses, or even sliced grilled chicken over the top!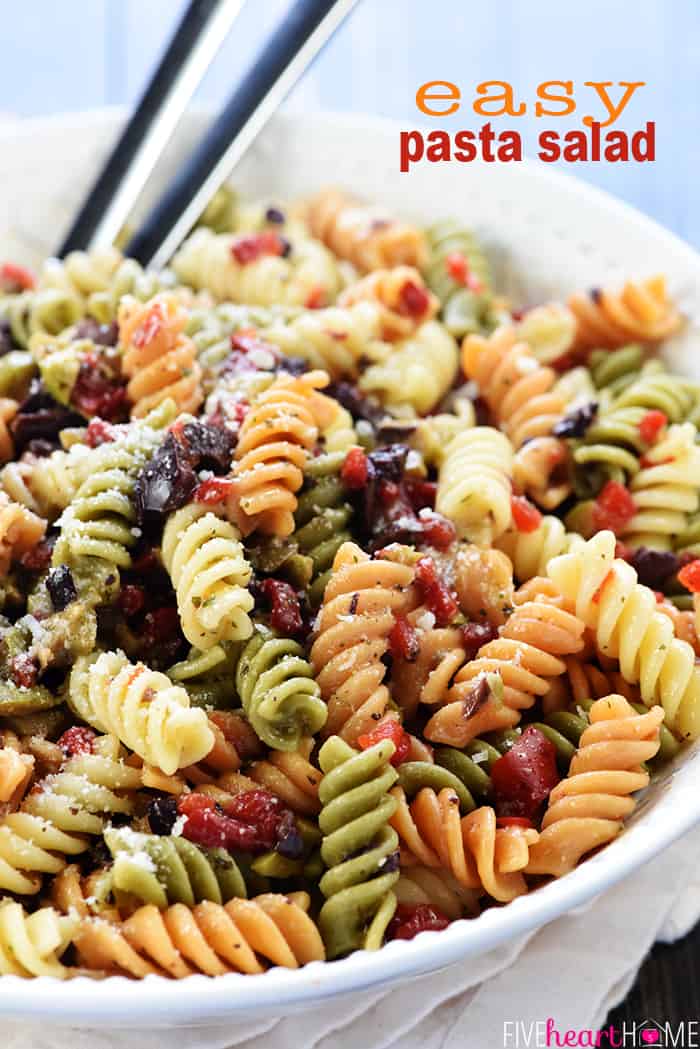 Easy Pasta Salad features tri-color pasta studded with diced olives and pimentos in a zesty homemade Italian dressing for a versatile summer side dish recipe!
Ingredients
1/2 cup extra-virgin olive oil OR neutral vegetable oil, such as canola or safflower
1/4 cup white wine vinegar OR red wine vinegar OR a combo of the two
2 tablespoons water
1 to 2 teaspoons honey
1 teaspoon freshly squeezed lemon juice
6 tablespoons freshly grated Parmesan, DIVIDED
3/4 teaspoon garlic salt
3/4 teaspoon dried parsley
3/4 teaspoon dried basil
1/8 teaspoon dried oregano
Pinch of red pepper flakes
Freshly ground black pepper, to taste
8 ounces tri-color garden rotini
1 (4-ounce) jar diced pimentos
1/3 cup finely diced green olives
1/3 cup finely diced black olives
Instructions
Measure oil, vinegar, water, honey, lemon juice, 3 tablespoons Parmesan, garlic salt, parsley, basil, oregano, red pepper flakes, and black pepper into a jar with a tight-fitting lid. Shake vigorously until well-blended and emulsified. Taste and adjust seasonings, adding more salt and pepper if desired.
Cook pasta in well-salted boiling water according to package directions. Drain pasta and transfer to a large bowl. Add the pimentos, green and black diced olives, remaining Parmesan, and about 2/3 of the dressing. Gently mix all of the ingredients with a large spoon until well combined. Refrigerate for several hours to allow the flavors to blend. Just before serving, shake and then stir in the remainder of the dressing and garnish with additional Parmesan, if desired.
https://www.fivehearthome.com/easy-pasta-salad/
https://fivehearthome.com ~ All recipes and images on Five Heart Home are copyright protected. Please do not use without my permission. If you would like to feature this recipe, please rewrite the directions in your own words and give proper attribution by linking back to this blog.
♥More delicious pasta salads…

Fiesta Pasta Salad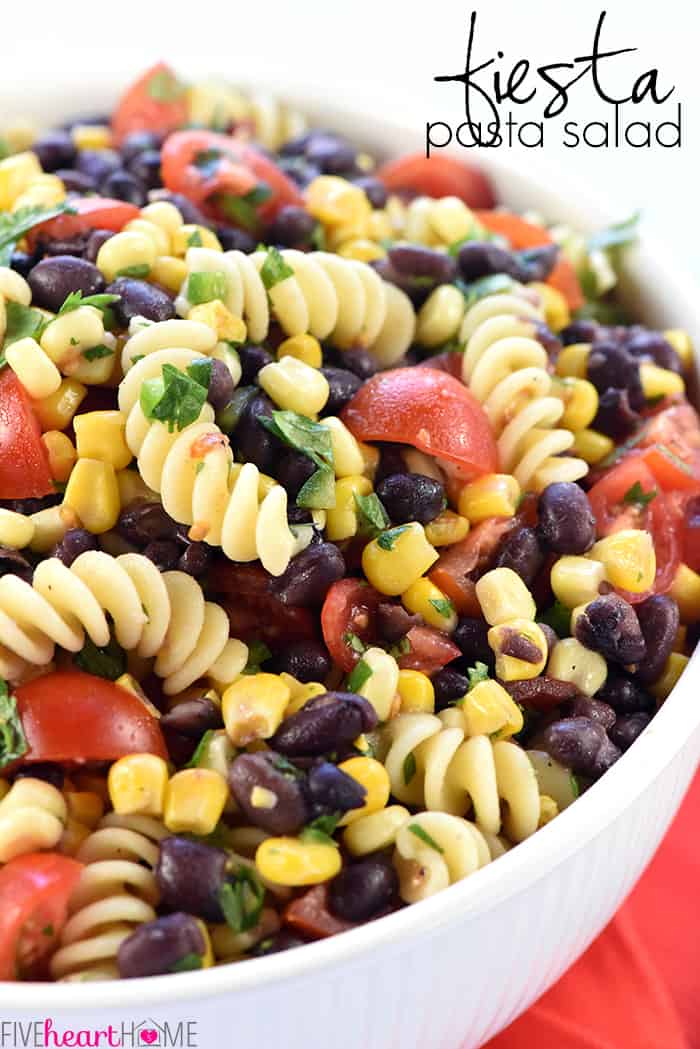 Tortellini Pasta Salad with Tomatoes, Basil, & Fresh Corn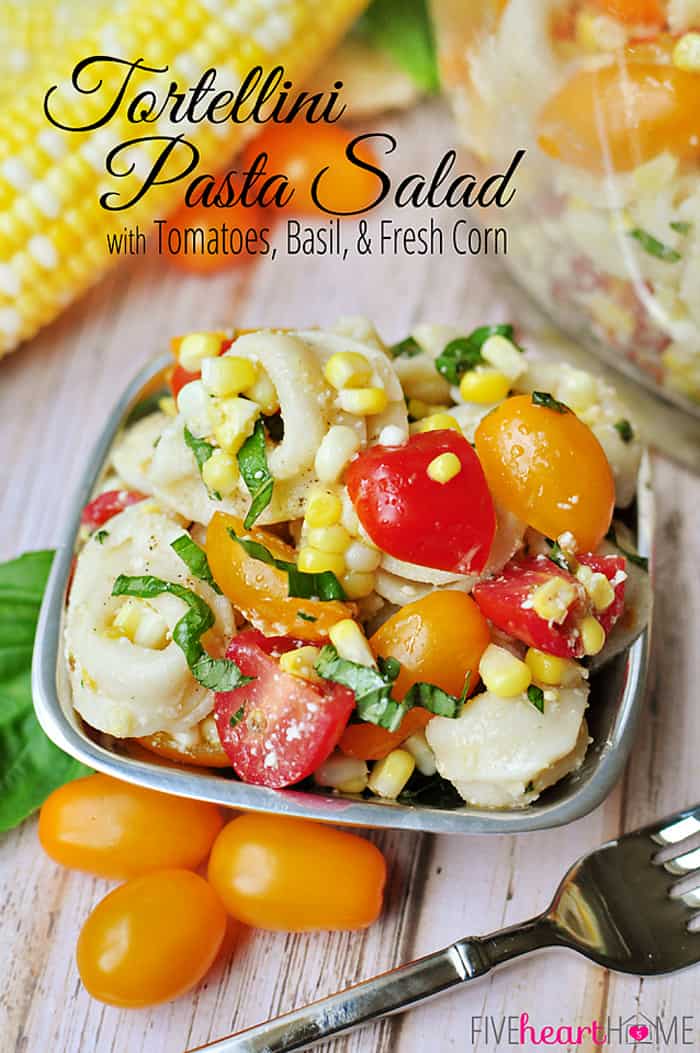 Chicken Berry Pasta Salad with Strawberry Balsamic Vinaigrette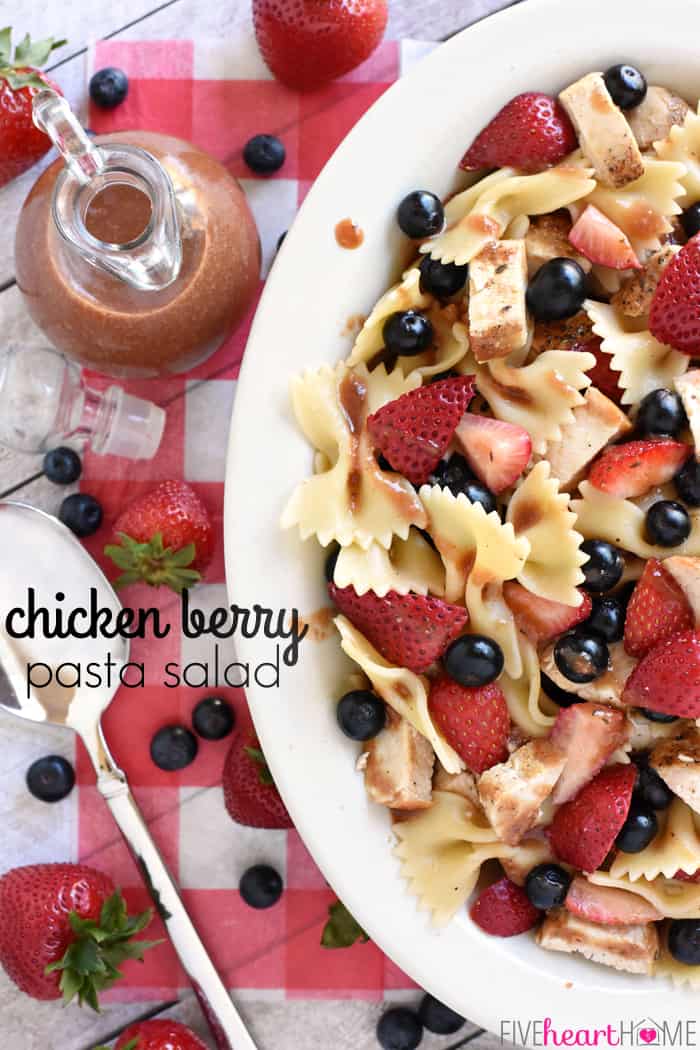 Caprese Orzo Salad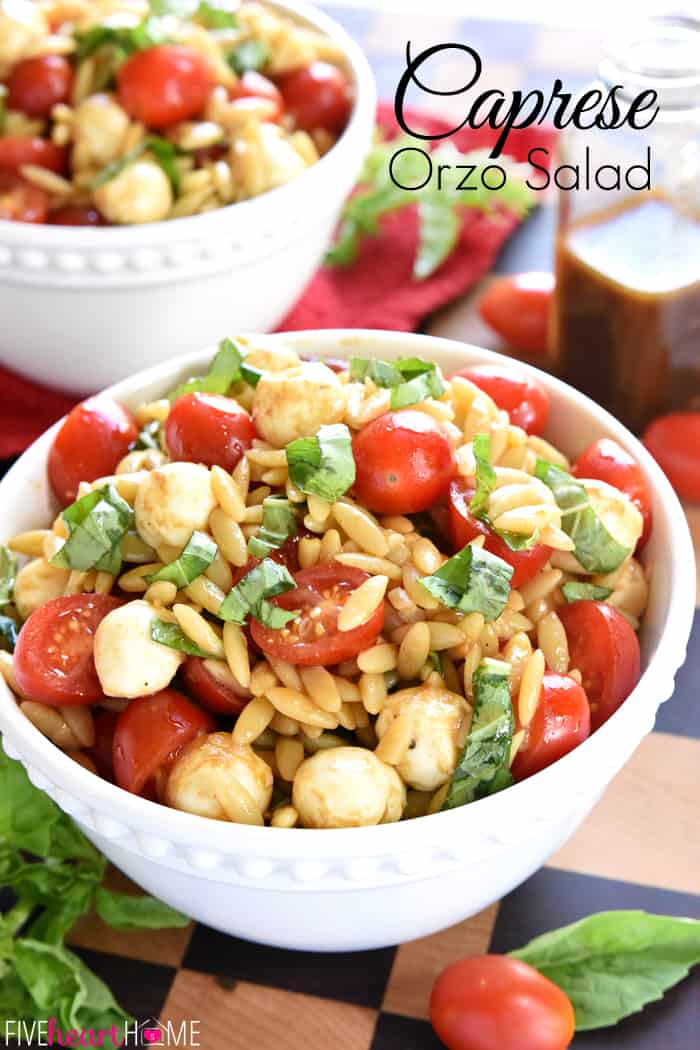 110