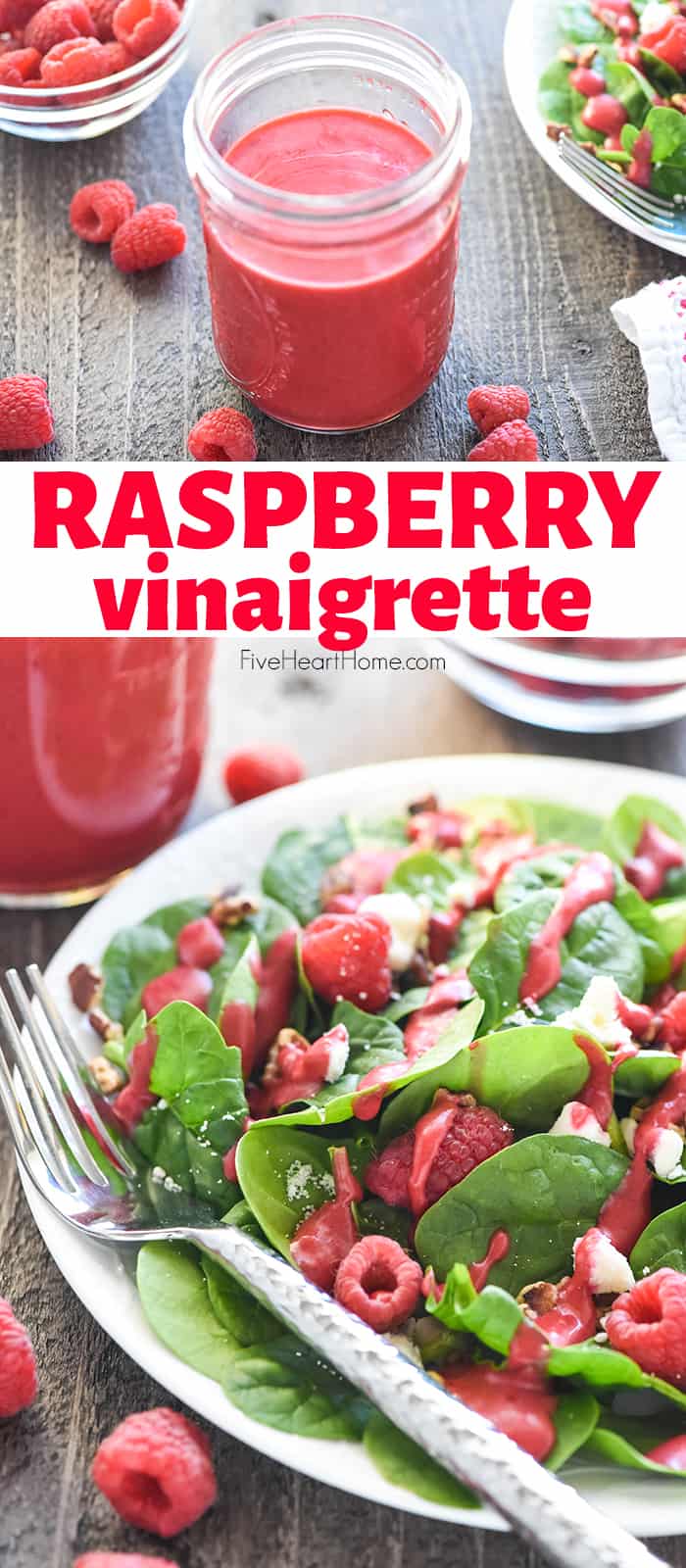 Raspberry Vinaigrette is a silky-smooth, sweet and tangy homemade dressing made with fresh or frozen berries. It's easy to make and delicious over a variety of salads!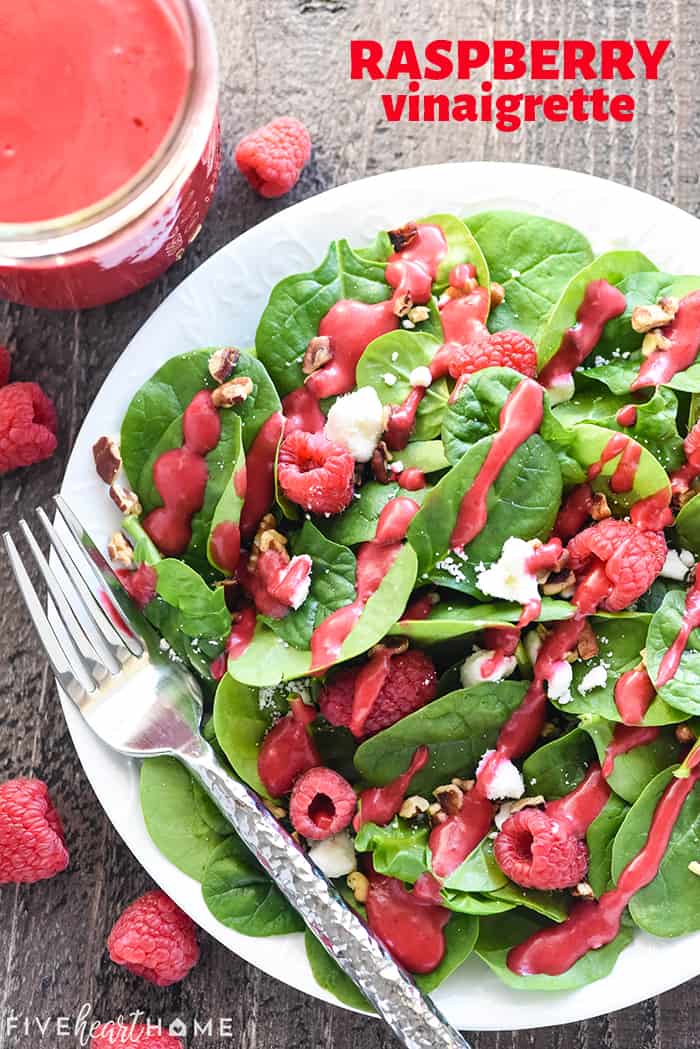 If you enjoy homemade vinaigrettes, you'll also love this delicate Champagne Vinaigrette, this highly-popular Homemade Italian Dressing, or this classic Balsamic Vinaigrette!

Some of my very favorite salads are those that have been jazzed up with the addition of fruits and nuts. And my new favorite dressing for drizzling 'em? This gorgeous, delectable Raspberry Vinaigrette!
I don't know about you, but winter is starting to wear on me and I'm already itching for warmer weather. But even if the seasons won't cooperate, it's nice to know that I can channel spring...from the kitchen. And enjoying a salad that's bursting with vibrant berry color and flavor is a step in the right direction!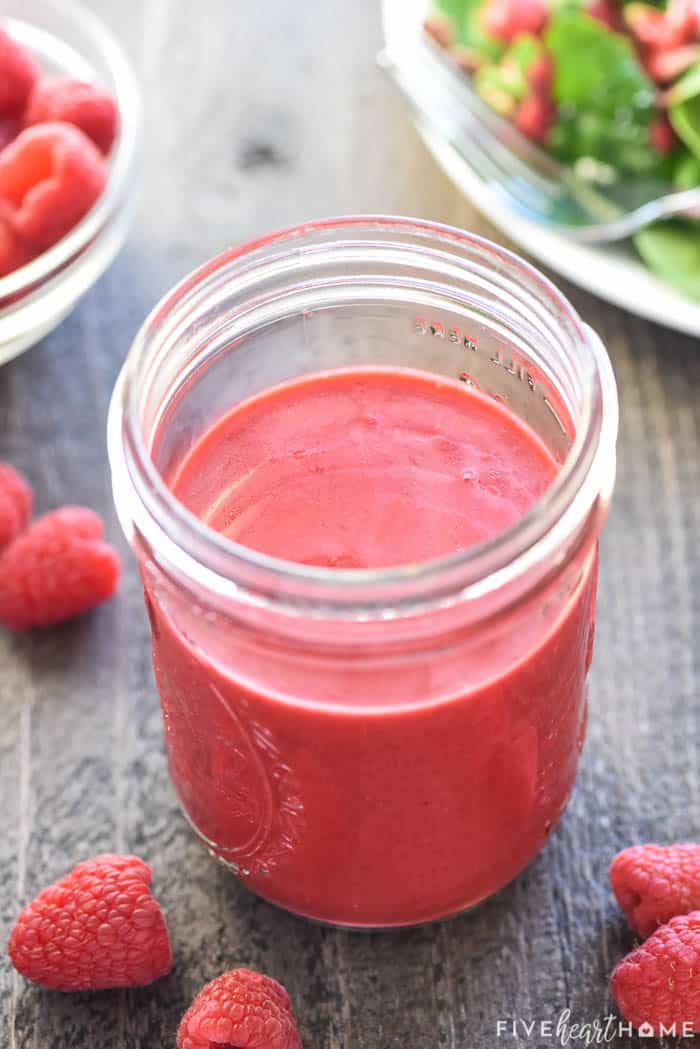 Why Make Your Own Raspberry Vinaigrette?
If you're already familiar with any of the many other salad dressing recipes on Five Heart Home, you probably already know this answer.
Making your own dressing is amazingly quick and easy.
It's also generally less expensive than picking up a bottle of good quality dressing at the grocery store.
And, perhaps most importantly, you get to control the ingredients! There are tons of icky additives and unnatural ingredients in many store-bought salad dressings. And there are none of those things when you make your own dressings and vinaigrettes at home, from scratch!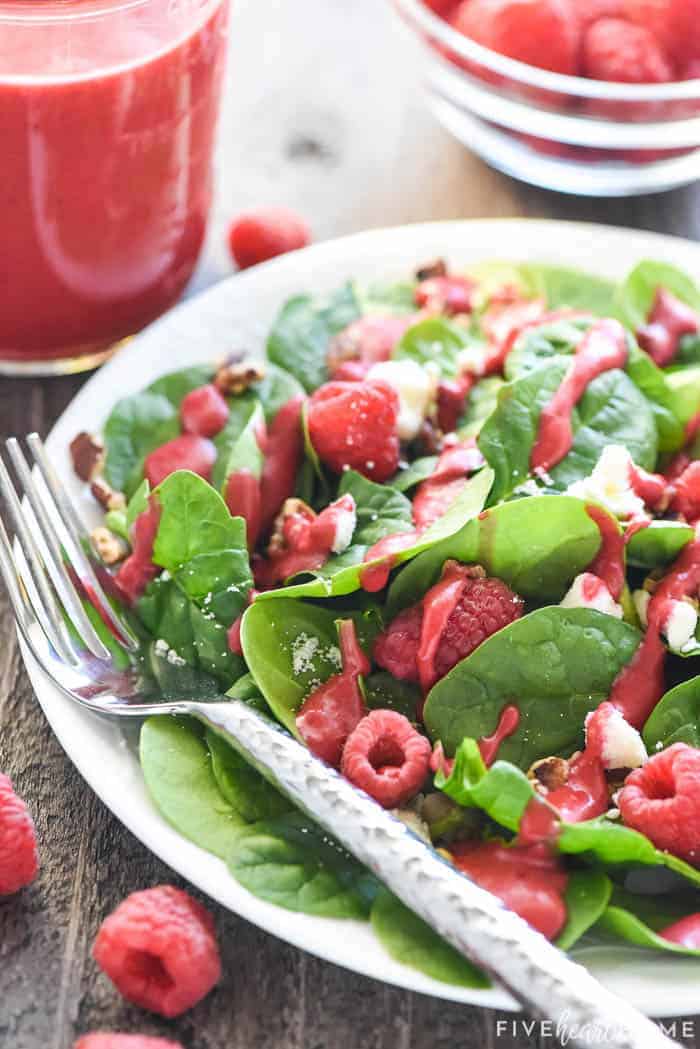 Ingredients + Substitutions
So what goes into this easy-to-make Raspberry Vinaigrette?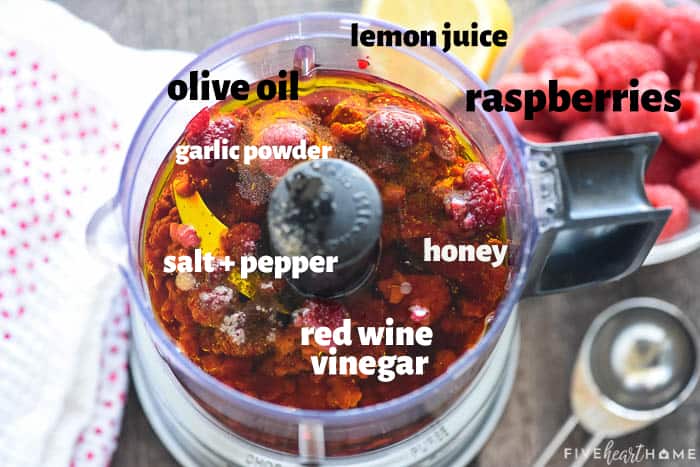 Raspberries. Indubitably. You may use fresh if they're in season, but frozen will work just as well (and you can be sure to always have them on hand!). If using frozen raspberries, be sure to allow them to thaw first.
Extra-virgin olive oil. I prefer using olive oil in my salad dressings for the health benefits. And I make sure to use a mild-flavored olive oil so as to not overpower the other ingredients. However, keep in mind that olive oil can thicken/solidify when chilled. So if this happens to your dressing, it will need time to come to room temperature before serving. I like to speed up this process by setting the bottle of dressing in a bowl of warm water for a few minutes, shaking every so often. Alternatively, you can make this vinaigrette with another neutral oil such as sunflower or grapeseed oil.
Red wine vinegar. You may substitute white wine vinegar or champagne vinegar, if you prefer, for a slightly different flavor. If you happen to have raspberry vinegar on hand, even better!
Lemon juice. When concocting vinaigrette recipes, I often like to replace a bit of the standard vinegar ratio with fresh citrus, which I feel brightens up a dressing's flavor profile. Freshly-squeezed juice is preferred if you have it, but a bottle of real lemon juice (without any additives) will work just dandy as well.
Honey. The amount of this natural sweetener is up to your discretion and can depend on the sweetness or tartness of your berries. I would suggest starting with the lesser amount, tasting, and then adding additional honey if you deem it necessary.
Garlic powder. I feel like fresh garlic is a bit too powerful for the delicate flavors in this fruity dressing, but garlic powder works well. Or you can leave it out altogether if you wish.
Salt + freshly ground black pepper. Adding the right amount of salt is what makes the flavors in this Raspberry Vinaigrette (or any vinaigrette) pop! I started with ¼ teaspoon but didn't feel like that was quite enough. So I added another ⅛ teaspoon of salt and it was perfect. As for the pepper, just crank a few grinds and taste.
How to Make It
You ready for the (not) highly-complicated, (not) time-consuming steps?
Add all of the ingredients to a blender or food processor (I prefer using my mini food processor) and blend for 1 minute.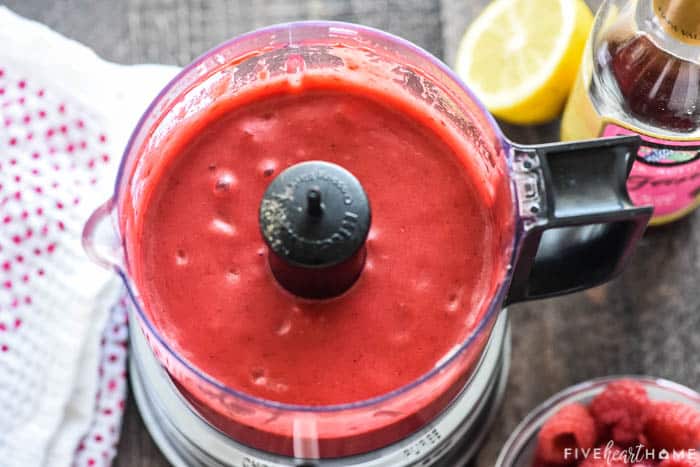 Told you it was a tricky recipe. 😉
Actually, I take that back. There actually could be a step 2, should you so desire...
If you prefer a perfectly silky-smooth Raspberry Vinaigrette, you may pour your finished dressing through a fine-mesh sieve and into a bowl in order to remove any potential remnants of seeds that didn't already get pulverized. But honestly, you can get this vinaigrette pretty darn smooth just by processing it long enough, so I don't particularly find straining it to be necessary.
So who loves gorgeous, fruit-laced salads? Who loves easy, from-scratch, dressing recipes? Who else is READY FOR SPRING?!
If you checked any of those boxes, this delectable, homemade Raspberry Vinaigrette is for you! 🙂
More Fruity Salads + Sweet Dressings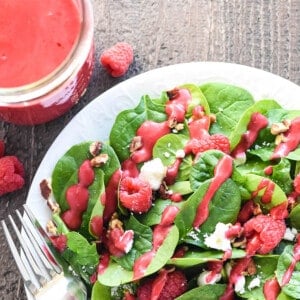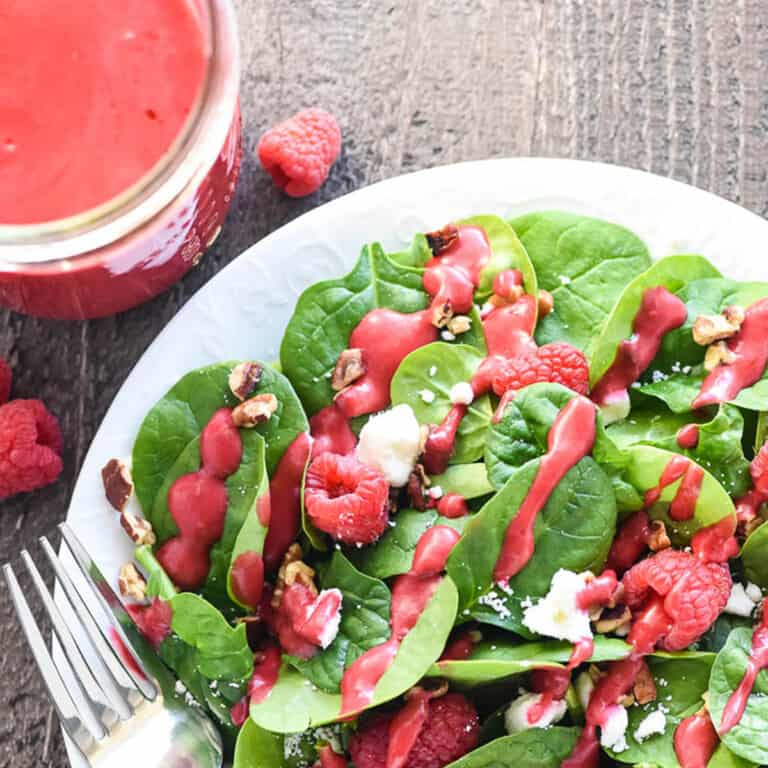 Raspberry Vinaigrette
Raspberry Vinaigrette is a gorgeous, silky, sweet and tangy homemade dressing made with fresh or frozen raspberries. It's easy to make and delicious over a variety of salads!
Print
Pin
Rate
Servings:
10
(2-tablespoon) servings (approximately; the entire recipe yields about 1 ¼ cups of dressing)
Ingredients
6

ounces

(1 ½ cups) raspberries

, fresh OR frozen and thawed

½

cup

extra-virgin olive oil

,

or another light, neutral oil

3

tablespoons

red wine vinegar

1

tablespoon

freshly-squeezed lemon juice

1 to 2

tablespoons

honey

,

more or less, to taste, depending on sweetness of berries

¼

teaspoon

garlic powder

¼ to ½

teaspoon

salt

,

start with ¼ teaspoon, taste, and add an additional ⅛ teaspoon at a time until the flavors pop...¼ + ⅛ teaspoon was perfect for me

Freshly-ground black pepper

,

to taste
Instructions
Add raspberries, olive oil, vinegar, lemon juice, honey, garlic powder, salt, and pepper to mini food processor (or full-sized food processor or blender). Process for 1 minute or until all ingredients are smooth and fully pureed. Taste and adjust honey and/or salt, if necessary. If you prefer (it probably won't be necessary), strain vinaigrette through a fine mesh sieve. Serve immediately or store in a tightly-sealed container in the refrigerator for up to 10 days.
Notes
You may substitute white wine vinegar, champagne vinegar, or even raspberry vinegar (if you have it) for the red wine vinegar.
Calories:
112
kcal
|
Carbohydrates:
4
g
|
Protein:
1
g
|
Fat:
11
g
|
Saturated Fat:
1
g
|
Sodium:
59
mg
|
Potassium:
30
mg
|
Fiber:
1
g
|
Sugar:
3
g
|
Vitamin A:
6
IU
|
Vitamin C:
5
mg
|
Calcium:
5
mg
|
Iron:
1
mg