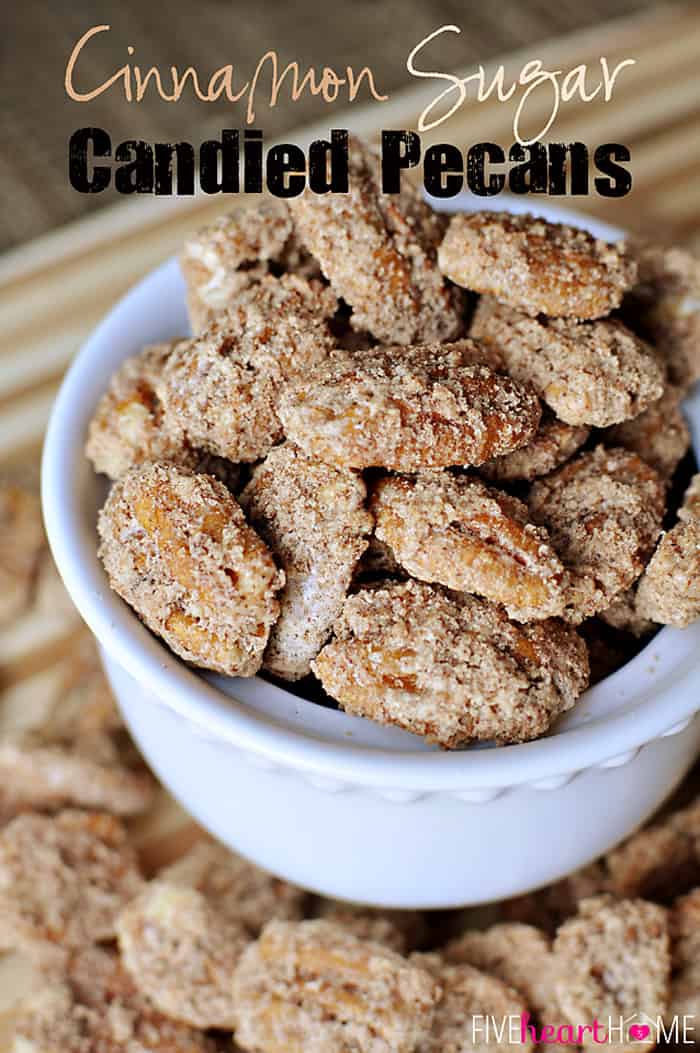 Cinnamon Sugar Pecans are candied pecans with a crunchy, sweet, warmly spiced coating, perfect for snacking, dressing up a salad, or holiday gift giving!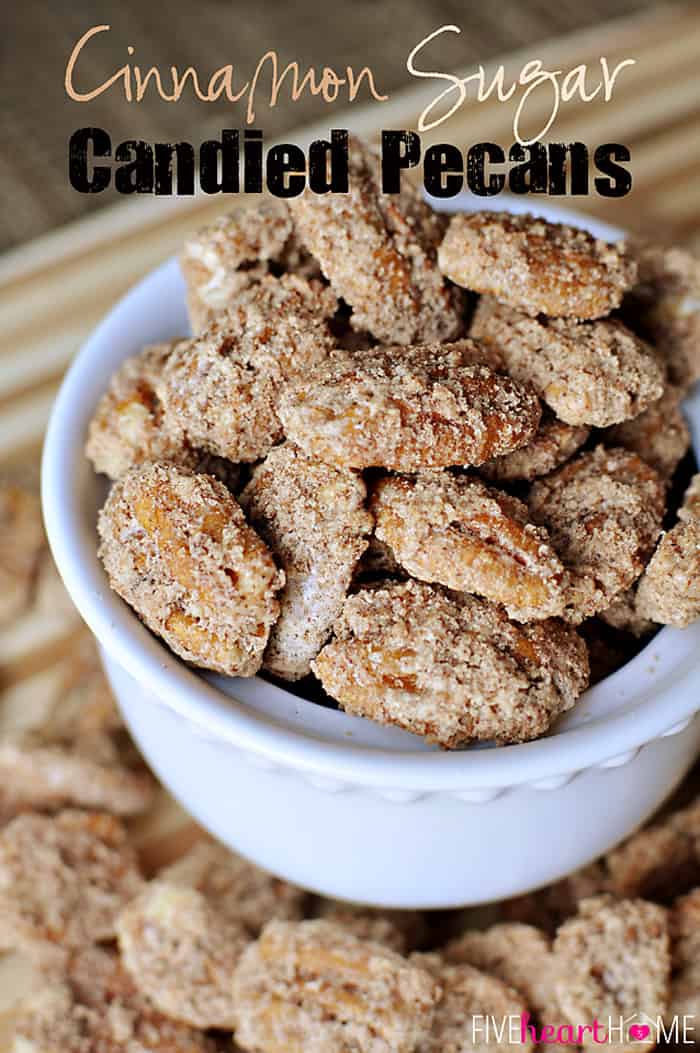 If you enjoy pecans, you'll also love The BEST Pecan Pie, Pecan Pie Bars, and Pecan Praline Bread!
I've never met a nut I didn't like. But in Texas, pecans reign supreme, so that's typically what I end up sprinkling over salads, incorporating into baked goods, or eating by the handful. And while they're perfectly tasty plain and exceptionally excellent toasted, I do have a favorite way to eat pecans.
Yup. You're looking at it.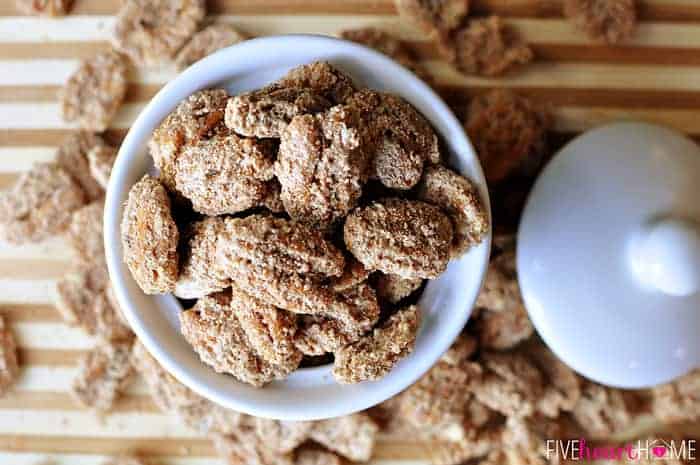 These Cinnamon Sugar Pecans are indescribably good, y'all. They're crispy and crunchy. They're sweet and salty. They have a nice kick of cinnamon. But there is one small problem...I CAN. NOT. STOP. EATING THEM.
Seriously.
We recently received a generous bag of fresh pecans as an oh-so-thoughtful Christmas gift, and before packaging them up for freezer storage, I decided to set aside a few cups and do something special with them. Enter these bites of joy.
Unfortunately, in less than 48 hours, I managed to deplete a whole batch of Cinnamon Sugar Pecans almost entirely by myself, and that was with me actually exhibiting (some) restraint. Of course, it also didn't take long for the 15-month-old to figure out that I was intermittently crunching on something yummy, all day long. Every time she saw me reaching for the bowl, she learned to run over with her mouth wide open and loudly say, "AHHHH!"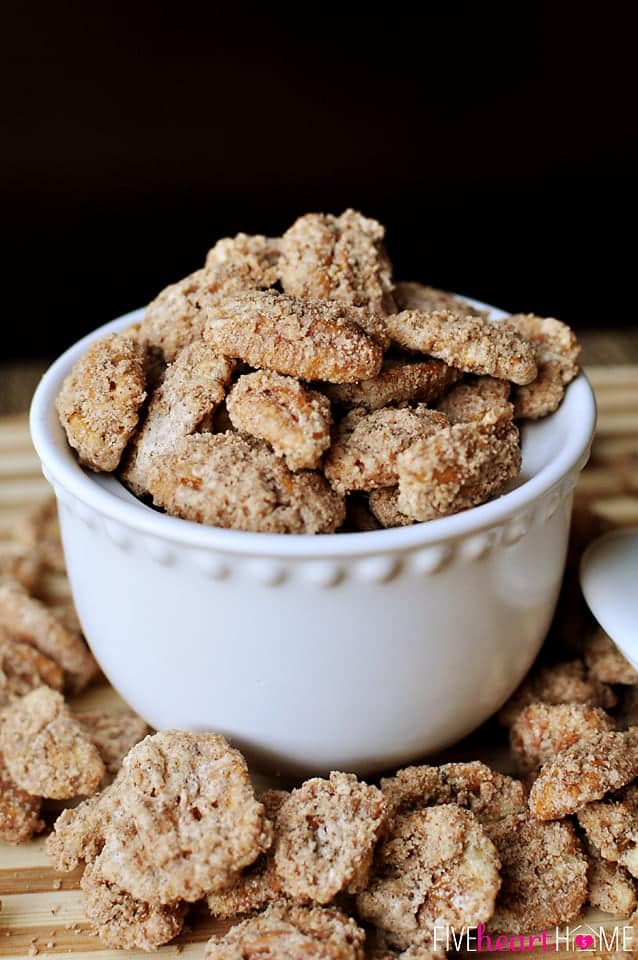 Ideas for Enjoying
So aside from obsessively devouring them, what else are these Cinnamon Sugar Pecans good for?
Well, they would clearly elevate a salad to the next level. You know how salads always taste so much better at fancy restaurants than they do when you make them at home? That would be because at a nice restaurant, salads are embellished with delectable garnishes like candied pecans. And now you have the power to make fancy-schmancy salads in your very own home...yippee!
Another great use for these nuts would be gift giving. I am telling you, fill a jar with these candied pecans, tie on a ribbon, and slap on a tag. After the first bite, your lucky gift recipient will think you've hung the moon. And/or ruined his diet, but he won't even care.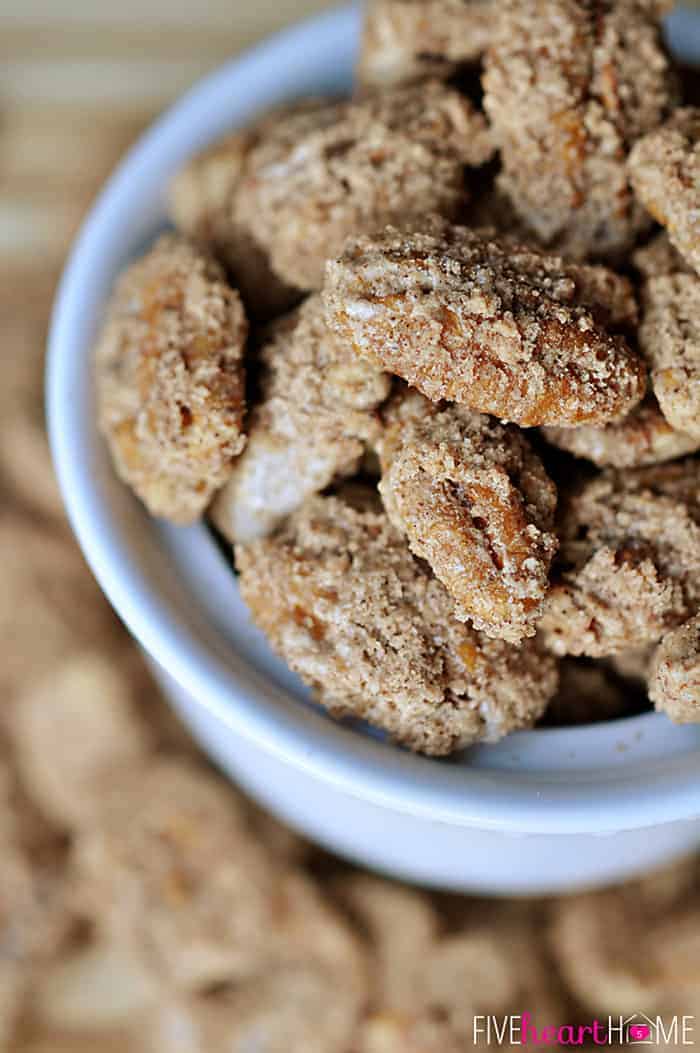 FAQ
Could you substitute other nuts for pecans in this recipe?
Of course! Pecans are particularly amenable to capturing extra cinnamon sugar goodness in their little cracks and crevices, but walnuts would do the same. And I feel sure that almonds would be delicious with this treatment as well. Just keep in mind that smaller nuts may cook more quickly and adjust the cooking time as necessary.
Other recipes out there don't require beating the egg whites until stiff. Is this step really necessary?
There are a lot of variations of egg white-based candied nut recipes. Some direct you to whisk the egg whites until frothy while some have you beat the egg whites until they form stiff peaks.
This recipe falls into the latter category. I find that by folding the nuts into stiffly beaten egg whites, they end up with a thick, crunchy-but-delicate, almost meringue-like coating. It simultaneously pops and dissolves in your mouth. I have no doubt that the other recipes churn out delicious candied nuts as well, but this is my favorite way to make them. And while the beaten egg whites mixed with the pecans seems kind of weird and goopy to spread in the pan at first, everything dries up as it bakes to become toasty and crunchy.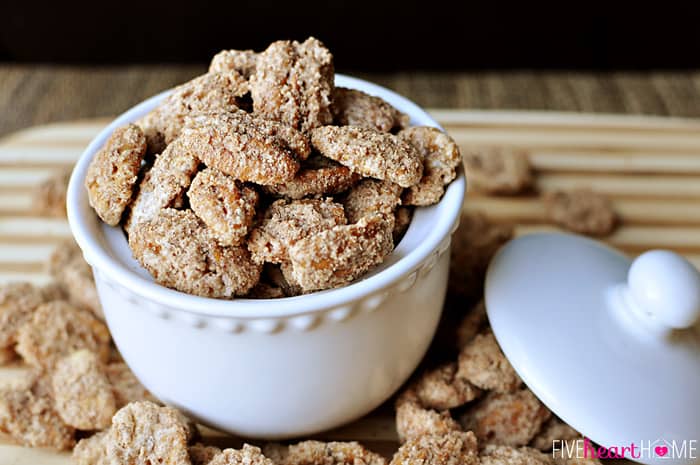 So what are you waiting for? Go forth and create candied pecans! Whether you give them as gifts to friends and neighbors, serve them at a party, share them with your family, or hide in the pantry and eat all of them yourself, they will be most appreciated by whomever devours them. (Even if that "whomever" happens to be you. Ahem.)
More Holiday Food Gifts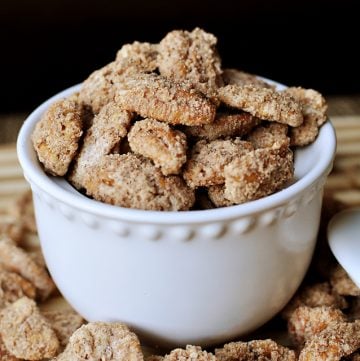 Cinnamon Sugar Pecans
Cinnamon Sugar Pecans are candied pecans with a crunchy, sweet, warmly spiced coating, perfect for snacking, dressing up a salad, or holiday gift giving!
Print
Pin
Rate
Servings:
20
servings (makes 5 cups)
Ingredients
¼

cup

(½ stick) butter

,

melted

2

egg whites

,

preferably at room temperature

1

tablespoon

water

1 ½

cups

sugar

2

teaspoons

cinnamon

1

teaspoon

salt

5

cups

pecan halves
Instructions
Preheat oven to 300°F. Line a 13- by 18-inch sheet pan (that has sides) with heavy duty aluminum foil. Pour on melted butter and spread out so that pan is evenly coated.

In a large bowl, use an electric mixer to beat egg whites and water until stiff peaks just start to form. Blend in sugar, cinnamon, and salt. Fold in pecan halves and spread mixture in a single layer onto prepared pan.

Bake for approximately 40 minutes, stirring and flipping pecans every 10 minutes. Watch nuts very closely during the last 10 minutes of cooking time, removing them from oven sooner if they are getting too dark. Nuts are done when they are mostly dry and golden brown.

Allow pecans to cool on pan until they are completely dry and crunchy, stirring occasionally to break them up. Store in an airtight container for two to three weeks (though they will never last that long!).
Notes
The pecan and egg white mixture will be very wet and goopy at first. Just do your best to flip the pecans and spread them back out into a single layer the first few times that you stir them. I find it helpful to clean my spatula between flipping them.
Feel free to add a pinch of cayenne for sweet and spicy nuts!
Calories:
251
kcal
|
Carbohydrates:
19
g
|
Protein:
3
g
|
Fat:
20
g
|
Saturated Fat:
3
g
|
Cholesterol:
6
mg
|
Sodium:
142
mg
|
Potassium:
106
mg
|
Fiber:
2
g
|
Sugar:
16
g
|
Vitamin A:
85
IU
|
Vitamin C:
1
mg
|
Calcium:
20
mg
|
Iron:
1
mg