Pecan Praline Bread is a delicious quick bread recipe with a tender crumb and a ribbon of brown sugar pecans for added sweetness and crunch!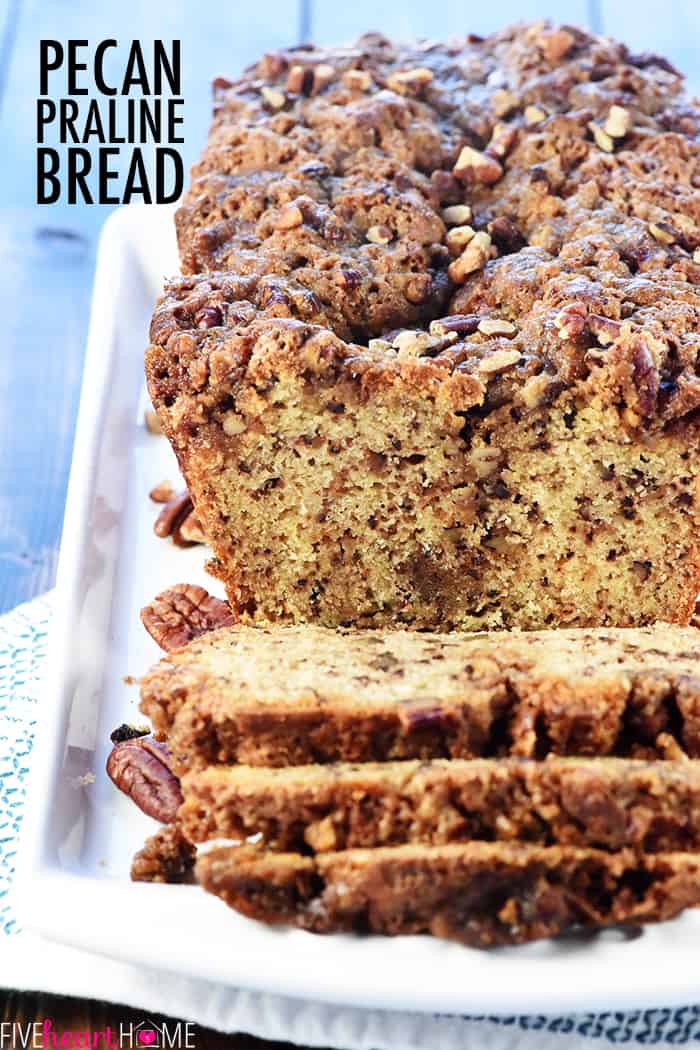 If you enjoy gifting (or eating!) homemade quick breads, you'll also love Orange Pound Cake Mini Loaves, Chocolate Coconut Banana Bread, and Snickerdoodle Pumpkin Bread!
Earlier this month, I set out to create a new quick bread recipe with holiday gift giving in mind. Cinnamon Bread has always been one of my favorite homemade food gifts to share with neighbors and friends. Well, I thought it would be fun to take that yummy recipe in an even more decadent direction. So after multiple (multiple) attempts, this Pecan Bread was the happy result of my experiments...boyyyyyy is it good!
As a food blogger who develops recipes, I have good days and I have bad days. On a good day, new recipes work as I imagined they would, tasting delicious and turning out beautifully. On a bad day, every recipe that I make is a flop for one reason or another, and it's back to the ol' drawing board.
Sometimes I give up on a flop recipe after the first attempt because it's just not anywhere near what I envisioned it to be. Other times, however, a recipe is just slightly off...almost there...and with a few tweaks, I'm convinced I can achieve perfection.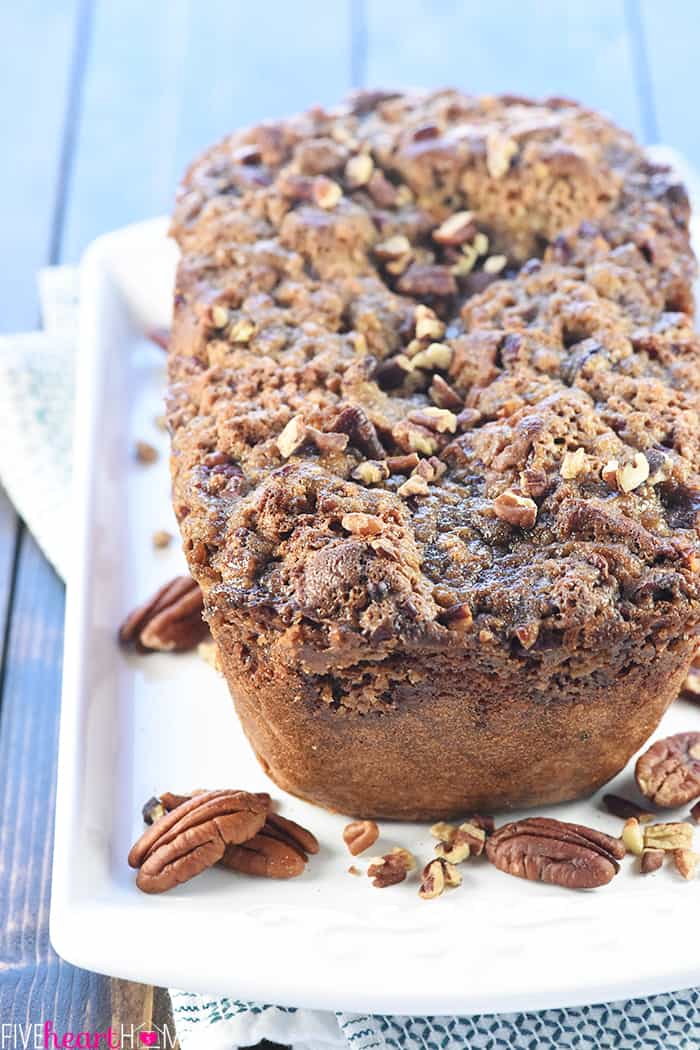 Trial & Error Pecan Bread
The first time I made this Pecan Bread, the flavor and texture were positively drool-worthy. I loved the tiny toasted pecans speckling the bread, and the crunchy, gooey, layer of pecan praline was to-die-for.
However, the pecan praline layer -- which I had intended to weave through the center of the bread -- had completely sunk to the bottom. As in, all of it was at the very bottom of the pan and there was no praline through the bread. My family didn't seem to mind. They raved about the bread and couldn't get enough of it.
But this recipe was way too tasty to be ugly. I knew I could do better. So I decided to make a few adjustments and try, try again.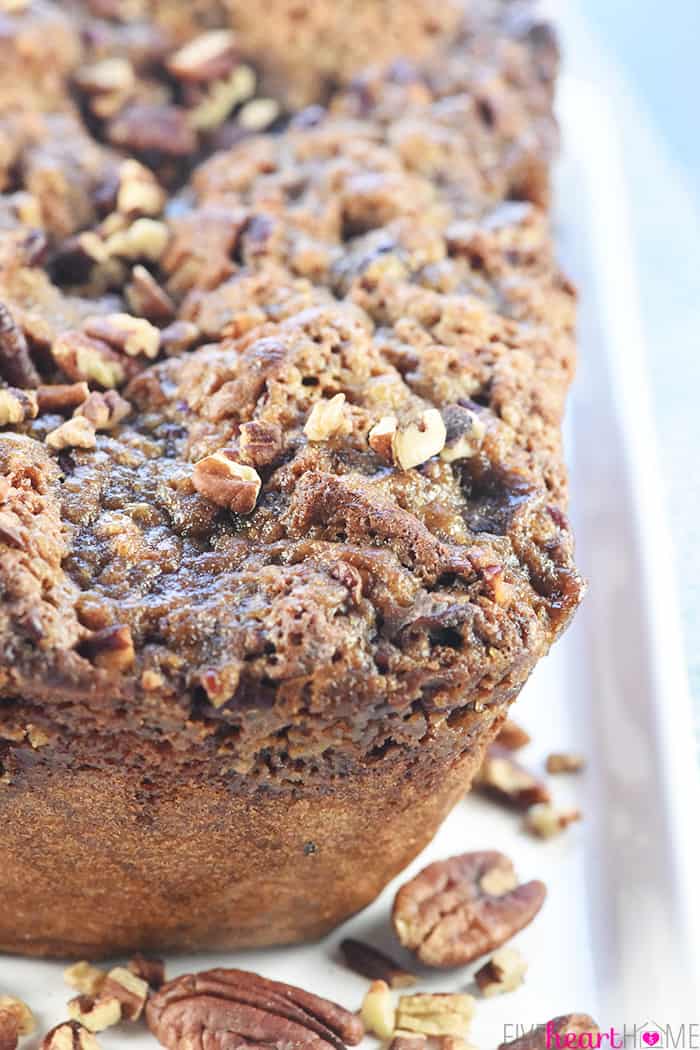 On my second attempt, the pecan praline still sunk. I gave that (again, ugly) loaf to a friend who said her family didn't seem to notice the placement of the praline and scarfed down the whole thing. In fact, I was the only one who seemed to mind that the pecan praline was at the bottom. But that wasn't my original plan, dangit, so off to the kitchen I returned.
After a third failed attempt, I still wasn't ready to give up. But I did consider keeping the yummy-but-unattractive recipe as it was and just changing its name. Perhaps something like Titanic Pecan Bread? I mean, it would be acceptable if the pecans were *intended* to sink, right?!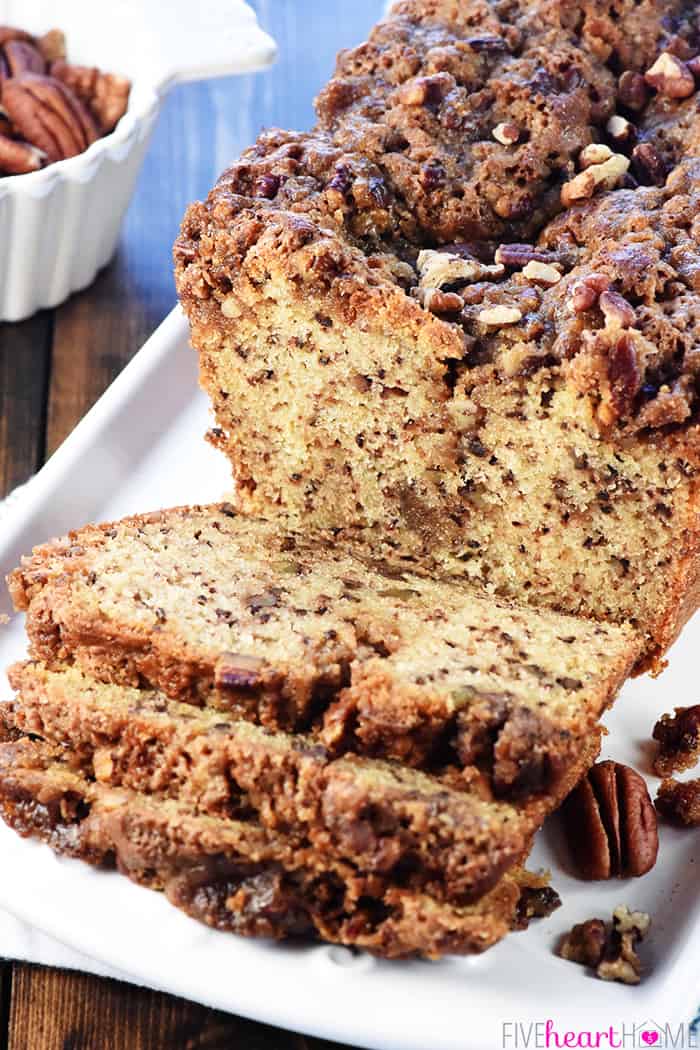 Secrets to Success
But luckily enough, the fourth try was a charm. I finally achieved Pecan Bread with a glorious layer/tunnel of goodness that didn't sink straight to the bottom!
There were several keys to my praline layer staying put:
Less butter.
Pecans that were more finely chopped.
A praline mixture that wasn't too hot. And...
Layering it towards the top of the bread rather than in the center.
So happy, happy day...at last I get to share this scrumptious recipe with y'all!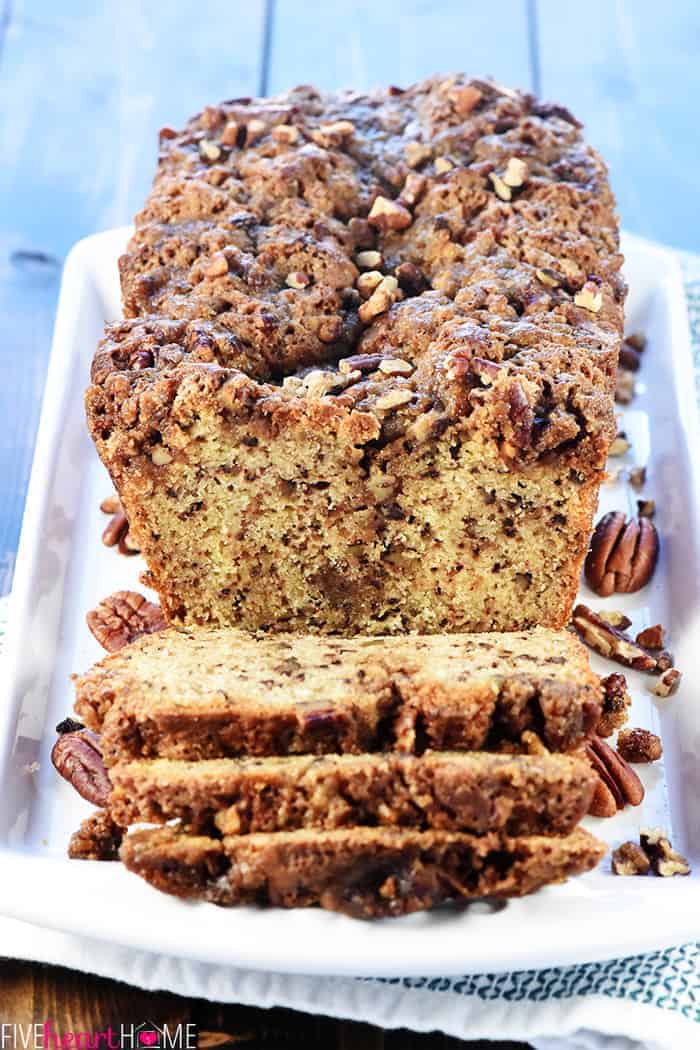 Pecan Bread is easy enough to make, and it's quite possibly one of the best quick breads I've ever had the pleasure of enjoying. In fact, it's so good that, even if your pesky pecan praline layer decides to migrate southward, nobody will even notice or care.
But let's hope that an empty flour jar, oodles of pecans, and four recipe re-tests will prevent that issue from ever being a problem again. 😉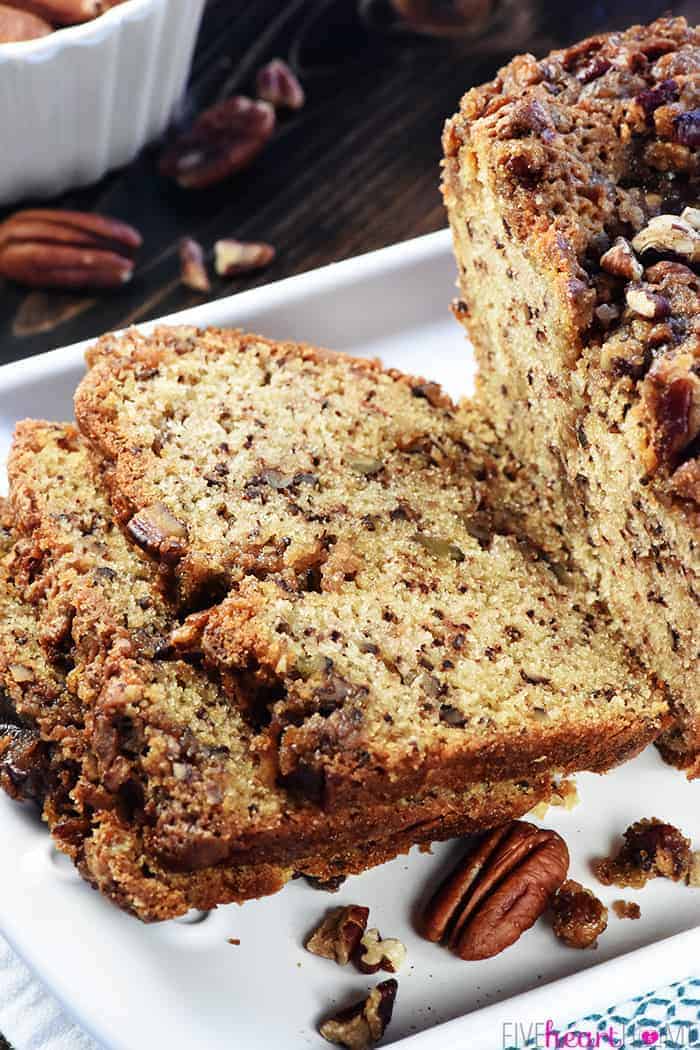 Helpful Tips, Tricks, & Equipment
This recipe requires a large bread pan, with measurements around 9" X 5" X 3". I made this recipe in my Corningware 1 ¾-quart ceramic loaf dish that's no longer available, but it's similar in size to this pan.
That being said, the first time you make this recipe, place your bread pan on a baking sheet to catch any potential overflow in case your pan is a little too small. 😉
Because of the sticky praline through this bread, you'll want to line your bread pans with parchment paper to make sure the entire loaf comes out intact. Grease the pan (which the parchment paper will then adhere to, in order to stay in place). Then tear a long piece of parchment paper the same width as the length of the pan. Press it into the bottom of the pan and up the sides. Then tear two more small pieces of parchment paper to fit the unlined ends of the pan (again, the parchment should stick since you greased the pan). The parchment needs to slightly extend above the top of the bread pan on all sides. But don't let it go so high up that it catches on fire in the oven! Once the Pecan Bread is baked and adequately cooled, lift it from the pan by its parchment paper "sling."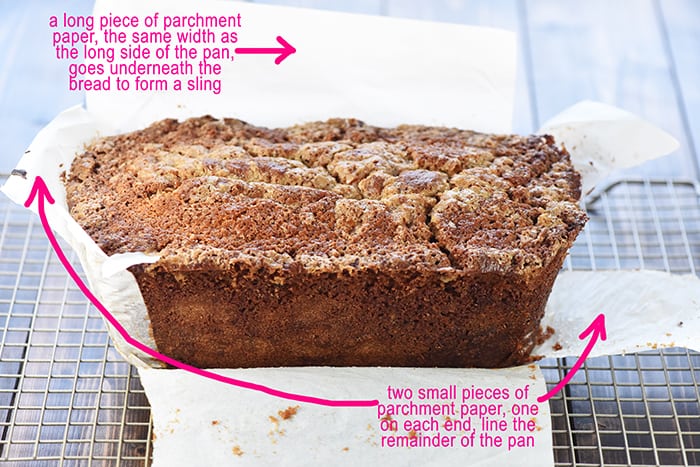 The ideal temperature for the pecan praline is cooled down enough that it doesn't sink right through the bread, but still warm enough that it can be smoothly stirred. You don't want it to be so cool that it starts to solidify. If you make the praline and then set it aside while assembling the batter, it should be the right temperature by the time you're ready to layer it and bake the bread.
The praline is still going to sink a bit, because it's simply heavier than the batter.That's supposed to happen. Actually, it will likely sink a bit down the center for a tunnel effect, so some of the praline will end up at the bottom and some of it will stay on the surface. Just don't expect that this bread is going to have a big domed top.
For the pecans that get folded into the batter, I like to finely chop them and then toast them. This ensures crunchy pieces of pecan throughout the bread. However, keep in mind that they will only take a few minutes to toast since they're such small pieces. If you decide not to toast them, the bread will still turn out fine.
The pecans that get stirred into the praline should be chopped to a regular size. The pieces shouldn't be so big that they immediately sink, but they shouldn't be too small or the praline won't have as much texture.

More Homemade Food Gift Ideas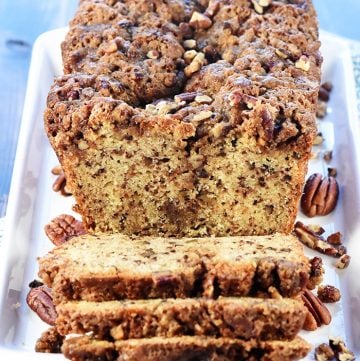 Pecan Bread
Pecan Praline Bread is a delicious quick bread recipe with a tender crumb and a ribbon of brown sugar pecans for added sweetness and crunch!
Print
Pin
Rate
Ingredients
For the praline:
¼

cup

½ stick unsalted butter

½

cup

packed brown sugar

,

I prefer light, but dark will work, too

⅛

teaspoon

salt

¾

cup

chopped pecans

,

toasted or untoasted
For the bread:
2

cups

all-purpose flour

2

teaspoons

baking powder

1

teaspoon

baking soda

¾

teaspoon

salt

1

cup

buttermilk

¼

cup

vegetable oil

,

such as sunflower or safflower

1

cup

sugar

2

eggs

2

teaspoons

pure vanilla extract

½

cup

finely chopped pecans

,

toasted & cooled
Instructions
Adjust a rack to the center position and preheat the oven to 350°F. Grease a full-sized loaf pan (approximately 9" X 5" X 3") and line with parchment paper that slightly extends above the top edge of the pan, all the way around (see notes above the recipe for more detailed explanation). Set aside.

In a small saucepan set over medium-high heat, add the butter, brown sugar, and salt. Allow to start melting and stir to combine. Bring to a boil, stirring occasionally, then remove from the heat and stir in the chopped pecans until well combined. Set aside to slightly cool.

In a large bowl, whisk together the flour, baking powder, baking soda, and salt. In another large bowl, blend together the buttermilk, oil, and sugar until well-incorporated. Beat in the eggs, one at a time, and then the vanilla. Slowly stir the dry ingredients into the wet ingredients until just combined, then fold in the finely chopped toasted pecans.

Pour the batter into the prepared loaf pan. Evenly pour about two-thirds of the pecan praline mixture over the top. Use a butter knife to gently swirl the pecan praline mixture into the bread, only going about halfway down into the batter (not all the way to the bottom). Pour the remaining pecan praline mixture over the top without swirling.

Bake in preheated oven for 45 minutes. Lay a piece of foil over the top of the bread (so that the pecans on top don't burn) and then bake for 10 to 15 minutes longer, until a toothpick inserted in the center of the bread comes out clean (but be careful not to overbake).

When the bread tests done, remove it from the oven and place the pan on a cooling rack for 15 minutes. Use the parchment paper sling to carefully lift the bread out of the pan and onto the cooling rack. You may gently peel back the parchment paper once the bread has cooled a bit more.
Notes
To toast pecans, preheat the oven to 350°. Spread finely chopped pecans on a sheet pan and bake for 4 to 7 minutes or until fragrant and lightly toasted. (Keep in mind that finely chopped pecans will toast faster than pecan halves or large pieces, so watch them carefully to prevent burning.) Allow to cool.
If you don't have any buttermilk on hand, you can make your own by pouring 1 tablespoon lemon juice (or white vinegar) into a 1-cup liquid measuring cup. Fill the measuring cup up to the 1-cup line with milk (whole milk is preferred but low-fat/skim milk will work). Stir and allow to sit for 5 to 10 minutes before proceeding with recipe.
Calories:
4250
kcal
|
Carbohydrates:
534
g
|
Protein:
57
g
|
Fat:
218
g
|
Saturated Fat:
49
g
|
Cholesterol:
475
mg
|
Sodium:
3957
mg
|
Potassium:
2225
mg
|
Fiber:
19
g
|
Sugar:
325
g
|
Vitamin A:
2290
IU
|
Vitamin C:
0.9
mg
|
Calcium:
910
mg
|
Iron:
18
mg