This soft, moist pumpkin bread — perfectly spiced and studded with chocolate chips — is so delicious, it will replace any other recipe you've ever tried!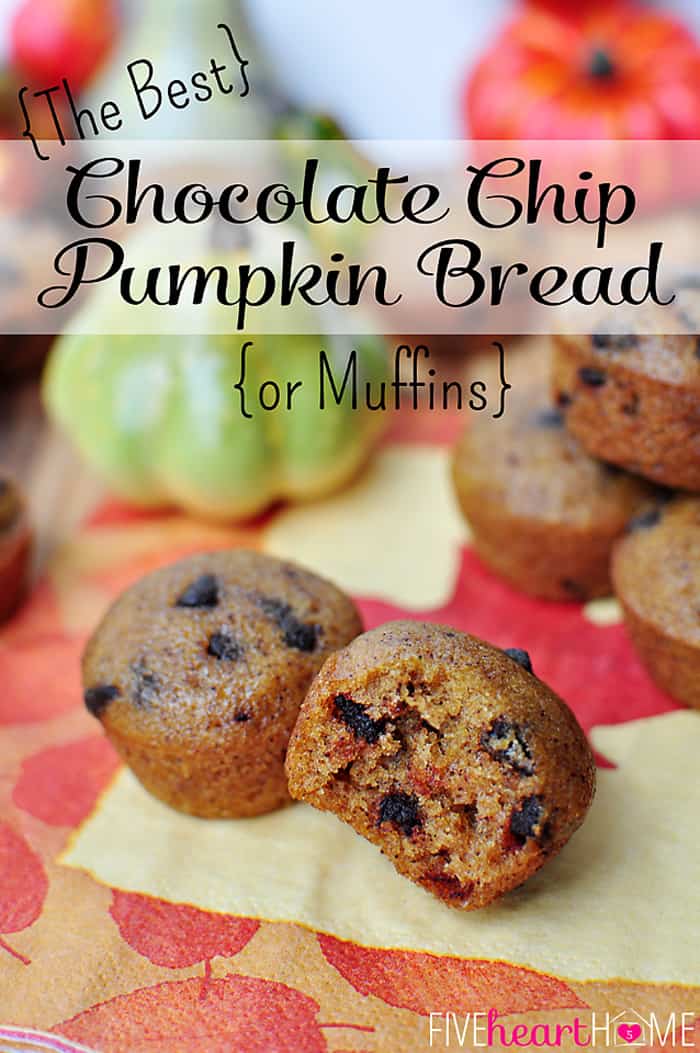 Thank y'all for sticking with me through all of the pumpkin posts this fall. It's been almost three weeks since my last one, so at least I'm trying to space out my addiction, right? 😉 However, considering the various incarnations of pumpkin that I've shared since September, I would be remiss not to include my all-time favorite, tried and true, classic pumpkin treat. It's not fancy or exciting, but it's oh-so-good. Today I'm sharing with you my top-secret recipe for the very best pumpkin bread (or muffins).
Okay, so it's not really top-secret. I've been making this pumpkin bread for over 10 years now, and every time I'm asked for the recipe (which is a lot), I always freely share it. But today, I'm letting y'all in on the fun, too!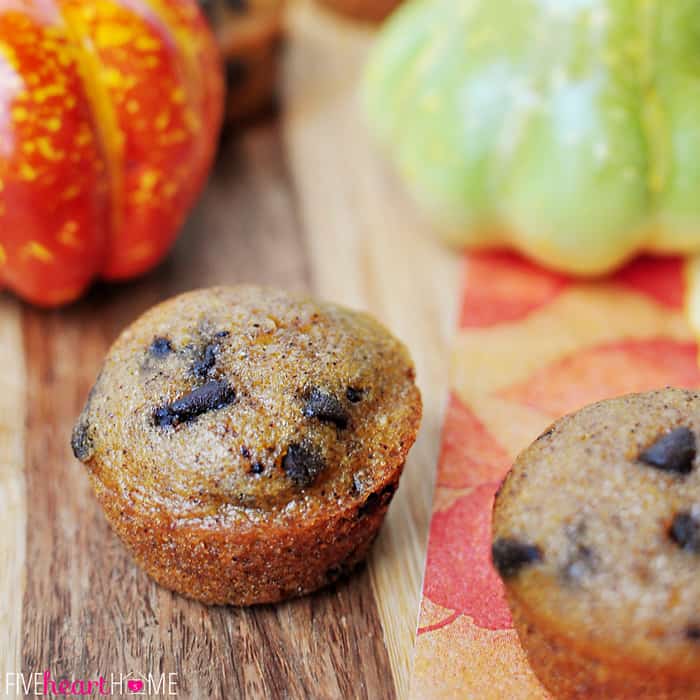 There are several reasons why this has become my numero uno version of pumpkin bread. First off, of course, is the taste. This pumpkin bread has just the right amount of pumpkin-ness balanced by just the right amount of spice (thank you, cinnamon and nutmeg). It's generously studded with mini chocolate chips as well, because, why not? And this bread is unbelievably soft and moist without being too heavy.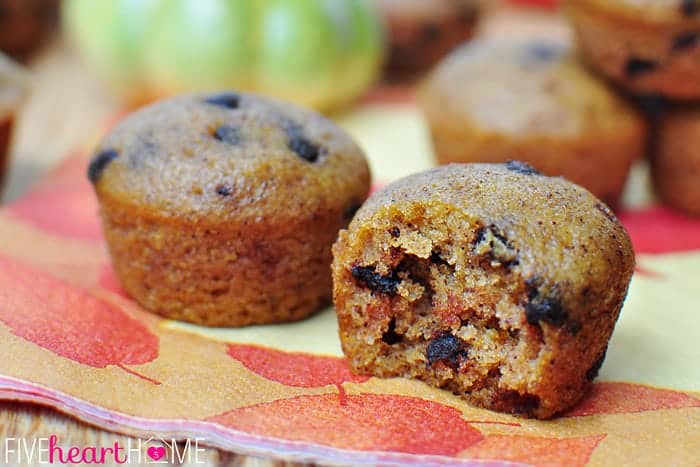 In addition to all of that, this recipe makes a lot. Once you try it, you'll realize that this is a good thing because (a.) one loaf isn't enough at the rate you'll find yourself flying through it, and (b.) it's fabulous for gift giving, as one batch can cover multiple gifts. It also freezes well, if you actually have the discipline to pace yourself with the first loaf and want to save the subsequent loaves for a later date. Now I don't have the discipline to pace myself when it comes to eating pumpkin bread in general, but I have baked this recipe ahead of time when expecting company or when preparing to go on a trip and it froze beautifully on those occasions.
This recipe is also flexible. Depending on your preference, you can churn out two large loaves, three more moderately-sized loaves, six mini loaves, dozens of muffins, or a boatload (~100) of mini muffins. You can see that on this particular occasion, I made mini muffins. They were a perfect treat for my son's preschool class, and the leftovers made for yummy bite-sized snacking.
So what are you waiting for? If you're already a fan of pumpkin bread, I think you'll love this version. If you're planning on whipping up baked treats this holiday season for your friends/neighbors/children's teachers, I know you'll love how this recipe can knock out multiple gifts in one batch. And I guarantee that your pumpkin bread recipients will appreciate not only your thoughtful gesture, but your delicious homemade treat, to boot!
The BEST Chocolate Chip Pumpkin Bread (or Muffins)
This soft, moist pumpkin bread -- perfectly spiced and studded with chocolate chips -- is so delicious, it will replace any other recipe you've tried!
Ingredients
3 1/2 cups flour
1 tablespoon baking soda
1 1/2 teaspoons salt
1 tablespoon cinnamon
1 teaspoon nutmeg
1 (15 ounce) can pumpkin puree
3 cups sugar
1 cup vegetable oil (canola, safflower, etc.)
2/3 cup water
4 eggs
1 teaspoon vanilla
2 cups mini chocolate chips
Instructions
Preheat oven to 350°F. Grease and flour two large (9 by 5-inch) loaf pans, or coat with nonstick cooking spray.
In a large bowl, whisk together flour, baking soda, salt, cinnamon, and nutmeg. In another large bowl, blend together pumpkin puree, sugar, oil, water, eggs, and vanilla until well incorporated. Slowly add in flour mixture, mixing until just blended. Fold in chocolate chips.
Divide batter between prepared pans. Bake for one hour, or until a toothpick inserted in the center comes out clean. Cool in pan for 5 minutes before turning out onto a wire rack to cool completely.
Notes
Loaf pans and muffin pans come in a variety of sizes, so the size of your pans will dictate how many loaves/muffins you get. Fill each pan about 2/3 full of batter. Below are the sizes of pans I've used and approximately how long they've needed to bake. If your pan sizes fall between these options, adjust the time accordingly. Regardless of the pans you use, consider these times a guideline, and bake until a toothpick inserted in the center comes out clean:
*Two 9 by 5-inch loaf pans -- 60 minutes; *Three 7 by 3-inch loaf pans -- 50 minutes; *Six mini loaf pans -- 40 minutes; *Approximately 3 dozen regular muffins -- 20 to 22 minutes; *Approximately 100 mini muffins -- 12 to 14 minutes
https://www.fivehearthome.com/the-best-chocolate-chip-pumpkin-bread-or-muffins/
https://www.fivehearthome.com ~ All recipes and images on Five Heart Home are copyright protected. Please do not use without my permission. If you would like to feature this recipe, please rewrite the directions in your own words and give proper attribution by linking back to this blog.
Adapted from AllRecipes.
♥ More pumpkin goodness…
All-Natural Pumpkin Spice Coffee Creamer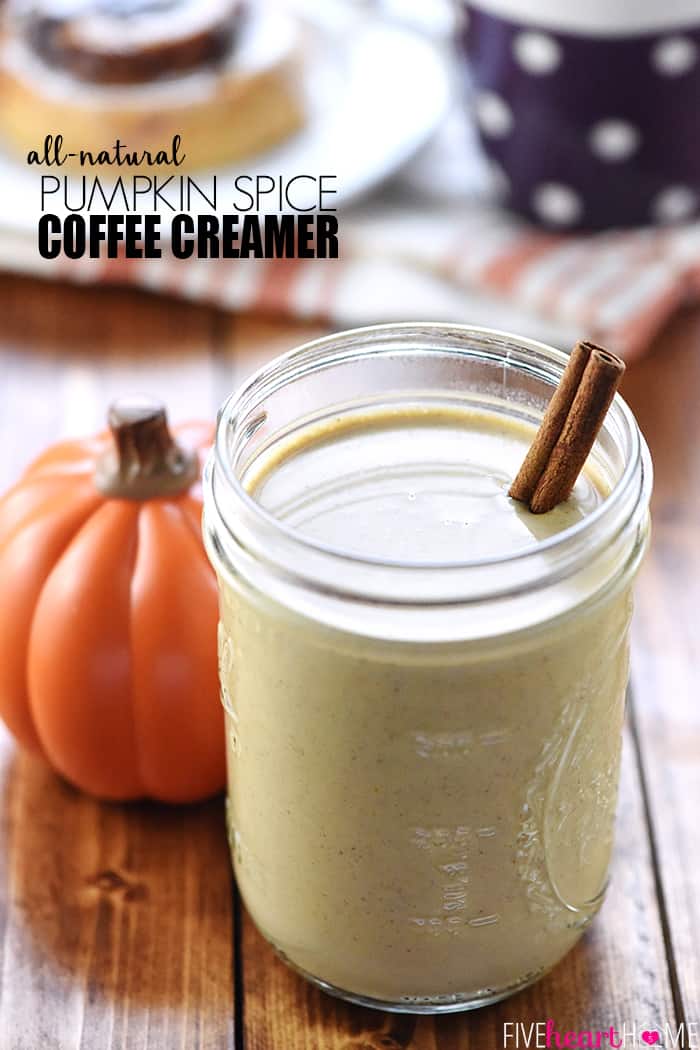 {Overnight} Slow Cooker Pumpkin Pie Steel Cut Oatmeal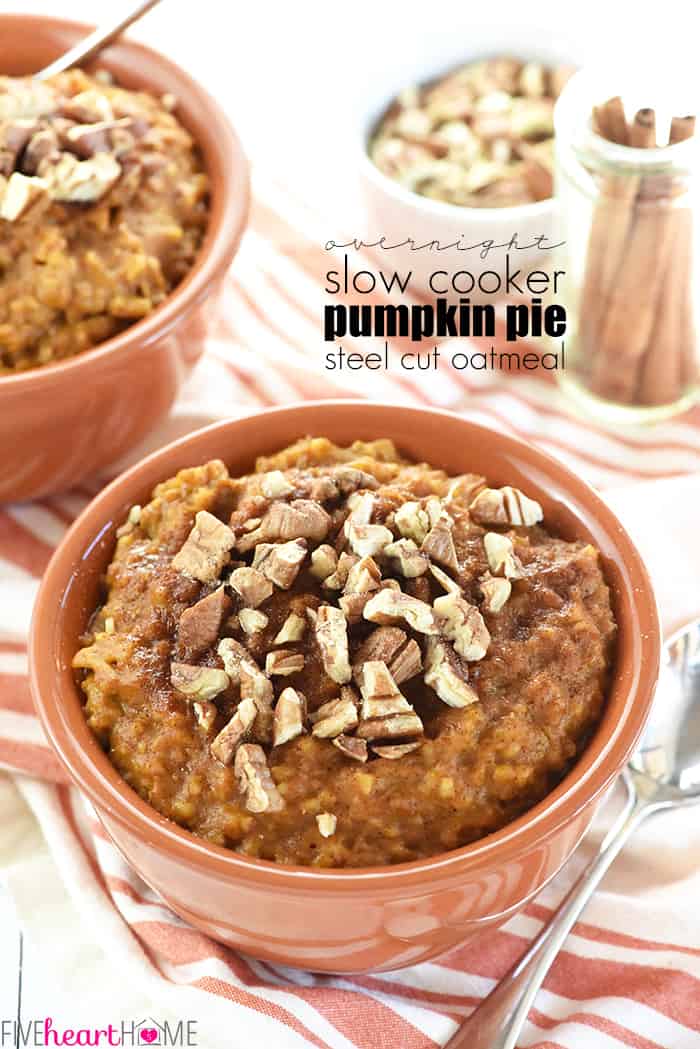 Pumpkin Bread & Chocolate Muffins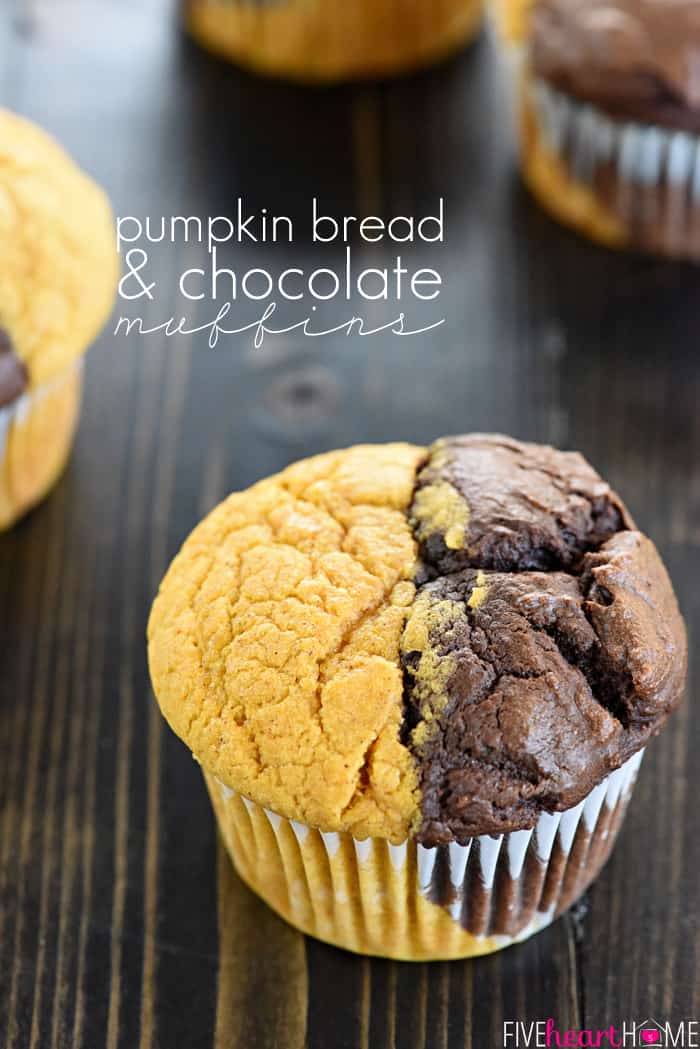 50+ Pumpkin Recipes


1