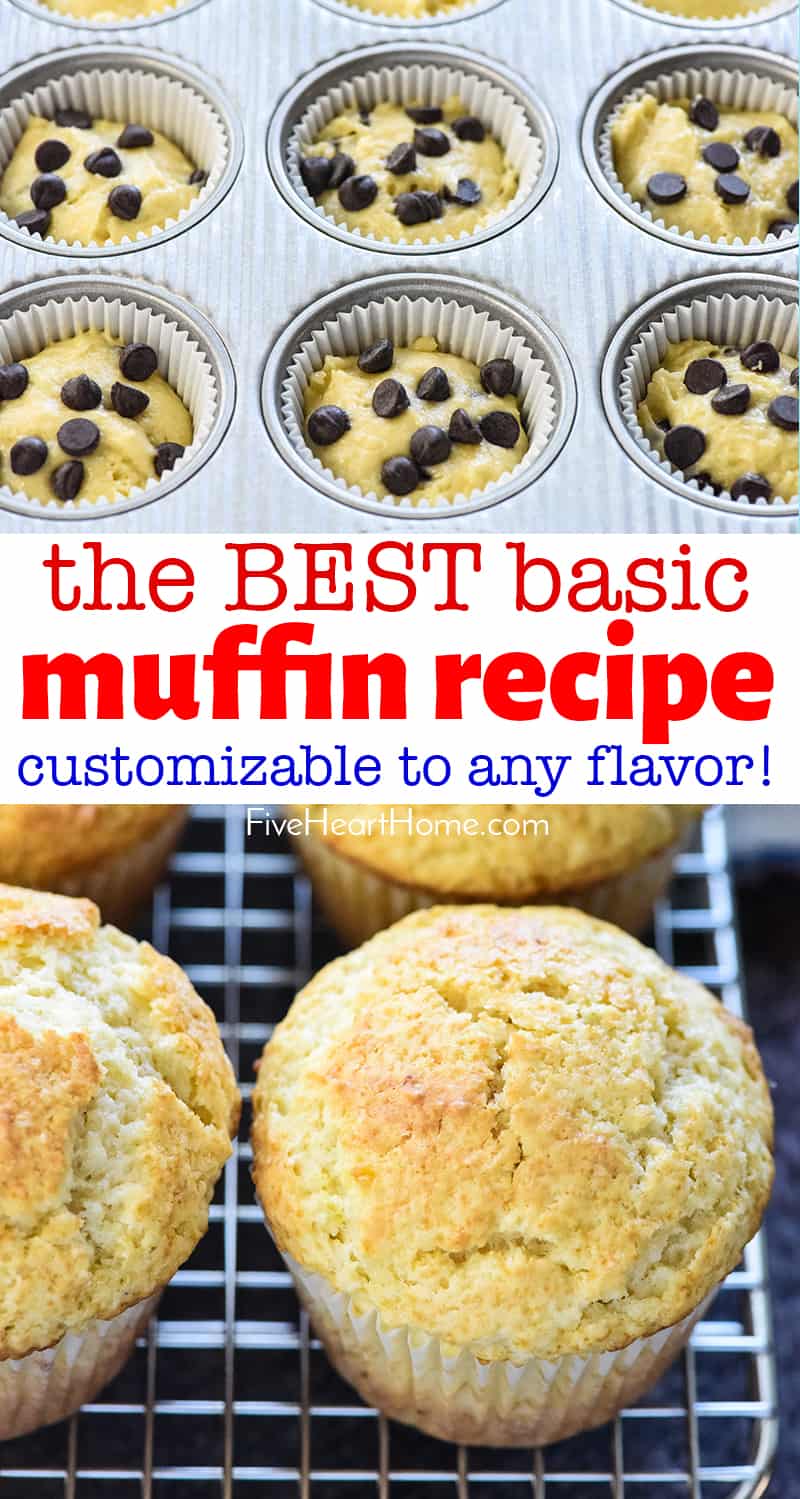 This BEST Basic Muffin Recipe is a plain batter yielding soft, yummy muffins that are easy to jazz up with your favorite add-ins...berries, diced fruit, chocolate, raisins, nuts, coconut, and more! For muffins that are infinitely customizable, this is the only recipe you'll ever need!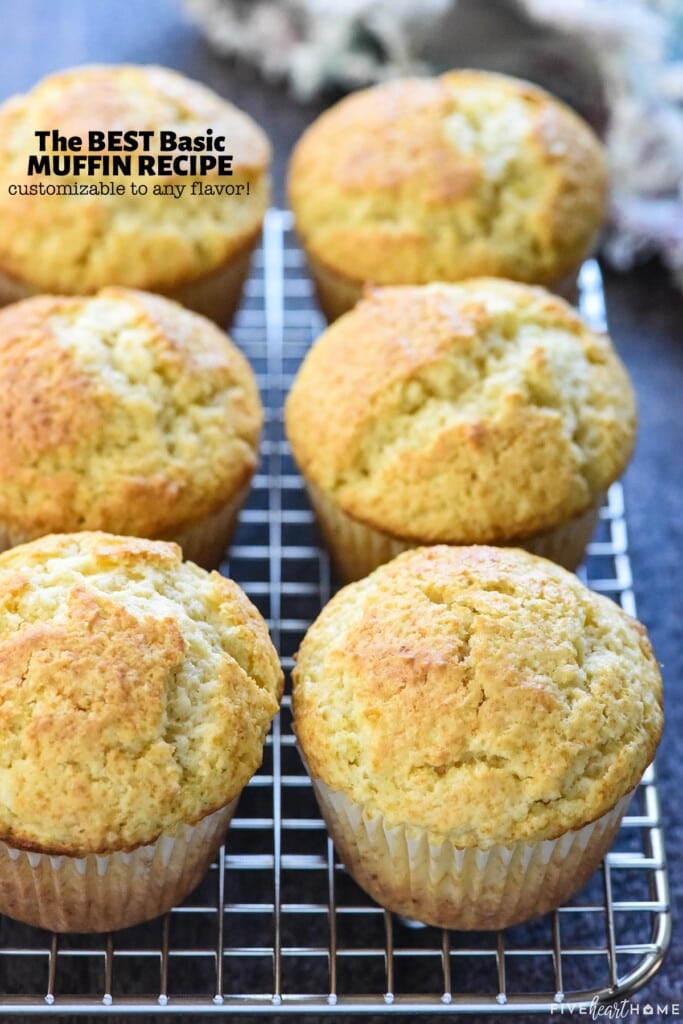 If you're a fan of yummy muffins, you'll also love Banana Blender Muffins, Oatmeal Spice Muffins, and Carrot Cake Muffins!
Muffins are one of those easy-to-bake, fun-to-eat recipes that are suitable from breakfast to snack time to dessert. Why? Because there are infinite variations, of course! They can be sweet or savory...healthy or decadent...plain and simple or loaded with goodies. And with a tried-and-true Basic Muffin Recipe like the one I'm sharing today, you can quickly whip up a batch of homemade muffins in any ol' flavor you like!
This Basic Muffin Recipe yields muffins that are soft and tender yet substantial. These muffins are more dense than they are fluffy, but I promise that that's not a bad thing! It simply means that they have a pleasant texture that will stand up to pretty much any ingredient you'd like to stir in or sprinkle on top.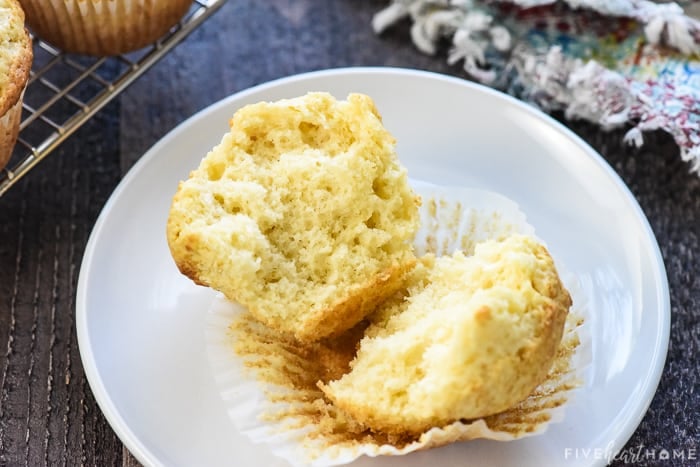 Ingredients
So what simple ingredients are required to make this basic muffin recipe?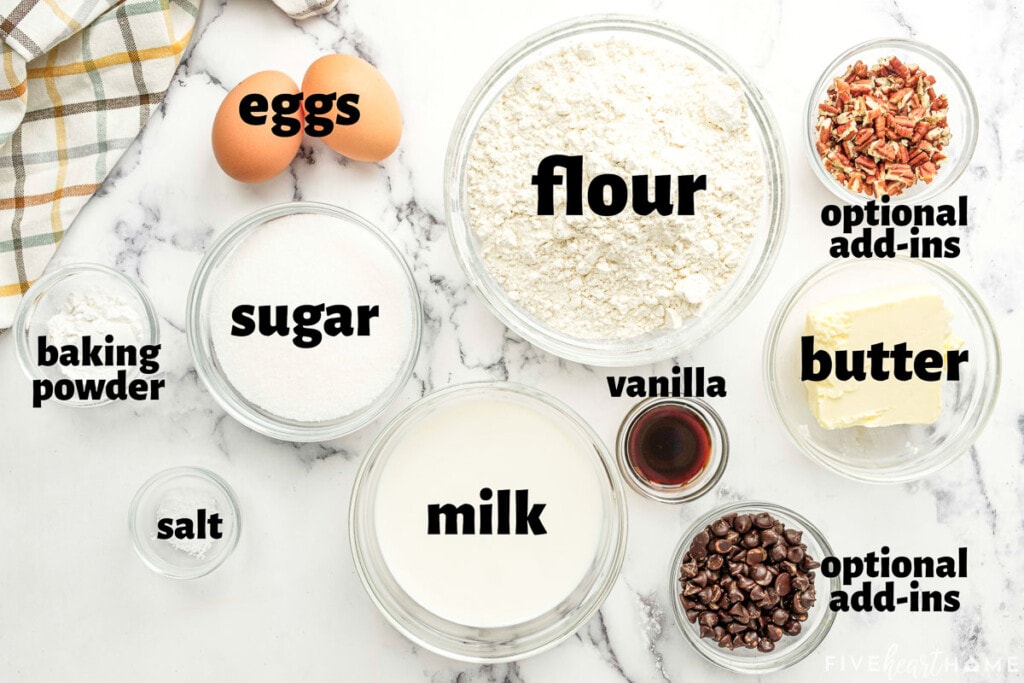 Flour. All-purpose white flour is the standard for most basic muffin recipes. However, to keep them on the healthier side, I almost always make my muffins with whole wheat pastry flour. This 100% whole wheat flour gives baked goods a lighter taste and texture than that achieved using regular whole wheat flour. In other words, your muffins will taste like they're made with standard white flour while actually having the nutritional value of 100% whole wheat!
Granulated sugar.
Baking powder + salt.
Butter. Unsalted (I like to control the salt) and at room temperature.
Eggs.
Milk. You can use whole milk, low-fat milk, or your favorite non-dairy milk alternative, such as unsweetened almond milk.
Pure vanilla extract. Don't skimp on it! And depending on your add-ins, swapping out the vanilla for a different extract (or incorporating an additional extract on top of the vanilla) might be appropriate.
Optional add-ins. Scroll down for lots 'o inspiration!
How to Make a Basic Muffin Recipe
(The below photos are intended to be helpful, but please refer to the recipe card at the bottom of this post for FULL DIRECTIONS.)
This muffin recipe is easy to make in one bowl in just a few steps.
Whisk together the dry ingredients and then add the cubed, softened butter to the bowl.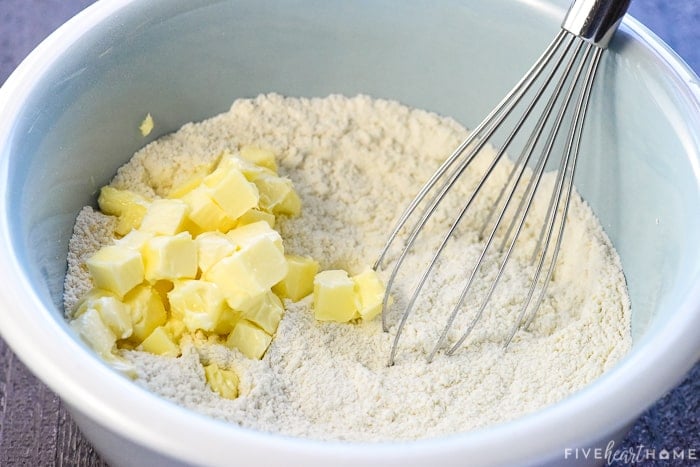 Work the butter into the flour mixture using a fork or pastry cutter.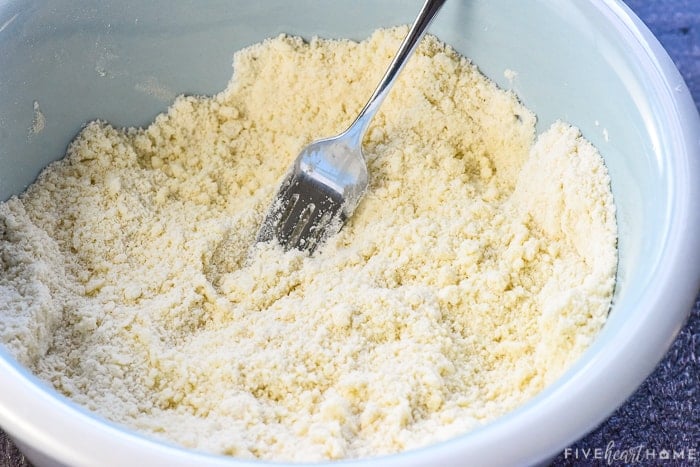 Mix in the wet ingredients, stirring until just combined.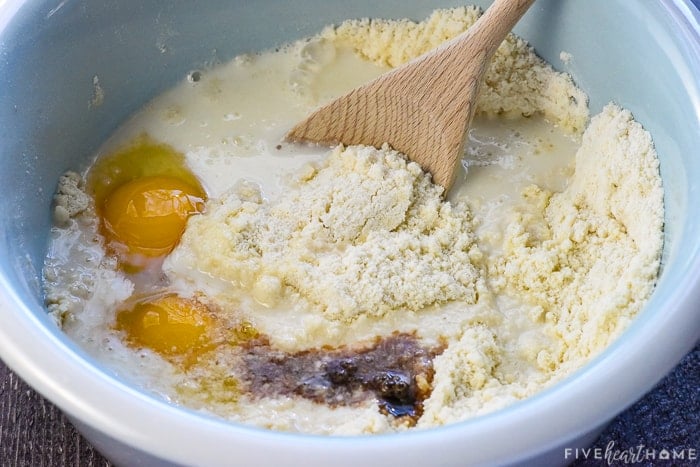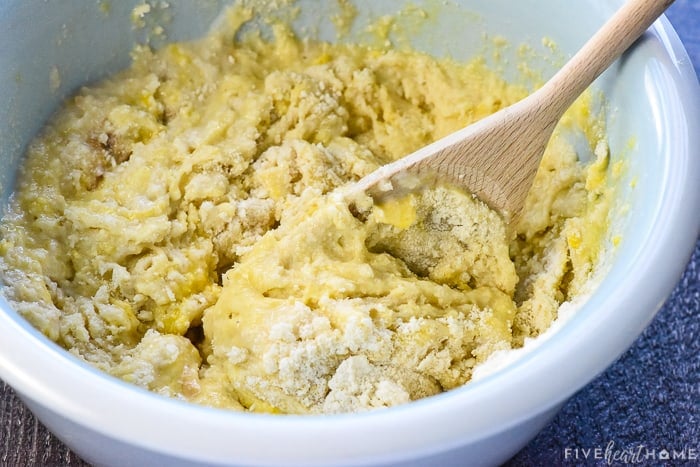 Scoop the batter into lined muffin pans and bake!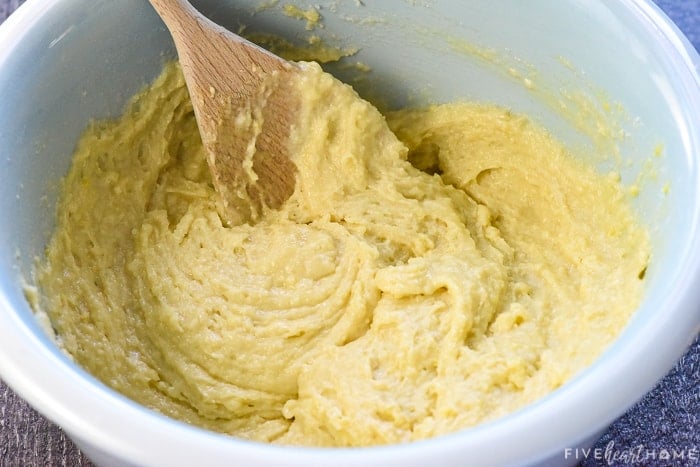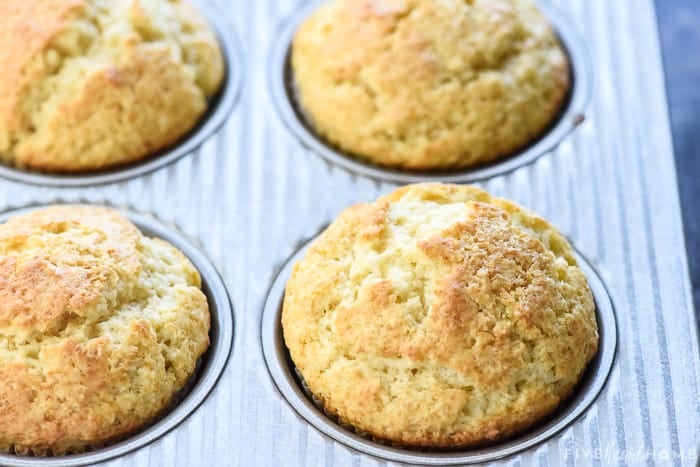 If you are stirring in add-ins, you'll want to do so during step 3. And if you're sprinkling goodies on top, you'll do that at the end…just before popping the pan into the oven.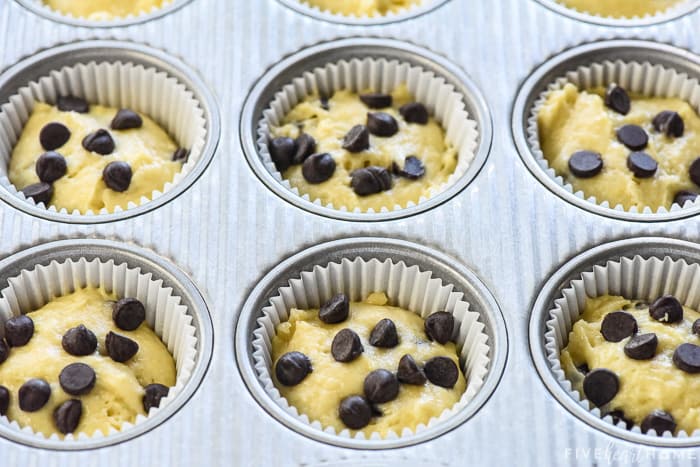 Jazzing Them Up
This muffin batter is tasty enough to bake plain, but I almost always like to stir in something to jazz it up. It may be seasonal fruit, crunchy nuts, or simple chocolate chips. Or it may be a combination of ingredients to yield a certain effect. For example...
Tropical Muffins = pineapple tidbits + flaked coconut + chopped macadamia nuts
ChocoCherry Muffins = semisweet chocolate chips + dried cherries + sliced almonds
Ya catch my drift? 😉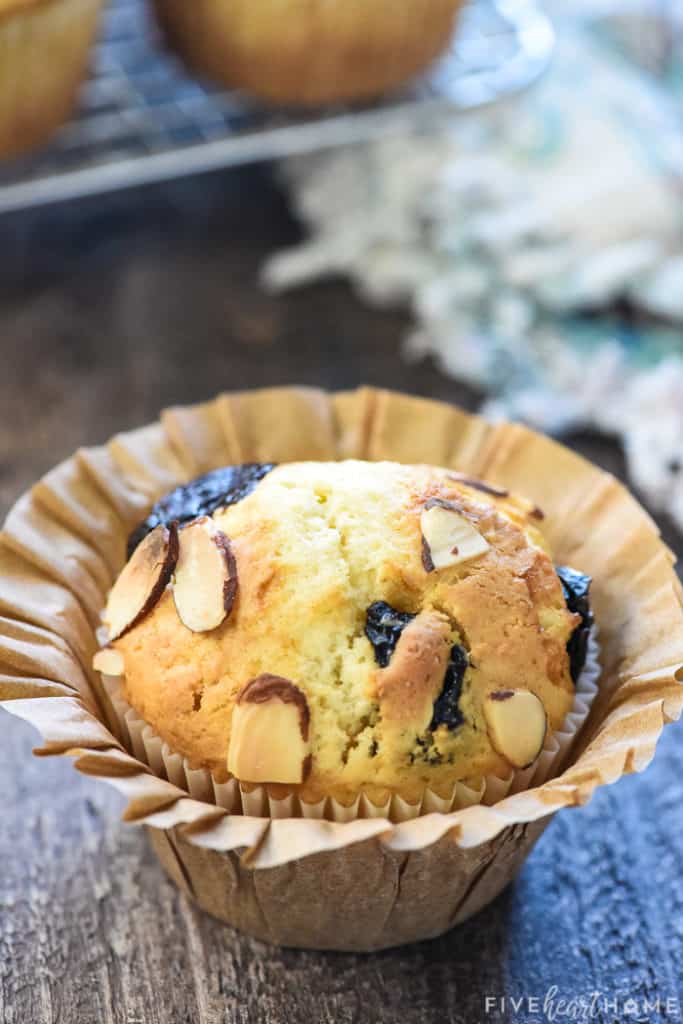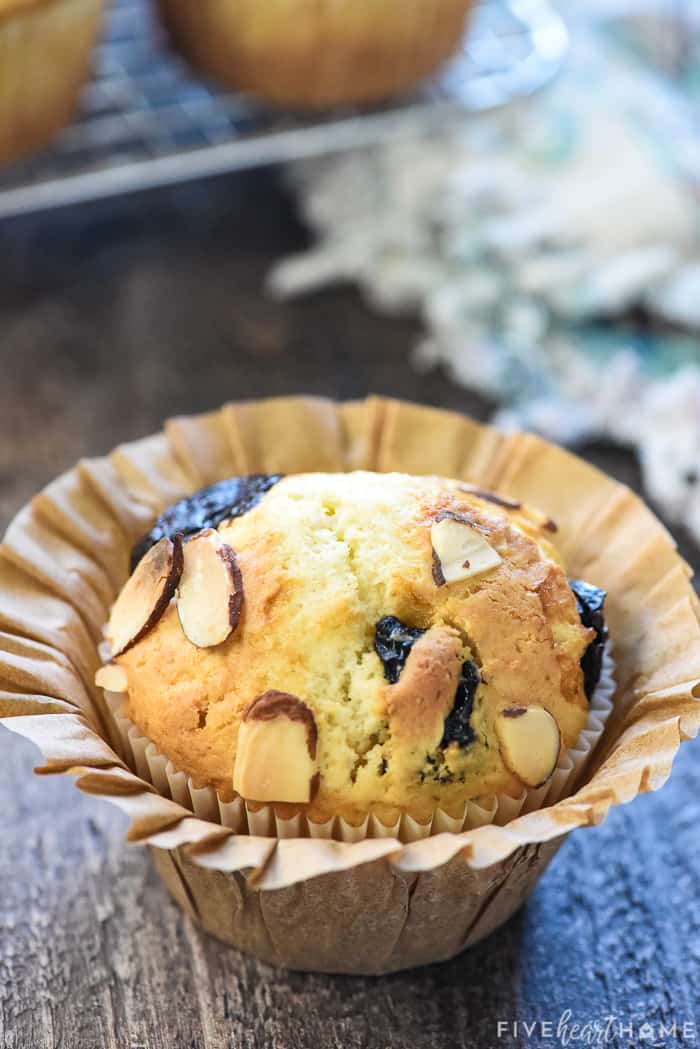 Add-In Ideas
Here are some add-in ideas to get you started. Don't feel limited by this list, however...the sky's the limit! And remember that you can always combine a few of your favorites (like my examples above).
Whole Berries. Blueberries, raspberries, blackberries, or cranberries. Berries may be fresh or frozen. However, if you're using frozen, don't thaw them first or they'll get mushy and break up when you stir them in.
Diced Fruit. Strawberries, apples, bananas, peaches, pears, pineapple, or rhubarb.
Citrus Zest. Orange, lemon, or lime zest add a puckery punch.
Chocolate. Semi-sweet, milk, or white chocolate in chips, chunks, or shavings...choose your favorite! Or for a different sweet and festive option, stir in colorful sprinkles instead.
Dried Fruit. Raisins, dried cranberries, dried cherries, or dried mango are all options, though large pieces of dried fruit may need to be chopped first.
Coconut. Flaked or shredded coconut...sweetened or unsweetened.
Nuts or Seeds. Chopped nuts add texture and crunch, particularly when they're toasted first. I typically add pecans, walnuts, or almonds to my muffins. Poppy seeds or pepitas (pumpkin seeds) are also nice additions.
Granola. Store-bought or homemade granola both work great.
Spices. Cinnamon, nutmeg, allspice, ginger, or even pumpkin pie spice add warm spice to your muffins, used individually or in combination.
Extracts. Vanilla is pretty standard, but almond, lemon, or rum extract can lend a unique flavor profile to a batch of muffins. I recommend using pure (not artificial) extracts when at all possible.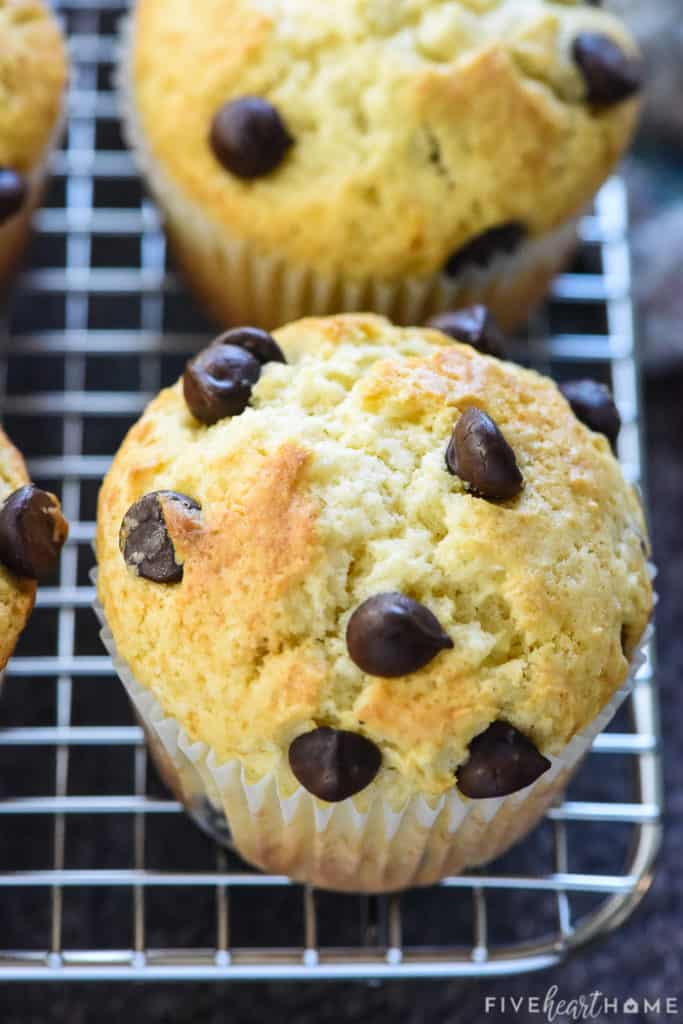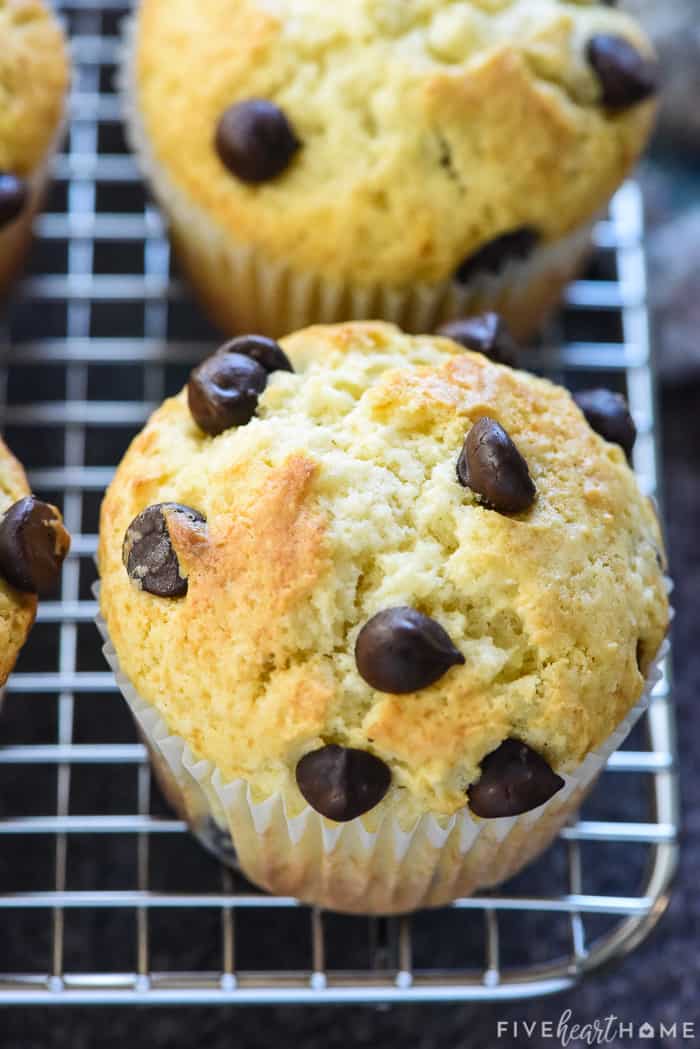 More Customization Ideas
To make gluten-free muffins, substitute a Gluten-Free 1-to-1 Baking Flour for the regular flour.
For muffins where you add fruit, you may swap out a portion of the milk in the recipe for the corresponding fruit juice. The amount of juice to use will depend on how "strong" it is. For example, to make apple muffins, I'd replace ½ cup of the milk with apple juice (in addition to stirring some diced apples into the batter). But to make lemon muffins, I'd only replace ¼ cup of the milk with lemon juice (in addition to stirring in some lemon zest). This is because apple juice isn't as strong/tart/puckery as lemon juice, so more of it may be used.
Keep in mind that you can also sprinkle some goodies (such as granola or streusel or rolled oats) on top of your batter-filled muffin liners. This can be instead of or in addition to mixing add-ins into the batter.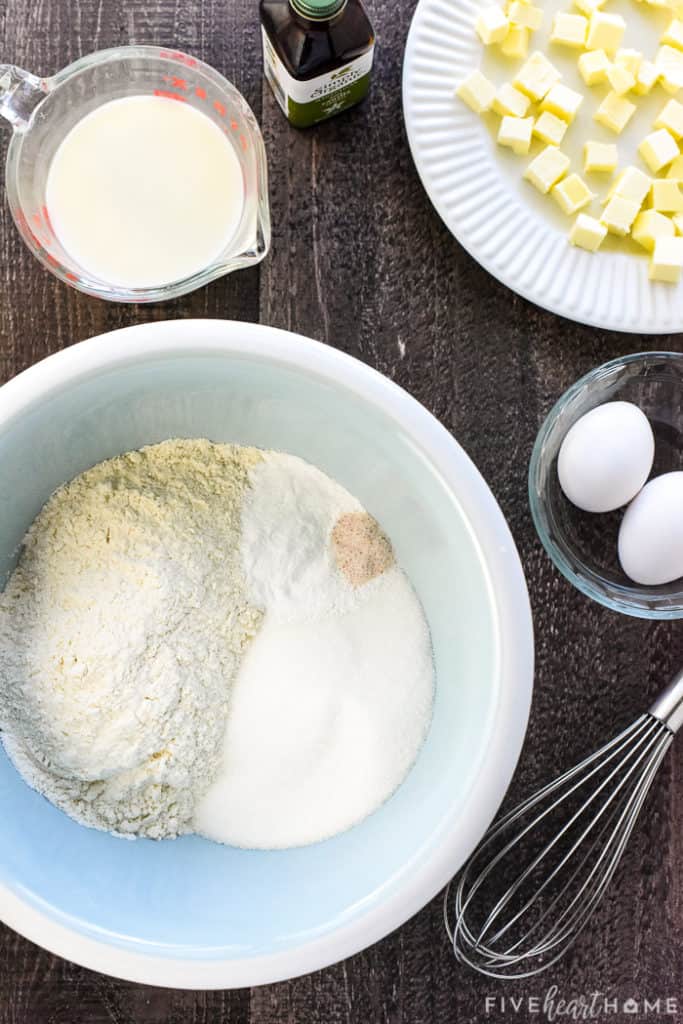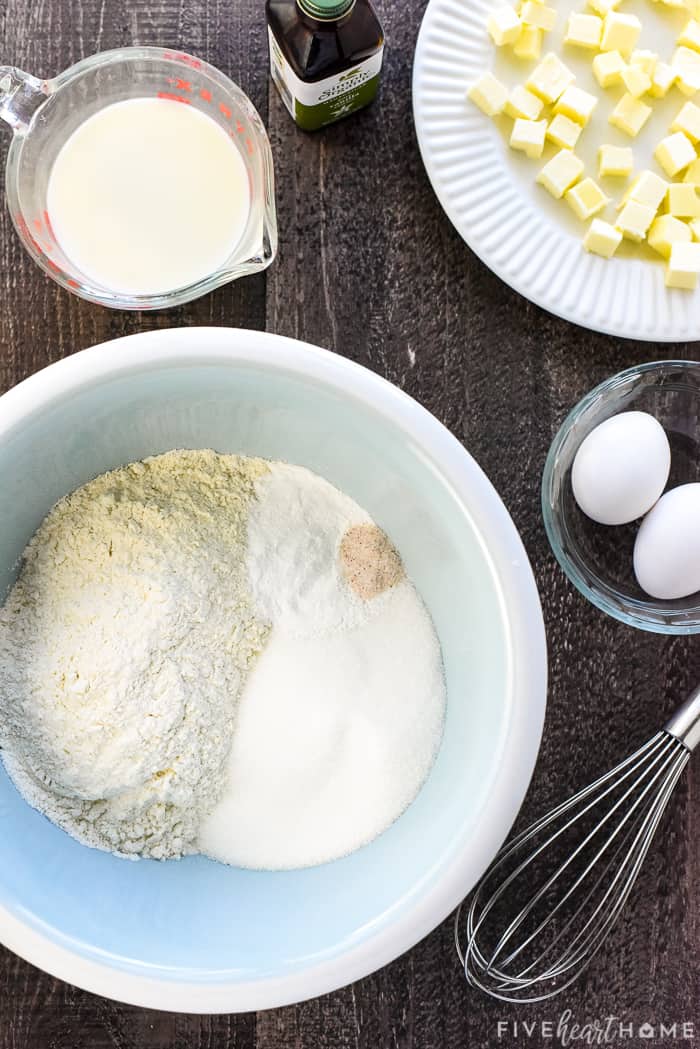 Helpful Tips, Tricks, & Equipment
I like to use a cookie scoop to fill my muffin cups. This helps me avoid making a big mess when I try to pour and/or spoon muffin batter into the pans.
If you do drip batter on your pan, wipe up the spill before baking. Otherwise, it will be that much harder to scrub off after it's baked onto the pan.
My favorite muffin pan is non-stick and quick-release, though I still typically use muffin liners.
Whole wheat pastry flour is one of my must-have pantry staples. It's different than regular whole wheat flour, and it's the key to achieving baked goods that are light and airy as opposed to heavy and dense. However, if you're making your muffins gluten-free, this flour is my favorite option.
Muffins are best enjoyed fresh. I store them in an airtight container at room temperature for up to two days. If any remain after a couple of days (which is rare), I pop them in the fridge.
So are you ready for some fun and tasty kitchen experimentation? You're just 30-ish minutes away from the best batch of muffins ever! Because not only is this basic muffin recipe yummy, but YOU get to incorporate your favorite goodies to make any batch of muffins YOUR OWN!
Happy baking, friends. 🙂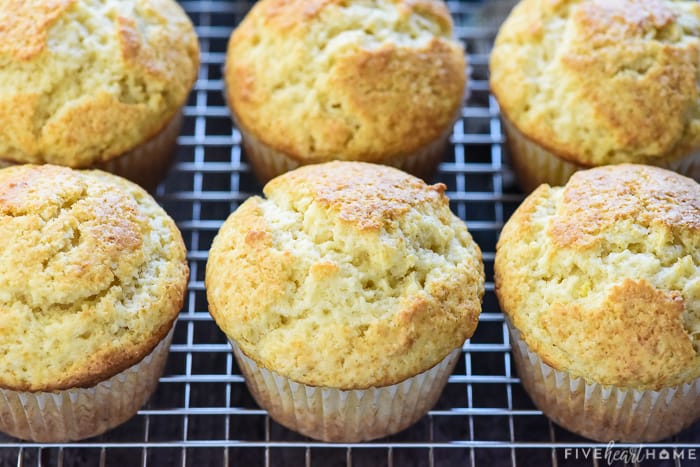 Basic Muffin Recipe Variations
Just to show you how easy it is to customize the flavor of this Basic Muffin Recipe with a few simple ingredient swaps or additions, here are some adaptations I've created over the years: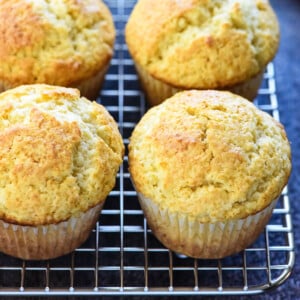 The BEST Basic Muffin Recipe
This BEST Basic Muffin Recipe is a plain batter yielding soft, yummy muffins that are easy to jazz up with your favorite add-ins...berries, diced fruit, chocolate, raisins, nuts, coconut, and more! For muffins that are infinitely customizable, this is the only recipe you'll ever need!
Print
Pin
Rate
Ingredients
3

cups

flour

,

all-purpose white OR whole wheat pastry flour

1

cup

granulated sugar

1

tablespoon

baking powder

¾

teaspoon

salt

½

cup

(1 stick) unsalted butter

,

at room temperature

2

eggs

1

cup

milk

2

teaspoons

pure vanilla extract

Up to 2 cups of add-ins

,

optional
Instructions
Preheat oven to 400°F. Line 16 to 18 muffin cups with paper liners (see Notes below).

In a large bowl, whisk together the flour, sugar, baking powder, and salt. Work in the softened butter with a fork or pastry cutter. Blend in the eggs, milk, and vanilla until all ingredients are incorporated. Stir in desired add-ins, but do not overmix. Evenly divide the batter between the prepared muffin cups.

Bake for 15 to 20 minutes or until the muffins just test done with a toothpick, taking care not to overbake. After a few minutes, remove the muffins from the pans and cool on a wire rack, or eat them warm out of the oven with a pat of salted butter.
Notes
Made as directed, this basic muffin batter (without any add-ins) will probably yield 15 or 16 muffins. If you mix in 1 to 2 cups of add-ins, the yield should increase to 18 muffins.
Store (completely cool) muffins in an airtight container at room temperature for up to two days. After that, transfer the container to the refrigerator.
Add-In Ideas: berries, diced fresh fruit, raisins or other dried fruit, chocolate chips, coconut, chopped nuts, granola, etc.
Calories:
181
kcal
|
Carbohydrates:
28
g
|
Protein:
3
g
|
Fat:
6
g
|
Saturated Fat:
4
g
|
Cholesterol:
33
mg
|
Sodium:
112
mg
|
Potassium:
114
mg
|
Fiber:
1
g
|
Sugar:
12
g
|
Vitamin A:
206
IU
|
Calcium:
52
mg
|
Iron:
1
mg
Post originally published on August 27, 2019, and updated on September 25, 2020, and April 24, 2023.