The perfect balance of sweet, spicy, and smoky, Candied Cashews with Honey, Chipotle, + Lime are baked to perfection and completely addictive, making them a fantastic food gift or a tasty party snack!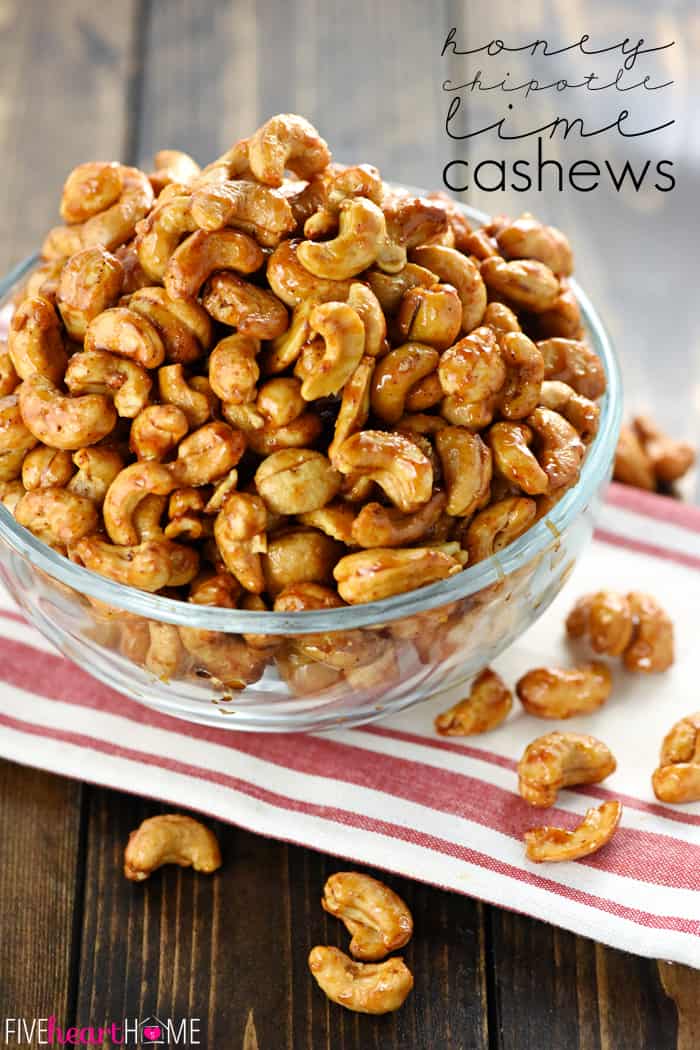 If you're a fan of nuts, you'll also love Healthy Trail Mix, The BEST Pecan Pie, and Brain Healthy Salad!

Say hello to my newest favorite snack, friends...Candied Cashews with Honey, Chipotle, + Lime!
They're sweet. They're spicy. They're smoky with a hint of lime. AND THEY ARE POSITIVELY ADDICTIVE. As in, I polished off an entire batch pretty much by myself in an embarrassingly short period of time. Because, you know, blog testing purposes. Consuming copious of amounts of cashews in an effort to ensure quality control is a small sacrifice to make for my loyal readers. 😉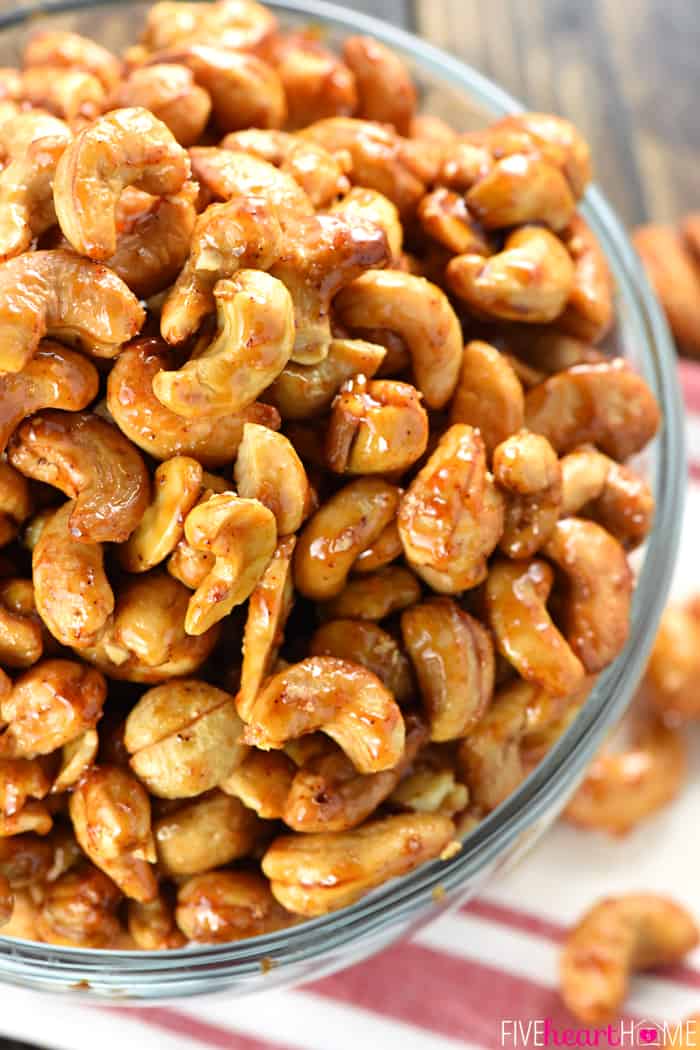 How to Make Them
In addition to the amazing flavors co-mingling on these nuts, these Candied Cashews are a snap to make.
Toss a mixture of honey, brown sugar, lime juice, chipotle powder, and salt with whole cashews.
Bake until glazed and toasty.
And that's it!
In fact, the most effort that this recipe really requires is occasionally stirring the cashews while they cook and frequently stirring them as they cool (so as to minimize sticking). But that little bit of work is well worth it when you taste the final results!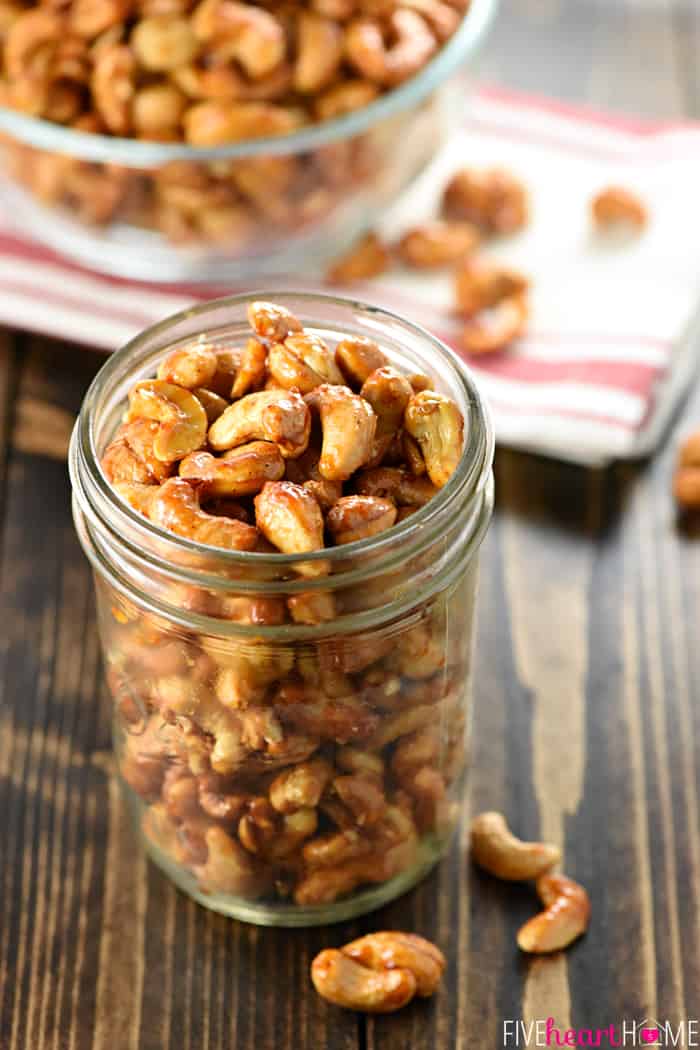 A Little Touch of Chipotle
If you're not already familiar with chipotle powder (my bottle actually says Chipotle Chile Pepper) you should remedy that, STAT. It's my favorite way to add a subtle smoke to recipes without relying on something like liquid smoke (of which, quite frankly, I'm a little leery because I've never understood exactly how smoke can be transformed into a liquid???).
Chipotle powder is simply ground-up, smoke dried jalapeños. Hence, it boasts a nice bit of heat in addition to its smokiness, which lends these Candied Cashews a delightfully spicy kick. You can tweak it up or down depending on your preferences, but don't leave it out!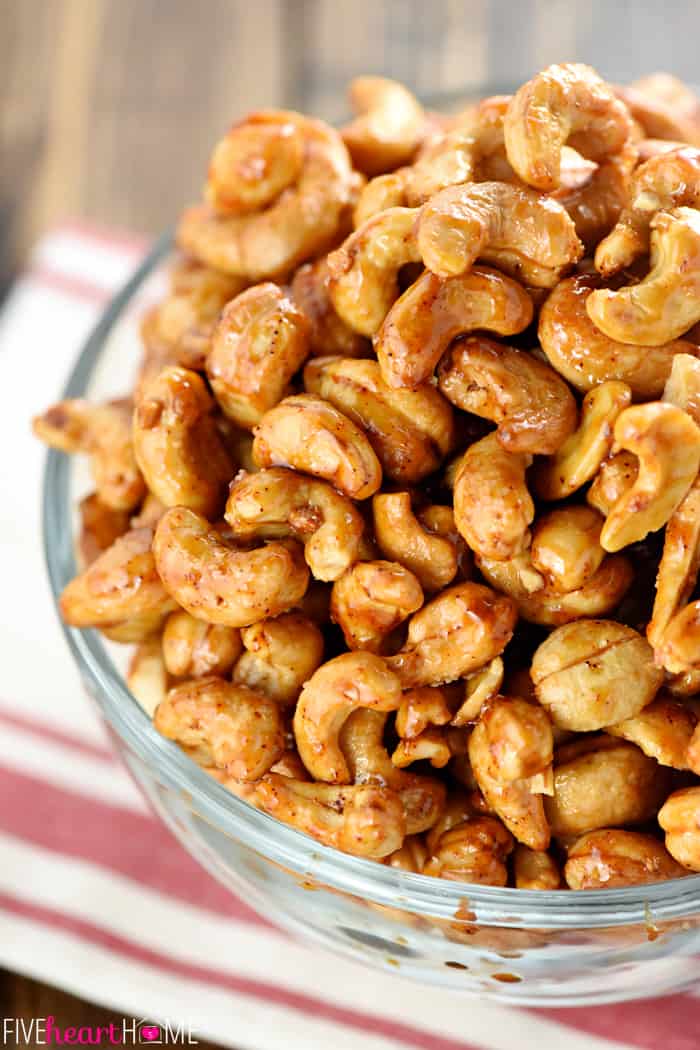 Frequent Stirring Required
Balancing out the spicy, smoky chipotle powder in this recipe is sweet honey. You want to be sure to cook these nuts long enough so as to dry them out a bit (but not too long, as they can go from perfectly toasted to charred in mere minutes). And you definitely want to be sure that you stir them every 8 minutes while cooking and then almost continuously as they cool.
I also like to scoop the nuts onto a clean, cool, rimmed baking sheet as soon as they come out of the oven for all of that aforementioned stirring action, which leaves behind any excess honey and cuts down on their ultimate stickiness.
One thing I noticed about these Candied Cashews is that they seemed to become less spicy and more sticky as the days went on. So if they're not going to be eaten soon after making them, just be prepared for subtle changes in their flavor and texture. Nevertheless, believe me when I say that we enjoyed them just as much on day 3 as on day 1.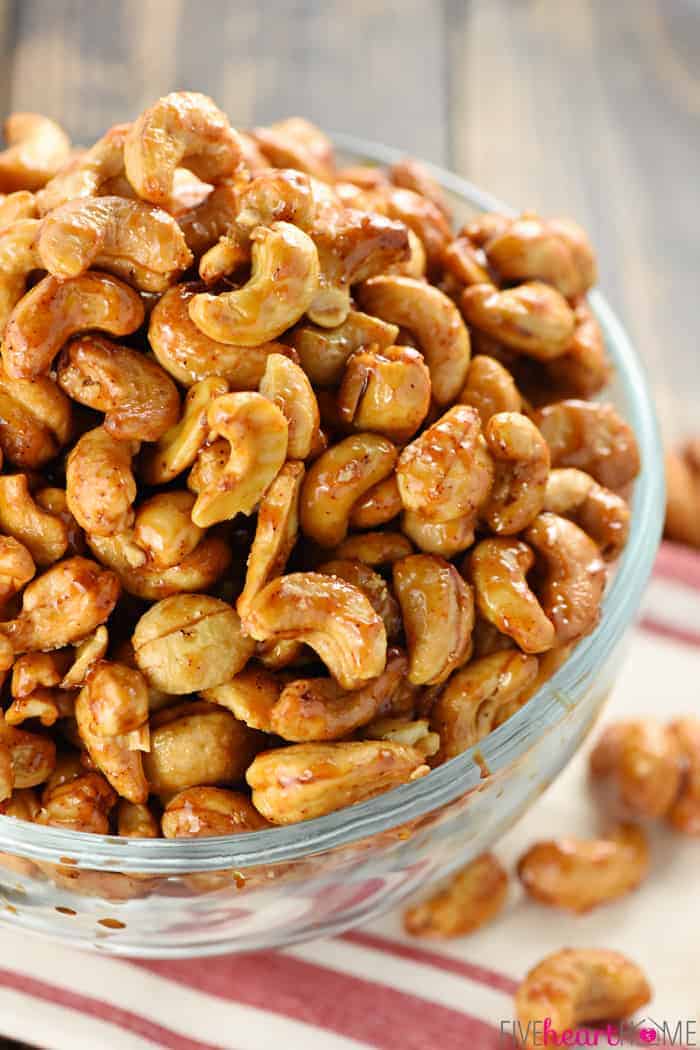 So to sum things up, I highly recommend throwing together a batch of these Candied Cashews for your New Year's Eve festivities...or to jazz up a salad...or for your college football bowl game munching...or for your one-last-hurrah-before-the-January-diet-starts snacking.
They're easy to make and they're just plain yummy. AKA, they're the perfect way to close out another (whizzed-by-at-the-speed-of-light) year. Happy New Year, y'all!

More Tasty Recipes with Nuts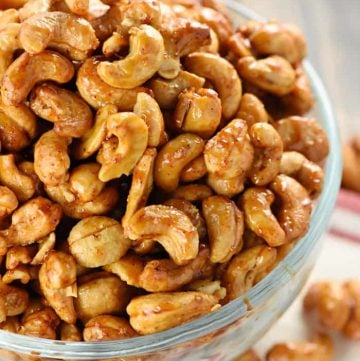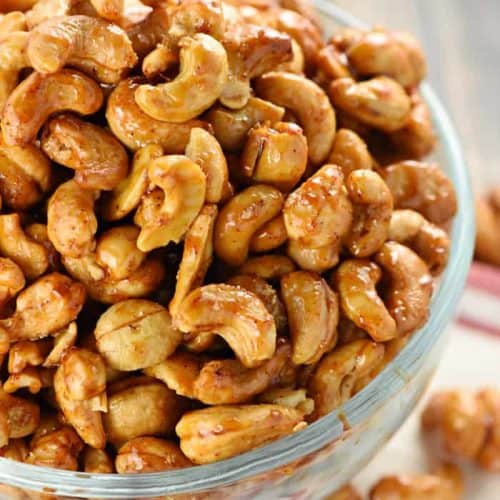 Candied Cashews
The perfect balance of sweet, spicy, and smoky, Candied Cashews with Honey, Chipotle, + Lime are baked to perfection and completely addictive, making them a fantastic food gift or a tasty party snack!
Print
Pin
Rate
Servings:
21
servings (Approximately 7 cups)
Ingredients
32

ounces

whole roasted unsalted cashews

,

about 6 ½ to 7 cups

2

tablespoons

vegetable oil

,

such as canola, plus more for oiling pan

⅓

cup

light brown sugar

,

packed

¼

cup

honey

2

tablespoons

freshly squeezed lime juice

2

teaspoons

ground chipotle powder

,

ground chipotle chile pepper

2

teaspoons

sea salt

,

plus more to taste
Instructions
Position rack in center of oven and preheat oven to 350°F. Lightly oil a large (such as a 12x18x1-inch) rimmed sheet pan and set aside.

Put cashews in a large bowl. Mix in canola oil. In a small bowl or large measuring cup, whisk together brown sugar, honey, lime juice, chipotle powder, and salt. Pour over cashews and toss to evenly coat. Spread cashews onto prepared sheet pan.

Bake for 24 minutes, stirring every 8 minutes. At that point, bake for a few more minutes until nuts are glazed and golden brown (total baking time will probably be between 25 and 30 minutes). Remove pan from oven and use a slotted spoon or spatula to transfer nuts to a clean sheet pan. Stir every minute or two until nuts are cooled. Taste and season with additional salt, if desired. Once completely cooled, store in an airtight container at room temperature.
Notes
You may add more or less chipotle powder depending on how spicy you'd like your nuts.
Stirring frequently while baking and cooling is the key to minimizing stickiness. Once cool, don't pack cashews down into their storage container or they are more likely to stick together in clumps.
Calories:
277
kcal
|
Carbohydrates:
20
g
|
Protein:
8
g
|
Fat:
20
g
|
Saturated Fat:
3
g
|
Sodium:
231
mg
|
Potassium:
296
mg
|
Fiber:
1
g
|
Sugar:
9
g
|
Vitamin A:
55
IU
|
Vitamin C:
0.7
mg
|
Calcium:
20
mg
|
Iron:
3
mg
Adapted from Food Network