Cream Cheese Filled Cinnamon Roll Cups are as simple as fitting refrigerated cinnamon rolls in a muffin pan, filling them with sweetened cream cheese, and baking...it's a fun, easy way to make any morning feel special!

Happy almost Valentine's Day! I have to admit that I'm rather excited that V-Day is falling on a Saturday this year because we're going to make a family day out of it. The hubby and I had a babysitting offer come up earlier this week, and since we do our best not to turn those down, we decided to beat the Valentine's restaurant crowds while the gettin' was good. So with our romantic dinner out of the way, that leaves tomorrow to celebrate with the kiddos! Now that both boys are in school, it will be fun to have everyone together on Valentine's Day for a change.
Anyway, we're kicking off the morning with a special breakfast...and there aren't many breakfasts that my offspring enjoy more than cinnamon rolls! But the truth is, I really want to enjoy the holiday with my family and not be stuck in the kitchen all day. So I came up with a cinnamon roll-centered treat that starts with a can of refrigerated cinnamon rolls and turns them into something so much more. Say hello to Cream Cheese Filled Cinnamon Roll Cups!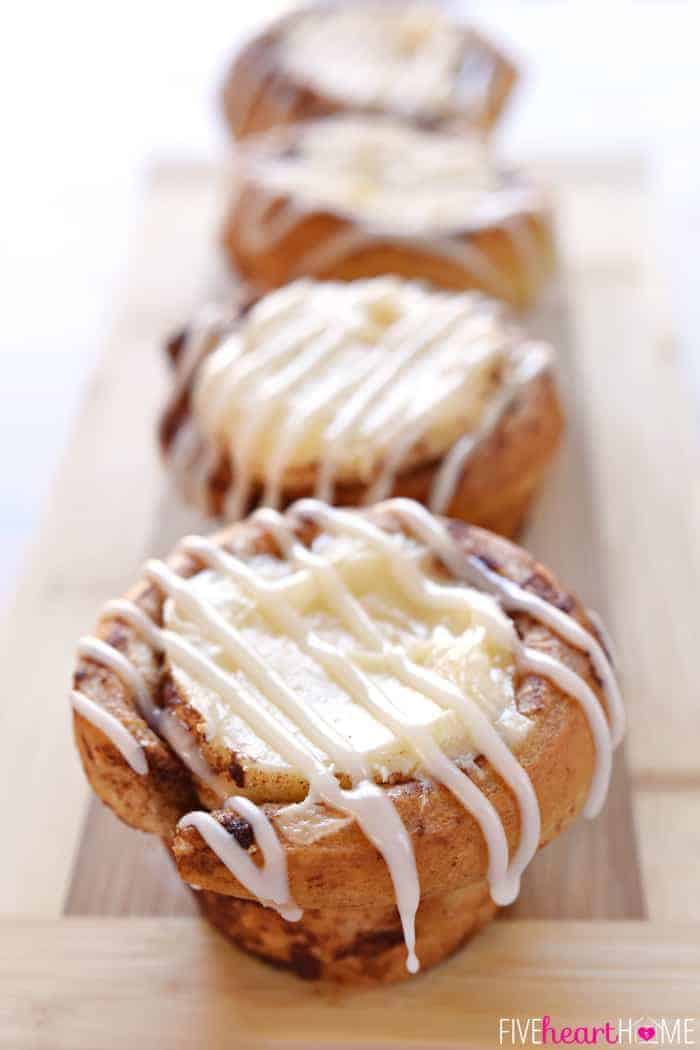 I was racking my brain last week trying to think of a creative yet easy way to transform a can of cinnamon rolls, and then I had the bright idea to incorporate cream cheese at the same time...because any time I'm afforded the opportunity to select a pastry or kolache, I alwaysalwaysalways choose the one with cream cheese filling. At first I was contemplating wrapping strips of cinnamon roll around cubes of cream cheese to make a variation of monkey bread, but then a vision of cinnamon roll muffin "cups" hit me like a bolt out of the blue! And what better way to fill them than with a sweetened, vanilla-infused cream cheese?
Now I'm going to be honest here...I've never seen a recipe like this before. But that's not to say that it hasn't been done before, because when you're a food blogger, pretty much everything has already been done in some form or fashion, whether you initially realize it or not. So I think I'm being original here, but if y'all have encountered a recipe similar to this before, don't burst my bubble, mkay? 😉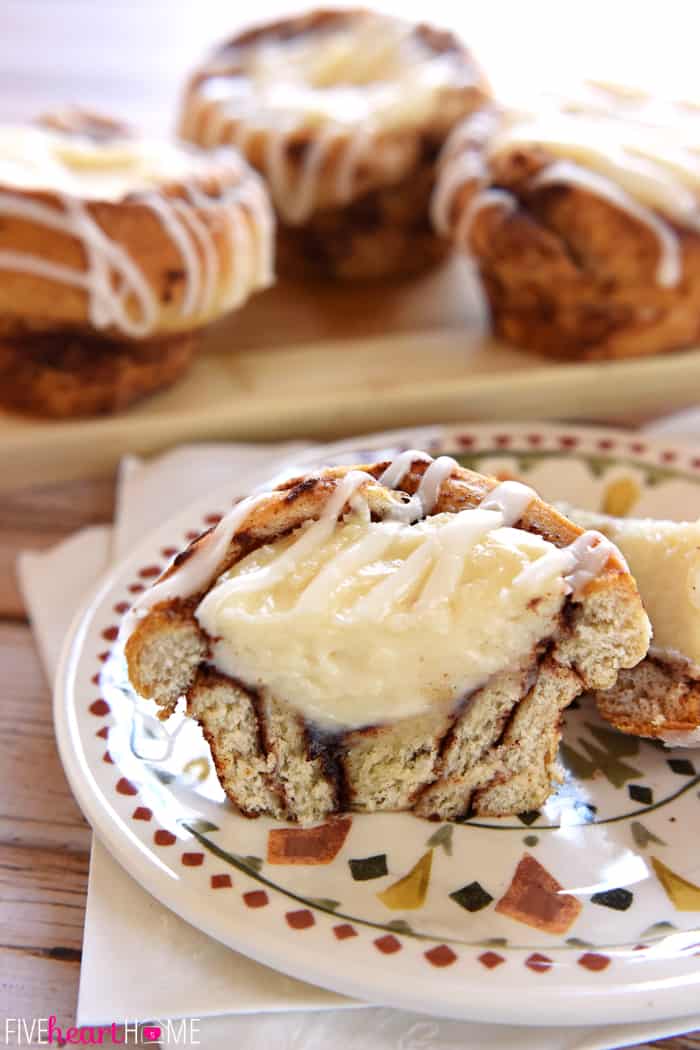 So how do we go about making these cinnamon roll cups, you ask? Well...it's elementary, my dear. I basically took a cinnamon roll and tore off a strip about equivalent in length to the outer "ring" of the cinnamon roll. That left a smaller intact cinnamon roll to fit down in the bottom of my greased muffin cup. Then I took the strip and used it to line the exposed part of the muffin cup on top of the cinnamon roll base. Does that make sense? Hopefully the below photo will help you visualize what I'm trying to explain here.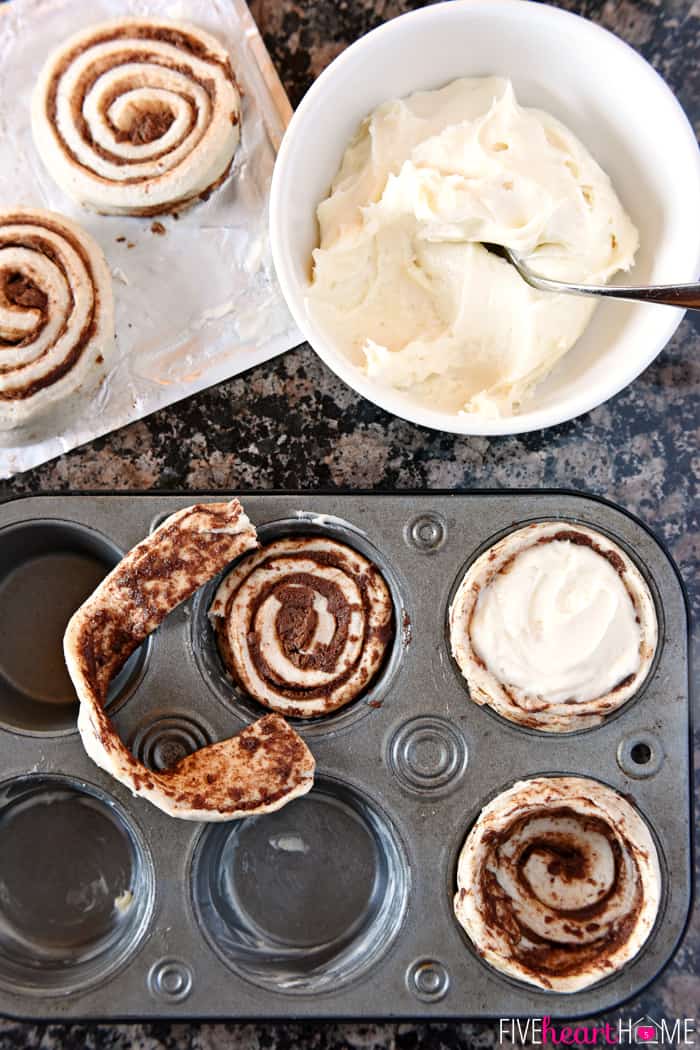 When you fit the strip on top of the cinnamon roll, press down lightly on the inside seam to make sure there's no gap. It's also ideal if your strip is long enough to overlap a bit. Be sure to press those ends together, too.
Then once you have your simple cream cheese mixture whipped up (softened cream cheese + powdered sugar + vanilla), scoop it into your cinnamon roll cups. Bake, drizzle with the little icing packet that came inside the tube of cinnamon rolls, and voilà! Cream Cheese Filled Cinnamon Roll Cup BLISS.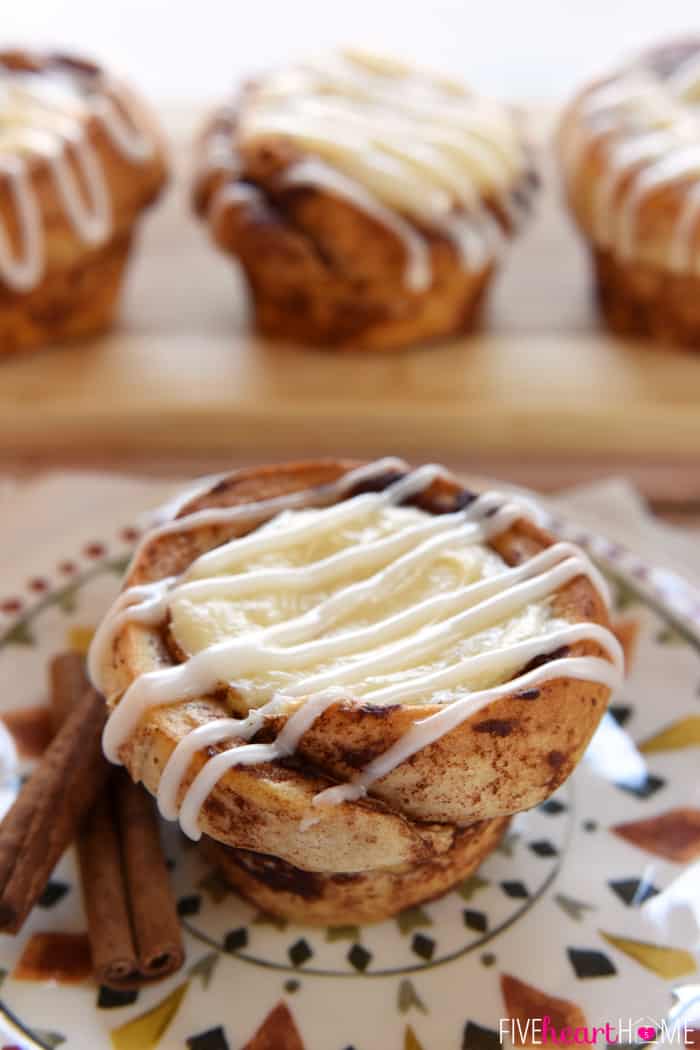 One last note...be sure that you use jumbo refrigerated cinnamon rolls for this recipe. I love the Immaculate Baking Company brand of refrigerated biscuits/crescents/cinnamon rolls, because if I'm going to buy prepared convenience items like that, I look for ingredients that I can recognize and pronounce (and this is not an ad...Immaculate Baking is just the most natural brand I've found for this type of product, and y'all know I try to avoid icky ingredients). Regardless of your favorite brand, as long as you're using the big cinnamon rolls that come five to a can, you should be good to go!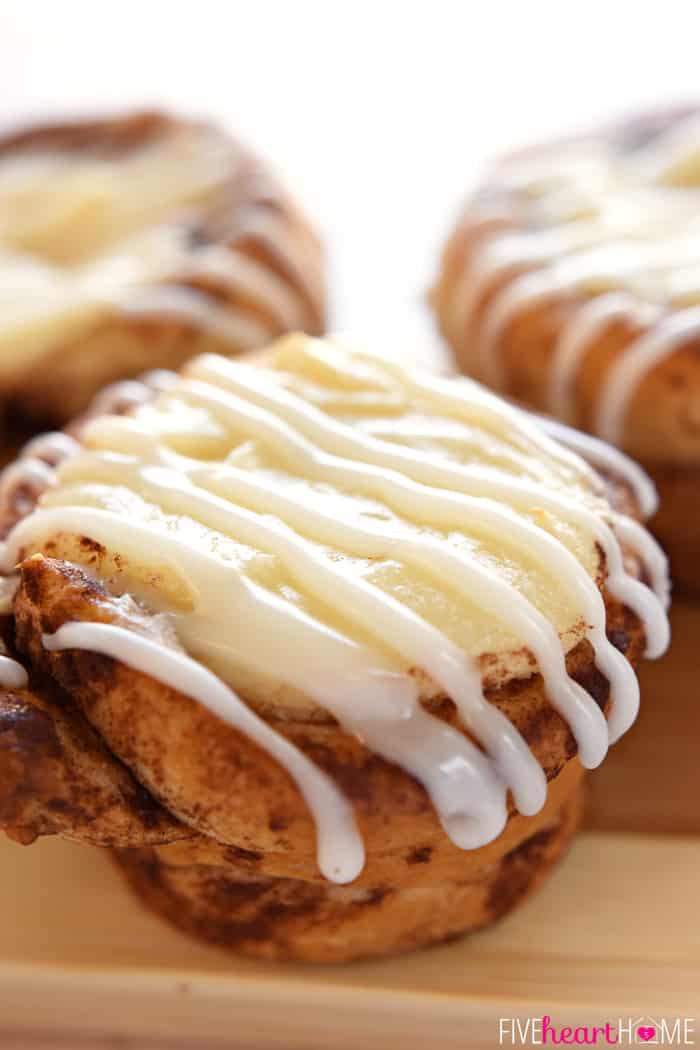 If you're the type that acknowledges and/or celebrates Valentine's Day, I hope you have a great one! And if you're not, well...I hope you get to try these Cream Cheese Filled Cinnamon Roll Cups in the absence of any hearts and flowers. 😉 But definitely try them nonetheless!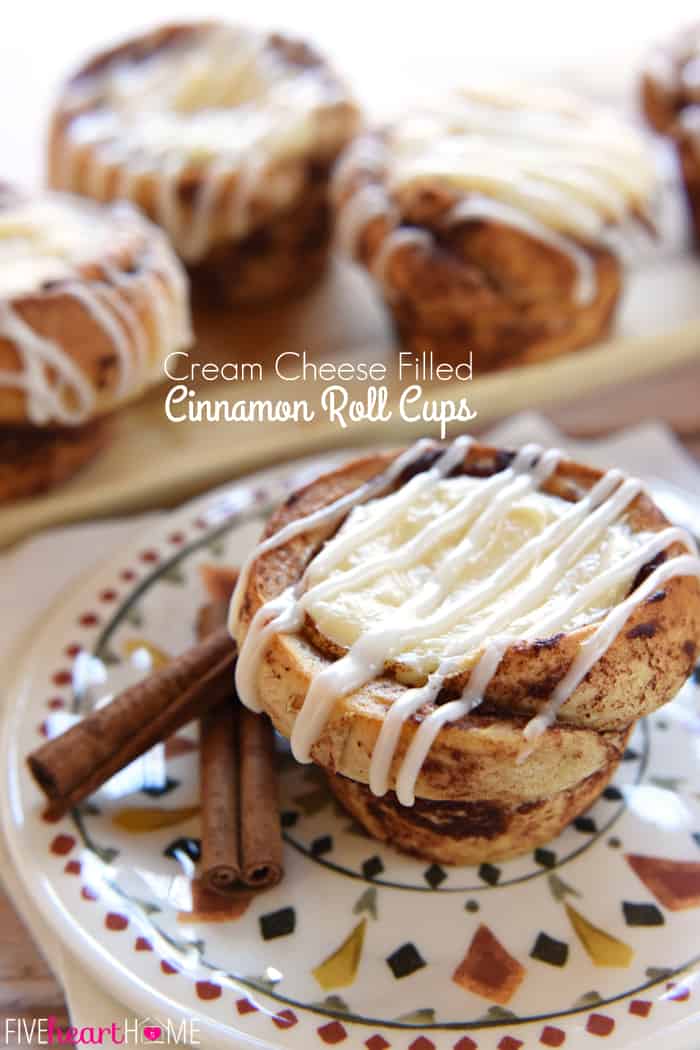 Cream Cheese Filled Cinnamon Roll Cup Recipe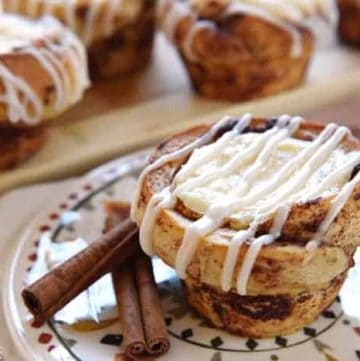 Cream Cheese Filled Cinnamon Roll Cups
Cream Cheese Filled Cinnamon Roll Cups are as simple as fitting refrigerated cinnamon rolls in a muffin pan, filling them with sweetened cream cheese, baking until golden, and then drizzling with icing for a fun, easy way to make any morning feel special!
Print
Pin
Rate
Servings:
5
cinnamon roll cups
Ingredients
5 ⅓

ounces

cream cheese

,

softened (equivalent to ⅔ of an 8-ounce block)

⅔

cup

powdered sugar

1

teaspoon

pure vanilla extract

1

can

(17.5-ounces) of jumbo refrigerated cinnamon rolls (5-count)
Instructions
Preheat oven to 350°F. Grease a 6-cup muffin pan with butter (or spray with nonstick cooking spray).

Using an electric mixer, beat cream cheese until smooth. Slowly blend in powdered sugar and vanilla, then beat until smooth and well-combined. Set aside.

Open can of cinnamon rolls and remove one. Tear off a strip of cinnamon roll long enough to fit the circumference of the muffin cup with a little bit of overlap. Fit the intact center of the cinnamon roll into the bottom of the muffin cup, gently pressing down. Press the cinnamon roll strip inside the top of the cinnamon roll cup so that it's sitting on top of the cinnamon roll base. Gently press the seams together to seal and pinch the ends of the strip together to form a "cup." Repeat with the remaining four cinnamon rolls.

Evenly divide the cream cheese mixture between the five cinnamon roll cups (about 1 ½ tablespoon per cup). Bake for 18 to 20 minutes or until light golden brown. Let cool in pan for 2 minutes, and then carefully use a thin knife to gently lift out each cinnamon roll. Drizzle with icing from the packet that came in the can of cinnamon rolls. Serve immediately (but be careful, as cream cheese filling will be hot!).
Notes
If you don't have a 6-cup muffin pan, use the center six cups of a 12-cup muffin pan.
Calories:
169
kcal
|
Carbohydrates:
17
g
|
Protein:
2
g
|
Fat:
10
g
|
Saturated Fat:
6
g
|
Cholesterol:
33
mg
|
Sodium:
99
mg
|
Potassium:
42
mg
|
Sugar:
17
g
|
Vitamin A:
405
IU
|
Calcium:
30
mg
|
Iron:
0.1
mg
More Special Breakfast Treats