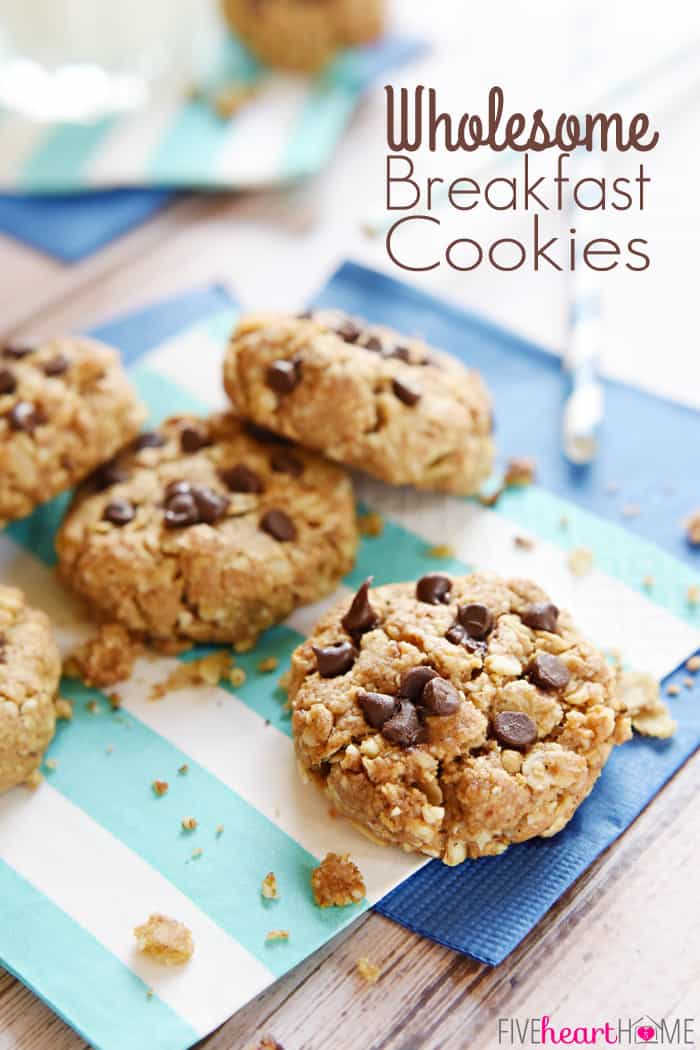 Breakfast Cookies are wholesome, delicious treats packed with oats, nuts, whole wheat flour, and lightly sweetened with honey...perfect for breakfast-on-the-go or an anytime snack!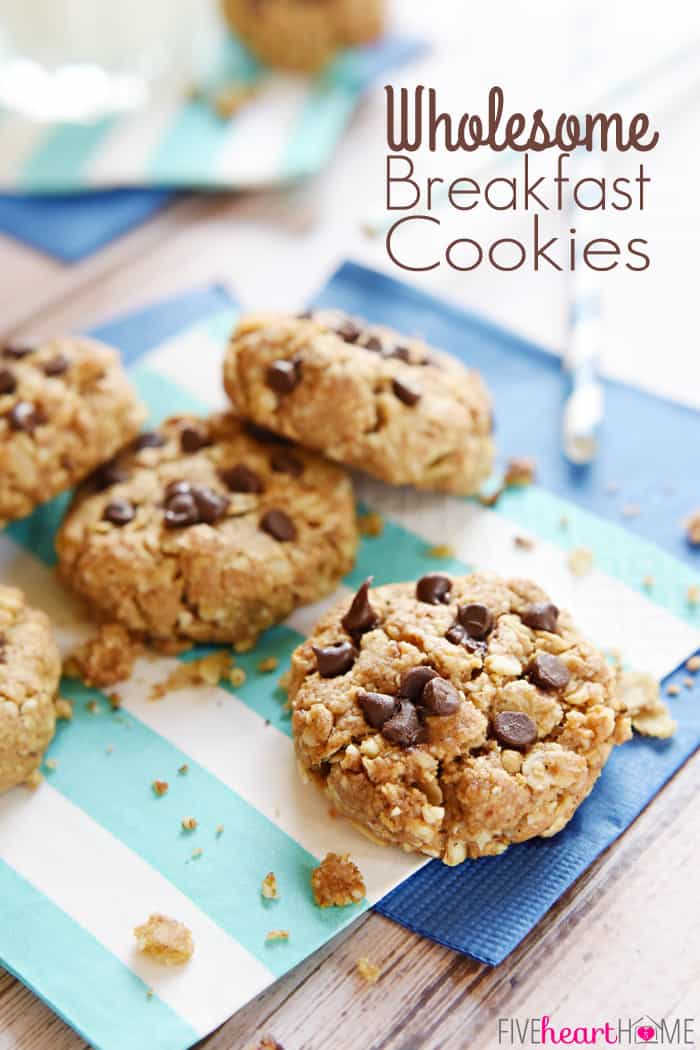 Today is an important day at our house. A very special little lady turns two! This baby girl warms our heart and makes us laugh countless times a day. She is adorable, cheerful, headstrong, chatty, and just bursting with sweetness. It's hard to remember what life was like before she joined us. And it just so happens that today's recipe was inspired by her...cute, yummy Breakfast Cookies!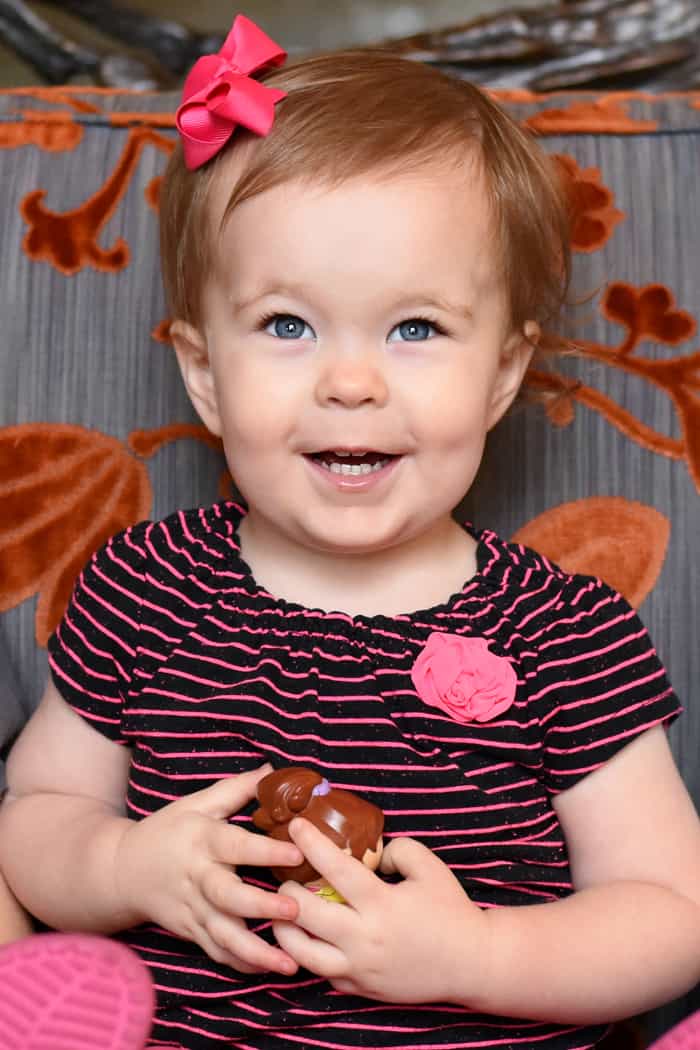 Little Miss has become a bit finicky lately, probably due to her molars coming in. In fact, pretty much the only thing she cares to eat these days is frozen grapes.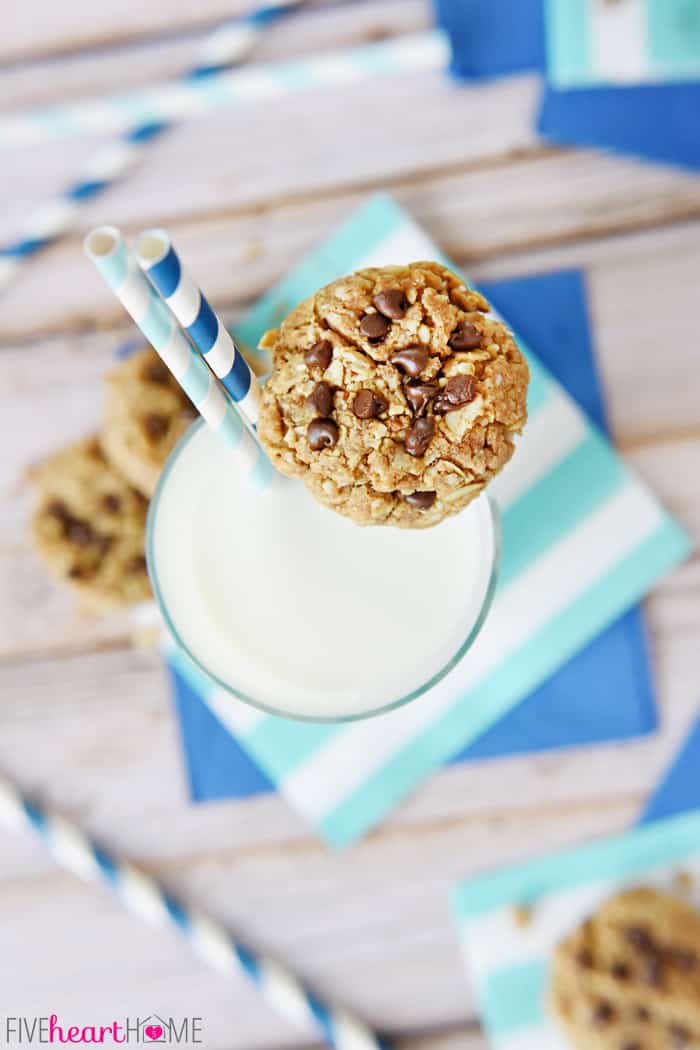 Breakfast time can be particularly challenging. She doesn't want oatmeal. She doesn't want muffins. She doesn't want waffles. She doesn't want granola. She doesn't want bananas or strawberries or oranges. And she's even lost interest in her beloved vanilla yogurt. So before she wastes away on frozen grapes, what's a mama to do?
Well, I'll tell you what Mama does. SHE MAKES COOKIES. For breakfast. (Hence, Breakfast Cookies.) And she loads them with all kinds of sneaky, healthy ingredients like oats, protein-packed nuts and nut butter, and whole wheat flour. She sweetens them with a touch of honey. And she tops them with a few mini chocolate chips for good measure.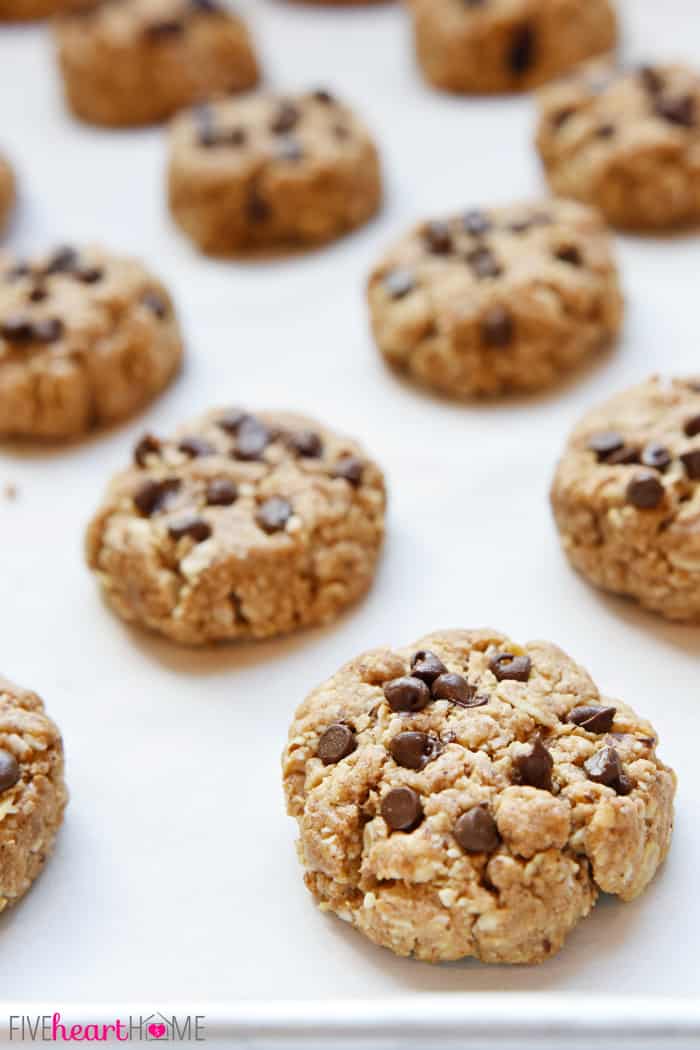 Now, you could stir some raisins or other dried fruit into your Breakfast Cookies and they'd be perfectly delightful...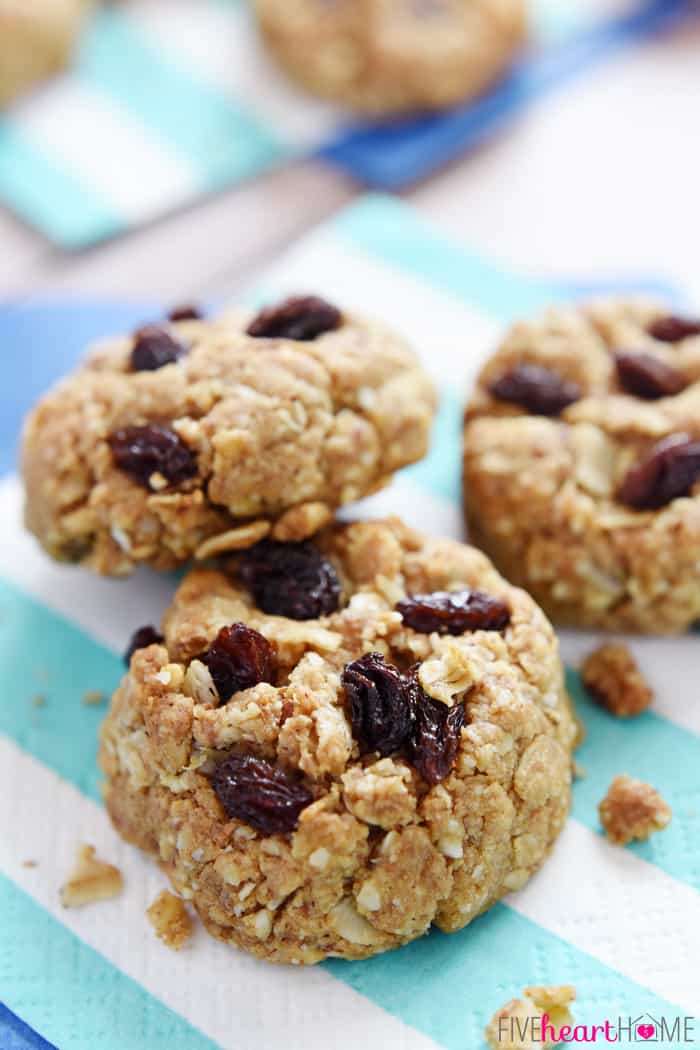 ...but the cute little toddler in question happens to have a soft spot for chocolate. And how could anyone say no to this kind of enthusiasm?!
These are not your soft, moist, sweet, decadent, dessert-type cookies. They're breakfast cookies, which means that they're oat-y and nutty and, yes, healthier tasting. But that last part is not in a bad way. I promise that these cookies are totally delish and your family will gobble them right up!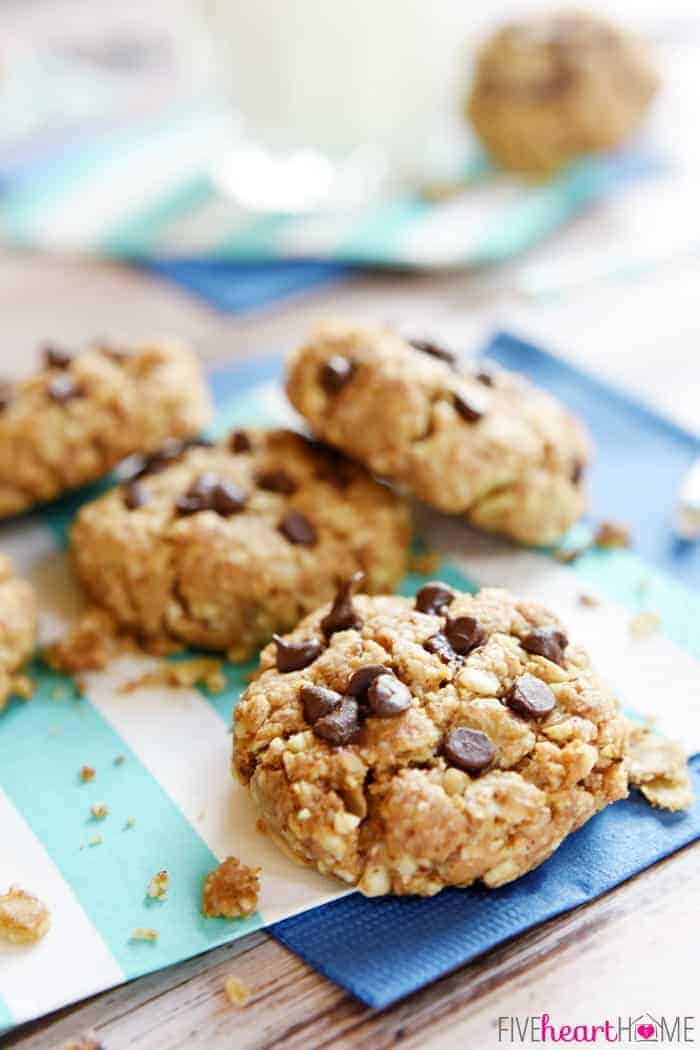 Ingredients
The ingredients in these Breakfast Cookies make them simple, wholesome, and customizable! A few notes about some of them:
Nuts. Pecans, walnuts, almonds, or just about any nut you like will work in this recipe.
Rolled oats. I prefer using rolled oats in this recipe for a chewier texture. If you only have quick oats on hand, they will work, but you'll want to use slightly less since they pack more densely into a measuring cup.
Flour. I typically use whole wheat pastry flour, but regular whole wheat flour or all-purpose flour (or even gluten-free flour) also work.
Cinnamon. You may increase, reduce, or omit the cinnamon...it's a matter of personal taste.
Nut (or non-nut) butter. Use your favorite variety...peanut butter, almond butter, or sunflower seed butter are all delicious in this recipe.
Coconut oil. If you're not into coconut oil, you may substitute another type of oil (I've even made these with neutral olive oil) or even butter.
Honey. For natural sweetness. Sometimes I sub maple syrup instead.
Optoinal add-ins. You may stir in raisins, dried cranberries, chopped nuts, or mini chocolate chips, if you like.
This particular batch of cookies was made with ground almonds and peanut butter, because that's what I had on hand. But you could use ground walnuts with almond butter, ground pecans with sunflower seed butter...whatever floats your boat!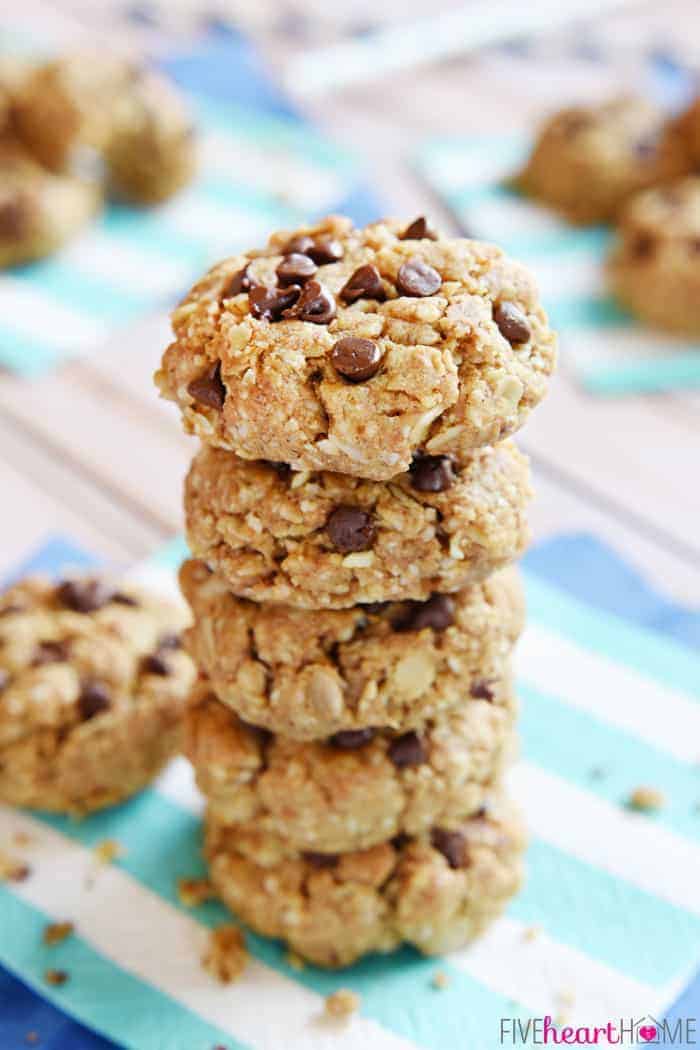 How to Make Breakfast Cookies
This recipe is quick and simple to make.
Grind your nuts in a food processor or blender (I usually use my mini food processor). Transfer to a big bowl.
Stir in the oats, flour, and other dry ingredients.
In a small saucepan on the stove, melt together the nut butter, honey, and oil. Remove from the heat and stir in the vanilla. (You could also opt to melt the nut butter in a measuring cup in the microwave.)
Pour the liquid mixture over the nut/oat mixture, crack the egg on top, and stir until all of the ingredients are combined.
Scoop into balls and, if your dough is on the crumbly side, press a bit to hold together. Space out on a baking sheet, flattening slightly.
Bake until just golden and...
Enjoy!

So earn a few cool mom points by giving your kids what they really want...cookies for breakfast! Or whip up a batch of these wholesome little Breakfast Cookies for yourself. Not only do they provide fuel for a busy morning, but they're also conveniently portable for breakfast-on-the-go or an anytime snack. They're sure to be a hit, whether you're two or 102!
And they're a nice change of pace from frozen grapes. 😉
More Easy Breakfast Recipes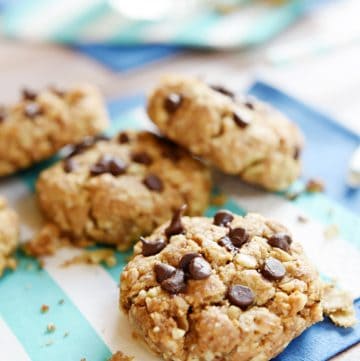 Breakfast Cookies
Breakfast Cookies are wholesome, delicious treats packed with oats, nuts, whole wheat flour, coconut oil, and lightly sweetened with honey...perfect for breakfast-on-the-go or an anytime snack!
Print
Pin
Rate
Ingredients
1

cup

almonds

,

OR your favorite nut or combo of nuts

1 ½

cups

rolled oats

,

NOT instant oats

½

cup

whole wheat pastry flour

,

OR regular whole wheat flour, all-purpose flour, or gluten-free flour

1

teaspoon

baking soda

½

teaspoon

salt

1

teaspoon

cinnamon

½

cup

peanut butter

,

OR your favorite nut butter

¼

cup

coconut oil

,

OR any neutral oil or butter

½

cup

honey

,

OR maple syrup

1

teaspoon

pure vanilla extract

1

egg

,

lightly beaten

½

cup

mini chocolate chips

,

OR chopped nuts, raisins, or other dried fruit
Instructions
Preheat oven to 375°F and line two baking sheets with parchment paper.

Place the nuts in a food processor or blender and process until finely ground. Pour into a medium bowl. Mix in rolled oats, flour, baking soda, salt, and cinnamon.

In a small pot set over medium-low heat, stir together peanut butter, coconut oil, and honey until just melted and blended. Remove from heat and stir in vanilla (it will bubble up a bit). Allow to slightly cool.

Pour peanut butter mixture over oat mixture; stir a couple of times. Pour egg over top and stir all ingredients together until combined. Dough will be thick and may be somewhat crumbly.

Scoop heaping tablespoons of dough and form into balls, lightly squeezing dough together if necessary. Space out balls at least an inch apart on prepared baking sheets and flatten slightly. Sprinkle tops with chocolate chips and press chips down into dough. (Alternatively, if using raisins or dried fruit, stir them directly into dough before forming it into balls. The reason I don't recommend stirring in the chocolate chips is because they will likely melt due to the warm peanut butter mixture.)

Bake for 8 minutes or until light golden brown. Cool on baking sheets for 5 minutes before transferring to a wire rack to cool completely.
Notes
If you wish, you can melt the nut butter (and coconut oil, if you're using that type of oil) in a glass measuring cup in the microwave (instead of on the stove). Pour over the oat mixture and then proceed with the recipe, adding the honey and remaining ingredients.
Calories:
157
kcal
|
Carbohydrates:
16
g
|
Protein:
4
g
|
Fat:
9
g
|
Saturated Fat:
3
g
|
Cholesterol:
7
mg
|
Sodium:
125
mg
|
Potassium:
110
mg
|
Fiber:
2
g
|
Sugar:
9
g
|
Vitamin A:
20
IU
|
Vitamin C:
0.1
mg
|
Calcium:
28
mg
|
Iron:
0.7
mg
Adapted from AllRecipes.com