The BEST Lemon Cupcakes start with a simple one-bowl batter and end with a soaking of lemon simple syrup and a topping of fluffy Lemon Cream Cheese Frosting for luscious, lemony, perfectly moist treats!

My middle child has apparently inherited my love for any dessert by the name of lemon. So when I told him that I was thinking about making lemon cupcakes, he was way excited!
But these aren't your ordinary lemon cupcakes. No sirree, Bob...these are The BEST Lemon Cupcakes. Really. And despite a few separate steps, they're easy to make, too!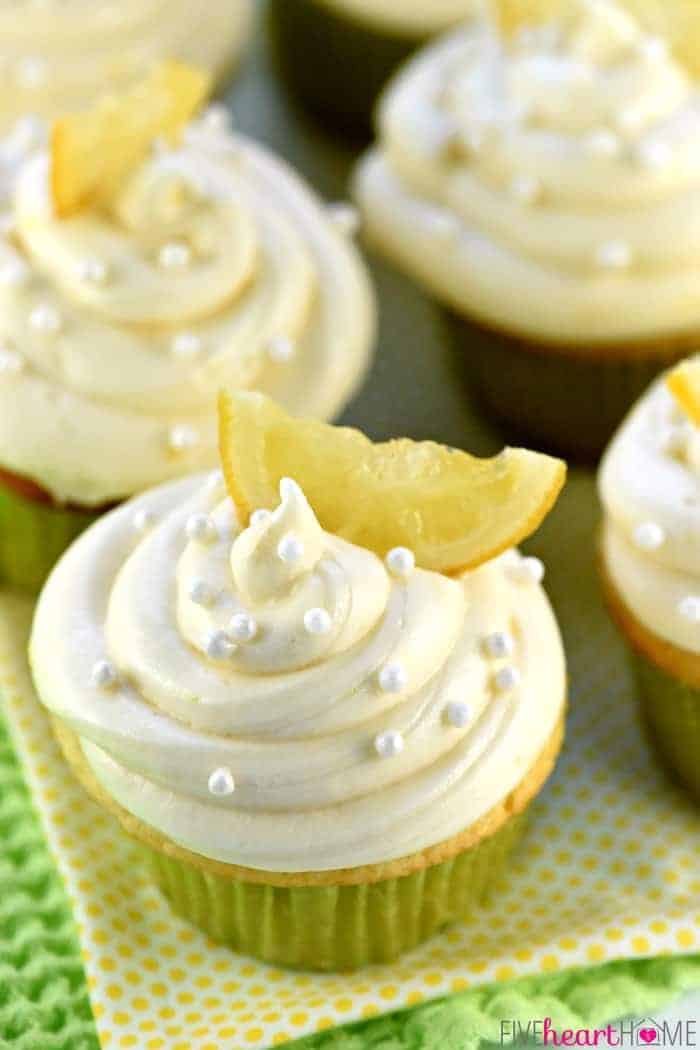 I started with my straightforward One-Bowl Fluffy Vanilla Cupcakes recipe, infusing it with a bit of freshly-squeezed lemon juice and lemon zest to create a foundation of all-natural lemon flavor. All you need to know is to start with room temperature ingredients and mix everything in the same bowl...it seriously is a piece of cake! Er, cupcake.
Next I borrowed a trick from my all-time favorite lemon layer cake (thanks, Martha) by making an effortless lemon simple syrup. It was as easy as boiling sugar with water and then stirring in lemon juice. As an added bonus, thin slices of lemon simmer in the syrup as it cooks, resulting in glossy, candied lemon garnishes for the top of the finished cupcakes. But that comes later, so let's not get ahead of ourselves quite yet...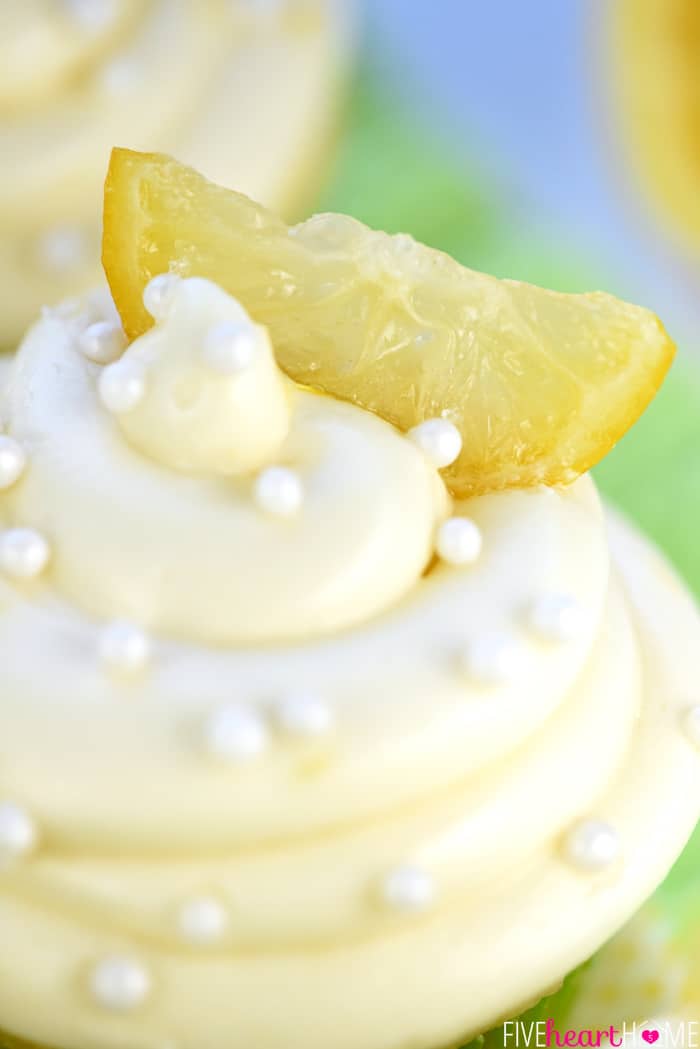 Once the cupcakes came out of the oven, I used a toothpick to poke holes all over 'em and generously brushed them with the lemon syrup, allowing it to soak down into the cupcakes so that they would become (and stay) super moist and even more lemony.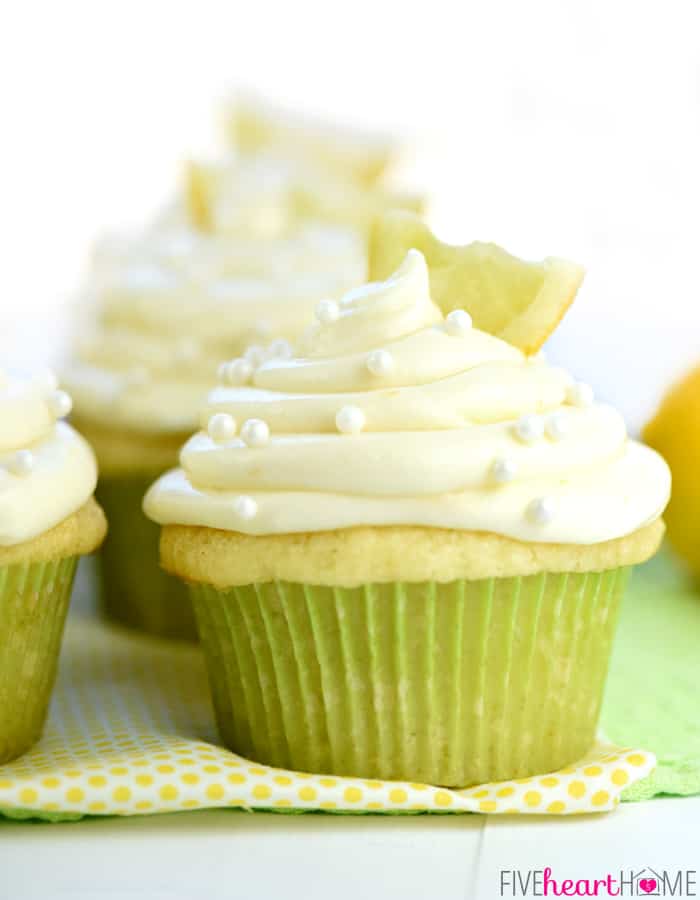 Finally, I whipped up a big batch of my beloved Classic Cream Cheese Frosting, but I kicked it up with still more lemon juice and lemon zest! I know...somebody stop me. Seriously, though, this delectable Lemon Cream Cheese Frosting is the perfect complement to the fluffy, sweet-tart cupcakes. Imagine slathering lemon cheesecake on top of lemon cake. YUM, right?! And don't forget to top these beauties with those pretty little candied lemon slices! Yup, people will be fighting over these cupcakes before they even taste them...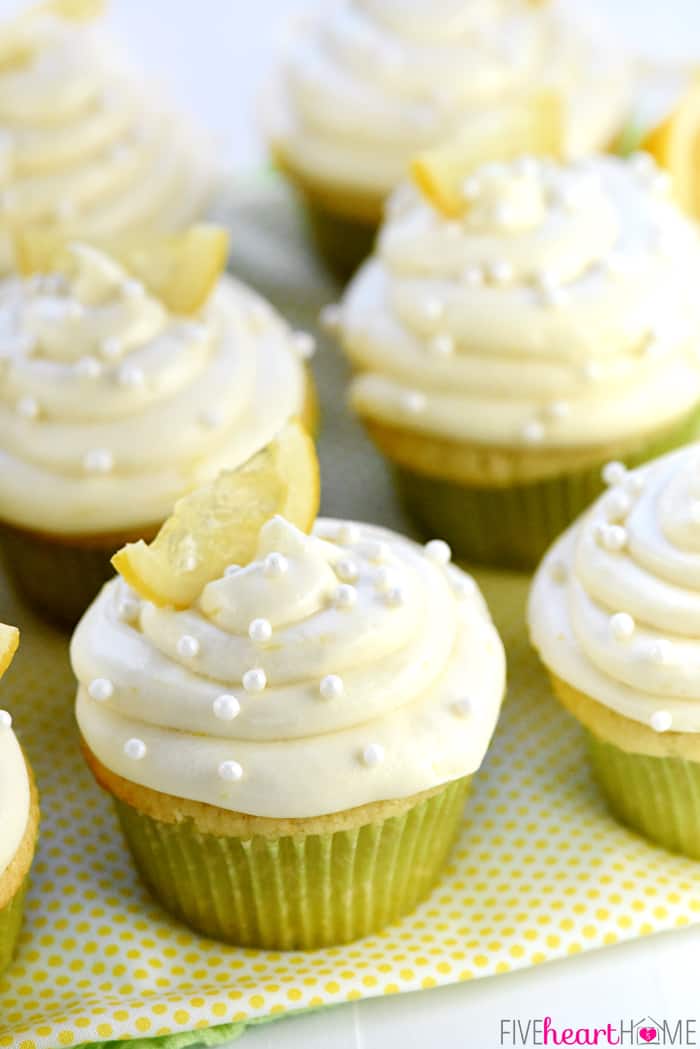 Okay, enough about how simple and how scrumptious these treats are. The big takeaway here? If you adore lemon desserts as much as the middle child and I do, you must give The Best Lemon Cupcakes with Lemon Cream Cheese Frosting a whirl! Perfect for Easter...perfect for spring...perfect for a lemon lover's birthday. Just...perfect. Enjoy, y'all, and have a wonderful Easter this weekend!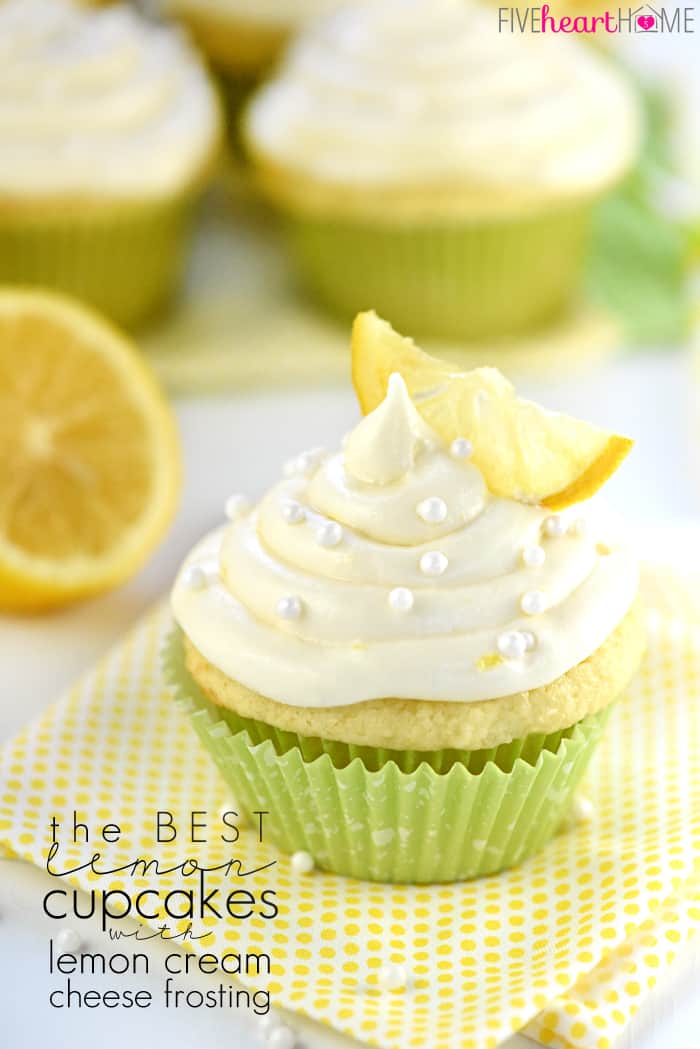 More Luscious Lemon Recipes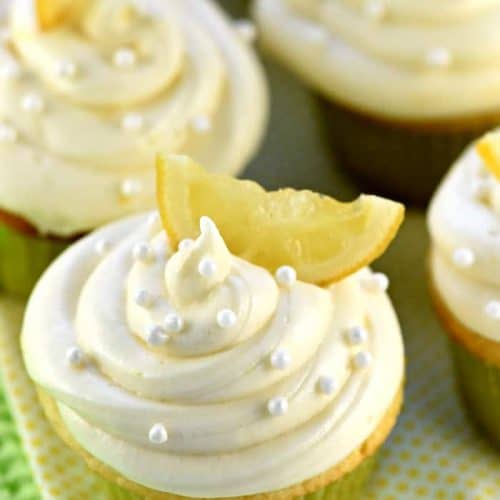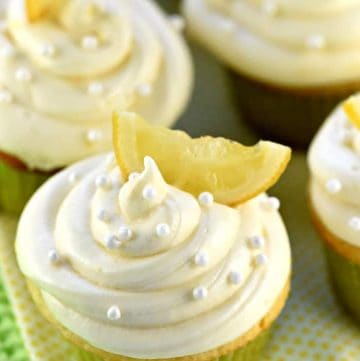 The BEST Lemon Cupcakes with Lemon Cream Cheese Frosting
The BEST Lemon Cupcakes start with a simple one-bowl batter and end with a soaking of lemon simple syrup and a topping of fluffy Lemon Cream Cheese Frosting for luscious, lemony, perfectly moist treats!
Print
Pin
Rate
Ingredients
FOR THE CUPCAKES:
2 1/2

cups

all-purpose flour

1/2

cup

cornstarch

2

cups

sugar

1

tablespoon

baking powder

1

teaspoon

salt

1

cup

(2 sticks) unsalted butter

,

at room temperature

1

cup

sour cream

2

tablespoons

milk

2

tablespoons

freshly-squeezed lemon juice

4

eggs

1 1/2

teaspoons

pure vanilla extract

1

tablespoon

lemon zest
FOR THE SIMPLE SYRUP:
1/2

cup

water

1/2

cup

sugar

2

small lemons

,

thinly sliced

1/4

cup

freshly-squeezed lemon juice
FOR THE FROSTING:
1/2

cup

(1 stick) salted butter

,

softened

8

ounces

cream cheese

,

softened

3 1/2 to 4

cups

powdered sugar

,

equivalent to about one (16-ounce) box

2

tablespoons

freshly-squeezed lemon juice

2

teaspoons

lemon zest

1

teaspoon

pure vanilla extract
Instructions
To prepare the cupcakes, adjust rack to center position of oven and preheat oven to 350°Line muffin pans with 24 cupcake liners (*see Tips & Tricks below).

Set a large sifter or fine mesh sieve over the large bowl of an electric mixer. Measure flour, cornstarch, sugar, baking powder, and salt into sieve and firmly hit the palm of your hand against its side to sift all of the dry ingredients together into the bowl. (If desired, repeat this process a few more times for fluffier cupcakes.)

To the sifted dry ingredients, add the softened butter, sour cream, milk, lemon juice, eggs, vanilla, and lemon zest. Beat at medium speed for about 30 seconds or until smooth. Scrape down the sides of the bowl with a rubber spatula and beat for 15 more seconds.

Evenly divide the batter between the 24 cupcake liners (I find it easiest to do this using a cookie scoop). Bake for 18 to 22 minutes or until cupcakes are light golden and test done with a toothpick inserted in center (mine were perfect at exactly 20 minutes). Cool the cupcakes for a few minutes in the pans before transferring them to a wire rack set on top of wax paper or foil (to keep the counter clean for the next step).

While the cupcakes are baking, prepare the Lemon Simple Syrup by combining the water and sugar in a small saucepan. Bring to a boil over medium-high heat, stirring occasionally until the sugar is completely dissolved. Once the mixture is boiling, add the lemon slices and reduce to a simmer. Simmer for 25 minutes, stirring occasionally. Use a slotted spoon to remove the lemon slices to a sheet of wax paper; allow to cool. Stir the 1/4 cup lemon juice into the simple syrup and set aside.

Once the cupcakes are done and have been transferred to the wire rack, use a toothpick to poke a bunch of holes all over the top of each cupcake. Use a pastry brush to slowly brush the top of each cupcake with lemon simple syrup, allowing it to soak down into each cupcake. Brush each cupcake once, and then repeat the process (brushing each cupcake again until all of the simple syrup has been used up. Allow the cupcakes to cool completely.

One the cupcakes are cool, prepare the frosting. Using an electric mixer, beat together the butter and the cream cheese. Slowly blend in the powdered sugar, lemon juice, lemon zest, and vanilla, then beat until smooth and well-combined. The longer you whip this frosting, the lighter and fluffier it will become. Frost the cupcakes using your desired method (*see Tips & Tricks below...depending on how you decide to frost your cupcakes, you may need to double the frosting recipe).

Top each cupcake with a piece of candied lemon and white or sparkling sugar sprinkles, if desired. Refrigerate cupcakes until ready to serve, allowing them to come to room temperature a bit before serving.
Notes
I recommend baking these cupcakes in foil cupcake liners, as the lemon syrup will soak through ordinary paper liners. If you don't like the look of plain foil liners, you can also find decorative-looking "grease-proof" paper baking cups that are lined on the inside with foil.
Cornstarch makes the cupcakes fluffy and is added to the regular, all-purpose flour in lieu of using cake flour.
If you'd like to use cake flour in this recipe instead, use 3 cups cake flour while omitting the all-purpose flour and cornstarch.
When baking, I like to make sure that all of my ingredients are at room temperature. I speed things up when necessary by cutting my butter into small pieces and spreading them out on a plate or cutting board (which softens the butter faster than if the stick was left whole), by very briefly microwaving ingredients like milk or sour cream to take off the chill, and by using a bowl of hot water to warm up the the whole eggs.
Frost your cupcakes using an offset spatula, a knife, or a piping bag. Or, as I did here, scoop the frosting into a gallon-sized plastic baggie, snip off the corner of the bag, and pipe the frosting onto the cupcakes in a spiral, starting from the outside perimeter and working towards the center. Piping the frosting as shown in these photos requires a lot more frosting than spreading it with a knife, so in that case, plan on making a double recipe of frosting.
Calories:
376
kcal
|
Carbohydrates:
53
g
|
Protein:
3
g
|
Fat:
18
g
|
Saturated Fat:
10
g
|
Cholesterol:
73
mg
|
Sodium:
183
mg
|
Potassium:
120
mg
|
Fiber:
1
g
|
Sugar:
39
g
|
Vitamin A:
580
IU
|
Vitamin C:
7.3
mg
|
Calcium:
55
mg
|
Iron:
0.9
mg
Save