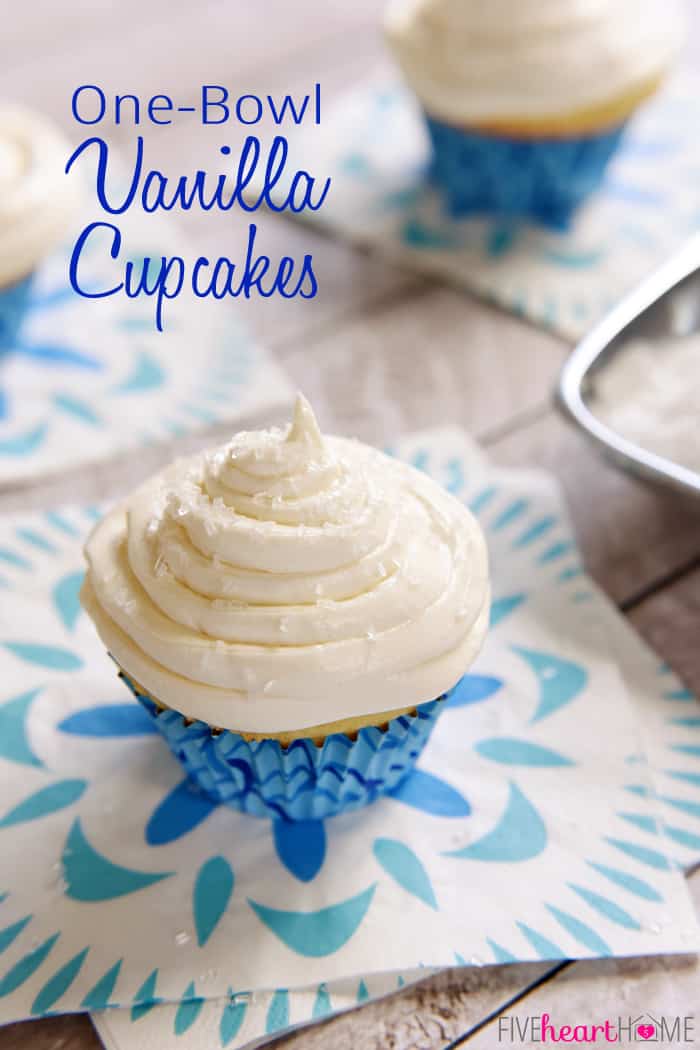 It's never been easier to whip up a batch of homemade Vanilla Cupcakes! Quickly coming together in just one bowl, these fluffy cupcakes are the perfect medium for any frosting, including this creamy, not-too-sweet, cooked buttercream.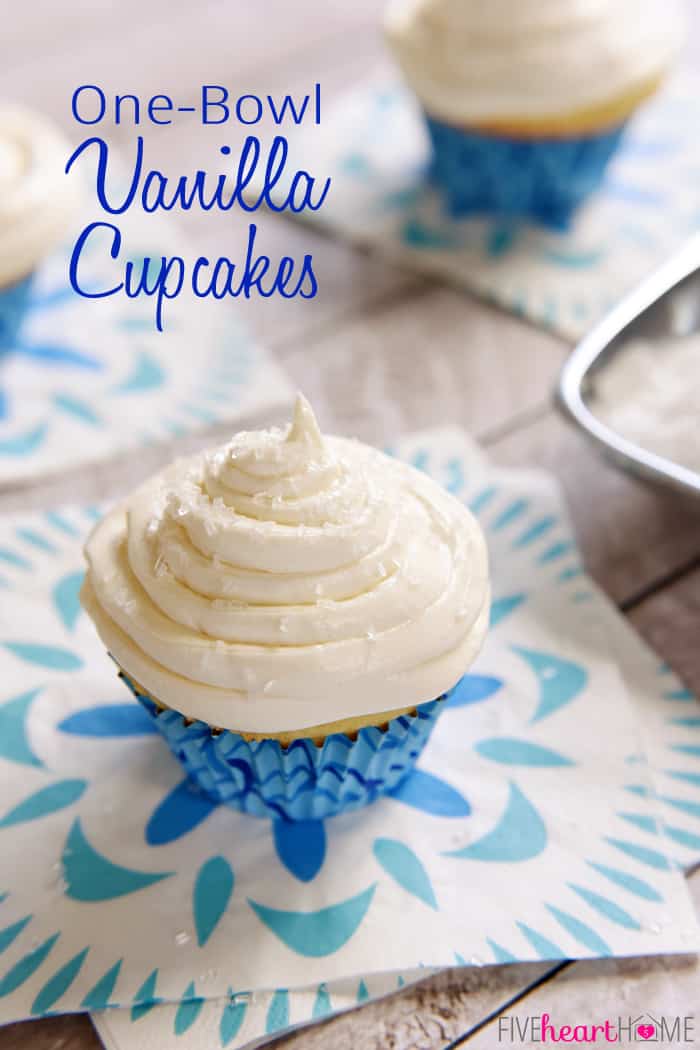 If there's one recipe that I'm known for in real life (as opposed to food blog life), it would arguably be my Best Ever Vanilla Texas Sheet Cake Cupcakes with Cream Cheese Frosting. And if I already coined those cupcakes the best ever, then what in the world am I doing sharing another vanilla cupcake with you today?
Well, I'll tell you what. Sometimes, after making the same (albeit delectable) cupcakes for a dozen or so years, a girl wants to change things up. Sometimes a girl wants to make vanilla cupcakes without firing up the stovetop. And sometimes a girl want to challenge herself to top her best yet.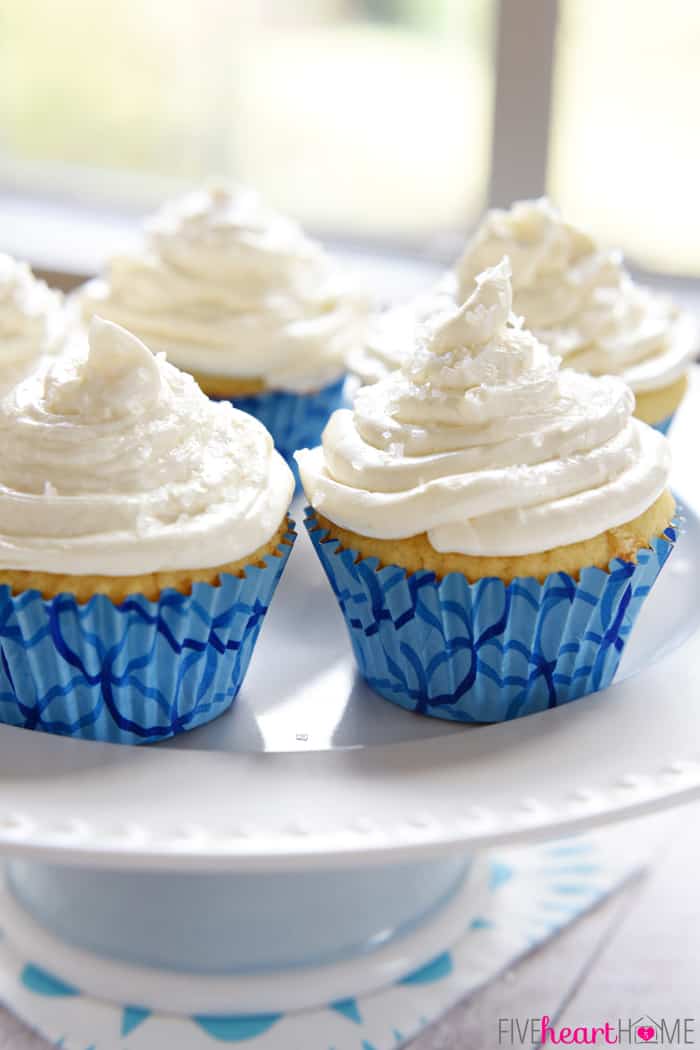 Last week my daughter turned two, and she spent the days leading up to her birthday requesting 'nill tup-tates...and she made that request about every 30 minutes from the time she woke up to the time she went to bed. I was more than happy to oblige her, but I decided to see if I could come up with a tasty new vanilla cupcake recipe for a change! You know, unlike the one that I already have memorized from making approximately 17 bajillion times.
Today I bring you a treat that's proven to me that there is room in this world -- er, my kitchen -- for two excellent, yet markedly different, vanilla cupcake recipes. They are both quick and easy to make. They are both completely and utterly yummy. And they both taste 100% homemade (which they are), but with minimal effort. So where, you might be wondering, lie the differences?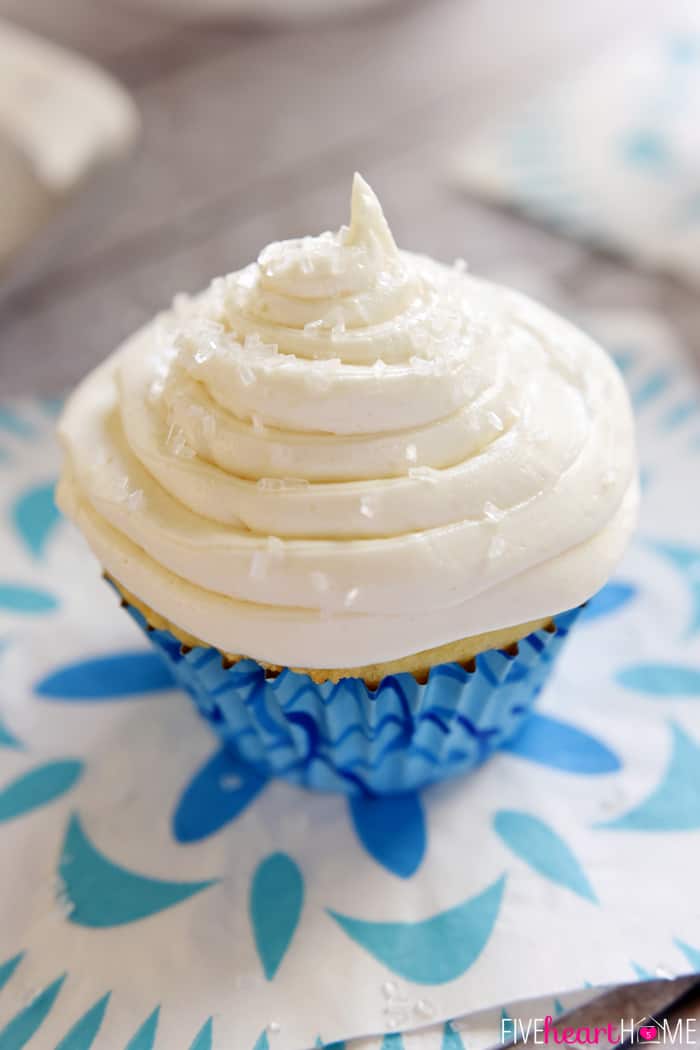 My old standby Vanilla Texas Sheet Cake Cupcakes are like, well, Texas Sheet Cake. If you've ever had a Texas Sheet Cake, you know that it's dense and moist and sweet, not known for rising all high and fluffy-like. On the other hand, today's One-Bowl Fluffy Vanilla Cupcakes are still rich and moist, but -- you guessed it! -- much lighter and fluffier in texture. Their sweetness is also a bit more delicate.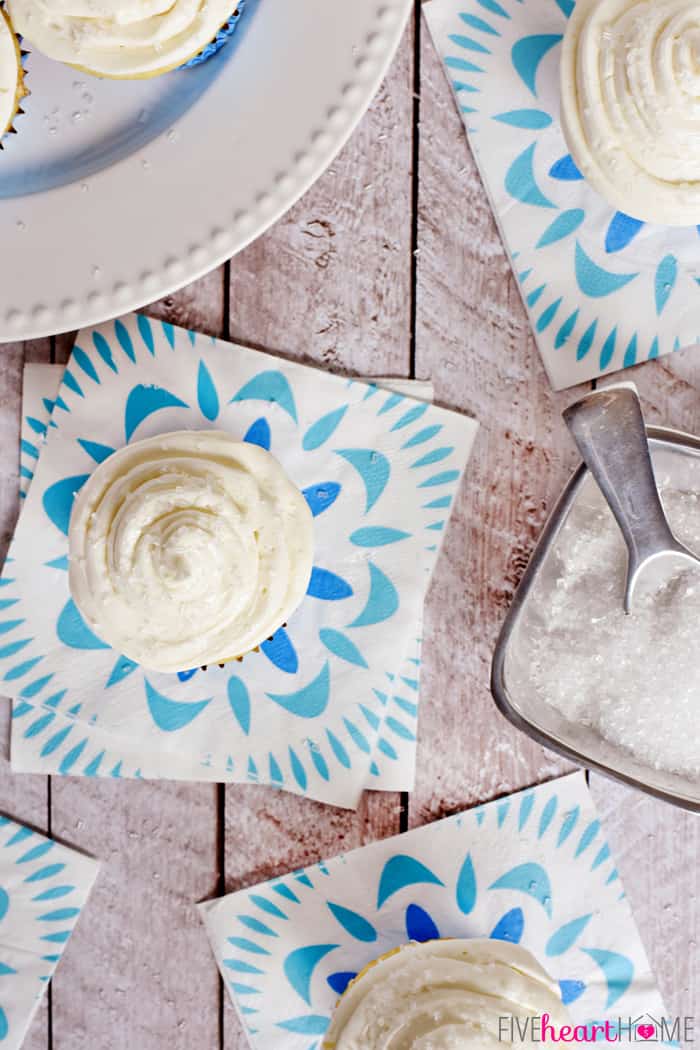 Furthermore, sheet cake recipes call for melting together and combining ingredients in a big ol' pot on the stove. On the contrary, these One-Bowl Fluffy Vanilla Cupcakes only require -- you guessed again! -- one bowl! Man, y'all are on a roll today. 😉
There's no carefully creaming butter or meticulously whisking together dry ingredients here. No sir-ee Bob...rather, you mix the dry ingredients in a big bowl and then dump in the wet ingredients without much rhyme or reason before blending everything up. It's as simple as making a boxed mix except the final result tastes about 473 times better, without that subtle artificial aftertaste.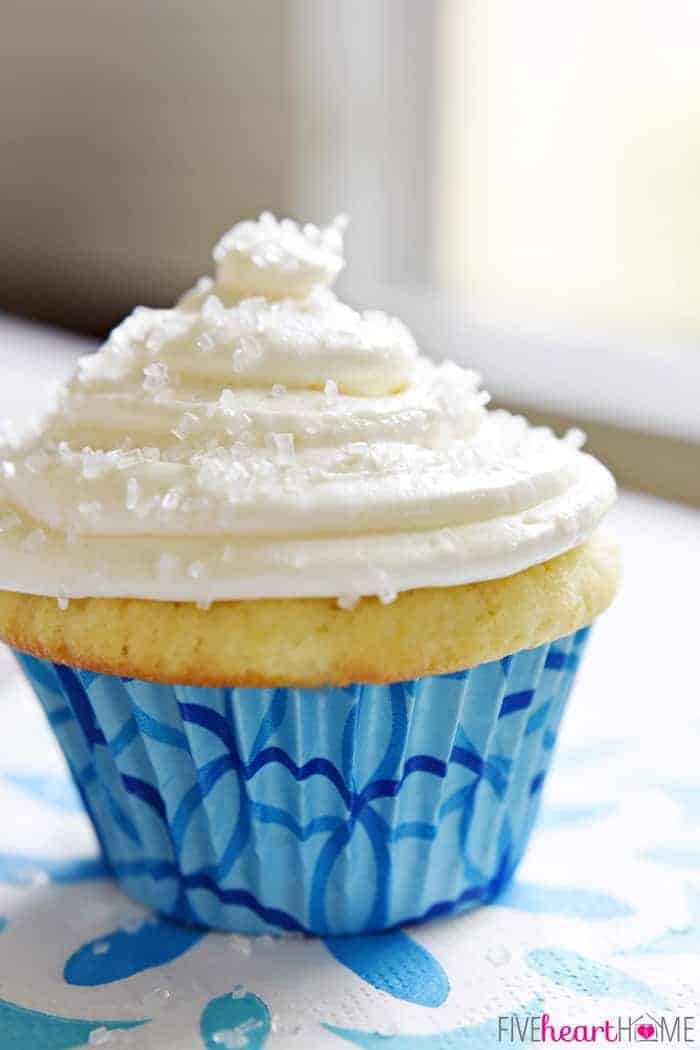 And now for a final word about the frosting. I will be perfectly honest with you and tell you that, to me, there is no better frosting on earth than cream cheese frosting. Chocolate frosting would take second place in my heart of hearts. I like white frosting/buttercream, but I have never considered it to be my favorite. However, my daughter wanted vanilla frosting, and vanilla frosting she was going to get!
I decided to try a variation of a flour-based, cooked buttercream that I've seen floating around the internet for several years now. It sounds really odd, starting with a cooked milk/flour/sugar base that's cooled before being incorporated with softened butter. But everyone positively raves about this type of buttercream, so I figured it was worth a shot.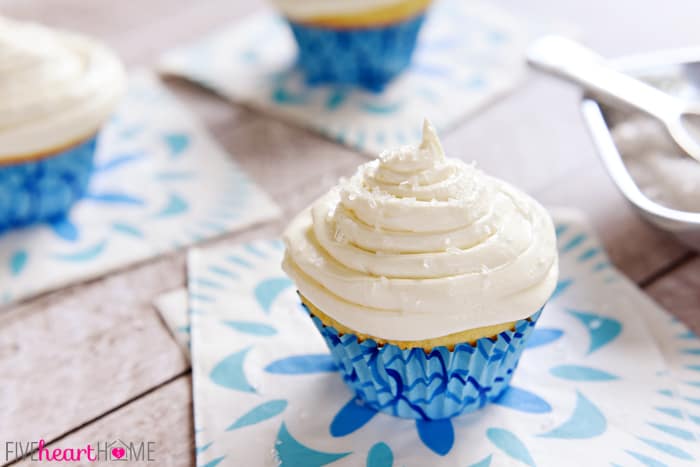 The verdict? I have to admit that this buttercream was surprisingly good and decidedly different than most white frostings out there. This cooked buttercream turned out delightfully smooth and creamy. It held its shape perfectly. And it was not cloyingly sweet like many white frostings can be.
In other words? It was the perfect topping for a sweet little birthday girl's 'nill tup-tates.
More Easy Sweet Treats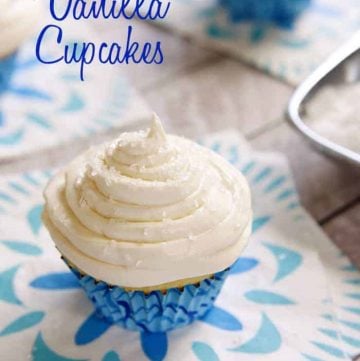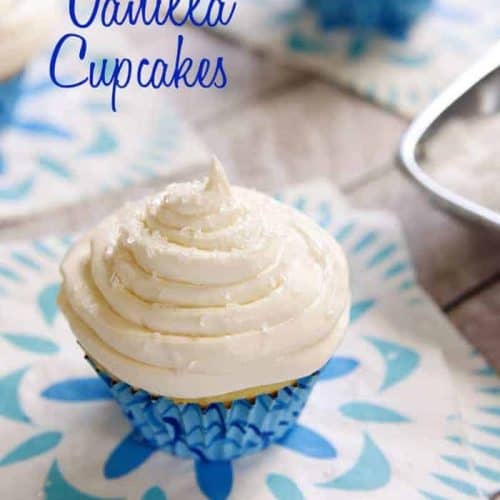 One-Bowl Fluffy Vanilla Cupcakes
It's never been easier to whip up a batch of homemade Vanilla Cupcakes! Quickly coming together in just one bowl, these fluffy cupcakes are the perfect medium for any frosting, including this creamy, not-too-sweet, cooked buttercream.
Print
Pin
Rate
Ingredients
For the cupcakes:
2 ½

cups

all-purpose flour

½

cup

cornstarch

2

cups

sugar

1

tablespoon

baking powder

1

teaspoon

salt

1

cup

2 sticks unsalted butter

,

at room temperature

1

cup

sour cream

¼

cup

milk

4

eggs

1

tablespoon

pure vanilla extract
For the frosting:
½

cup

flour

1 ½

cups

milk

1 ½

cups

granulated

,

NOT powdered sugar

2

teaspoons

vanilla

1 ½

cups

(3 sticks) salted butter

,

at room temperature
Instructions
FOR THE CUPCAKES:
Adjust rack to center position of oven and preheat oven to 350°F. Line muffin pans with 24 cupcake liners.

Set a large sifter or fine mesh sieve over the large bowl of an electric mixer. Measure flour, cornstarch, sugar, baking powder, and salt into sieve and firmly hit the palm of your hand against its side to sift all of the dry ingredients together into the bowl. (If desired, repeat this process a few more times for fluffier cupcakes.)

To the sifted dry ingredients, add the softened butter, sour cream, milk, eggs, and vanilla. Beat at medium speed for about 30 seconds or until smooth. Scrape down the sides of the bowl with a rubber spatula and beat for 15 more seconds.

Evenly divide the batter between the 24 cupcake liners (I find it easiest to do this using a cookie scoop). Bake for 18 to 22 minutes or until cupcakes are light golden and test done with a toothpick inserted in center (mine were perfect at exactly 20 minutes). Cool the cupcakes for a few minutes in the pans before transferring them to a wire rack to finish cooling completely.
FOR THE FROSTING:
Measure out flour into a small pot and gradually whisk in milk until smooth. Blend in sugar. Set pot over low to medium-low heat and use a wire whisk to stir continuously until mixture simmers and thickens (to the consistency of very thick cake batter). This will probably take 8 to 10 minutes. Remove pot from heat and stir in vanilla.

Allow milk/flour mixture to cool for about 10 minutes, stirring occasionally. Transfer to the bowl of an electric mixer. Beat at medium-high speed until smooth and completely cool, about 4 minutes. With the mixer running, add softened butter, two tablespoons at a time, allowing it to become fully incorporated before adding the next two tablespoons. Scrape the sides of the bowl with a rubber spatula and beat for 1 more minute until light and fluffy. Use immediately to frost completely-cooled cupcakes or cakes.
Notes
Cornstarch makes the cupcakes fluffy and is added to regular, all-purpose flour in lieu of using cake flour.
When baking, I like to make sure that all of my ingredients are at room temperature. I speed things up when necessary by cutting my butter into small pieces and spreading them out on a plate or cutting board (which softens the butter faster than if the stick was left whole), by very briefly microwaving ingredients like milk or sour cream to take off the chill, and by using a bowl of hot water to warm up the the whole eggs.
Many recipes for this type of frosting instruct you to add sugar at the same time as the butter. However, I found that by cooking the sugar in the milk/flour mixture, any graininess had a chance to dissolve. Also, by beating the milk/flour mixture, any small lumps are smoothed out and the mixture cools down much more quickly than if left to cool in the pot.
Frost your cupcakes using an offset spatula, a knife, or a piping bag. Or, as I did here, scoop the frosting into a gallon-sized plastic baggie, snip off the corner of the bag, and pipe the frosting onto the cupcakes in a spiral, starting from the outside perimeter and working towards the center.
Calories:
392
kcal
|
Carbohydrates:
45
g
|
Protein:
4
g
|
Fat:
23
g
|
Saturated Fat:
14
g
|
Cholesterol:
85
mg
|
Sodium:
226
mg
|
Potassium:
120
mg
|
Fiber:
1
g
|
Sugar:
30
g
|
Vitamin A:
720
IU
|
Vitamin C:
0.1
mg
|
Calcium:
64
mg
|
Iron:
0.9
mg
Adapted from Baking Illustrated (*affiliate link)