Schwäbischer Kartoffelsalat is a simple German Potato Salad hailing from the Swabian region of Germany that features sliced potatoes, minced onions, hot broth, oil, vinegar, and fresh parsley.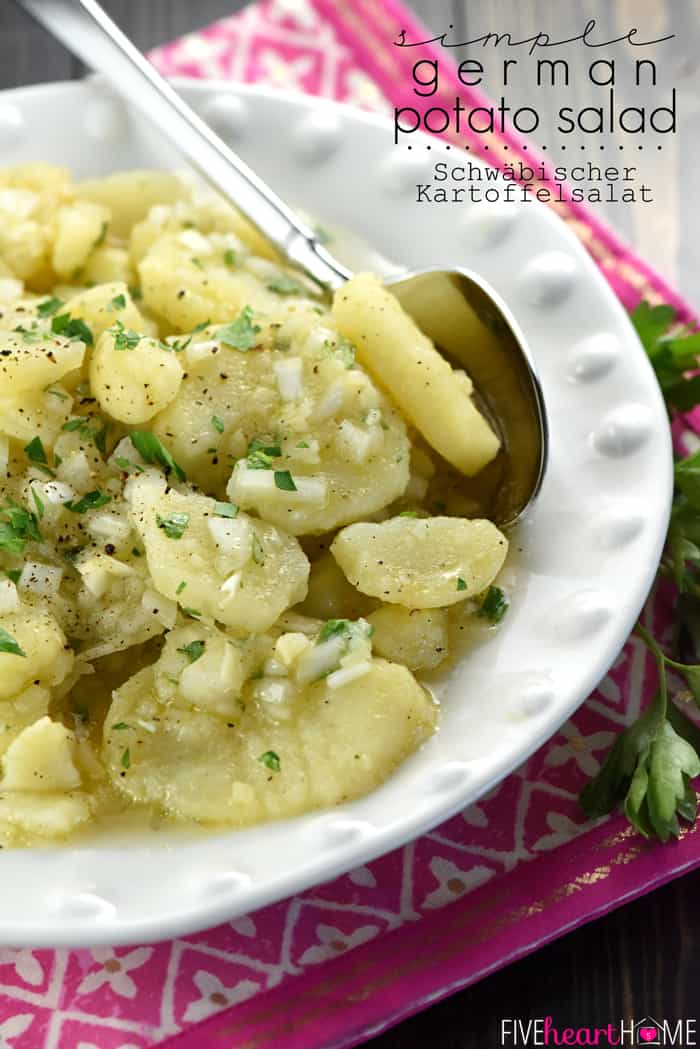 It's potato salad season, friends! And seeing as how I've shared recipes for Classic Potato Salad and Herb + Greek Yogurt Potato Salad and German Potato Salad (the hot bacon/vinegar kind) in summers past, it's high time I share the traditional type of potato salad found in the region of Germany where my mom grew up and where my relatives still live today: Schwäbischer Kartoffelsalat!
(Aren't German words fun? So many letters, so little time...)
Swabia is a region in southern Germany (think Stuttgart) where my mom's side of the family originates and still lives today. Every few years we go back to visit, and this is the type of potato salad we frequently enjoy on each trip, whether made by my grandmother, aunt, cousins, or served in a biergarten or restaurant. Ironically, it's not the kind of potato salad that my mom always made when I was growing up...she (*gasp*) Americanized her potato salad recipe by adding some mayonnaise. Additionally, this Schwäbischer Kartoffelsalat is different than the bacon-vinegar potato salad sometimes associated with the Bavarian region of Germany (hello, Oktoberfest!).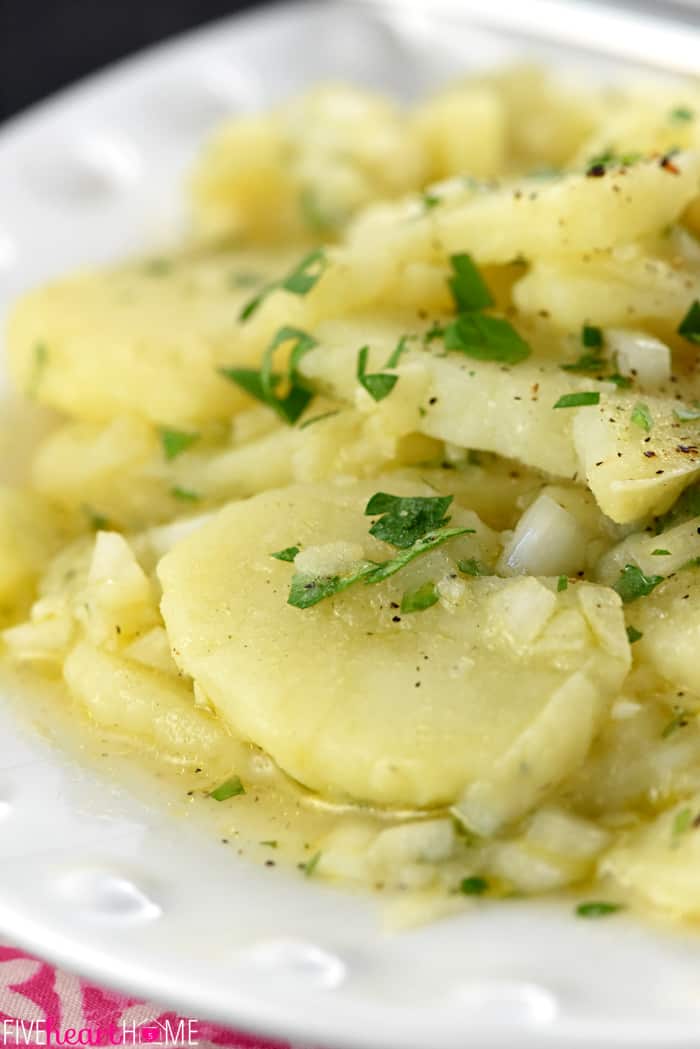 How to Make Swabian Kartoffelsalat
The bottom line is that this Swabian Kartoffelsalat is absolutely delicious in its simplicity and versatility. The potatoes available in Germany are different than those found here in the good ol' U S of A, so I recommend Yukon golds (or, at the very least, yellow potatoes) as the variety that most closely replicates German potatoes.
German potato salad always starts with potatoes that are boiled whole in their skins and then peeled while still hot. As a child, it always amazed me how my mom could hold and peel a steaming potato straight out of the pot, but for us mere mortals, it's highly advisable to allow the potatoes to slightly cool and then hold each one upright with a fork while peeling with a small paring knife. The skin slips right off so it doesn't take very long. Next, thinly slice the potatoes and douse with well-seasoned beef broth (or chicken broth may be used instead).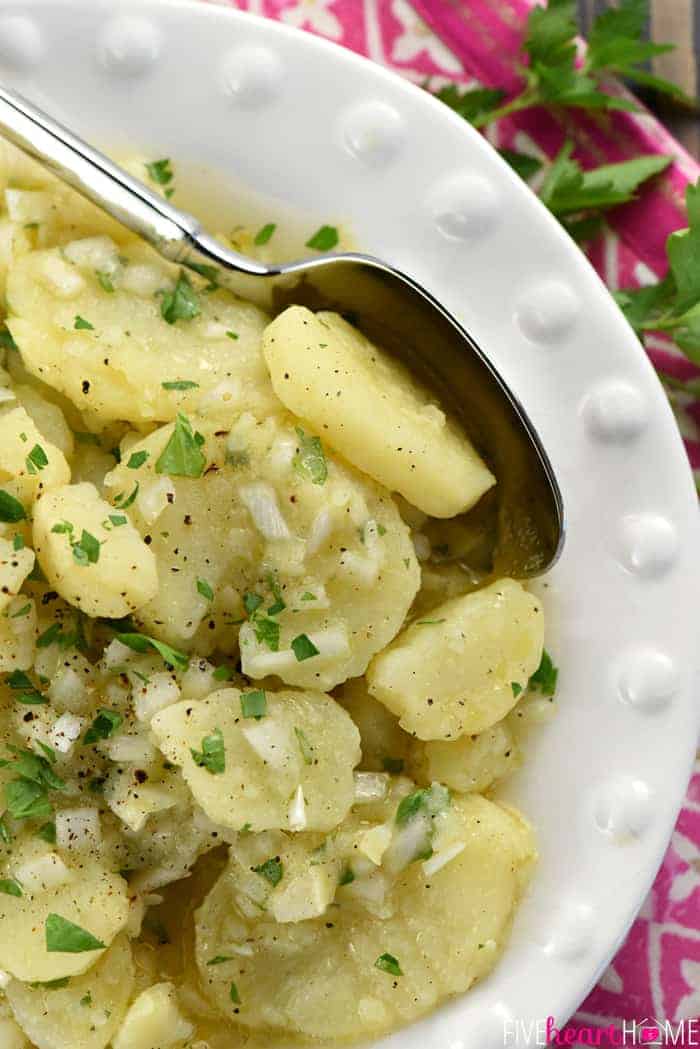 The Ever-Important Broth
A quick word on this broth-dousing step...the more flavor the better, since the potatoes are going to soak up all of that broth. For me, this either means using some of my treasured homemade stock from the freezer, or splurging just a bit on a better brand of broth at the grocery store. For my every day recipes -- soups and stews and such -- I usually just buy whatever grocery store brand organic broth that I can find. But when I make a recipe that's dependent on broth for flavor (like this one), I spend a little more and buy a box of high-quality broth, which tends to be darker and more concentrated (I like the Pacific brand).
The potatoes are left to marinate in the broth along with white wine vinegar, minced onion, salt, and pepper. Then, after the potato slices have absorbed all of that delicious flavor, a bit of vegetable oil is stirred in to add richness, the seasonings are adjusted, and the whole shebang is finished off with a shower of chopped fresh parsley. And that's it! German Potato Salad -- er, Kartoffelsalat -- perfection.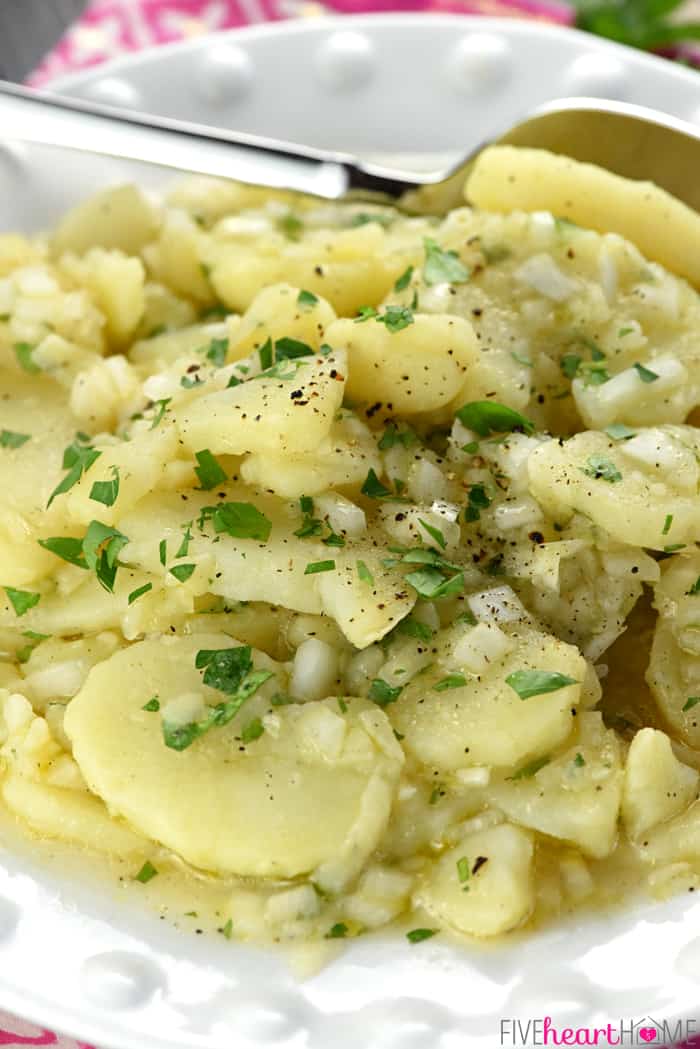 A Note About the Onions
Now, those of you who know me -- whether in real life or as long-time followers of this blog -- know that I loathe onions. Yet here you see them, plain as day, on Five Heart Home! Allow me to explain two good reasons for this anomaly:
When I recently wrote my cookbook, I begrudgingly had to suck it up and cook with onions, y'all. And don't tell anyone, but after spending six solid months buying onions and chopping onions and taste-testing recipes including onions, I actually don't hate them as much as I used to. I KNOW. I never thought I'd see the day.
Swabian Potato Salad invariably includes onions. In fact, this wouldn't be Swabian Potato Salad without 'em! That being said, I always covertly pick out the onions (more like, I scoot them to the side) when I eat potato salad in Germany (shhhhh!). Furthermore, my dear sweet mother always made me my own separate portion of onion-free potato salad when I was a kid. And today, since I'm the head chef and all, I make an onion-free bowl of potato salad for myself in addition to the onion-laden batch for my family. So see? I still avoid (okay, abhor) onions, despite writing a cookbook that does include onions in some of its recipes. But trust me...any onions can always be left out by you fellow onion haters, and that goes for today's recipe as well! Just don't tell the Swabians... 😉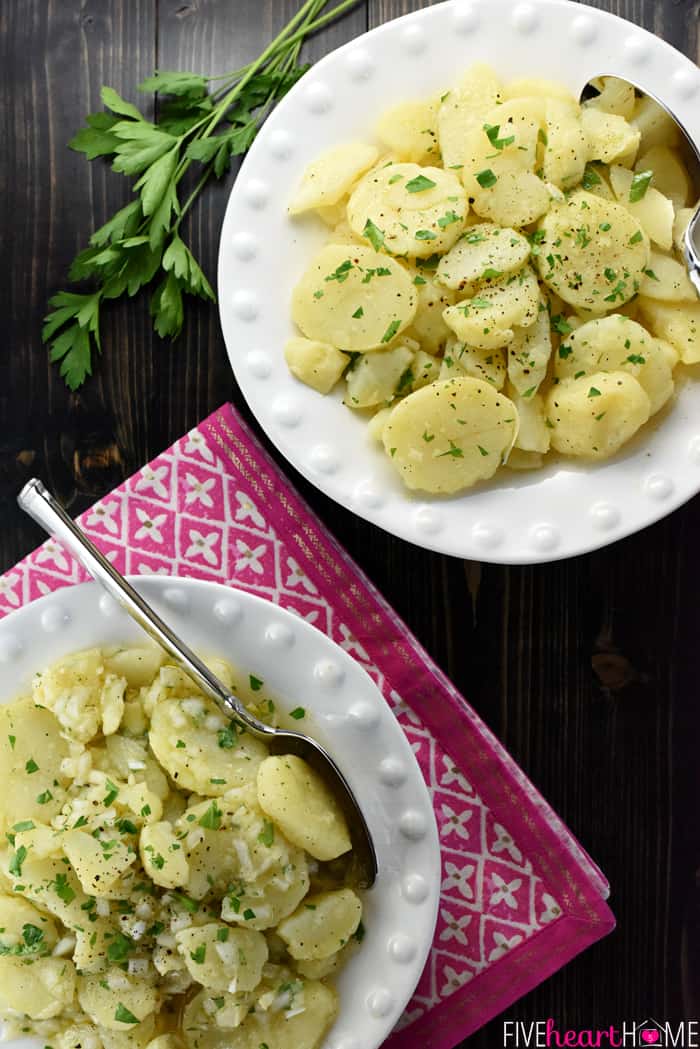 So whether you're looking for a summer side dish to complement your burgers, barbecue, and picnic fixins' -- or a year-round accompaniment to a big plate of wurst and kraut -- Swabian Potato Salad is sure to become a new family favorite!
And if you've ever traveled to Germany and occasionally find yourself craving that simple, scrumptious kartoffelsalat that you enjoyed with just about every meal, well, this recipe is here to save the day.
More German Recipes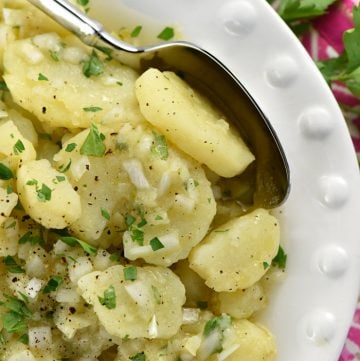 Swabian Kartoffelsalat
Schwäbischer Kartoffelsalat is a simple German Potato Salad hailing from the Swabian region of Germany that features sliced potatoes, minced onions, hot broth, oil, vinegar, and fresh parsley.
Print
Pin
Rate
Ingredients
2

pounds

small Yukon Gold OR yellow potatoes

1 ½

teaspoons

salt

,

DIVIDED, plus more to taste

¾

cup

good-quality beef broth OR homemade beef stock

,

heated until very warm

1

cup

minced yellow onion

¼

cup

white wine vinegar

Freshly ground black pepper

3

tablespoons

mild-flavored vegetable oil

,

such as sunflower OR safflower

Finely chopped fresh parsley
Instructions
Scrub the potatoes and place in a large pot covered with an inch of cold water. Set over high heat and bring to a boil. Add 1 teaspoon salt and boil until tender, which will probably take anywhere from 12 to 20 minutes depending on the size of the potatoes. Drain the potatoes and allow to slightly cool.

Once the potatoes are just cool enough to handle, peel them using a small paring knife and cut them into ¼-inch slices. Place the potato slices in a large bowl and pour the warm beef broth over the top. Top with the minced onion and white wine vinegar. Season with the remaining ½ teaspoon salt and freshly ground black pepper, to taste. Use a large spoon to gently stir until all of the potatoes are coated.

Cover the bowl with plastic wrap and allow to marinate at room temperature for 30 minutes. Stir in the vegetable oil and the parsley and serve immediately, using a slotted spoon if too much liquid remains at the bottom of the bowl. Alternatively, you may cover and refrigerate the potato salad overnight, then allow it to come to room temperature for 30 minutes before gently stirring and serving.
Notes
I like to use small Yukon Gold potatoes for this recipe (but not new potatoes, since it takes longer to peel a bunch of tiny potatoes). If I can't find Yukon Gold, I use regular yellow potatoes.
The potatoes should be boiled until tender when pierced with a fork but not crumbling and falling apart.
Beef broth/homemade beef stock is preferred, but you may use chicken broth (or homemade chicken stock) if you wish.
Calories:
164
kcal
|
Carbohydrates:
21
g
|
Protein:
5
g
|
Fat:
7
g
|
Saturated Fat:
1
g
|
Sodium:
72
mg
|
Potassium:
723
mg
|
Fiber:
4
g
|
Sugar:
1
g
|
Vitamin C:
19
mg
|
Calcium:
51
mg
|
Iron:
5
mg