Classic Potato Salad -- featuring mayo, sour cream, mustard, pickles, hard-boiled eggs, and fresh dill -- is the perfect summer side dish!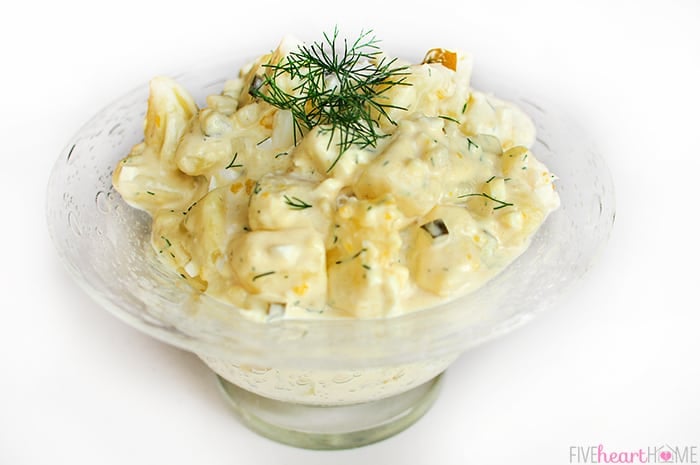 From cook-outs to picnics, Classic Potato Salad is a quintessential summer side dish. And if you don't already have a tried-and-true recipe to fall back on, well then, today's your lucky day!
This version of Classic Potato Salad is creamy and slightly tangy, thanks to a combination of mayonnaise, sour cream or yogurt (take your pick), apple cider vinegar, and two kinds of mustard. It also features dill pickles and sweet pickles (because why use one when you can use both?!) and hard boiled eggs for good measure. But for me, the fresh dill takes this potato salad from good to great. Dried dill would certainly work as well, but with an herb garden on steroids these days, I'm happy to throw fresh herbs into every dish possible.
An Unfortunate Tale
Now it's hard to wax poetic for too long about potato salad. So instead, I'll curtail the recipe commentary here to tell you a little story about this particular bowl of Classic Potato Salad.
I do most of my cooking for this blog in the middle of the day when the natural light is at its best for taking good pictures. And if I'm lucky, that cooking/photo-taking time coincides with naptime for my baby and my 3-year-old.
Well, this past weekend, I decided to cook in real time. I fixed this potato salad recipe leading up to dinnertime with plans of snapping a few quick pics before it was time to eat. I did take a few photos, and then my attention was momentarily called elsewhere. Not 10 seconds later, I heard a loud CRASH and my 3-year-old's immediate exclamations of, "I didn't mean to, Mama! It was an accident!!!"
And there, on the tile floor, were my carefully-styled mound of Classic Potato Salad and one of my favorite glass serving bowls, splattered and shattered everywhere.
I sighed, cleaned up the mess, and we proceeded to get on with dinner. There actually was a little bit of potato salad left in the original mixing bowl that I had used to make it. So I divided that between our plates and we each got at least a little taste.
My 3-year-old is known for being a rather persnickety eater and I'm always a bit surprised when he actually finishes all of something. But wouldn't you know that, on this particular night, he polished off every last bit of his potato salad before he even touched the rest of his dinner. And then, in his sweet little lisp, asked, "Mama, may I have more potato salad?"
"We don't have any more potato salad, baby. Remember? It fell on the floor and it has pieces of glass in it."
"But can I have some more?"
"No, there's not any more."
"Why not?"
"Because I had to throw it away."
"But WHY???"
"Because we couldn't eat it anymore. It's all gone."
And he then proceeded to throw a tantrum over the potato salad that was no more. Thanks to his own doing. Isn't three a magical age?
So I hope you'll forgive me that the photo featured on today's post is not my best work. And if you make this Classic Potato Salad, I hope for your sake that any threenagers in the vicinity stay far, far away from it.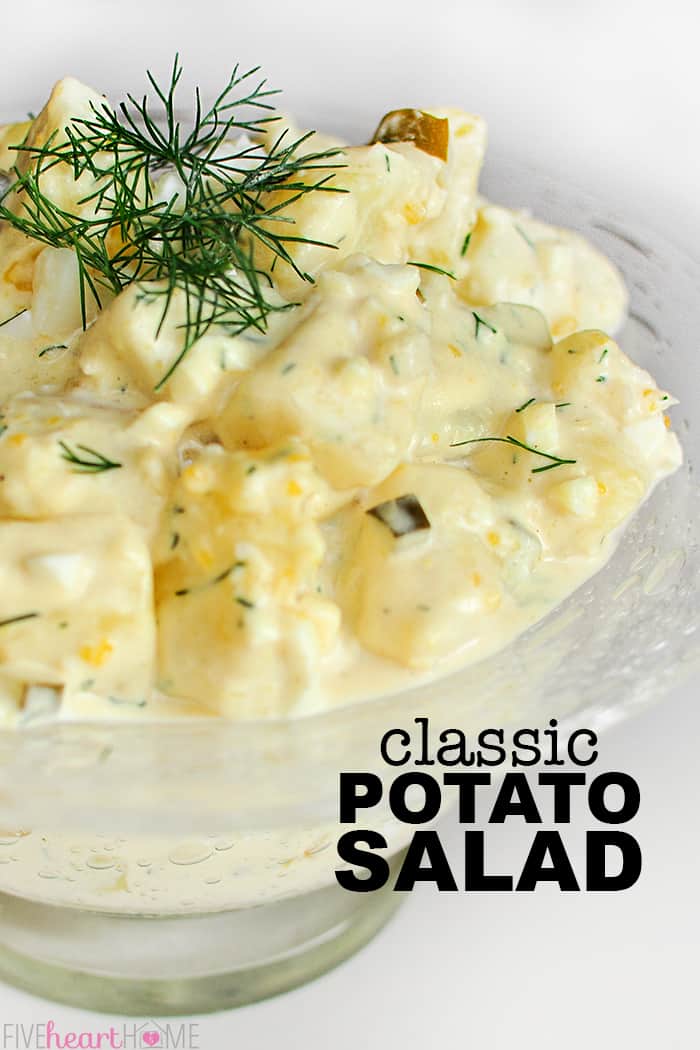 More Potato Salad Recipes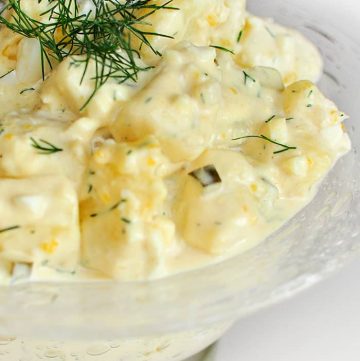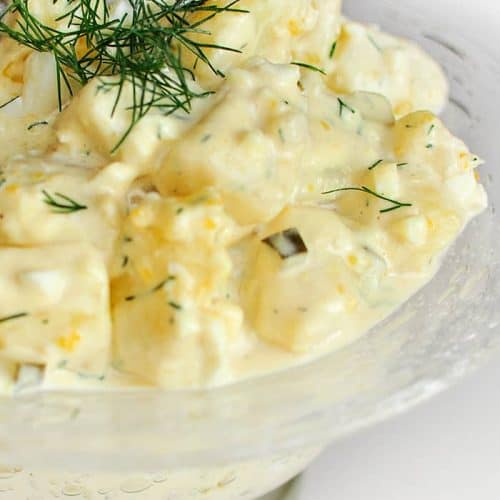 Classic Potato Salad
Classic Potato Salad -- featuring mayo, sour cream, mustard, pickles, hard-boiled eggs, and fresh dill -- is the perfect summer side dish!
Print
Pin
Rate
Servings:
8
to 10 servings
Ingredients
3

pounds

potatoes

,

peeled & cubed

4

eggs

2

tablespoons

salt

1

cup

mayonnaise

1

cup

sour cream OR plain yogurt

2

tablespoons

apple cider vinegar

2

tablespoons

sugar

1

tablespoon

yellow mustard

1

tablespoon

dijon mustard

½

cup

diced dill pickles

½

cup

diced sweet pickles

2

tablespoons

fresh chopped dill

½

teaspoon

salt

½

teaspoon

garlic powder

Freshly ground black pepper

,

to taste
Instructions
Place the cubed potatoes and whole eggs in a large pot and cover with cold water. Stir in 2 tablespoons salt. Bring water to a boil and then turn down to a simmer.

After 12 minutes, remove the eggs. Continue simmering potatoes for 3 to 5 more minutes or until tender. Drain potatoes and allow to cool.

While the potatoes and eggs are cooling, make the dressing. Mix together the mayonnaise, sour cream (or yogurt), vinegar, sugar, mustards, pickles, dill, salt, garlic powder, and pepper until smooth. Dice the eggs and add to the mayonnaise mixture, then pour the dressing over the potatoes and stir gently until they are evenly coated. Allow to chill for several hours before serving. Garnish with additional dill, if desired.
Calories:
363
kcal
|
Carbohydrates:
29
g
|
Protein:
9
g
|
Fat:
23
g
|
Saturated Fat:
4
g
|
Cholesterol:
94
mg
|
Sodium:
2304
mg
|
Potassium:
834
mg
|
Fiber:
5
g
|
Sugar:
8
g
|
Vitamin A:
235
IU
|
Vitamin C:
19.6
mg
|
Calcium:
136
mg
|
Iron:
6.1
mg
Originally published on June 26, 2013, and updated on June 22, 2020.