Sweetened with honey and brightened with citrus, Cranberry Cherry Sauce strikes a perfect balance between tart cranberries and luscious cherry preserves, making it the perfect addition to your Thanksgiving table!

Welp, the countdown is on to Turkey Day, friends! Soon I'll be shifting gears and bringing you Christmas recipes, but not before I share one more Thanksgiving dish today...homemade cranberry sauce with a twist! Now everybody knows that homemade cranberry sauce is head-and-shoulders-above the gelatinous canned stuff, but this sweet-tart Cranberry Cherry Sauce is (wait for it!) THE BEST YET.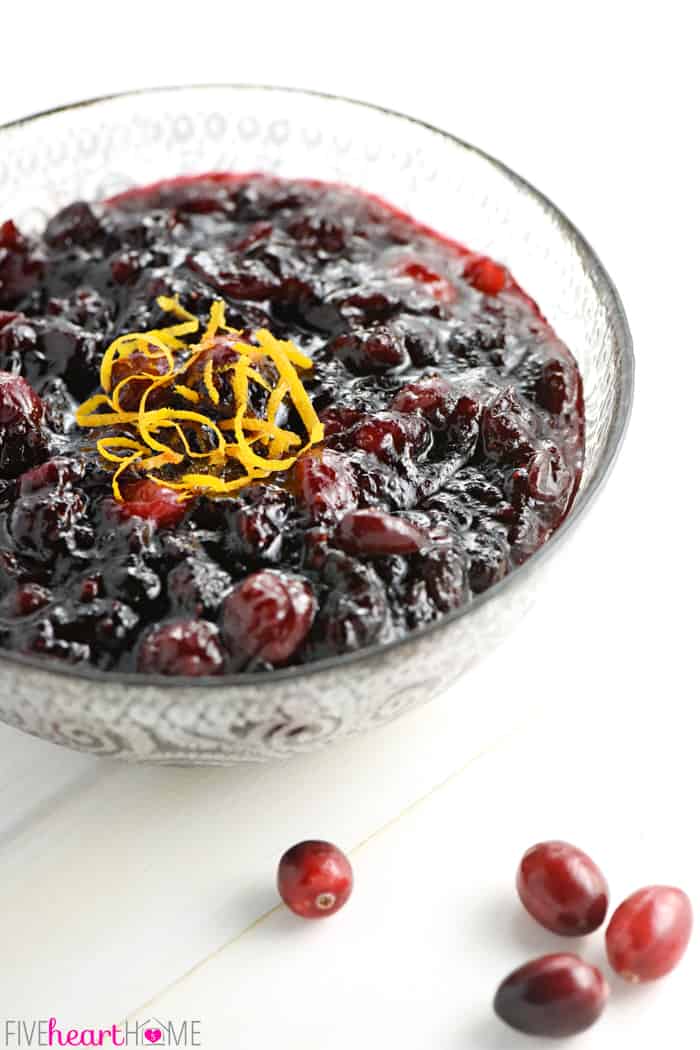 Growing up, we actually only ever had the canned stuff at Thanksgiving...you know, slid straight out of the can and onto a plate, so that the impressions of the rings were still intact as it jiggled and wobbled with every bump of the table. I actually never cared for that cranberry sauce myself, but to my brother, it was the utmost Thanksgiving treat, akin to getting dessert-with-dinner. He viewed it as a cousin of jello, reverently reserving it until it was the last thing on his plate and savoring every spoonful.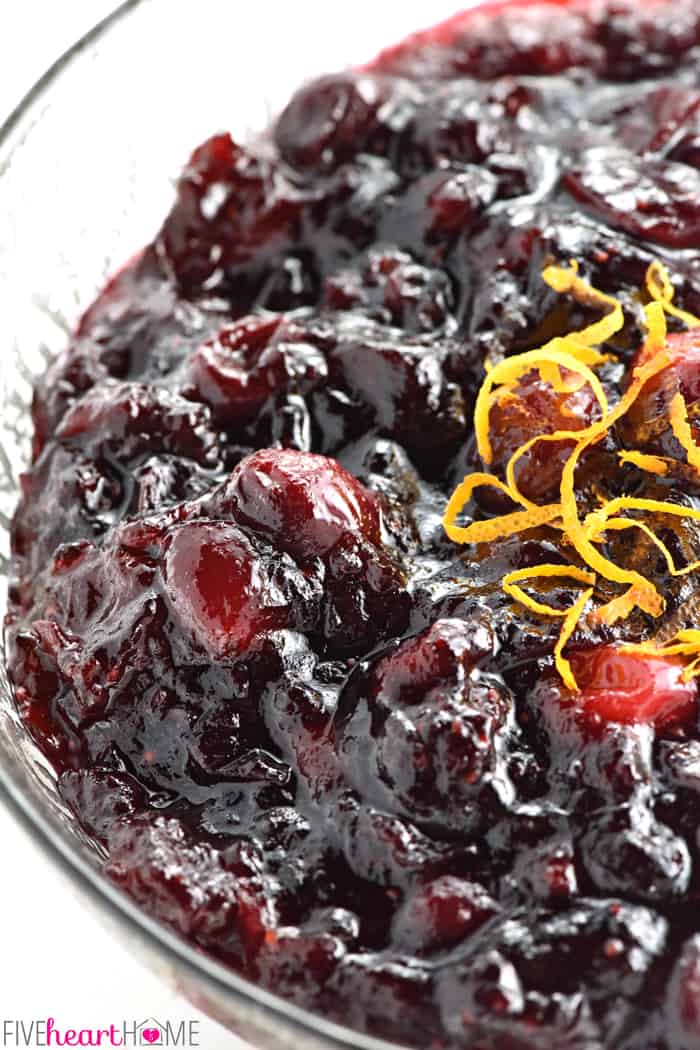 It wasn't until I was grown and married did I make homemade cranberry sauce for the first time and, wow...I kind of liked it. Over the years I've tweaked my recipe, and my family has finally settled on a favorite variation that incorporates cherry preserves along with fresh cranberries. So, much like my little brother in days of yore, my own children now treat their Cranberry Cherry Sauce like dessert...but they apparently don't have his restraint because they tend to scarf it down first. 😉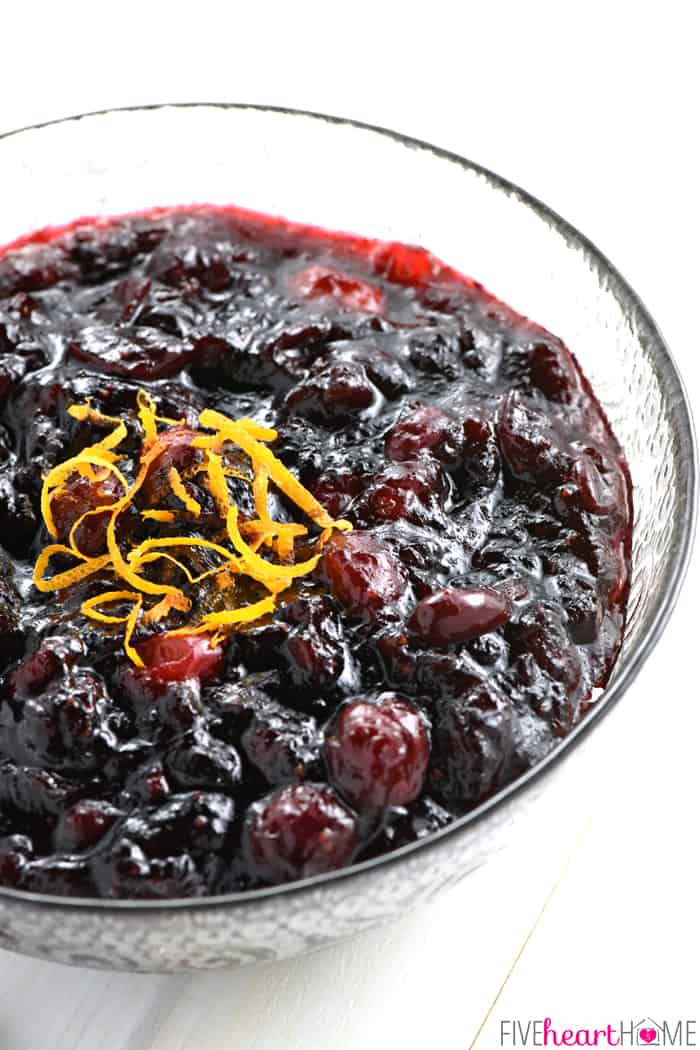 Ingredients
I think the kiddos enjoy this cherry-infused version of cranberry sauce because it's not quite as tart and full-on CRANBERRY as its traditional predecessor.
The cherry preserves serve to mellow out the cranberries.
Honey lends natural sweetness.
And a splash of fresh orange juice plus a sprinkle of orange zest brighten the flavors.
Of course, feel free to add extra honey if you prefer things a bit sweeter, particularly if your cherry preserves are unsweetened.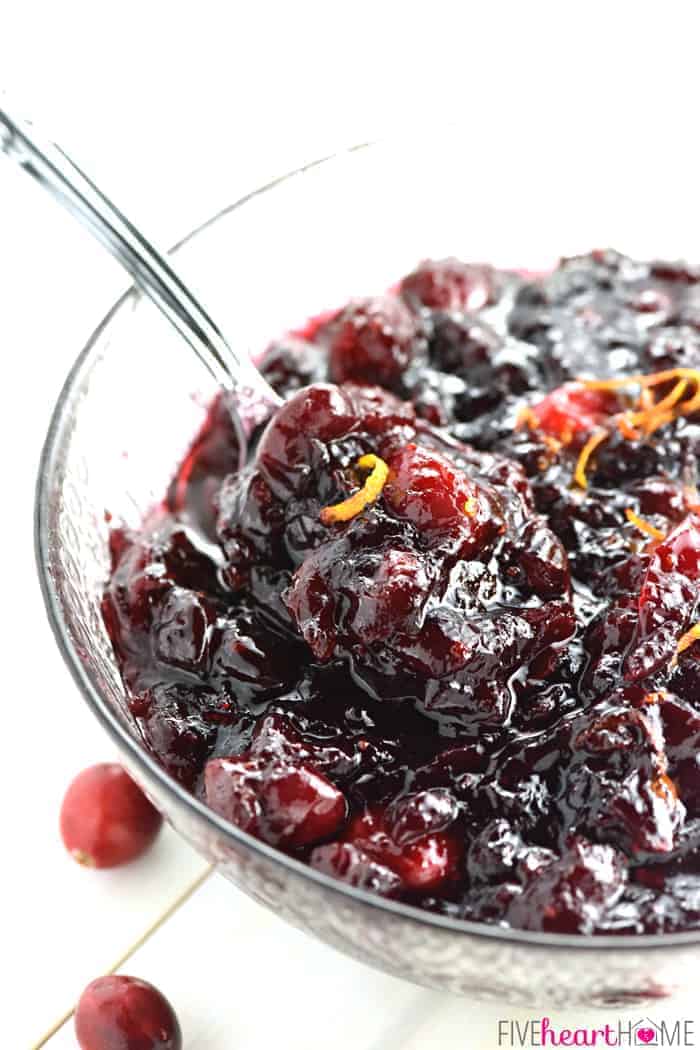 How to Make It
Lest you've never made homemade cranberry sauce, the recipe is truly simple:
Mix together the ingredients in a pot on the stove.
Bring to a boil.
Simmer for about 15 minutes until the cranberries have softened, popped, and thickened.
And that's it! The natural pectin released by the cranberries is the natural sauce-thickener, no jello required.
A quick word of warning, though: make sure you cook the sauce long enough to allow the berries to burst, but don't cook it too long or the pectin may start to break down and the sauce won't adequately thicken.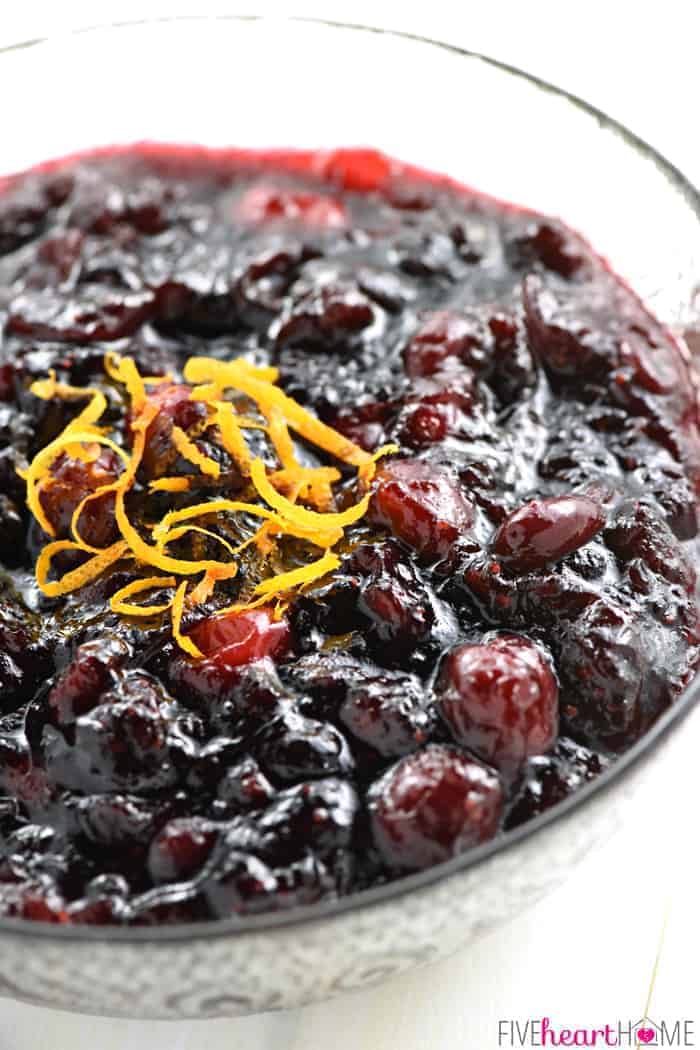 Make-Ahead Convenience
In addition to being pretty much effortless to whip up, this Cranberry Cherry Sauce can be prepared well ahead of Thanksgiving, freeing you up on the day-of to make, oh, just about everything else.
Just refrigerate the finished cranberry sauce and bring to room temperature before serving. Transfer it into a pretty bowl and prepare to be met with the types of oooohs and ahhhhs that a molded can-o-sauce could never dream of eliciting. And, shhhh...nobody has to know that this homemade beaut only took about 20 minutes to make from start to finish!

Now excuse me while I go call my brother. I need to make sure he's not still eating his Thanksgiving "jello" from a can...and if that's the case, I happen to know this fun little food blog where he can find a fabulous homemade recipe. 😉
More Thanksgiving Menu Planning Ideas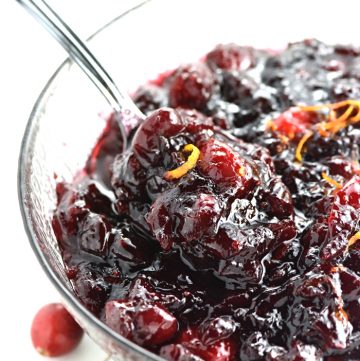 Cranberry Cherry Sauce
Sweetened with honey and brightened with citrus, Cranberry Cherry Sauce strikes a perfect balance between tart cranberries and luscious cherry preserves, making it the perfect addition to your Thanksgiving table!
Print
Pin
Rate
Servings:
10
to 12 servings
Ingredients
1

(12-ounce) bag fresh cranberries

,

rinsed and drained

1

(8- to 10-ounce) jar cherry preserves

½

cup

honey

2

tablespoons

fresh-squeezed orange juice

1

teaspoon

orange zest

¼

teaspoon

salt
Instructions
In a large saucepan, stir together cranberries, cherry preserves, honey, orange juice, orange zest, and salt. Set over medium-high heat and bring to a boil. Reduce heat to a simmer and cook, stirring occasionally, for 15 minutes or until cranberries have softened, burst, and started to thicken. Cool to room temperature and serve, or store in refrigerator and bring to room temperature before serving.
Notes
Additional honey may be added, to taste. If using unsweetened cherry preserves, more honey may be necessary.
Calories:
132
kcal
|
Carbohydrates:
34
g
|
Protein:
1
g
|
Fat:
1
g
|
Saturated Fat:
1
g
|
Sodium:
67
mg
|
Potassium:
62
mg
|
Fiber:
2
g
|
Sugar:
27
g
|
Vitamin A:
27
IU
|
Vitamin C:
9
mg
|
Calcium:
8
mg
|
Iron:
1
mg
Post originally published on November 17, 2015.