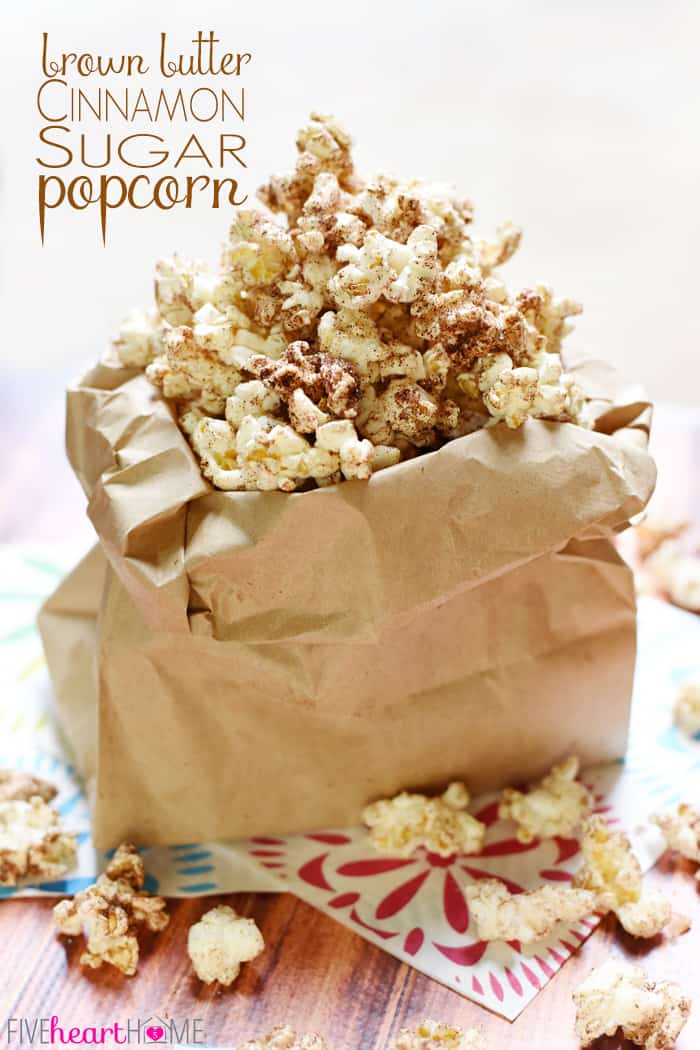 Brown Butter Cinnamon Sugar Popcorn is an addictive, 5-minute, snack that's perfect for any occasion, from after school to movie night!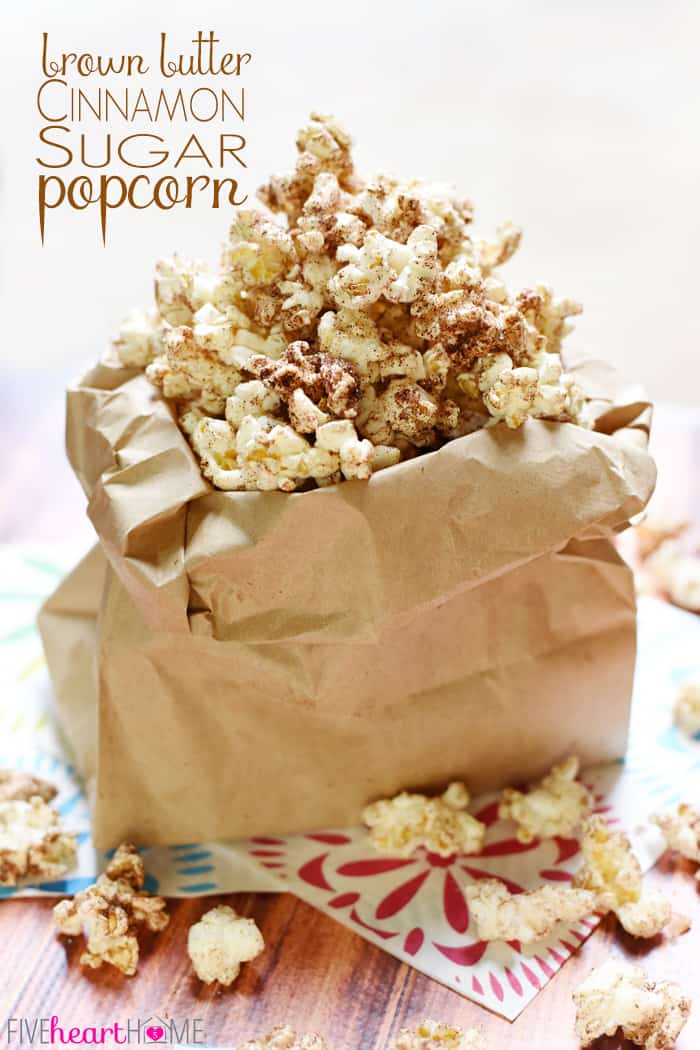 Correct me if I'm wrong, but popcorn is pretty magical stuff. What other food starts out as a rock-hard little kernel and then, with a short application of heat, explodes into a fluffy, melt-in-your-mouth snack? On top of that, all of those crevices are just perfect for soaking up your favorite flavors!
I big puffy heart popcorn, whether it's in the form of a bag of kettle corn from the grocery store, a tin of cheesy popcorn at Christmas time, caramel corn from the fair, or hot, butter-drenched popcorn at the movies. But what I often forget is how speedy and effortless it is to make just about any variety of popcorn in my very own kitchen.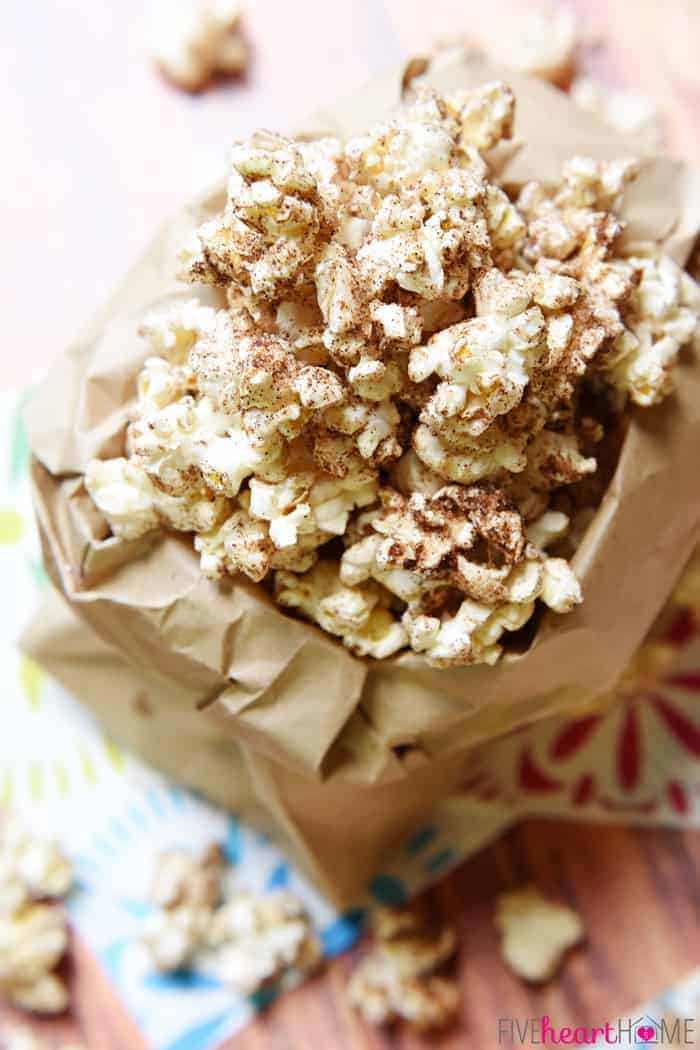 There are lots of ways to pop fresh corn kernels, whether you have an air popper, you do so in the microwave, or you go the old-fashioned stovetop route. But I have to admit that I find the microwave method to be the easiest, fastest, and least messy approach.
Simply place ¼ cup kernels in a large paper lunch sack, fold down the top, and then microwave for a couple of minutes (or until the popping slows down to about 2 seconds between pops). Shake the bag so that any unpopped kernels congregate in one corner, and then tear a tiny hole in that corner so that they all conveniently fall out. Then pour your piping hot, fluffy popcorn into a bowl and go to town with your favorite seasonings!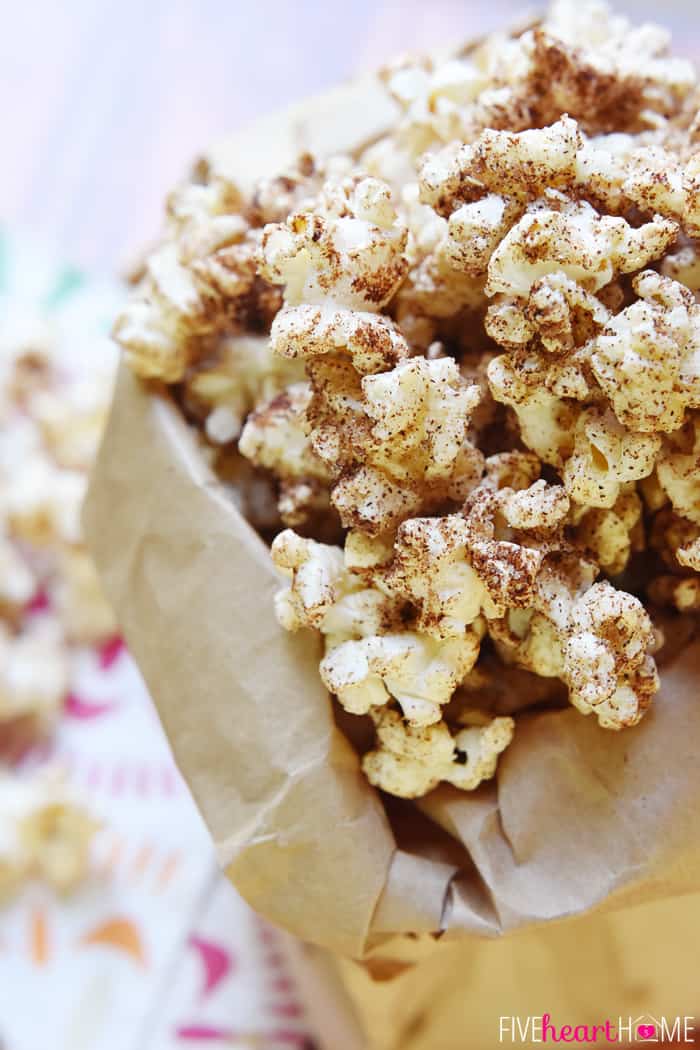 For today's recipe, I thought I'd give my popcorn a Snickerdoodle-esque treatment. To do the same, you'll want to start with real salted butter, not just melted, but cooked for a few extra minutes until it achieves nutty, fragrant brown butter status. Stir in a splash of vanilla and pour all over your freshly-popped popcorn, tossing until every piece is nice and coated. Then sprinkle on a generous coating of cinnamon sugar and gently stir again.
The result is light, crisp popcorn with a decadent, brown-buttery, cinnamon-sugary coating. I had a hard time taking photos of this popcorn because I found myself constantly sneaking bites, and every time I'd have to wash the butter/cinnamon/sugar off my fingers before picking my camera back up. It goes without saying that my kids absolutely loved this stuff. And I even caught my husband munching on it every time he passed through the kitchen.
Brown Butter Cinnamon Sugar Popcorn not only makes a yummy snack for the kiddos, but it's also a delightful treat for enjoying on movie night! And if you happen to be into sports, it's the ideal answer to those game-watching munchies.
If you've never popped your own fresh popcorn before, it's never too late to give it a go! Those store-bought bags of microwave popcorn are loaded with artificial ingredients, not to mention the fact that popping plain corn in a clean bag is just as quick and easy. Add a quick application of brown butter, cinnamon, and sugar, and you've got the perfect snack!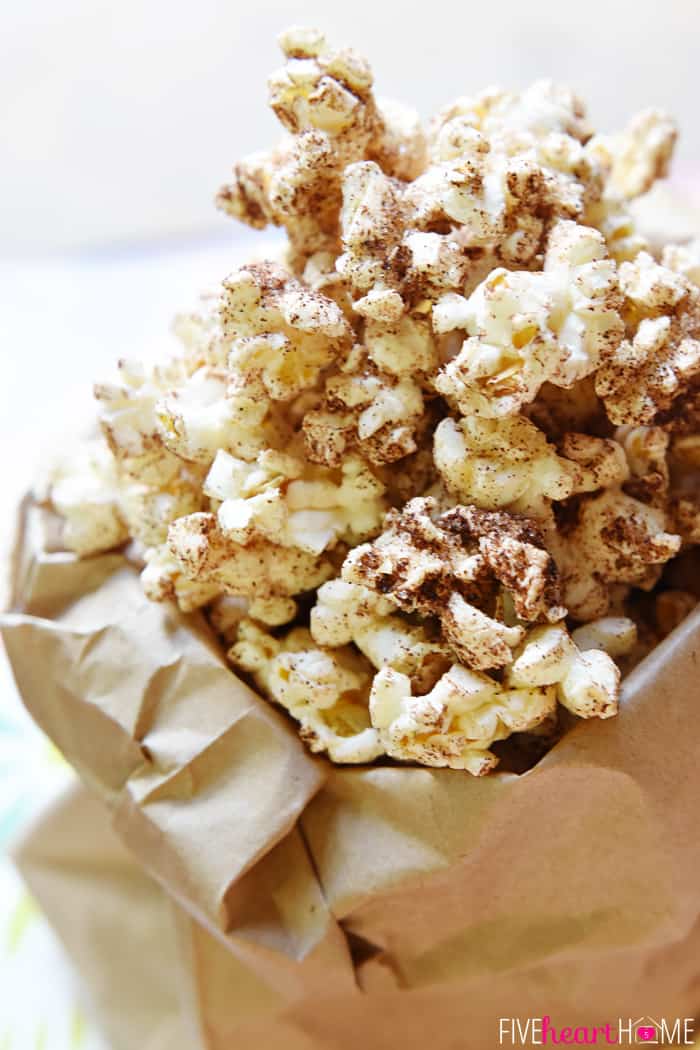 So the next time you need a little something to munch on, take five minutes to whip up a batch of this Brown Butter Cinnamon Sugar Popcorn! Snack time will never be the same. 😉
More Cinnamon Treats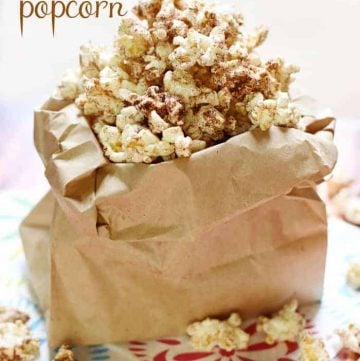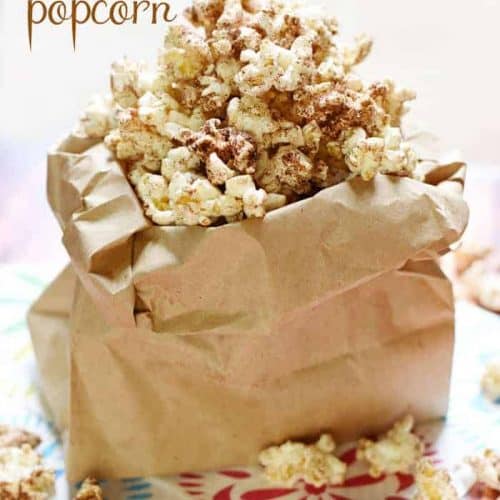 Brown Butter Cinnamon Sugar Popcorn
Fresh popcorn is drizzled with brown butter and generously coated with cinnamon & sugar in this 5-minute, addictive snack that's perfect for any occasion, from after school to movie night.
Print
Pin
Rate
Servings:
12
cups popcorn
Ingredients
½

cup

unpopped popcorn kernels

,

OR 12 cups freshly popped popcorn, unseasoned

6

tablespoons

salted butter

,

diced

1

teaspoon

vanilla

¼

cup

sugar

1

tablespoon

cinnamon
Instructions
To pop 6 cups of popcorn at a time in the microwave, pour ¼ cup popcorn kernels in a clean paper lunch sack (I use a 12 ⅜ X 6 ⅛ X 4" brown paper lunch bag). Fold over the top several times. Microwave on high until there is a 2-second pause between pops (all microwaves vary, but this will probably take around 2 minutes, give or take 30 seconds). Shake the bag so that any unpopped kernels roll to one corner. Tear a tiny hole in that corner and shake out kernels. Pour popped popcorn into a bowl. Repeat entire process for a total of 12 cups popcorn.

Place butter in a small, heavy-bottomed pot. Set pot over medium-low heat and stir constantly as butter melts and foams. After a few minutes, butter will turn golden and brown specks will form. When the foam subsides and the butter begins to smell nutty, remove from the heat. Butter should be deep golden brown but not black or burnt.

Remove pot from heat and stir in vanilla (be prepared for butter to foam up quite a bit). While brown butter slightly cools, mix sugar and cinnamon together in a small bowl until well combined.

Slowly drizzle brown butter over popcorn, allowing any black/dark brown sediment at the bottom of the pot to remain behind. Gently stir popcorn until evenly coated. Sprinkle half of the cinnamon sugar mixture over buttered popcorn; stir, and repeat with remaining cinnamon sugar. Serve immediately.
Notes
If you don't have salted butter, stir ⅛ to ¼ teaspoon (to taste) of salt into brown butter before pouring over popcorn.
If you don't want to mess with browning the butter, regular melted butter works just fine, too. 🙂
Calories:
95
kcal
|
Carbohydrates:
10
g
|
Protein:
1
g
|
Fat:
6
g
|
Saturated Fat:
4
g
|
Cholesterol:
15
mg
|
Sodium:
51
mg
|
Potassium:
19
mg
|
Fiber:
1
g
|
Sugar:
4
g
|
Vitamin A:
175
IU
|
Calcium:
8
mg
|
Iron:
0.3
mg