Freshly popped popcorn is drizzled in real butter and sprinkled with a savory mixture of Parmesan, dried herbs, and spices for Parmesan Ranch Popcorn, a perfect movie night treat!

Between three crazy kids, two busy jobs, and a partridge in a pear tree, movie night is one of our favorite ways to unwind after a long, hectic week — and reconnect as a family — come Friday evening. Granted, due to the varied ages and interests of our offspring, it's sometimes hard to arrive at a consensus as far as what to watch. When the boys vote for The Sandlot, the girl votes for Moana, and the parents resign themselves to watching Disney movies for many years to come.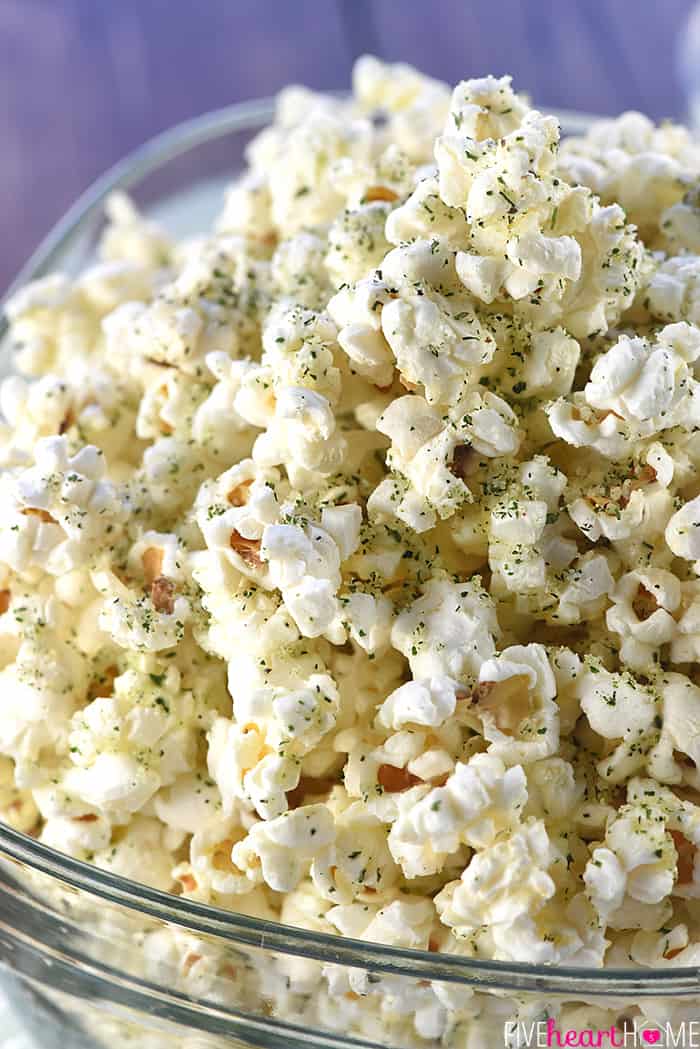 But one thing we can always agree on is that Family Movie Night requires a tasty snack! All the better if that snack calls to mind some of the (ridiculously overpriced) fare at an actual movie theater. Popcorn is an appropriate-if-not-stereotypical choice, and some of our family-favorite homemade flavors include Brown Butter Cinnamon Sugar Popcorn and Rosemary Parmesan Popcorn.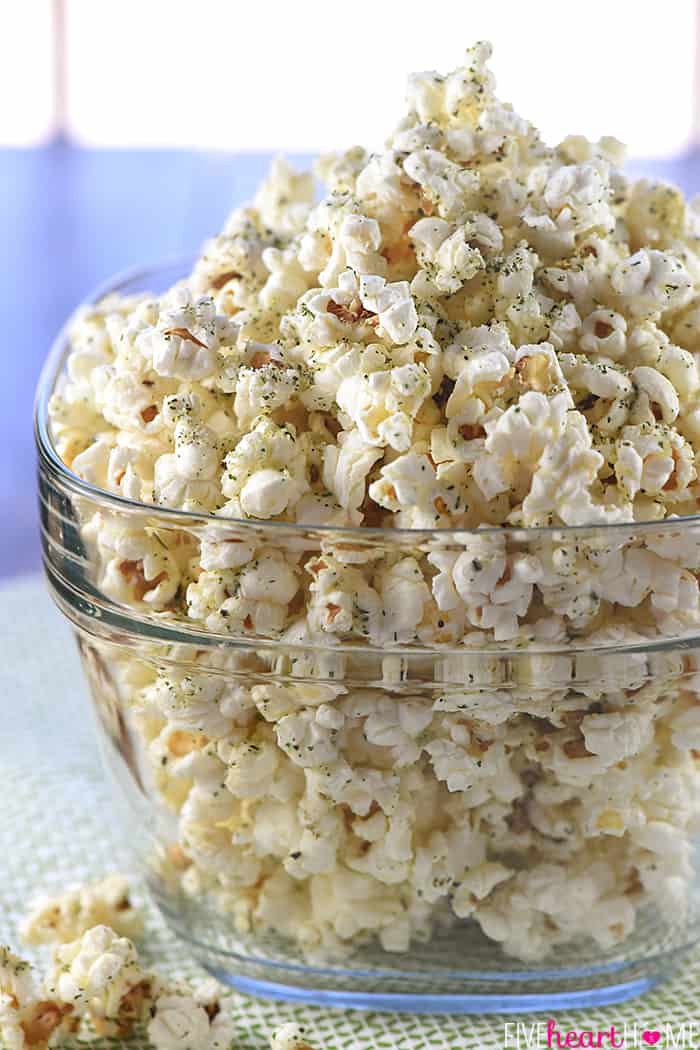 But I recently decided that we need to shake things up a bit with a new flavor. Enter Parmesan Ranch Popcorn. It starts with fresh, air-popped popcorn, tossed in decadent butter and sprinkled with a mixture of Parmesan cheese and ranch dressing-esque herbs and spices.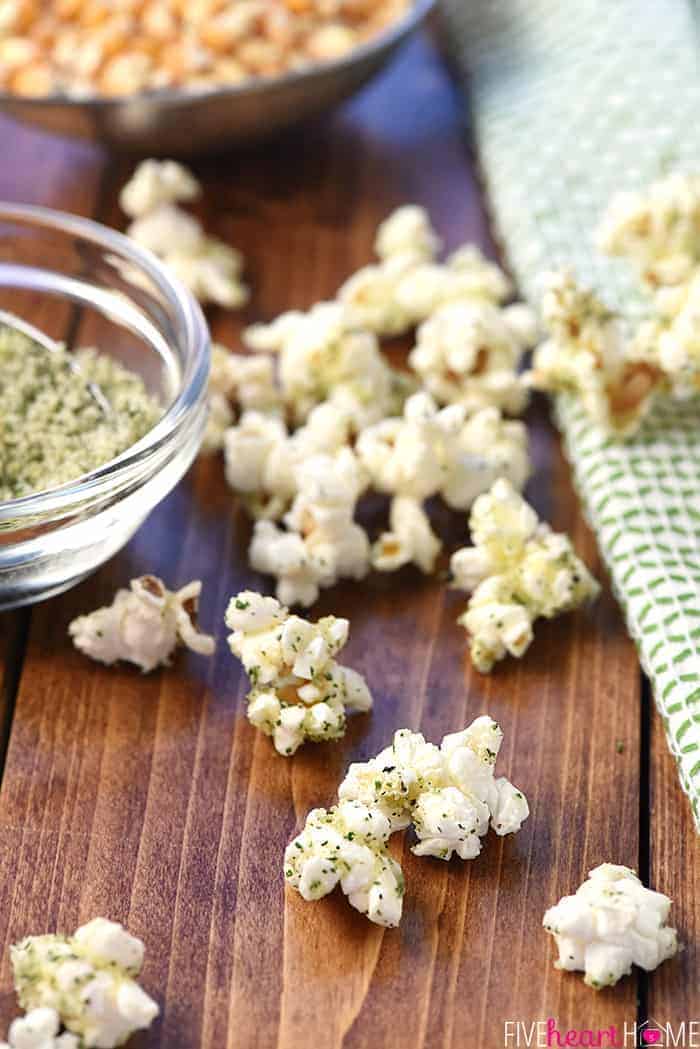 The result is scrumptious, addictive popcorn with the overt salty-cheesiness of Parmesan and a decidedly ranch undertone. The kids scarfed it down. And the adults were so enamored with it that we could almost pretend we were watching an Oscar-worthy flick as opposed to a movie catering to the under-10 set. 😉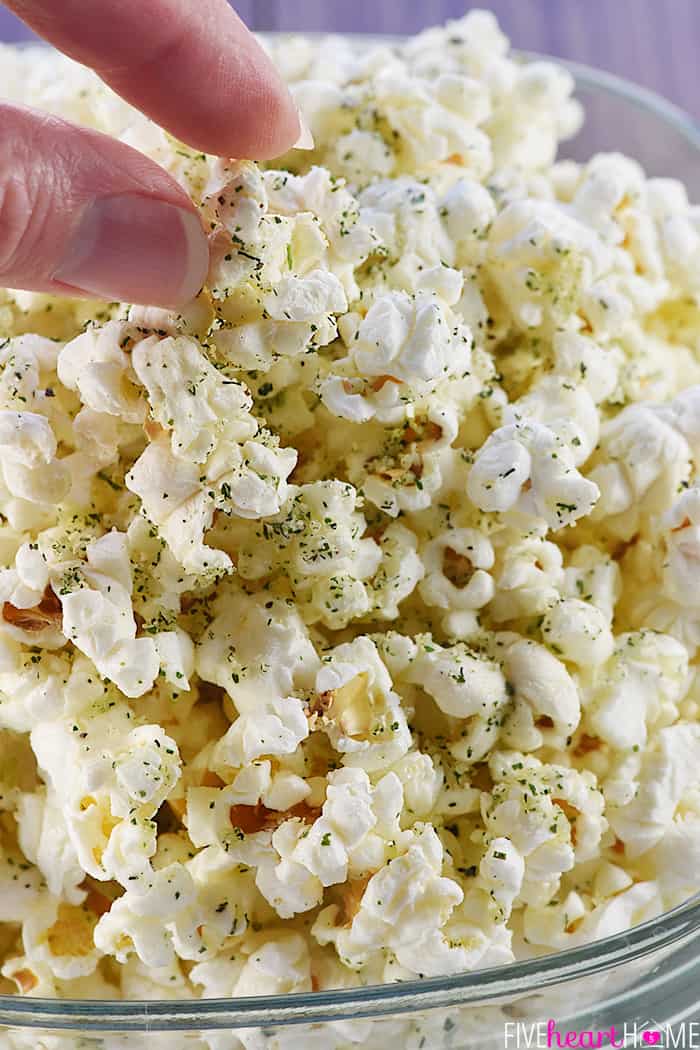 There are a few easy tricks behind this recipe. First off, I like to pop my plain popcorn kernels in a brown paper bag in the microwave. No fuss, no mess, and no icky chemical additives like those found in microwave popcorn. However, if you have an alternative popcorn-popping method that you prefer, feel free to use that instead.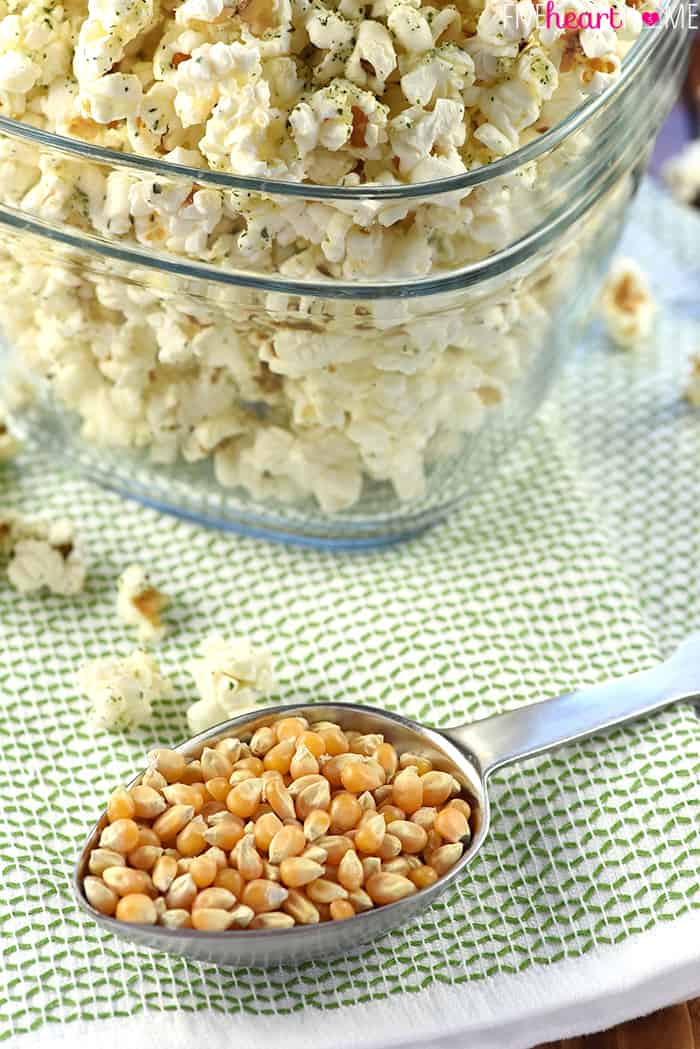 Next, I've figured out a butter-related trick that diminishes the chance of soggy popcorn. Once your butter is melted (in a glass measuring cup in the microwave or in a little saucepan on the stove), let it sit for a couple of minutes. Then use a spoon to skim (and discard) the foamy layer from the surface of the melted butter. When you're ready to drizzle the butter over the popcorn, do so slowly, and stop just short of allowing the thick butter solids to pour out. Leave those at the bottom of the measuring cup/saucepan.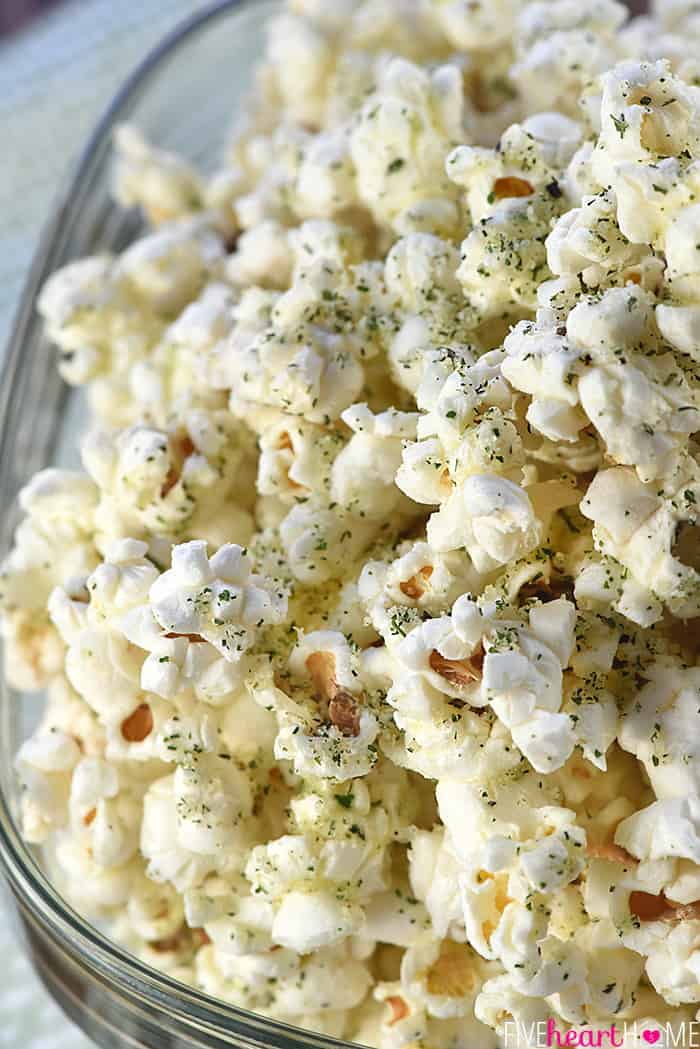 The purpose of only using the clear, bright yellow layer of melted butter is that you're essentially drizzling your popcorn with clarified butter. And since clarified butter is pure butterfat — with excess water and milk proteins removed — your popcorn is less likely to become wet and soggy. Yay!
My final Ranch Parmesan Popcorn secret is that I like to measure out the Parmesan, dried herbs, and spices into a mini food processor or blender. Then I whirl everything together until it's all pulverized into a fine powder.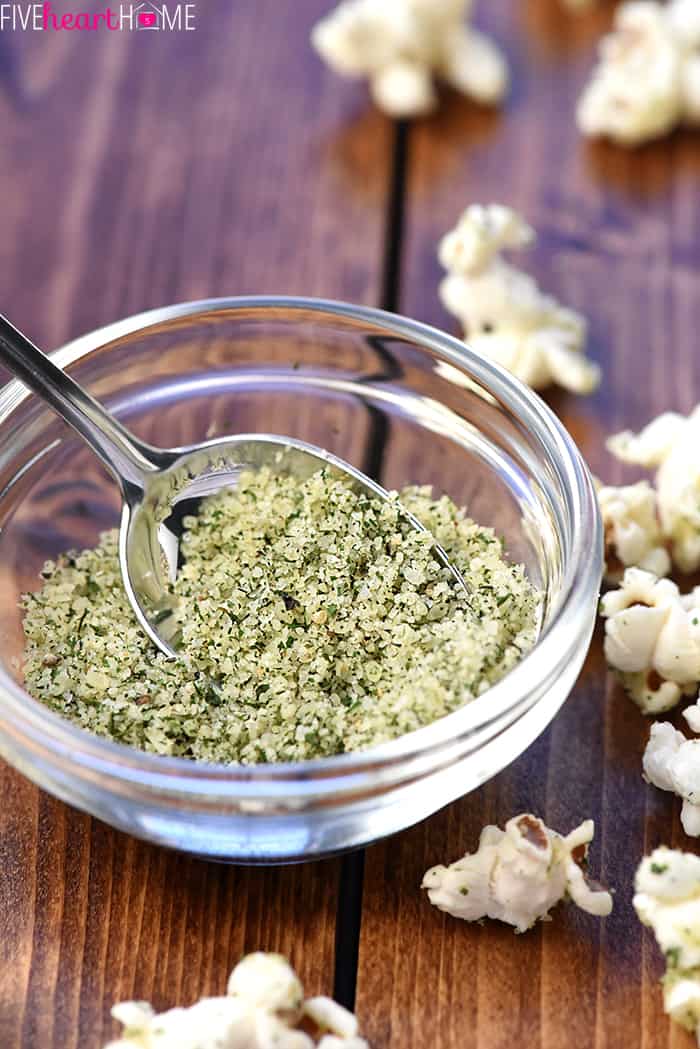 The powder distributes the flavors and coats the popcorn more evenly than would be accomplished by simply mixing everything together.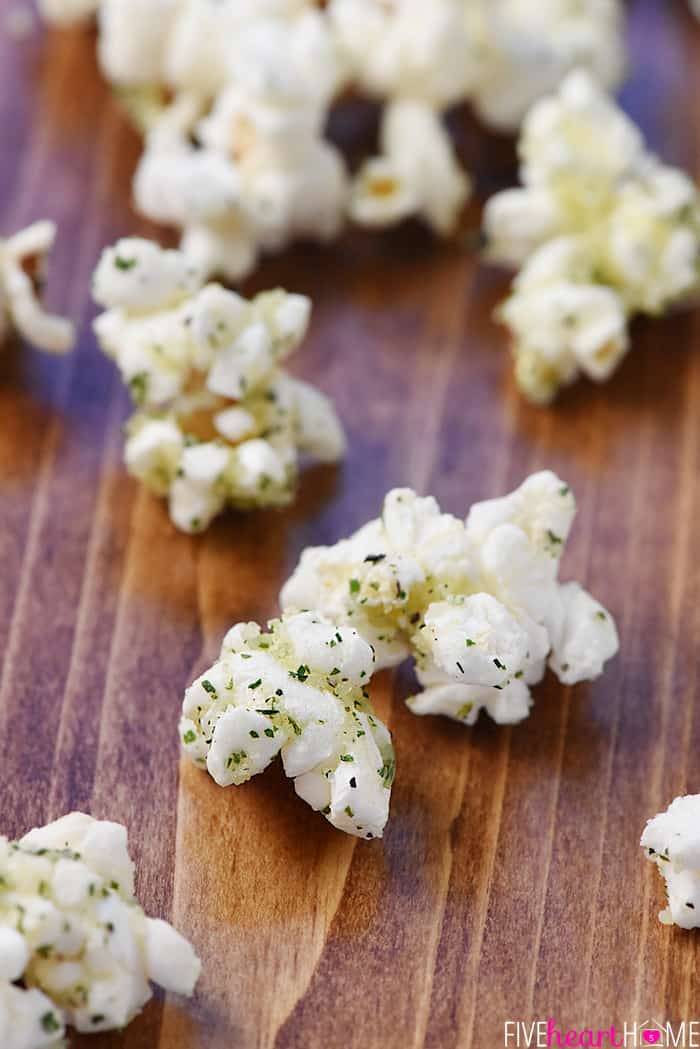 So who's ready for movie night? And what's on your marquee? Let me know which recent grown-up movies you recommend (since I haven't seen one of those in a theater since, ohhhh, circa-2006), and perhaps our next Ranch Parmesan Popcorn-fueled movie night will occur after the kids go to bed! 😉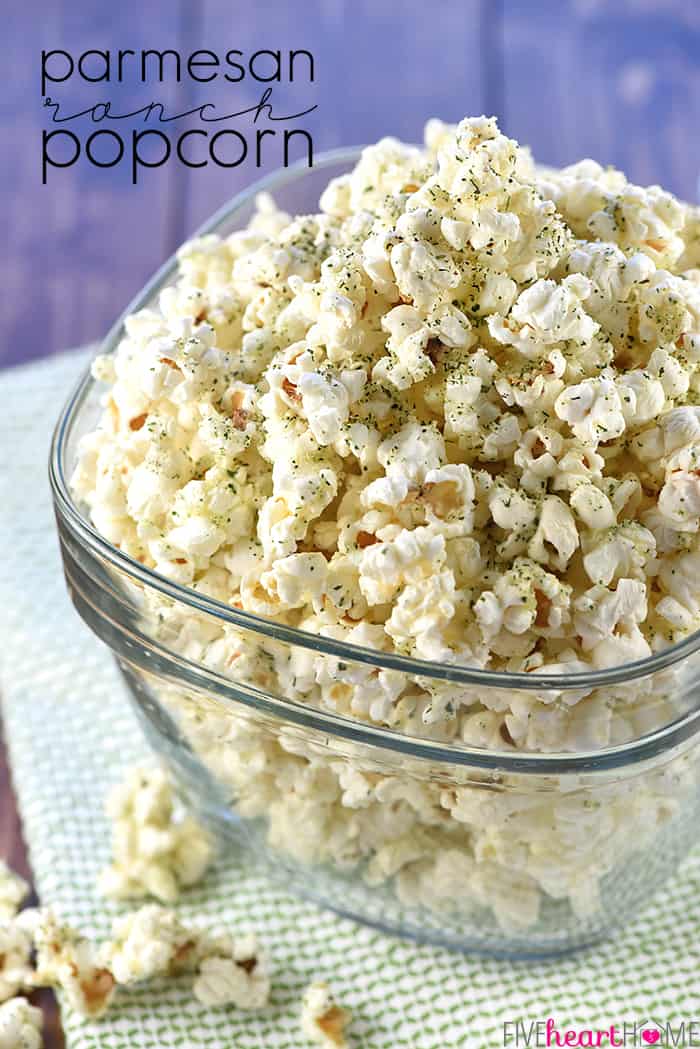 Freshly popped popcorn is drizzled in real butter and sprinkled with a savory mixture of Parmesan, dried herbs, and spices for Parmesan Ranch Popcorn, a perfect movie night treat!
Ingredients
3 tablespoons freshly grated (or shredded) Parmesan cheese
3/4 teaspoon garlic salt
3/4 teaspoon onion powder
3/4 teaspoon dried parsley
1/2 teaspoon salt
1/4 teaspoon dried dill
Freshly ground black pepper, to taste
6 tablespoons unsalted butter
1/2 cup unpopped popcorn kernels (OR 12 cups freshly popped popcorn, unseasoned)
Instructions
Measure Parmesan, garlic salt, onion powder, dried parsley, salt, dried dill, and black pepper into a mini food processor (or blender). Pulse until all ingredients are ground into a fine powder. Set aside.
Cube butter and melt (either in a glass measuring cup in the microwave or in a small saucepan on the stove). Allow to sit for a few minutes.
To pop 6 cups of popcorn at a time in the microwave, pour 1/4 cup popcorn kernels in a clean paper sack (I use a 12 3/8 X 6 1/8 X 4" brown paper lunch bag). Fold over the top several times. Microwave on high until there is a 2-second pause between pops (all microwaves vary, but this will probably take around 2 minutes, give or take 30 seconds). Shake the bag so that any unpopped kernels roll to one corner. Tear a tiny hole in that corner and shake out kernels. Pour popped popcorn into a large bowl. Repeat entire process for a total of 12 cups popcorn.
Use a spoon to skim the foam from the surface of the melted butter and discard. Slowly drizzle the clear, yellow, melted butter over the popcorn in the bowl, occasionally stirring with a large spoon to make sure that all of the popcorn is evenly coated. Stop pouring out the melted butter once you reach the milky solids in the bottom of the cup/pan (you may discard these or reserve for use in another recipe).
Sprinkle the popcorn with the Parmesan/herb mixture, carefully stirring and tossing so that the popcorn gets evenly coated. Taste as you go...you may choose to use some or all of the Parmesan/herb mixture, and at the end, you may season with additional salt and/or pepper, to taste, if desired. Serve immediately.
https://www.fivehearthome.com/parmesan-ranch-popcorn/
https://fivehearthome.com ~ All recipes and images on Five Heart Home are copyright protected. Please do not use without my permission. If you would like to feature this recipe, please rewrite the directions in your own words and give proper attribution by linking back to this blog.
More movie night snacks…
Honey Chipotle Lime Cashews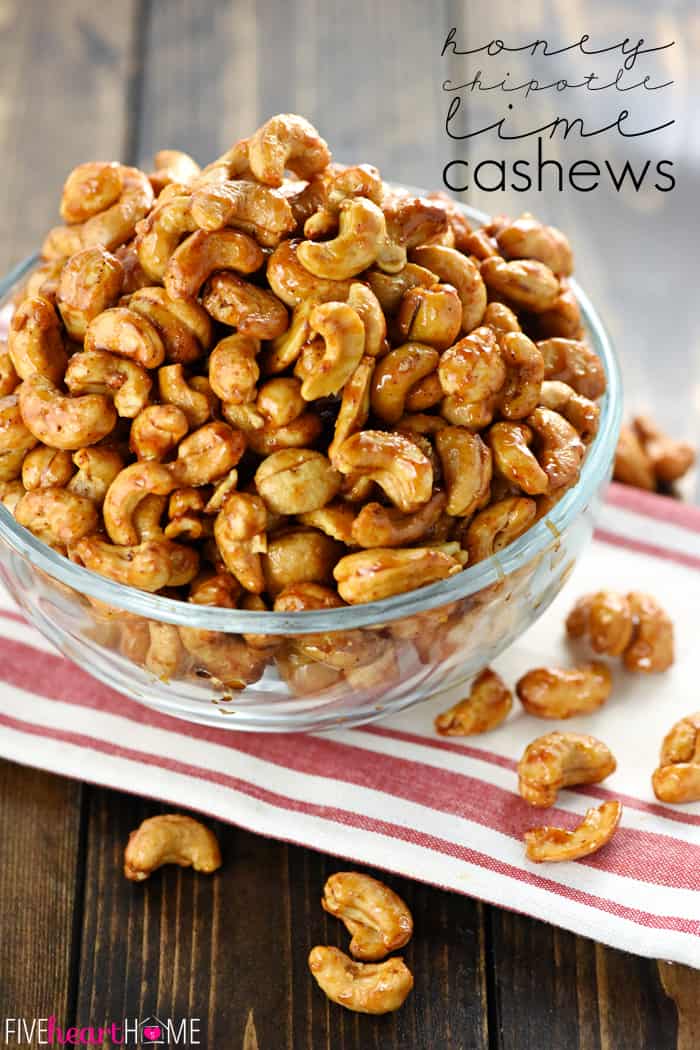 Pineapple Pulled Pork Pizza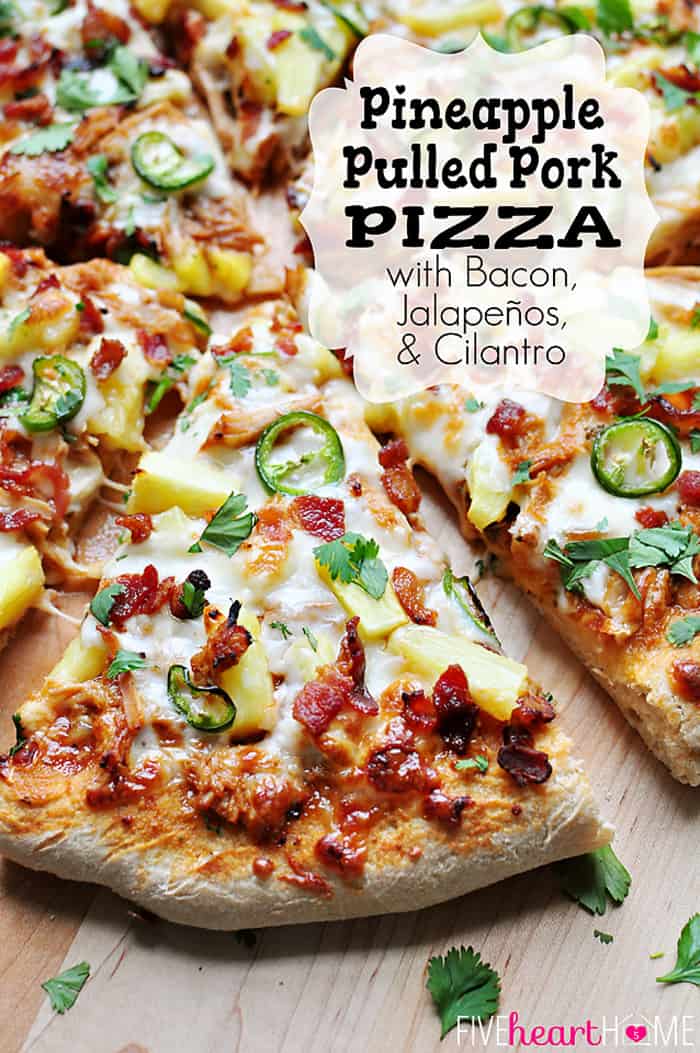 {One-Bowl, Big-Batch} Monster Cookie Bars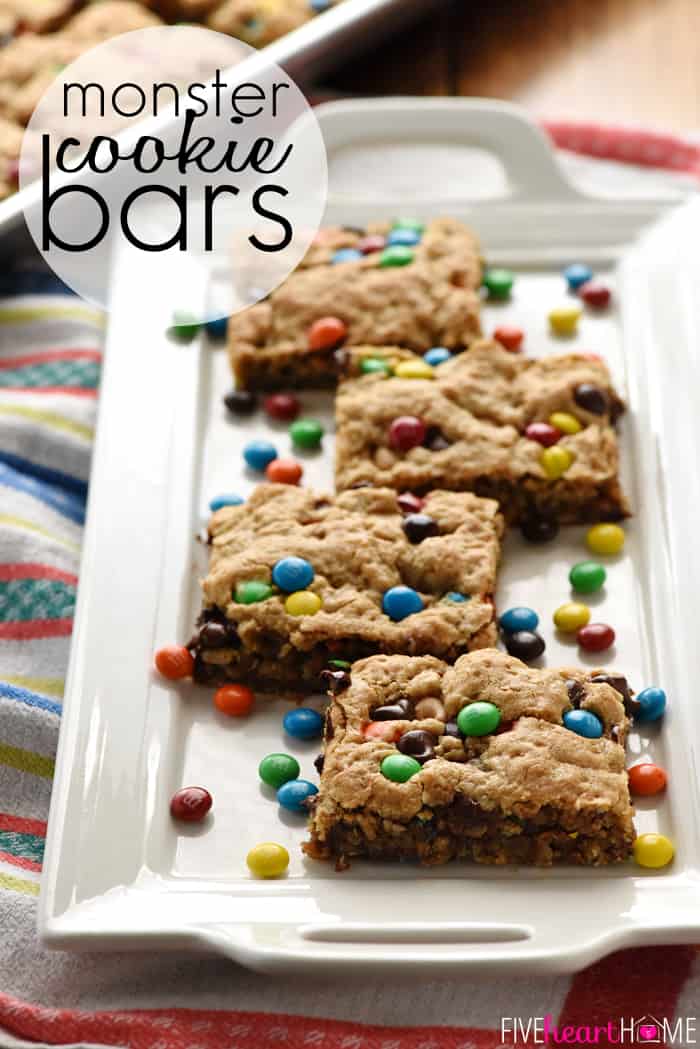 BBQ Chicken Tortilla Pinwheels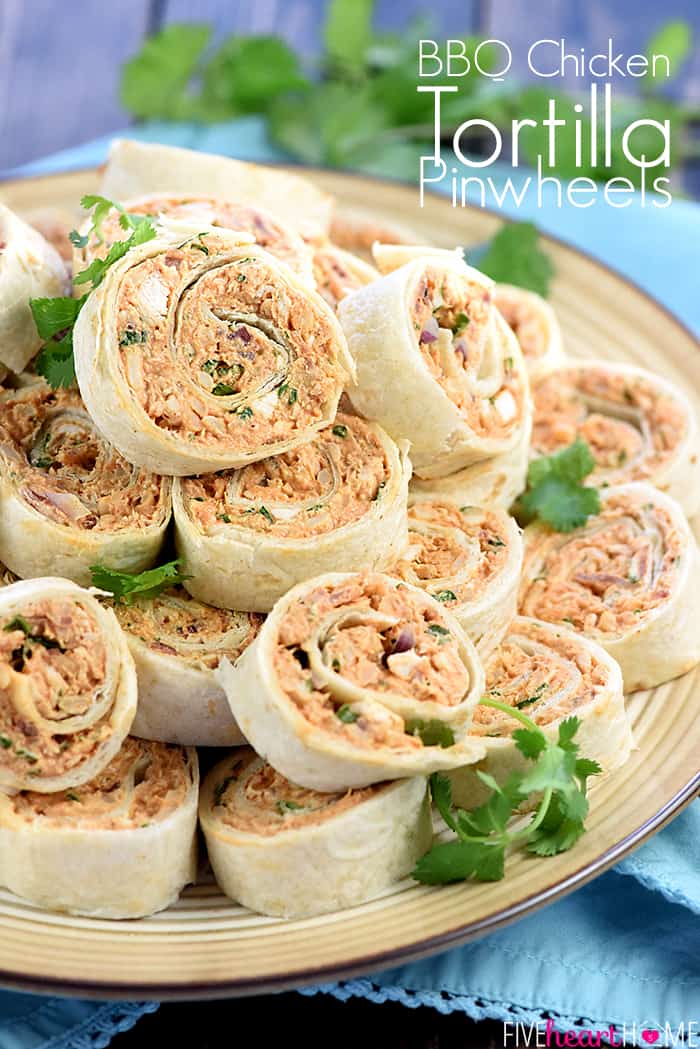 Save
Save
Save
Save
Save
Save
Save
Save
Save
42