Freshly-popped popcorn is drizzled with rosemary- and garlic-inflused olive oil and sprinkled with grated Parmesan, minced rosemary, garlic salt, and black pepper, making this Rosemary Parmesan Popcorn a flavorful snack for parties, munching, or movie watching!

I don't know about y'all, but I'm trying to wrap my head around the fact that my boys only have two weeks of school left. At the same time, I'm attempting to formulate a plan for what the heck I'm going to do with them this summer! I have to admit that I don't have a bunch of camps and activities planned this summer since our life is going to be rather up-in-the-air over the next few months, between moving and an extended family vacation that was already on the books.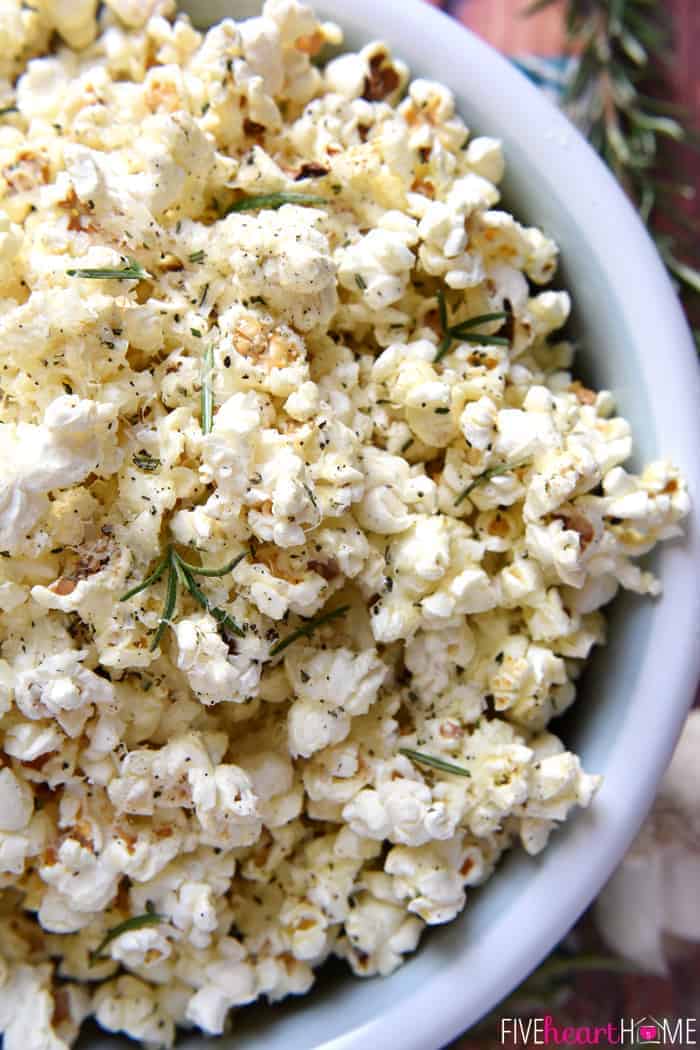 So I'm thinking we're going to be keeping things simple...lot of free time to play (while Mama packs -- ha), afternoon trips to the pool, picnics, and movie nights complete with s'mores and popcorn. I've already got my effortless Skillet S'mores Dip recipe that I fall back on during the summer months...and our favorite popcorn around here is a freshly popped Brown Butter Snickerdoodle version. But between those sweet treats, we also may need a savory snack, and this Rosemary Parmesan Popcorn should do just fine.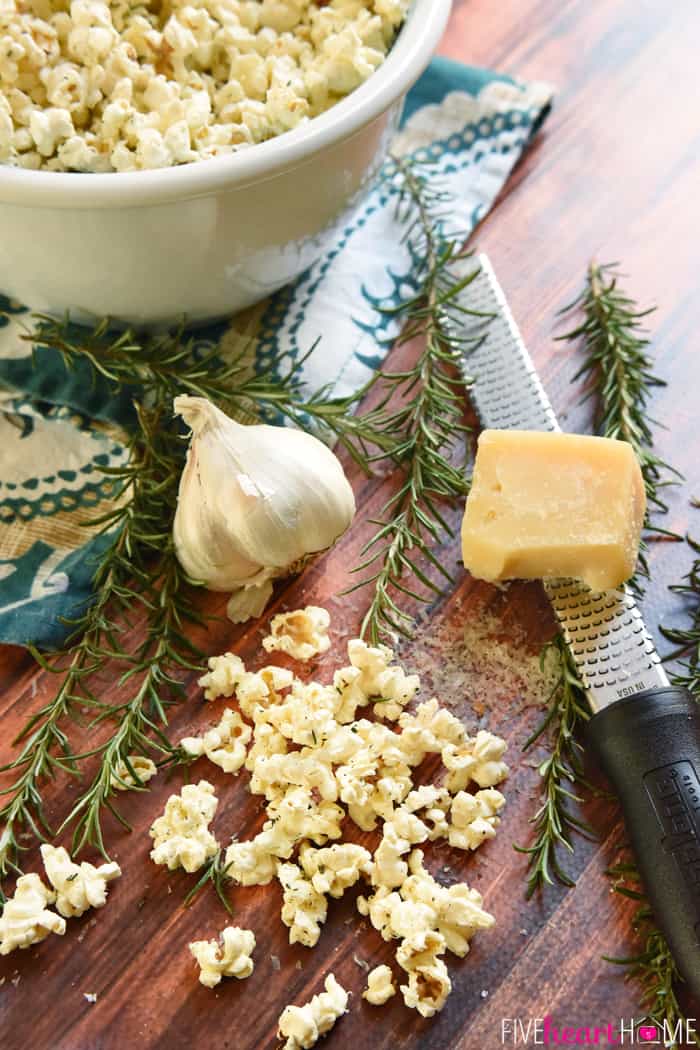 Part of my motivation in coming up with a rosemary recipe right now is that, once we move (in the hopefully near future), I'll be losing my beloved rosemary bushes in the front flower beds of our current home. Anytime I need fresh rosemary, I just hop out there and steal a sprig or three. But until I get some shrubs planted at our next abode, I'll be without the convenience of fresh rosemary, so I'm going to take advantage while I still can.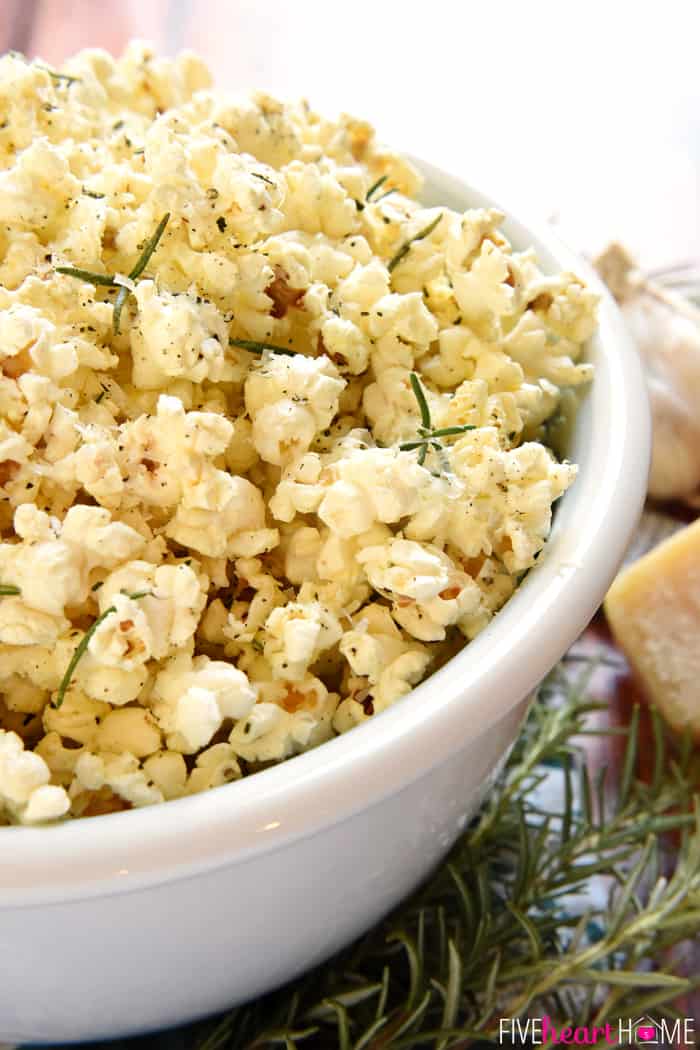 And let me just tell you...if you're a fan of rosemary, this Rosemary Parmesan Popcorn will totally float your boat! Not only does fresh rosemary infuse the olive oil that's drizzled all over the popcorn, but I also minced up fresh rosemary leaves for sprinkling over the top and tossing in. There's a double hit of garlic in this recipe as well. A smashed clove of garlic hangs out in the olive oil as it warms, annnnd garlic salt is used to further season the popcorn, in lieu of regular salt. Then there's freshly grated Parmesan, which adds a richness and a saltiness to finish off this yummy snack. And finally, plenty of fresh ground black pepper adds a little zip (or you could substitute crushed red pepper flakes for additional heat).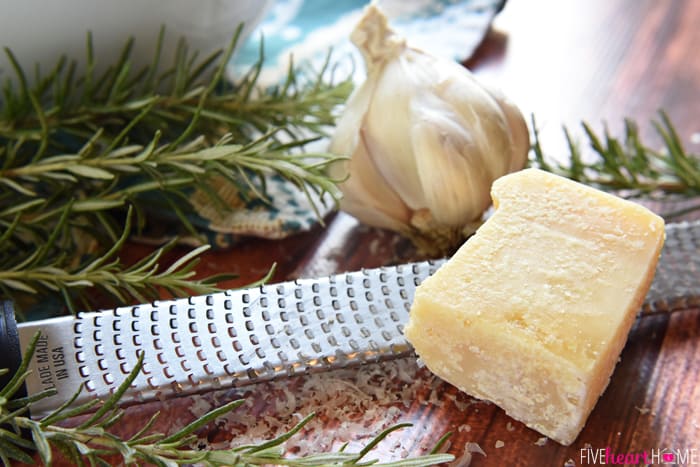 The flavor of this Rosemary Parmesan Popcorn totally reminds me of the olive oil mixture that you sometimes get at Italian restaurants for dipping bread sticks and focaccia bread. If ever a recipe could be described as "bursting with flavor, this would be it. That being said, if you're not a fan of rosemary, this one probably isn't for you. 😉 Alternatively, if think you may prefer a more subtle rosemary flavor, you can always start with the rosemary-infused olive oil and then sprinkle on the minced rosemary just a teensy bit at a time. You don't have to use the full teaspoon of minced rosemary unless you want to.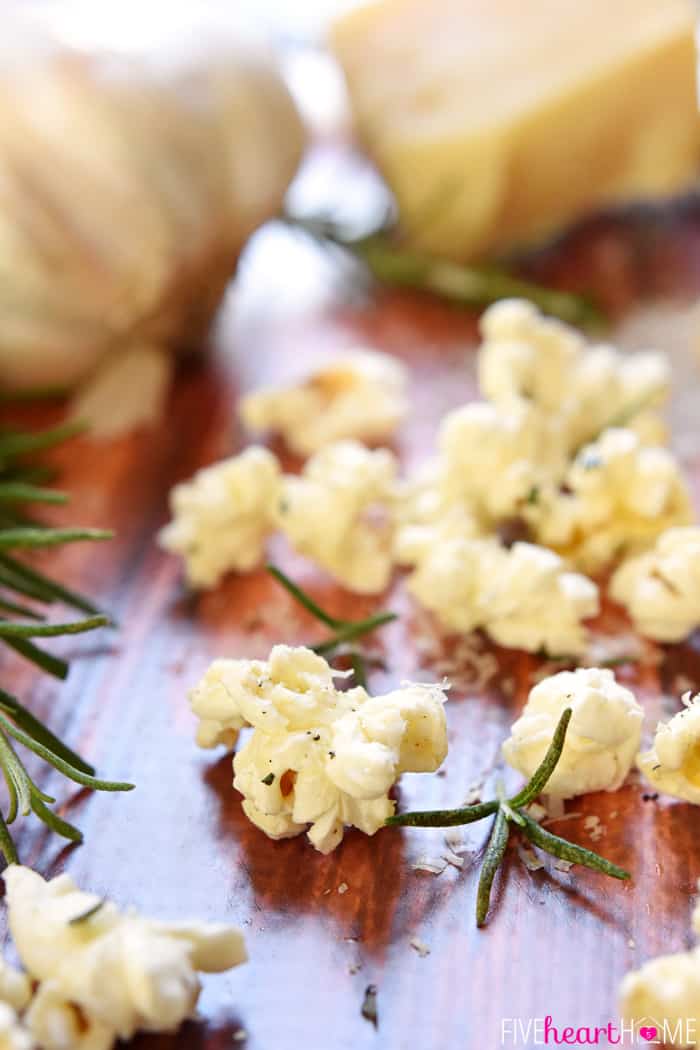 As for popping the corn itself, I don't own a popcorn popper, so my typical method of choice is to pour some kernels into a brown paper lunch bag, fold over, and microwave for a couple of minutes. Would you believe that in this way, the corn pops up just as easily as a bag of microwave popcorn, but without any scary, fake ingredients?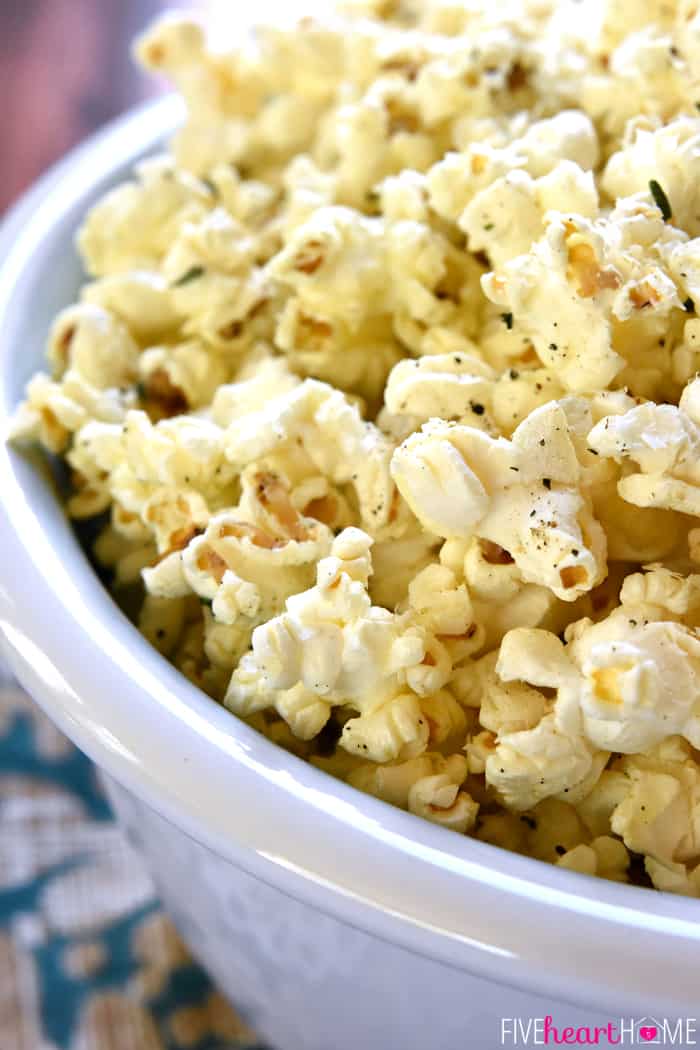 From there, you can jazz up your plain, air-popped corn to your heart's content. Of course, if you'd rather pop your corn in a pot on the stove, that works, too. But my favorite part about the paper sack/microwave trick is that, when your popcorn is done popping, you can tear a tiny hole in the corner of the bag and shake out all of the unpopped kernels. Just don't touch those kernels...they're pretty darn hot!
And that's all, folks. Rosemary Parmesan Popcorn is a ridiculously easy to make, over-the-top flavorful, savory snack that'll be going on regular rotation around these parts...or at least as long as the rosemary is still plentiful and free. 😉

More Snacktime Favorites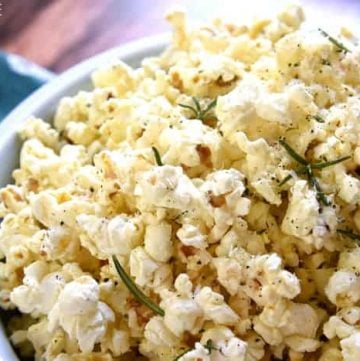 Rosemary Parmesan Popcorn
Freshly-popped popcorn is drizzled with rosemary- and garlic-inflused olive oil and sprinkled with grated Parmesan, minced rosemary, garlic salt, and black pepper, making this Rosemary Parmesan Popcorn a flavorful snack for parties, munching, or movie watching!
Print
Pin
Rate
Servings:
12
cups popcorn
Ingredients
2

sprigs fresh rosemary

1

large garlic clove

,

peeled and smashed

¼

cup

extra-virgin olive oil

½

teaspoon

garlic salt

,

plus more to taste

Freshly ground black pepper

½

cup

unpopped popcorn kernels

,

OR 12 cups freshly popped popcorn, unseasoned

¼

cup

freshly grated Parmesan cheese
Instructions
Place 1 sprig rosemary and smashed garlic clove in the bottom of a small saucepan. Pour olive oil on top and set on stove over low heat. Stir in garlic salt and black pepper, to taste. Heat until very warm but not simmering. Turn off heat and allow to sit while popping the popcorn.

To pop 6 cups of popcorn at a time in the microwave, pour ¼ cup popcorn kernels in a clean paper lunch sack (I use a 12 ⅜ X 6 ⅛ X 4" brown paper lunch bag). Fold over the top several times. Microwave on high until there is a 2-second pause between pops (all microwaves vary, but this will probably take around 2 minutes, give or take 30 seconds). Shake the bag so that any unpopped kernels roll to one corner. Tear a tiny hole in that corner and shake out kernels. Pour popped popcorn into a large bowl. Repeat entire process for a total of 12 cups popcorn.

Pull leaves from second sprig of rosemary and finely mince. Set aside.

Remove rosemary sprig and garlic clove from the warmed olive oil. Drizzle olive oil over popped popcorn and toss to coat. Sprinkle popcorn with grated Parmesan, 1 teaspoon fresh minced rosemary (more or less, to taste), and additional garlic salt and black pepper, to taste. Serve immediately.
Calories:
75
kcal
|
Carbohydrates:
5
g
|
Protein:
2
g
|
Fat:
5
g
|
Saturated Fat:
1
g
|
Cholesterol:
2
mg
|
Sodium:
129
mg
|
Potassium:
19
mg
|
Fiber:
1
g
|
Sugar:
1
g
|
Vitamin A:
20
IU
|
Vitamin C:
0.1
mg
|
Calcium:
23
mg
|
Iron:
0.3
mg