Easy Beef Patties with Mushroom Gravy — AKA, mini Salisbury steaks in a rich, savory, gravy loaded with fresh mushrooms — make a classic, comforting dinner!

School is in full swing, busy fall schedules have commenced, and at the end of the day, everyone (including me) is tired and hungry. So I'm all about quick and easy, wholesome and filling, kid-approved dinner recipes that the whole family will enjoy. Lucky for me, Easy Beef Patties with Mushroom Gravy fit all of those requirements quite nicely!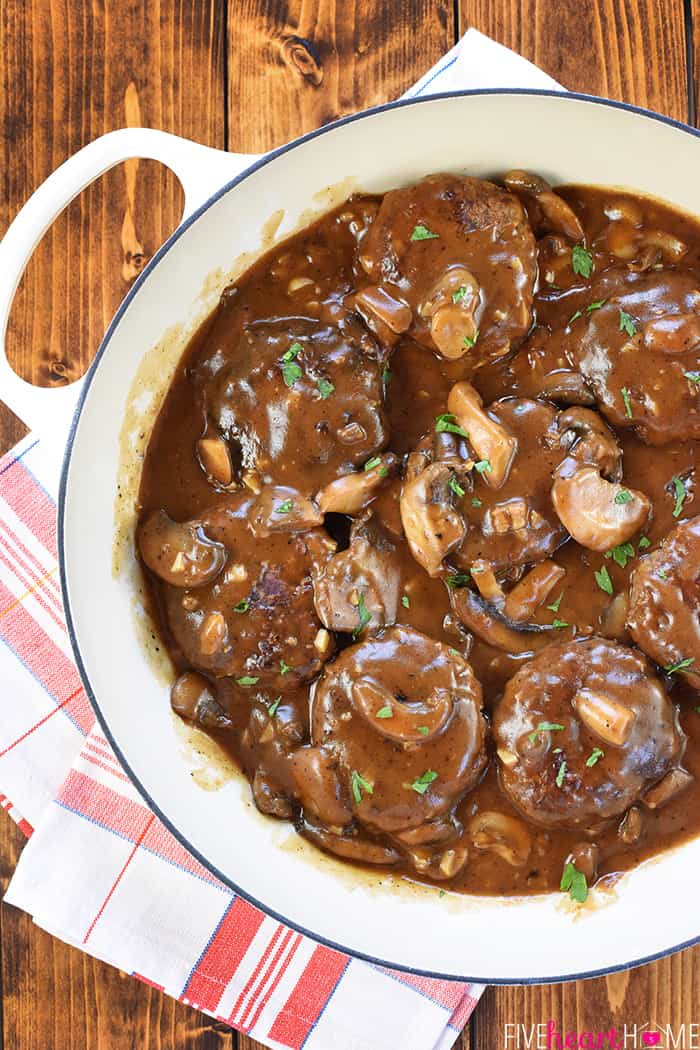 After all, what's more effortless than a dinner that begins with a pound of ground beef? While I have lots of recipes in my repertoire that start out by browning said ground beef, this is a recipe that requires seasoning it and forming it instead. Either way, super easy!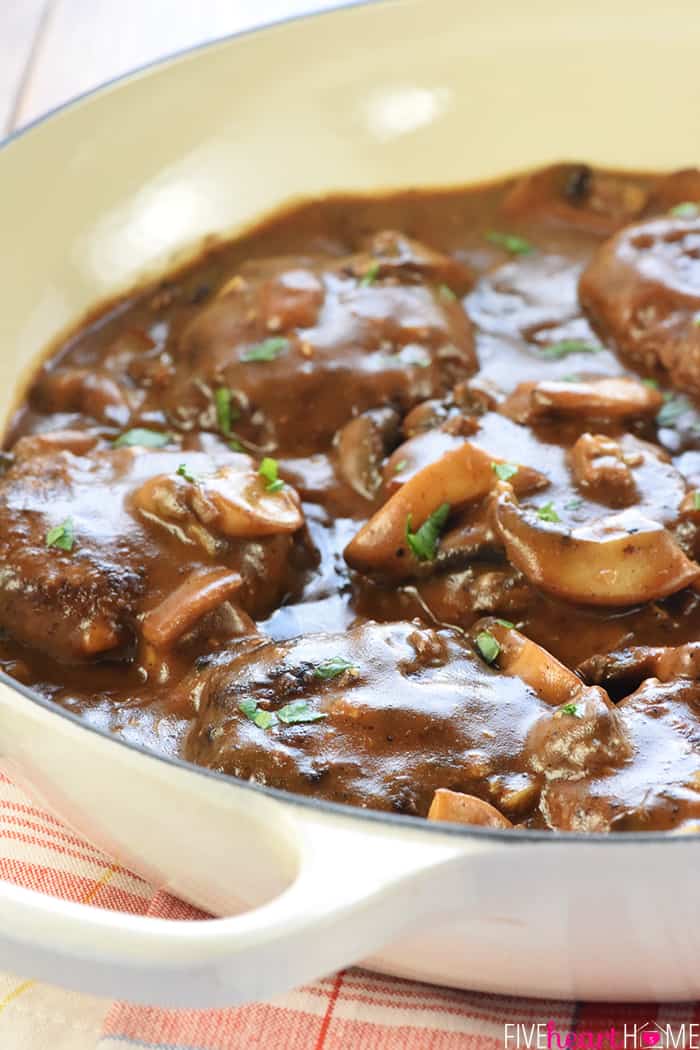 Mini hamburger steaks are browned on both sides and then the little bits at the bottom of the pan transform into a silky, delicious brown gravy that's bursting with fresh sliced mushrooms. Served with a crisp side salad or buttery mashed potatoes and tender green beans, this meal is simple and absolutely delicious!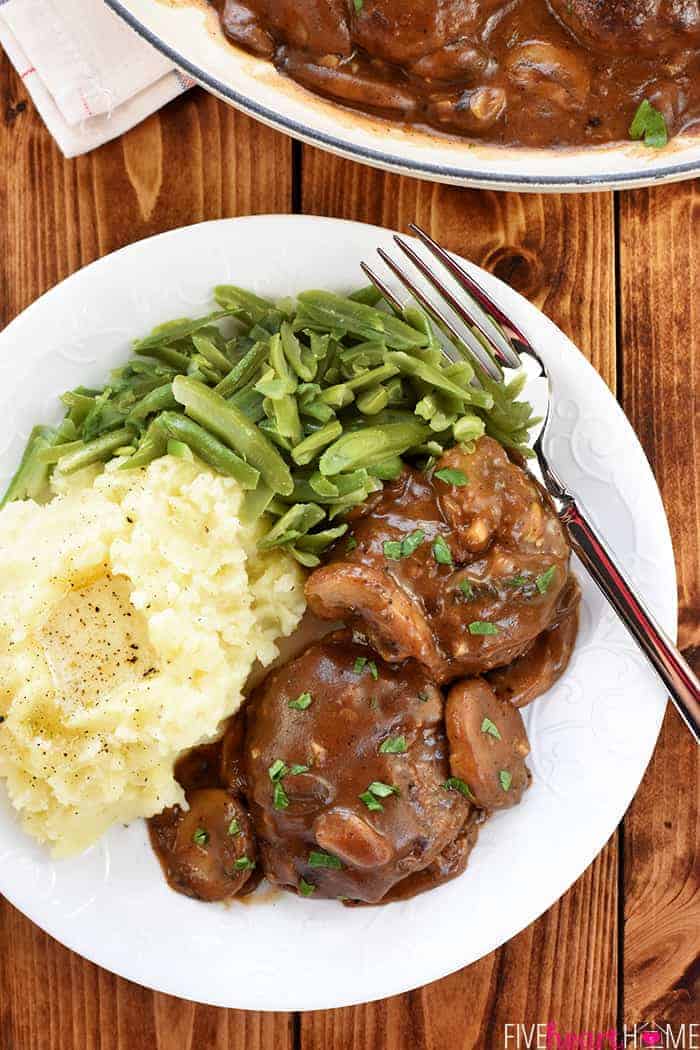 A few years back, this recipe was the perfect quantity to feed my young family of five. But now, with two rapidly growing boys (my 10-year-old officially eats more than I do), I actually have to double the recipe in order to have enough. But it's no problem to multiply the ingredients, brown the ground beef patties in two batches in a large, deep skillet, and make twice as much gravy. All the better to saturate those mashed potatoes with, my dear! 😉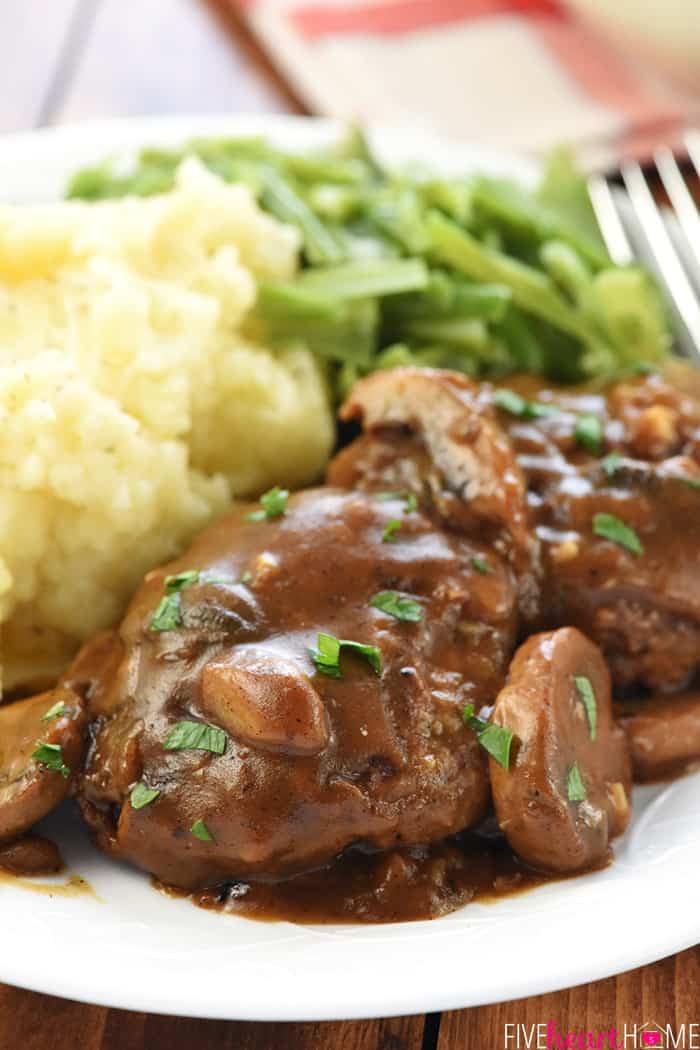 So are you hungry yet? This recipe is like Salisbury steak, only better, and it's on regular menu rotation around here. Our whole family gobbles it down, from the picky Pre-K'er to the parents (even if some of them admittedly pick out the mushrooms — more for me!). Because let's be real here…if I'm going to spend my precious time and energy cooking dinner, it's always an added bonus when I know that everyone will actually eat it.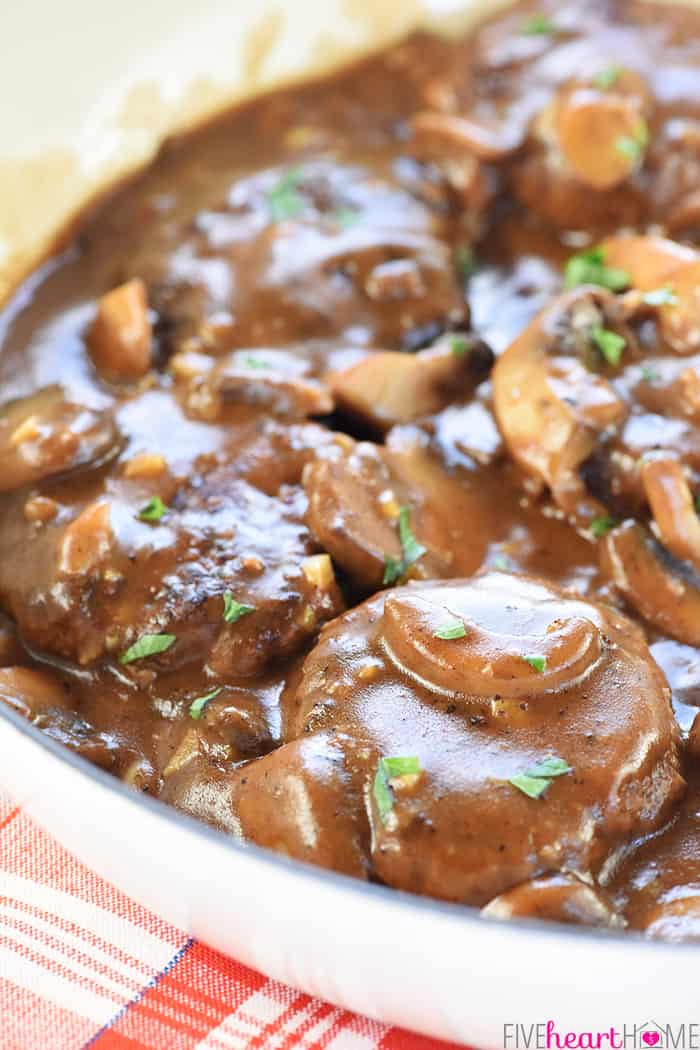 Easy Beef Patties with Mushroom Gravy are hearty, they're satisfying, and they're easy to whip up. I hope you get to try this one soon!
Easy Beef Patty Recipe
Hamburger Steaks with Mushroom Brown Gravy
Easy Beef Patties with Mushroom Gravy -- AKA, mini Salisbury steaks in a rich, savory, gravy loaded with fresh mushrooms -- make a classic, comforting dinner!
Ingredients
1 pound ground beef
1/3 cup breadcrumbs (fresh or dried)
1/4 cup milk
1 1/2 teaspoons Worcestershire sauce, DIVIDED
1 teaspoon dried parsley
1 teaspoon prepared yellow (or Dijon) mustard, DIVIDED
1/2 teaspoon salt, plus additional for gravy
Freshly ground black pepper, to taste
2 cups low-sodium beef broth
2 teaspoons tomato paste (or ketchup)
1/2 teaspoon beef bouillon base (such as organic Better Than Bouillon), optional
4 tablespoons butter, DIVIDED
8 ounces white mushrooms, sliced
3 cloves garlic, minced
3 tablespoons all-purpose flour
Instructions
In a large bowl, thoroughly combine the ground beef, breadcrumbs, milk, 1 teaspoon Worcestershire sauce, parsley, 1/2 teaspoon mustard, 1/2 teaspoon salt, and black pepper. Form into 8 equally sized balls and flatten into patties. Set aside.
Pour beef broth into a large measuring cup. Whisk in the tomato paste, remaining 1/2 teaspoon mustard, beef bouillon base, and remaining Worcestershire sauce until smooth. Set aside.
Heat a large, deep pan or skillet over medium-high heat. Add 1 tablespoon butter to pan and swirl to coat. Add the beef patties, cook 3 to 4 minutes on first side until well-browned, and flip, taking care to scrape the browned bits from the bottom of the pan when you flip. Cook patties for 3 minutes on the second side or until the ground beef is cooked through in the center. Remove the patties to a paper-towel lined plate, cover to keep warm, and set aside.
Pour the grease from the pan and add the remaining 3 tablespoons butter to the pan. Melt and swirl the butter over medium high heat. Add the mushrooms and sauté for 4 minutes, stirring occasionally and scraping/deglazing the bottom of the pan. Stir in the garlic and cook for 1 minute. Sprinkle the flour over the mushroom mixture and continuously stir while cooking for 1 more minute.
Gradually stir in the broth mixture. Bring to a boil and cook for 1 to 3 minutes or until the gravy has thickened to your desired consistency. Reduce the heat, add the cooked beef patties back to the pan, and submerge in the gravy. Cook for another couple of minutes until they are heated through.
Notes
If your pan/skillet is large enough, you should be able to brown all of your beef patties at the same time. Otherwise, brown them in batches. Along the same lines, this recipe may easily be doubled, but you will have to brown the beef patties in two batches.
https://www.fivehearthome.com/easy-beef-patties-hamburger-steaks-with-mushroom-brown-gravy-recipe/
https://fivehearthome.com ~ All recipes and images on Five Heart Home are copyright protected. Please do not use without my permission. If you would like to feature this recipe, please rewrite the directions in your own words and give proper attribution by linking back to this blog.
More Ground Beef Dinner Recipes

Save
Save
50