Savory meatloaf is flavored with Parmesan, Italian herbs, and marinara sauce, baked in a muffin pan, and then topped with seasoned mashed potatoes in these easy-to-make, fun-to-eat Italian Meatloaf "Cupcakes"!

A big thanks to Ginny's for sponsoring this post. As always, all thoughts and opinions are my own.
Boy am I excited to share today's post with y'all! I was recently invited by Ginny's to participate in their Recipe Challenge, a blog hop and corresponding e-book in collaboration with 10 other talented food bloggers. Each blogger was tasked with creating a unique recipe using one of Ginny's fabulous kitchen appliances. So I chose to make these yummy Italian Meatloaf "Cupcakes" with Mashed Potato Frosting, baked in a muffin pan in Ginny's 10-in-1 Everything Oven!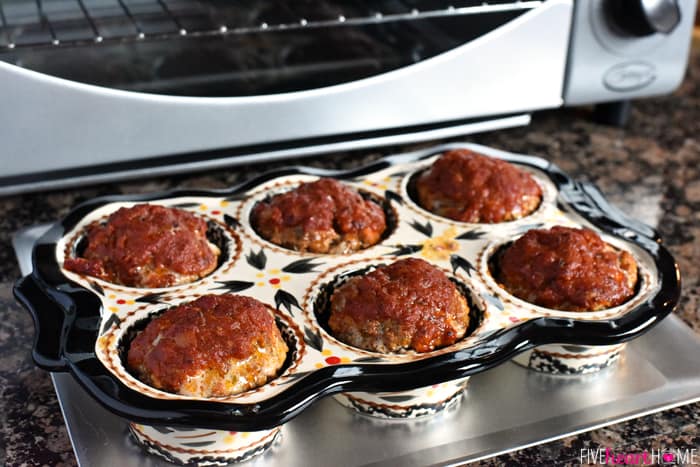 I've been cooking meatloaf in a muffin pan for years now…in fact, it's pretty much the only way I ever make it. I actually shared BBQ Meatloaf Muffins as one of the very first recipes here on Five Heart Home, almost two years ago! Let's just say that my photography had a long way to go back then, and I've been itching to re-do that recipe for about as long as I've had this blog. Because unfortunately, despite being a family favorite, that recipe doesn't get the traffic it deserves as one of my earliest blog endeavors. 😉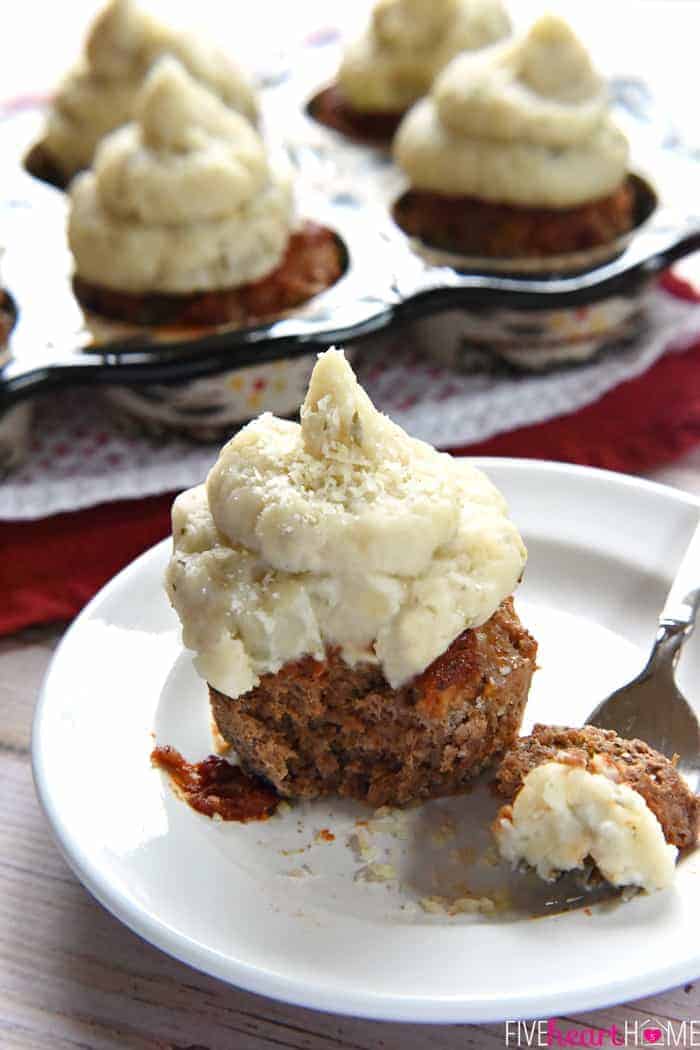 So I've had it in my head for awhile now to share a new Italian variation of those meatloaf muffins…and when I saw the 10-in-1 Everything Oven, I knew it would be perfect for cooking my muffin pan dinner! I love that this handy little oven can be used as a toaster oven or as a full-fledged oven for baking and cooking, and I can't wait to use it this summer when I need to use the oven but don't want to heat up the whole kitchen.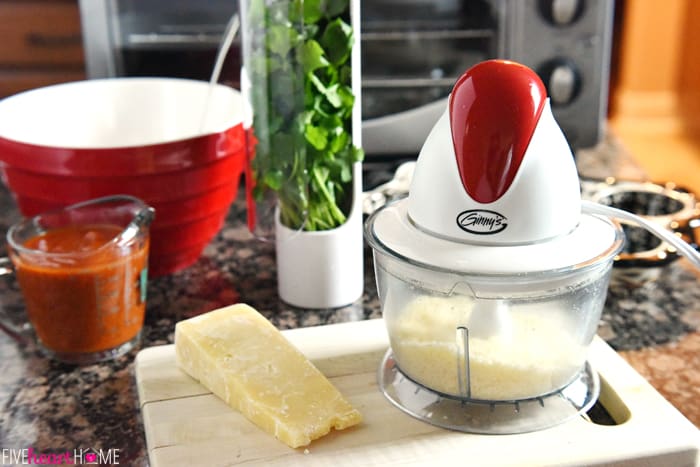 Anyway, after I seasoned my ground beef with Italian breadcrumbs and herbs, Parmesan cheese, and marinara sauce…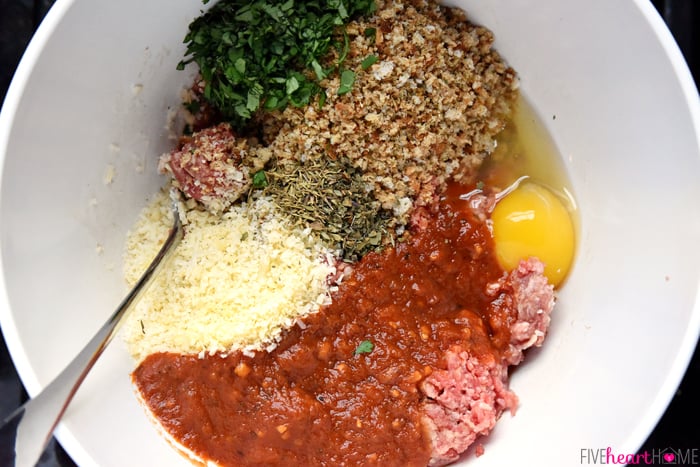 I divided it between my muffin cups and topped it with more marinara sauce. Then, into the oven it went!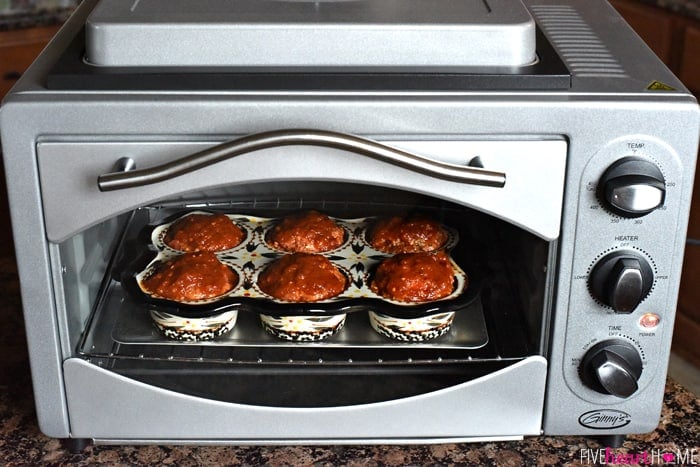 A mere 20 minutes later, my mini Italian meatloaves were done, so it was time to finish them off.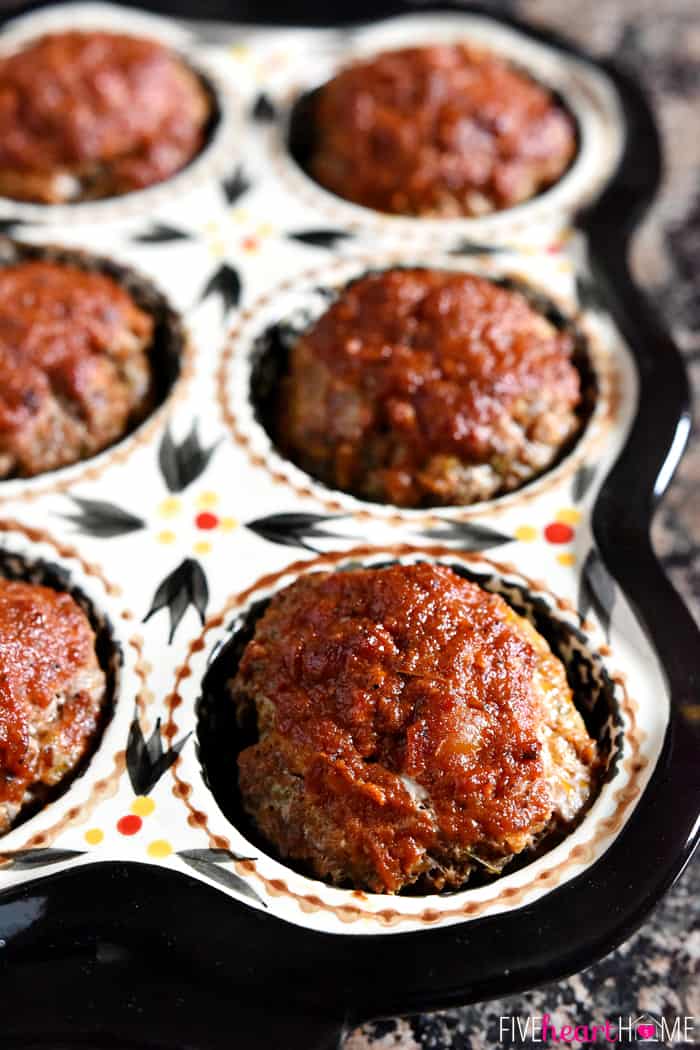 I had some leftover mashed potatoes in the refrigerator (which I flavored with more Parmesan and Italian herbs), so I decided to turn my meatloaf "muffins" into "cupcakes" with a generous swirl of mashed potato "frosting"!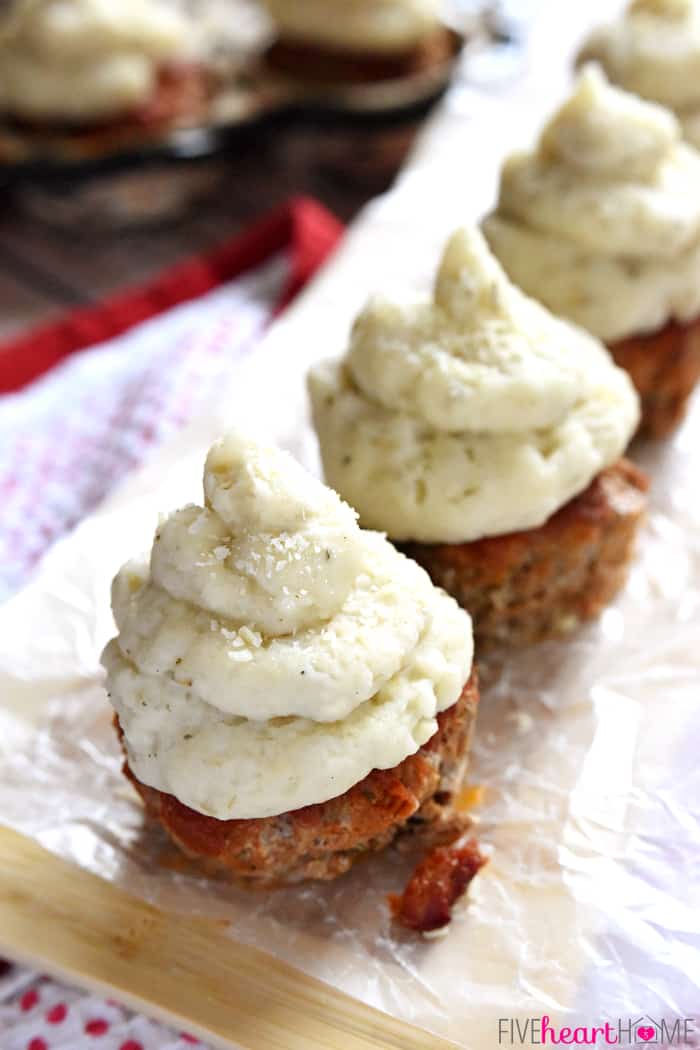 Seriously…has meatloaf ever been this cute?! Kids love eating it in this fun configuration, and adults appreciate that the meatloaf is juicy and perfectly cooked, thanks (in part) to the muffin pan. Not to mention the mashed potato topping…because really, what recipe couldn't be improved by the addition of mashed potatoes? 😉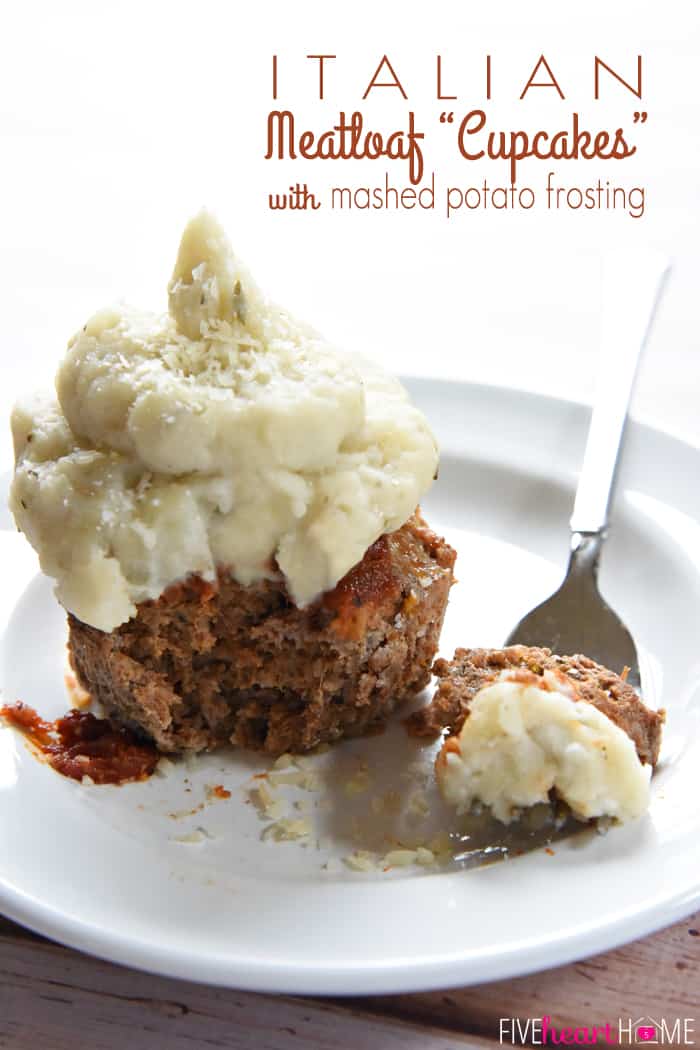 So without further ado, I bring you the effortless, mouthwatering recipe for Italian Meatloaf Cupcakes! And be sure to keep scrolling down past the recipe for details about the other yummy, creative recipes in the blog hop, PLUS a big giveaway. Happy meatloaf making, friends!
Italian Meatloaf "Cupcakes"
Savory meatloaf is flavored with Parmesan, Italian herbs, and marinara sauce, baked in a muffin pan, and then topped with seasoned mashed potatoes in these easy to make, fun to eat Italian Meatloaf "Cupcakes"!
Ingredients
For Meatloaf "Cupcakes":
1 pound extra-lean ground beef
1 egg
2/3 cup Italian breadcrumbs
1 cup marinara or pasta sauce, DIVIDED
1/3 cup freshly grated Parmesan cheese
2 teaspoons Worcestershire sauce
3/4 teaspoon garlic salt
1 teaspoon dried parsley
1/2 teaspoon dried basil
1/4 teaspoon dried oregano
1/4 teaspoon dried thyme
1/4 teaspoon red pepper flakes
Freshly ground black pepper
_
For Mashed Potato "Frosting":
2 cups leftover mashed potatoes
1/4 cup milk
1/4 cup freshly grated Parmesan cheese
1/4 teaspoon garlic powder
1/4 teaspoon dried basil
1/8 teaspoon dried oregano
1/8 teaspoon dried thyme
Salt & freshly ground black pepper, to taste
Instructions
Arrange rack in center position of oven and preheat to 450°F. Grease a six-cup muffin pan or spray with nonstick cooking spray.
In a large bowl, combine ground beef, egg, Italian breadcrumbs, 1/2 cup marinara sauce, grated Parmesan, Worcestershire sauce, garlic salt, parsley, basil, oregano, thyme, red pepper flakes, and freshly ground black pepper. Mix until thoroughly combined.
Using a large cookie scoop or ice cream scoop, evenly divide meat mixture between the six muffin cups, smoothing the tops of the mounds. Carefully spoon the remaining marinara sauce over the individual meatloaves. Place the muffin pan on a foil-lined baking sheet (to prevent spills and aid in clean-up) and bake for 20 minutes, or until meat is cooked through. Use a spoon to help lift meatloaves out of the pan (the grease released by ground beef will have accumulated at the bottom of the muffin cups) and drain on a paper towel-lined plate.
To make Mashed Potato "Frosting," warm leftover mashed potatoes and milk in a small pot set over low heat, stirring until smooth. Stir in Parmesan, garlic powder, and dried herbs. Season with salt and pepper to taste, if desired. Mound potatoes on top of mini meatloaves after they come out of the oven. Serve warm.
Notes
If you have fresh herbs on hand, you may substitute them for the dried. Since fresh herbs are not as potent, the typical conversion is to use 3 times the amount of fresh herbs as compared to dried.
You may add 1 cup of finely minced/grated veggies (carrots, onions, celery, bell peppers) to the meat mixture, if you wish.
This recipe feeds a small family, but you'll want to double it for a large family.
You may use a spoon to spread the mashed potatoes on top of each meatloaf, or you may scoop all of the mashed potatoes into a gallon-sized plastic baggie. Cut off a 1-inch piece from one corner of the bag, push the potatoes into that corner, and use the bag as a "piping bag" to swirl the mashed potatoes on top of each meatloaf.
https://www.fivehearthome.com/italian-meatloaf-cupcakes-with-mashed-potato-frosting/
https://fivehearthome.com ~ All recipes and images on Five Heart Home are copyright protected. Please do not use without my permission. If you would like to feature this recipe, please rewrite the directions in your own words and give proper attribution by linking back to this blog.
Adapted from Five Heart Home
And now for some exciting news! From now until May 31st, you can enter to win up to four $250 Ginny's Gift Cards! Simply keep your eyes peeled for the giveaway pop-up HERE >>> when you view my Italian Meatloaf "Cupcakes" recipe on the Ginny's blog…and enter as many times as you like for your chance to win! 🙂
Last, but certainly not least, check out all of the participating bloggers' recipes <<< HERE! There are some good ones, y'all. You can also visit their individual blogs via the links below this graphic…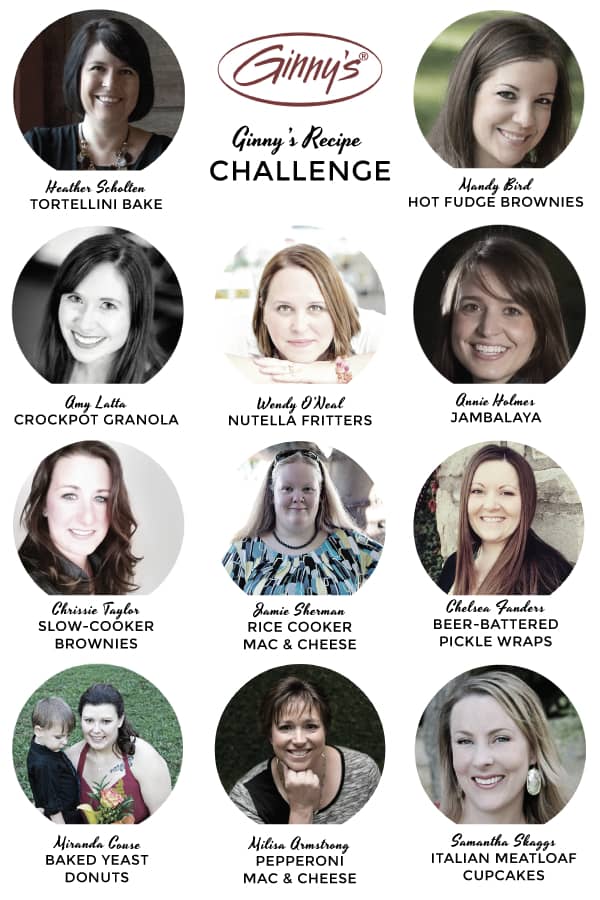 Heather: farmgirlgourmet.com | Mandy: mandysrecipeboxblog.com
Amy: oneartsymama.com | Wendy: aroundmyfamilytable.com
Annie: maebells.com | Chrissy: thetaylor-house.com | Jamie: lovebakesgoodcakes.com
Chelsea: whatchamakinnow.blogspot.com | Miranda: cookiedoughandovenmitt.com
Milisa: missinthekitchen.com | Samantha: fivehearthome.com
* * * * * * * * * *
More easy beef recipes…
Cheesy Beef & Quinoa Bake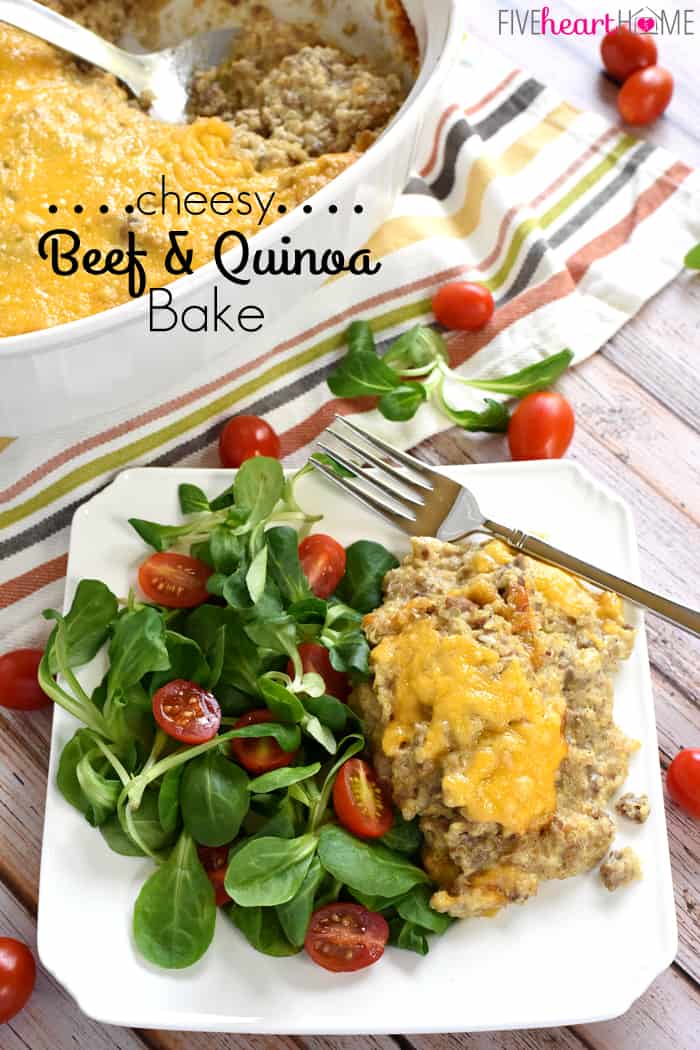 Slow Cooker Beef Barbacoa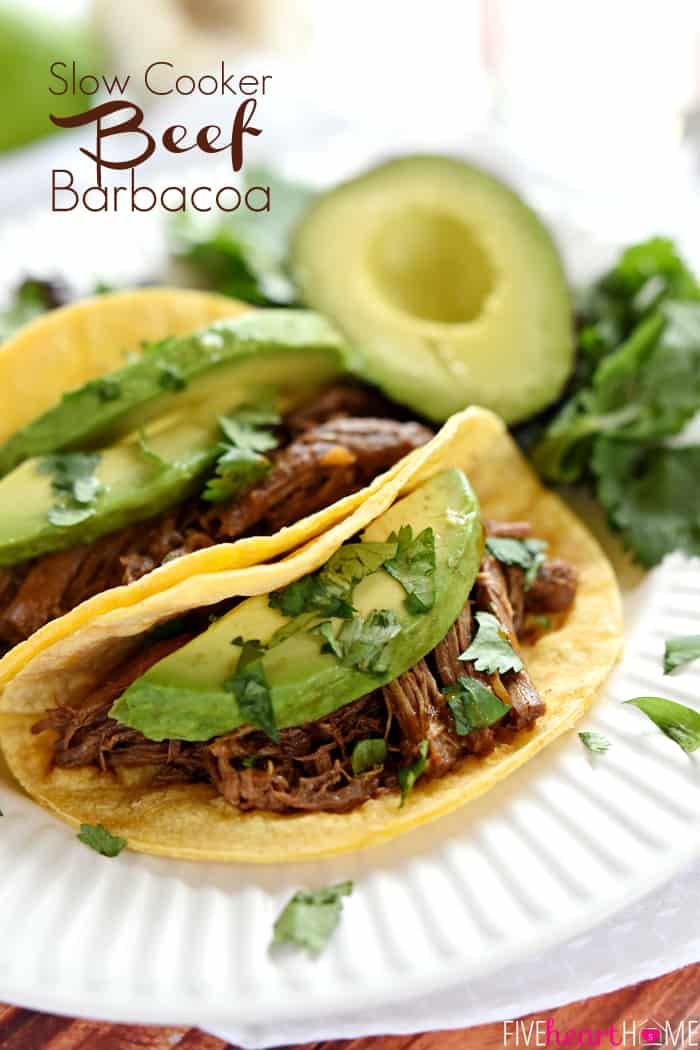 30-Minute Skillet Lasagna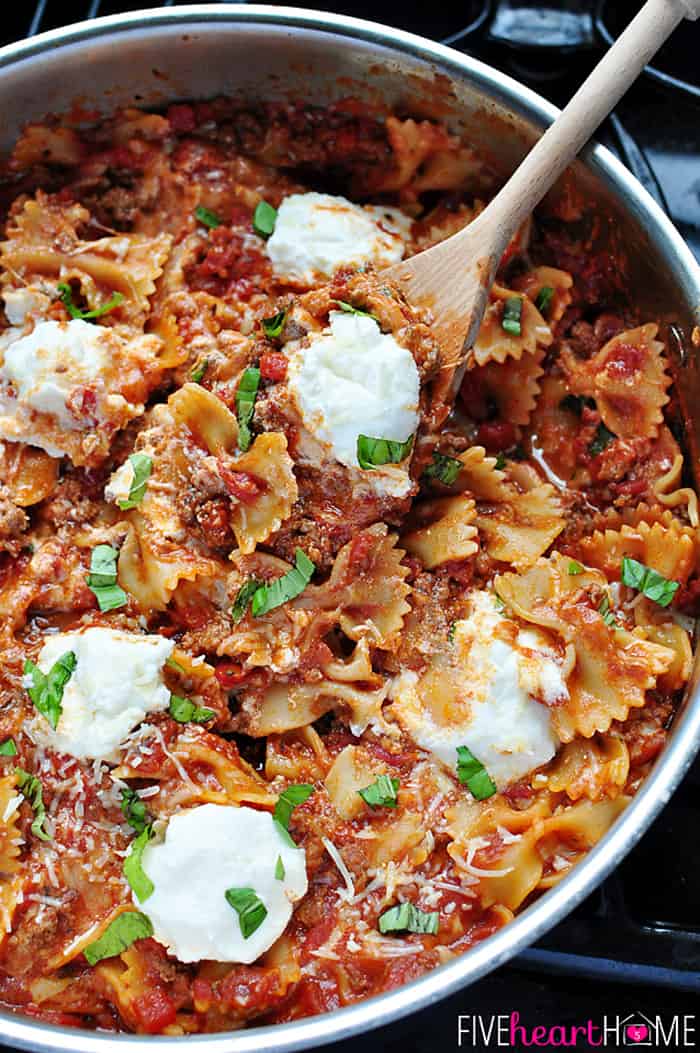 Homemade Sloppy Joes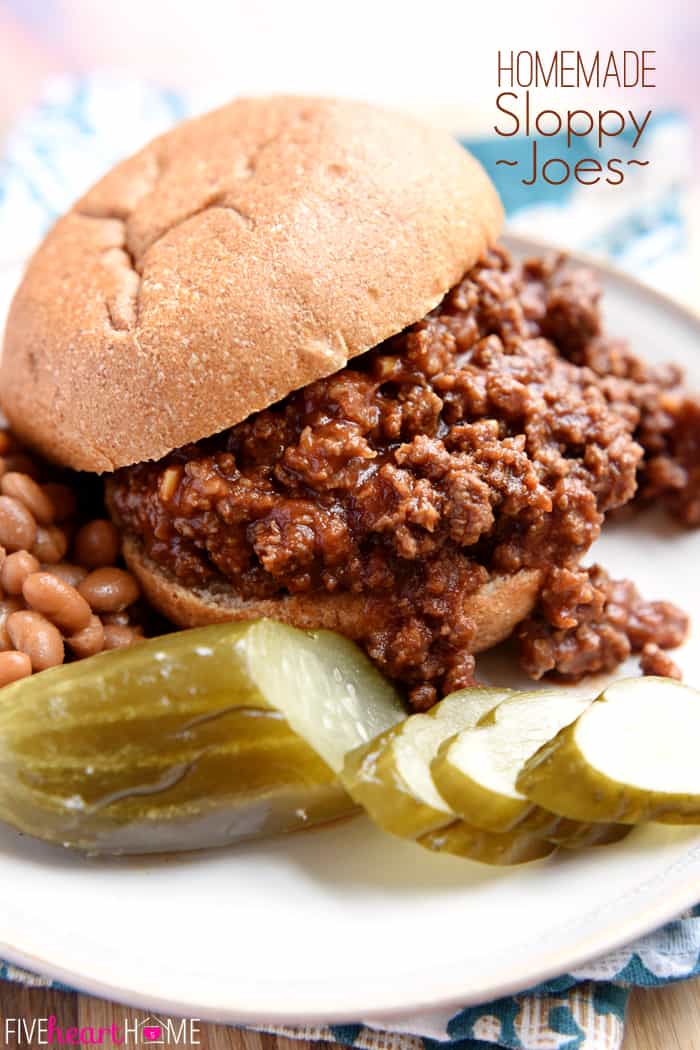 Beefy Cheesy Tortellini Bake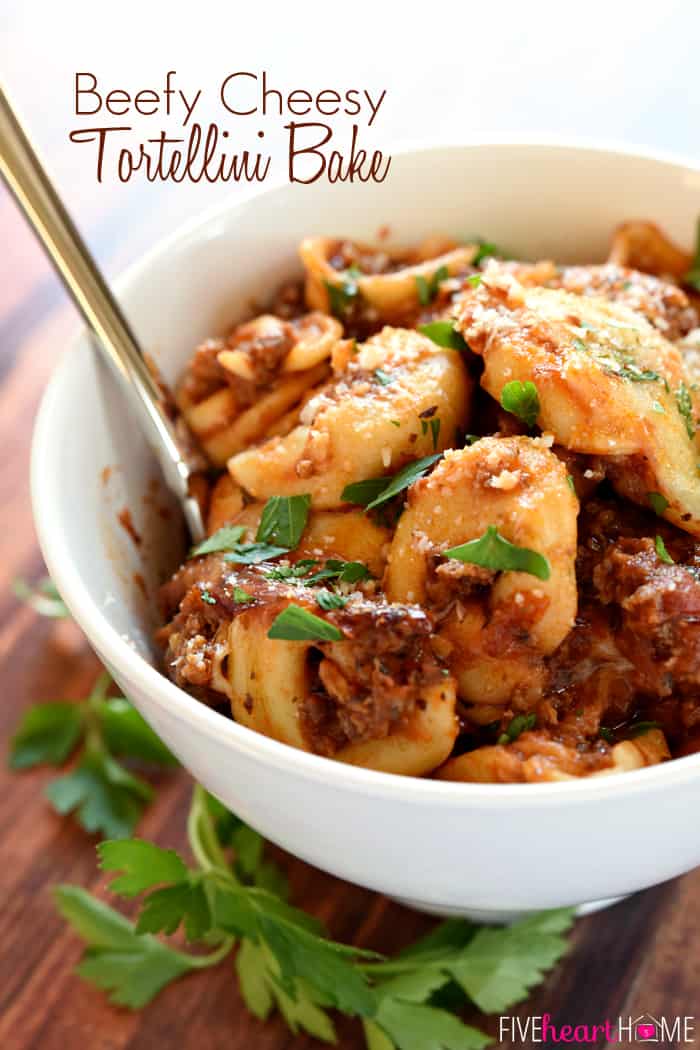 Mexican Beef & Cornbread Bake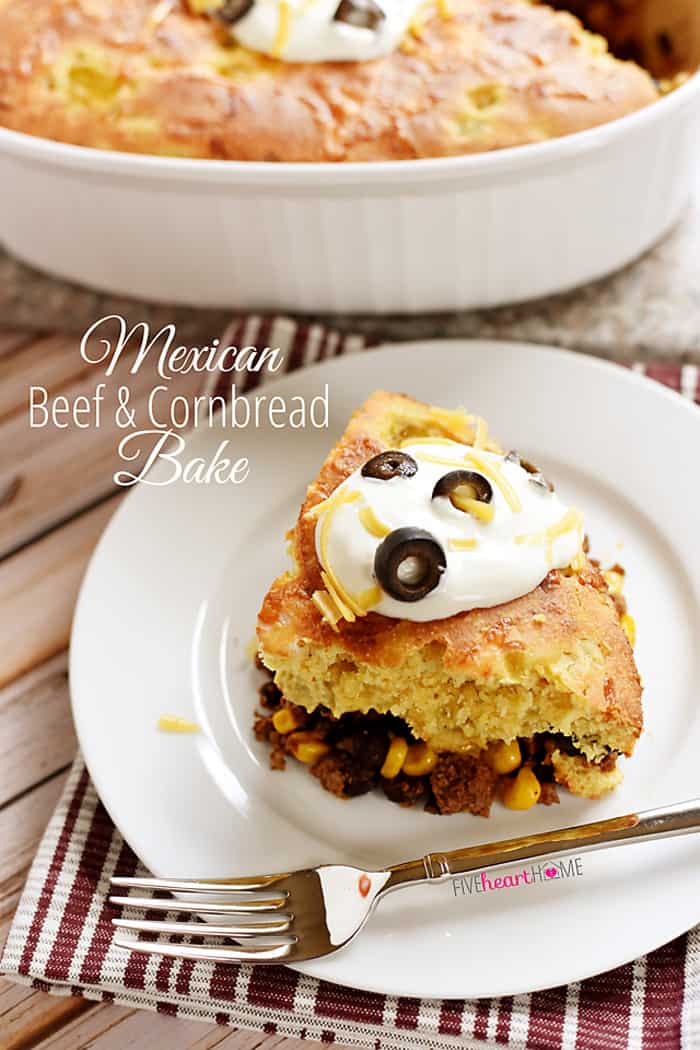 Slow Cooker Beef Stroganoff {No 'Cream of X' Soup}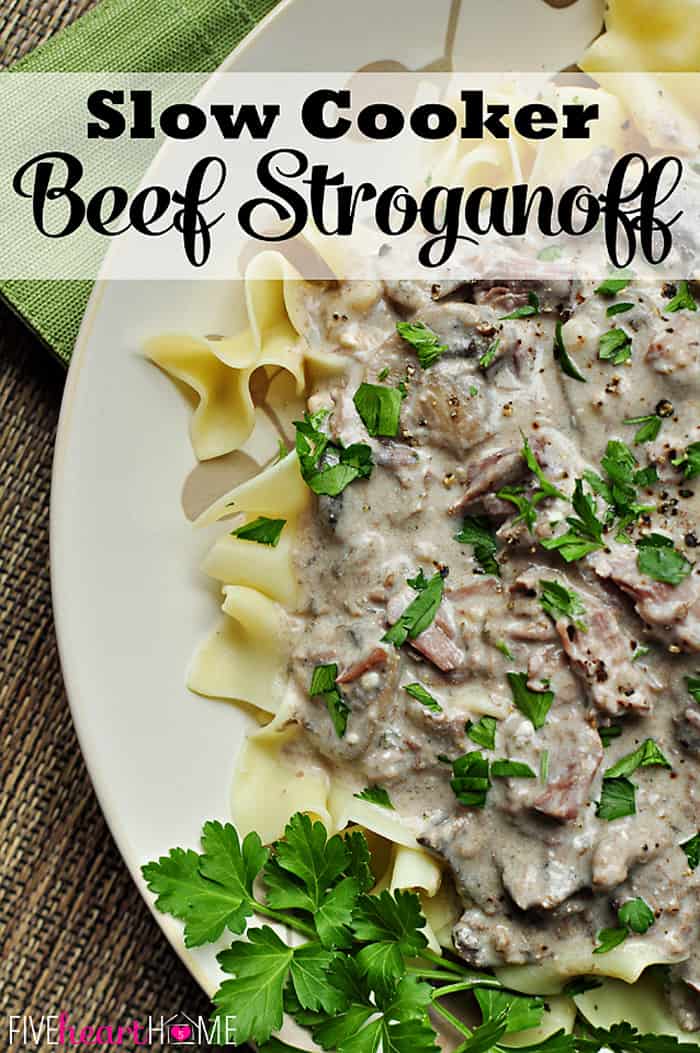 7