This Ultimate Taco Salad is an explosion of contrasting flavors and textures, from spicy taco meat & velvety black beans to acidic tomatoes & crisp fresh corn, all topped with crunchy tortilla chips and a creamy, cilantro-flecked Avocado Ranch Dressing.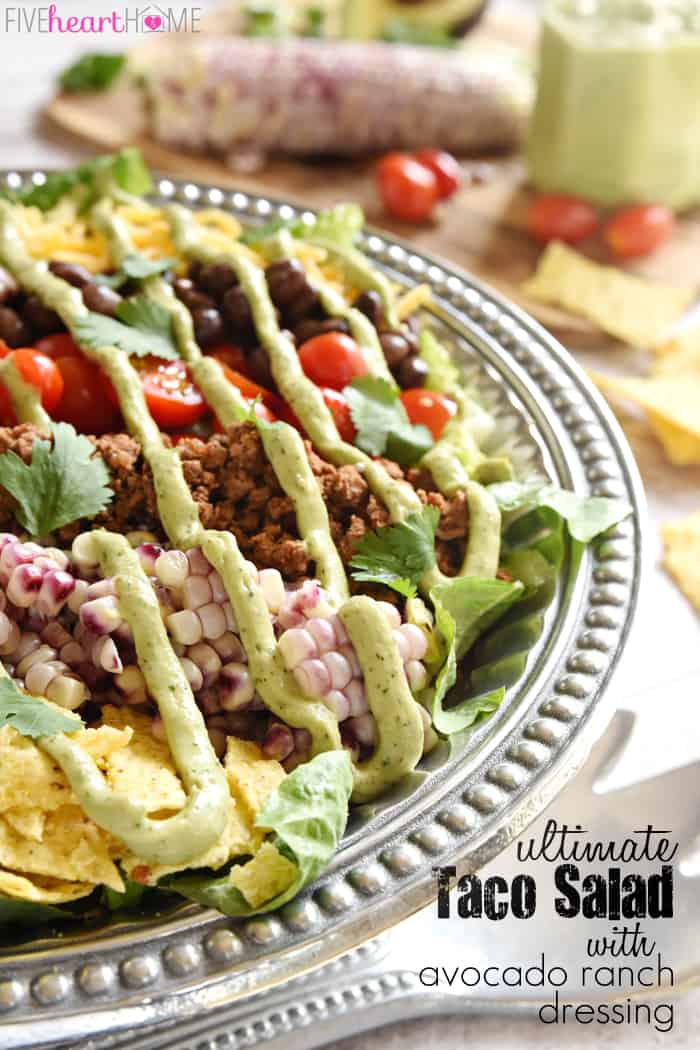 I'm almost embarrassed to admit how often we eat taco salad around these parts. My kids love anything taco, and I love taking advantage of the fact that taco salad appeases their craving while squeezing in plenty of protein and vitamin-packed veggies at the same time.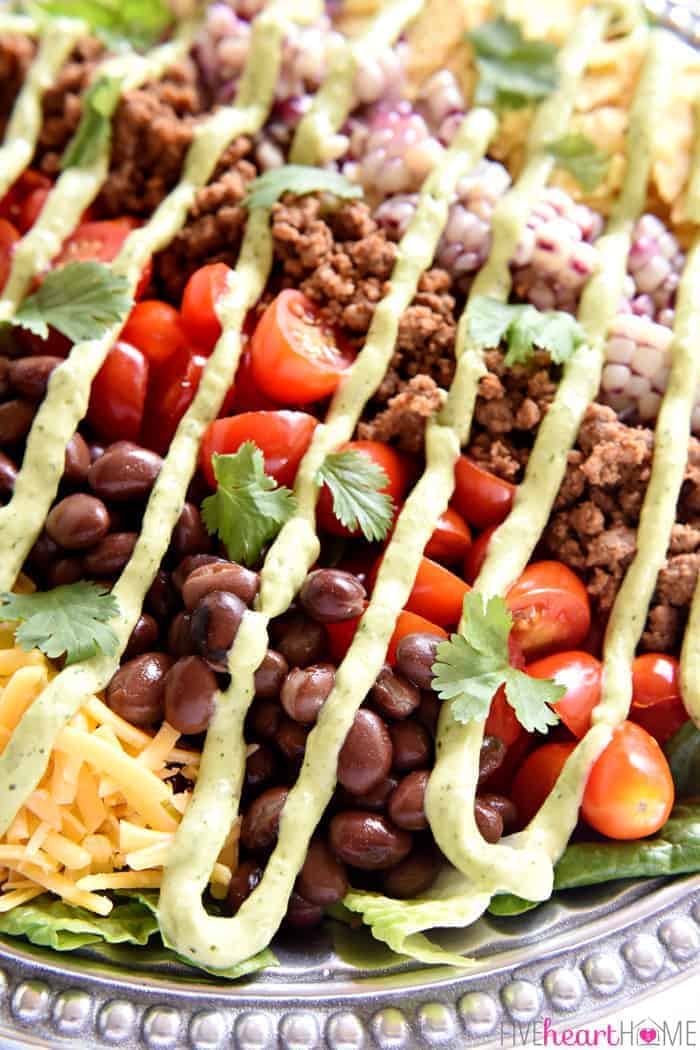 Taco salad is also infinitely customizable, depending upon your favorite ingredients and what you already have on hand. For me, the constants of taco salad are lettuce, seasoned ground beef (leftover shredded beef, chicken, or pork also work quite nicely), tomatoes, avocado, grated cheese, and crushed tortilla chips. Don't tell anyone, but sometimes I even add some grated carrots (shhhhh!) -- fully recognizing that they don't "go" -- because not only do my kids eat them without objecting, but yay! More veggies!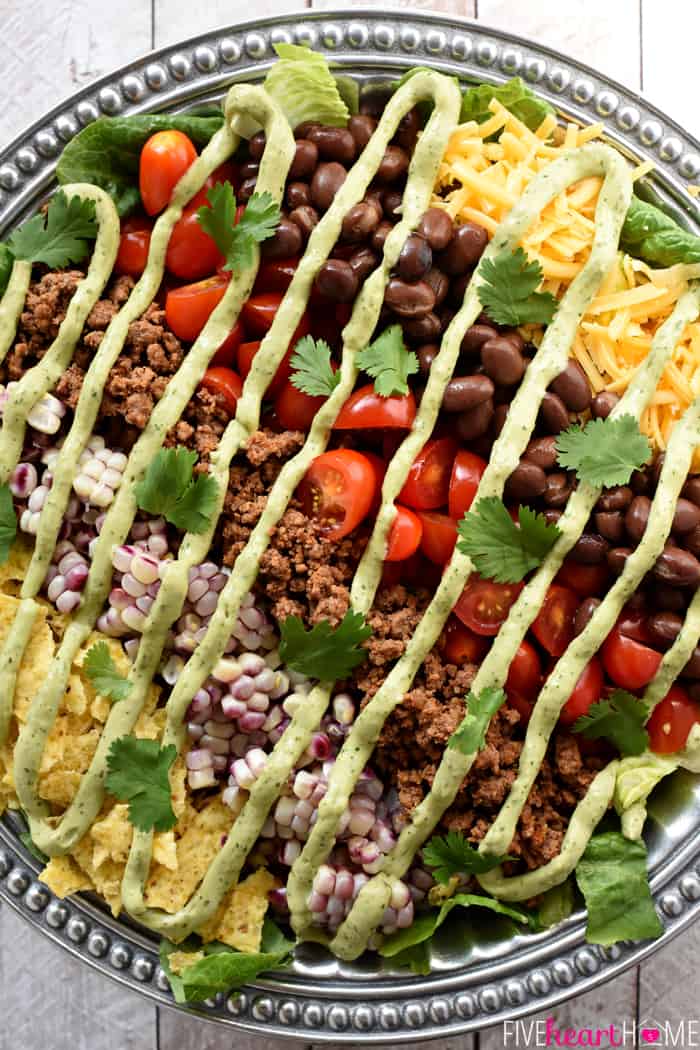 The recipe I'm sharing today has a few tasty additions that, in my opinion, take this Ultimate Taco Salad from good to over the top. I love fresh roasted corn, and I always toss a few extra ears in the oven any time I roast some. That habit comes in extra handy if there's taco salad in the near future, as I find that fresh corn kernels add a perfect layer of crisp sweetness to this recipe.
(And if you're extra lucky like me, you'll do a double-take when you peel back the corn husk to discover that your corn is purplish-white instead of the expected hue of yellow. You may momentarily fret that your blog photos will be RUINED because ISN'T CORN SUPPOSED TO BE YELLOW? What if people mistake the corn for purple onions (blech)?! But then your 7-year-old informs you that maroon & white corn is surely a sign of good luck for the Aggies in their baseball tournament tonight. And you realize that he's right, of course...so you proceed with the recipe and come to the conclusion that non-yellow corn adds a special, albeit confusing, touch to the photos after all...) 😉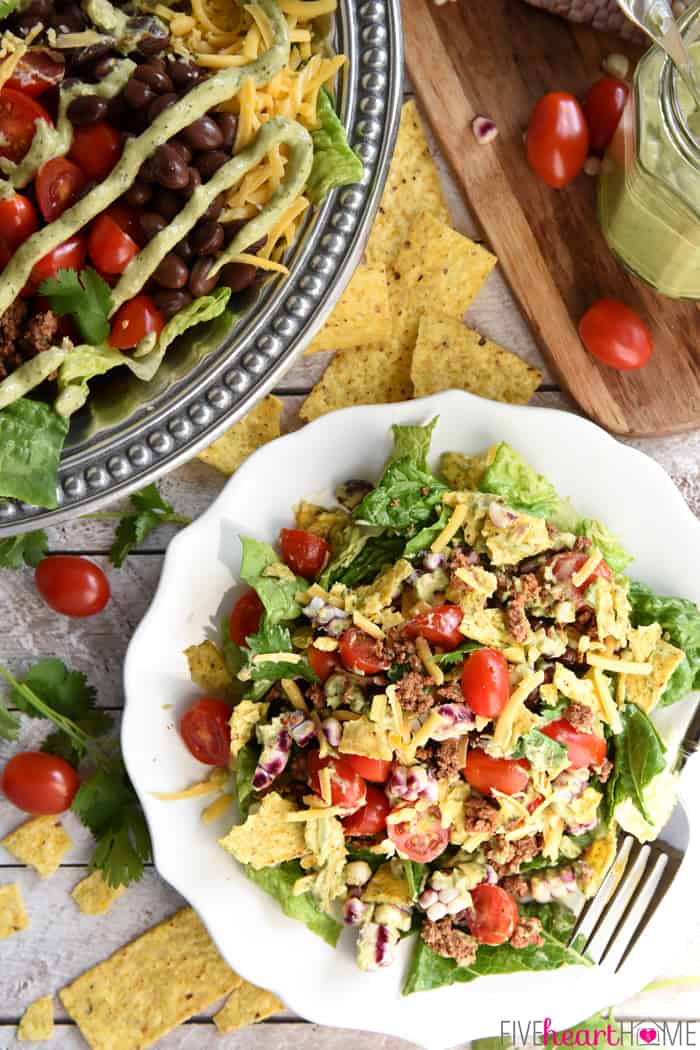 (As an aside to that rambling tangent, if you do decide to use fresh corn in this recipe, I highly recommend that you check out my amazingly easy and delicious method for roasting corn. I'm telling you...life. Changing. But if you don't have fresh corn, frozen (defrosted) corn makes an acceptable substitute as well.)
In addition to the corn, black beans contribute a creamy texture and a nice boost of protein to this salad. As far as cheese, use your favorite, which might be cheddar, Monterrey Jack, pepper jack, or whatever happens to float your boat. And by all means, don't forget the garnishes! Whether you're a fan of black olives, pickled jalapenos, a shower of fresh cilantro, or a copious dollop of salsa, any and all garnishes have a rightful place on this Ultimate Taco Salad. Finally, why toss diced avocados on top of the salad when you could incorporate them into a creamy, decadent Avocado Ranch Dressing instead?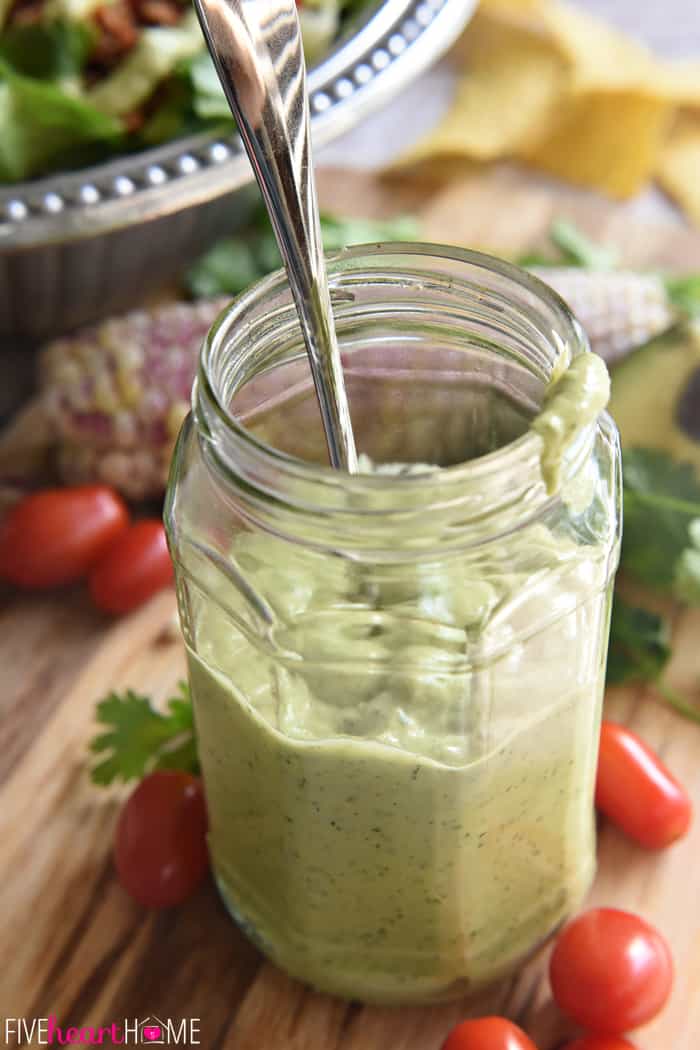 Let's talk about said salad dressing for a moment, shall we? It's basically pureed avocado goodness, flavored with garlic salt and fresh cilantro, and thinned out with creamy ranch dressing. I typically use my world-famous (heh) Homemade Buttermilk Ranch Dressing if I'm lucky enough to have a jar in the fridge. But no reason to fret if that's not the case...store-bought ranch dressing would be just peachy as well.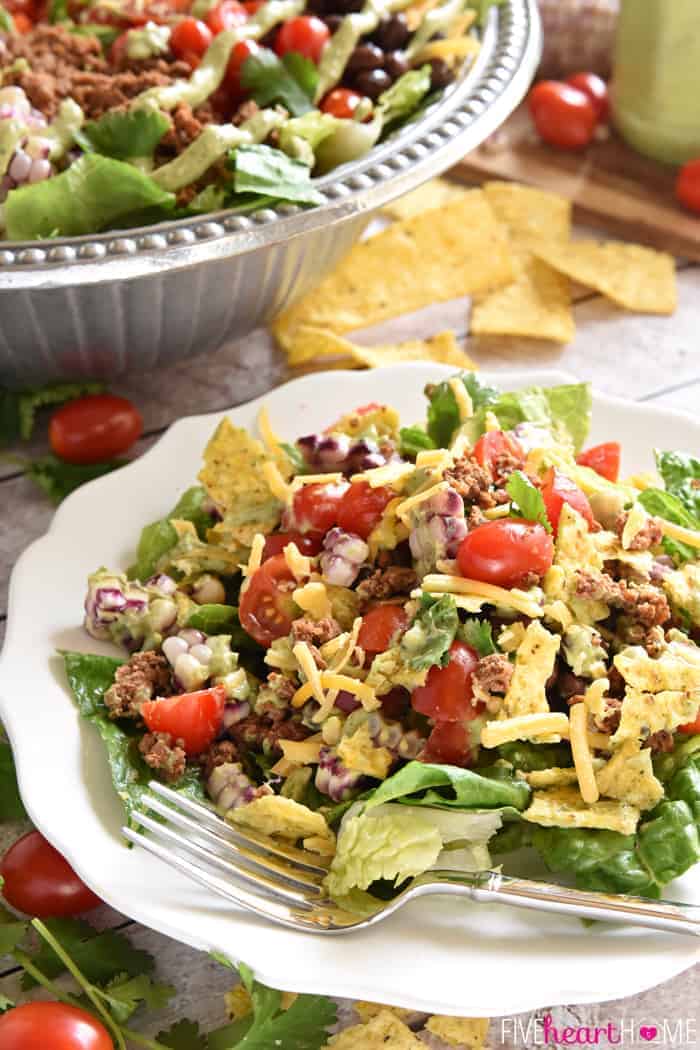 And there you have it! A beautiful, tasty -- nay, the ULTIMATE -- Taco Salad with Avocado Ranch Dressing! Enjoy, friends, and remember...if life gives you maroon & white corn, make taco salad. 😉

More Spectacular Salads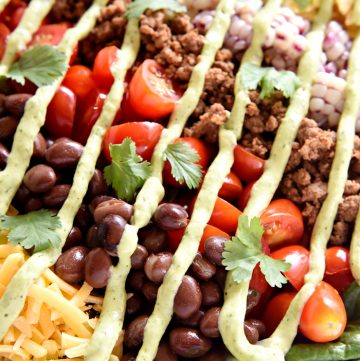 Ultimate Taco Salad with Avocado Ranch Dressing
This Ultimate Taco Salad is an explosion of contrasting flavors and textures, from spicy taco meat and velvety black beans to acidic tomatoes and crisp fresh corn, all topped with crunchy tortilla chips and a creamy, cilantro-flecked Avocado Ranch Dressing.
Print
Pin
Rate
Ingredients
FOR TACO SALAD:
1

pound

ground beef

3

tablespoons

Homemade Taco Seasoning,

OR one packet store-bought seasoning

1

large head lettuce

,

chopped (green leaf, iceberg, or 2 small heads hearts of Romaine)

1

(15-ounce) can black beans

,

rinsed & drained

2

cups

fresh corn

,

sliced from two roasted cobs

1

pint

grape tomatoes

,

halved

2

cups

grated cheddar

Crushed tortilla chips

Optional garnishes:

,

sliced pickled jalapeños, sliced black olives, sour cream, salsa, chopped cilantro
FOR AVOCADO RANCH DRESSING:
2

large avocados

½

cup

Ranch dressing

,

homemade or bottled

3

tablespoons

milk or buttermilk

,

plus more, as needed, to achieve desired consistency

3

tablespoons

chopped cilantro leaves

¼

teaspoon

garlic salt

Freshly ground black pepper
Instructions
In a large skillet set over medium-high heat, brown ground beef and drain grease. Stir in taco seasoning and ½ cup water. Bring to a simmer, reduce heat to low, and cook until water has been absorbed. Remove from heat and set aside to cool.

Place chopped lettuce in a large bowl or on a large platter. Top lettuce with taco meat, black beans, corn, tomatoes, grated cheese, and crushed tortilla chips, layered or arranged in rows.

Prepare Avocado Ranch Dressing by scooping avocados into a blender or food processor. Add prepared ranch dressing, milk, cilantro, garlic salt, and pepper. Blend/process until smooth. Add a splash more milk if dressing is too thick. Taste and adjust seasonings, adding more garlic salt and/or pepper, if necessary.

Drizzle dressing over salad, sprinkle with optional garnishes (if desired), toss all ingredients together, and serve immediately.
Notes
You may use frozen corn that have been defrosted in place of the fresh corn.
You may use your favorite cheese instead of cheddar. Grated Mexican blend cheese, Monterrey Jack, Colby Jack, or Pepper Jack are all good in this salad.
If you have leftover Avocado Ranch Dressing, pour it into a container and tightly seal. The top layer that is exposed to air will discolor, but the dressing underneath should remain green. I just scrape off the brown layer and we enjoy the leftover dressing the next day.
Calories:
572
kcal
|
Carbohydrates:
29
g
|
Protein:
30
g
|
Fat:
39
g
|
Saturated Fat:
16
g
|
Cholesterol:
97
mg
|
Sodium:
882
mg
|
Potassium:
957
mg
|
Fiber:
9
g
|
Sugar:
6
g
|
Vitamin A:
1710
IU
|
Vitamin C:
20.5
mg
|
Calcium:
329
mg
|
Iron:
3.9
mg