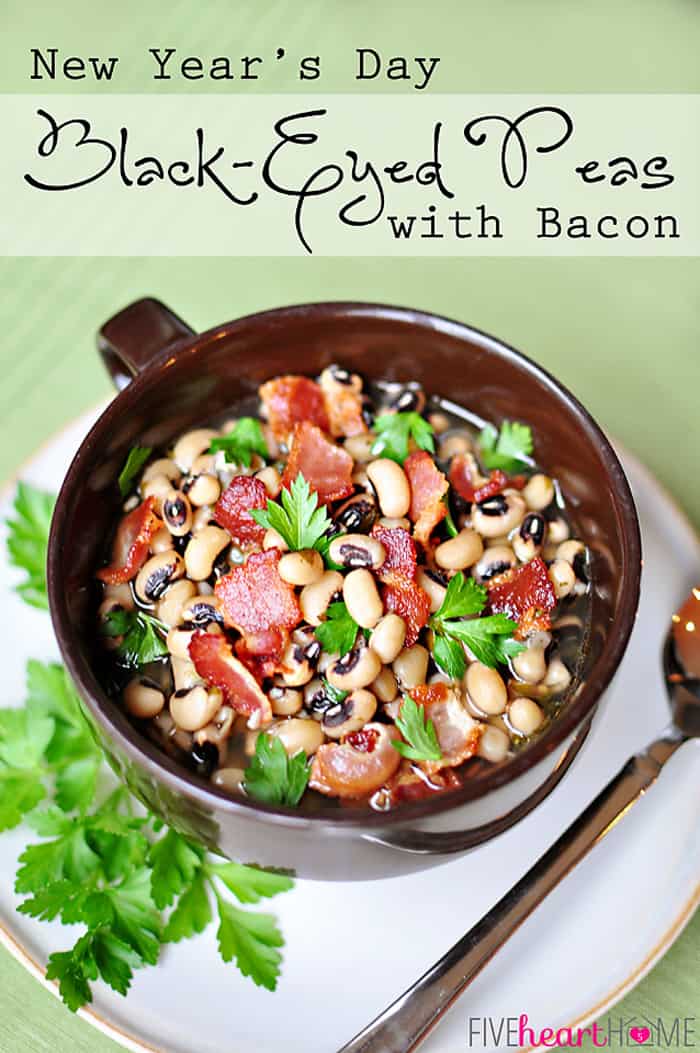 Black-Eyed Peas with bacon, garlic, and thyme combine in a savory soup that's said to bring luck and prosperity when eaten on New Year's Day!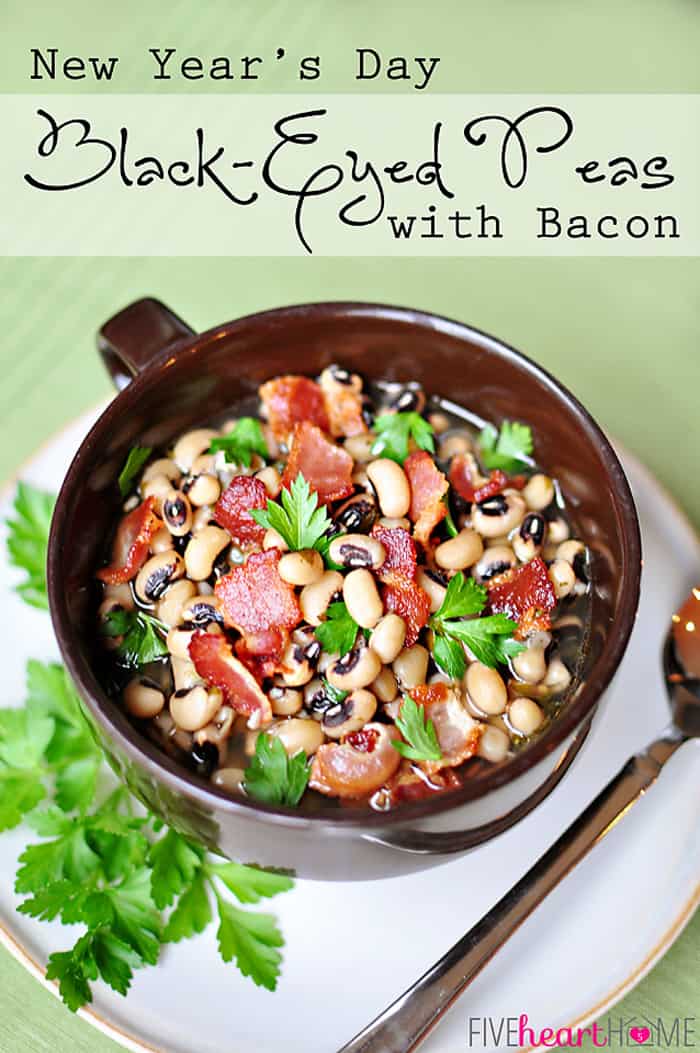 January 1st is right around the corner, and in these parts, that means two things: New Year's resolutions and black-eyed peas!
New Year's Luck
In the south (and perhaps beyond? Please enlighten me!), eating a black-eyed peas recipe on New Year's Day supposedly brings you luck and prosperity in the coming year.
Now I'm not particularly superstitious, but I do love associating food with tradition and specific holidays, so I've been whipping up a pot of black-eyed peas on New Year's for a number of years now.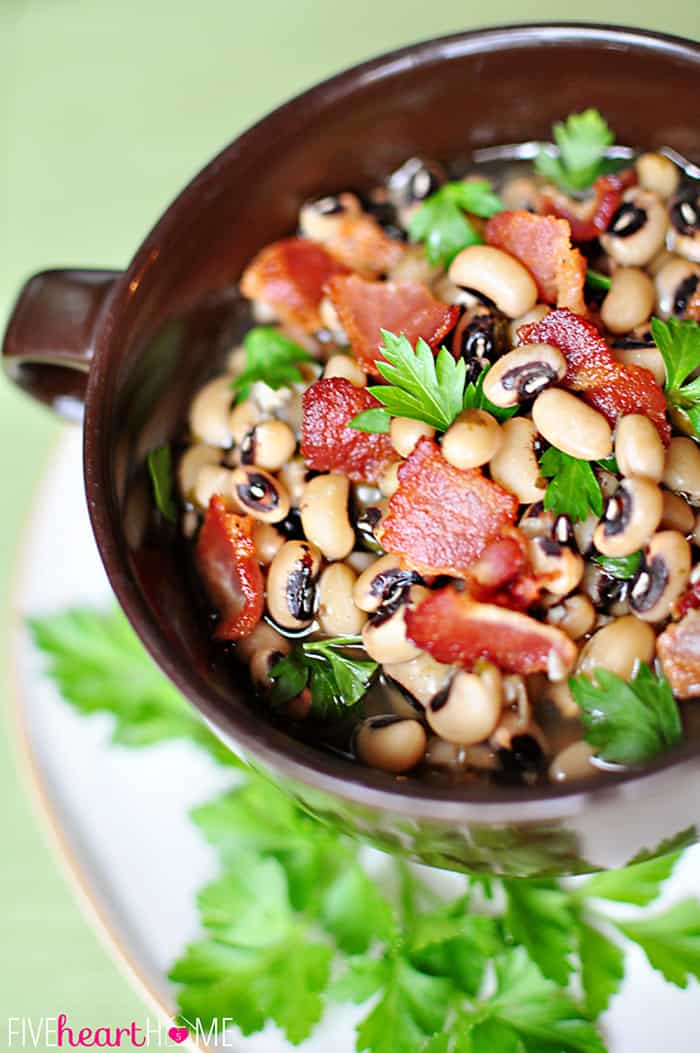 Ingredients for Flavor
However, I have a little confession. I don't actually like black-eyed peas. In fact, I've always kind of thought they taste like dirt (or what I would imagine dirt to taste like, since I don't eat dirt on a regular basis).
At least that was the case until this recipe entered my life. You see, when you cook otherwise-unexciting black-eyed peas with generous amounts of fresh garlic, crispy bacon, and aromatic thyme, the legumes (they aren't actually peas, you see) soak up all of those flavors and transform into a bowl of goodness that black-eyed pea aficionados and haters alike would be enthusiastic to eat...not only on New Year's Day, but all year long!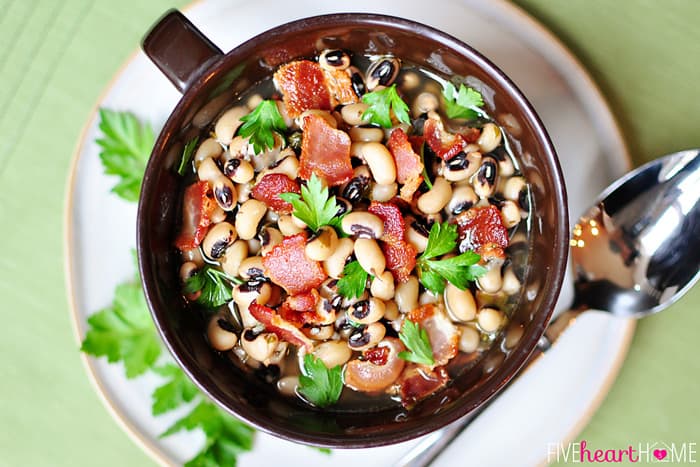 The BEST Black-Eyed Peas
If you've never really fancied black-eyed pea recipes, I think this one will change your mind.
If you already traditionally eat them on New Year's Day, I think you will enjoy this new way to prepare them.
And if you've never before ingested a black-eyed pea -- or never eaten them for luck on New Year's -- I encourage you to give this recipe a whirl!
After all, how can you go wrong with savory beans in a garlic and thyme-infused broth, studded with fresh parsley and bacon?! We all know that bacon could make dirt taste good, so in my book, its use in this recipe elevates the humble black-eyed pea from tolerable to outstanding.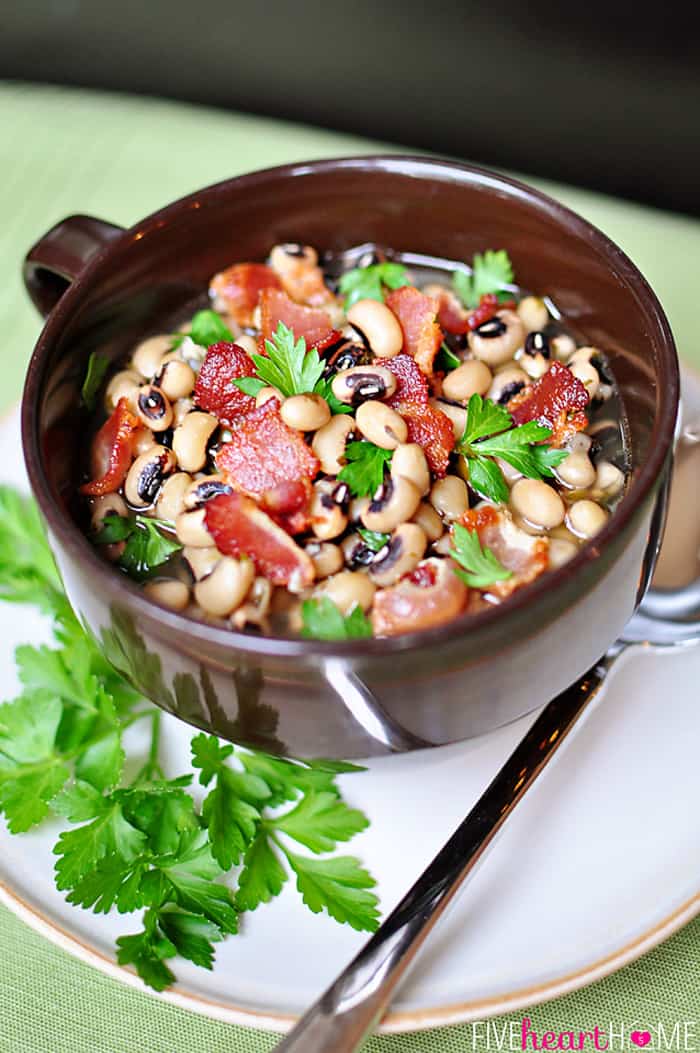 Black-Eyed Peas with Bacon: try them on the 1st for a lucky and prosperous year, and I'm pretty sure you will end up making them again and again...every New Year or perhaps even the whole year through.
They are just that darn good. 😉

A Few Recipes for New Year's Eve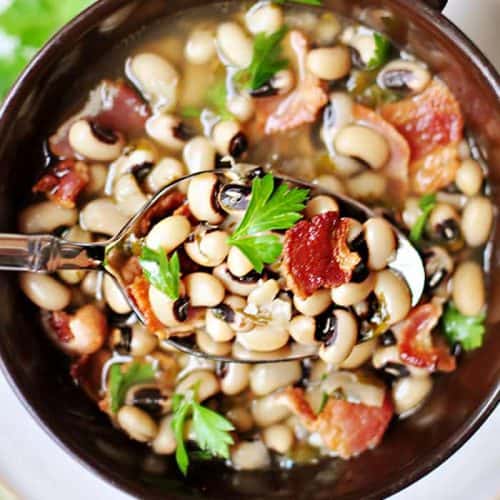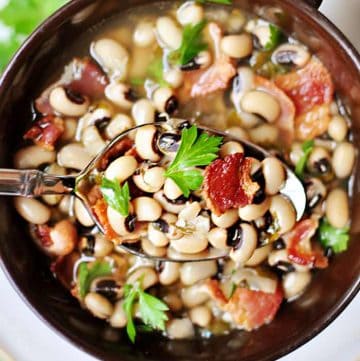 Black-Eyed Peas for New Year's
Black-Eyed Peas soak up the flavors of garlic, bacon, and thyme in this savory soup that is said to bring luck and prosperity when eaten on New Year's Day...but is so tasty that you'll want to make it all year long!
Print
Pin
Rate
Ingredients
12

ounces

bacon

2

tablespoons

fresh minced garlic

,

about 4 large cloves

10

cups

unsalted chicken stock

1

pound

dried black-eyed peas

,

soaked* and drained

4

bay leaves

2

teaspoons

dried thyme

2

cups

fresh parsley

,

chopped

Freshly ground black pepper

,

to taste
Instructions
Heat a large pot over medium heat. Using a pair of kitchen shears, snip bacon slices into 1-inch segments and place in pot. Cook, stirring often, until bacon is crispy. With a slotted spoon, remove bacon to a paper towel-lined plate to drain. Pour bacon grease from pot, reserving about 1 tablespoon in pot.

Add garlic to pot and stir for 1 minute or until it begins to turn light golden brown. Pour in chicken stock, black-eyed peas, bay leaves, thyme, parsley, pepper, and half of the cooked bacon pieces. Bring to a boil and then reduce to a simmer and cover. Cook for 1 ½ to 2 hours, stirring occasionally, or until black-eyed peas are tender. If liquid gets low before peas are done, add an additional 1 to 2 cups of chicken stock. (And if you desire less liquid by the time peas are done, simmer uncovered for 10 or so more minutes.)

Remove bay leaves and serve soup with reserved bacon crumbles and fresh chopped parsley sprinkled on top.
Notes
*REGULAR SOAK METHOD: Sort out any stones and shriveled/broken pieces, and then place black-eyed peas in a large bowl and cover with a couple inches of cool water. Allow to soak for 8 hours or overnight. Drain.
*QUICK SOAK METHOD: Put sorted beans in a large pot and cover with a couple inches of cool water. Bring to a boil and cook for 2 to 3 minutes. Remove from heat, cover, and allow to soak for 1 hour. Drain and proceed with recipe.
Around New Year's, you can also often find containers of pre-soaked black-eyed peas in the produce section.
Calories:
424
kcal
|
Carbohydrates:
39
g
|
Protein:
25
g
|
Fat:
19
g
|
Saturated Fat:
6
g
|
Cholesterol:
28
mg
|
Sodium:
387
mg
|
Potassium:
1059
mg
|
Fiber:
6
g
|
Sugar:
4
g
|
Vitamin A:
1315
IU
|
Vitamin C:
21.5
mg
|
Calcium:
105
mg
|
Iron:
6.8
mg
This post was originally published on December 29, 2013 and updated on December 29, 2017.