Orange Apricot-Glazed Carrots with Candied Almonds are sweet and tender, glossy and vibrant...and the perfect spring side dish for Easter dinner!

Well, folks...another winter day, another spring recipe. 😉 But hey, I'm not jumping the gun too much here! It's my understanding that some of you are already enjoying Spring Break (ours is next week), the clocks have already "sprung forward," and in reality, we're only a couple weeks out from the official changing of the seasons. So I hereby declare an end to winter comfort food! Join me for some fresh and lovely recipes revolving around cliched spring ingredients, will you?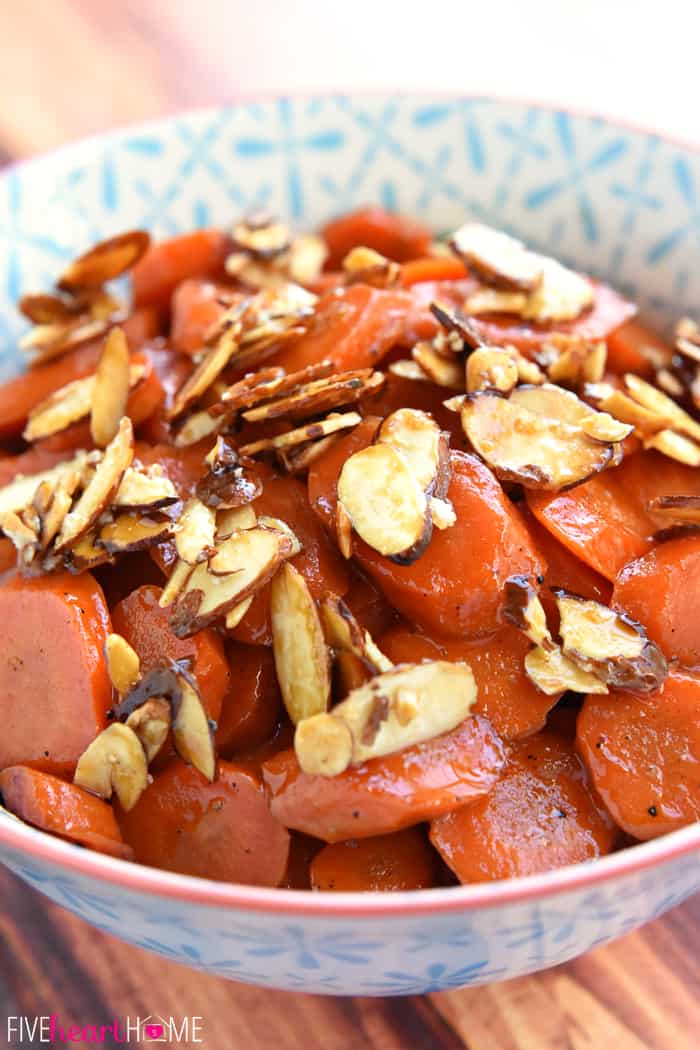 And if there's any ingredient more cliched this time of year than carrots, I'd be hard pressed to think of it. I guess it's the association with the Easter Bunny, seeing as how carrots aren't even technically in season until summer/early fall. Regardless, carrots are readily available year-round and make a tasty treat come springtime or any season...and these Orange Apricot-Glazed Carrots with Candied Almonds are as delicious as they are gorgeous!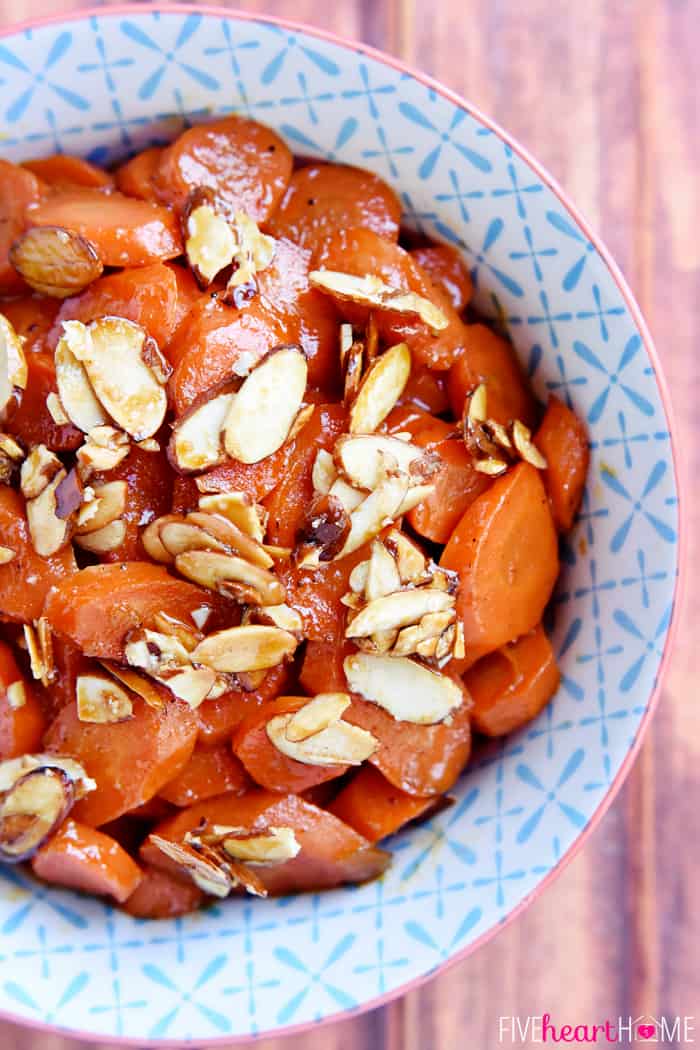 My persnickety offspring each have different vegetables that they will concede to eat without whining...but the one veggie that overlaps for all three of them is raw carrot sticks. So most nights, I find myself peeling and cutting a few carrots to go along with the other veggies that I happen to be serving at dinner. As a result, my kids have really good eyesight actually prefer eating carrots raw. Their parents, however, occasionally enjoy them cooked into a yummy little side dish like this one.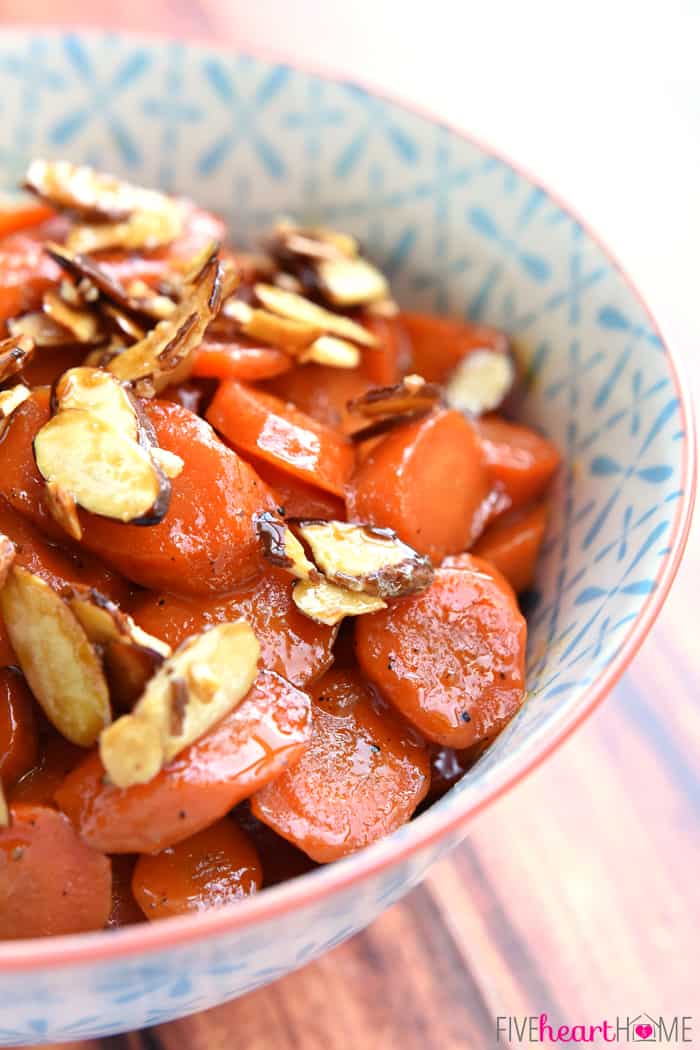 Ingredients
This recipe features tender carrot slices that have been glazed in a mixture of tangy orange juice and sweet apricot preserves. There may be butter and a smidge of brown sugar involved as well.
Then the real magic happens in the form of a sprinkling of candied almond slices. Literally two ingredients -- nuts + sugar -- plus a few minutes in a skillet render these almonds sweet and crunchy, coated with a shellac of caramelized sugar. Addicting doesn't even begin to describe it.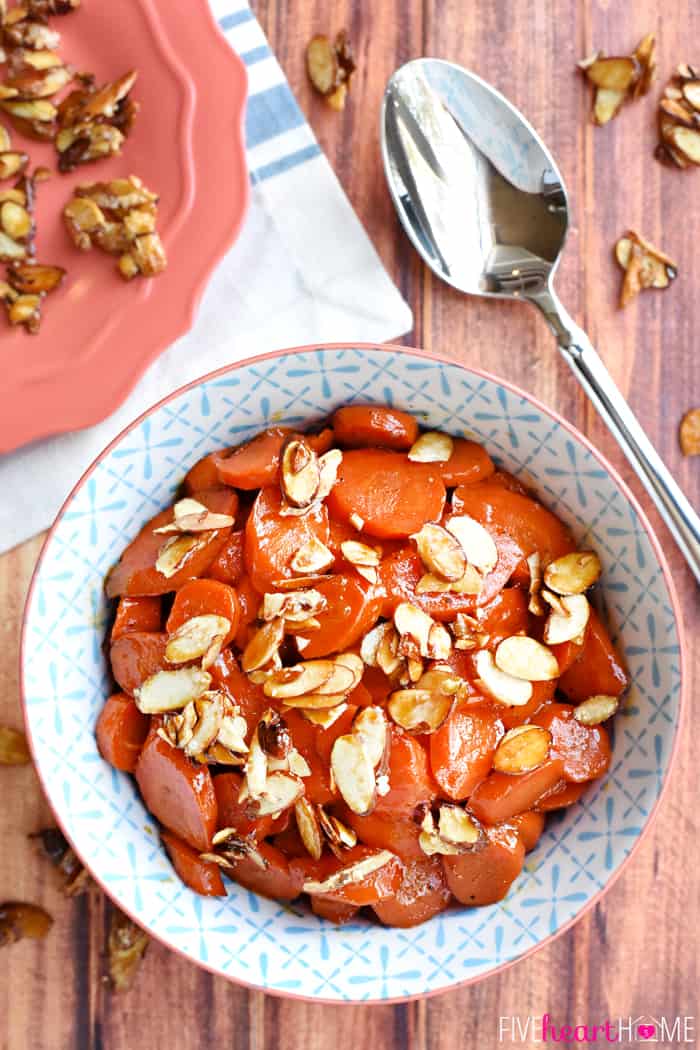 Candied Almond Tips
And better yet, these candied almonds are extremely simple to put together...but you do need to be attentive while making them.
Move them around the skillet during their entire cooking time (we're only talking a few minutes here) and pull them off the heat the moment you see them starting to turn a light golden brown (since they'll continue to darken a bit after that).
If you wait until they look perfectly toasted to stop cooking them, they'll end up turning too dark from the residual heat of the pan...and you'll have no choice but to snack on them (albeit slightly burnt) while making a second, blog-photo-worthy batch. Oh darn.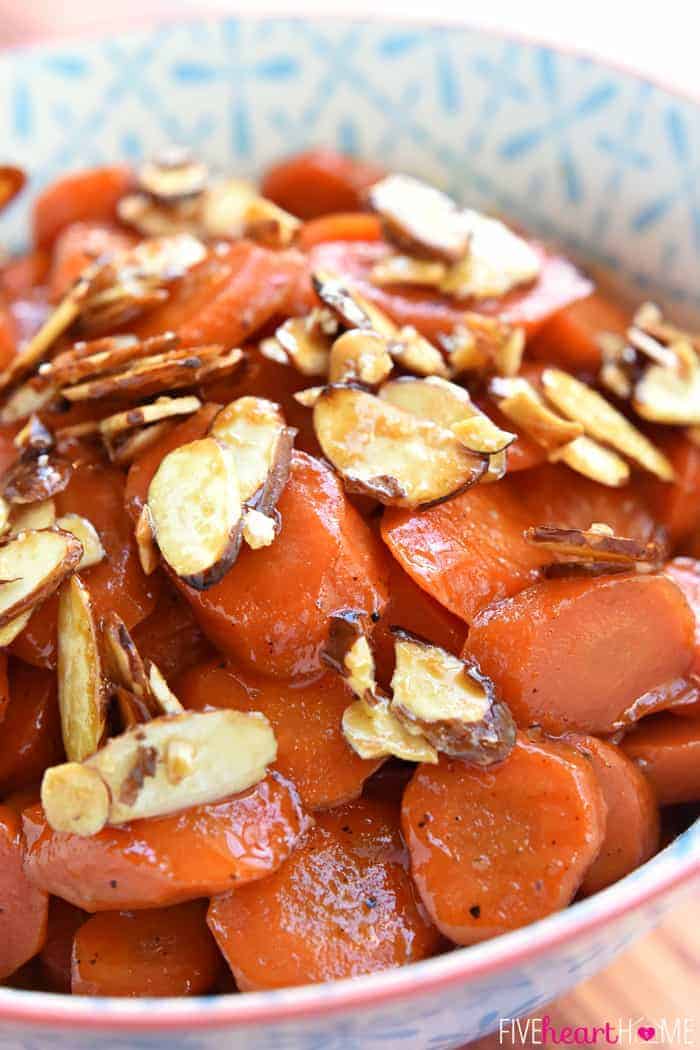 Inquiring minds want to know...what's your favorite springtime ingredient? I may actually have another carrot recipe headed your way later this week, but rest assured that it's a bit more carrot cake-esque. 😉 I'm also partial to lemon recipes this time of year and am currently pondering another one of those, even though I just shared one a couple of weeks ago. So sue me...I'm a walking, blogging cliche... 😉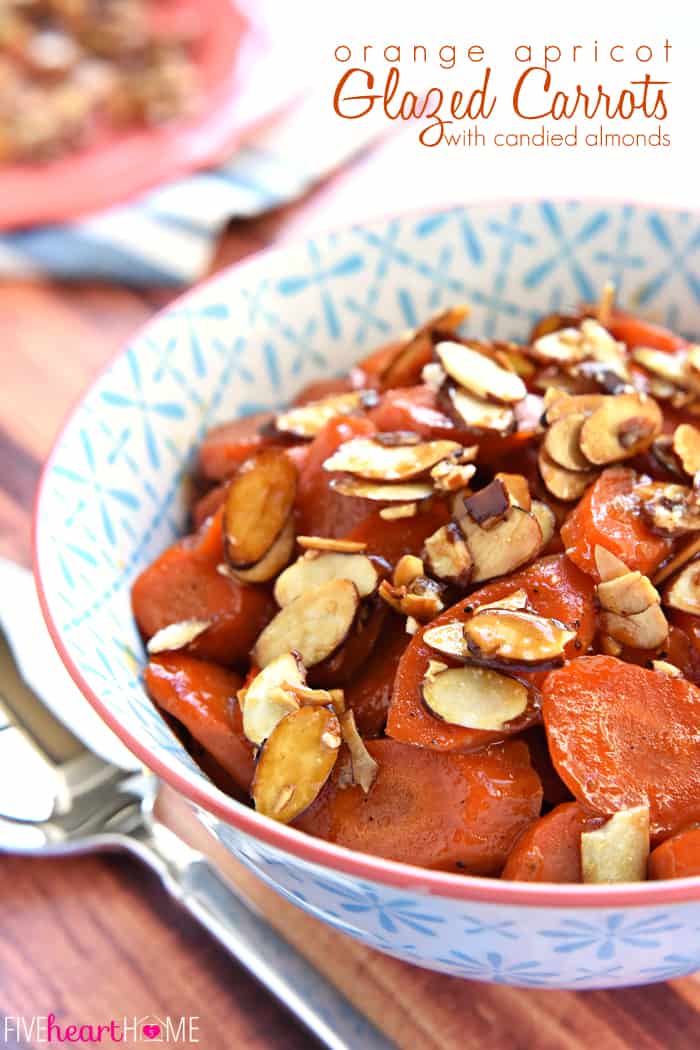 More Spring Recipes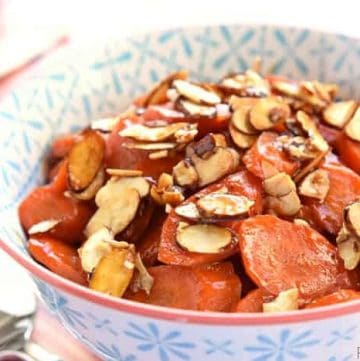 Orange Apricot-Glazed Carrots with Candied Almonds
Orange Apricot-Glazed Carrots with Candied Almonds are sweet and tender, glossy and vibrant...and the perfect spring side dish for Easter dinner!
Print
Pin
Rate
Ingredients
¼

cup

sliced almonds

4

teaspoons

sugar

2

tablespoons

unsalted butter

,

divided

1

tablespoon

apricot preserves

1

pound

carrots

,

peeled and sliced at an angle, ¼-inch thick

½

cup

orange juice

2

tablespoons

packed light brown sugar

¼

teaspoon

salt

Freshly ground black pepper
Instructions
Line a baking sheet with wax paper. In a small skillet set over medium heat, toss together sliced almonds and sugar. Stir continuously until sugar is melted and almonds just start to turn light golden brown. Transfer caramelized almonds to wax paper, spreading out into a single layer. Set aside to cool.

Melt 1 tablespoon butter in a large skillet set over medium-high heat. Stir in the apricot preserves, then mix in the carrots, orange juice, brown sugar, salt, and freshly ground black pepper, to taste. Bring to a boil before reducing heat to a low simmer; cover and cook until the carrots are almost tender, about 13 to 15 minutes.

Add remaining tablespoon butter to the skillet and increase the heat to medium. Cook for a few more minutes, stirring continuously, until the liquid is thickened to a glaze. Adjust seasonings, adding more salt and pepper, if necessary. Sprinkle with candied almonds and serve immediately.
Notes
Stir the almonds continuously and pull of the heat as soon as they start turning golden, as they will continue to darken a bit past that point.
Calories:
200
kcal
|
Carbohydrates:
29
g
|
Protein:
3
g
|
Fat:
9
g
|
Saturated Fat:
4
g
|
Cholesterol:
15
mg
|
Sodium:
228
mg
|
Potassium:
472
mg
|
Fiber:
4
g
|
Sugar:
20
g
|
Vitamin A:
19180
IU
|
Vitamin C:
22.6
mg
|
Calcium:
64
mg
|
Iron:
0.6
mg

Adapted from Food Network