Tasty, savory, all-natural, homemade Cheese Crackers are not only kid approved, but you won't believe how easy they are to make!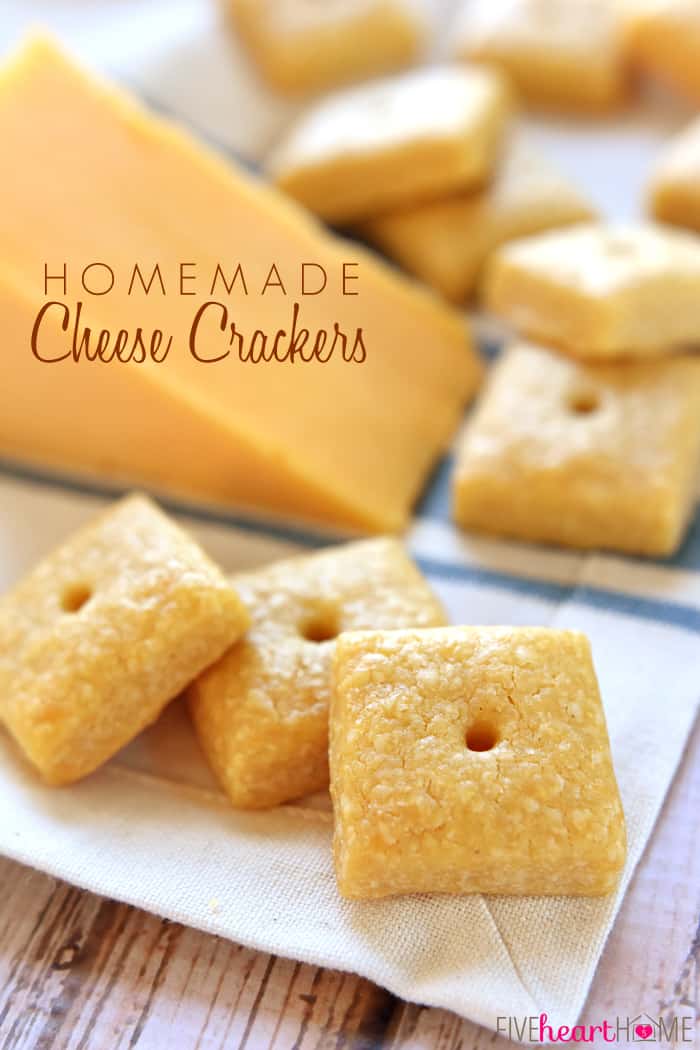 Homemade Cheese Crackers are one of those recipes that I've been meaning to try out ever since I had kids...but I just never seemed to get around to it. Well, that finally changed last week, my friends! And the funny part is, they were so easy to make, I don't know why I waited so long to give them a go.
Ingredients
These little cuties are as simple as pulsing together a few ingredients in the food processor -- grated cheddar (extra-sharp, please!), butter, flour, Worcestershire sauce, salt, and pepper (black & cayenne)...and that's it!
Not an un-pronouncable ingredient in sight! Well, unless you're like me and have difficulty pronouncing Worcestershire.
Woos-ti-shire.
Wer-chest-er-shi-er... 😉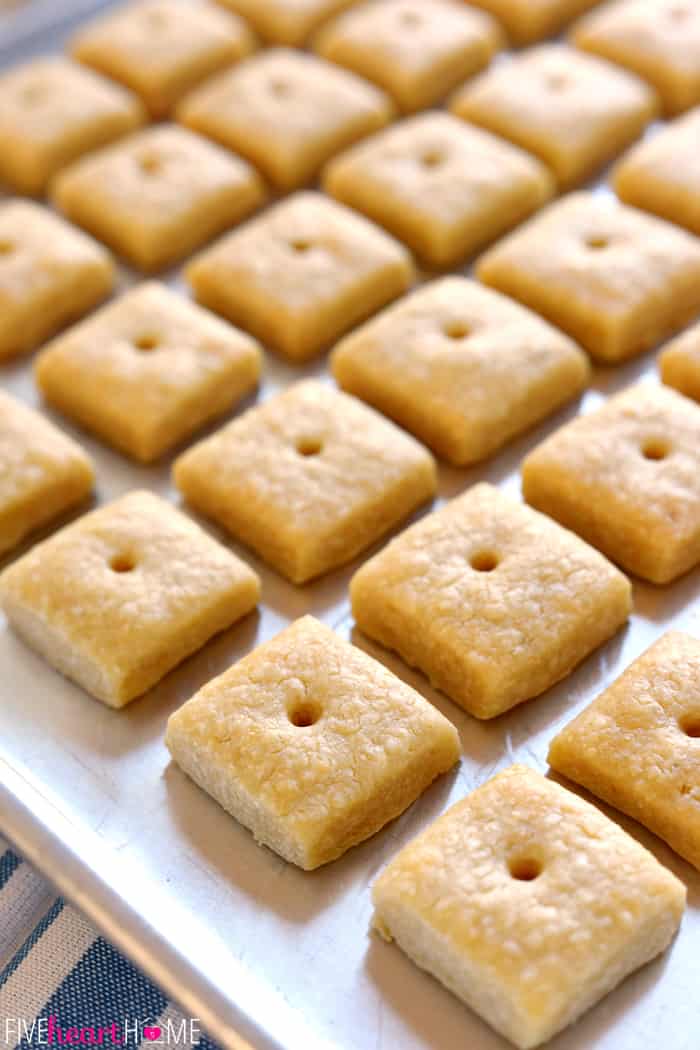 How to Make Them
After your dough comes together, simply form it into a disk and pop it in the refrigerator to firm up a bit.
Then roll it out and use a pizza cutter (or, if you want fancy edges, a pastry wheel) to cut it into little squares.
Pop 'em on a pan, use a wooden skewer to poke a little hole in each one (we're trying to be authentic here, right?), and bake until the edges just start to darken.
It sounds like a lot of steps but the hands-on time is actually surprisingly short.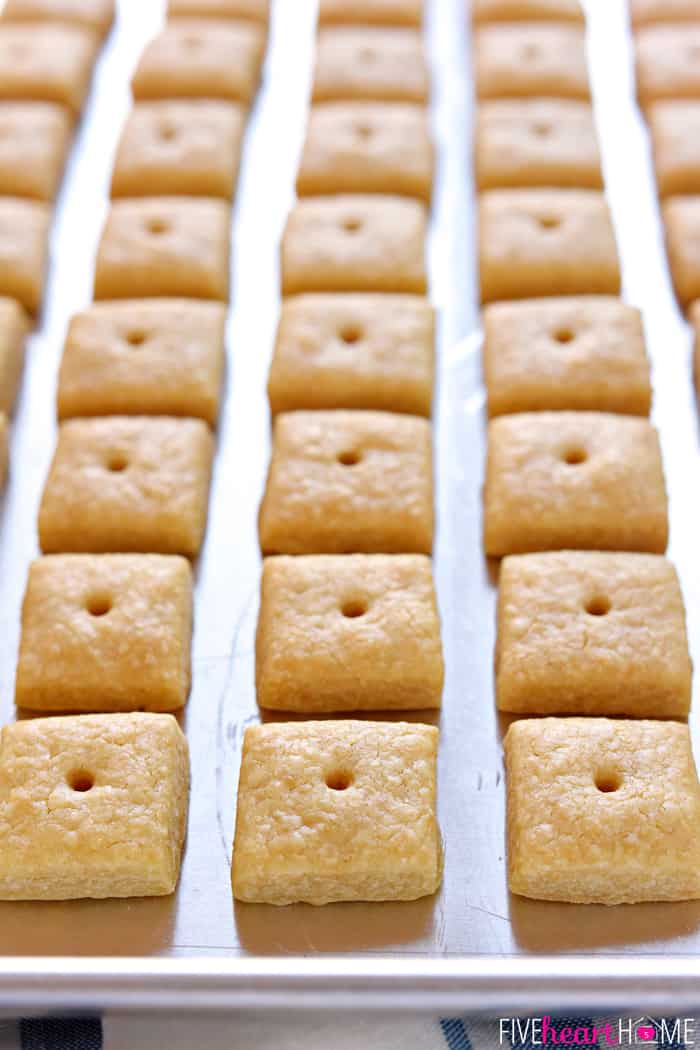 Rolling Them Out
Now, I must disclose that the Homemade Cheese Crackers pictured in these photos are from the first batch I made.
In making these crackers a few more times since, I've come to discover that my family prefers them rolled out a little thinner (about ⅛") and baked a little longer for crispier, more cracker-like crackers.
The crackers pictured here were thicker (about ¼") and softer. Still good, but you'll need to decide which type of texture you're going for.
Don't kid yourself, though...this batch of slightly thicker crackers went over juuuust fine.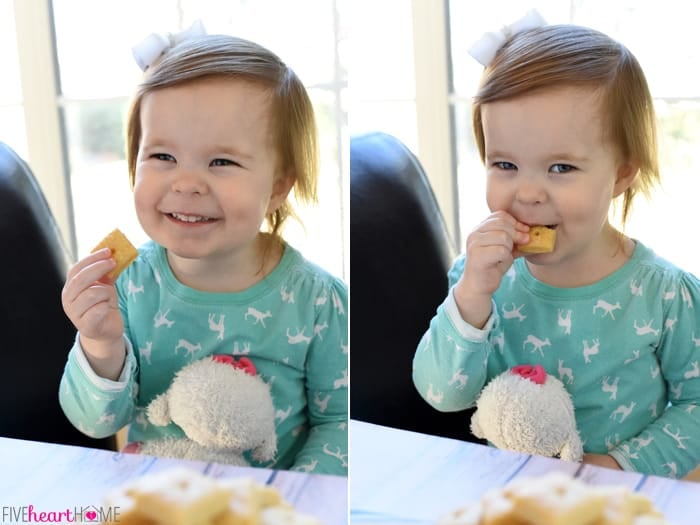 Cutting Into Crackers
I also feel the need to share that the yield of this recipe is a result of the size I cut my crackers, and the size I cut my crackers is a result of the ruler I used as a guide for my pizza cutter.
I am terrible at cutting straight lines in food, y'all. When there's a cake to be cut, I always try to pawn off the task on someone else. My pie slices are never even. My brownies range from tiny to jumbo (and not on purpose).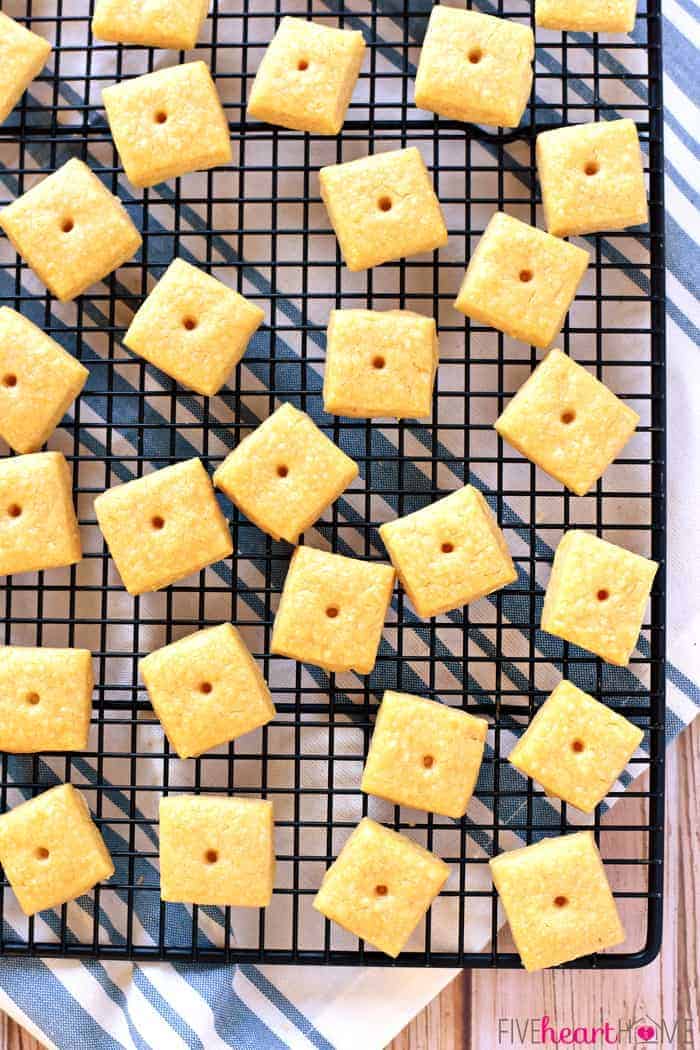 Anyhoo, I figured that a bunch of crooked crackers probably wouldn't make for an aesthetically pleasing blog post...so I washed a plastic ruler with some dish soap, thoroughly dried it, and laid it vertically along the edge of my rectangle of dough.
Then I took my pizza cutter and traced along each side of it, rendering my first "strip" of crackers 1 ¼" wide. I moved the ruler across the dough and continued tracing/cutting vertical strips.
Then I turned the ruler perpendicular and worked my way down the dough, cutting horizontal strips.
At the end, I had perfectly square, equally sized little crackers...which I never would have been able to accomplish in a million years, sans ruler. I took the jagged scraps of dough from the edges, re-rolled, and used my ruler to cut more squares. Repeat, repeat, done!
I hope it goes without saying that you absolutely do not have to use a ruler in order to ensure that your crackers are all square and symmetrical. Live on the edge and eyeball those babies! Using a ruler is just something that my fellow firstborn, type-A, perfectionist, Virgos might understand... 😉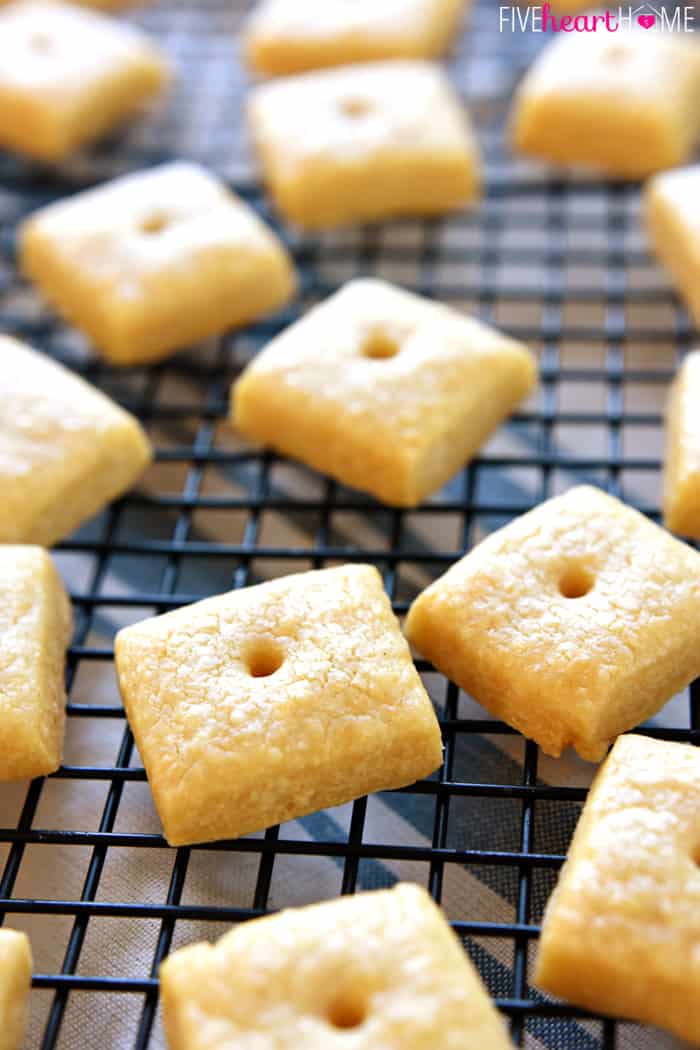 More Tips & Tricks
You should be able to fit all of your crackers on one sheet pan, since they slightly puff up but don't spread out. But don't be surprised when these Homemade Cheese Crackers come out of the oven a lighter shade than the neon orange Cheez-Its we're all accustomed to.
Cheese + butter + flour ≠ neon. (And people think an English major can't be good at math...)
And speaking of cheese, I highly recommend using extra-sharp cheddar in these crackers for the best flavor (I used Tillamook), as they can turn out somewhat bland if you use a milder cheese.
Have I mentioned that, in addition to loving these crackers for a snack, your favorite kiddo(s) would love to help you make them?! This recipe would be a fun little project to tackle with your resident toddler/preschooler/insert-age-here-year-old. Said little helper can measure out ingredients, pulse the food processor (with supervision, of course), cut straight lines along the ruler or use mini cookie cutters to cut out shaped crackers (goldfish, anyone?), and best of all, taste-test!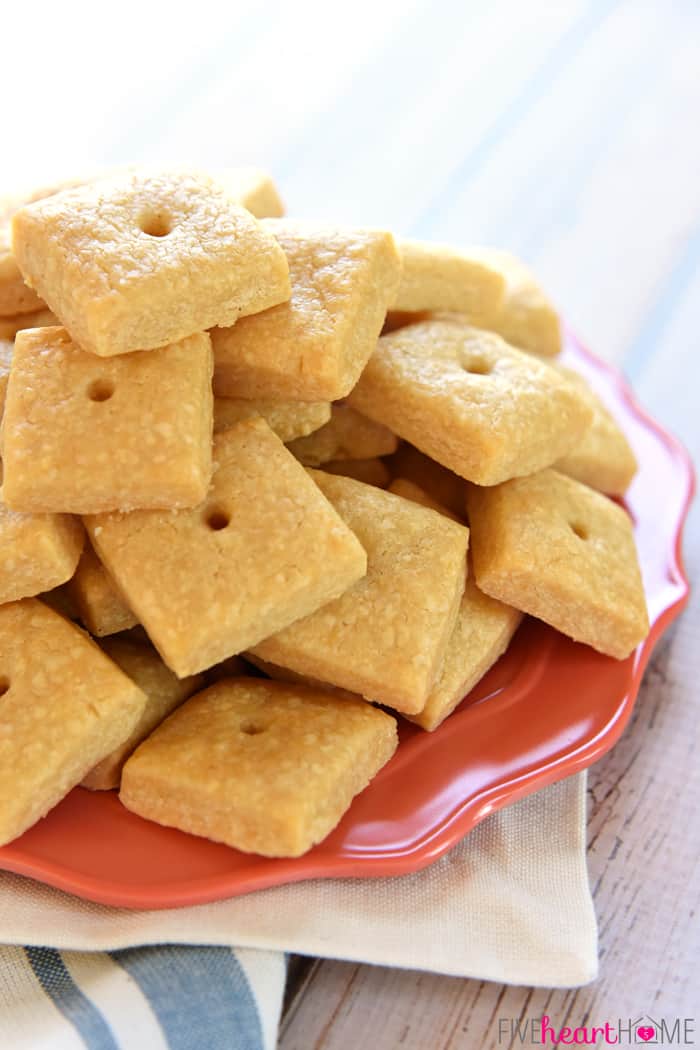 All of my offspring appreciate a good snack, and sometimes it's nice to trade out the usual fruit or muffins or granola bars for something a little different...and non-sugary, to boot.
So if you've ever considered making your own Homemade Cheese Crackers, don't delay!
Now's your time! They're easy, they're yummy, and there's something so satisfying about knowing that they're chock full of real ingredients. In fact, they're guaranteed to elicit cheesy grins.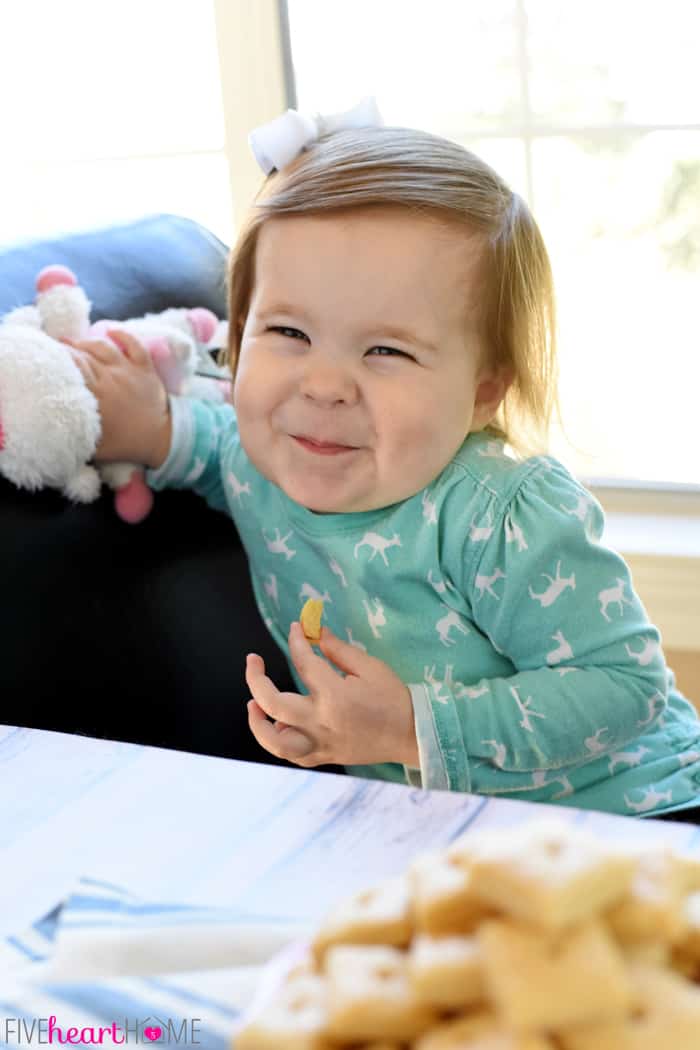 Sorry. Couldn't resist (the cute toddler or the lame pun)!
More Kid-Friendly Fare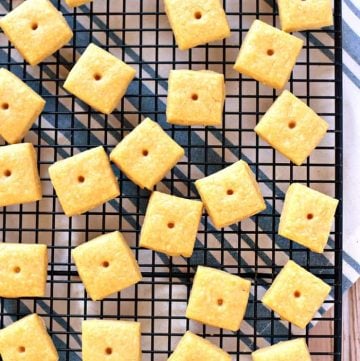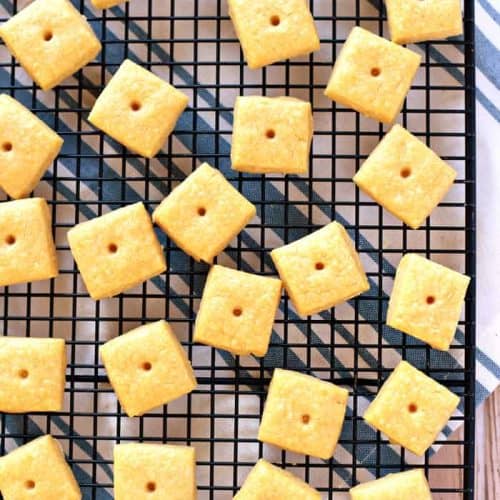 Homemade Cheese Crackers
Tasty, savory, all-natural Cheese Crackers are not only kid approved, but you won't believe how easy they are to make!
Print
Pin
Rate
Servings:
12
servings (approximately 6 to 7 dozen (1-inch) crackers (may vary depending on how thin you roll them and what size you cut them)
Ingredients
½

cup

(1 stick) butter

,

chilled and cut into small cubes

4

ounces

(1 cup) extra-sharp cheddar cheese

,

freshly grated

½

teaspoon

salt

⅛

teaspoon

white pepper

Pinch

cayenne pepper

1

cup

PLUS 2 tablespoons all-purpose flour

1

teaspoon

Worcestershire sauce
Instructions
Place the butter, grated cheddar, salt, white pepper, and cayenne in the bowl of a large food processor. Pulse until butter breaks up into small pieces and the mixtures resembles cottage cheese. Add the flour to the food processor and pulse until the mixture resembles damp breadcrumbs. Add the Worcestershire and pulse a couple more times. The dough will be moist but it should come together in your hands.

Turn the dough out onto the counter or a silicone mat. Knead it a couple of times to form a ball. Shape into a disk, wrap in plastic wrap, and place in the refrigerator to chill for 1 hour.

Place the oven rack in the center position of the oven and preheat to 350°F. Line a large sheet pan with parchment paper. Remove the dough from the refrigerator and very lightly flour your work surface. Roll the dough into a rectangular shape measuring ⅛-inch thick (if the dough seems sticky, you may use a bit of flour on your rolling pin, but it probably won't be necessary). Using a pizza cutter, pastry wheel, or sharp knife, cut the dough vertically into approximately 1-inch wide strips, then cut across the strips horizontally to make 1-inch squares (you may use a clean ruler as a guide, if you wish). Form a ball with any leftover scraps of dough, roll out again, and repeat until all crackers are cut out.

Transfer crackers to baking sheet. The crackers shouldn't spread, so it's not necessary to space them out much. Use a wooden skewer to poke a small hole in the center of each cracker. Bake for 15 minutes or until crackers are just starting to darken around the edges. Transfer crackers to a cooling rack and allow to cool completely before storing in an airtight container.
Calories:
144
kcal
|
Carbohydrates:
8
g
|
Protein:
4
g
|
Fat:
11
g
|
Saturated Fat:
7
g
|
Cholesterol:
30
mg
|
Sodium:
228
mg
|
Potassium:
24
mg
|
Fiber:
1
g
|
Sugar:
1
g
|
Vitamin A:
330
IU
|
Calcium:
72
mg
|
Iron:
0.6
mg
Adapted from Make the Bread, Buy the Butter.