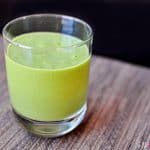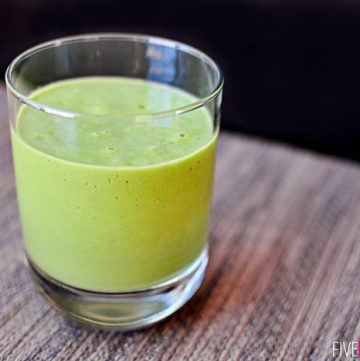 Print
Green Smoothies
Start the new year off right with this fruity smoothie that's packed with a variety of fruit, creamy avocado, and vitamin-rich spinach!
Servings
5
cups (3 to 4 servings)
Place banana, apple, orange, pineapple, avocado, yogurt, and 1/2 cup milk in the bottom of blender. Blend on high until ingredients are smoothly pureed, stopping, stirring, and adding more milk if necessary. Stop blender and add spinach leaves, pushing into top of smoothie. Blend on high, adding more milk if necessary to keep things moving. Taste and, if desired, add honey to desired sweetness. If smoothie is not cold enough, add a handful of ice cubes and blend on high until they are totally incorporated. Drink immediately.
This recipe results in a full blender pitcher, but I've never had a problem with it overflowing.
I have a pretty sturdy, high-powered blender, so sometimes I even freeze the apple & orange chunks, though they need to be well broken up before attempting to blend them. This smoothie definitely tastes best cold, so be sure to add some ice if your fruit isn't frozen to begin with.
If you are afraid of tasting the spinach the first time you make this, you can start out using 1 cup of spinach and work your way up to 2 cups.
Feel free to take this recipe and sub out your favorite fruits (or those you happen to have on hand)! I made it recently with an extra banana, frozen peaches, and frozen pineapple as the fruits and it was delicious.
Calories:
168
kcal
|
Carbohydrates:
22
g
|
Protein:
4
g
|
Fat:
8
g
|
Saturated Fat:
5
g
|
Cholesterol:
1
mg
|
Sodium:
24
mg
|
Potassium:
419
mg
|
Fiber:
4
g
|
Sugar:
15
g
|
Vitamin A:
1250
IU
|
Vitamin C:
30.4
mg
|
Calcium:
63
mg
|
Iron:
1.5
mg