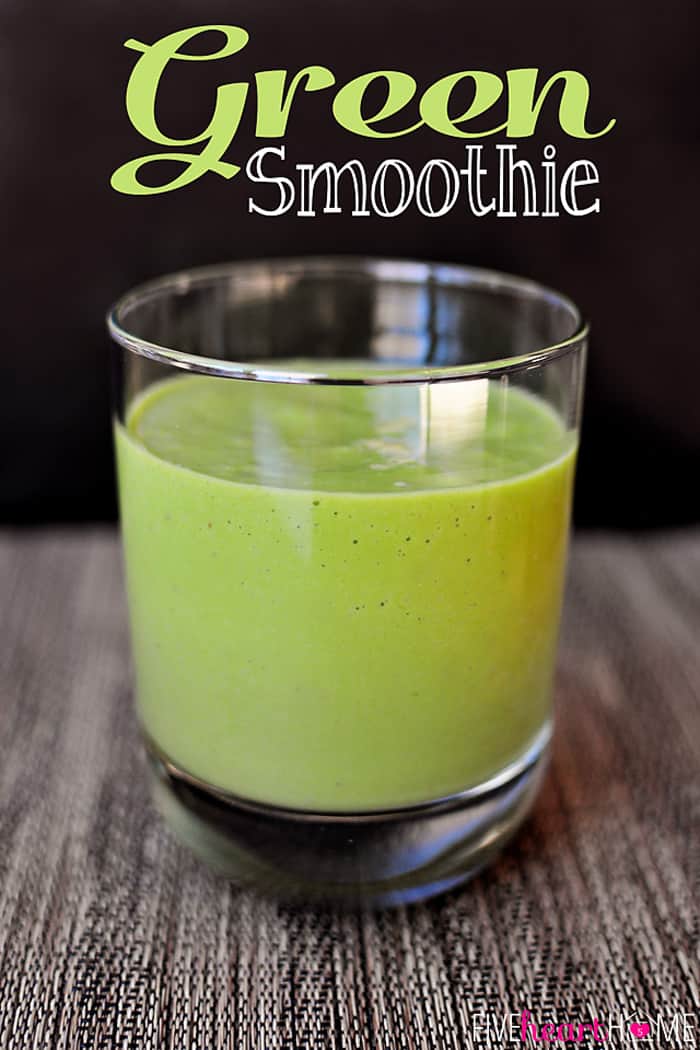 Start the new year off right with this yummy Green Smoothie that's packed with a variety of fruit, creamy avocado, and vitamin-rich spinach!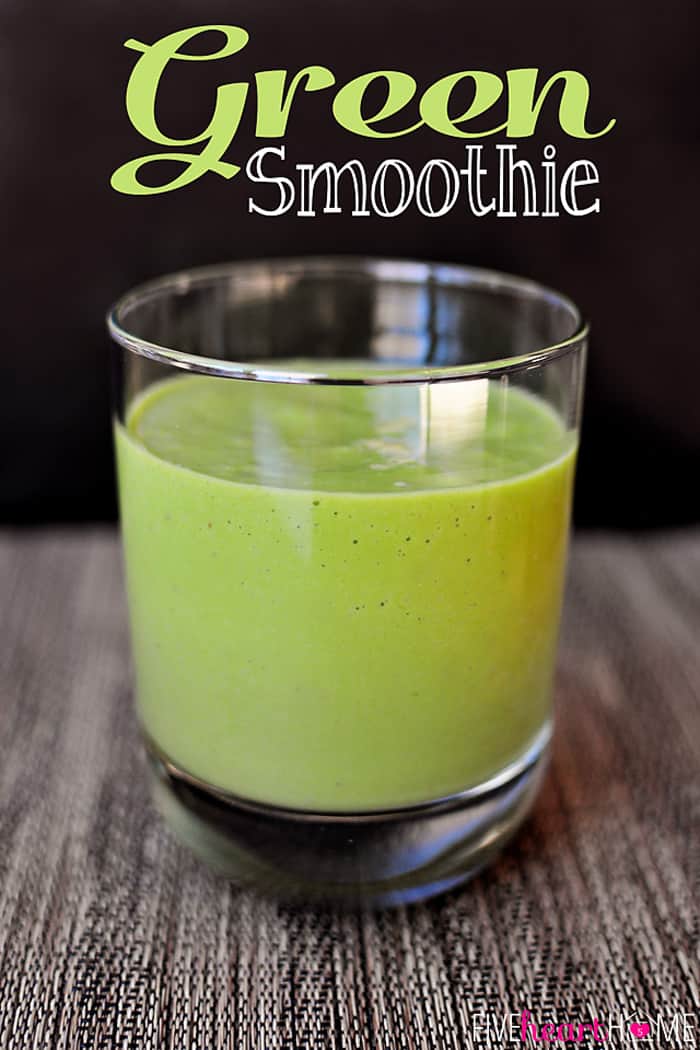 Is anyone else ready for some healthy eating after a food indulgence-packed holiday season? Don't get me wrong...I'm a sucker for rich, decadent menu items and anything falling under the category of sweets. But after Halloween followed by Thanksgiving followed by Christmas...veggies are sounding pretty darn good right about now.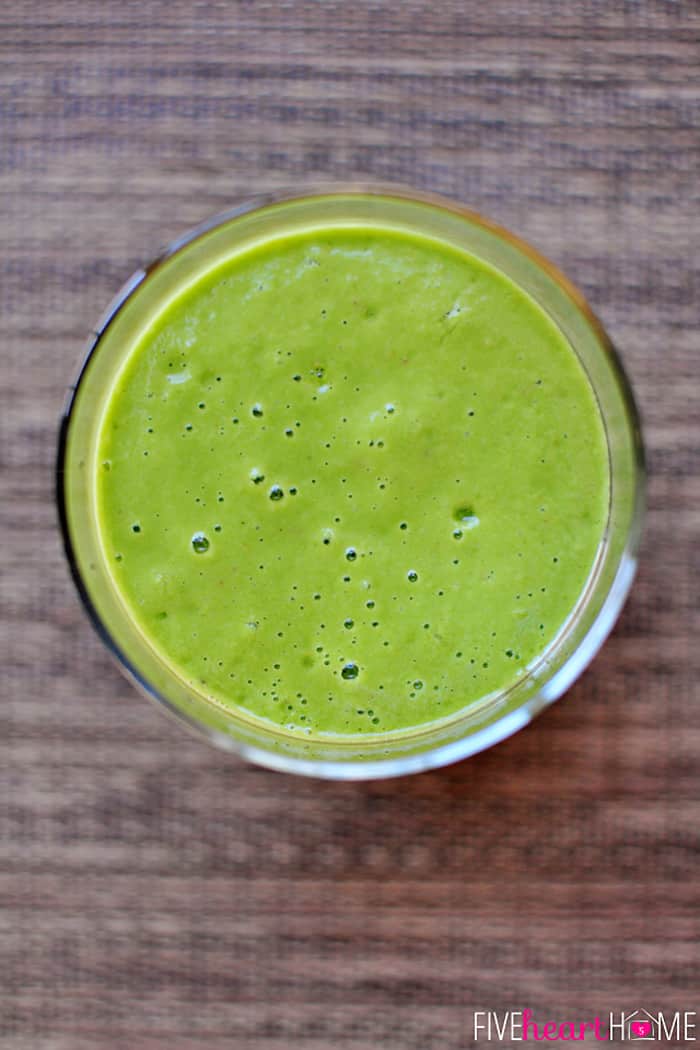 Like many moms, I struggle with getting my kids to eat the proper number of vegetable servings on any given day. I have a few tricks up my sleeve to coax (unwitting) compliance on the days when I'm not getting their best green bean-eating cooperation. But honestly? The eat-your-vegetables battlefield can get kind of exhausting sometimes, and I'm always looking for easy alternatives.
As a result, I am ashamed to admit how long it took me to try green smoothies with my kids. And you know something else? I should have tried them long ago myself, since I'm not always the biggest veggie fan either. I guess the little broccolis don't fall far from the tree.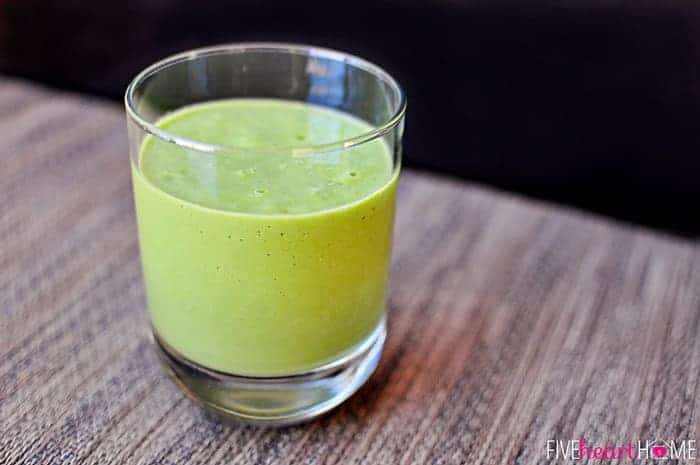 With a variety of fruit to disguise balance out the flavor of the spinach, this is a healthy smoothie that actually tastes good! I am here to tell you, my 6-year-old, 4-year-old, and 1-year-old all happily drink this concoction without complaint. And as they do, I inwardly cackle at the thought of all of that spinach fortifying their little bodies. I will admit that after watching me shove all of that spinach in the blender the first time, they were a little skeptical to try the resulting smoothie. But once I convinced them that this green Incredible Hulk/Popeye beverage would give them extra speed and strength, they conceded to take a sip. And once they tasted how good it actually was, no more smooth(ie) talking was even necessary (though, for good measure, I do still pretend to be blown backwards when I feel their muscles after they drink one of these).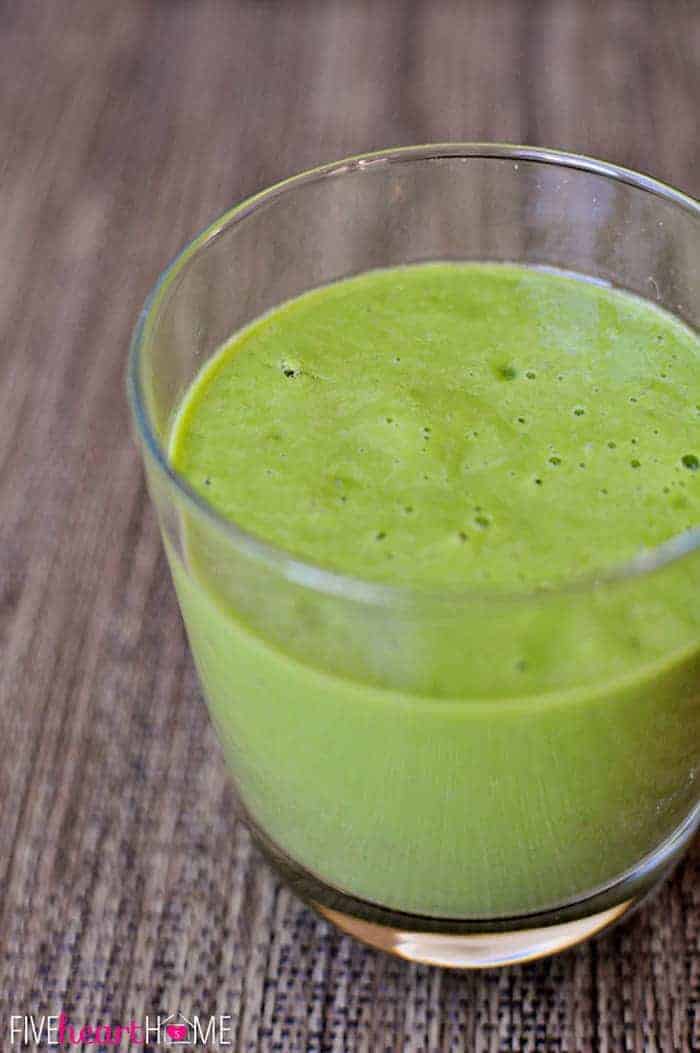 I'm no nutritionist, but I can promise that this beverage packs a powerful punch of a plethora of vitamins, plus all of the health benefits and vitamin-absorption properties (and creamy texture) of avocado, and a dose of yogurt-supplied calcium. I also love that this smoothie calls for ingredients that I typically already have on hand...no unusual or likely to be out-of-season fruits.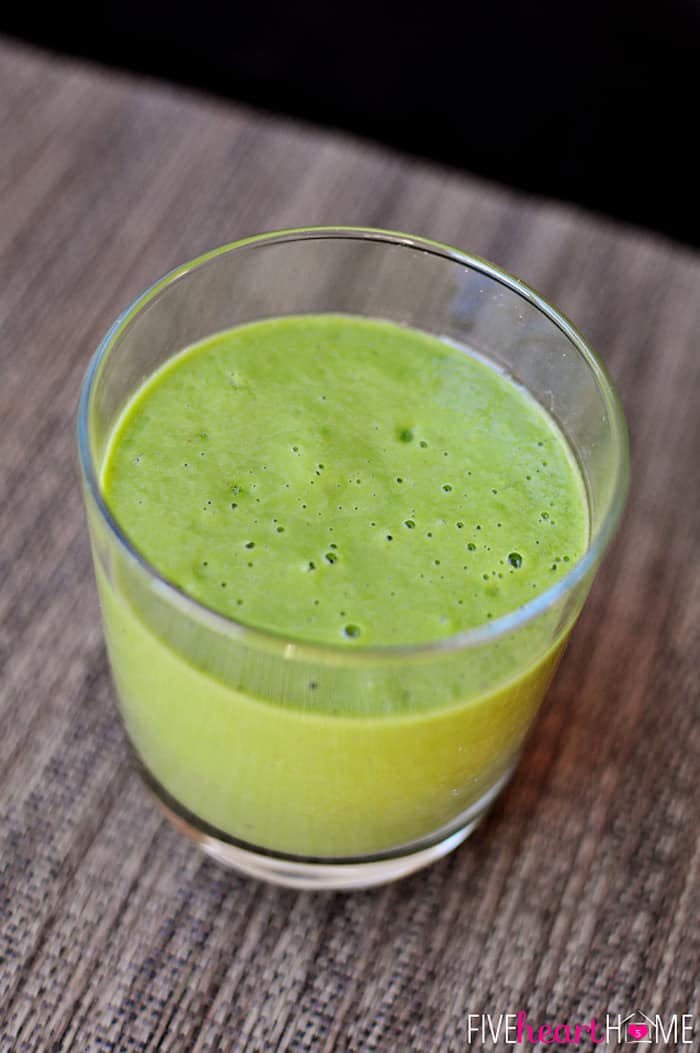 If you've never tried a green smoothie before, what are you waiting for? I think you'll be pleasantly surprised by the taste and excited about the variety of vitamins you'll ingest simply by drinking this as a breakfast or snack. Here's to a healthy, tasty 2014!
More Satisfying Smoothies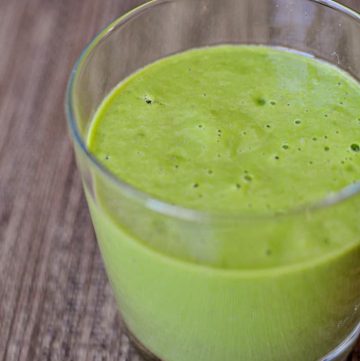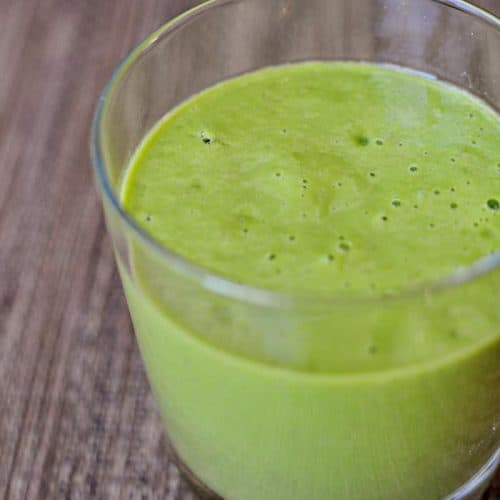 Green Smoothies
Start the new year off right with this fruity smoothie that's packed with a variety of fruit, creamy avocado, and vitamin-rich spinach!
Print
Pin
Rate
Servings:
5
cups (3 to 4 servings)
Ingredients
1

banana

,

cut into chunks & frozen

½

cup

apple chunks

,

about 1 small apple

½

cup

orange segments

,

about 1 small orange

½

cup

frozen pineapple chunks

½

avocado

½

cup

plain yogurt

,

regular or Greek

½ to 1

cup

almond milk

,

OR your favorite milk

2

cups

packed spinach leaves

Squeeze of honey

,

optional

Ice cubes
Instructions
Place banana, apple, orange, pineapple, avocado, yogurt, and ½ cup almond milk in the bottom of blender. Blend on high until ingredients are smoothly pureed, stopping, stirring, and adding more milk if necessary. Stop blender and add spinach leaves, pushing into top of smoothie. Blend on high, adding more milk if necessary to keep things moving. Taste and, if desired, add honey to desired sweetness. If smoothie is not cold enough, add a handful of ice cubes and blend on high until they are totally incorporated. Drink immediately.
Notes
This recipe results in a full blender pitcher, but I've never had a problem with it overflowing.
I have a pretty sturdy, high-powered blender, so sometimes I even freeze the apple & orange chunks, though they need to be well broken up before attempting to blend them. This smoothie definitely tastes best cold, so be sure to add some ice if your fruit isn't frozen to begin with.
If you are afraid of tasting the spinach the first time you make this, you can start out using 1 cup of spinach and work your way up to 2 cups.
Feel free to take this recipe and sub out your favorite fruits (or those you happen to have on hand)! I made it recently with an extra banana, frozen peaches, and frozen pineapple as the fruits and it was delicious.
Calories:
126
kcal
|
Carbohydrates:
22
g
|
Protein:
3
g
|
Fat:
4
g
|
Saturated Fat:
1
g
|
Cholesterol:
1
mg
|
Sodium:
62
mg
|
Potassium:
427
mg
|
Fiber:
4
g
|
Sugar:
16
g
|
Vitamin A:
1251
IU
|
Vitamin C:
30
mg
|
Calcium:
108
mg
|
Iron:
1
mg