Want to know how to cook corn on the cob for the VERY BEST results? The method that yields tender, sweet corn that shucks effortlessly and tastes delicious is...oven roasting!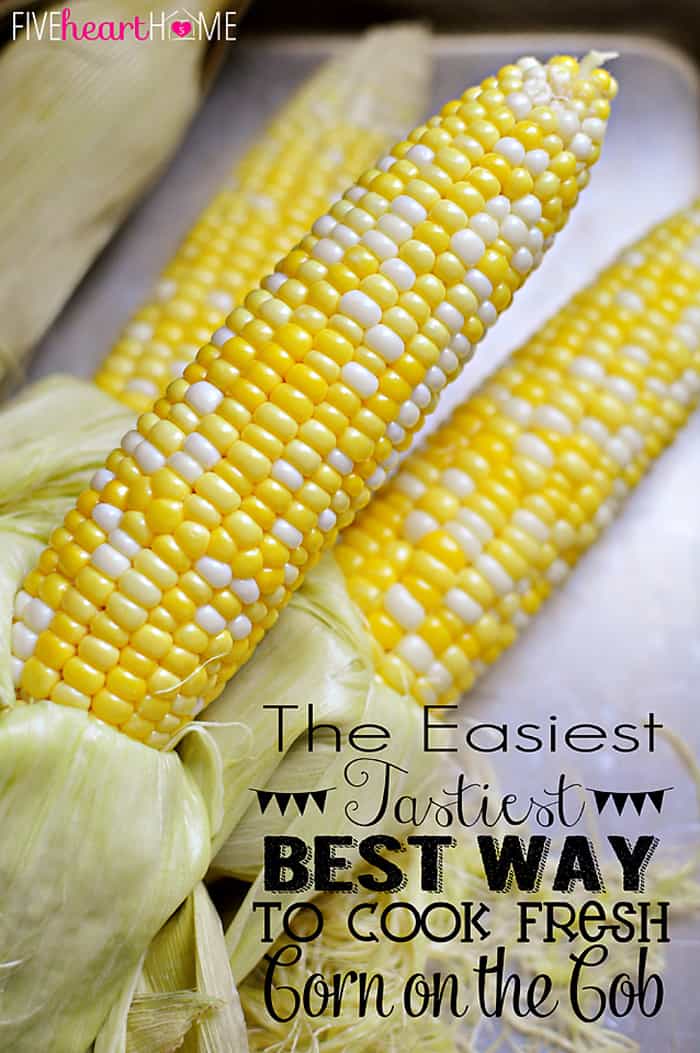 Today's recipe isn't exactly a recipe...it's more of a method. Nevertheless, the few basic steps are beyond easy and the results are beyond delicious. I'm convinced that if you try this method for how to cook corn on the cob, it will become your favorite way to do so from here on out.
Big talk, huh? Well, if you haven't tried this method before, prepare to be pleasantly surprised!
The Best Method
So the biggest pro of cooking fresh corn on the cob is, of course, that it tastes really good.
And the major con? It's a big, sticky, stringy mess getting that yummy corn separated from the husks and silk.
Well, this oven roasting method eliminates the mess, folks. Eliminates it! Seriously...let me walk you through how easy this is.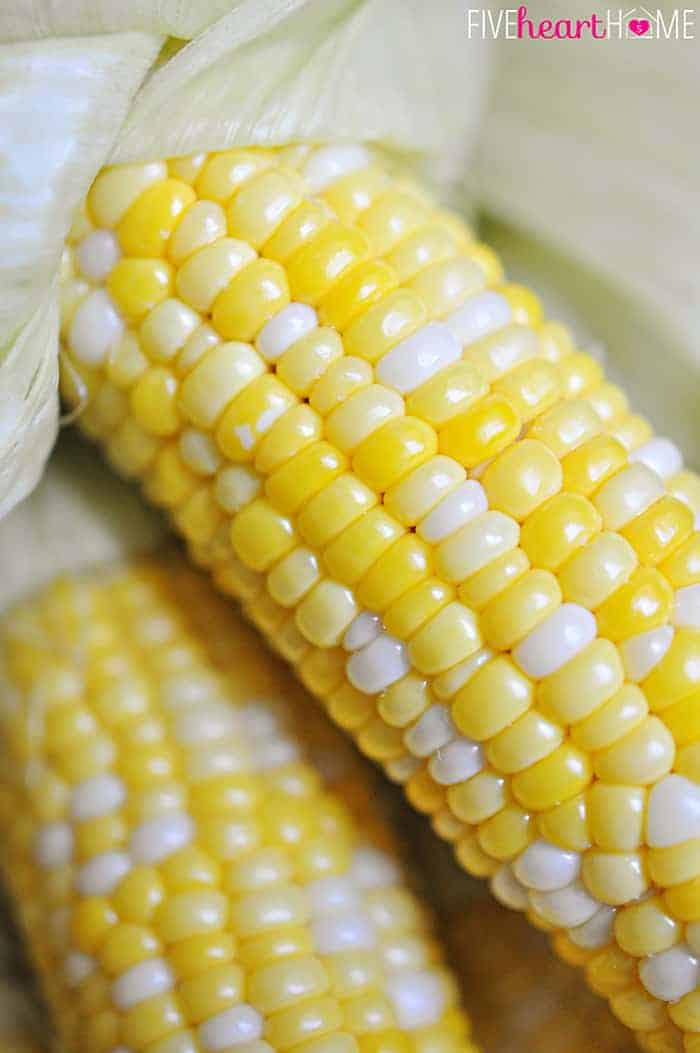 How to Cook PERFECT Corn on the Cob
STEP 1: Do not peel your husks of corn. Just wash them! Truthfully, you probably don't even have to worry about this step, but I'm in the habit of washing all of my produce...if not to appease my germophobia, then to rinse off any pesticide residue.
I also recommend cutting off the silk sticking out of the ends of the husks as well as any tips of leaves that are extending from the body of the corn. There's probably nothing to worry about, but doing a little trimming beforehand makes me feel better about not catching anything on fire during roasting.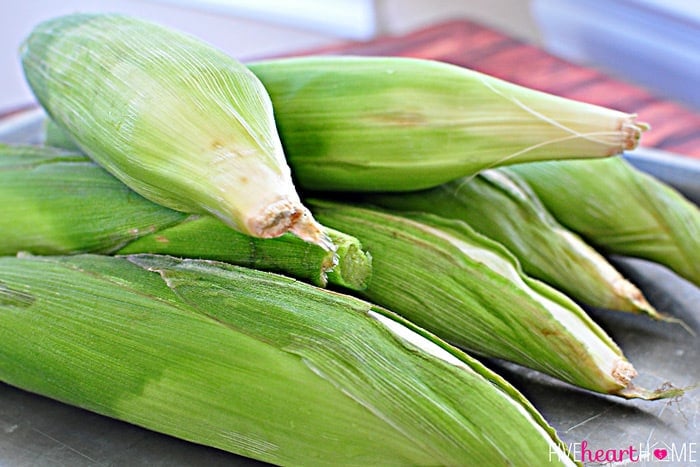 STEP 2: Preheat the oven to 350° and lay your ears of corn directly on the center-position oven rack. (I have only ever cooked as many corn cobs as I can fit in a single layer, so about 8 at a time. And yes, there are only 7 here. Just making sure you're paying attention!) Cook for 30 minutes.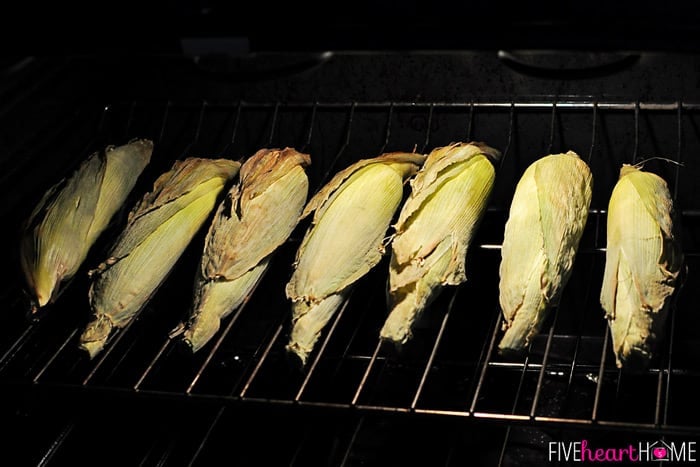 STEP 3: Remove the corn from the oven and allow to cool for a few minutes. (You'll know the corn is done if it gives a bit when you squeeze it.) Using an oven mitt or kitchen towel, hold the base of each ear of corn and shuck away the husk and silk. Be careful of very hot, escaping steam! The silk should peel away easily with the husk.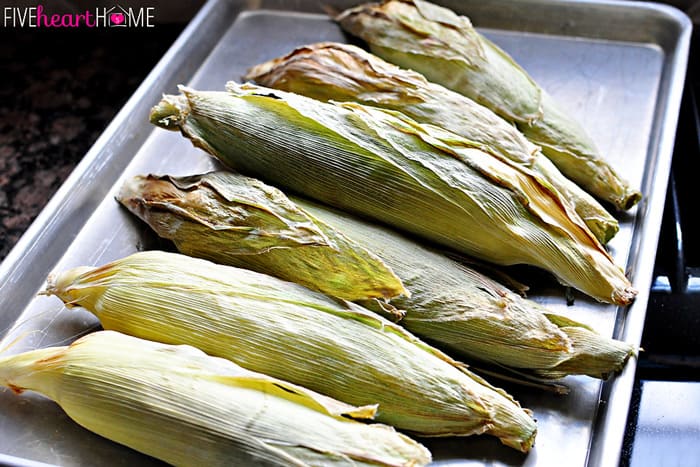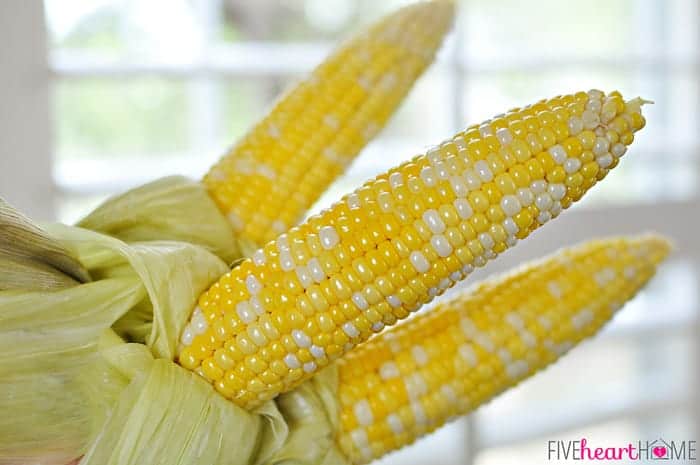 STEP 4: Slather with butter! Sprinkle with salt and pepper! Serve hot and scarf it down!
Okay, you are not actually required to use butter, salt, or pepper...this corn actually tastes amazing perfectly plain, as displayed above. But however you choose to eat it, I think you will love it!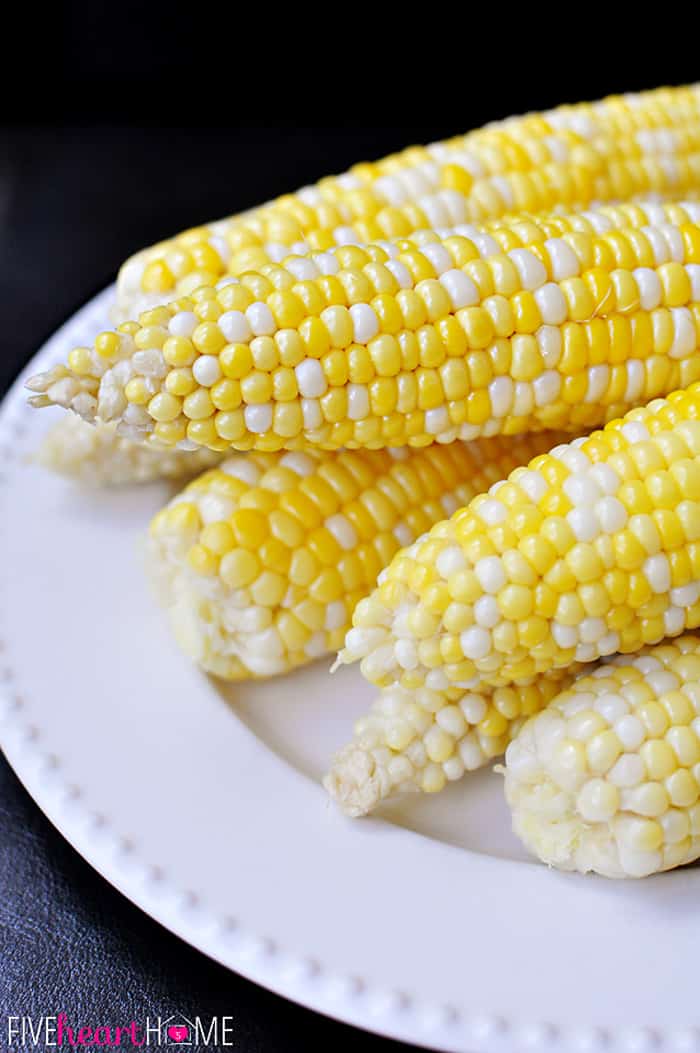 So just in time for Memorial Day weekend...just in time for summer barbecues and picnics and potlucks...just in time for 4th of July festivities...you are now privy to the easiest, yummiest, most mess-free way to cook fresh, sweet, PERFECT ears of corn! Enjoy, friends!
And keep your eyes peeled (heh) for some upcoming recipes calling for fresh corn. Because now that we all know how to cook corn on the cob using this easiest, most effortless, almost magical method...well, I think we need to agree to include fresh roasted corn in our recipes all summer long. 😉

Have a wonderful long weekend with your families, and take a moment to remember the brave servicemen and women who have made the ultimate sacrifice serving our country. We are so blessed to live in America.
Ideas for Enjoying Fresh Roasted Corn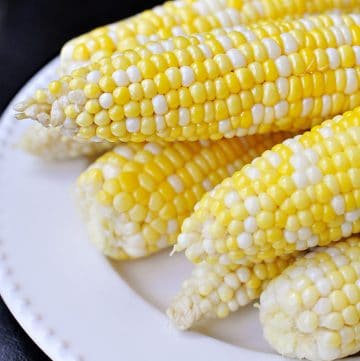 How to Cook Corn on the Cob
Fresh ears of corn are oven roasted in their husks for tender, sweet corn that shucks effortlessly. This is the BEST way to cook fresh corn on the cob...it tastes better than boiled and there's no sticky, messy silk to deal with!
Print
Pin
Rate
Servings:
6
servings (or as many as you want to make!)
Ingredients
Fresh ears of corn

,

unpeeled and in husks
Instructions
Place rack in center position of oven. Preheat oven to 350°F.

Wash ears of corn. Cut off any silk hanging out the ends. Trim any tips of leaves extending from sides. Do not peel.

Place ears of corn directly on oven rack. Cook for 30 minutes.

Remove corn from oven. Corn is done when it gives a little beneath the husk when you squeeze it. Allow to cool for a few minutes before holding with a kitchen towel or oven mitt to peel. Beware of very hot, escaping steam. The silk and husks should remove easily. Use the husks as a handle or remove them altogether.
Notes
I keep my number of ears of corn to however many will fit in a single layer on the oven rack. If you decide to stack your corn in order to fit more, just be sure it doesn't get too close to the heating element in the oven. Also be aware that you may have to slightly increase the cooking time.
Calories:
77
kcal
|
Carbohydrates:
17
g
|
Protein:
3
g
|
Fat:
1
g
|
Saturated Fat:
1
g
|
Sodium:
14
mg
|
Potassium:
243
mg
|
Fiber:
2
g
|
Sugar:
6
g
|
Vitamin A:
168
IU
|
Vitamin C:
6
mg
|
Calcium:
2
mg
|
Iron:
1
mg
Recipe adapted from FoodNetwork.com.