Kick off the new school year with this back to school teacher gift, a survival kit which is sure to help your teacher make it through that busy first week with a smile!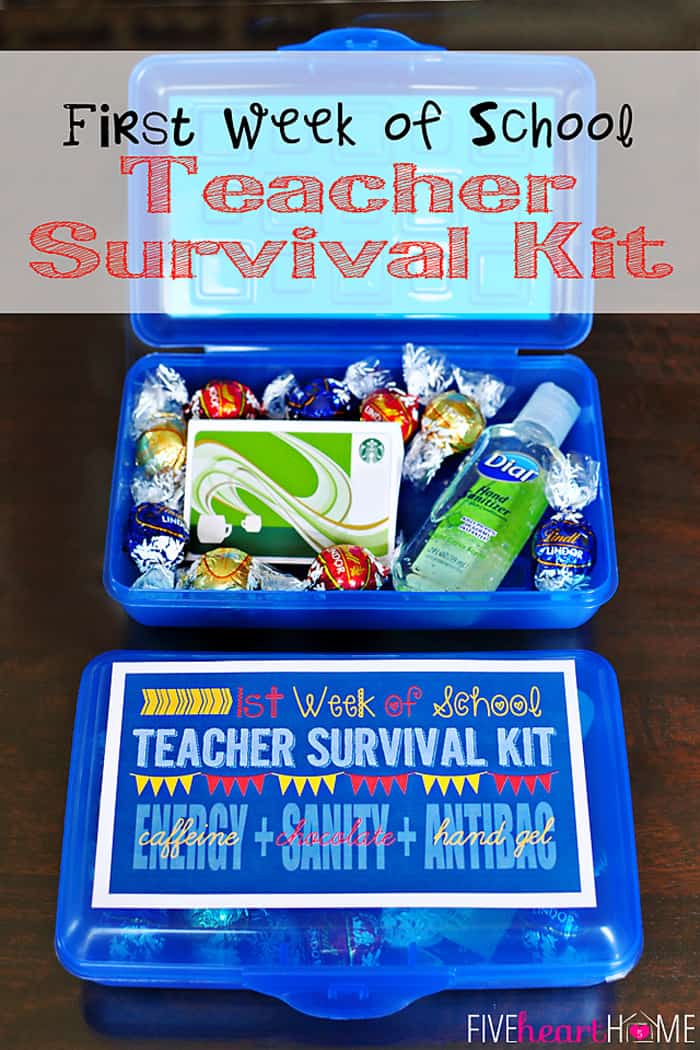 When I was a first grade teacher, there were three things I required to get through the first week of school: energy, sanity, and a boatload of antibacterial hand sanitizer. Now that I'm a mom of a first grader, hopefully my kids' teachers will appreciate these "survival kits" full of the same.
The first week of school is a long one for everyone involved. By the end of the week, the kiddos are worn out from absorbing rules and learning schedules, sitting still and paying attention. The parents are worn out from getting up early and staying up late to make sure that clothes are washed, lunches are prepared, and backpacks are packed.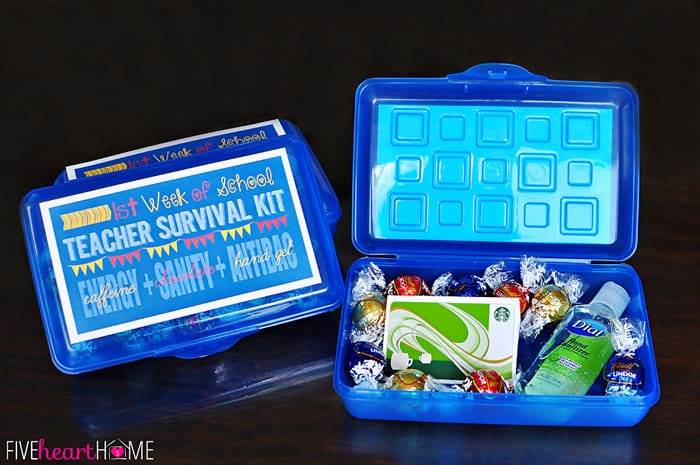 And the teachers? Y'all, the teachers have already been up at the school at all hours of the day and night for weeks now, setting up their classrooms and attending inservices. Then the first week of school hits and the actual students arrive, and they need additional stamina and patience to make sure that their new little learners are happy and engaged, that they're making new friends and following new rules, and that nobody gets lost! It's a fun but exhausting week, and I think just about every teacher out there would appreciate some caffeine and chocolate to power through it.
As for the antibacterial hand gel? Well, a classroom is not unlike a giant petri dish, so that's to make sure the germs don't get the teachers down and we'll see them back next week.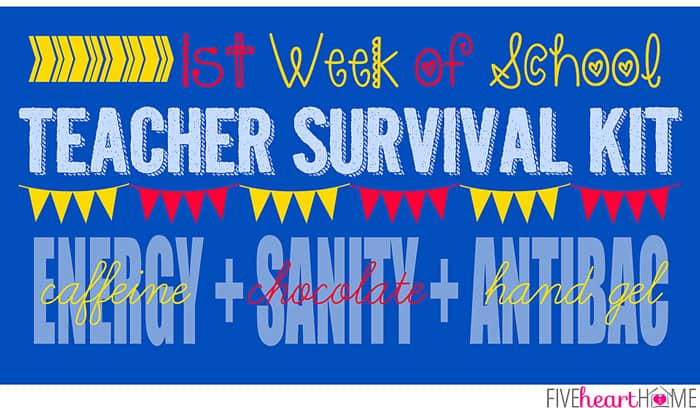 To put together my First Week of School Teacher Survival Kits, I picked up some pencil boxes in the school supply aisle at Target for 50¢ each. I used a Starbucks gift card for the caffeine portion of the kit, and I also threw in some decadent chocolate truffles and a small bottle of antibacterial hand gel. You can be as conservative or generous as you wish with the Starbucks card…$5 would score your teacher a caffeinated treat one morning or afternoon, or a higher amount would fuel them over several Starbucks runs. Regardless of what your budget allows, the gesture would be much appreciated.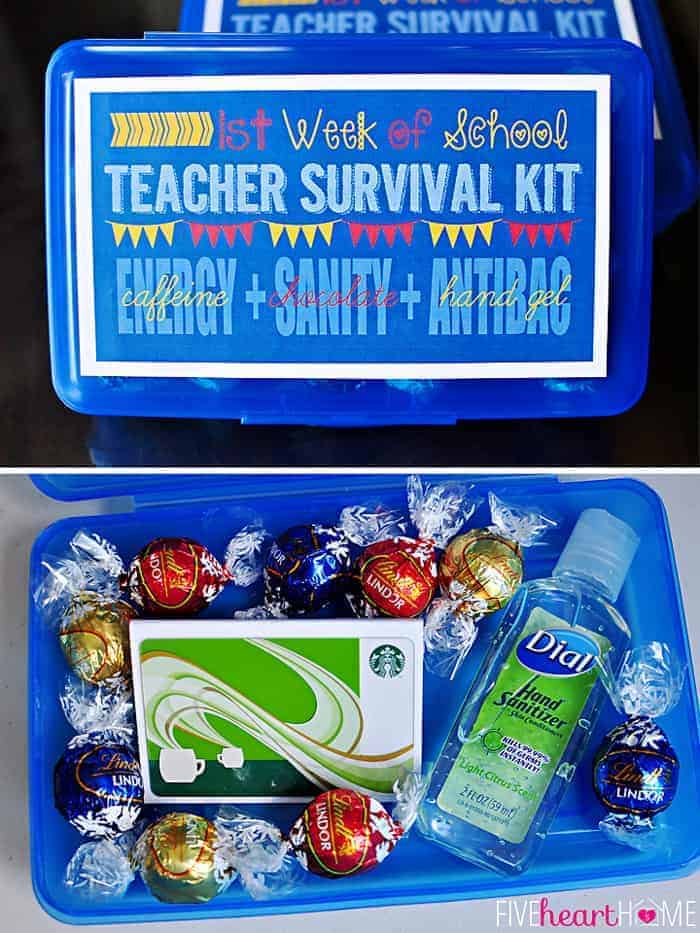 However, if you don't want to go the gift card route, there are some additional ways you could use this printable. Instead of putting everything in a box, you could alternatively pick up a 20-ounce soft drink or a bottled coffee drink, tie a chocolate bar and bottle of hand sanitizer on either side with some colorful ribbon, and then use the printable as a tag.
Hence, Exhibit A…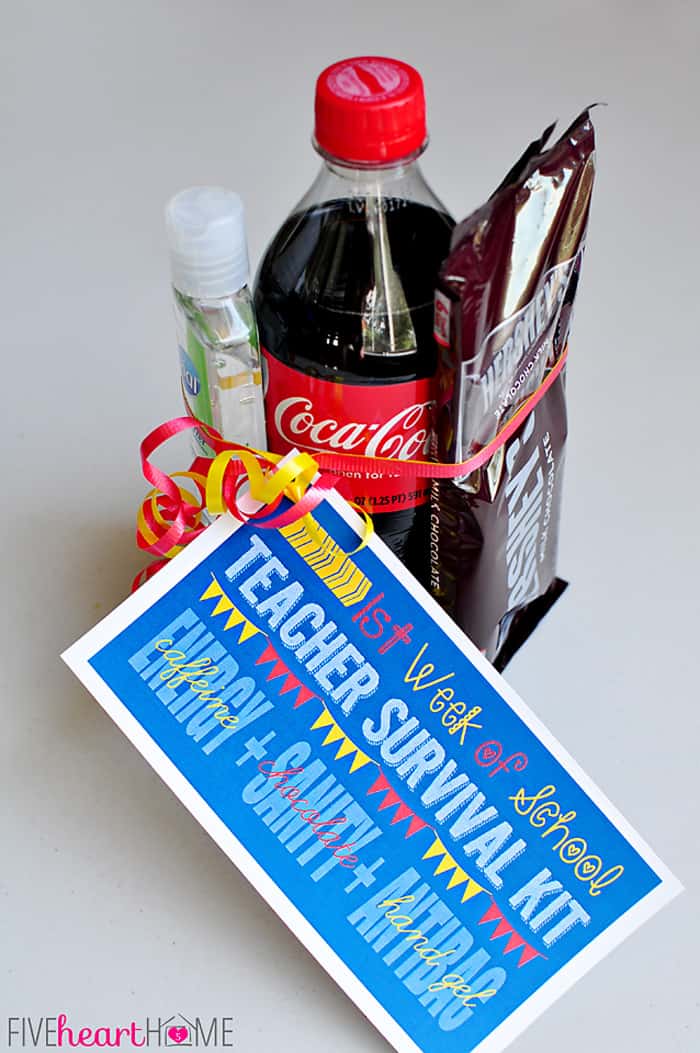 …and Exhibit B.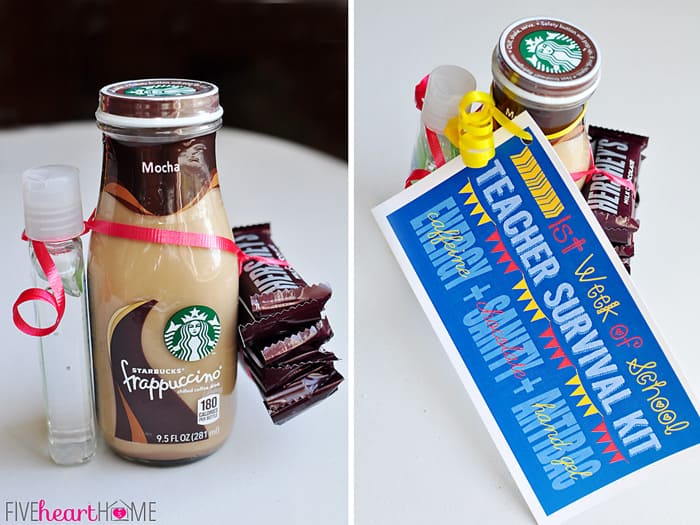 The whole point of any teacher gift is to let our educators know how much we appreciate that they teach and care for our most prized possessions for so many hours of the day over so many months of the year. It's a gesture that doesn't need to cost a lot. And oftentimes, a heartfelt, handwritten note is the best gift any parent (or student) can give. I know that on the first day of school, you may not know the teacher yet or have much to say, but a simple We're so happy to have you as a teacher and we're looking forward to having a great year with you! is a great first step towards building a positive parent-teacher relationship for the upcoming school year.
And, of course, it doesn't hurt if you choose to throw in some high quality chocolate with that message.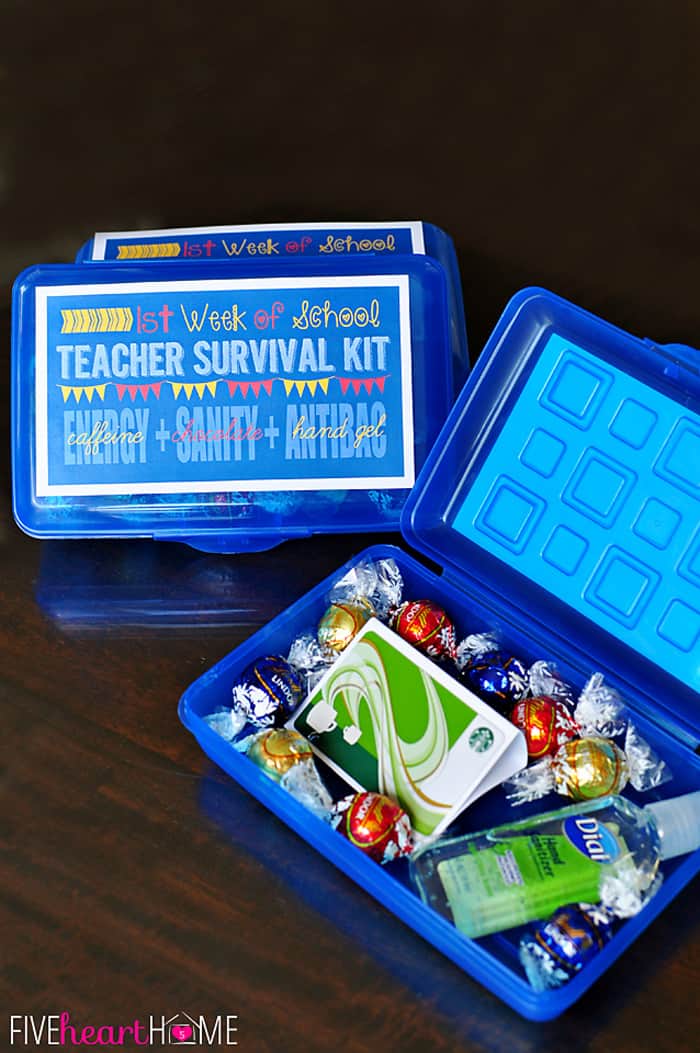 From students to parents to teachers, I hope that everyone has a positive, successful first week of school. Happy School Year!
Click HERE to download a high-resolution printable for the First Week of School Teacher Survival Kit!
I printed this printable on cardstock (there are two tags per page) and attached them to my "survival kits" with double-sided tape. Or for my alternative gifts, I punched a hole in the corner of each tag and tied it on with ribbon.
Looking for a fun after school snack for the kiddos? These cute Peanut Butter & Jelly Muffins have become a first day of school tradition at our house!

* * * * * * * * * *
Let's stay in touch!
Facebook   |   Google+   |   Pinterest   |   Twitter   |   Instagram
Sign up to have new blog posts sent to your inbox!
I always love hearing from you! ~ samantha {at} five heart home {dot} com