Show your teachers how grateful you are for all they do with these free Teacher Appreciation Printables! Frame the 8x10" print as a gift, use a gift tag to top a treat, or write a heartfelt thank you note on one of the note cards.

The school year is almost over, y'all. How the heck did that happen?! I think it's hitting me harder than usual because my oldest child is wrapping up first grade, and that's the grade I always taught as a teacher. It's a little surreal to think that I have a kiddo old enough to be graduating first grade, because that means next year? Second grade. And how am I ever going to help him with his homework then? Sorry, kid...you are about to exceed my store of elementary school knowledge. Guess you're on your own now.
Seriously, though, let's talk teachers for a minute here. Because they are AWESOME. And I'm not just saying that because I was one and I'm still good friends with a bunch of them. I'm saying that because it's true. The perspective of having been a teacher before I was a parent helps me to fully grasp just how much of their hearts and souls teachers pour into our children. That's right...our children, with whom they spend more waking hours each week than we, their parents, do. In the words of a certain Ms. Houston, I believe the children are our future...teach them well and let them lead the way. Quite simply, without good, quality teachers, we as a society are in big, fat trouble.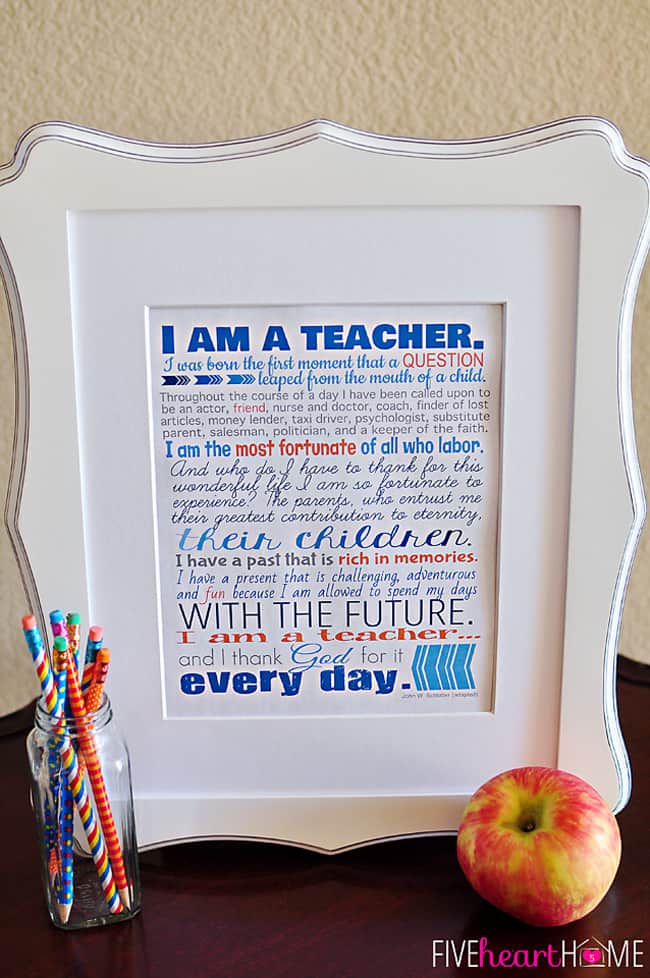 And that brings me back to the end of the school year. It's so important to show your teachers how much you appreciate them, people! I know that not everyone has it in their budgets to splurge on expensive thank you gifts. And you know what? Teachers don't expect nice, fancy presents. They are okay with the fact that they work for beans.
However, guess what teachers do like? To feel appreciated for all of the time and effort and love they dedicate to their students. And while a gift card to their favorite store or restaurant would certainly not be turned down, a heartfelt note of thanks from a parent and/or student who genuinely appreciate them for the hard, joyous, stressful, fun, frustrating, passionate job they do is something that they will file away and keep forever. I still have some notes like that from my teaching years, and I can remember who wrote them and even what the note card or stationery looked like. Really. A meaningful thank you note can be that powerful.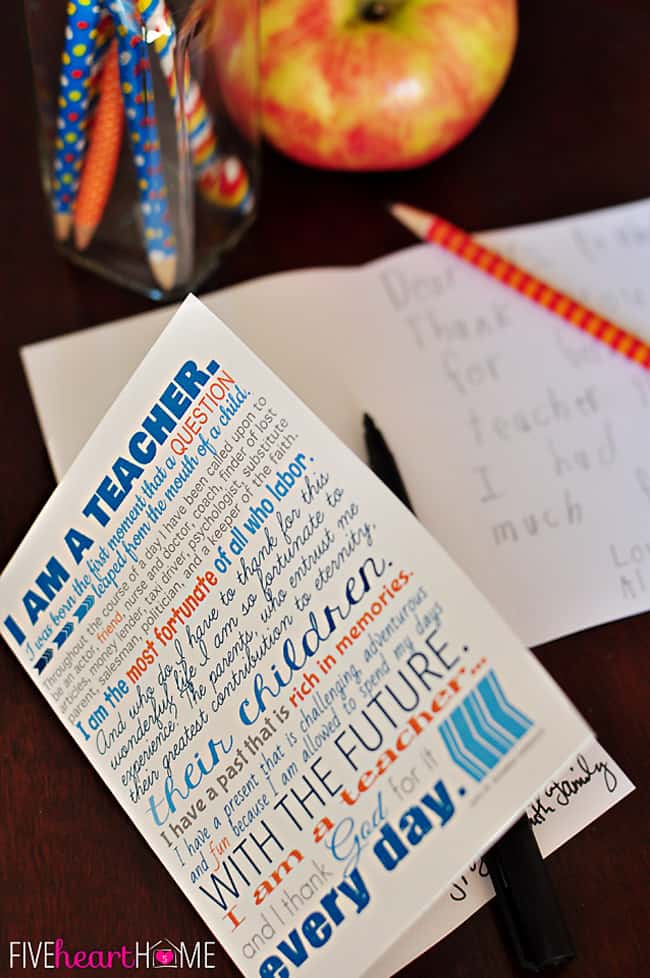 So with that in mind, I created a printable featuring a teacher quote to which I think most educators can relate. I actually first came across this quote on a greeting card back when I was a student teacher, and it perfectly summarized all of my enthusiasm for my new profession. When my student teaching semester was over, I decided to create a hand-lettered print of this quote and frame it as a gift to my supervising teacher. But I always held on to the original greeting card...and now you can preserve it for eternity as well with this free 8x10" printable! Frame it for the favorite teacher(s) in your life.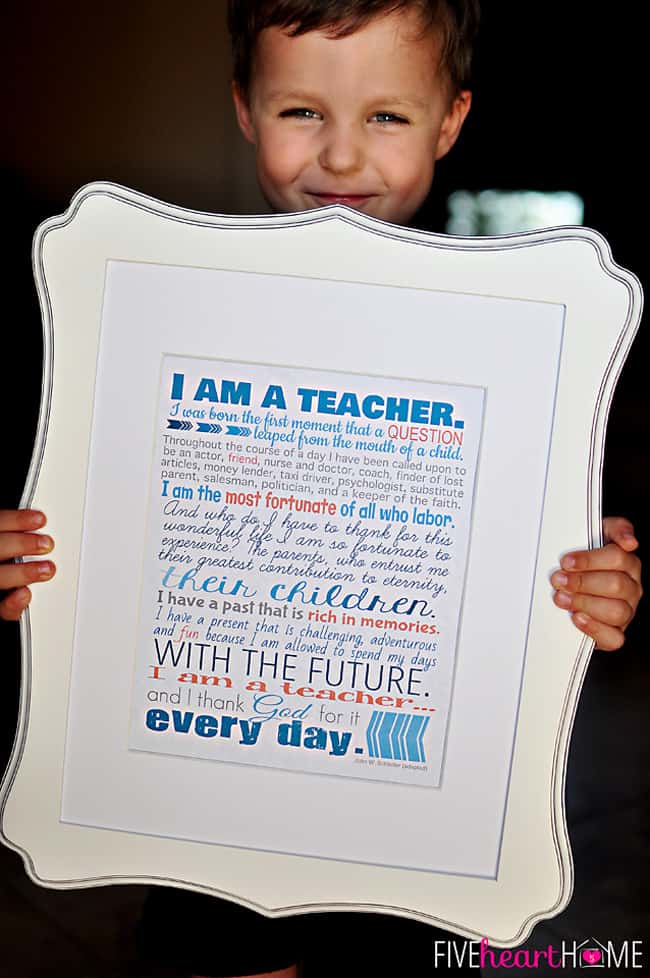 However, if you're the sort to gift your teachers with edible goodies, you can instead print off the corresponding sheet of gift tags on some cardstock and add a personal note to the top or on the back. I can envision one of these cute tags affixed to a Mason jar full of granola (see below), candied nuts, trail mix, chocolates, or candy. One of these tags would also be perfect tied around a loaf of homemade bread or adorning a cellophane bag of muffins or cookies. But if you don't have time to whip up a homemade treat from the kitchen, these tags would work equally well as labels for store bought presents, should you feel so inclined.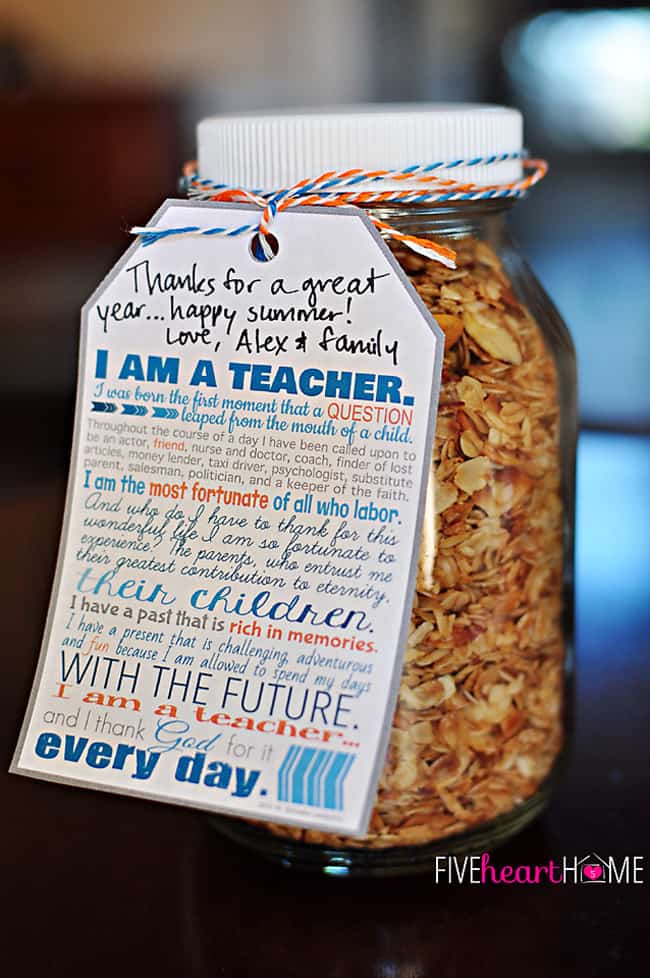 I decided to also add this quote to a sheet of note cards. You can print off a whole set of these note cards (8 or 12 total), cut them apart and fold, tie them up with some pretty string and coordinating envelopes, and give them as a teacher gift any time of year, whether it's the first day of school, teacher appreciation week, or the last week of school.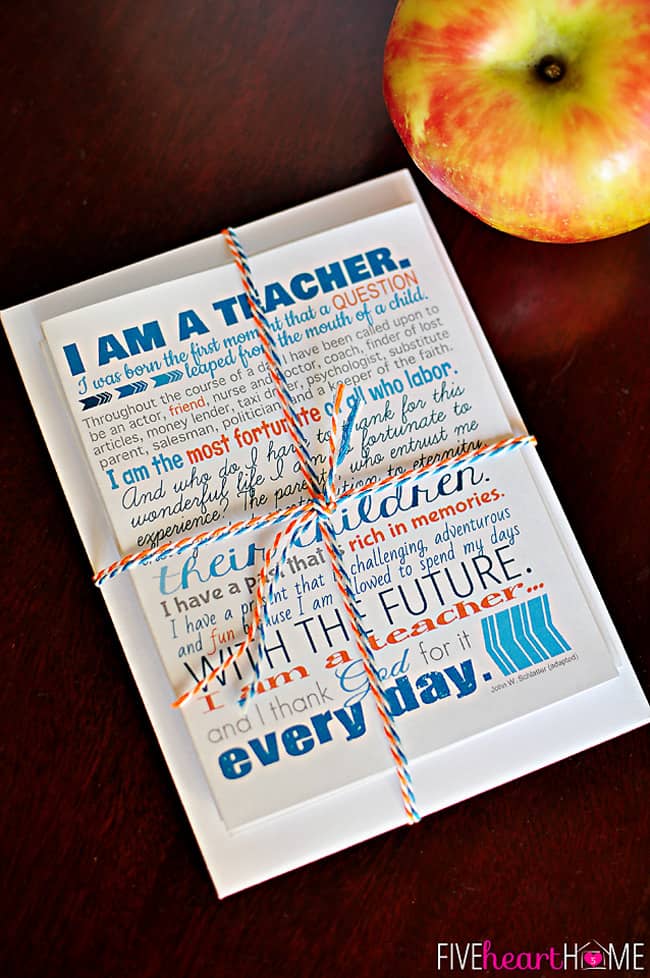 But the best idea of all? Set aside 10 minutes or so to compose a sincere note of teacher appreciation, using one of these note cards as the perfect canvas. At the end of the day, that's going to make your teacher feel more valued than just about anything else. Although if you decide to also slide a gift card inside your heartfelt thank you note? Rock. On. 😉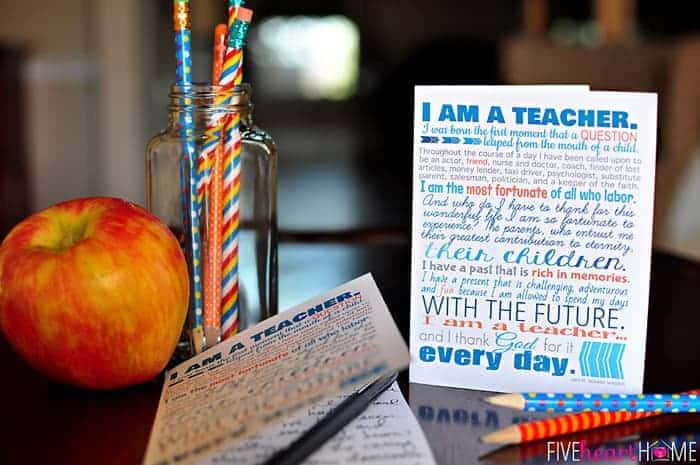 >>> Click here >>> to DOWNLOAD 8X10" PRINT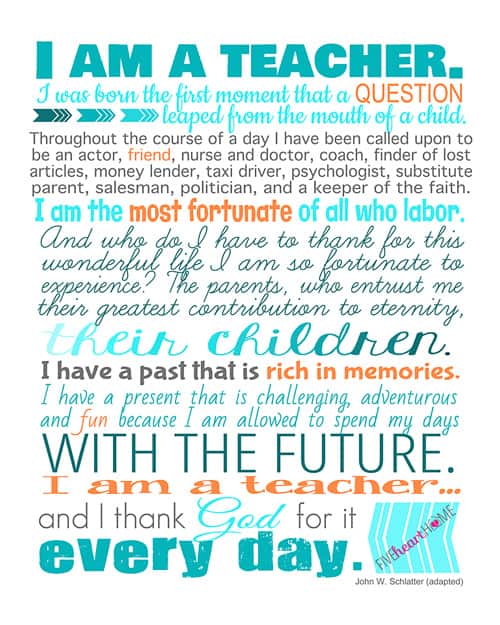 >>> Click here >>> to DOWNLOAD NOTE CARDS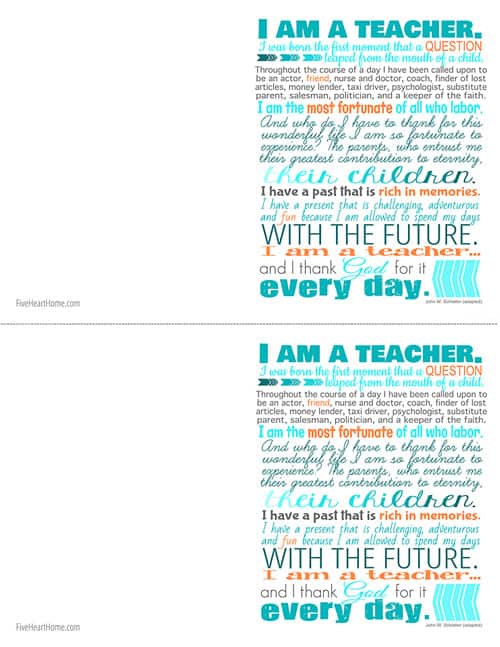 >>> Click here >>> to DOWNLOAD GIFT TAGS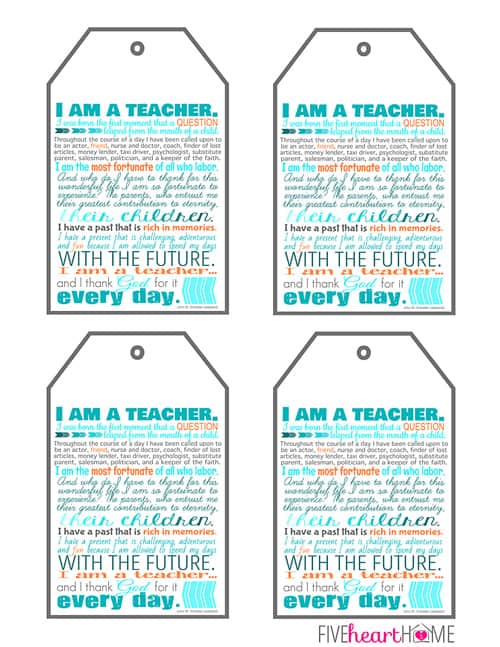 This teacher quote printable is a high-resolution PDF sized to fit in an 8×10-inch frame. You may print it on regular paper or cardstock on your home printer and trim it to size, or have it printed as an 8×10-inch photo at a photo lab (just save it to your computer before uploading to the photo lab online). Five Heart Home watermark in corner will not be printed.
The notecards print two per page. You may print them on cardstock, cut the page in half along the dotted line (trim off any of the dotted line that shows), and then fold each card. In case you want to use a corresponding envelope, the folded card will measure 5.5 inches tall and 4.25 inches wide.
The gift tags print four to a page. Print on cardstock for heavier tags, cut out, and punch a hole at the top.
Please be patient if these take a moment to load. For personal use only, please. Enjoy!
More Teacher Appreciation Printables
Back-to-School Teacher Survival Kit Mason Jar Gift


First Week of School Teacher Survival Kit