Heading into March, my mantle is still bedecked in pink and red, so I'm thinking it's just about time to switch that out for some kelly green.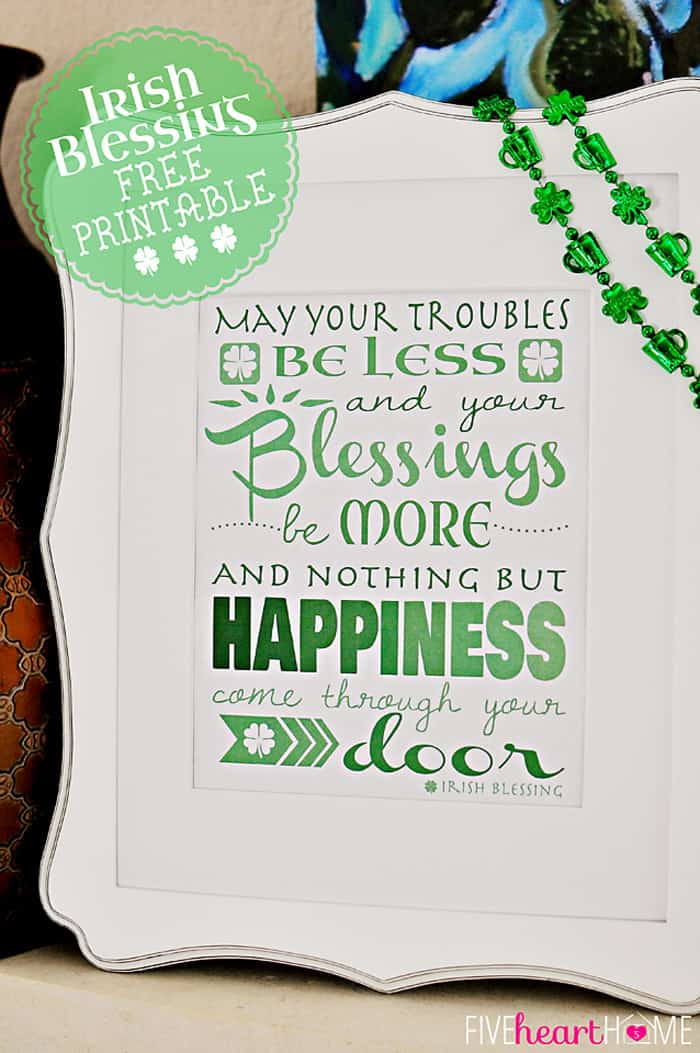 While I don't go too crazy with St. Patrick's Day decor, I do love me a good Irish quote. So I transformed the words of one of my favorite Irish blessings into the type of printable that would make a wee leprechaun proud...and today I'm sharing it with you, too!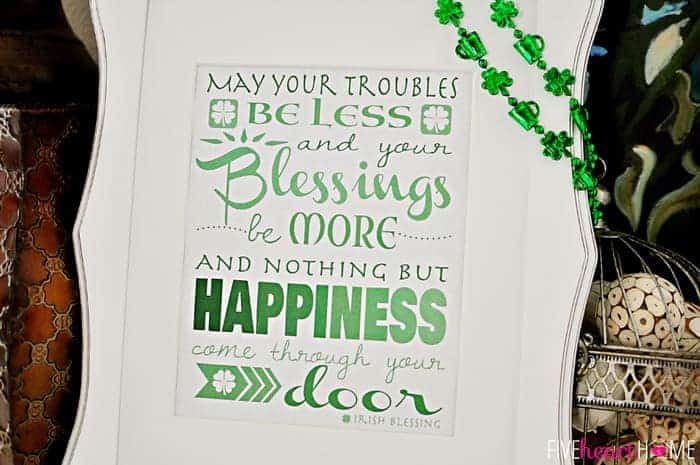 I don't know about you, but I'm digging this sentiment so much that I just might have to come up with a non-St. Paddy's Day rendition to display year-round.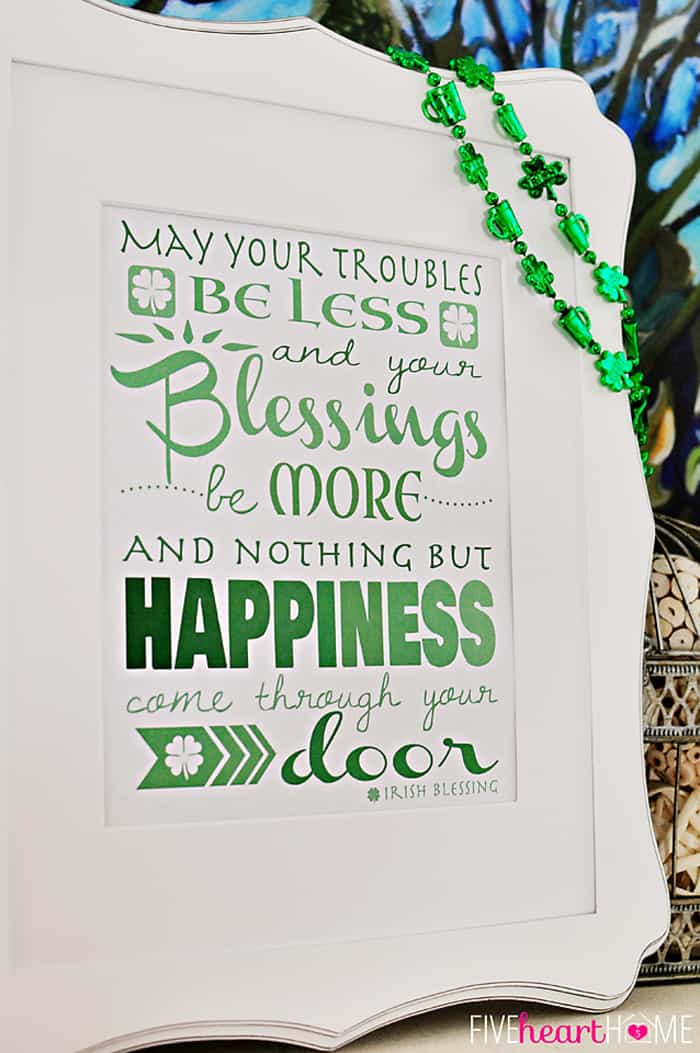 Yup...blessings that outnumber troubles, and ultimately, happiness...what more can we wish for than that? I'm thinking them Irish are onto something. 😉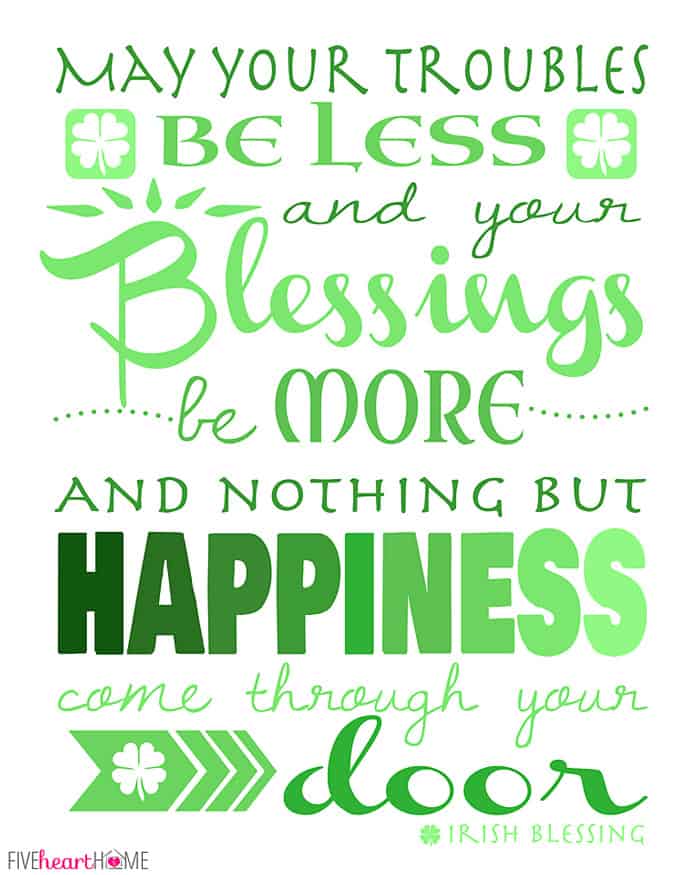 This St. Patrick's Day printable is a high-resolution PDF sized to fit in an 8x10-inch frame. You may print it on regular paper or cardstock on your home printer and trim it to size, or have it printed as an 8x10-inch photo at a photo lab (just save it to your computer before uploading to the photo lab online). Watermark in corner will not be printed.
Just a tip...when I first printed this printable on my home printer, it wasn't coming out the same shades of bright green depicted on my computer monitor. Before printing again, I adjusted my print settings by going into Advanced Color Settings and increasing the green while slightly decreasing the red and blue, and I was much happier with the results.
For personal use only, please. Enjoy!
EDITED TO ADD...
Since originally creating this printable, I've learned that the three-leafed shamrock (symbolizing the Holy Trinity), and NOT the four-leafed clover, is the true symbol of St. Patrick and St. Patrick's Day. I've apparently been brainwashed by too many years of watching the Lucky Charms Leprechaun on TV commercials, seeing as how he sports a four-leafed clover on his hat. He's a fraud and I shouldn't have trusted him. In the meantime, I apologize if the lucky clovers in my printable offended anyone of Irish heritage. I can't go back and redo all of the photos in this post, but I have updated the printable below to depict true Irish shamrocks, so download that one HERE if you prefer. 🙂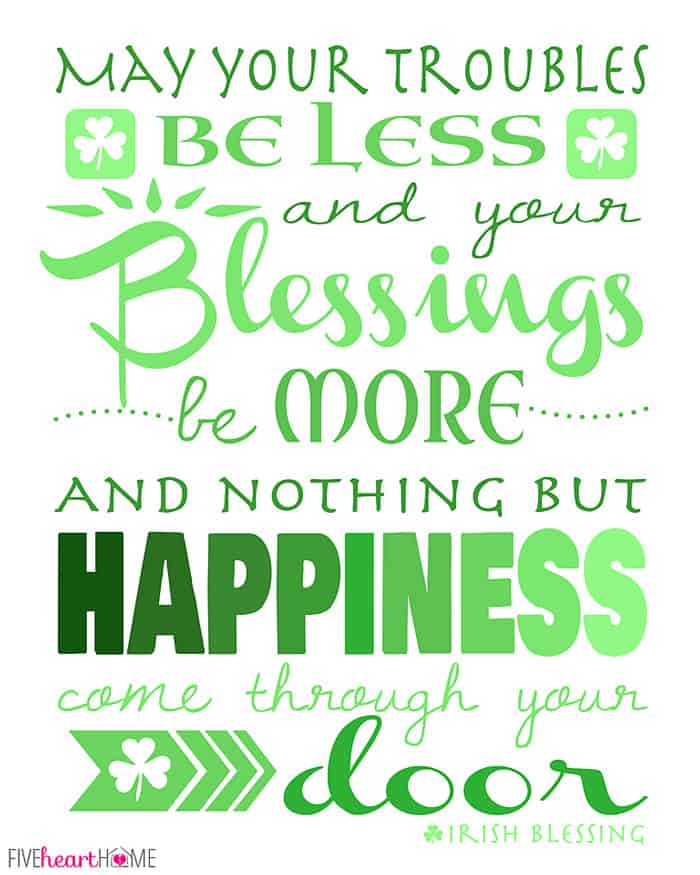 More St. Paddy's Day fun...
Leprechaun Bait ~ Chocolate Mint Cookie Bark