Creamy, quick and easy Broccoli Cheese Sauce features real cheddar cheese and makes a delicious topping for baked potatoes!

Baked potatoes make a great lunch or dinner when you have leftover meat, but not quite enough for another full meal. Whether leftover taco filling, carnitas, chopped BBQ brisket, or shredded beef, a plain baked potato is an excellent vehicle for a variety of toppings!
But what if you're craving a baked potato for dinner but don't have leftover meat? Might I suggest making your own homemade Broccoli Cheese Sauce instead? It comes together in minutes while the baked potatoes are baking, and it's basically like pouring veggie-flecked queso all over your spud. Who's going to argue with that?!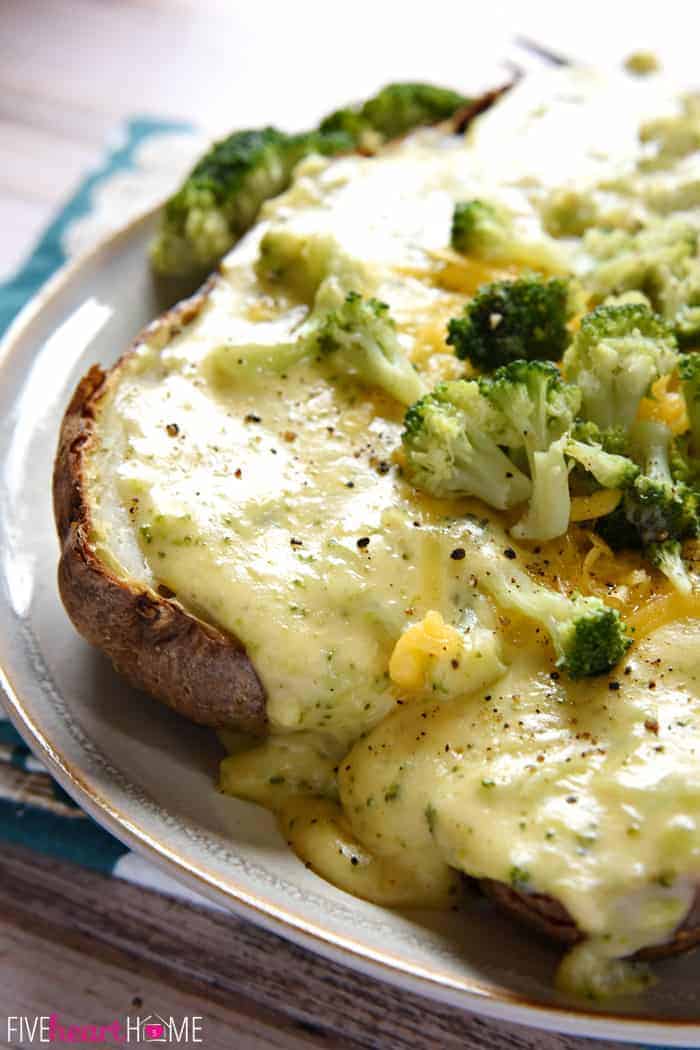 Inspired by Jason's Deli
I first fell in love with Broccoli Cheese Baked Potatoes during my college years...back when Jason's Deli was considered fine dining. They had the most enormous baked potatoes there, which my roommates and I eventually figured out were not two, but three baked potato halves all squished together. It took some sleuthing to determine this, of course, because the whole plate was smothered in a yummy, decadent, Broccoli Cheese Sauce. Nevertheless, the fact that broccoli was in there somewhere meant that we could feel at least a tad bit virtuous about our dining choice. Hey, we could have just ordered pizza rolls again.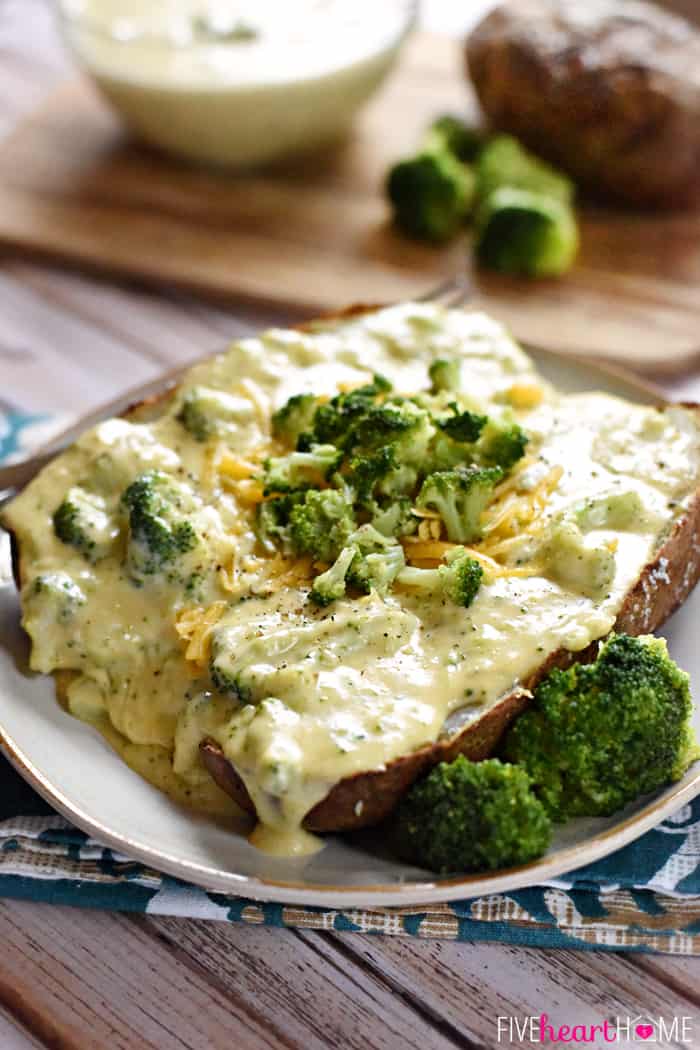 Ingredients
So I guess you could say that these Baked Potatoes with Broccoli Cheese sauce take me back to my college days. Except I have a feeling that this variation is a bit more "real food," seeing as how there's nary a block of processed cheese in sight.
All it takes is a quick roux of butter, flour, and milk, a bunch of freshly grated sharp cheddar cheese, and a few seasonings. Then voilà...cheese sauce!
Stir in some cooked broccoli florets, give it a quick whirl with your trusty immersion blender, and voilà...broccoli cheese sauce! Pull those baked potatoes out of the oven and dinner is served.
Variations
If you live with carnivores who must have meat to consider it a legit dinner, you can even sprinkle a bit of diced chicken or ham on top of your sauced-up baked potatoes. I can't think of a better use for that leftover rotisserie chicken or crock pot ham.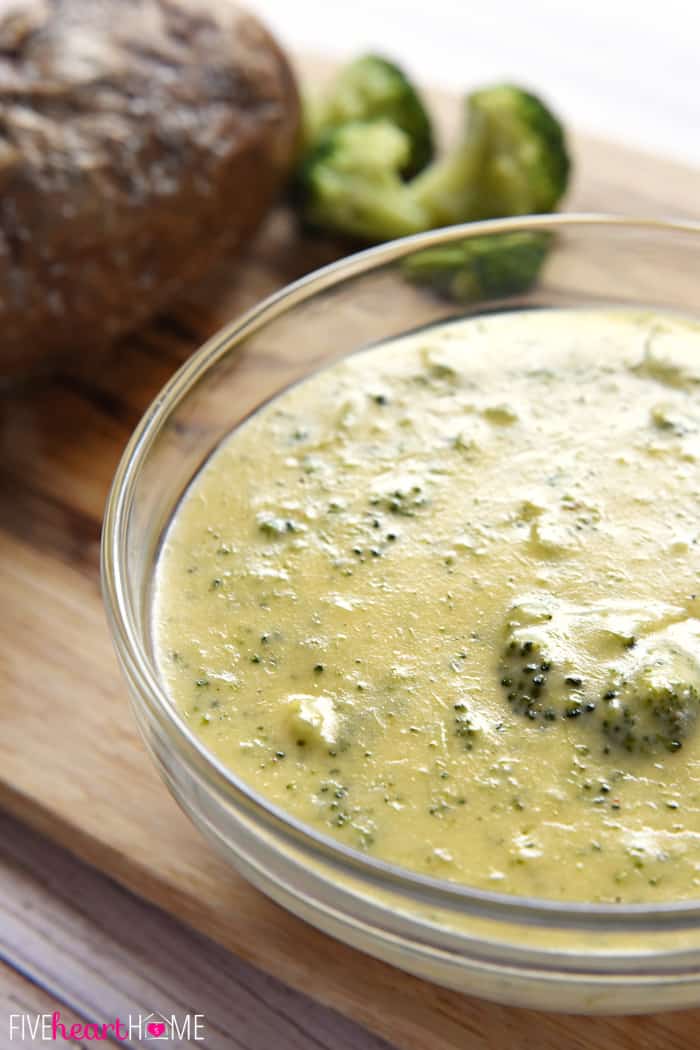 Scaling the Recipe
This recipe makes quite a bit of sauce -- we're talking 6 cups here -- which will top quite a few baked potatoes (estimate using about ¾ cup of sauce per baked potato, give or take a bit, depending on the size of the potato). So unless you have a huge family, you have a few options here...
1. Cut the sauce recipe in half.
2. Make a full batch of sauce and bake extra baked potatoes for lunch the rest of the week.
3. Make a full batch of sauce and mix the leftovers with some pasta or rice, diced poultry or ham, and veggies.
4. Make a full batch of sauce and treat it as you would condensed soup...albeit a much tastier, fresher, all-natural version. Simply thin out the leftovers to enjoy as Broccoli Cheese Soup! I typically heat together about 2 parts Broccoli Cheese Sauce with 1 part milk and/or chicken broth (but it really depends on how thick you'd like your soup to be). So ⅔ cup leftover sauce plus ⅓ cup milk or broth gives me a nice, warm bowl of soup. Hello, mid-week lunch!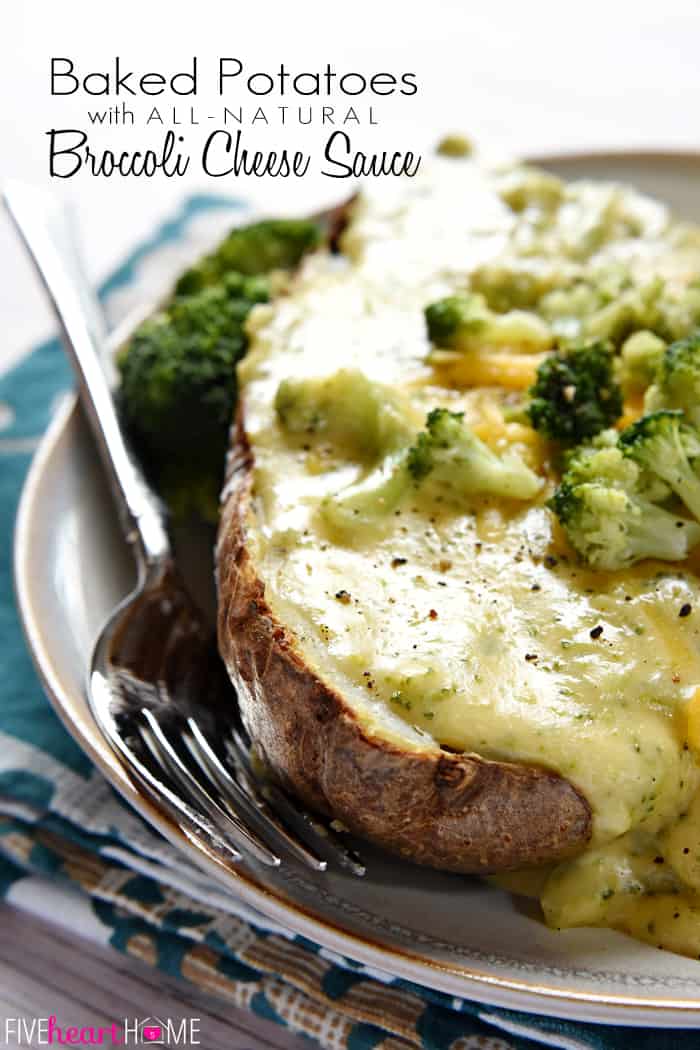 Who would have guessed that you're just a few potatoes, a block of cheddar, and a bag of frozen broccoli away from dinner?! And if you're already stocked up on those items, well...I say consider tonight's dinner quandary solved. 😉
More Cheesy Favorites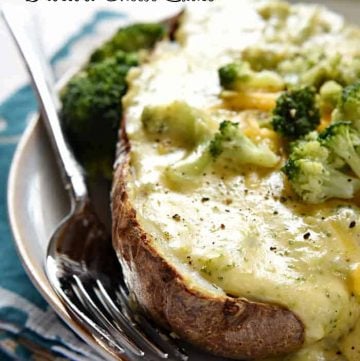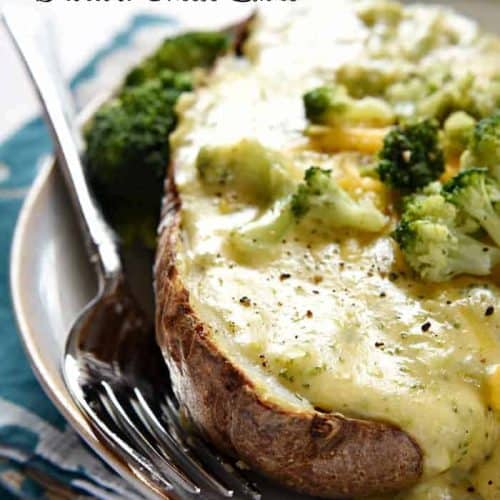 All-Natural Broccoli Cheese Sauce for Baked Potatoes
Creamy, quick and easy Broccoli Cheese Sauce features real cheddar cheese and makes a delicious topping for baked potatoes!
Print
Pin
Rate
Servings:
8
to 12 servings (approximately 6 cups Broccoli Cheese Sauce total)
Ingredients
8

large baking potatoes

16

ounces

frozen broccoli florets

,

OR 6 cups fresh broccoli florets

4

tablespoons

butter

⅓

cup

all-purpose flour

3

cups

milk

,

at room temperature

16

ounces

(4 cups) sharp or extra-sharp cheddar cheese

,

freshly grated

½

teaspoon

garlic salt

¼

teaspoon

chili powder

Freshly ground black pepper

,

to taste
Instructions
Adjust oven rack to center position. Preheat oven to 425°F.

Prepare potatoes by washing, drying, and pricking with a fork. Lightly coat each potato with olive oil (I sprinkle a few drops on top and rub it all over with my hand). If desired, sprinkle oiled potatoes with kosher salt. Place potatoes directly on oven rack, allowing a bit of space between each one. Bake for 45 minutes to an hour or until potatoes are tender all the way to the center when pricked with a fork.

Fill a large pot with lightly salted water and bring to a boil over high heat. Cook frozen broccoli according to package directions. (Alternatively, if using fresh broccoli, steam or boil to desired tenderness...but it should be tender enough to puree into the cheese sauce later, if desired.) Drain broccoli and set aside.

In the same pot that was used to cook the broccoli, prepare cheese sauce. Place over medium heat and melt 4 tablespoons butter. Use a whisk to stir in flour, whisking continuously until light golden brown, about 2 minutes. Continue to whisk while slowly and gradually adding milk. Whisk until sauce is smooth and thickened, between 5 to 10 minutes. Remove pot from heat. Add grated cheese, ½ cup at a time, stirring until completely melted and smooth before adding more. Once all cheese has been incorporated and cheese sauce is smooth, stir in garlic salt, chili powder, and pepper, to taste.

Stir half of the cooked broccoli into the cheese sauce. Use an immersion blender (or potato masher) to purée/mash the broccoli until the sauce is smooth. Stir in the remaining cooked broccoli florets. Taste sauce and adjust seasonings, adding additional salt and pepper, if necessary.

Immediately slice open baked potatoes and serve broccoli cheese sauce on top.
Notes
Cheese sauce is easy to make but also easy to mess up if you don't follow the directions exactly. Cheese should be freshly grated (the packaged, pre-grated cheese has an additive that keeps it from sticking together but can also make for lumpy melting). Room temperature milk works best (I just zap it in the microwave to take off the chill). Be sure to take the pot off the heat and add the cheese very gradually, stirring well and allowing it to melt completely between additions.
If you prefer a completely smooth sauce, you may purée all of the broccoli into the cheese sauce. Alternatively, if you wish to leave all of the cooked broccoli florets whole, that's okay, too.
See ideas in the body of this post (above the recipe) for ideas on using up leftover cheese sauce.
Calories:
331
kcal
|
Carbohydrates:
26
g
|
Protein:
16
g
|
Fat:
19
g
|
Saturated Fat:
12
g
|
Cholesterol:
56
mg
|
Sodium:
419
mg
|
Potassium:
827
mg
|
Fiber:
5
g
|
Sugar:
4
g
|
Vitamin A:
842
IU
|
Vitamin C:
50
mg
|
Calcium:
403
mg
|
Iron:
5
mg