Carrot Cake Baked Oatmeal is a tasty, wholesome recipe featuring oats, carrots, coconut oil, and maple syrup…AKA, a healthy breakfast for carrot cake fans!

Two carrot recipes in a row, but I'm not even going to apologize, y'all. After all, it's not everyday that you can trick your kids into eating veggies for breakfast, but that's exactly what we're doing here today! Say hello to my new friend, Carrot Cake Baked Oatmeal, which is pretty much exactly what it sounds like…traditional baked oatmeal with a carrot cake twist. Yum.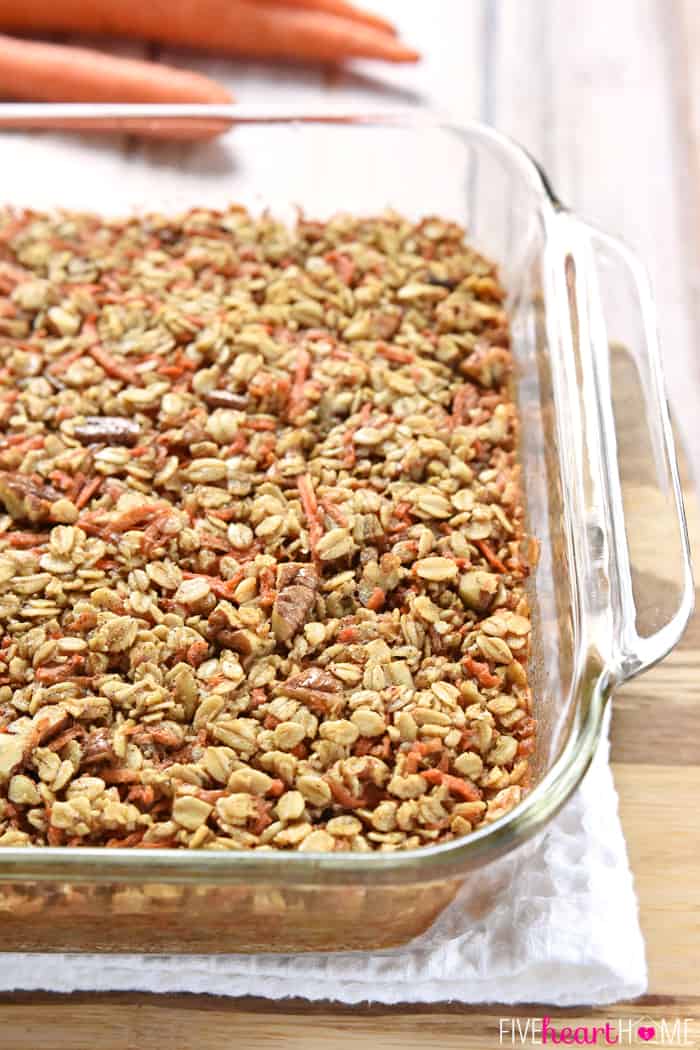 Now when I allude to carrot cake, I'm primarily talking about the fact that there are indeed grated carrots and carrot cake spices in this recipe. As for the sugar, flour, butter, etc…we're leaving those out. Instead, this oatmeal is fortified with coconut oil, flavored with vanilla, cinnamon, and spices, and sweetened with maple syrup. So yes, it's wholesome…but it's also deeelicious. (Oh, and I deeply apologize for that. My 2-year-old is obsessed with Daniel Tiger's Neighborhood and I have lost my ability to say think type that word without sounding like a whiny, preschool-going feline.)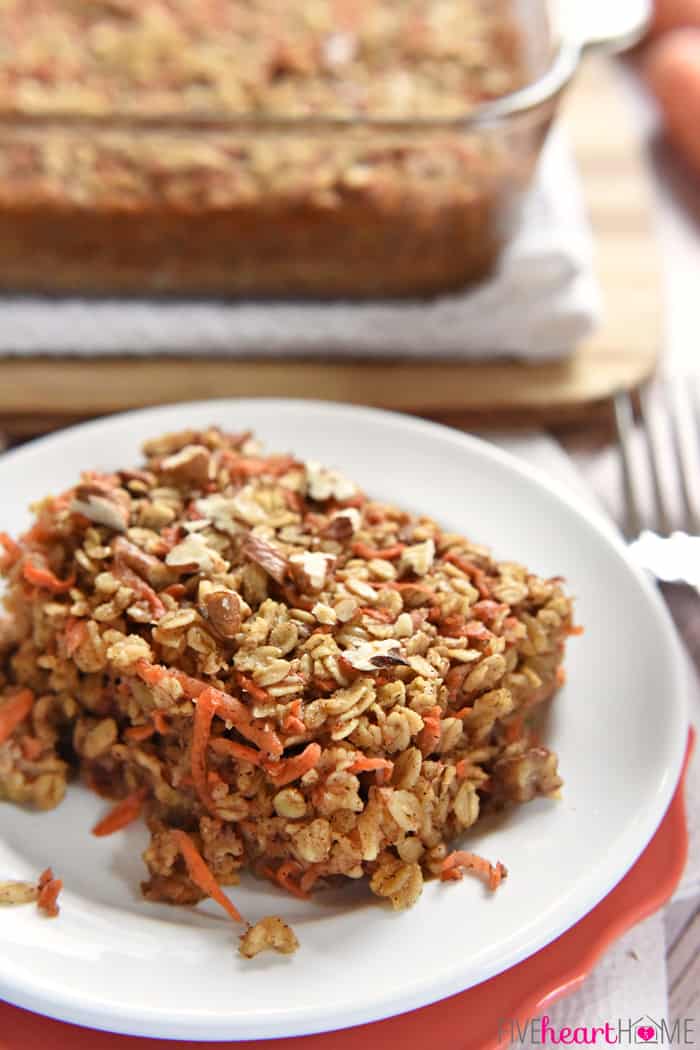 My family adores baked oatmeal and since I make it often, I try to come up with different seasonal variations to keep things interesting. In case you haven't noticed, I do the same thing with baked French toast…but while I consider baked French toast to be a more decadent, special occasion/holiday breakfast or brunch, baked oatmeal is a nourishing way to start regular weekday mornings.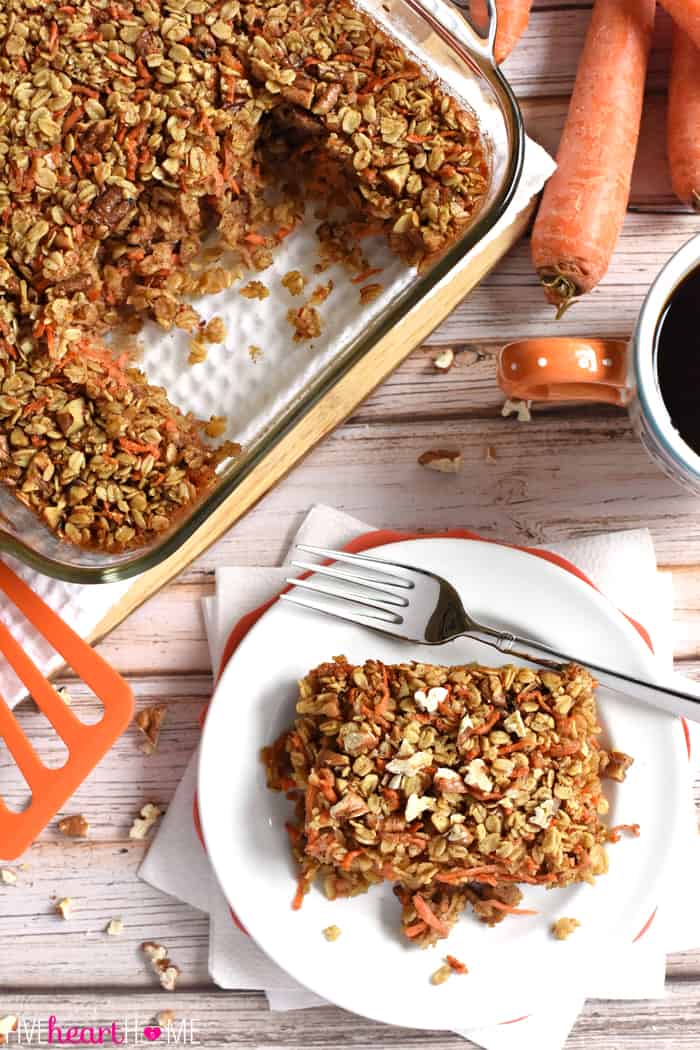 For example, a few weeks ago, I brought you Lemon Blueberry Overnight Baked French Toast with Lemon Syrup (ribboned with a layer of sweet, lemon-infused cream cheese, might I add). So that would be my suggestion for a special Easter breakfast treat. But this Carrot Cake Baked Oatmeal can be enjoyed all spring long…or really any time of the year that carrot cake sounds good to you!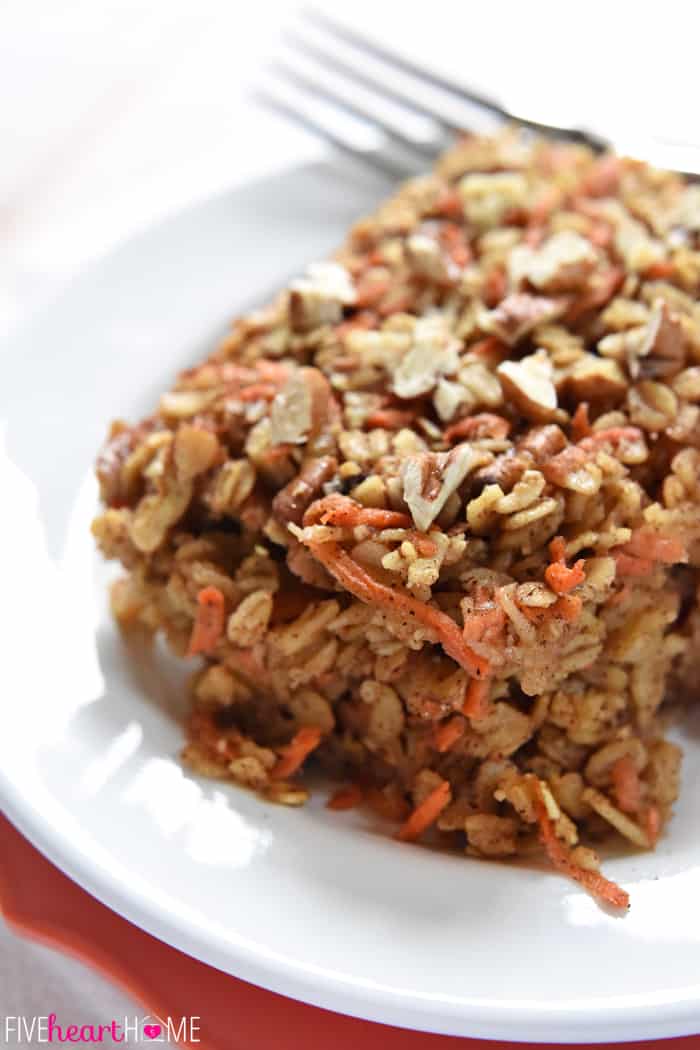 Aside from loving how it tastes, the other thing I appreciate about baked oatmeal is that it can be made ahead of time, because it just so happens to reheat beautifully. After I took these photos, I placed the cut piece back in the baking dish and popped the dish in the refrigerator. The next morning, my boys were just a few microwaved seconds away from a quick, healthy breakfast before school (but it kinda' makes you wonder who got the "famous" piece that's now gracing the internet, huh? 😉 ). I like to drizzle each slice of baked oatmeal with a bit milk (or cream, if you're feeling crazy) before reheating. And while I think that this recipe is sweet enough already, thanks to the maple syrup that's baked inside, you can always add more on top if you prefer your oatmeal sweeter.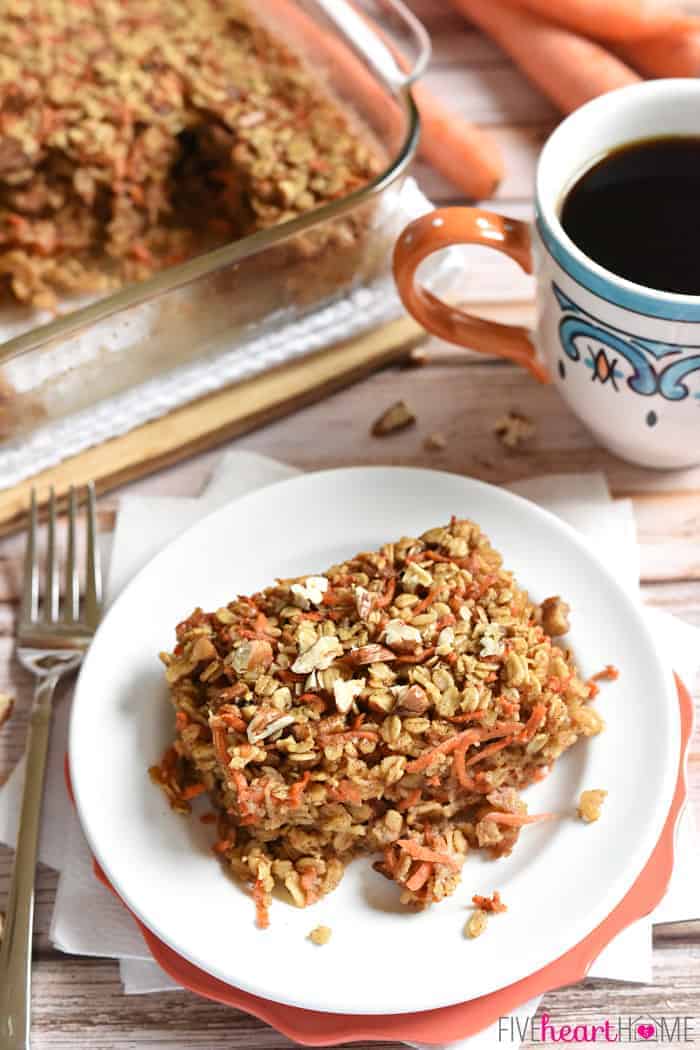 Speaking of the maple syrup, let's take a moment for a few quick recipe notes. My previous baked oatmeal recipes call for 1/4 cup maple syrup, but I decided to increase that amount in this carrot cake variation since, well, we're emulating cake here (albeit a much healthier version). 😉 But you can certainly use less maple syrup, if you prefer. I also decided to add baking powder to this recipe, again, to add a bit of cake-like lift. I don't typically add baking powder to my baked oatmeal and I've never missed it, but I think most baked oatmeal recipes out there do include some type of leavening. So I tried it here and honestly didn't notice much of a difference…but in it stays. Finally, I leave the traditional carrot cake inclusion of raisins up to you. My family is divided as far as being raisin fans/haters (and I happen to be a latter), so I opt to leave the raisins out when making the oatmeal. But then I offer them up as a garnish to sprinkle on top for anybody who so desires. See? Everyone's a winner.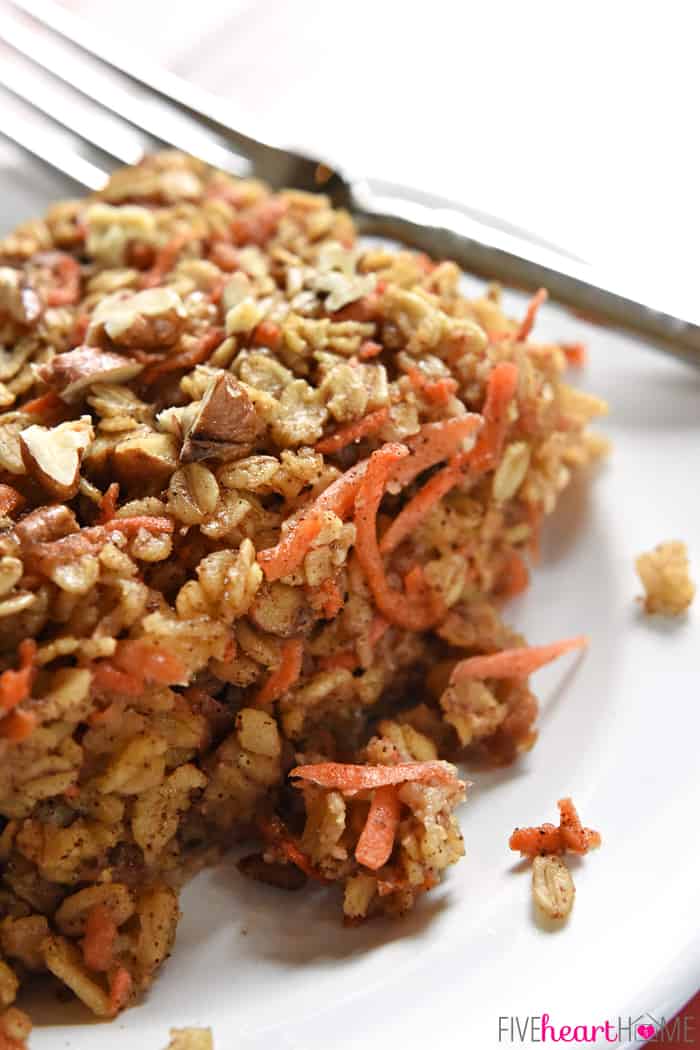 If you've yet to try baked oatmeal, you've gotta change that…and soon! Carrot Cake Baked Oatmeal would be a great place to start. In fact, leave a piece out for the Easter bunny instead of plain, ol' raw carrots, and I bet he'll bring you extra jelly beans in your plastic eggs. 😉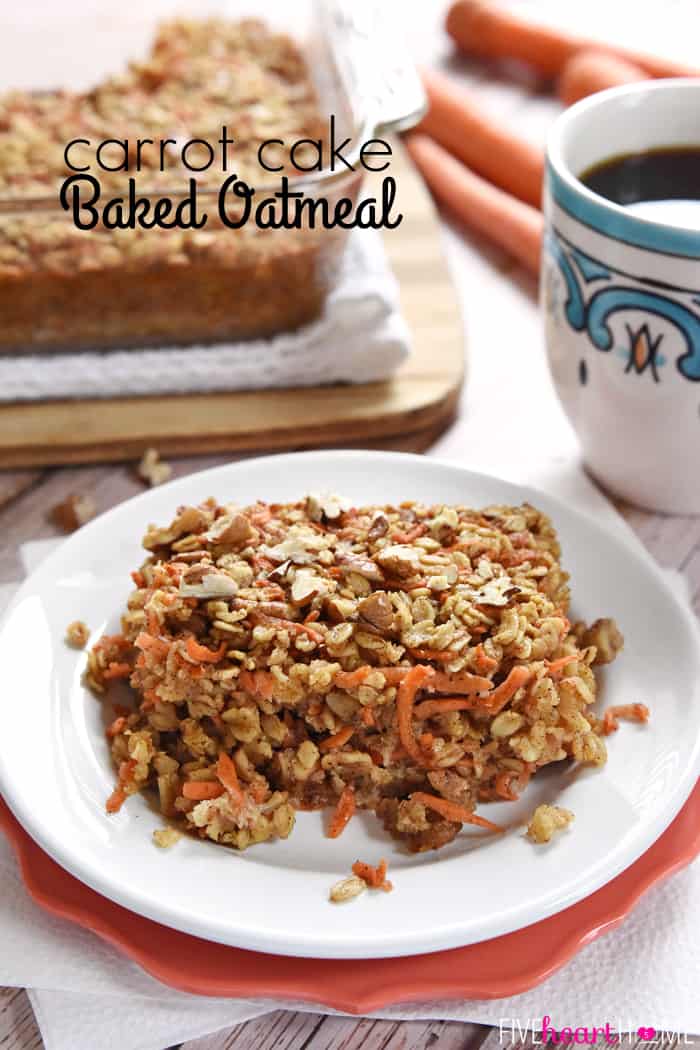 Carrot Cake Baked Oatmeal
Ingredients
½ cup pecans, chopped (plus additional for garnish, if desired)
1 cup almond milk (OR whole/2% milk), at room temperature
2 eggs, at room temperature
1/2 cup pure maple syrup
1/4 cup coconut oil, melted and slightly cooled
2 teaspoons pure vanilla extract
1 1/4 cup (packed) grated carrots (about 3 medium carrots)
1/2 cup raisins, optional
2 cups old-fashioned rolled oats
2 teaspoons ground cinnamon
1 teaspoon baking powder
1/4 teaspoon ground nutmeg
1/4 teaspoon ground allspice
1/4 teaspoon salt
Instructions
Preheat oven to 350°F. Lightly grease or spray with nonstick cooking spray an 8-inch square baking dish.
Spread chopped pecans on an ungreased baking sheet and toast for 4 to 6 minutes or until fragrant and light golden brown. Cool on baking sheet.
In a large bowl, mix together milk, eggs, maple syrup, coconut oil, and vanilla; beat until smooth. Stir in carrots and raisins (if using). Blend in oats, toasted pecans, cinnamon, baking powder, nutmeg, allspice, and salt; stir until mixture is well-combined.
Spread oatmeal into prepared baking dish and bake for 20 to 25 minutes or until set and light golden brown on top. Allow to cool in the baking dish for at least 5 minutes before slicing. Serve warm with optional garnishes: warm milk drizzled over the top, additional toasted pecans, maple syrup, or fresh fruit.
Notes
The reason the milk and eggs should be at room temperate is because if they are cold, they will cause the coconut oil to resolidify. To quickly warm everything up, I usually just put the whole eggs in a bowl of warm water for a few minutes and zap the milk in the microwave for 20 to 30 seconds.
Feel free to decrease the maple syrup to 1/4 cup, if you prefer.
Reheat oatmeal by placing an individual serving on a plate, drizzling with a little milk, and then heating in the microwave for about 30 seconds.
https://www.fivehearthome.com/carrot-cake-baked-oatmeal-dairy-free/
https://fivehearthome.com ~ All recipes and images on Five Heart Home are copyright protected. Please do not use without my permission. If you would like to feature this recipe, please rewrite the directions in your own words and give proper attribution by linking back to this blog.
Adapted from Five Heart Home
More yummy breakfast treats…
Easy Strawberry Cream Cheese Pastries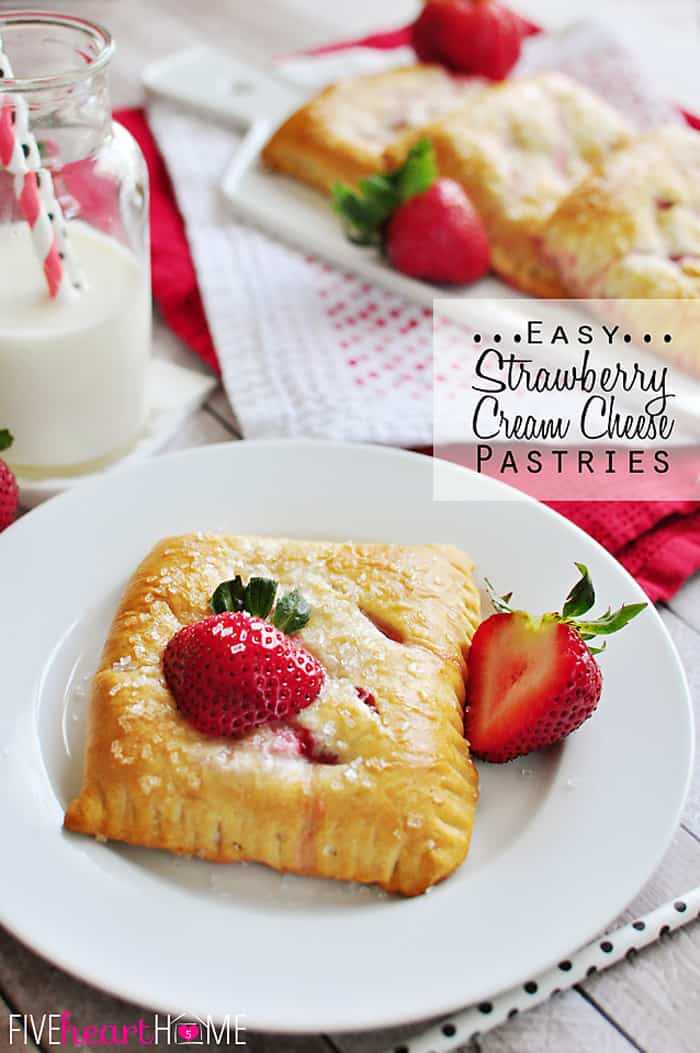 Breakfast Enchiladas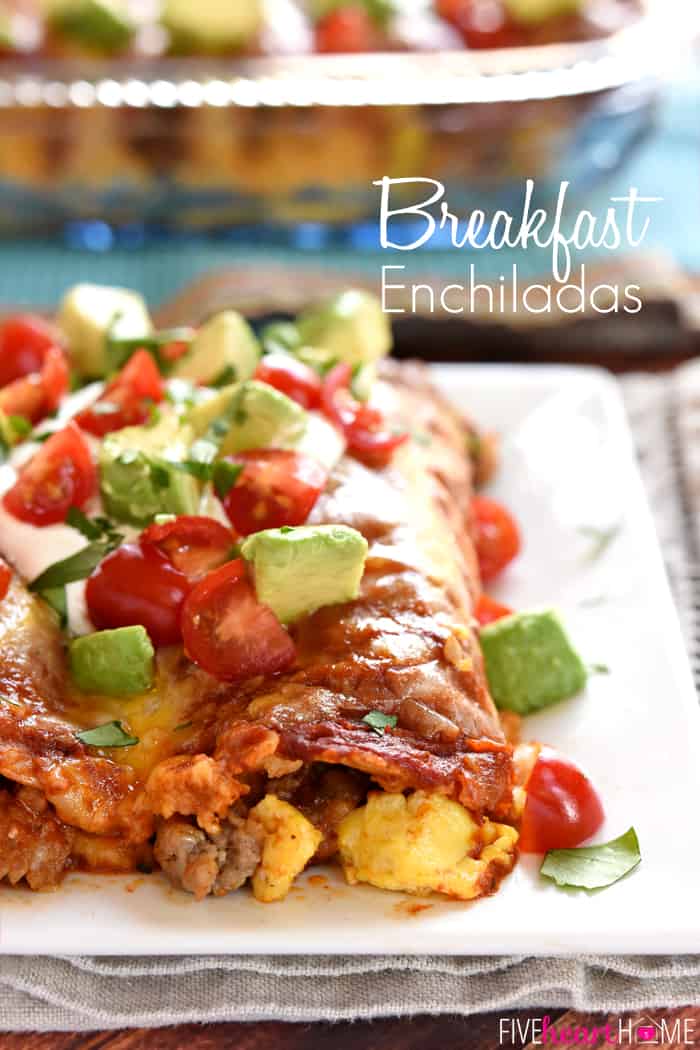 Homemade Whole Wheat Pancake Mix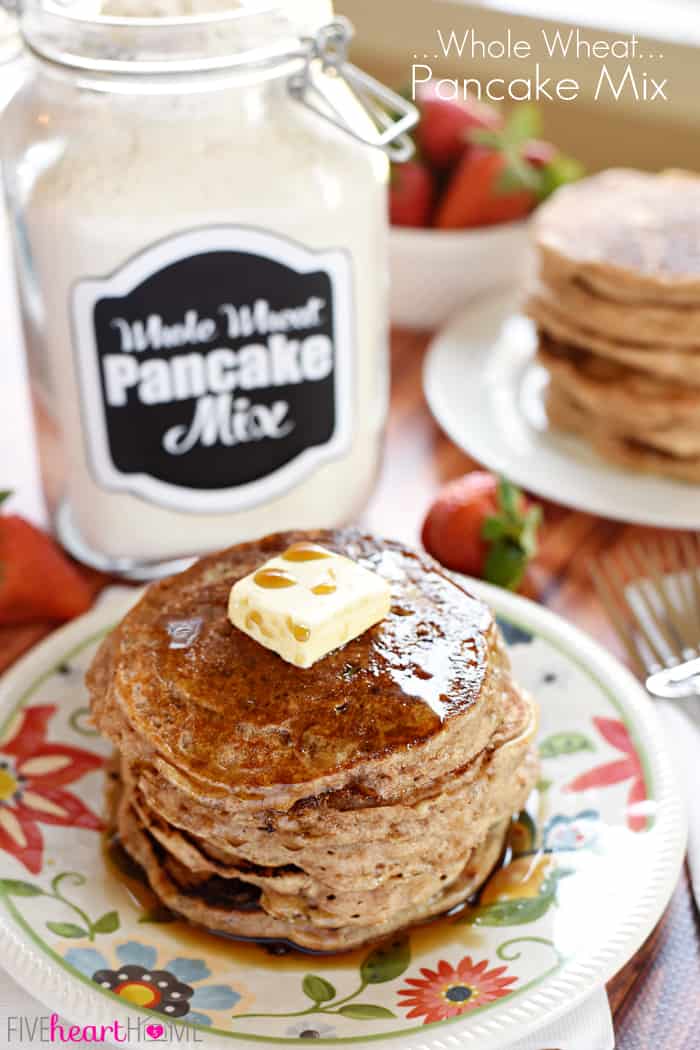 Green Chile Cheddar Egg Bake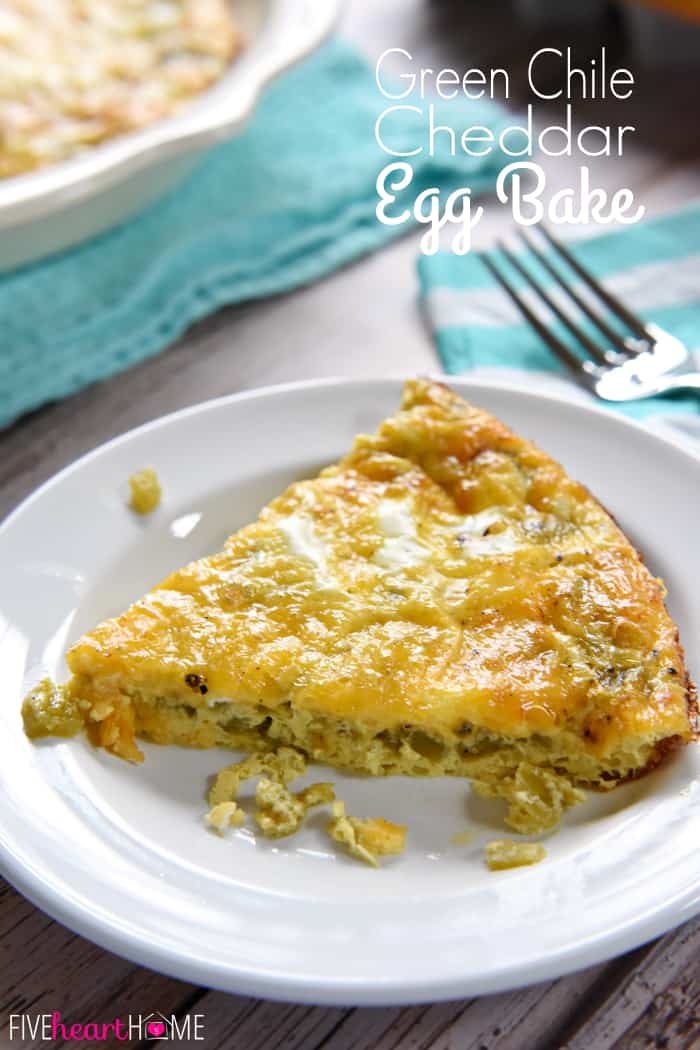 Healthy Oat Smoothies ~ Blueberry Muffin & Peach Cobbler Flavors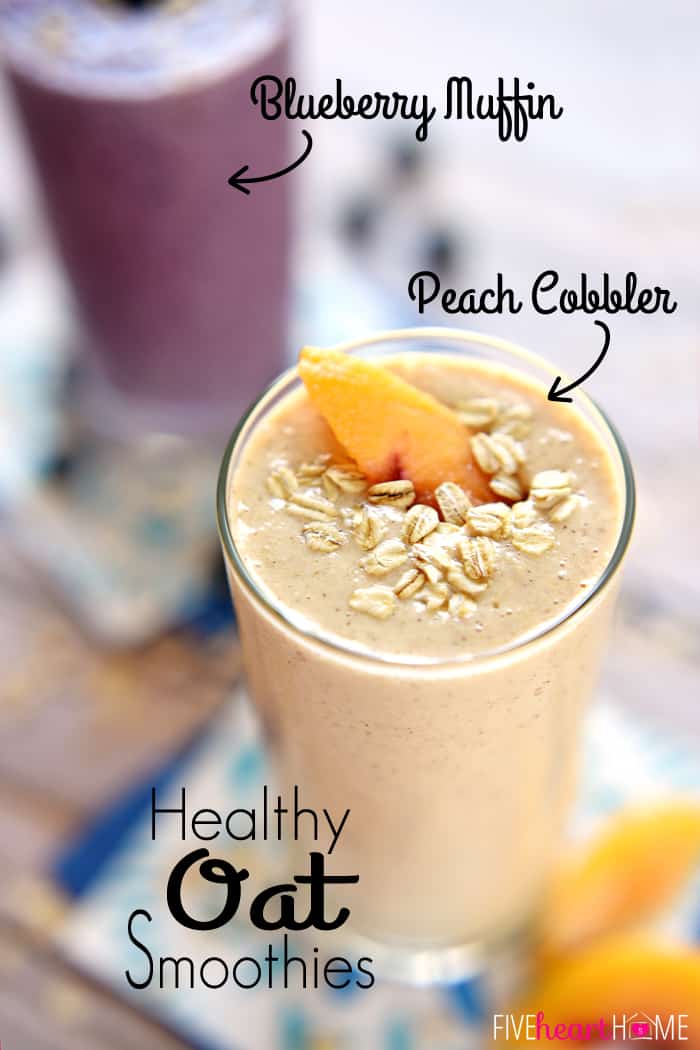 Oats & Honey Granola Bars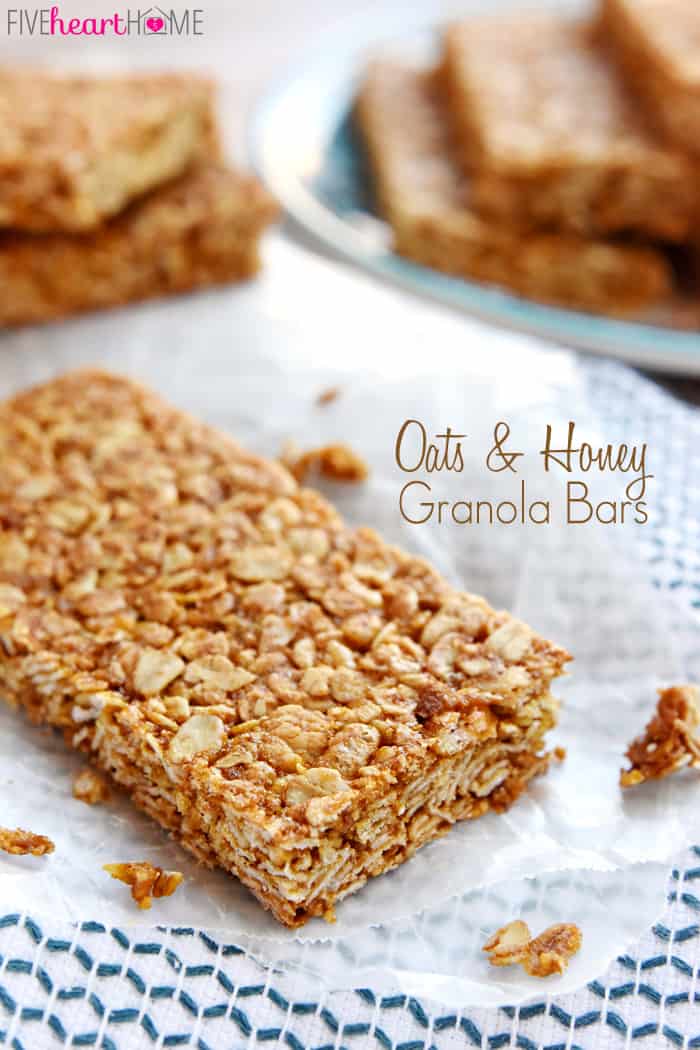 8